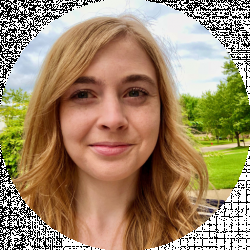 Latest posts by Erin Jamieson
(see all)
When I worked in catering, one of the most frustrating things was a shortage of specialty knives. It wasn't that we never had any– but often I'd be forced to use a regular chef's knife when what I needed was a paring or brisket knife. Let me tell you: knowing how to find the best brisket knife can make a big difference.
You don't have to be in the catering or food service industry to make the most out of a great brisket knife. If you're entertaining or grilling for yourself, a brisket knife can make a difference in your food prep- and even the taste of your meat.
In this guide, I'll share why you might want to add a brisket knife to your knife collection. I'll also tell you how to select and find the best brisket knives. By selecting brisket knives for different budgets and needs, you'll be able to find a style that helps you take your brisket prep to the next level. 
Bottom Line Up Front Summary
It's important to have a specialized brisket knife to cut under the fat cap and slice without shredding. The best brisket knives are made of stainless steel or carbon steel with a handle with a great grip. Scalloped or Granton blades are effective, and it's best to avoid fully serrated knives. Brisket knives should be longer– anywhere from 11 to 16 inches. 12 inches is the best length for average use. 
 If I had to select just one brisket knife to buy right now, it would be the CUTLUXE Slicing Brisket Knife. This knife is not a premium knife, but it lasts better than most brisket knives under $50. The carbon steel blade is strong and efficient for the price point. The high customer reviews, ease of shipping (from Amazon), and construction make it a great option for a starting, staple brisket knife.
My Top Picks
Purpose of a Brisket Knife 
To understand why you might need a brisket knife, think about how you prepare brisket. It is possible to buy brisket with its fat cap trimmed. However, the whole brisket is going to be more flavorful and often less expensive. 
The reason why a brisket knife is useful is that it's far more efficient than other types of knives. Brisket knives are designed to slice beneath the fat and cut across smoothly. Other knives may tear or shred the meat. A general knife isn't as effective for carving. 
Selecting a Brisket Knife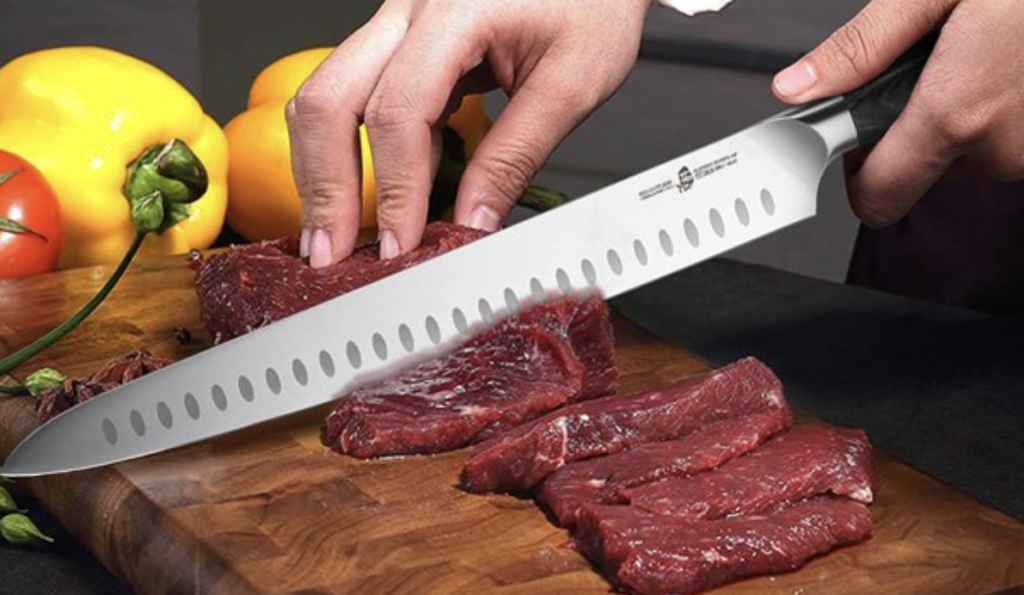 Knowing to find the best brisket knife isn't too tricky. Here are the specifications I look for, and all of the best places to buy this type of knife. 
Specifications
In Brief: 
10-14 inches long- 12 inches is ideal

Carbon steel or stainless steel 

Granton or scalloped blade

Grooved, ergonomic handle 
Length 
The first thing that distinguishes a brisket knife is its length. A brisket knife needs to be long enough to cut underneath the length of the fat cap. Some prefer a versatile knife that's 8 inches long, but that should be a minimum length. For a brisket knife, I like somewhere between 10 and 16 inches long. 16 inches is harder to control and the least versatile, but 8 inches isn't going to provide the best, most efficient slicing. 
Serrated vs Non-Serrated
I've seen serrated knives reached for time and time again. That was the case when I was working in catering and also in fast-casual. Serrated knives, though, should mostly be used for vegetables, fruits, and bread. A serrated knife was really helpful for me for filling orders for paninis- not so much for a challenging meat-like brisket. Brisket knives are best non-serrated. While serrated knives can slice brisket, they tend to shred or rip it. Plus, non-serrated knives are easier to sharpen. 
Blade Type 
Of all blade styles, a Granton blade is the best, followed by a scalloped blade. Granton blades are distinguished by side divots. These divots provide a smoother, cleaner slicing experience. However, scalloped blades are more common, and also useful. They have tiny teeth (as opposed to the large serrated teeth of serrated) and are effective without tearing the brisket. 
Blade Materials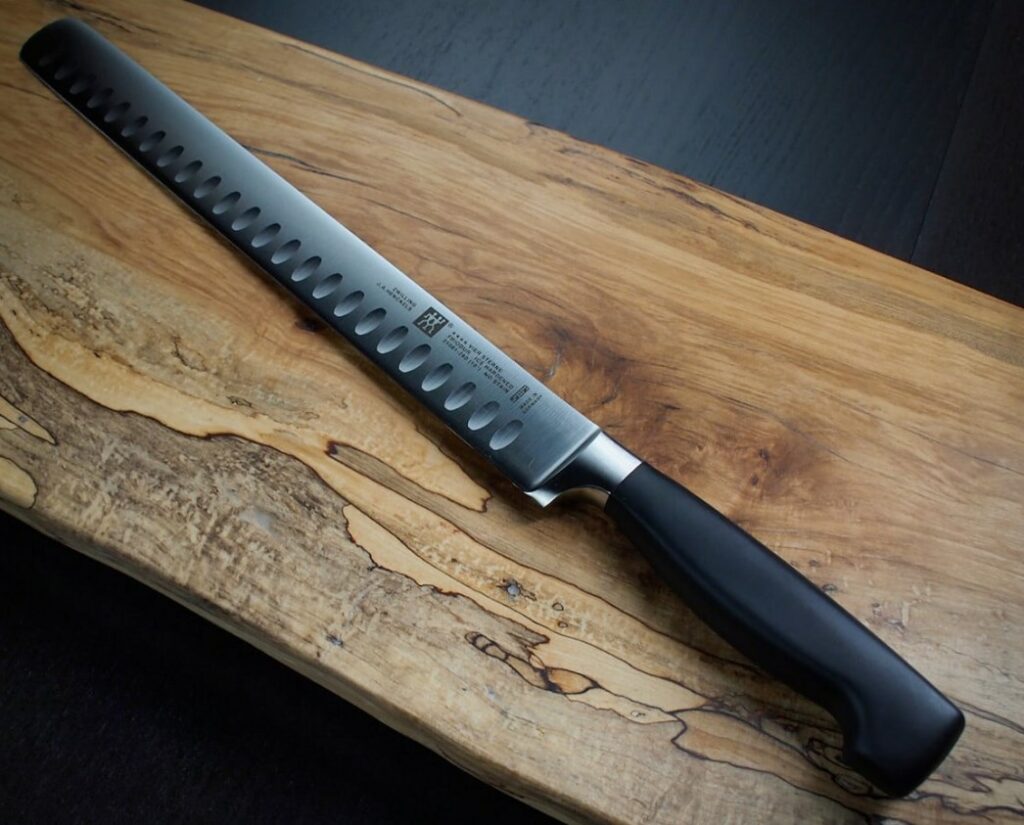 I recommend only brisket knives with either carbon steel or stainless steel blades. Both are fairly hardy, won't rust, and are suited for slicing brisket. Carbon steel is more commonly seen for premium, chef-grade models, while stainless steel blades are lower cost. Stainless steel knives are easy to store, less brittle, and popular for at-home prep. However, carbon steel knives provide a finer cut and can be sharpened with precision. Both are excellent choices– be realistic about what you need, and if you're willing to take care of a carbon steel blade. 
Handle
If you don't have wrist pain, an ergonomic handle may not seem necessary. But a sturdy thoughtfully designed handle is nonetheless an important consideration for a great brisket knife. Look for a handle that provides a great grip for better control. A slightly grooved handle, like a Fibrox handle, is an excellent choice. 
Where to Buy
Home goods stores and home improvement stores, including Ace Hardware, Bed Bath & Beyond, Home Depot, and Lowe's usually have some grilling and brisket knives, though it depends. Walmart, Costco, and Amazon have a selection of different brisket knives, and sometimes you can even find some made in the USA. Sometimes a specialty chef store or even somewhere like Williams and Sonoma is a good bet if you want a higher-end selection. Celebrity chefs often have brisket knives and other specialty knives, available online and sometimes in department stores like Macy's. 
Brisket Knives: My Top Picks 
Ready to find your ideal brisket knife? Here are some of my favorite knives you can buy right now. These knives were selected by their length, blade materials, blade type, overall value, reviews, and price. I also am only including brisket knives from safe, secure websites or stores that you can trust. 
SpitJack BBQ Brisket Knife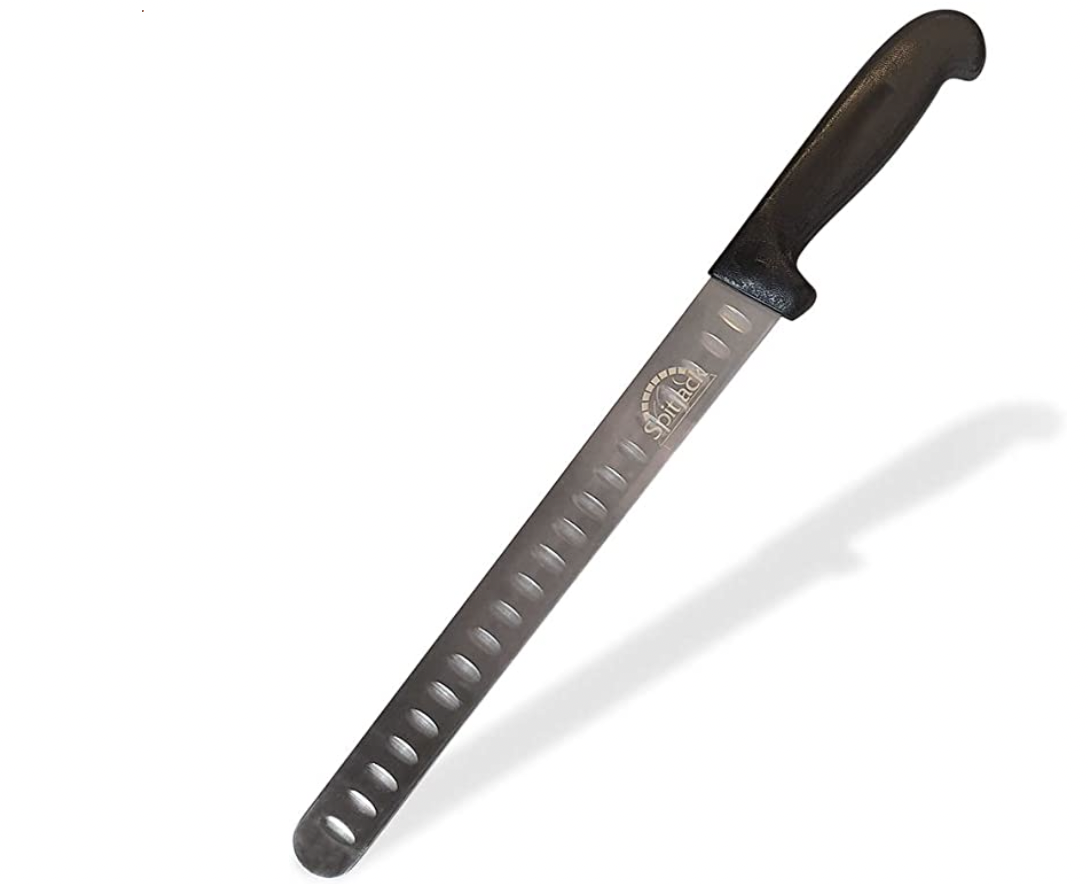 Not everyone has tons of money to spend on a brisket knife. Not only that, but not everyone needs to spend a lot. If this is your first brisket knife purchase, this budget-friendly brisket knife may be the best fit for you. You should also consider a budget brisket knife if you don't plan to use it often. While it's not the best brisket knife you can buy, it is one of the best "cheap" options.
For an excellent price, you get a pretty solid knife for slicing brisket. This knife is excellent not only for beef brisket but also works for turkey, ham, and smoked salmon. The 11-inch blade is long enough to get under the fat cap but shorter for more control. The Granton edge is designed to help you cut evenly, without having to worry about meat sticking. The blade is made with a steel alloy, making it easy to clean and sharp. It's safe to use in the dishwasher and comes with a protective sheath. Buy Here. 
Pros
Great Price

Granton Edge 

Steel Blade
Cons
Budget handle 

The sheath is very thin

Not as strong or precise
CUTLUXE Slicing Brisket Knife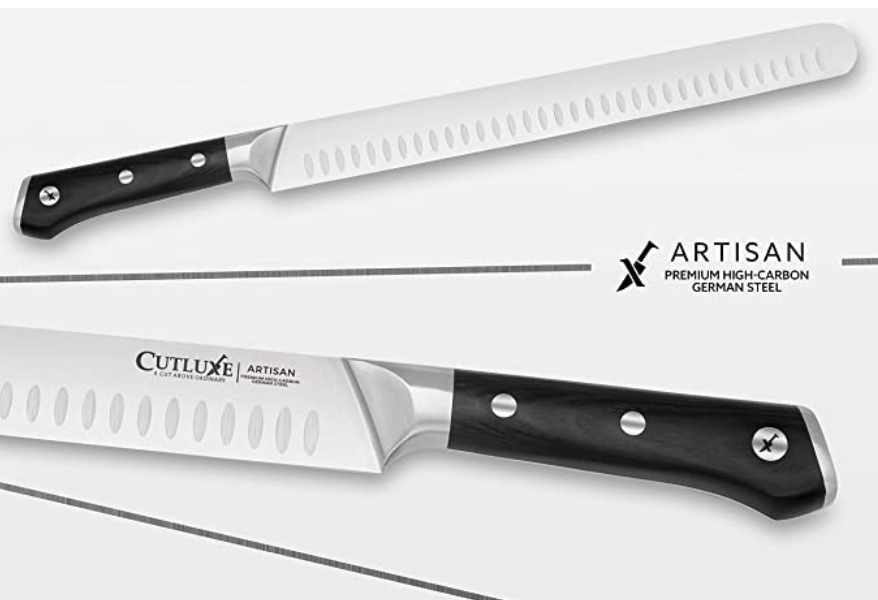 If you're looking for an upgrade from a budget brisket knife, this style is a solid option. It's more expensive than my budget pick, but still under $50. It's one of the best value brisket knives you can get that has a blade crafted with carbon steel. This is a good option if you still want a brisket knife on a budget but plan to use it more than occasionally. 
This brisket knife has been sharpened with precision for a more nuanced Granton blade edge. I like this upgrade from my lowest-budget pick. The pakkawood handle includes triple riveting for a firm, more comfortable grip. The laminate covering is more sanitary and easier to clean. I also really like that this brisket knife comes with a lifetime warranty against defects. Buy Here. 
Pros
Lifetime warranty 

Carbon steel blade

Sharpened at multiple angles 

Laminate covering 
Cons
Not as sharp as more expensive models

Slightly awkward handle

Loses sharpness more quickly than more expensive styles 
Shun Classic Brisket Knife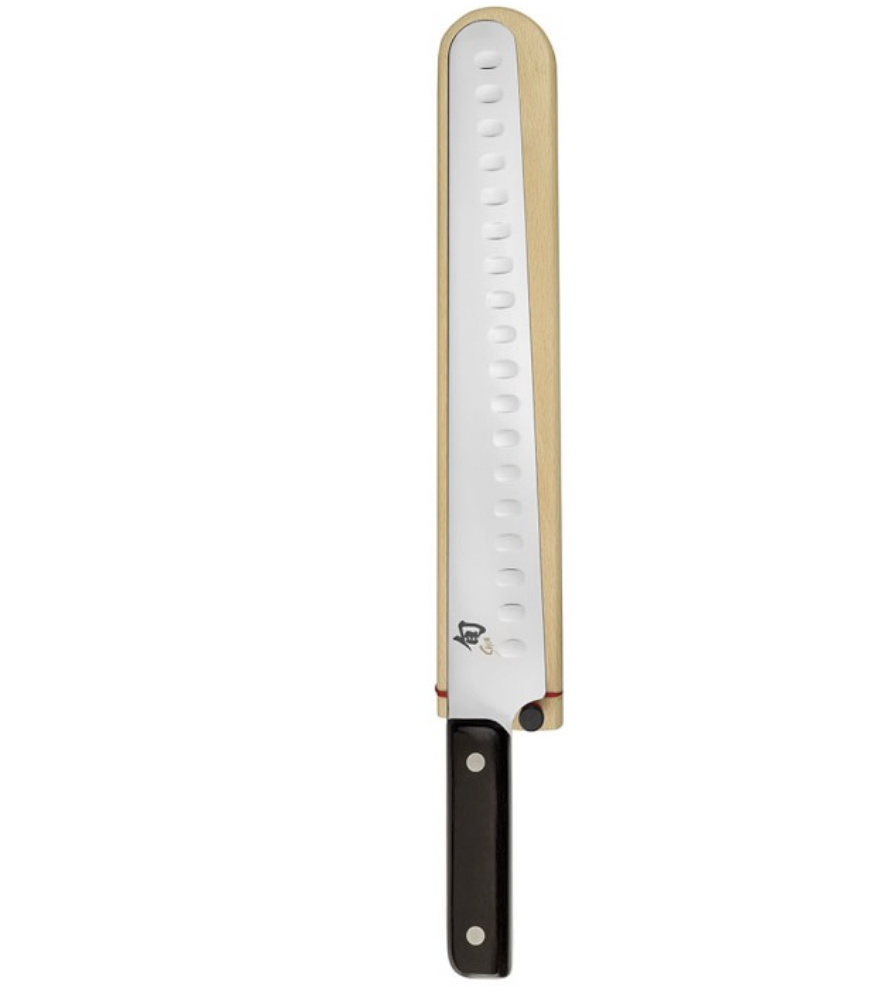 Professional chefs are held to high standards. Even though I was never a head chef, I know how messy it can get in a kitchen if you aren't careful. Even with diligence, a rush time before an event or a dinner time slot can get hectic, quickly. But it's really important to maintain safety standards. That's where proper protocols and NSF certification come in. The NSF tests kitchen prep materials for safety, with a focus on sanitation. An NSF blade is easier to clean and use and less likely to carry harmful bacteria. 
This NSF-certified brisket knife is a great fit for the serious home or professional chef. Shun is Japan's most popular (and one of its oldest) knife manufacturer. The 12-inch blade is narrow and angled for smooth, efficient slicing. Unlike other knives, it's been refined to slice through without releasing meat juices. That means you'll retain the brisket's flavor.
The tip of the stainless steel blade is sharp but rounded, making it easier and safer to work with. Small grooves reduce friction as you cut. I also like that the pakkawood handle resists moisture for easy care. Buy Here. 
Pros
Moisture-resistant handle

NSF- certified steel blade 

Efficient grooved blade 

Hand-crafted in Japan
Cons
Expensive 

The handle could be more comfortable 
Warther Cutlery Brisket Knife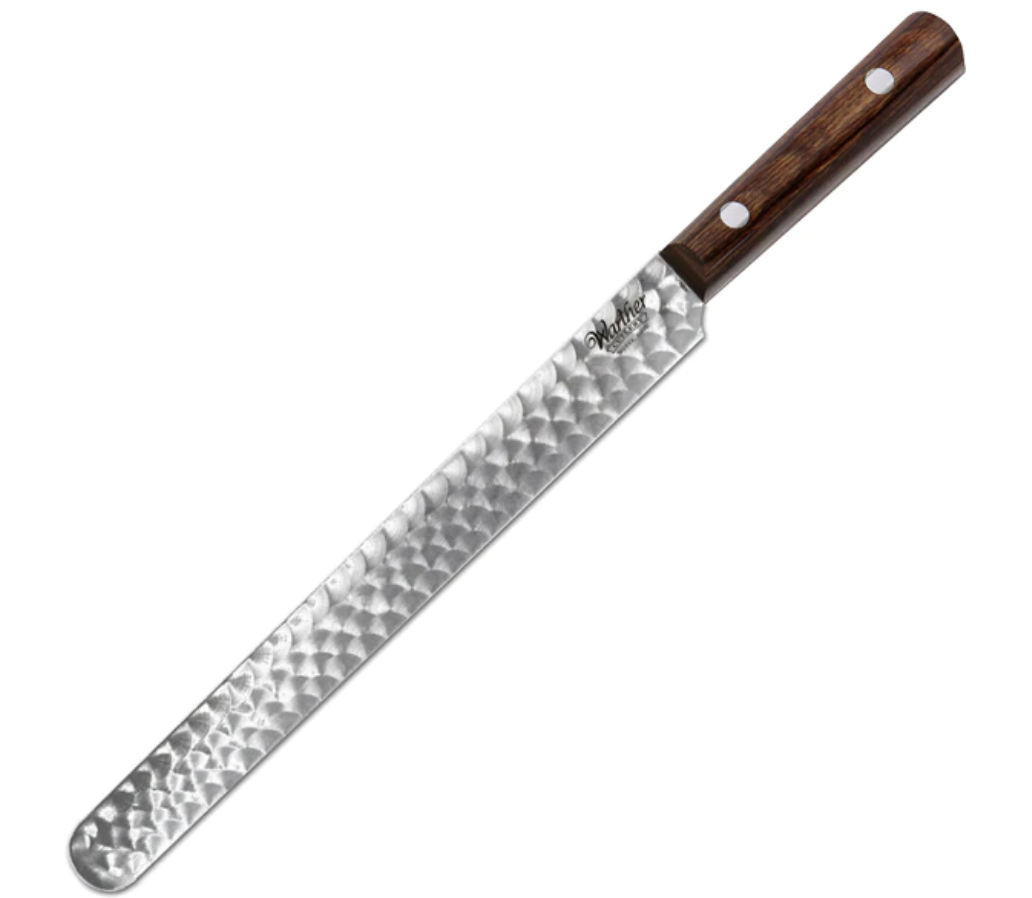 High-carbon stainless steel is sharper and more durable than stainless steel. This brisket knife is cheaper than my last pick– and a fantastic option that provides excellent performance for slicing brisket, ham, turkey, and more. It's also my pick for one of the best brisket knives made in the USA. 
This 12-inch brisket knife features a slim blade, optimized for slicing and carving. The blade is handcrafted with CPM® S45VN Steel. This material retains blade sharpness and provides a clean, single cut for thick meats and roasts. A grooved, slightly curved blade helps you make clean cuts. The wood handle is smooth, durable, and provides a nice grip. It would also make a great gift since you can order it engraved.  Buy Here. 
Pros
High-carbon steel blade 

Custom engraving

Great handle control

Made in the USA
Cons
Not dishwasher-friendly

More expensive than average commercial brisket knives
Steak Sets Long Brisket Carving Knife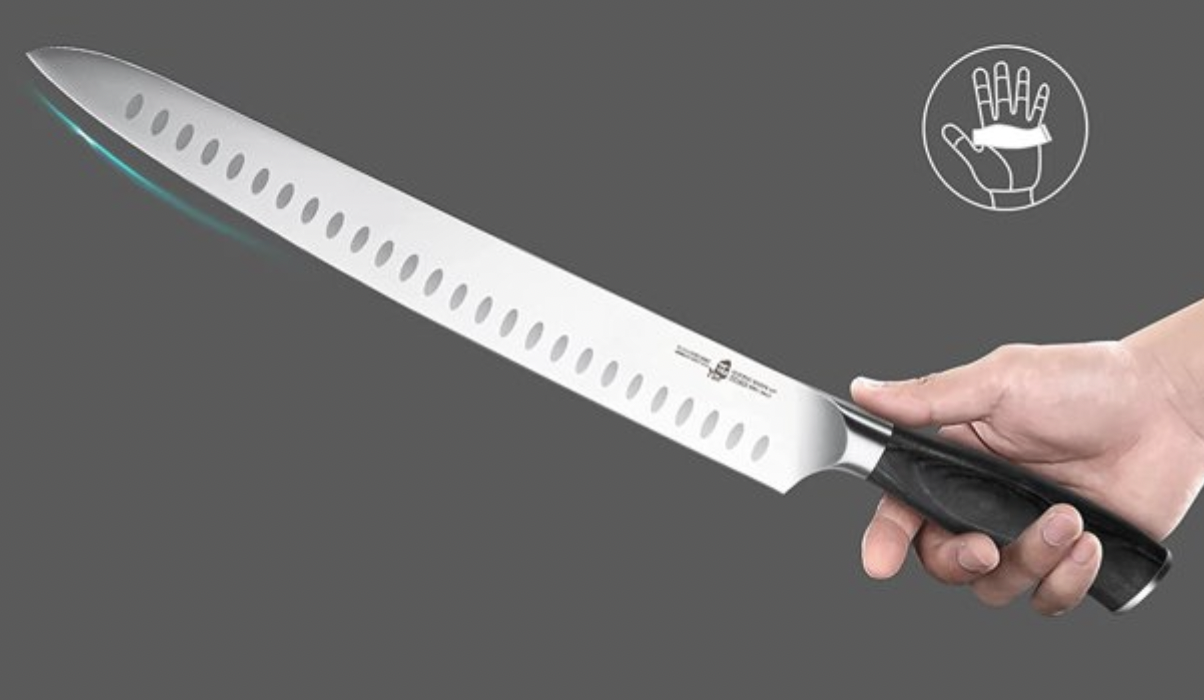 Speaking of gift-giving, if you want a full set of knives with your brisket knife, here's one option. Steak Sets, as the brand name suggests, sells sets of knives that are a great middle-ground between the cost of Williams Sonoma knives and cheaper knives on Amazon. While I was surprised to find this knife at Walmart, it's a solid option.
The 12-inch knife features a Granton edge and is made with forged German stainless steel. The blade is sharp and hollow ground to increase slicing efficiency. It's been cut by hand for improved smoothness and sharpness. But perhaps the most noteworthy feature of this knife is its handle. The ergonomic handle is made out of high-density pakkawood. The non-slip design is not only comfortable but also improves cutting control and efficiency. 
This brisket knife ships in a gift box and includes a lifetime warranty against manufacturing defects. Buy Here. 
Pros
Ergonomic handle

Forged German stainless steel 

Controlled slicing

Lifetime warranty against manufacturing defects
Cons
Not as high-end as carbon steel 

Tip requires regular maintenance
Frequently Asked Questions
Final Thoughts
While it is possible to prepare a great brisket without a brisket knife, there's a great reason to buy one. Brisket knives make your preparation far more efficient and reduce the risk of uneven slicing or accidents. There are many styles and brands to choose from, so select a knife that meets your needs and your budget. Use common sense when using your brisket knife. Rinse it immediately and dry it by hand. Sharpen it every once in a while and store it in a safe place away from heat. A few steps for simple care go a long way in extending the life of your brisket knife. 
Final Recommendations: Where to Buy Brisket 
You can buy brisket at your local grocery store or butchers. But if you don't like your selection, there are many excellent places to buy brisket online, from a la cart to the best meat subscriptions. Here are a few of my favorite places for organic, highly-graded brisket. 
Porter Road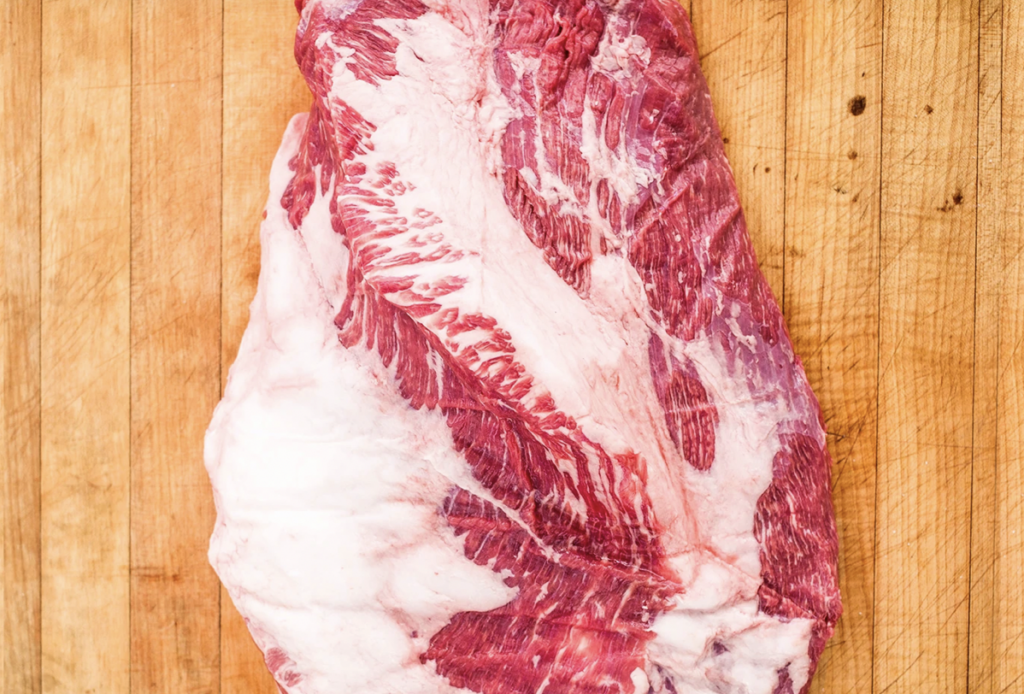 Porter Road meats are sourced from Kentucky, Pennsylvania, and Tennessee. They have both meat subscriptions and an a la carte shop. Their whole beef brisket is pasture-raised, hormone-free, and free of antibiotics. Buy Here. 
Tru Organic Beef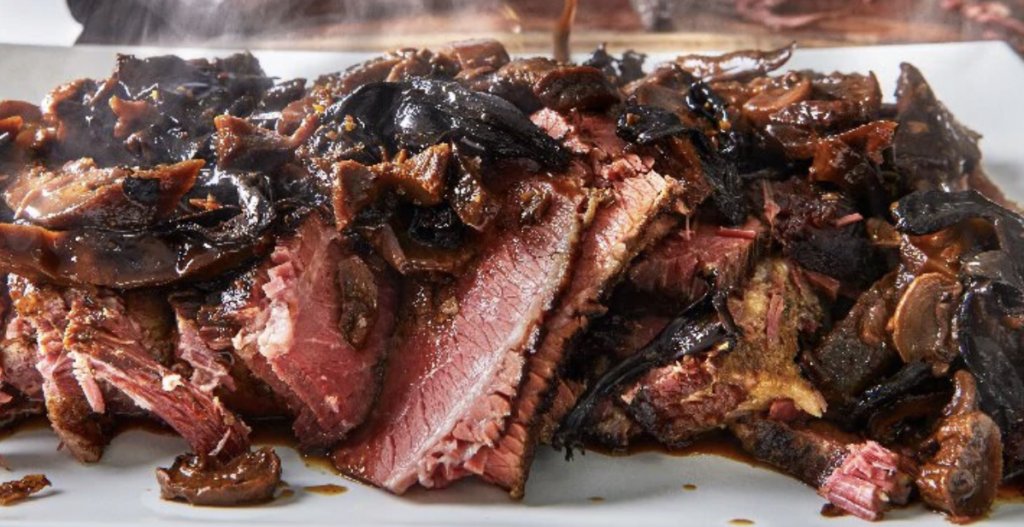 Tru Organic offers organic, grass-fed, and grass-finished beef brisket. This ensures a healthier ratio of fats. I also think that grass-fed and grass-finished beef has a slightly 'fresher' flavor profile. Their brisket includes the fat cap. The company also has a great mission to promote biodiversity, reduce emissions, and provide greater sourcing transparency. Buy Here. 
Exclusive Offer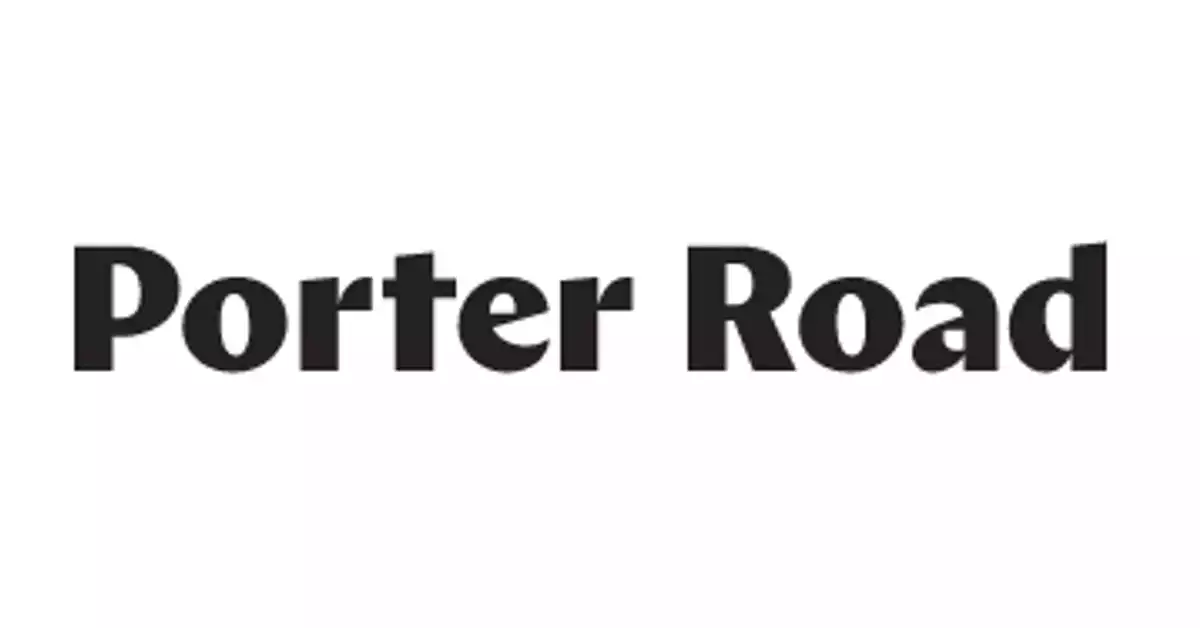 Delivering Life Changing Meat | Porter Road
The most convenient way to shop life-changing meat. Delivered on your schedule, every 2, 4, or 8 weeks. Get 10% Off your first order using code: RAISEDBETTER10.
Get 10% Off Now
We earn a commission if you make a purchase, at no additional cost to you.
Looking for more interesting readings? Check out: