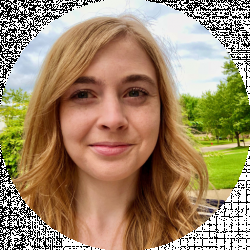 Latest posts by Erin Jamieson
(see all)
Normally, when you think about ordering a steak, it involves a steakhouse. But when going out to eat is limited, or if you're entertaining guests, that usually translates into shopping at a local grocery store and hoping to find the best cut.
But with online food ordering expected now to more than double by 2025, more and more Americans are skipping in-person shopping and buying mail-order steaks.
The surge in online ordering was already occurring, but there's little doubt that the pandemic accelerated it. Before the pandemic, grocery and food sales were expected to rise 5.4 percent. But now reports indicate an over 60 percent increase. And while the report focuses on grocery sales, that's also translating to ordering meat and seafood online.
Mail order steak is nothing new. But what is new is the increasing trust and demand– and the bevy of options. From simple flank steak to pristine Wagyu, all you have to do is search and pay and you'll have a cut you may not have found in your local grocery store.
But is it mail ordering all it's cracked out to be? And how do you navigate the many options to find the best steaks so you don't waste your time and money?
In this guide, I'll tell you the truth about mail order steaks– both the pros and cons– and point you to selecting the best option for you. I'll also give you my favorite picks, and tell you why many 'best of' lists you may come across will lead you astray when ordering steak online.
How do You Buy a Good Steak?
Everyone may think they know how to order a good steak, but in truth, it's important to establish certain principles, especially when you're considering mail-order steaks.
Often, even the savviest steak connoisseurs let down their requirements and criteria and fail to purchase a quality mail-order steak because of it.
Of course, what a good steak depends on the person. General cooking and culinary suggests a balance between meaty and lean, with some marbling for flavor. Raw meat should be red in hue and smell fresh. If you want the very best, you may go a step forward and inquire where the meat is from, and how the animal was raised.
What is the Most Tender Steak You Can Buy?
Filet mignon is considered among the most tender steak cuts you can buy. Described as buttery and succulent, it's ideal for pan searing and grilling. Top sirloin is another fantastic option– especially a top sirloin cap. Tenderloin, New York strip, and rib-eye also have excellent potential to become tender.
What is the Most Flavorful Steak?
Steak flavor comes from fat marbling, tenderness, and method of cooking and preparation. Rib-eye is often cited as one of the most flavorful and succulent cuts.
A more expensive option is also appealing: Wagyu. At its best, this steak is buttery, and described as almost sublime, with an unmatched richness. It also happens to be rich in Omega 3's and Omega 6's– making for healthier marbling.
What is the Cheapest Cut of Steak?
On a budget? Wagyu won't make the list, but there are plenty of cuts they will fare just fine, at a low price point. These include chuck eye (perfect for grilling); flat iron steak; flank steak (ideal for fajitas and stir-fries) and chuck steaks (try as a kebab). Though some of these are a little tougher and less flavorful, when prepared correctly, they still make an excellent meal.
What is the Least Fatty Steak?
Fat adds flavor, but if you need to watch your fat intake, flank steak is a great go-to. Other cuts with a high protein to fat ratio include top sirloin, round roasts (bottom and top), and eye of round roast steaks.
Is Organic or Grass-Fed Beef Better?
Another difference in how healthy your meat is? Sourcing. If you're just entertaining or gifting, you may be less selective. But for many, buying organic or grass-fed results in fresher tasting meat, healthier meat, and more sustainable and ethical meat. But there's a good deal of confusion with these terms.
Grass-fed beef usually is a good sign, but it is not the same as free pasture beef. That is, grass-fed beef tends to be healthier both for the animal and you– with more lean mass and less fat. Grass-fed beef can also have as much as 5 times healthy fats as grain-fed beef– it just doesn't guarantee that they aren't still cooped up most of their lives.
Organic beef goes a step further and ensures that animals cannot be raised in crowded or unsanitary conditions, and they must have some room to roam. So the optimal is grass-fed and organic beef– but this can be tricky to find. And, of course, it'll be more expensive.
Are Mail-Order Steaks Worth It?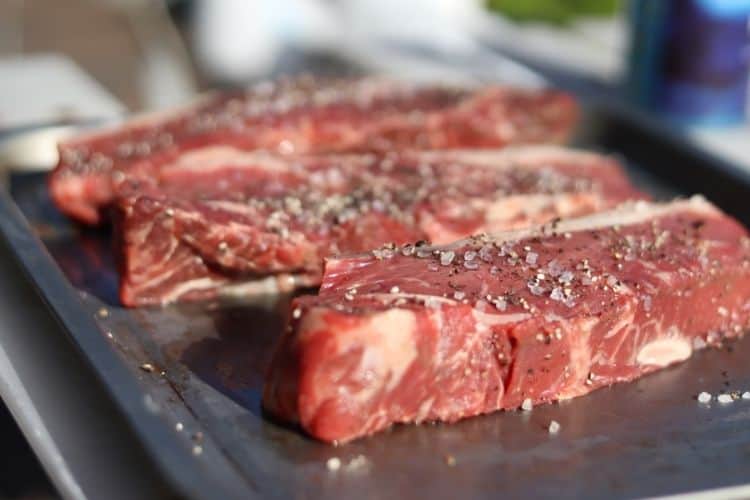 Even if you know how to find the best steak, mail order is tricky. There are some upsides, no doubt. These include greater variety, more choice, and the convenience of ordering online.
You may discover cuts you otherwise would not have, and, if you're choosy about sourcing there may be more options for mail order steaks than you'd find locally. Mail order steaks can be excellent for entertaining and even gifting. But there are some downsides as well.
Is it Cheaper to Buy Steak Online?
Mail order steak is more expensive than buying in-store– and that should come as no surprise. You're paying for the selection, any preparation, and delivery, as well as the service itself. You shouldn't expect to save money online. Shipping meat so that it stays fresh is in itself pricey. Sometimes, sites will offer discounts, bundles, or memberships as well as other ways to save.
Is Buying Meat Online Safe?
This is where selecting the best mail order steak gets tricky. There are a few reputable companies, with excellent choices. But many 'best-of lists I've come across are recommending mail-order steaks that have a history of failing customer service.
Even the best selection of steaks falls flat when you receive something you didn't order, damaged packages, and sub-par quality. The good news is that there are fairly safe places you can buy steak online. At the same time, of course, there's always a risk that something can go wrong when shipping steaks.
But, if you check customer reviews, and, especially, the Better Business Bureau, you can get a sense of the company's reputation and customer service. I would never buy from a company with a failing reputation, and I would never buy meat from a company that has no presence whatsoever outside of their websites.
Finally, make sure the website is secure and accepts payment via SSL. This ensures that your payment is safe and you're likely buying from a reputable company.
How do I Select the Best Mail Order Steaks?
Finding the best mail order steaks requires researching the company and selection. Don't simply select a company because you recognize its name. Sadly, some of the most seemingly popular mail-order steak companies have a poor history of service.
If sourcing is important to you, reading under the company philosophy and FAQ sections should provide you with information about what type of meats are selected and their sourcing standards. USDA recognition is also a good sign that there are quality standards. Above all, it's important to understand what you're buying.
Mail Order Steak Companies: My Picks
Now I'll give you my picks for the best companies you can buy mail-order steaks from. These include traditional mail-order companies, as well as one subscription-based service. My selection criteria required me to research company reputation, customer service, and, of course, the steak itself.
All of these companies are not only reputable but go above and beyond their competitors in some way. That includes the quality and sourcing of the steak. I found several mail-order steak companies that fell short in one or multiple areas, and am only recommending the best.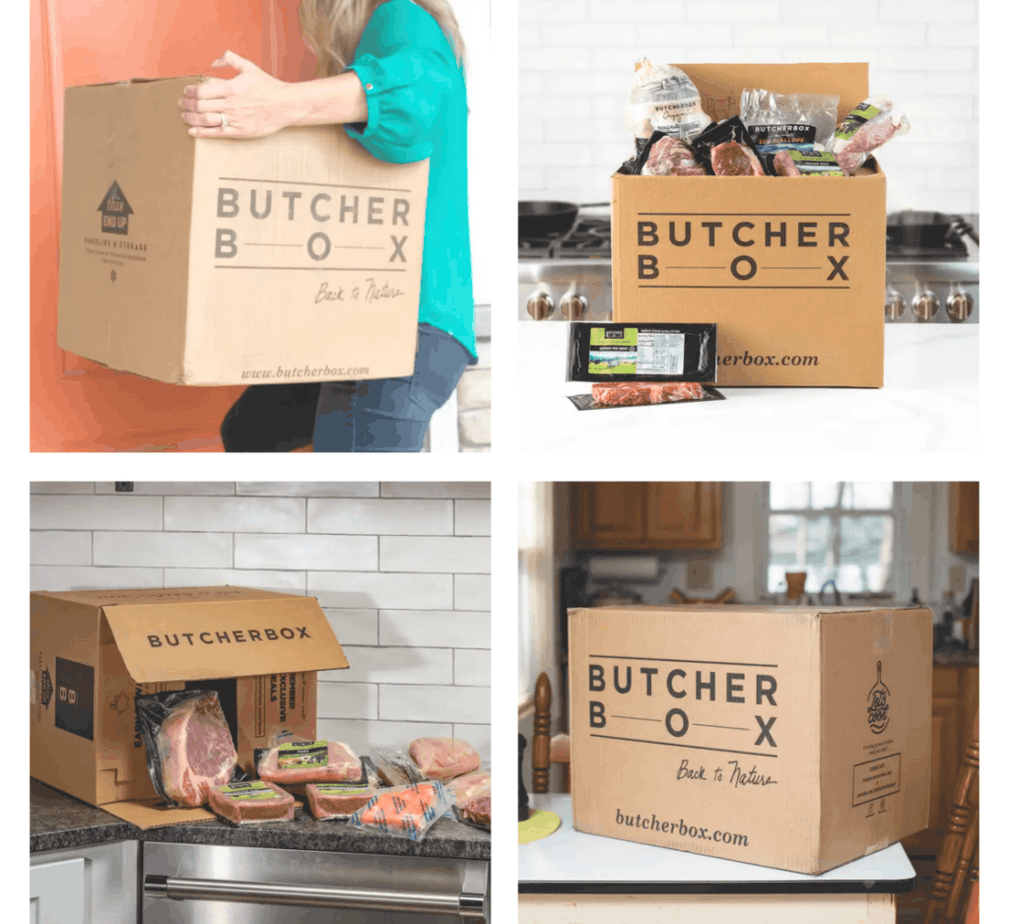 ButcherBox is a meat delivery and mail-orders company focused on premium quality meat. Whether that's a subscription or a one-time purchase, this company has an excellent rating in the professional world and by customers. Founded to deliver premium meat to American's doors, it's become a leader in grass-fed beef.
All beef products are humanely raised without antibiotics and contain a great source of Omega 3 fatty acids. The cattle spend their entire lives grazing out in pastures, going a step above most grass-fed meats.
Shipping and Buying Options
You can buy either a subscription or one-time purchases, called gifts. Most orders arrive three to five business days after being placed. Delivery is via FedEx and you can be gone at work– no signing for the package needed. Shipping is mostly complimentary to anyone in the continental United States, and all packaging is sustainable and made out of recycled materials. Packages are treated with care and can safely sit out for six to eight hours upon arrival.
Curated Boxes
If you're only interested in beef cuts and steaks, the curated box for you is the All Beef Box. Each shipment contains 8.5 to 11 lbs of grass-fed, premium beef, for a cost of $137 per month.
A sample box may include ground beef, New York strip steaks, steak tips, chuck roast, and top sirloin steaks. You can choose to have this box shipped for the frequency that best suits you and you can cancel at any time before your next shipment.
Gifts
Gifts are more like a typical mail order service but in bundle form. These gifts include beef, chicken, and seafood products. For steak, your best bet is the Steak Lover's Box.
Priced at $135, this box includes 10lbs total of some of the most popular steaks. All of these, of course, are grass-fed and antibiotic-free. In this sampler box, you'll receive two 10 ounce ribeye steaks, two 10 ounces NY strip steaks, two 6 ounce filet mignons, and four, 6-ounce top sirloin steaks. Buy Here or Shop All Gifts.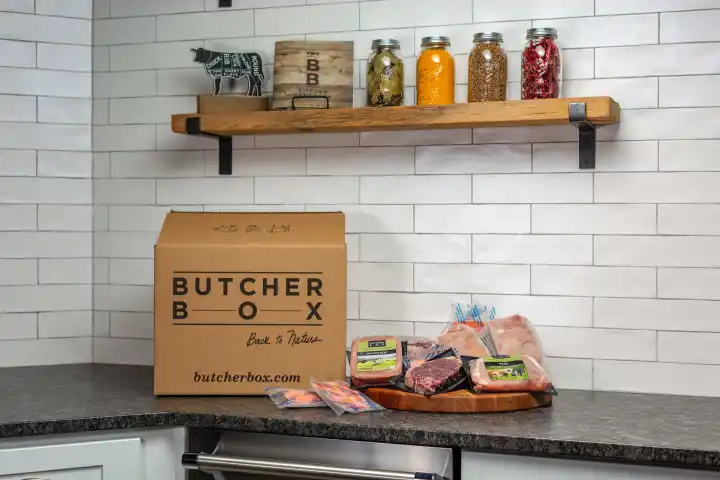 Meat Delivery Subscription | Butcherbox
ButcherBox delivers 100% grass-fed beef, free-range organic chicken, humanely raised pork, and wild-caught seafood directly to your door. Sign up today!
Check Prices
We earn a commission if you make a purchase, at no additional cost to you.
Grass Roots Farmer Co-Op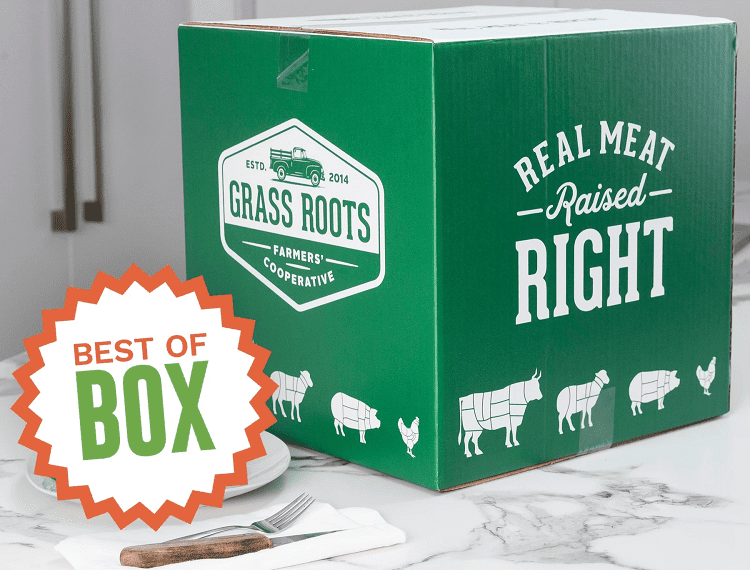 Grass Roots Farmer Co-Op is an unexpected option, but truly a great one. This high-quality, smaller company provides some of the highest standards for steak. Even better, the prices aren't as high as you might expect for some premium mail-order steak, and many of the options are ones you might serve at your next cookout.
While all of these steaks are from grass-fed beef, this company goes above and beyond that distinction. All meat is antibiotic-free, pesticide-free, and USDA sourced. All meat is inspected and sourced from small farms. You can also earn purchasing credits the more you buy.
Shipping and Buying Options
Order steak just as you'd expect with any mail order service. All steaks arrive frozen in recyclable, biodegradable packaging. All orders are shipped via FedEx. Shipping is free for orders over $120, or a flat shipping fee of $25 for all other orders. Shipping takes 2 to 7 business days, can be tracked, and is available to all continental states in the U.S.
Individual Picks
While there are many excellent options available, some of the most popular and compelling options include Boneless Ribeye Steak ($28.95 for 14 to 16 ounces); Sirloin Steak ($11.95 for 7-9 ounces); New York Strip Steak ($23.95 for 10-12 ounces); Skirt Steak ($22.95 for 1 to 1.5 pounds) and Flank Steak ($22.95 for 1 to 1.5 pounds). Shop All Here.
U.S. Wellness Meats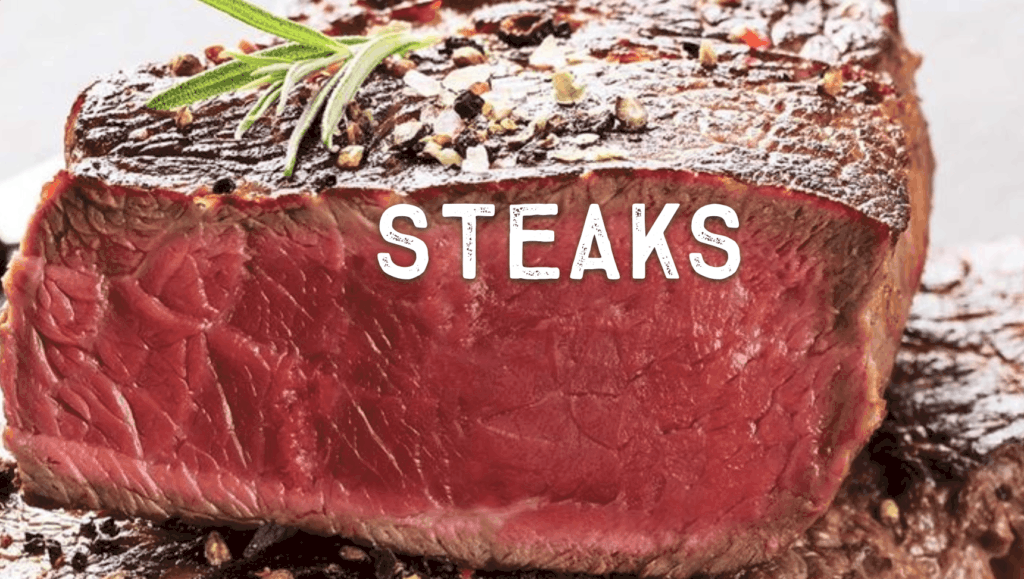 Love the idea of great service and excellent steak? U.S. Wellness Meats has one of the largest beef and steak selections that are still within the thoughtful sourcing category.
All of their beef is grass-fed and sustainably sourced, free of hormones and antibiotics. The company also partners directly with their sources, meaning they know about how animals are treated and the true quality of the meat they're selling. They're also known for helpful delivery and customer service.
Shipping and Buying Options
You'll pay a $9.50 flat fee on every order and orders are shipped within the next business day. All meat, including steaks, arrives fresh, usually on a rotating schedule.
While there's nothing wrong with flash-frozen beef, some may prefer fresh. Of course, this does mean you should be home when it's delivered. Like other mail-order steak companies, you order a la carte, with no subscriptions attached.
Individual Picks
Their steaks selection is one of the most impressive of all mail-order steaks, aside from highly specialized options. Most will find there's plenty of variety. Ribeye Steak (12 ounces for $21.96) (and even French Ribeye); Beef Thin Sirloin Keto Steaks (1 pound for $19.22); Beef Coulotte Steak ($9.95 for 6 ounces); Beef London Broil Steak (2.25 pounds for $28.99); and Beef Top Sirloin Primal ($57.25 for 4.5 pounds), among others. Shop All Steak Here.
Frequently Asked Questions
Question: Is it Better to Buy Meat From a Butcher or Supermarket?
Answer: Buying meat at a supermarket is often cheaper and convenient. But the truth is you're likely to find higher-quality meat from a butcher. Butcher meat tends to be fresher and you'll have a wider selection of cuts at higher grades.
The other benefit is the services that butchers provide. Butchers can point you in the right direction of what cut is best for you, as well as provide preparation tips for steak cuts.
Question: Why are Mail-Ordered Steaks so Expensive?
Answer: There are two main reasons why mail-order steaks are expensive. For one, though not universally true, many mail-order steaks offer higher grade cuts. For another, keeping steak fresh through the shipping process is expensive. And of course, you're buying for the service itself.
Of course, comparison shopping is always advised. Mail-order steaks may not be the best solution for everyone, but there's certainly value in the service for many. Just make sure that you're buying from a reputable company so that your money is well spent.
Question: Can You Buy Raw Steaks from Texas Roadhouse?
Answer: As an alternative to mail-order steaks, Texas Roadhouse is now selling fresh cuts of steak you can take home and cook. This includes ribeyes, strips, sirloin, and filets.
Check with your local Texas Roadhouse restaurant to see what they have available. Of course, selection may vary based on your location. And you'll also need to know how to season your steak well. For inspiration, check out this Texas Roadhouse Copycat Recipe.
Final Thoughts & Honorable Mentions
I've mostly focused on high-quality steaks, even if they are pricey. And while I do recommend the mail order steaks I mentioned, I understand that these options may not fit everyone's preferences. For those reasons, I wanted to mention some honorable mentions as well.
If you're looking for conventional but reputable steaks, you might want to consider Omaha Steaks or the Kansas City Steak Company. Omaha Steaks offers a great variety of steaks, along with sides. That is great for entertaining and can even be gifted. They also are one of the oldest mail-order companies.
Kansas City steaks are especially flavorful, all USDA choice or prime, and feature signature marbling, with careful oversight of whom they partner with.
I also love that they have a nice variety of cuts, from casual to entertaining. With a respectable reputation for customer service and delivery, they're a great option for many households just looking for a flavorful steak for dinner.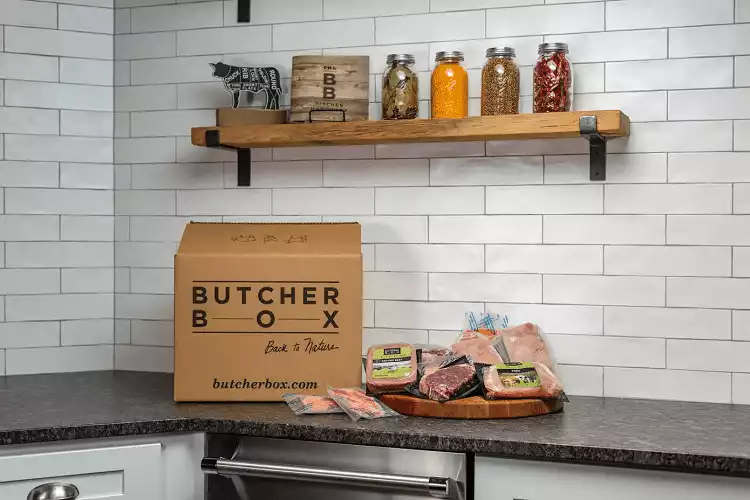 Try ButcherBox Now!
ButcherBox delivers 100% grass-fed beef, free-range organic chicken, humanely raised pork, and wild-caught seafood directly to your door. Sign up today!
Order now
We earn a commission if you make a purchase, at no additional cost to you.
Looking for more interesting readings? Check Out: