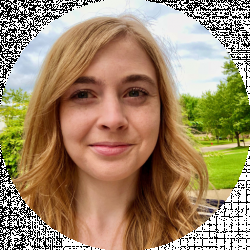 Latest posts by Erin Jamieson
(see all)
No antibiotics or hormones. Sustainably raised meat and the ability to select from high-quality cuts, from filet mignon to ribeye. The promises offered from Good Chop are compelling– and that's why I decided to give it a try for myself.
Of course, Good Chop isn't the only food subscription service that offers premium meats and seafood. They join competitors like Butcher Box and companies like Butcher Box. Rather than focusing merely on popular meat and seafood types, the trend is towards quality. 
From humanely raised animals to cutting out the use of fillers, growth hormones, and antibiotics, customers are expecting more. But I'm also aware that these options aren't as cheap as what you can get at a grocery store– or even through popular mail-order steak companies like Omaha Steaks.
Exclusive Offer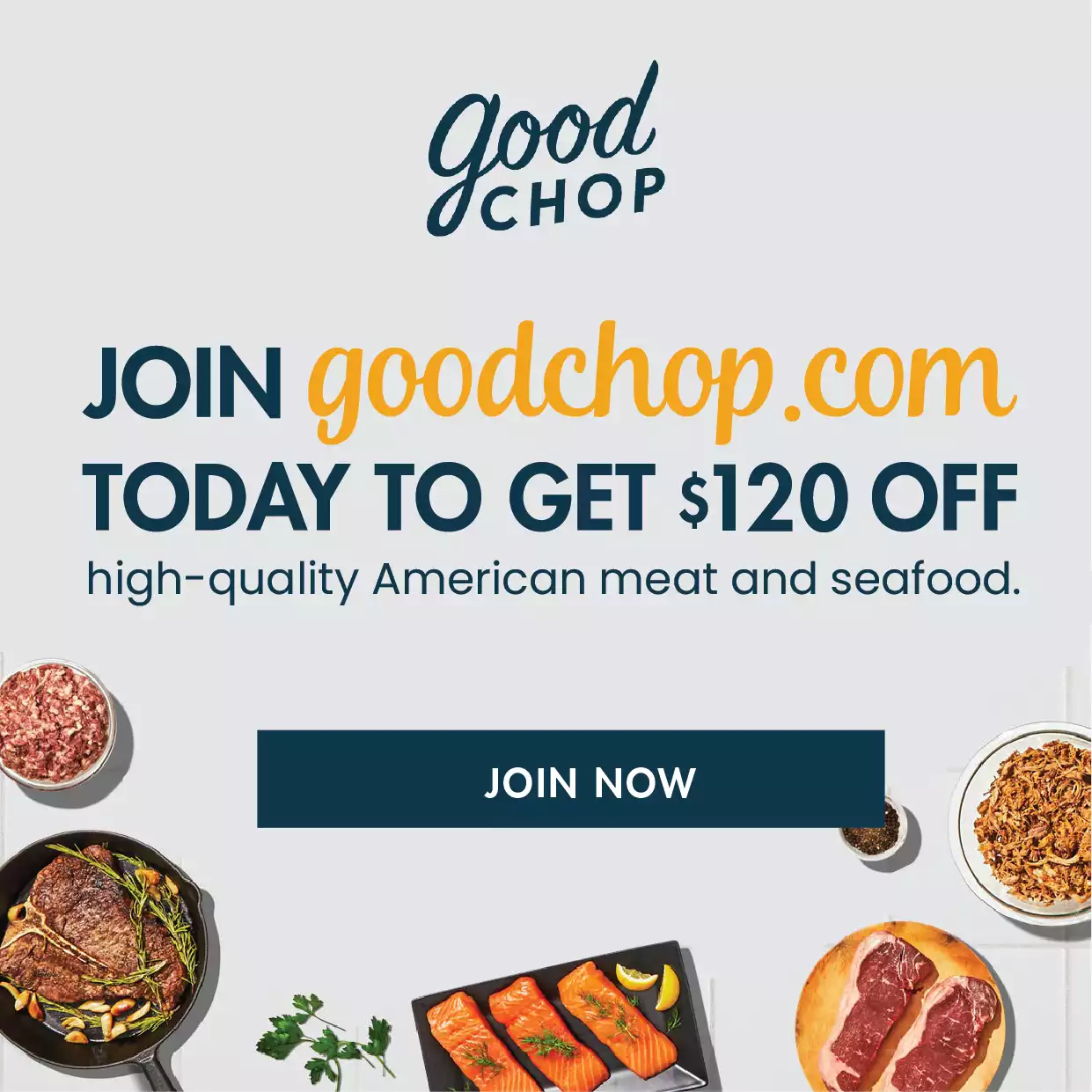 So the question is: is Good Chop as good as it claims to be? And is the price worth paying what you get delivered to your door?
In this review, I'll guide you through the process of ordering through Good Chop, what you can expect, and my personal experience.  From ordering to delivery and packaging, here's what you need to know before you sign up for Good Chop.
How Does Ordering from Good Chop Work?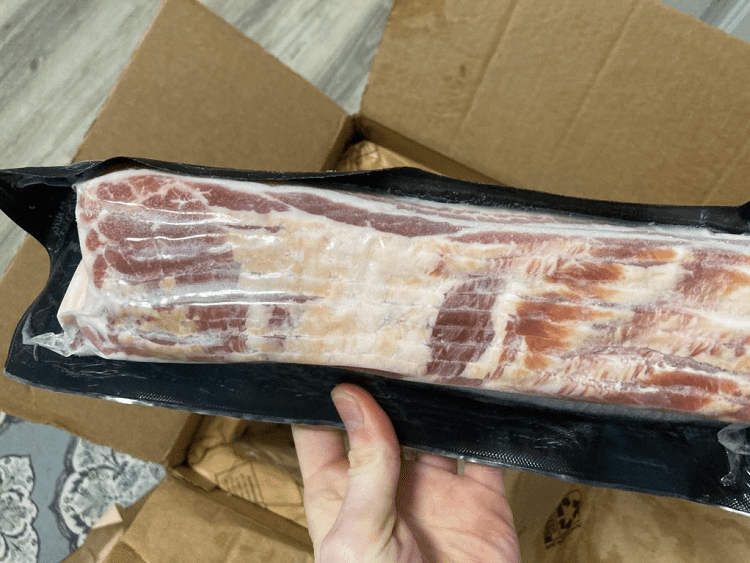 I ordered a sampler box– which included both meat and seafood. I wanted to get a sample of most of what they carry, but the good news is that Good Chop provides plenty of options.
You start by purchasing one of their plans— a medium box or a large box. Each box is 100 percent customizable, meaning you can select any meat or seafood as designated on their menu. 
Boxes arrive every 4 weeks, though you may cancel or pause your subscription at any time. 
Medium Box
The medium box is perfect for small families and couples and can comfortably fit inside a freezer– even my relatively modest-sized freezer in my apartment.
While the actual weight will vary depending on what you select, you'll receive 6 items, for up to around 36 portions. Meat and seafood will keep 1 year in the freezer. Priced at $149, or $109 on the current promotion. 
Large Box
Suited for large families– and large freezers, the large box offers up to 74 portions and allows you to select twice as much- 12 items– from the Good Chop menu. The meat and seafood are good for a year in the freezer. Priced at $269, or $229 on promotion. 
How Does Delivery with Good Chop Work?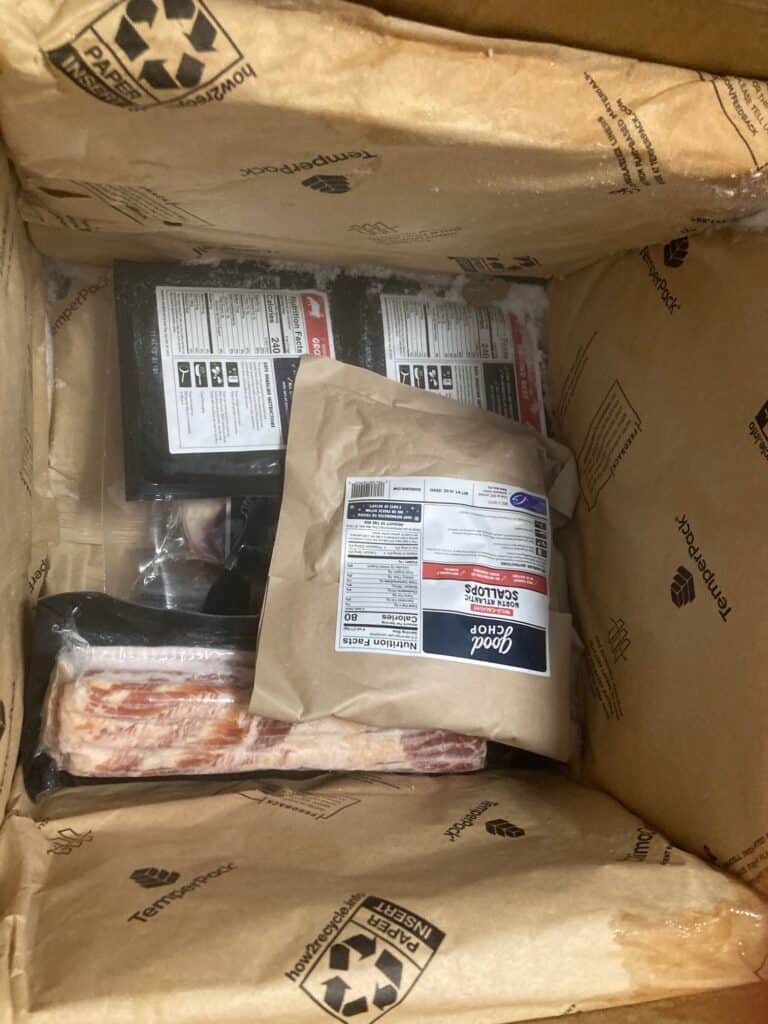 If you've ever seen a food delivery service and hesitated, I don't blame you. It can be nerve-wracking to spend money– and worry about it arriving safely. My package arrived entirely without damage, and I was also pleased that the meat and seafood were entirely frozen, packed carefully with dry ice. 
Do You Have to be Home to Accept a Good Chop delivery?
Have a crazy work schedule? You don't need to worry about being home. The dry ice is meant to last while you're gone, and your package will be delivered regardless.
While boxes usually arrive between 8 am and 8 pm EST, those delivery times, as you can imagine, vary. I received mine around 4:30 to 5 pm EST. You'll also receive a tracking email once your delivery is on its way. 
Can You Recycle Good Chop Packaging?
Good Chop lives up to its name by supplying 100 percent recyclable packaging. In addition to the box, the insulated liners are made from plant-based sources and recyclable materials.
To dispose of dry ice, place it in an area of room temperature, and keep it away from children or pets. It'll evaporate on its own. Never handle dry ice directly and don't throw it out in trash cans or toilets. 
What Happens if Your Package Arrives Late or Has Missing Products?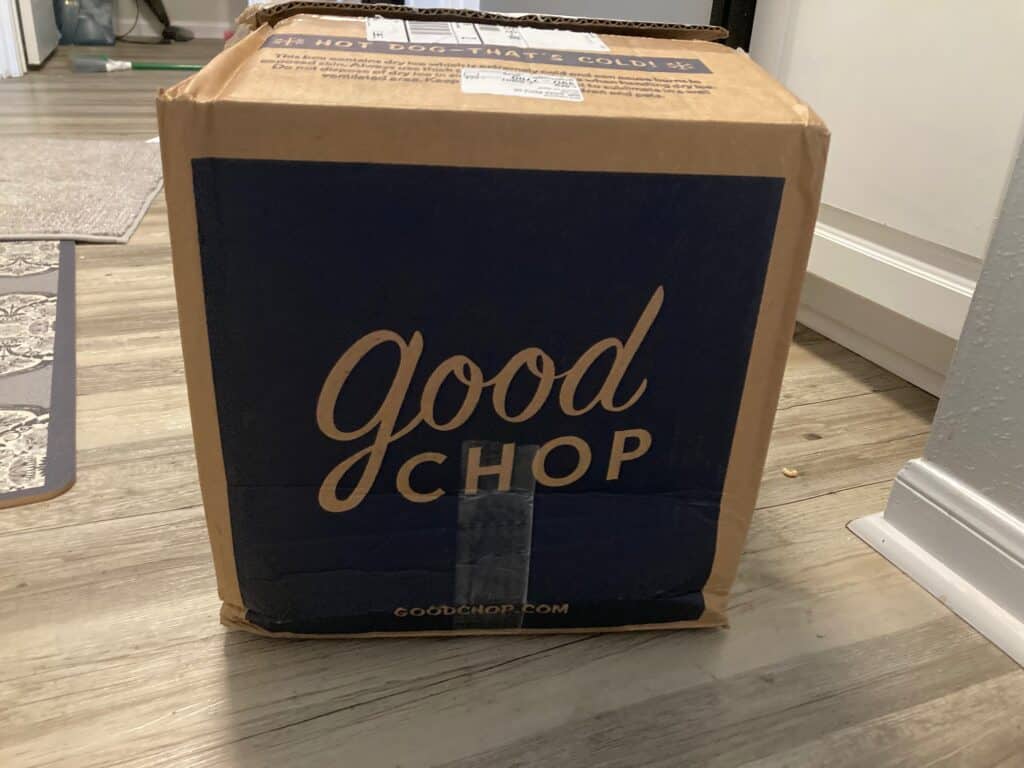 My experience with Good Chop was excellent. Not only did the package arrive in perfect condition, but it also arrived with all products as expected. However, you can reach out to customer service if it arrives late or has any defects.
In the event, your meat is thawed (there is no dry ice) contact customer service. I'd also recommend taking pictures of the meat and/ or packaging. However, going off my experience and others I have seen, this doesn't appear to be a common problem. 
Can You Change Delivery Dates and/or Your address?
While you can't alter your first delivery date, you can change your delivery dates after. You can also log onto your online account and change your address as needed. 
What Type of Meat and Seafood does Good Chop Sell?
While I tried to sample the best variety possible, Good Chop offers quite a few choices for meat and seafood, and there's honestly a lot to love. Menus may change from time to time, but there's a nice variety of choices. You'll find beef, chicken, steak, pork, turkey, and seafood.
Current Meat Options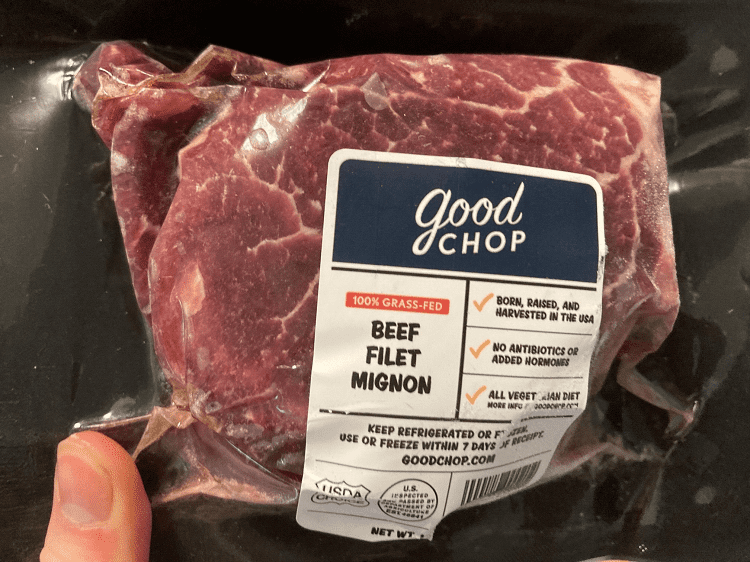 The current Good Chop menu includes ribeye steak, sirloin steak, grass-fed filet mignon, boneless skinless chicken breasts, new york strip steaks, boneless pork chops, grass-fed ground beef, ground beef, uncured bacon, stew meat, burger patties, ranch steaks, bavette steaks, grass-fed bavette steaks, porterhouse steaks, filet mignon, pulled pork, t-bone steak, the bottom of round roast, flat iron steaks, chicken thighs, pork tenderloin, boneless pork butt, Italian sausage, pork loin roast, and a whole organic turkey.
Current Seafood Options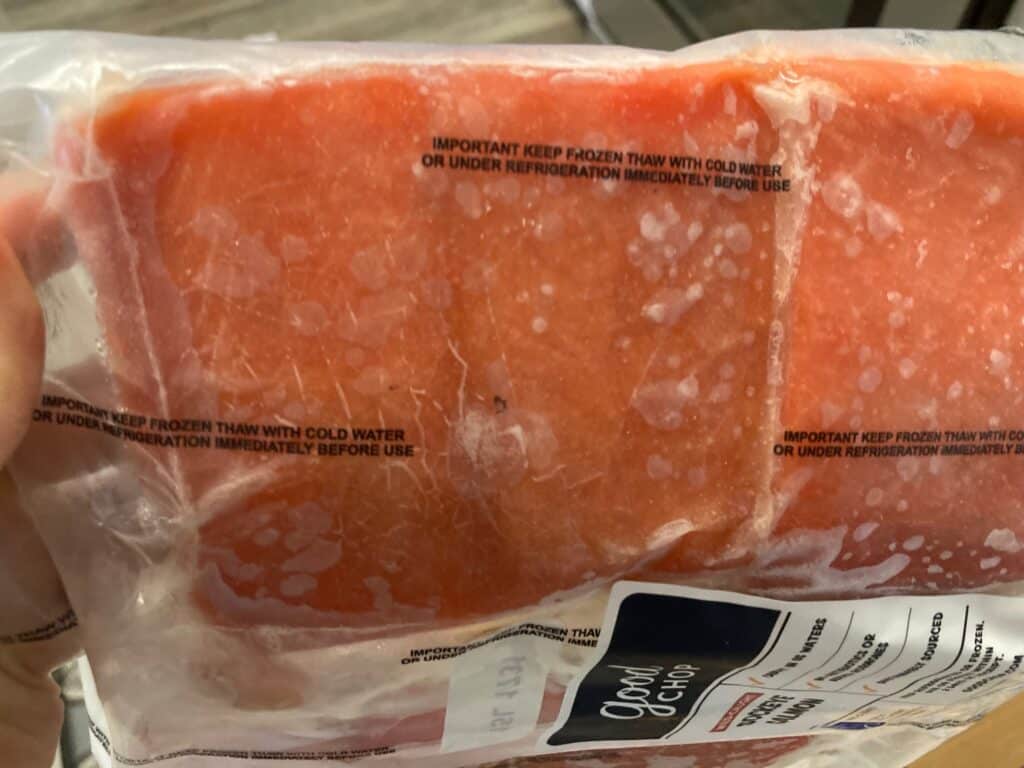 Seafood is not as varied, but still impressive. Select from wild-caught Alaskan salmon, wild-caught rockfish, wild-caught pacific cod, wight-caught pacific cold water shrimp, and wild-caught sea scallops.
What I Ordered
My package arrived just as expected, with the meat and seafood thoughtfully packaged, and entirely frozen. My package included: Wild Alaskan Sockeye Salmon, 100 percent grass-fed ground beef, thick-cut bacon, ribeye steak, wild-caught North Atlantic scallops, and filet mignon. 
Is the Meat and Seafood from Good Chop Any Good?
Now I want to focus on quality. While I was pleased with the delivery and selection, quality matters– especially when a company makes big claims about their products. For Good Chop, those claims are largely delivered. 
Where do the Seafood and Meat Come From?

Many meat delivery companies cheer on their flavor and signature cuts but offer next to no information as to how their meat and seafood is sourced. Not so for Good Chop. All meat and seafood are raised and/ or harvested from the United States.
Wild seafood is caught off American coastlines, and farm-raised seafood comes from U.S. fisheries. Meat is raised domestically by family-owned and independent farmers. Good Chop also works with domestic producers to cut down on pollution and waste. 
What About Their Beef?
Good Chop sells both grain-fed and grass-fed beef, all of which is clearly labeled. All of their cattle are raised and harvested in the United States, sourced from domestic family farms and independent ranchers. All cuts are free of antibiotics, growth hormones, preservatives, and artificial ingredients of any kind.
Most are either USDA Choice or Prime graded, lending to the juicy and tender meat. Grass-fed beef is sourced from family farmers in Nebraska, Iowa, and South Dakota, where cattle have the continuous ability to roam in pastures. All farmers undergo third-party audits that ensure respectful and sustainable farming practices. 
What About Their Chicken and Pork?
All Good Chop pork comes from farmers registered with Pork Quality Assurance Plus, a third-party training standard that ensures animal well-being and proper practices.
Hogs are raised in temperature-controlled barns with access to veterinarians and healthy food. The pork is free of hormones, antibiotics, hormones, and artificial ingredients. 
Chicken is sourced from family-owned farms in Nebraska and Iowa, raised on a vegetarian diet (which is not necessarily abnormal for conventional chicken either).
But, chicken is also antibiotic and hormone-free, as well as free of preservatives. Chicken is free to roam, instead of caged. Chicken cuts are air-chilled, which does a better job of retaining moisture, leading to a more tender, tastier meat. 
What About their Seafood?
Good Chop seafood is either wild-caught off American coasts or farm-raised in the United States. All seafood is hormone and antibiotic-free. They also go a step further by partnering with the Blue Marine Stewardship Council and the Agricultural Stewardship Council to ensure sustainable seafood. 
What About Taste?
When I received my Good Chop box, I immediately was struck by the vibrant, healthy color of the salmon and meat. Too often when you go into a grocery store, meat has a brownish appearance.
Not so with Good Chop, which stays true to its mission with fresh, signature cuts. Rich marbling and tender cuts lend themselves to succulent flavors. Most cuts are juicy, and much more flavorful than your average grocery store meat. Meat and seafood both defrost well for a satisfying meal. 
With extra quality, you can taste the difference. 
Other Alternatives to Consider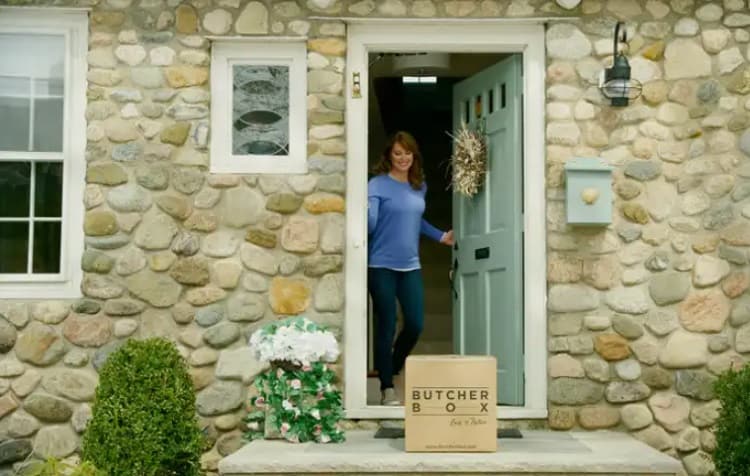 Love the idea of responsibly sourced meat but aren't 100 percent sold on Good Chop? There are some great alternatives. My favorite is ButcherBox.  This delivery service offers 100 percent grass fed beef, as well as pork raised crate-free, free-range chicken and wild caught seafood. Subscribe Here.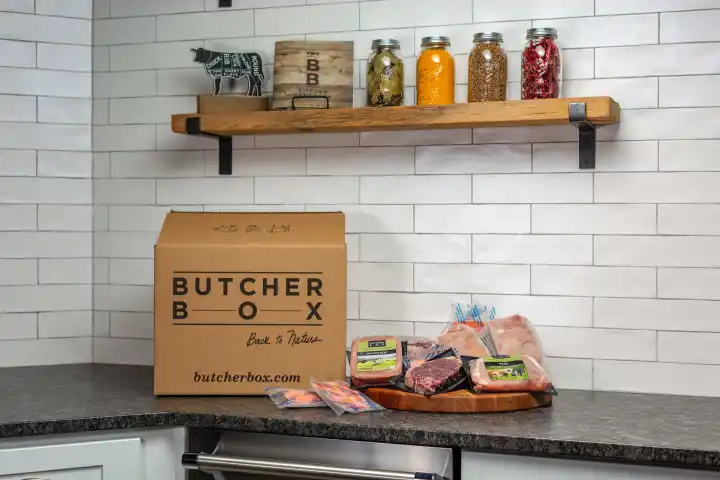 Meat Delivery Subscription | Butcherbox
ButcherBox delivers 100% grass-fed beef, free-range organic chicken, humanely raised pork, and wild-caught seafood directly to your door. Sign up today!
Check Prices
We earn a commission if you make a purchase, at no additional cost to you.
Free range chicken, high-quality steaks and even Wild Maine lobster are just a few highlights from the thoughtfully sourced meat and seafood from Crowd Cow. Shop Bestsellers Here.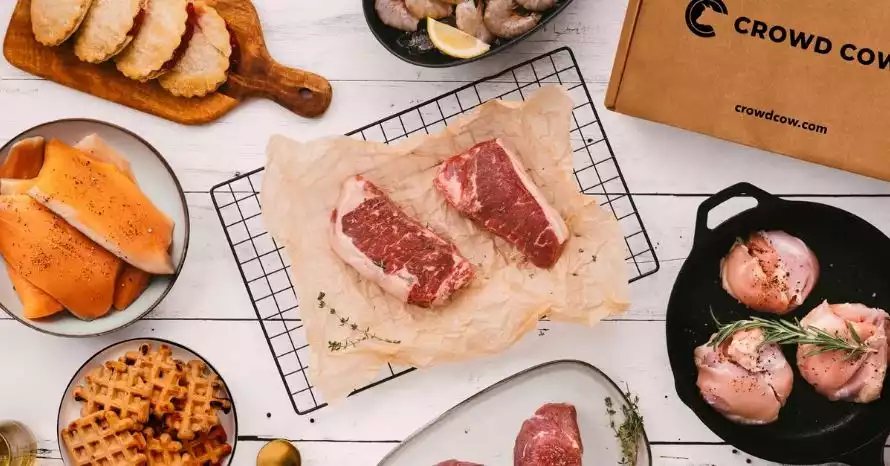 Frequently Asked Questions
Question: Is it Cheaper to Order Meat Online?
Answer: You may be looking into Good Chop– or other meat delivery and mail order options- to save money. But ordering meat online simply isn't cheaper, and that makes sense. You're paying for not just meat alone, but several services.
And while many meat delivery services claim free shipping with boxes, those costs are still factored in. You're paying for the selection, access, and packaging, as well as customer service. Expect to pay a bit more when you're ordering online, especially if you're buying organic or specialty meat and seafood. 
Question: What is the Best Quality of Meat?
Answer: No matter where you're buying meat from, it's a good idea to understand what different meat grades mean. 
Question: What is the Best Quality of Meat?
Answer: No matter where you're buying meat from, it's a good idea to understand what different meat grades mean. 
Beef Grading 
The United States Department of Agriculture (USDA) grades meat based upon aging, marbling, and cut, amongst other factors. The higher the quality of meat, the more tender, juicy, and flavorful.
The USDA grading system categorizes beef into the following, with Prime being the most ideal and canner the poorest quality.  Utility, canner, and cutter grades are only used for products such as hot dogs and other processed meats. 
• USDA Prime: Young cattle, with present marbling ( 8 to 13 percent). Grass-fed will have less marbling but is considered to have a unique, fresh flavor. The highest quality is possible.
• USDA Choice: High-quality beef from young cattle, but less flavorful marling (4 to 10 percent). This constitutes around half of the beef sold and is still excellent and flavorful. 
• USDA Select: Leaner with far less marbling (2 to 4 percent), select is an okay cut, but it tends to be drier and can be tough if not carefully prepared. Cattle are not as young. 
• Standard and Commercial: At this level, grading may not occur at all. If you don't see USDA grading, it's most likely in this category. While meat inspections are required, these cuts may be tough and not flavorful. 
Pork Grading
Pork grading is different. The USDA grades pork based on numerical categories. Grading factors include last rib backfat thickness, degree of muscling, and overall quality.
Many pork on the market are commercial grade and graded by the USDA at all. The lower the grade, the highest the quality (No 1 is the highest). 
Question: Is Ordering Meat Online Safe?
Answer: It's one thing to order Christmas presents, clothes, and other non-perishable items online– another to order meat. Many feel uneasy about safety, but the truth is it's all about who you order from. Order from a company with high reviews and standards, and secure websites.
The best places to order meat online offer careful packaging, often dry ice, and speedy shipping to ensure your meat stays at a safe temperature. If you happen to receive meat and its room temperature, has a strange color or smell, then toss it out immediately. Contract customer service for a refund.
Exclusive Offer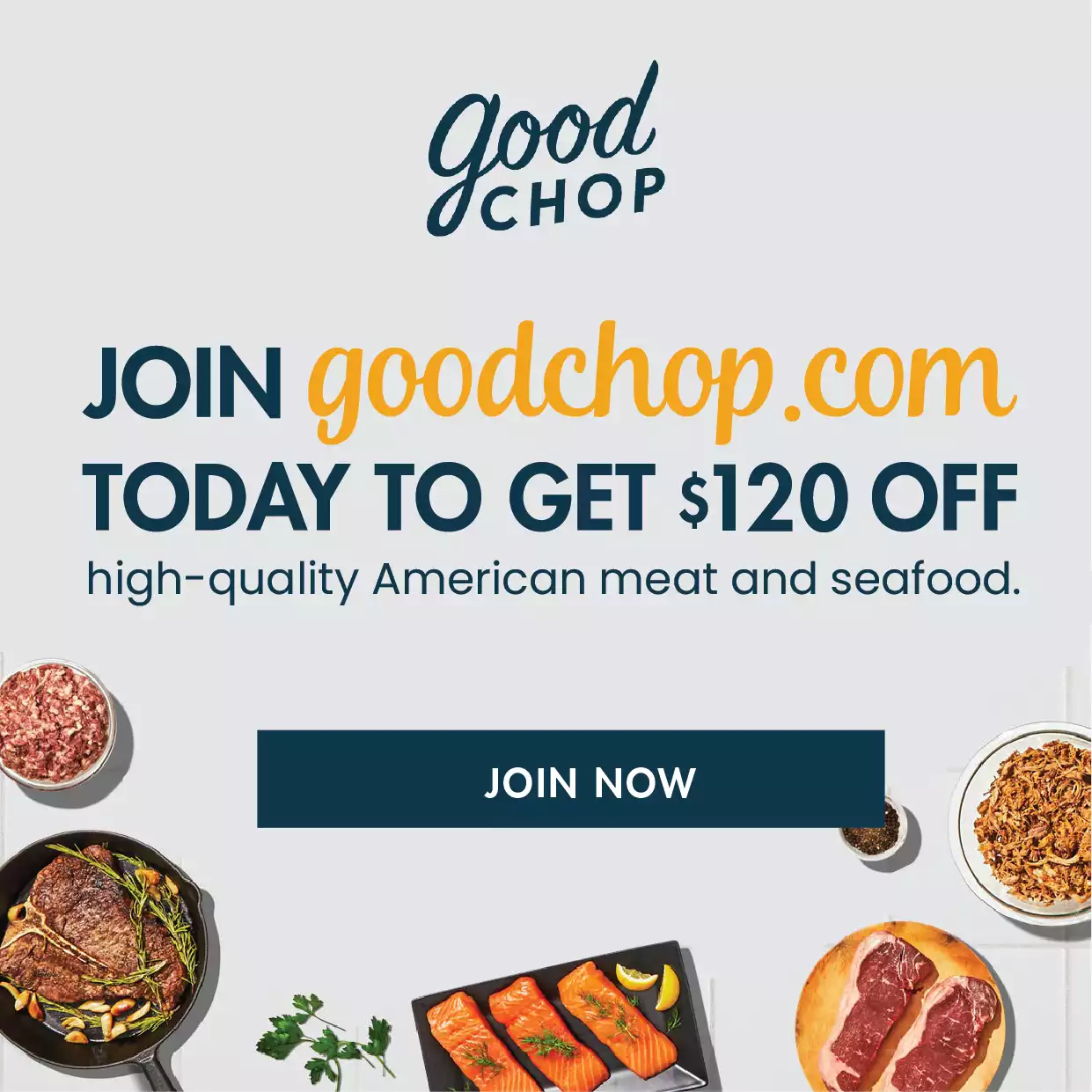 Final Decision: Give it a Try
Good Chop isn't 100 percent perfect– what company is? I'd love to see a few more options in the future for seafood, and maybe for pork, chicken, and turkey.
It's not cheap, but I also wouldn't say it's overpriced for the quality you're getting. All told, Good Chop offers some excellent meats and seafood, with high standards for everything from sourcing to customer service.
I enjoyed my experience with Good Chop, and I hope you do as well if you give it a try. And with a 100 percent satisfaction guarantee, plus the ability to pause or cancel at any time, you're not risking much. They also offer promos. As of Oct 22, 2021, they were offering $80 off with the order of your first three boxes. 
Interested? Click Here to Order Your First Good Chop Box.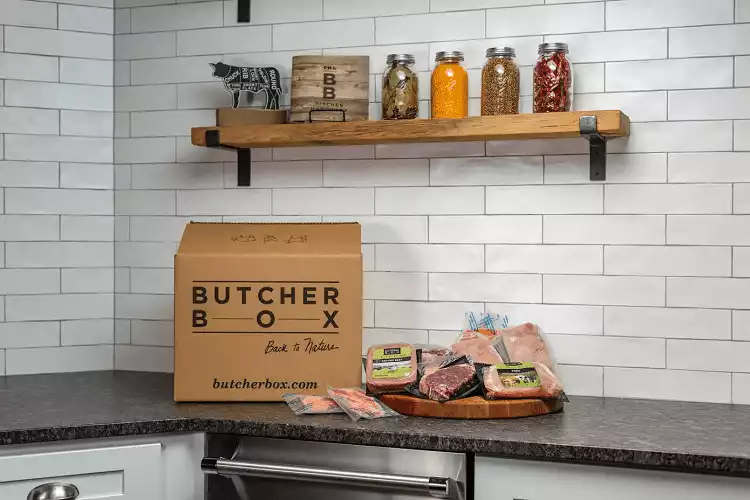 Try ButcherBox Now!
ButcherBox delivers 100% grass-fed beef, free-range organic chicken, humanely raised pork, and wild-caught seafood directly to your door. Sign up today!
Order now
We earn a commission if you make a purchase, at no additional cost to you.
Looking more interesting readings? Check out: