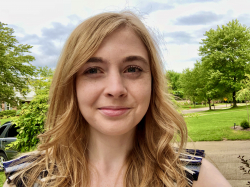 Latest posts by Erin Jamieson
(see all)
As an annual Christmas tradition, my family used to travel an hour and a half to Clifton Mill. Afterward, we'd warm up from the cold at an Amish restaurant. It had a buffet of homemade and locally sourced food. I remember how different the meat tasted. This instilled my enthusiasm for ethically-sourced, organic food. 
I became interested in meat delivery companies like Porter Road and ButcherBox. We don't all have time or access to get high-quality meat.  But I wanted to know: is it all marketing hype? Is  Porter Road or ButcherBox worth the cost?

To save you time and money, I'm comparing Porter Road vs ButcherBox. This review may surprise you as much as it surprised me.

Bottom Line Up Front
While I think both Porter Road and ButcherBox are respectable meat subscription companies, ButcherBox holds the advantage. The reason I'd choose ButcherBox is for its higher sourcing standards, selection of wild-caught seafood, fair return policies, and flexibility. 
Main Differences Betweemn Porter Road vs ButcherBox
Porter Road

ships every 2, 4, or 8 weeks, whereas 

ButcherBox

ships monthly, with the option to skip deliveries

Porter Road

has beef, pork, and chicken, whereas 

ButcherBox

has beef, pork, chicken, and wild-caught seafood

Porter Road

ships refrigerated with biodegradable gel packs, whereas 

ButcherBox

ships frozen with dry ice

Porter Road

doesn't promise any refunds, whereas 

ButcherBox

has several options for refunds
Porter House vs ButcherBox: Which is Worth Your Money?
If you're anything like me, you like seeing side-by-side comparisons. So that's exactly the approach I'm taking with Porter House vs ButcherBox.  Hopefully, you'll come to your conclusion to decide which company is more trustworthy.

Company History and Mission 
I know that this isn't the first category that people look at. But I've gotten into a habit of looking into the company's history and mission to get a sense of what they stand for. Plus, I wanted to see how ButcherBox and Porter Road's mission statements compared.

Porter Road is based in Nashville and was founded in 2000 as a local butcher shop. Though they don't disclose it on their website, their business is officially listed under Local Eateries Inc.  Local Eateries is the business that processes and supplied Porter Road meat. It was incorporated in 2017.

Porter Road decided to combine traditional methods with their delivery service. All of their meat is cut by hand. However, that meat is cut and processed in a separate facility in Kentucky. They work with many partners for a more hands-on approach. The main takeaway is that they care about sourcing hormone-free meat.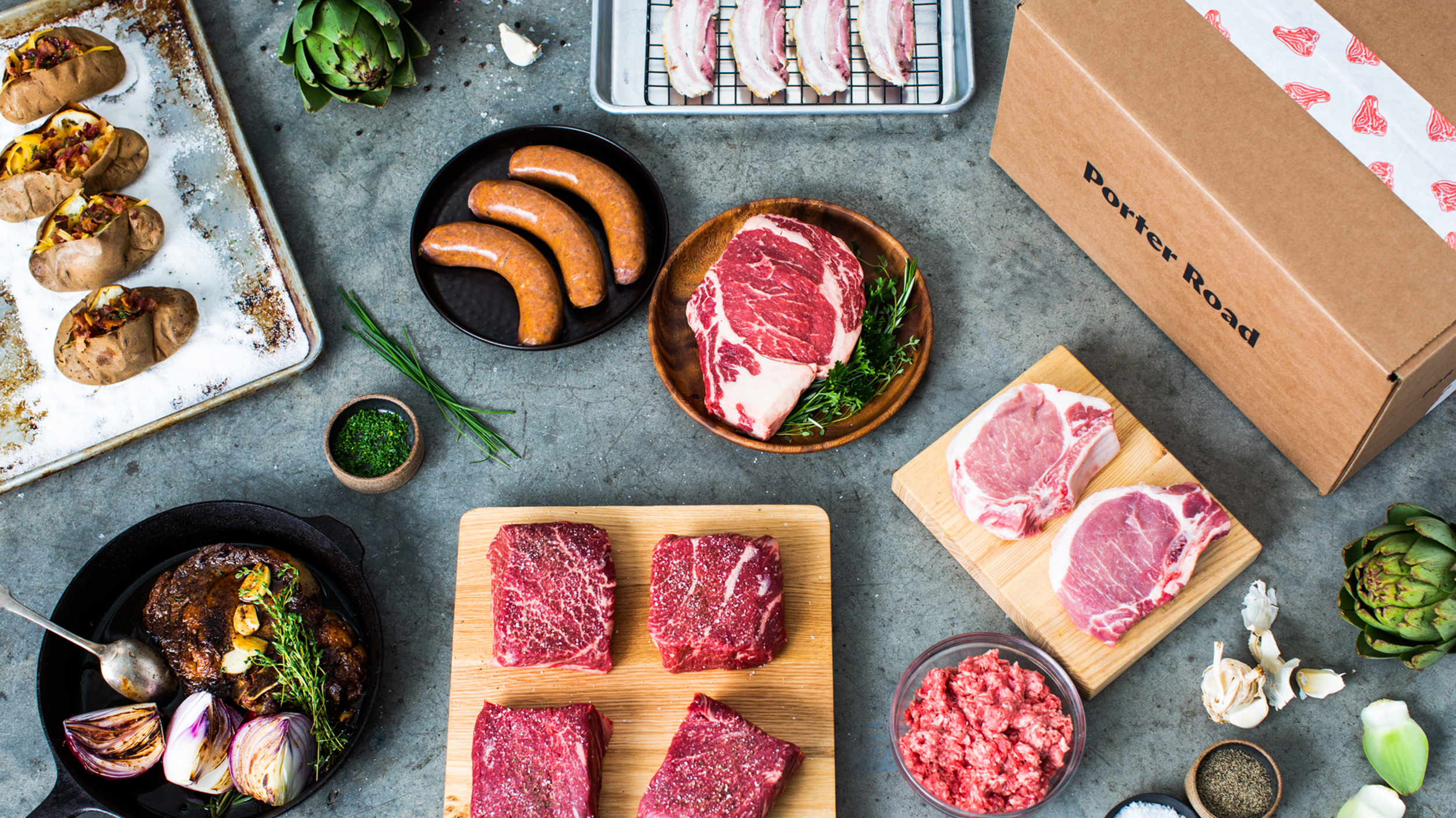 ButcherBox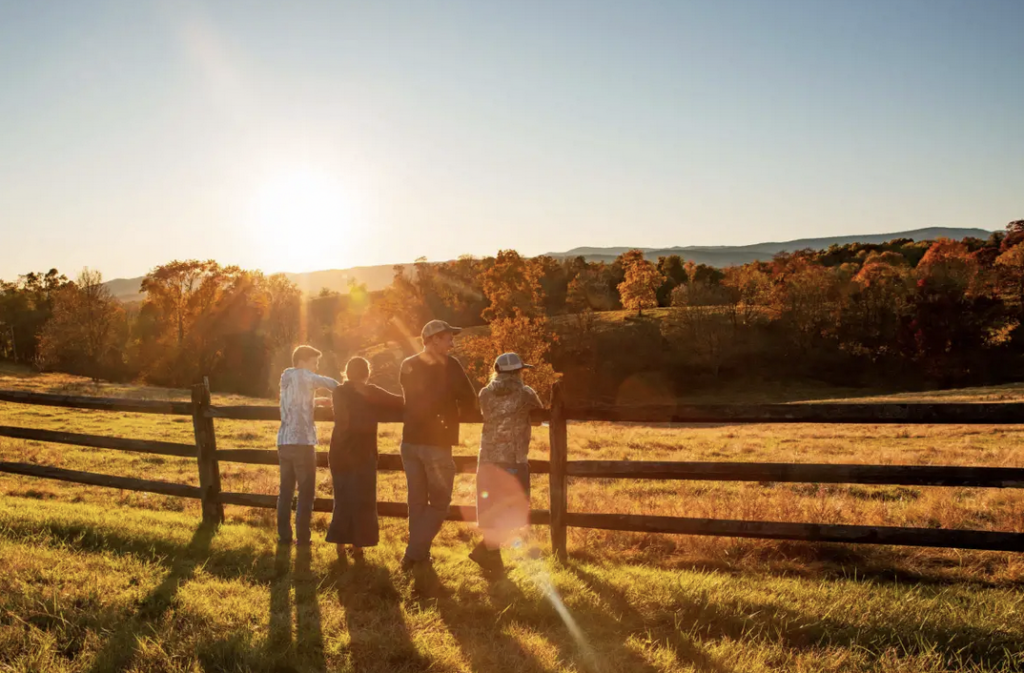 ButcherBox started operating in 2015 and is still owned by CEO Mike Salguero. He started the company after connecting with local farmers.
His mission was to make "meat more accessible" and provide higher standards. The goal was to reach Americans with ethically-sourced meat while impacting the food system.  ButcherBox is interested in fair wages and fair working conditions for farmers and fishermen. They also provide sustainable meat.

 I was interested that they went into more detail about their standards. ButcherBox donates to nonprofit organizations. It's also a roadmap to producing social and environmental responsibility reports. I especially appreciate that ButcherBox is pursuing third-party certification to improve its accountability. 
Winner: ButcherBox
I was a little surprised by this category. Both ButcherBox and Porter Road have a shared goal of providing ethically-sourced meat. However, ButcherBox is far more transparent. Porter Road doesn't disclose its company history. ButcherBox, on the other hand, explains their current methods and goals.

Subscription Plans and Pricing
If you're going to order from a meat subscription service, then both plans and pricing matter. But it's not all about the initial price.
I wanted to see if Porter Road or ButcherBox offers more flexible plans. That's important for planning around travel and family. As someone who lives alone, I wanted to see if they had options for small and larger households.

Porter Road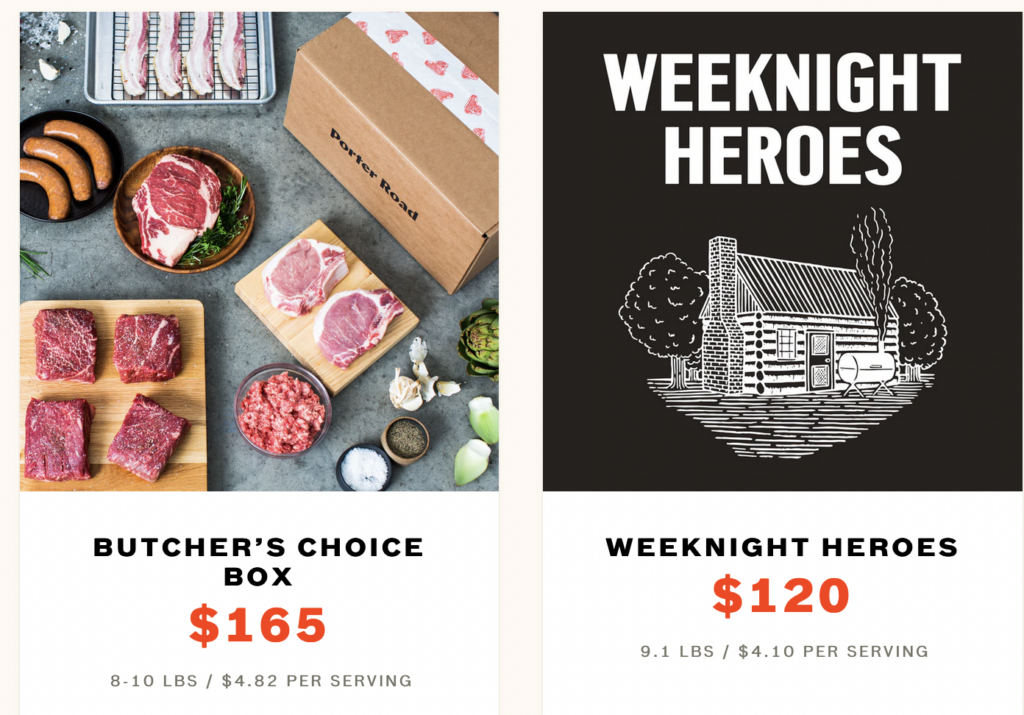 Like Butcher Box, Porter Road has 5 boxes you can choose from. I immediately noticed a difference. While ButcherBox gives you a general idea of what to expect, Porter Road tells you every item you will get. On one hand, this is more transparent than ButcherBox's policies.
On the other hand, I think it could get boring to order from Porter Road too often. Here are their box options:
| | | | |
| --- | --- | --- | --- |
| Box  | Main Contents | Lbs  | $/ Serving |
| Butcher's Choice Box  | premium dry-aged steaks, 2 Sirloin Filets, 2 Pork Chops, 1 lb of Dry-Aged Ground Beef and 1 lb of Pork Bacon —and bonus item  | 8-10 lbs | $4.82 |
| Weeknight Heroes  | 2 Sirloin Filets, 1 pack of Bone-In Skin-on Chicken Breasts, 2 Pork Chops, 2 lbs of Dry-Aged Ground Beef, 1 lb of Beef Taco Blend, 1 lb of Sweet Italian Sausage, and 2 4-packs of Dry Aged Hot Dogs | 9.1 lbs | $4.10 |
| Best of Porter Road  | 2 dry-aged steaks*, 2 pork chops, 2 lbs of dry-aged ground beef, 1 lb of bacon, 1 lb of country sausage, and 1 lb of chorizo sausage. | 8 lbs | $4.41 |
| Beef Box | 2 premium steaks, 2 sear-and-serve butcher's steaks, 2 lbs of Dry-Aged Ground Beef, 2 lbs of Beef Taco Blend, and 2 4-Packs of Dry Aged Hot Dogs | 8 lbs | $6.66 |
| Beef and Pork Box  | 2 Dry-Aged Sirloin Filets, 2 Pork Chops, 5 lbs of Dry-Aged Ground Beef, and 2 lbs of Ground Pork. | 9 lbs | $4.17 |
I was happy to see that not only is there a nice variety in every box, but you can also add to your box or customize each one if you want. Plus, you can receive boxes every 2, 4, or 8 weeks.
On the downside, you can't easily skip deliveries the way you can with ButcherBox. That's not too helpful if you're traveling or need a little break.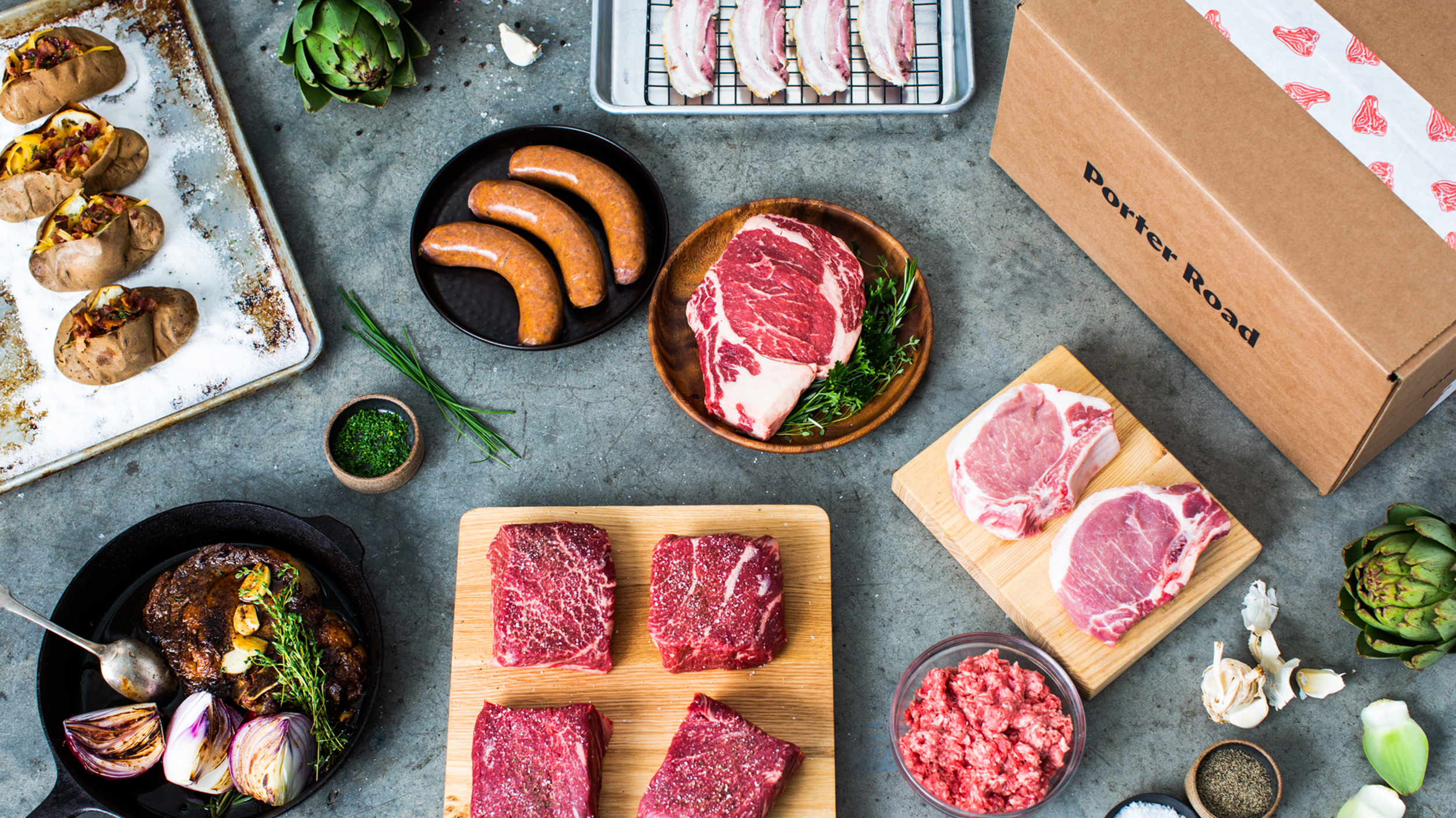 ButcherBox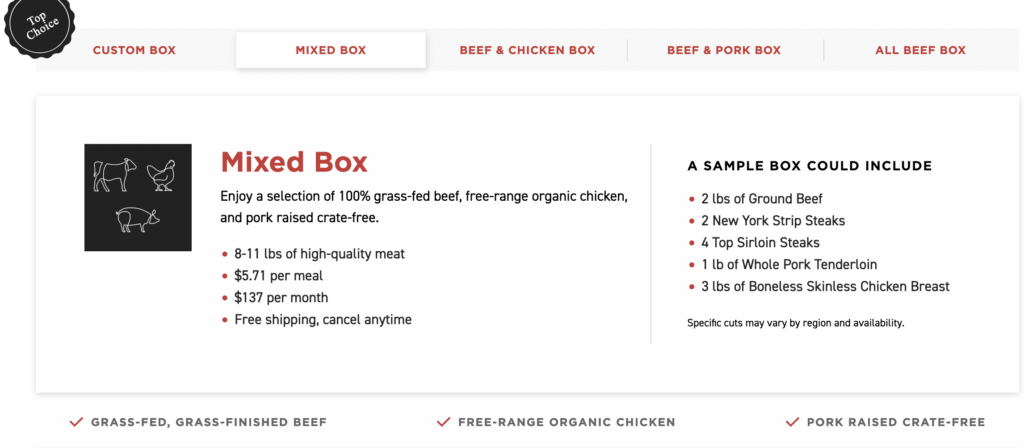 ButcherBox has 5 boxes you can choose from. What's cool is that one option is an entirely customizable box. Here are the main plans you can choose from:
| | | | |
| --- | --- | --- | --- |
| Box  | Main Contents | Lbs  | $/ Month |
| Custom Box | You choose  | 9-14 lbs | $159 |
| Mixed Box | Grass-fed beef, free-range organic chicken, pork  | 8-11 lbs | $137 |
| Beef & Chicken  | Grass-fed beef, free-range organic chicken  | 8-11 lbs | $137 |
| Beef & Pork | Grass-fed beef, pork | 8-11 lbs  | $137 |
| All Beef  | Grass-fed beef  | 8-11 lbs  | $137 |
You can delay or skip deliveries by logging onto your online account. All plans shop a box every month. I love that you can customize a box, but would also love a little more flexibility for box frequency. 
Winner: ButcherBox
While I wish ButcherBox had more flexibility in terms of frequency, they offer flexibility in more ways overall than Porter Road. ButcherBox offers a completely customizable box. They also allow you to easily skip deliveries. 
Meat Sourcing and Selection
Considering the claims that both ButcherBox and Porter Road made, let's just say that I was pretty interested in their sourcing standards. This includes where the meat comes from, how the animals were raised and cared for, and what that means for you and me as consumers. 
I look past general buzzwords and dig deep into how closely involved Porter Road or ButcherBox are for meat and seafood sourcing. 
Porter Road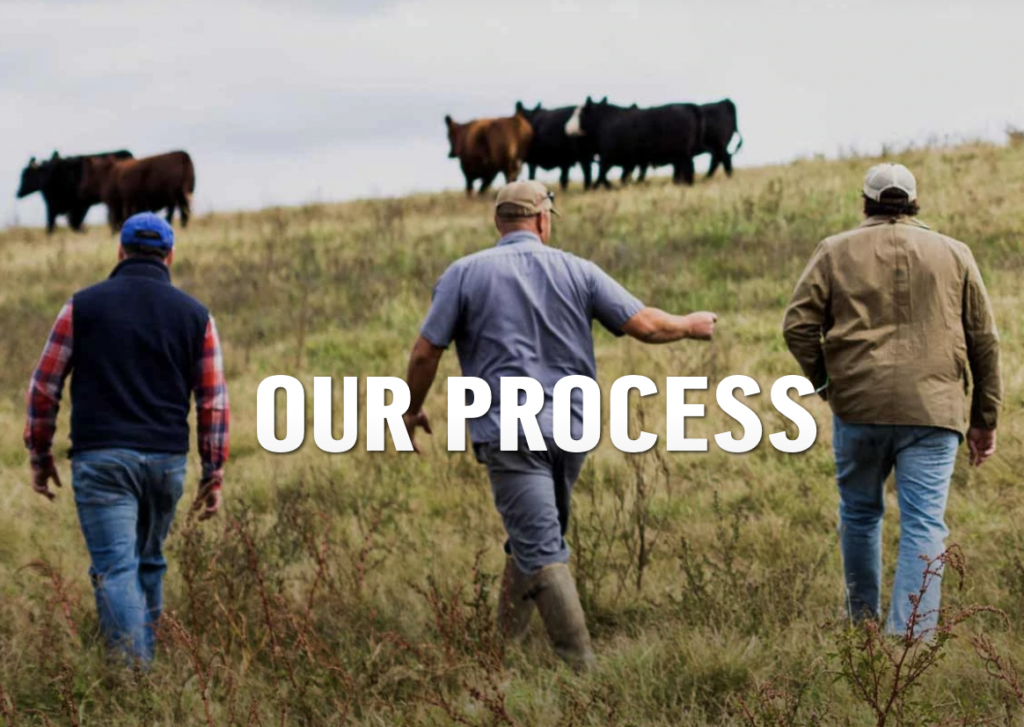 Porter Road doesn't sell any seafood, which was a big disappointment for a seafood-lover like me. Still, I don't think that's a deal-breaker.
Sometimes when a company focuses on fewer products, it can focus more on what they do have. Porter Road's main products are pork, chicken, and beef. All meat includes a variety of products, such as sausages and steaks.
Product & Where It's From 
Standards
What it Means

Dry Aged Beef

 

(ribeye, flat iron steak, NY strip, ground, hot dogs, bacon, etc)

KY, PA, TN

Pasture-raised, family-owned, free of hormones or antibiotics

Their beef isn't certified 100 percent grass-fed. Pasture-raised is a good start, but it doesn't specify living conditions. I do applaud working with local farmers and forgoing hormones or antibiotics

Pasture-Raised Pork

 

(chops, tenderloin, bacon, etc)

KY, PA, TN

Pasture-raised, family-owned, free of hormones or antibiotics

The same standards apply here. Already, pork that doesn't have hormones or antibiotics is a step above most on the market– but they could be more specific

"Beyond" Organic Chicken 

 

(breast, thighs, drumsticks, whole, etc)

KY, PA, TN- Specific Farms Mentioned

Pasture-raised, family-owned, free of hormones or antibiotics

Something that bothers me here is the beyond organic claim. It's great that the chicken is free of hormones and antibiotics. At the same time, the chicken is not certified USDA organic 
ButcherBox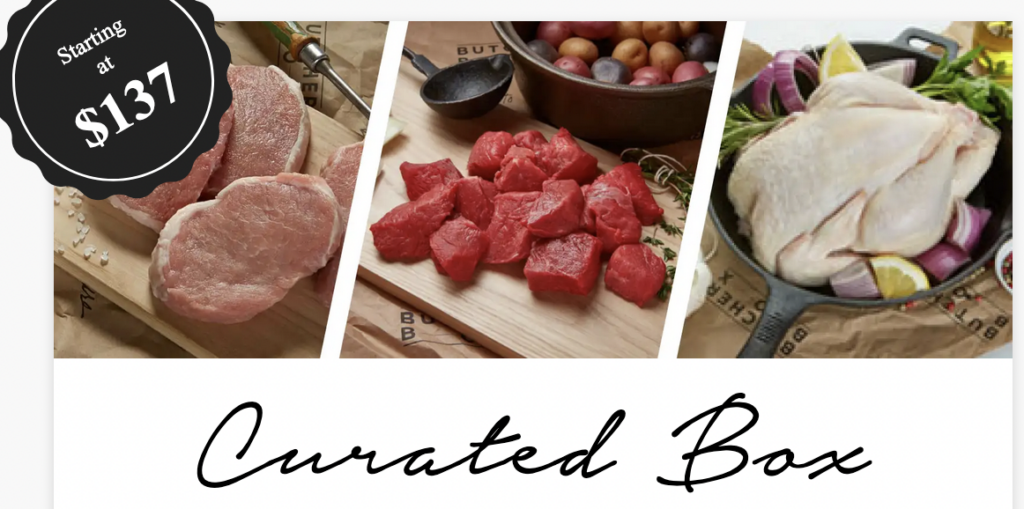 ButcherBox sells 100 percent grass-fed beef, free-range organic chicken, "humanely" raised pork, and wild salmon.
Under their sourcing page, I was happy to see more information about their ethical standards. Rather than simply relying on a few buzzwords, ButcherBox offers information about what those sourcing standards mean. 
Product & Where It's From
Standards
What it Means

Beef

 

Australia 

Grass-fed, grass-finished, antibiotic-free, hormone-free, pasture-raised 

Some grass-fed cattle only roam part of their lives, but the combination affirms they can roam more freely most of their lives. This method or raising is more humane and results in a higher concentration of healthy fats 

Pork

 

Duroc, Berkshire, and Chester White

US and Canada 

Vegetarian-fed, free of antibiotics, free of hormones, raised outside of cages 

Vegetarian-fed is a good start, but it doesn't equate to a high-quality diet. I love that they are free of hormones and not entirely caged, but it doesn't specify their living conditions or how much room they have

Free-Range Chicken

 

US and Canada

USDA certified organic, GAP3 certified, antibiotic/ hormone-free 

This meets higher standards than their other meat. To meet GAP3, chicken must-have seasonal access to the outdoors, with enrichment, natural light, and no crowding. 

Wild-Caught Seafood  (salmon, scallops, lobster, cod, and halibut) 

 

Canada, US

Wild-caught, sustainably harvested, free of coloring, additives, hormones, and antibiotics 

Wild-caught fish tends to have a healthier fat composition. I like that individual fisherman/ businesses are referred to so that the connection to sustainability is much clearer. 
Winner: ButcherBox 
Both ButcherBox and Porter Road go beyond the standards of conventional meat most meat. I was really happy to see both companies banish hormones or antibiotics from their meat and seafood. Both companies could be more specific about their partnerships but they do provide a few examples.
But I quickly saw a pattern emerging for the main differences between the two companies. ButcherBox has higher standards for its sourcing.  ButcherBox also has a wider variety of products, including wild-caught seafood. 
Shipping, Delivery, and Customer Service
I've made a simple mistake before. I've gotten excited about a service or product, only to be disappointed by poor customer service. For any meat delivery company, it's very important to check shipping and customer service policies.
When you're dealing with meat and seafood delivery, the last thing you want is spoiled food. I compared the shipping, handling, and refund policies for Porter Road vs ButcherBox.
Porter Road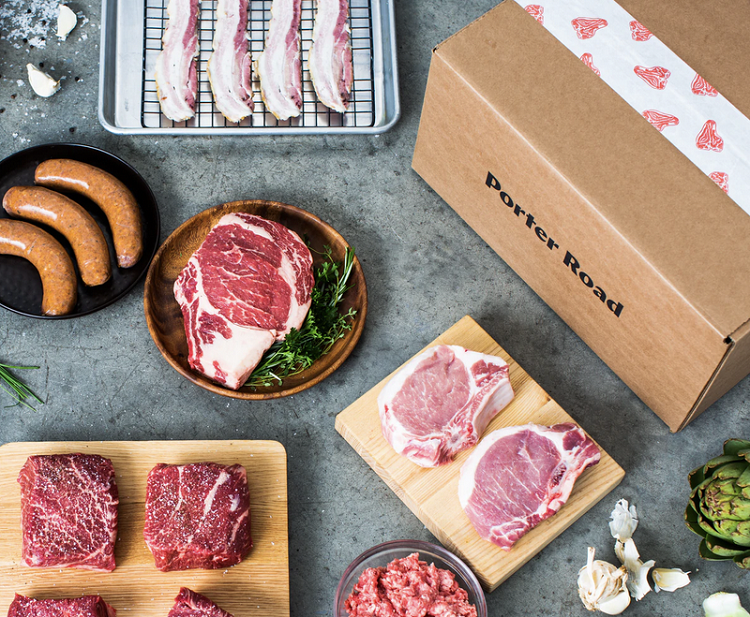 Like ButcherBox, Porter Road ships to all 48 contiguous states. What's neat is that they swap out dry ice. That's replaced with biodegradable Green Cell Foam with gel packs. Another striking difference is that Porter Road doesn't ship frozen meat. All of their meat is refrigerated.
If you have any problems with your order, you have to contact customer service. There are no refunds or returns accepted.
ButcherBox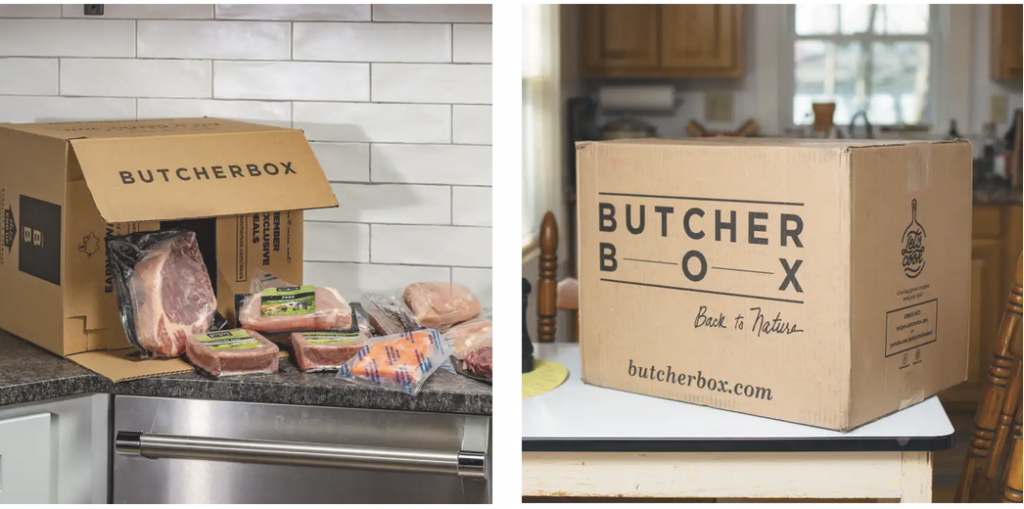 I have bad news if you live in Canada, Alaska, or Hawaii. These are the places where ButcherBox doesn't deliver. However, ButcherBox does ship to 48 states. You'll get an email with a tracking number once your order. You can also log into your online account to check on your order.
They ship their boxes with dry ice in an eco-friendly box (shipping is free). You can't pick the date of your delivery, but the box should stay cold for 6-8 hours. ButcherBox offers refunds for damages, late deliveries, defrosted meat, or missing items. 
Winner: ButcherBox
I honestly wanted to award Porter Road for this category. It's pretty cool that they're using biodegradable gel packs. 
I appreciate their stance on fresh vs frozen meat. But the problem is, with fresh refrigerated meat, it's more likely something will go wrong. While you aren't guaranteed a refund from ButcherBox, this company is more likely to offer one.

Company Reputation
Finally, I wanted to investigate beyond my personal experience. You can have a great or mediocre experience, but it may not represent most experiences. So I  researched external company write-ups and business profiles. I considered customer complaints and overall satisfaction ratings. A picture emerged.

Porter Road 
Porter Road doesn't have a Better Business Bureau profile yet. Instead, I looked at reviews on Yelp and Facebook. On both platforms, Porter Road earned a respectable average of 4 out of 5 stars.
One problem is that many reviews were about the butcher shop. There are fewer reports on the delivery service. Customers were happy with the taste of the meat, which is positive. However, customers; experiences with delivery are more ambiguous.
ButcherBox
I was pleased to see that I'm not the only one who thinks there's a lot to love about ButcherBox. Not only does it have an A-plus rating through the Better Business Bureau, but it also carries a customer average of over 4.5 out of 5 stars based upon nearly 1,500 customer reviews.
That's not to say it hasn't had complaints over the years. However, these complaints have been resolved. ButcherBox is pretty responsive. So while there have been some problems with  BurcherBox subscriptions, most customers have a positive experience.  
Winner: ButcherBox
Neither company is perfect. Honestly, any delivery service with perfect reviews deserves some scrutiny. But while I did see complaints about subscriptions with ButcherBox, the general impression is that the majority of customers are satisfied.
Porter Road simply doesn't have enough customers discussing their delivery services. While I didn't see any red flags about Porter Road, there isn't enough information at this time.

Alternatives to Consider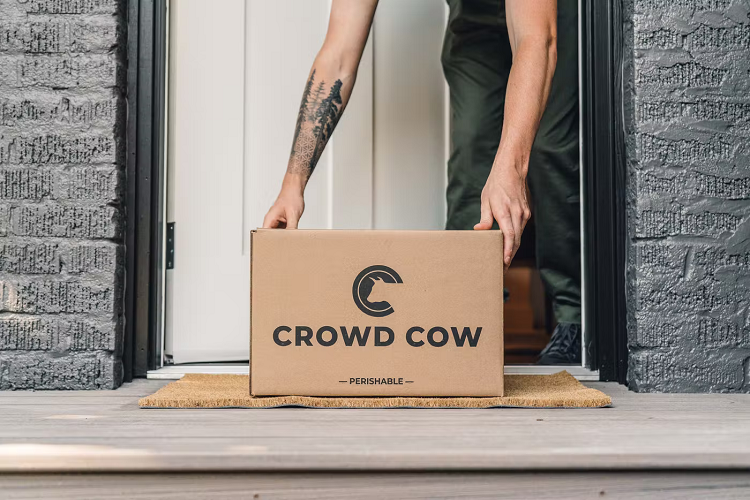 If you love organic, ethically-sourced meat, then there are a few other places you can consider. Crowd Cow is one of my top recommendations. They partner with local farmers and fisheries. I also love their selection of organic chicken and pasture-raised beef products. The highlight is their succulent Wagyu. Check out our full review on Crowd Cow here!
My second alternative is Good Chop. Good Chop is also devoted to sustainable and ethical sourcing. Their seafood is particularly delicious. They have great delivery and customer service. Good Chop remains one of my favorite meat delivery companies today. Check out our full review on Good Chop here!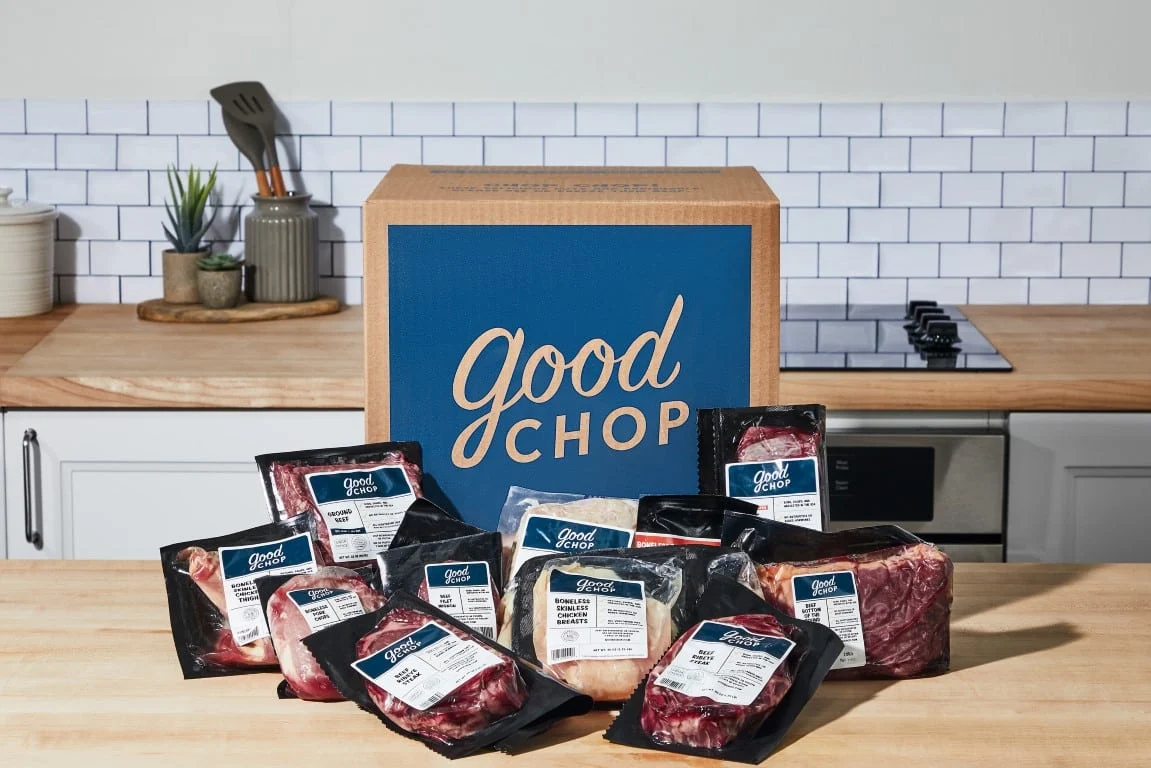 High-Quality American Meat & Seafood | Good Chop
Good Chop is a flexible meat subscription service that brings high-quality, American meat and seafood right to your door. Join Good Chop today to get $100 OFF high-quality American meat and seafood. Free shipping included!
Get $100 Off Now
We earn a commission if you make a purchase, at no additional cost to you.
Frequently Asked Questions
Question: What is better than ButcherBox?
 
There are many alternatives to ButcherBox, but what's better depends on personal preference. One top contender is Crowd Chow. Crowd Chow provides a la carte selection in addition to subscription services.  I also love that Crowd Chow offers a few more affordable options.

While both companies have their strengths, Crowd Chow has more variety than ButcherBox. If that sounds good to you and you love ethically sourced food but with a bit more flexibility, then consider giving Crowd Chow a try.
Question: Is Porter Road ethical?
Answer: I think we always have to be careful about using the word ethical. Ethics means different things to different people. Their meat comes from pasture-raised animals that are free to graze. These animals aren't confined to cages.

Another advantage is that these animals are raised on smaller, local farms, instead of mass-produced farms. They have more oversight for how animals are raised and treated. This is opposed to many meat delivery companies. Many are simply suppliers, with little oversight.
Question: Is ButcherBox American?
Answer: ButcherBox is headquartered in Brighton, Massachusetts, so they are an American company. However, there are some interesting discrepancies between their headquarters and where they source meat from.

Most of ButcherBox's beef comes from Australia, while their pork and chicken come from both the United States and Canada.

Meanwhile, their seafood is mostly sourced from the United States. ButcherBox is an American company, but not all of its meat and seafood comes from the United States. 
Question: Can You Sous Vide in Butcher Box Packaging?
Answer: Meat and seafood from ButcherBox arrive vacuum-sealed in BPA-free plastic containers. While this is sustainable and eco-friendly, it would be a mistake to attempt to cook meat in these packages.

All meat and seafood should be removed and prepared according to instructions. You should only ever use packages designed specifically for sous vide.
Final Verdict
I recommend ButcherBox over Porter Road, but I don't think either company is bad. Both companies promote ethical sourcing. . I do think both companies could be more transparent. I'd love to know all of the farmers that ButcherBox and Porter Road work with.
At the end of the day, ButcherBox just has advantages in many categories. Their sourcing standards are stricter. They have a wider variety of products. Their customer satisfaction is just a little higher.
Exclusive Offer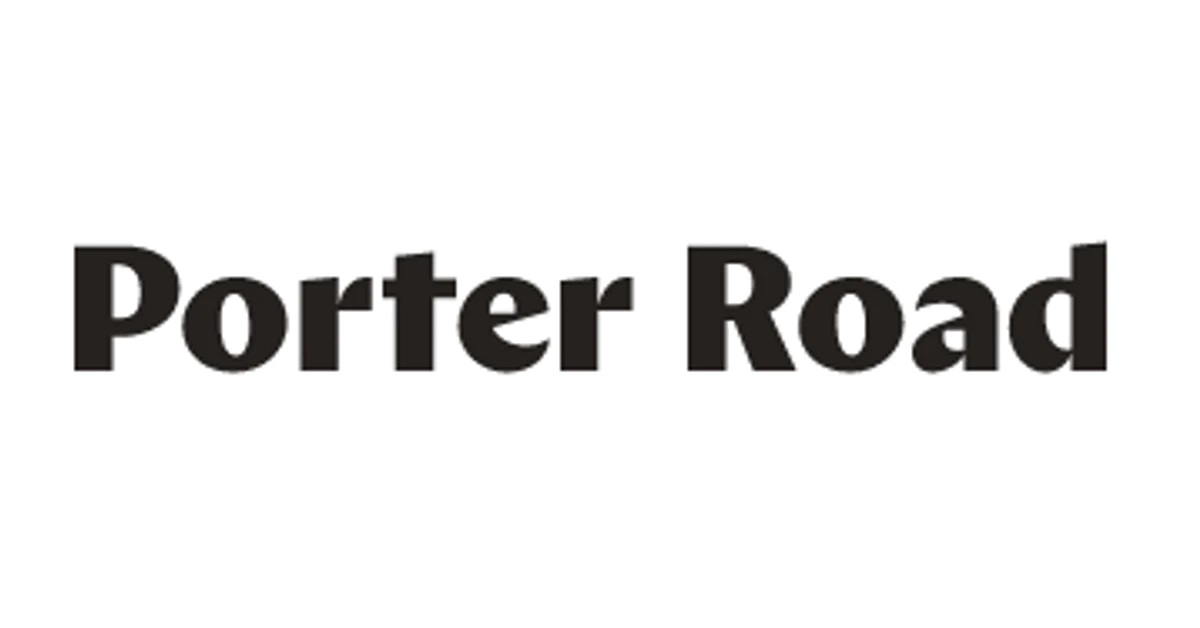 Delivering Life Changing Meat | Porter Road
The most convenient way to shop life-changing meat. Delivered on your schedule, every 2, 4, or 8 weeks. Get 10% Off your first order using code: RAISEDBETTER10.
Get 10% Off Now
We earn a commission if you make a purchase, at no additional cost to you.
Recommended Reads: