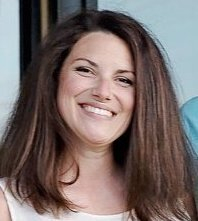 Latest posts by Sarah Caldwell
(see all)
Meat delivery services make it a lot easier to get a portion of your shopping done without having to leave the house. Plus, you generally get quality meat that's better than what you'd find at the local grocery store or market.
ButcherBox and Crowd Cow are two such services that offer subscription boxes and a la carte ordering. They deliver the meat right to your door, and the quality is far superior to most things you'll find locally.
This review will tell you exactly how these two services stack up against one another so you'll have a better idea of which one might be right for you.
Main Differences Between ButcherBox and Crowd Cow
The main differences between ButcherBox and Crowd Cow are:
Crowd Cow offers subscription boxes and a la carte ordering, whereas ButcherBox does not.

Crowd Cow offers an option to shop by farm, whereas ButcherBox does not.

ButcherBox offers chicken that has already been cleaned of connective tissue, whereas Crowd Cow does not.

Crowd Cow lists the contents of their curated boxes, whereas ButcherBox does not.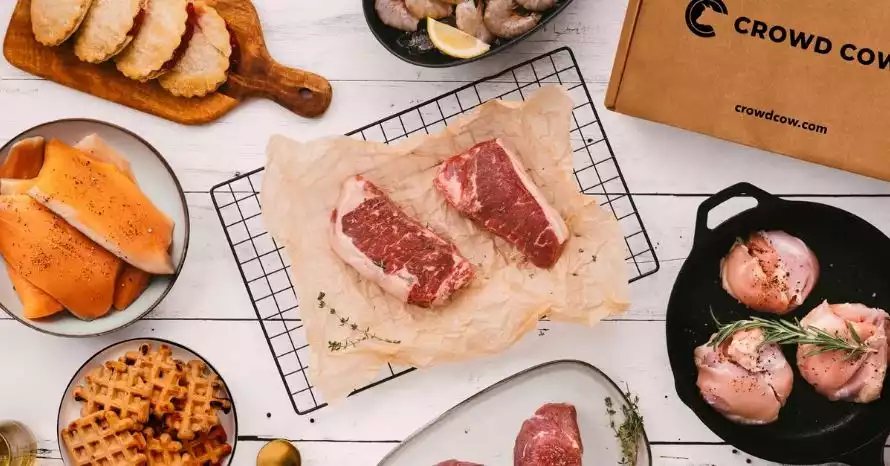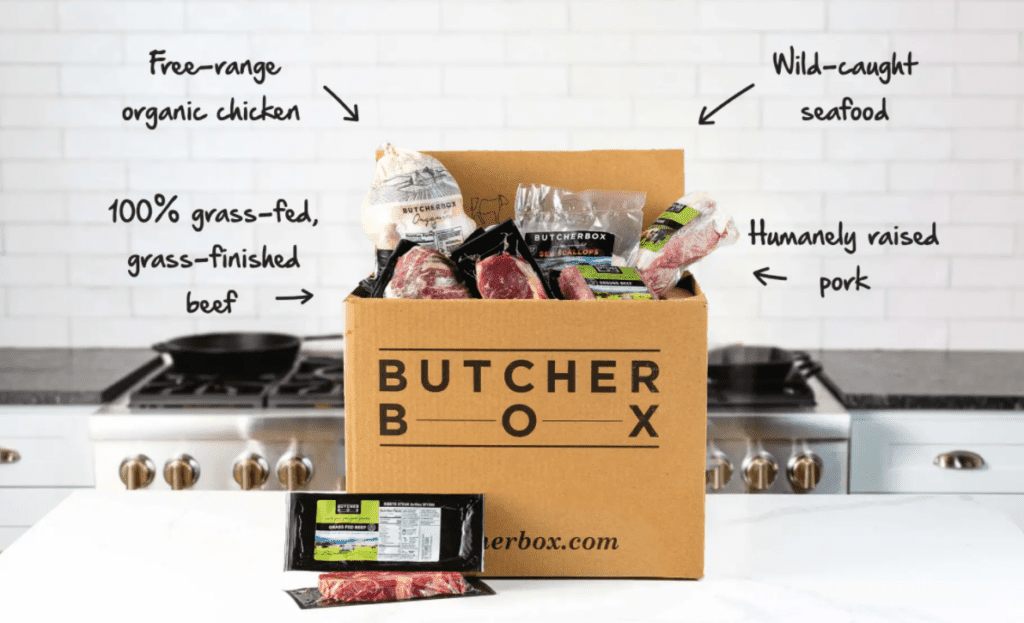 ButcherBox delivers quality meat to your door and there are plenty of meats and boxes from which you can choose. It's one of the best options for people who like to try different things or change their subscription on a monthly basis.
You can customize your own box or choose something that ButcherBox puts together for you. They source meat from the United States, Canada, and Australia and will ship it to 48 states. Perhaps the one downfall with ButcherBox is that you can't order a la carte.
How it Works
The first thing ButcherBox asks you to do is select the box you want. You can choose a curated box or you can make a custom box. Then choose how often you want it delivered from many different options.
The first box arrives 3-7 days after ordering, and you'll get tracking information in your email so you can look out for it. The meat should go directly into the freezer unless you're going to thaw it out and cook it. ButcherBox makes it easy to receive high-quality meat without doing a lot of grocery shopping.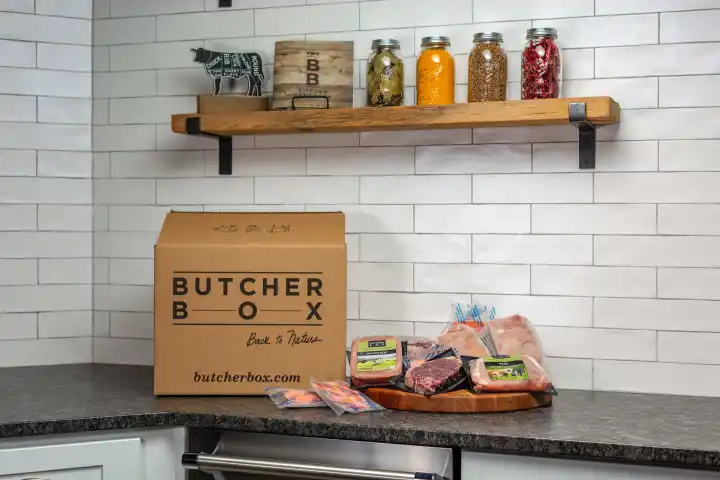 Experience
The ButcherBox website is easy to navigate and organized in a way that makes it easy to understand what you're doing. Choices are laid out in a way that makes it easy for you to make decisions, but it can still sometimes be hard to choose from so many delicious things.
There are descriptions, pictures, and quantities available for every item they have, and they also offer suggestions for how to cook everything.
Delivery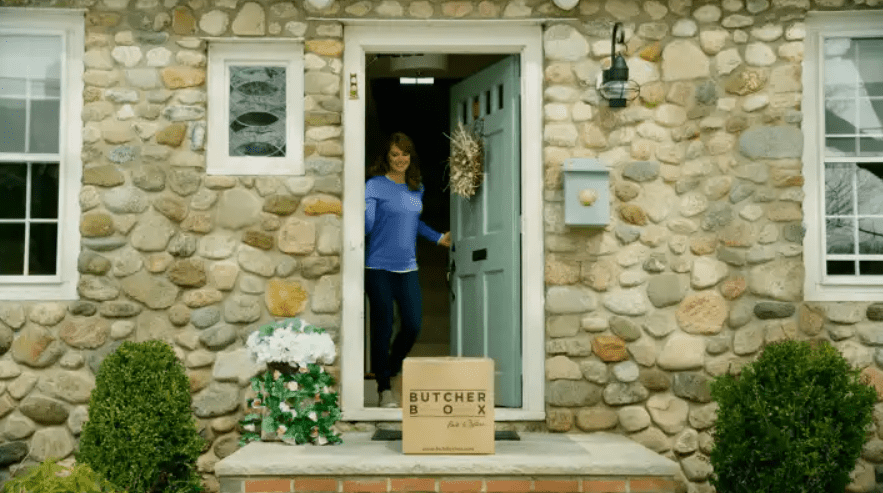 When you order your box, you'll get an email with tracking information so you can look for the package and be home within 8 hours to take care of it. Your email will also contain answers to some common questions about handling your meat.
Meat is frozen and vacuum-sealed to keep it fresh, and you won't find any harmful materials like plastic, insulation, or dry ice in the box. All packaging is environmentally friendly, so you can recycle everything instead of throwing it away.
ButcherBox allows you to choose delivery frequencies of 2, 4, 6, or 8 weeks.
Meat Selections
There are a lot of traditional meat options with ButcherBox. All of their beef is grass-fed, grass-finished, and 100% organic. They work with responsible ranchers who operate sustainable farms and pride themselves on quality rather than quantity.
They follow strict guidelines for raising and feeding the animals, giving them a healthy diet and plenty of room to roam through lush, green pastures.
Chicken
ButcherBox offers chicken that's 100% organic and raised in a cage-free environment. All chicken pieces are cleaned, and connective tissue is removed, so it's ready to cook out of the box. It's high-quality meat that's plump and juicy.
Bacon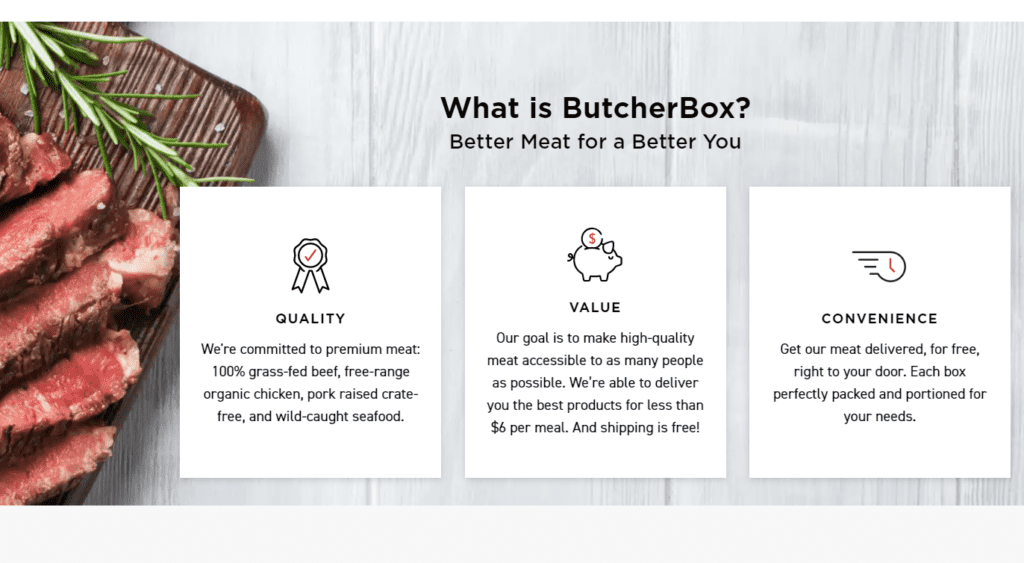 The bacon you'll get with ButcherBox is much more delicious than what you'll find prepackaged at the store. The meat to fat ratio is ideal for the perfect flavor, and it's not too salty. You'll never go back to store-bought bacon after you try this.
Ground beef
One of the most surprising things about the ground beef from ButcherBox is that you won't have to drain it after you cook it. It's lean and full of flavor, which means it's better for you and it tastes better, too.
Steak
If you're ordering meat online, it's likely that you're looking for at least some steak. The perfect cut is great for grilling or pan-searing, whether you use a simple salt and pepper blend or you smother it in garlic butter.
ButcherBox offers cuts that will exceed your highest expectations, thanks to pure meat that's been grass-fed and grass-finished. They source their animals from farms that feed their livestock a healthy diet free from steroids and hormones.
Seafood
ButcherBox does offer a few seafood options, but not many. They're all wild-caught and offer delicious flavor over and above what you might find locally, if you live in a landlocked area. However, if you live near the coast, you may find that ButcherBox is comparable to local options, and the selection is very limited.
ButcherBox Plans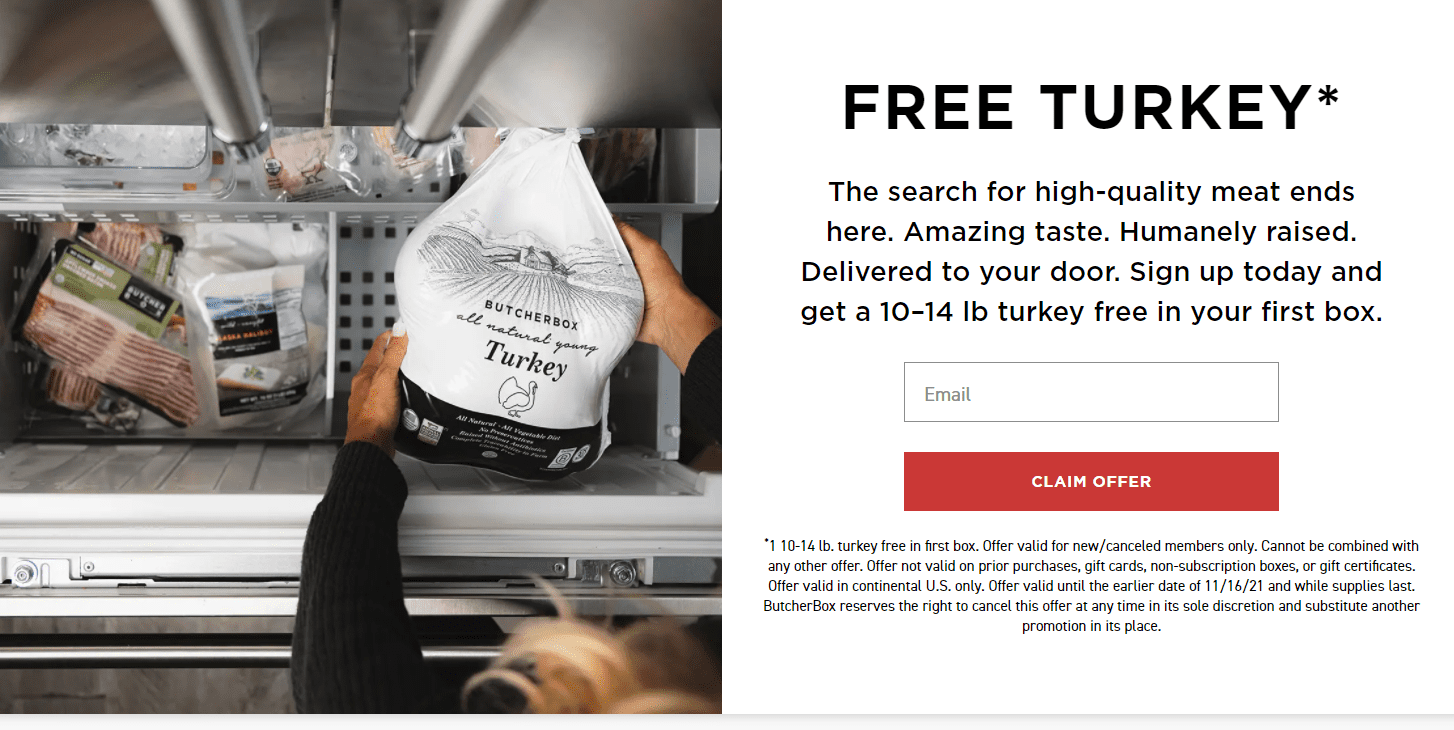 ButcherBox has plenty of subscription options. First, you choose whether you want to customize your own box or select one of ButcherBox's preselected packages. Then you can choose which size you'd like, depending on your freezer capacity, family size, or how often you eat meat.
Choosing the right box for you involves more than just picking one, because there are so many options for you, even after choosing to create your own or let ButcherBox surprise you.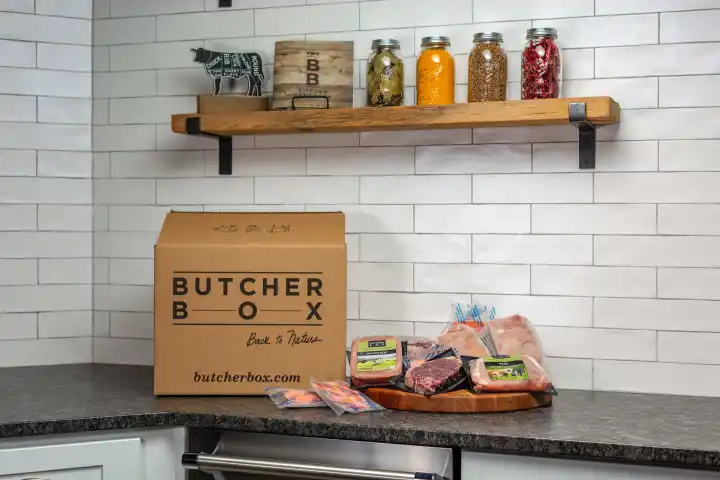 Curated boxes
ButcherBox offers carefully curated boxes that will be different every time they arrive. You can choose from an all-beef box, beef, and chicken, beef and pork, or a mixed box with all three types of meat.
These boxes can't be edited and you'll never know what you're going to get, but for people who like to be surprised, it's a great option. You can always add meat selections onto your box to be shipped at the same time if there's something you know you need.
These boxes are great for people who like to try new things and experiment with different cooking methods.
Classic size
If you choose the classic size, you'll get 8-10 pounds of meat with every delivery. It's enough meat to make 24 servings, so it's a great size for individuals, couples, and small families to make meals for about a week. It's also the perfect size for people who don't have a very large freezer.
Big size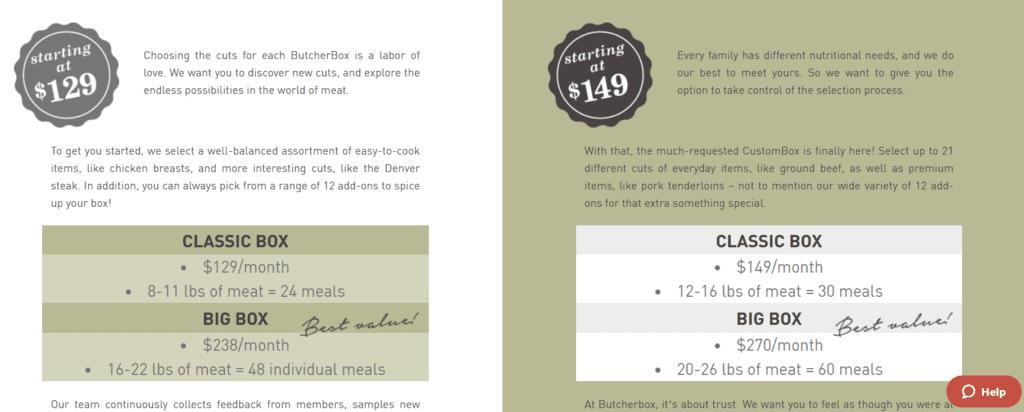 A big box will have 16-22 pounds of meat, which will make about 48 servings, so it's a great option for large families or people who eat meat with every meal. Even a small family with a large freezer could order this size and stock up for several weeks.
Custom boxes
If you'd rather know exactly what you're getting in your box, you can customize your own. It's a bit more expensive to do it this way, but they still come in two sizes, and you'll get about 20% more meat.
You can choose exactly what you want in your box from more than 25 different cuts. Mix and match steak, ground beef, chicken, bacon, pork, and a lot more. This option offers a better value for people who might be pickier about what meat they eat or like to stick to a routine.
Changing Your Box
You can change which box you have shipped as often as you like, even if you do it with every delivery. Try one of each or keep your delivery the same for as long as you want. Keep in mind that if you're ordering a curated box, you can add options you know you need and still be surprised by something new.
ButcherBox doesn't charge you to make changes, but there are charges associated with changing the size of your box because big boxes are more expensive than classic boxes and custom boxes are more expensive than curated boxes.
You can always change the frequency of your deliveries, too. While there are still no charges for changing how often you receive boxes, you will pay for items to be shipped more frequently.
ButcherBox Pros
Grass-fed, grass-finished, and 100% organic options

Ships quickly

High-quality meat

Customizable boxes

A large variety of options you can change any time
ButcherBox Cons
Not very many unique meats available

Must be home within 8 hours of delivery to preserve meat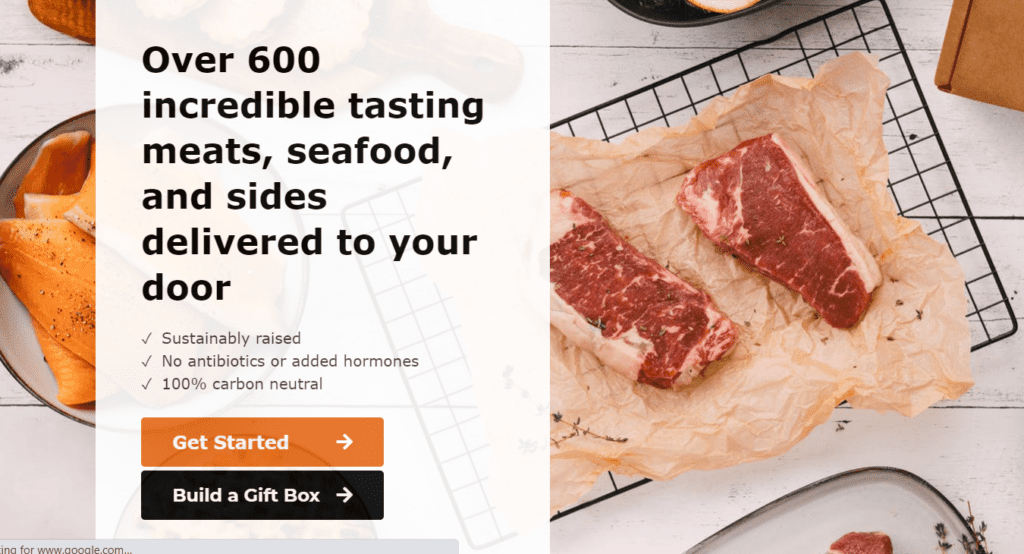 Crowd Cow is one of the meat delivery services that offer a lot of transparency with what you order. They offer beef, chicken, pork, and seafood, and you'll always know exactly where it comes from. You can even shop by a specific farm if you already know where you want your meat to come from.
The name Crowd Cow came from the idea that you're crowdfunding a cow with other people. Crowd Cow wants their customers to understand what their options are so they can make the best choice for their health and nutrition. Everything is delivered to your door.
How it Works
Crowd Cow provides precise details on the background, practices, and location of every farm where meat is sourced. They deliver in 100% recyclable and compostable packaging so you won't throw anything away. They'll ship to 48 states and orders will arrive 1-3 days after they're shipped.
You can order a la carte or sign up for a subscription, but they do require a $50 minimum. The site is organized by type of meat, so it's easy to shop, but you can also shop by farm, butcher specials, or holiday.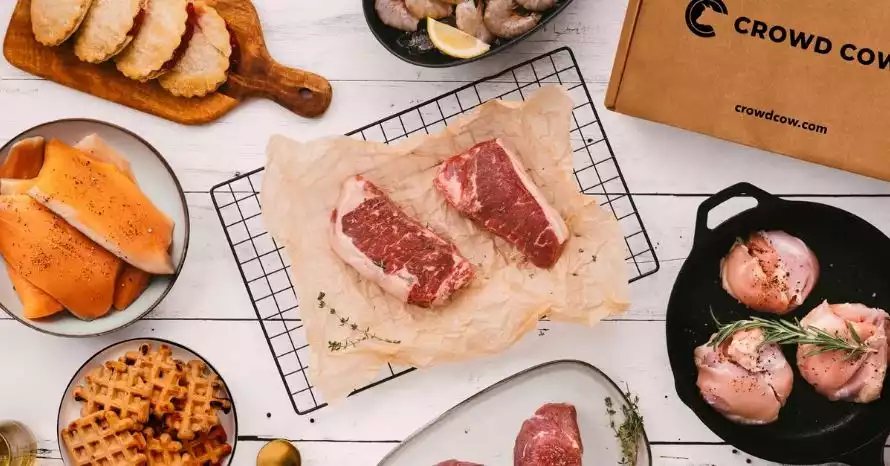 Experience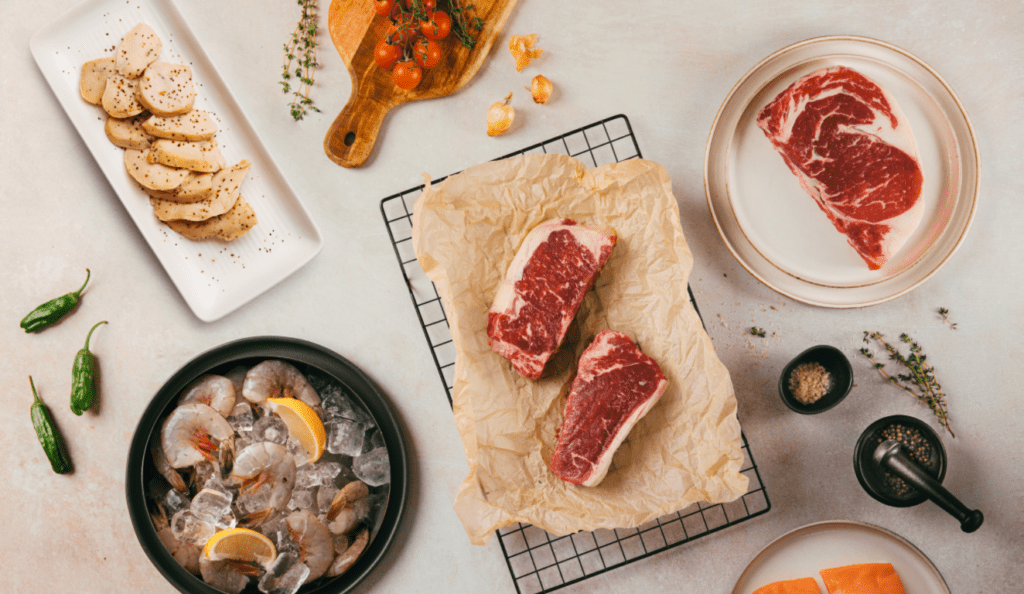 The site is easy to navigate so you'll find what you need quickly, or you can browse all the many meat and farm options. You'll find recipes and cooking tips as well as suggestions for other items you might enjoy based on what you've already picked.
Sourcing information is always readily available for every item. There are hundreds of options available to you.
Delivery
Crowd Cow offers prompt delivery. Your package will arrive 1-3 days after it's shipped, but there are sometimes delays around the holidays. However, everything is packaged with dry ice, so your meat will still be frozen when it arrives.
For all subscription boxes, shipping is free. If you're ordering a la carte, shipping is free after a $99 purchase.
Meat Selections
With Crowd Cow, you can choose from a variety of options like ground beef, steak, pork, chicken, turkey, bison, duck, lamb, seafood, and a variety of other selections. Some rarer selections are only available when you order a la carte rather than in a subscription box.
Beef
CrowdCow allows you to choose from 100% grass-fed or 100% pasture-raised beef. Within each category, there are many different cuts of steak as well as ground beef, hamburger patties, roasts, and ribs.
You can also choose from all-beef hot dogs, surf and turf, fully cooked meals, flights, medleys, and samplers.
If you have a sophisticated pallet, you may want to shop the American Wagyu or Japanese wagyu sections for 100% pasture-raised wagyu beef. Here you'll find steak, ground beef, hamburger patties, roasts, and hot dogs.
Chicken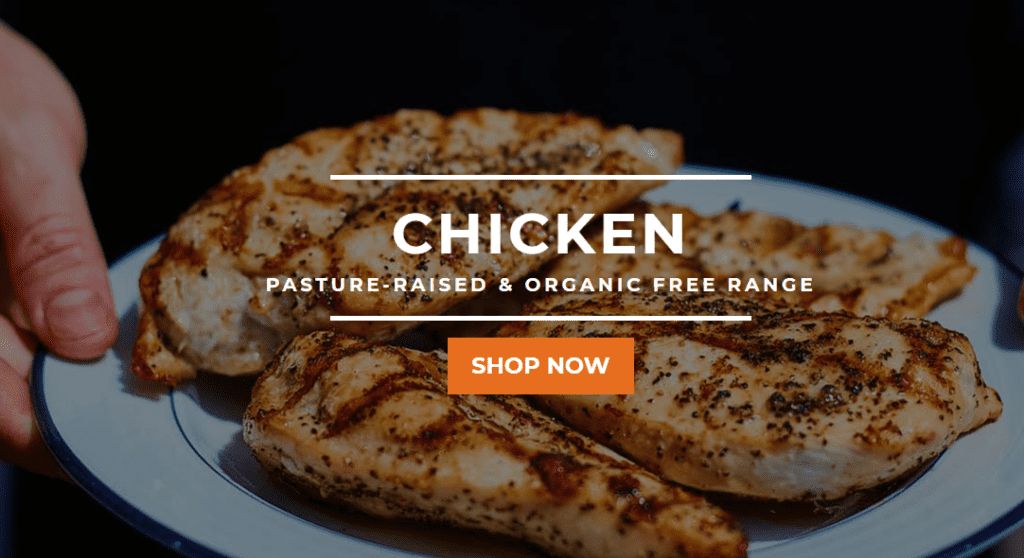 All Crowd Cow chicken is 100% organic and comes from free-range, pasture-raised animals.You can choose whole chicken, spatchcock chicken, wings, legs, thighs, and breasts. They also offer ground chicken and chicken sausage.
Turkey
Many people prefer turkey over chicken, and with Crowd Cow, you have plenty of options. You can get ground turkey, turkey bacon, turkey patties, sliced deli meat, hot dogs, bratwurst, whole turkey, and even organic bone broth.
Pork
Crowd Cow heritage pork is healthy and flavorful. You'll find the bacon to be a perfect mix of fat and meat for precise flavor that can't be beat. Other options include flavored sausages like chile relleno sausage, chops, tenderloin, ribs, and roasts. You can also purchase ground pork and pork belly.
Seafood
All Crowd Cow seafood comes from sustainable sources and they have a huge selection. It's one of the best ways to get seafood in a subscription box online. They offer fish and shellfish as well as items that have already been smoked and cured.
You can choose from many different varieties of salmon, cod, char, cobia, shrimp, trout, lobster, scallops, halibut, mahi mahi, mussels, crab, and yellowtail. You can also get family packs, patties, collars, samplers, and cooked items like lobster mac and cheese.
Bison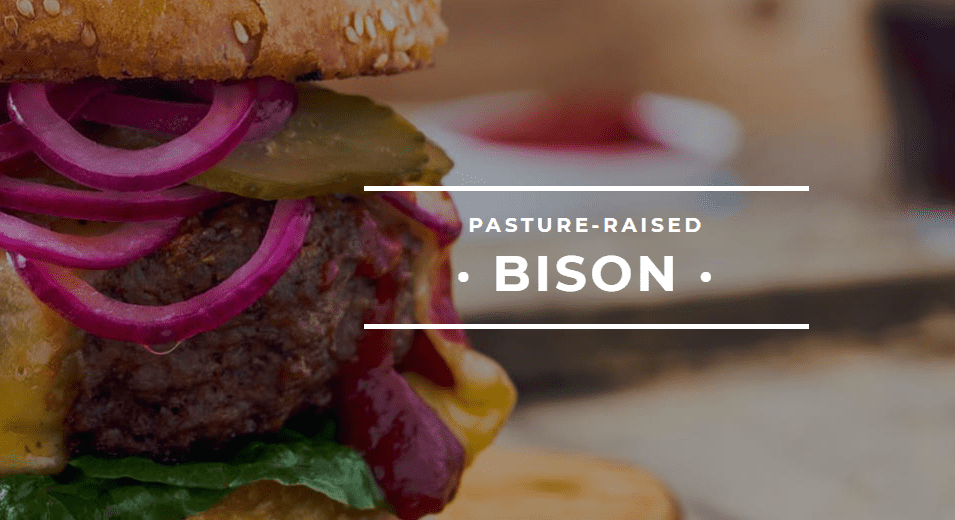 It can be tough to find an alternative to ground beef online. Crowd Cow offers bison, which is leaner and richer in antioxidants than cow meat. It's much better for you, and it tastes better, too. When you order bison from Crowd Cow, you can choose from ground bison, plenty of steak cuts, hot dogs, hamburger patties, bratwurst, tips and tails, and so much more.
Lamb and duck
Crowd Cow offers American-made lamb in varieties like lamb loin chops, boneless leg of lamb, rack of lamb, lamb shank, lamb cubes, and ground lamb. If you're looking for game meat like duck, wild board, elk, or venison, Crowd Cow also offers plenty of options.
Crowd Cow Plans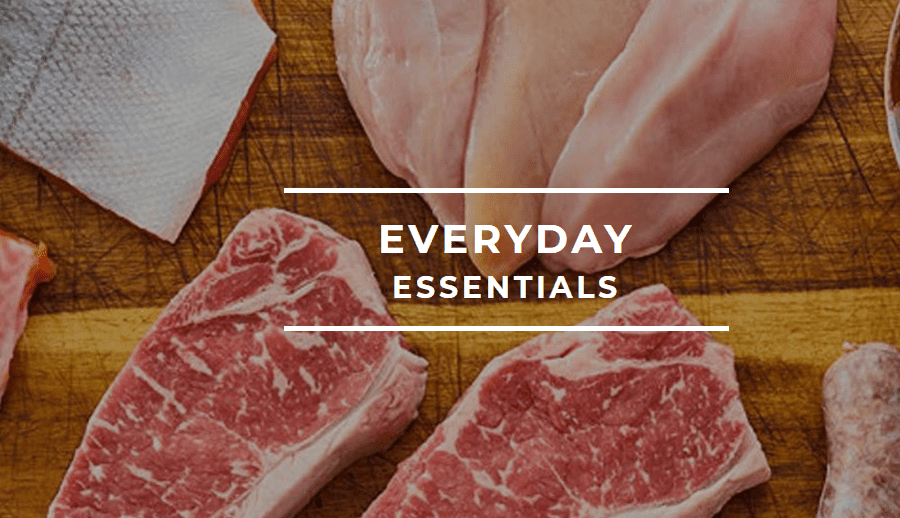 Crowd Cow allows you to customize your own subscription box, choose one of theirs, or order a la carte if there's something you want to try. They offer custom boxes of all sizes and curated boxes come in standard and family sizes.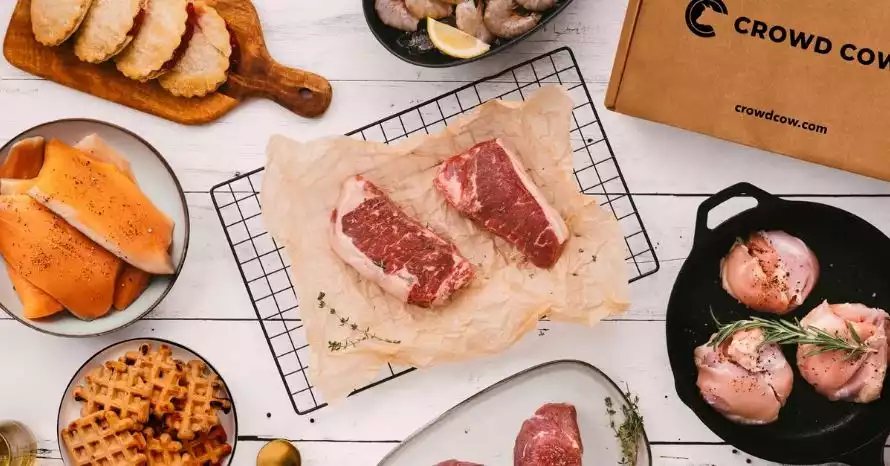 Custom boxes
If you're choosing to customize your own box, the size and price goes up as you add more items. You can add anything to your custom box that you would like. There's no limit to what you choose, but Crowd Cow does not offer some of the more exotic meats in their subscription boxes. You can choose from beef, pork, wagyu, chicken, seafood, sides, and desserts.
Curated boxes
There are four different curated box options including:
Best of Crowd Cow

Best of Beef

Best of Crowd Cow lean

Best of Japanese Wagyu
Their website details out what comes in each box, so you can choose the best option for you. The boxes contain anywhere from 5-15 pounds of meat and vegetables, depending on which size and option you pick. These boxes come in standard and family sizes.
While Crowd Cow has a customize button on each of these boxes, it can be a bit misleading, because you're not switching out cuts you don't like for cuts you do. You're also not adding things into the box along with what already comes in it. You're simply customizing your own box when you click on this button.
Crowd Cow Pros
Huge variety of options

Custom and curated boxes

Prompt delivery

Detailed sourcing information

Recyclable packaging

Grass-fed, grass-finished, and 100% organic options
Crowd Cow Pons
Can't add items to curated boxes

The selection of rare meats is limited

Availability depends on the season
Exclusive Offer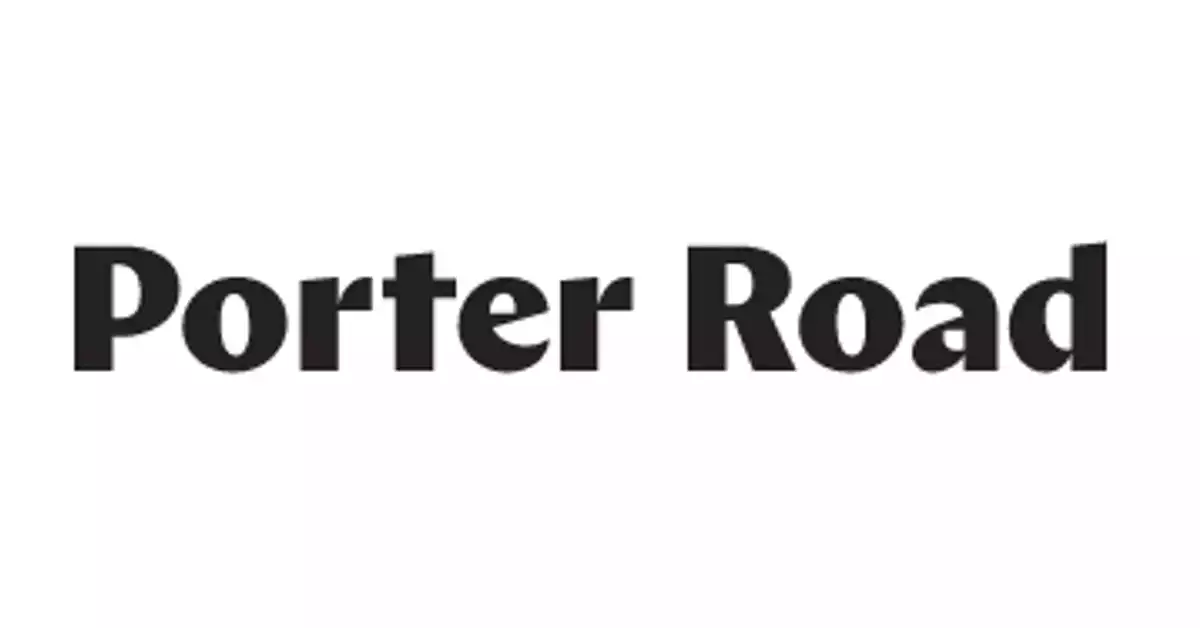 FAQ
If you're looking for a meat delivery service, there are a lot of options. While these are two of the best options, these frequently asked questions may give you a better idea of what they're all about.
Question: What is better than ButcherBox?
Answer: ButcherBox certainly isn't the only option for ordering meat online in a subscription box. ButcherBox specializes in subscription boxes, and while you can't order a la carte, you can tack on additional options to your boxes every month if you like. You can also customize your box so you know exactly what you're getting.
There are a lot of other online meat ordering options, and none of them are necessarily better than ButcherBox, but they're all different. If you're looking for something else, you can try Omaha Steaks, Snake River Farms, Rastelli's, Carnivore Club, or Porter Road.
Question: Where does Crowd Cow get their meat from?
Answer: Crowd Cow sources all of their meat from independent farms. They're very selective about who they work with to ensure that the farms are using ethical and environmentally friendly practices.
Question: Does ButcherBox have seafood?
Answer: While ButcherBox does offer 100% wild-caught seafood, their selection is somewhat limited. There are other services that do a better job of providing a wide variety of seafood options, and Crowd Cow is one of them.
Question: Is Crowd Cow expensive?
Answer: You may find that Crowd Cow is a bit more expensive than other meat delivery services. Because they put so much work into sourcing their meat from ethical independent farms, they do charge a bit more for their meat.
Question: Is ButcherBox really worth it?
Answer: ButcherBox also offers excellent quality and sources their meat from reputable farms. While they don't list these farms on the specific items, their meat is superior to what you'd find at the grocery store, and it costs a bit less than some other subscription services.
ButcherBox is a great option for most people because the prices are reasonable and the meat is excellent.
Final Thoughts
If you're looking for a meal delivery service, ButcherBox and Crowd Cow are two of the best. My personal pick is Crowd Cow because their variety of meat is more extensive. They also have curated and custom boxes from which you can choose, delivery is prompt, and they offer more transparency.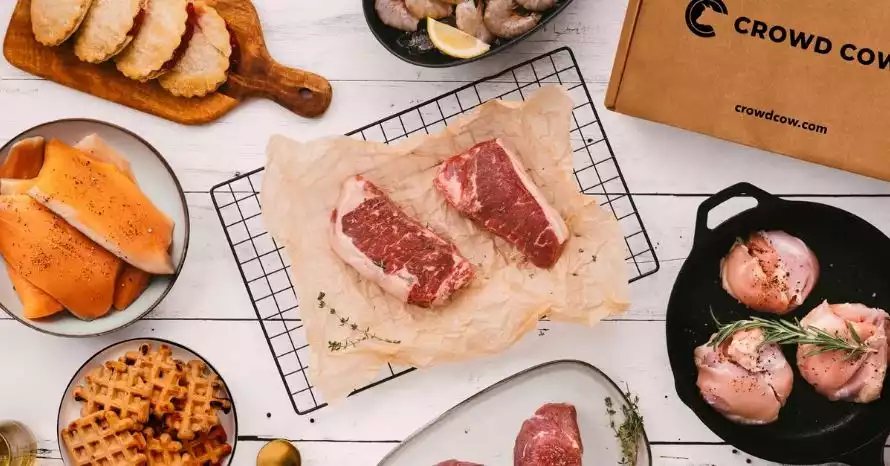 However, if you don't want to splurge for the sourcing information, ButcherBox still offers excellent quality meat in both curated and custom boxes. Their selection isn't as big, but it's easy to get exactly what you want.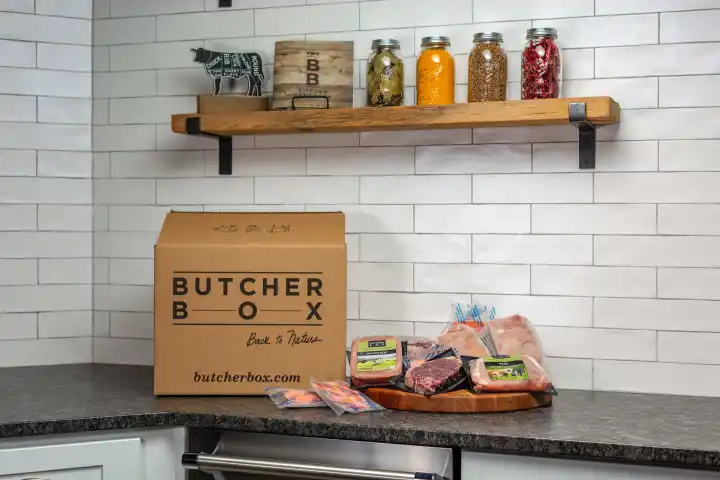 Looking for more interesting readings? Check out: