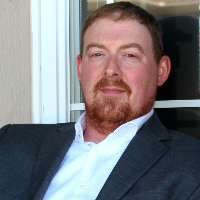 Latest posts by Justin Caldwell
(see all)
When you're out shopping and you peruse the meat section of your local supermarket, what do you think about before you pick something up? For me, I wonder where the meat came from. Was it locally owned? What's the quality of the meat? Will it taste good when I cook it?
Fortunately, there are alternatives out there that give us the answer to all those questions and more. Plus, you can get it without leaving the comfort of your own home. With Rastelli's meat delivery service, you can purchase a variety of meats online and have them shipped right to your doorstep.
Who is Rastelli's?
Rastelli's has been involved in the meat industry for almost fifty years. The company began as a family butcher business in 1976. Located in New Jersey, Ray Rastelli, Jr. purchased a recently defunct donut shop and got to work. He began by selling his meat to the town's deli and its residents.
Since that time, both the Rastelli business and family have grown. What started as a small butcher shop is now online meat and delivery service rivaling popular companies like Carnivore Club, Crowd Cow, Snake River Farms, and others.

The company is known for providing high-quality, premium cuts of meat, so you don't have to worry about getting something that won't taste good. As a matter of fact, Rastelli's is so serious about the quality of its meat that all farmers and ranchers are required to sign documentation stating they will never use hormones, steroids, or antibiotics while raising their animals.
All this sounds too good to be true, right? That's why I'm going to dig a little deeper into Rastelli's and its meat delivery service. Let's find out if their meat is as good as they say it is.
How Does It Work?
While Rastelli's does have an online store, if you decide you want to go on a road trip, you can visit the original brick and mortar store in New Jersey. For the purposes of my review, however, I'm only going to focus on its meat delivery services.
To get started, you'll need to select a plan that works for you. I'll get more into the plans in a bit, but for now, just know that's the first step. You have options for beef, chicken, turkey, seafood, and plant-based foods. You have the option to select a curated box or one that you fill yourself, which Rastelli refers to as a la carte.
If you decide to go the subscription route, you can cancel or change the service anytime you want. Or if you decide you need to take a break for a bit, just reach out to Rastelli's and let them know. No cancellation fees or termination charges apply.
One of the best things about Rastelli's service is that they don't require you to sign up for a subscription plan. If you just want to place a one-time order to give their service a try, you can do that. Then, if you want to continue to receive boxes, just log into the platform and change your subscription to get deliveries every week, two weeks, three weeks, four weeks, or six weeks.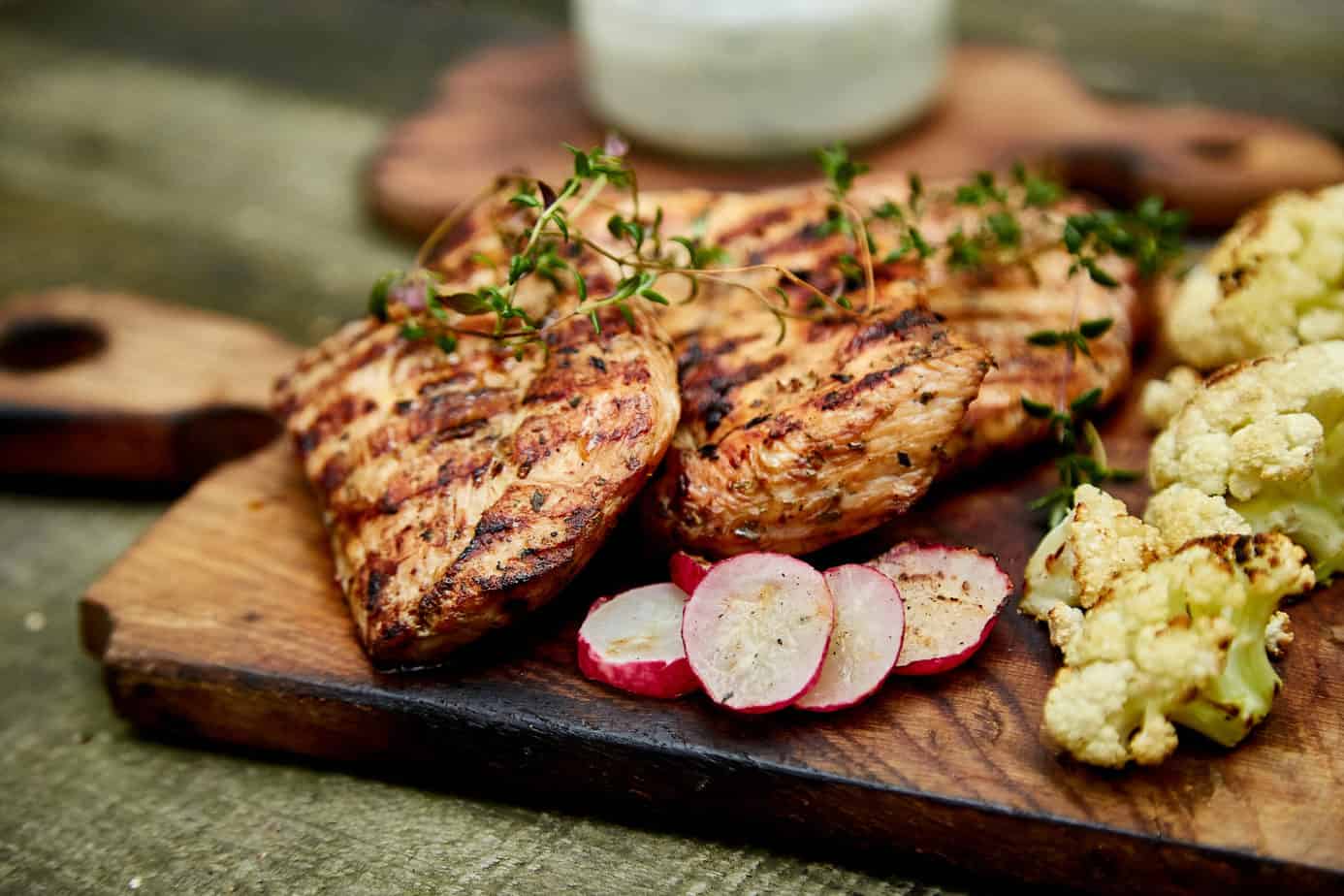 Subscription Plans
Another great thing about Rastelli's is that they offer a wide variety of service plans. It's an area where the meat delivery provider stands out amongst its competitors in the industry. There are so many plans that you may have a hard time deciding which one you want. To get an idea, Rastelli's offers almost 30 different boxes and/or subscription plans from which you can choose. These pre-selected options are referred to as "Curated Boxes."
Some of the more popular options people choose include The Beef Plan, The Chicenk and Steak Plan, The Chicken and Beef Plan, The Steak Plan, The Salmon and Shrimp Plan, or The Salmon and Chicken Plan. Plus, if you're looking for organic, grass-fed beef or chicken (not the grass-fed part, Rastelli's offers a plan for that as well.
In addition to these delicious plans, you'll also find Rastelli's specialty plans. A few examples of these include the Tailgate Box, Burger Box, Keto Box, and much, much more. There are also limited-edition boxes and plans you can find during the holidays. These include fun options like Holiday Turkey Roast, Holiday Salmon Roast, Holiday Meat, and Cheese Crates, and many others.
Meat A La Carte
Another option Rastelli's offers are the ability to build your own box. That means you're not locked into a monthly requirement and there's no minimum order amount. However, keep in mind that if you want free shipping, you're going to have to order $200 worth of meat to get it.
There are plenty of a la carte options available on the Rastelli's site and they come in a large selection of meats. You can get a variety of beef, chicken, pork, steak, and others. Plus, if you're interested in seafood, you can choose from wild-caught salmon, tuna, cod, flounder, and tilapia.
To get an idea of what Rastelli's has to offer, here are a few of the more commonly ordered items:
Wagyu beef and burgers
Porterhouse steaks
Filte mignon
Pre-cooked pork ribs
Whole chicken
Salmon burgers
Packaging and Delivery
Your Rastelli's order comes in mostly recyclable materials, so if you're worried about what you're going to do with the packaging, you will feel like you're doing your part for the environment by ordering from them.
The box and all of the insulation can be recycled at the curb or dropped at a local recycling facility. You can even reuse the bag thanks to its quality. You'll find that it's really convenient for packing cold foods.
Make sure before you throw anything out, you let the dry ice evaporate fully and don't touch it with your bare hands. This is to keep your order frozen until you receive it, which should be the next day, although sometimes it takes two.
They will ship to a residential or a business address, so you can get your meat wherever it's convenient for you. However, you don't have to be present at the time of delivery as long as your carrier can place it in a safe spot.
Rastelli's works on order fulfillment on Monday, Tuesday, and Wednesday. If you place your order on Wednesday afternoon, it won't be shipped until the following week. You'll get an email with tracking information once it ships so you'll know exactly when to expect it.
Quality
Rastelli's prioritizes quality, no matter what you order. You'll even notice that their pre-cooked selection is loaded with tons of flavor. Their whole chicken cooks up juicy and flavorful, despite the reputation that chicken has for being dry. You can season it how you like or leave it alone and it will still be wonderful.
Their meats are quality, but they also work to offer a level of care in the buying experience as well. Packaging is made with quality and it's clear that the team is very diligent when fulfilling every order.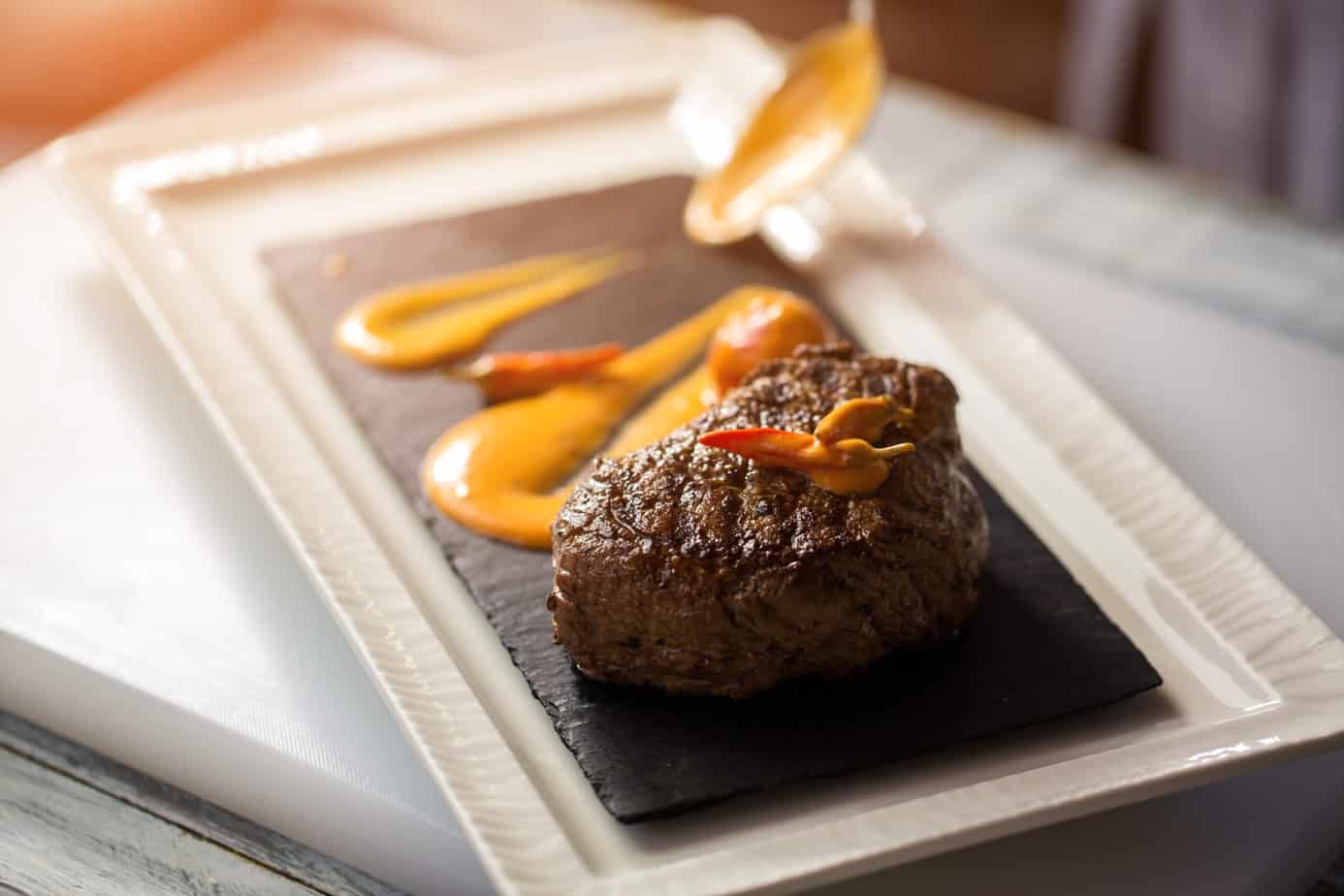 Price
Your cost will be specific to what you order and how frequently you request deliveries. If you're ordering a one-time order, delivery costs a bit more than a subscription. If you like Rastelli's it's worth signing up for a subscription to save the money.
Boxes start at just $69, but they can get rather expensive. Finding a plan that's right for you is essential if you don't want to pay $300 or more per box. If the cheapest box is too much, you can check out their a la cart options first.
Pros:
High-quality standards
Detailed meat sourcing information
Recyclable packaging
Huge variety
Subscriptions and one-time ordering options
Cons:
Not 100% organic
Shipping is not free on anything less than $200
Alternatives to Rastelli's
If you want to get your feet wet with meat delivery services, Rastelli's isn't the only one you can try. There are a lot of alternatives that offer plenty of options. Here are some of the best alternatives you may want to consider.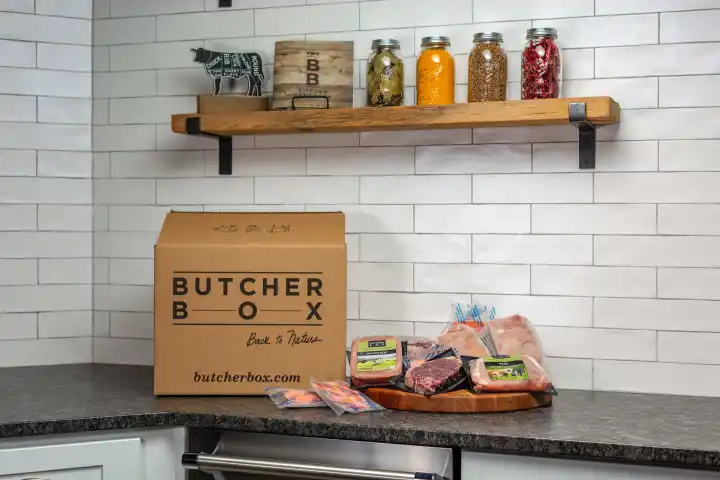 Meat Delivery Subscription | Butcherbox
ButcherBox delivers 100% grass-fed beef, free-range organic chicken, humanely raised pork, and wild-caught seafood directly to your door. Sign up today!
Check Prices
We earn a commission if you make a purchase, at no additional cost to you.
ButcherBox also has monthly subscription options offering organic chicken, heritage breed pork, Atlantic salmon, and a whole lot more. The meat is good for you and the beef they offer is grass-fed, rich, and healthy.
All ButcherBox meat is humanely raised with no hormones or antibiotics. It's a requirement if they're going to sell it. Prices are reasonable and boxes typically ship with enough meat for 24-30 servings. There are 11, 16, and 22-pound plans.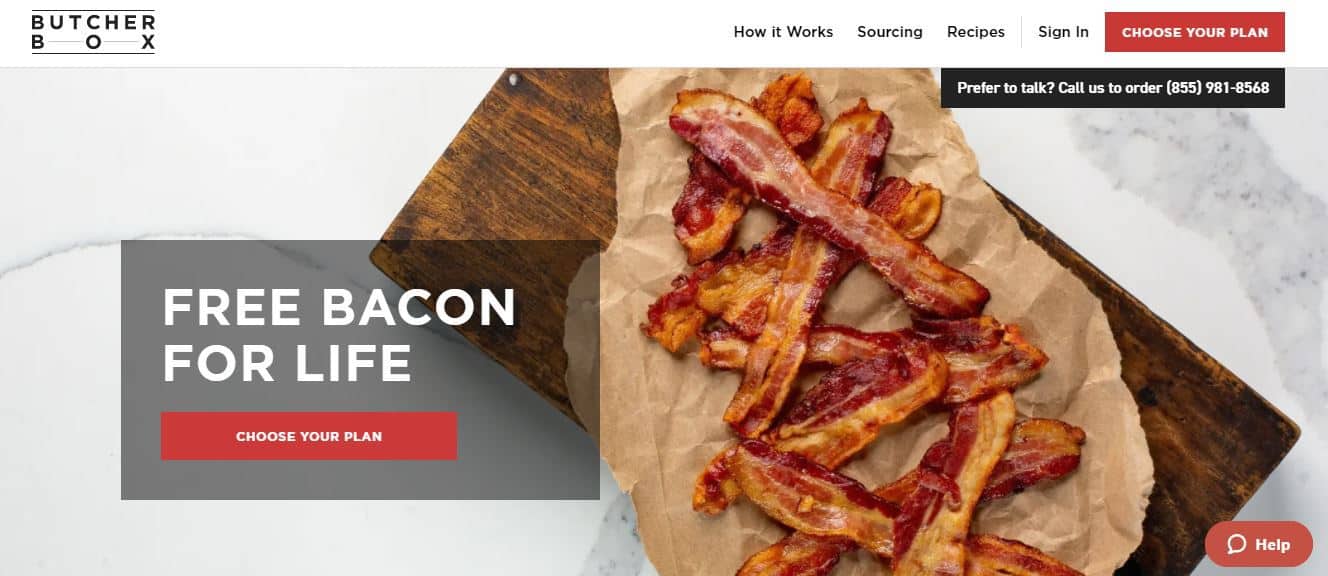 Customizing your meats allows you to pick what you like best from a variety of options. You can spread your deliveries out over two months instead of every month, making it slightly more affordable, and you can pause or cancel any time.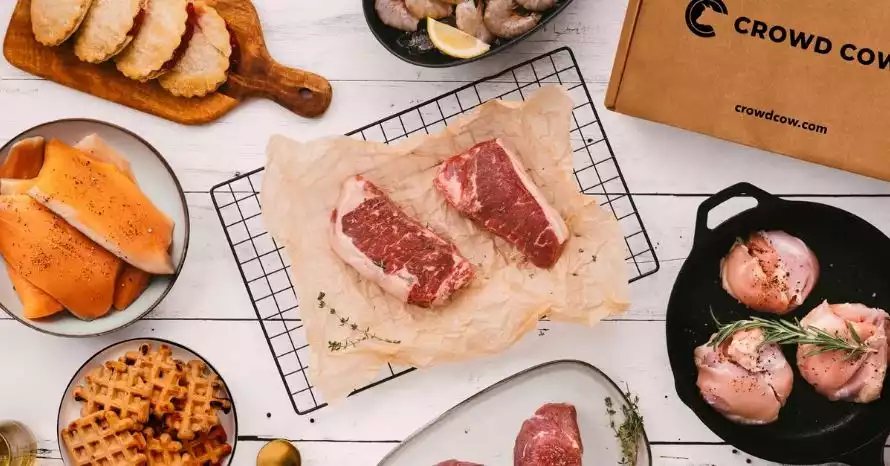 Crowd Cow meat comes from independent farms. They partner with a variety of them so you get an assortment you love. They even have a box with ground beef, which isn't offered by anyone else on the market.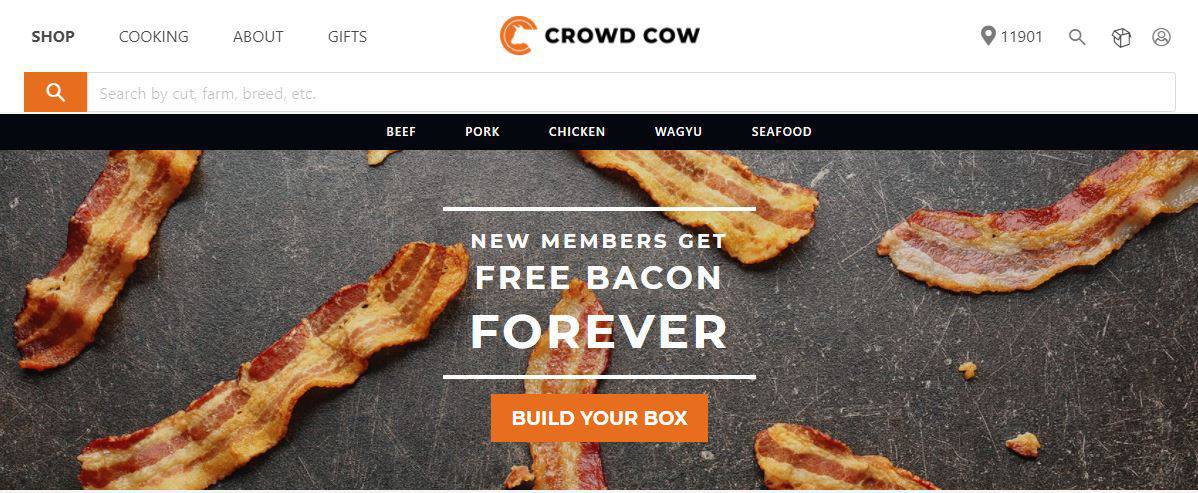 However, their specialty is Japanese Wagyu, which is expensive, but superior in quality to everything else.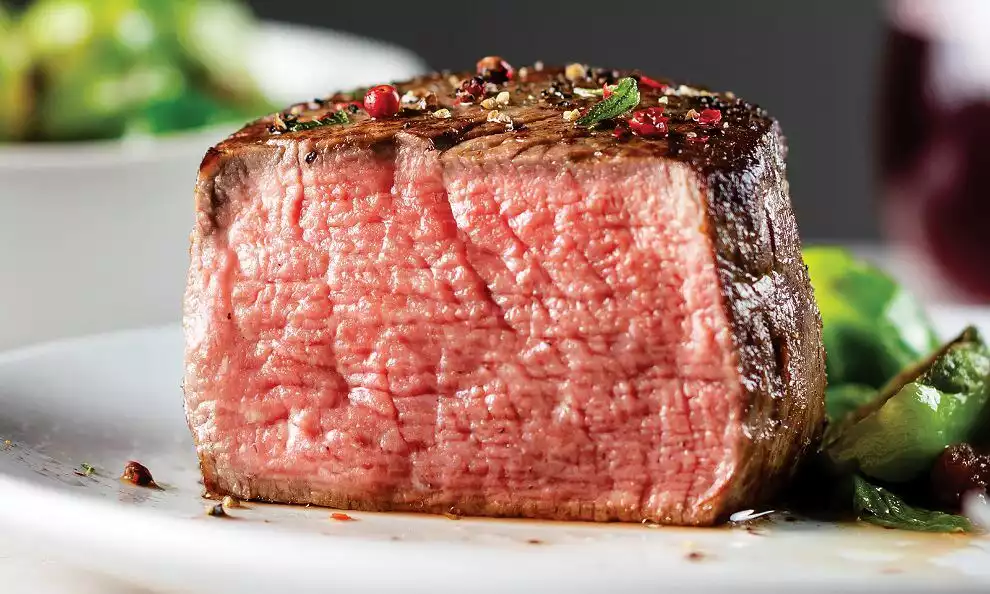 This meat delivery service was the first. It's not all organic but it's a family-owned company that's been in business for more than 100 years. The quality is phenomenal and the price is right.
They have a large variety of meats, but you can also get appetizers, sides, desserts, wine, and complete meal packages. The contents of your subscription box will vary every month, and they have just about everything else you need, too.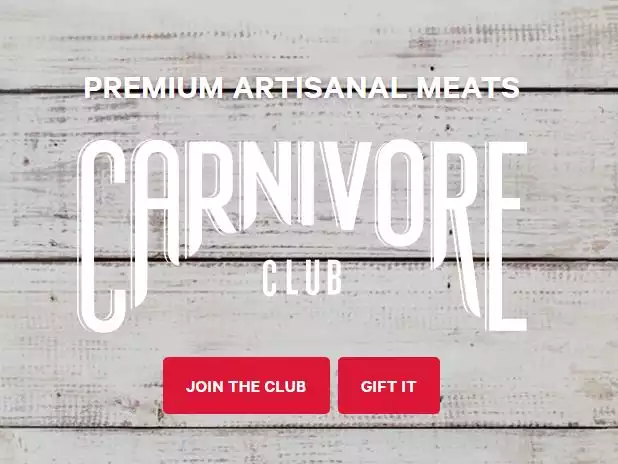 You'll never get the same thing twice with Carnivore Club. For people who like to try new things and receive a variety of surprises, this is the perfect box. While you can't pick and choose what you want, you'll get excellent quality meats.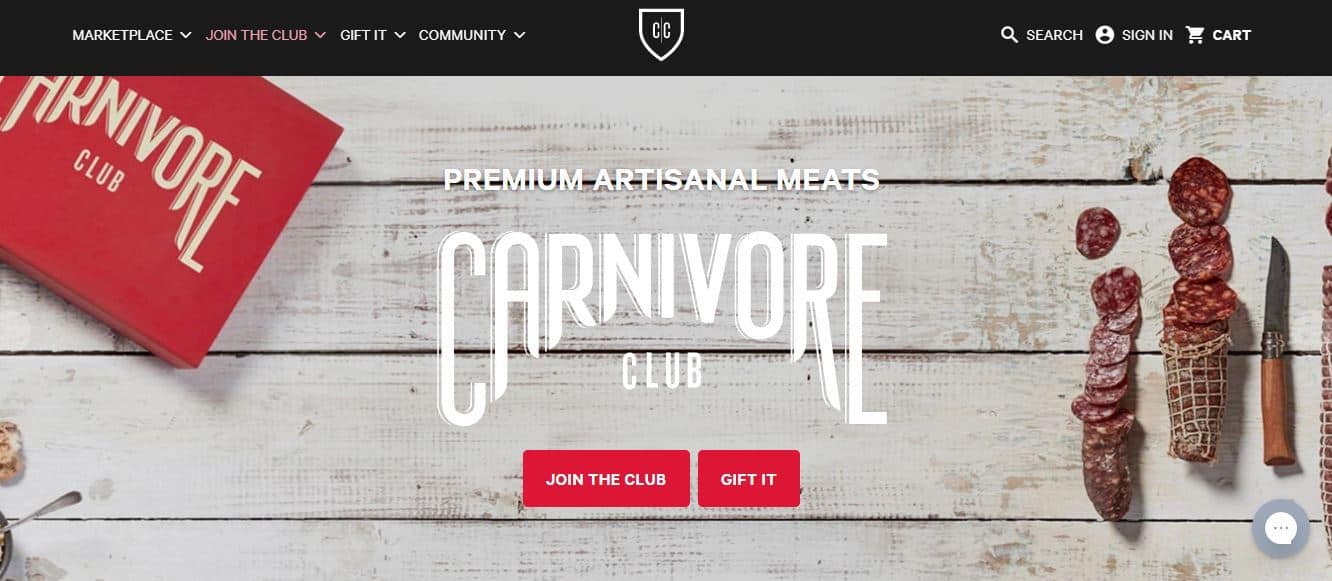 You can choose from the classic box or the snack box and enjoy reasonable subscription prices on either.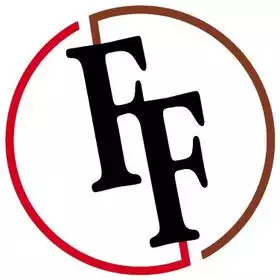 Wild. Natural. Sustainable. | Fossil Farms
Find the best meat for your butter-aged steak at Fossil Farms - they specialize in providing the highest quality farm-raised game and all-natural meats in the country.
Check Prices
We earn a commission if you make a purchase, at no additional cost to you.
If you'd rather choose something more exotic, Fossil Farms has plenty. It's not cheap, but you won't find this kind of selection anywhere else. They offer kangaroo, ostrich, squab, rabbit, bison, yak, alligator, emu, and wild boar.
If you're not into the exotic stuff, you can also get more traditional meats like chicken, duck, or lamb. There's plenty to choose from if you want to try something new.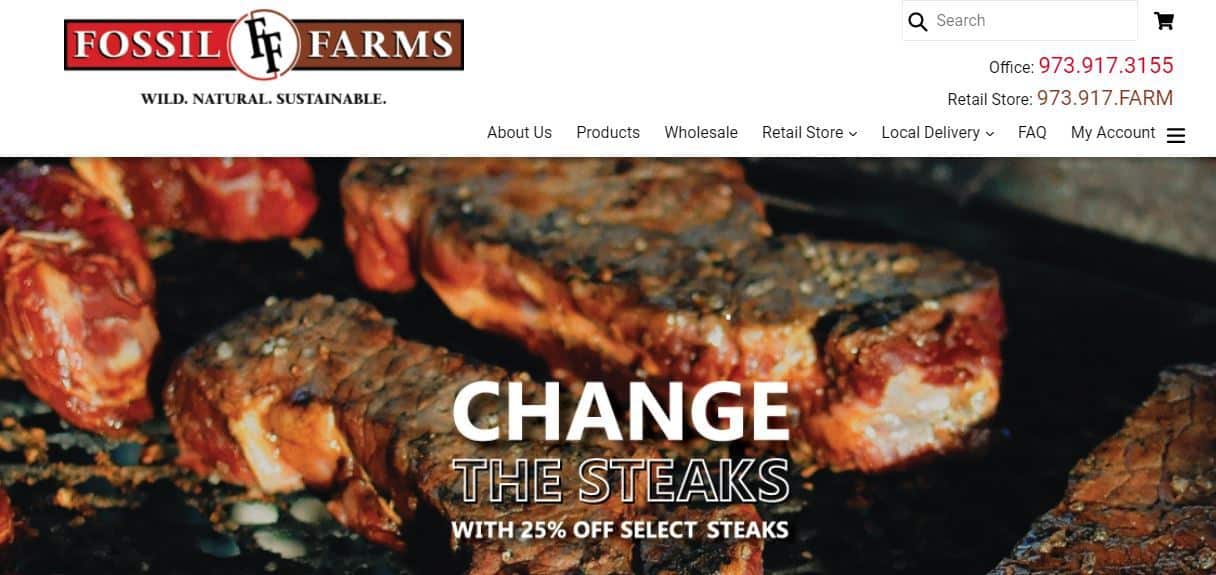 FAQs about Rastelli's
If you're thinking about giving Rastelli's, or any of these other options a try, here are some frequently asked questions that may help you decide.
Question: Is Rastelli's organic?
Answer: While some meat delivery services are 100% organic, not everything that Rastelli's offers are organic. However, they do have options that are, so if you're looking for organic meat, you don't have to go elsewhere, unless you just want to.
Question: Is Rastelli's beef grass-fed?
Answer: Yes! Rastelli's offers high-quality, organic, grass-fed beef. It's taken from cattle born and raised in the United States. Rastelli's partners with ranchers to make this possible and affordable.
Question: Are Rastelli's steaks good?
Answer: Your favorite steak may be different than someone else's, but Rastelli's offers high-quality steaks of all kinds. They offer deep, beef flavor and you can season them any way you like before cooking. Whether you cook them in oil or on the grill, they're soft and juicy.
Question: How do I cook Rastelli's steaks?
Answer: You can add oil to a saute pan and sear them inside, but many people prefer steaks on the grill. Seasoning with just salt and pepper and then placing them on a charcoal grill will ensure that the flavor is enhanced by the great outdoors.
Final Thoughts
Rastelli's may not be the best option for everyone, but they do offer a great variety of meats that will appeal to most people. They also commit to quality that you can't find with many other meat delivery services.
Their selection continues to grow and they have a la carte options that allow you to pick exactly what you want as well as subscriptions you can have delivered every month.
They offer pre-cooked options as well as some vegetarian choices. Rastelli's is reputable and delivers quality.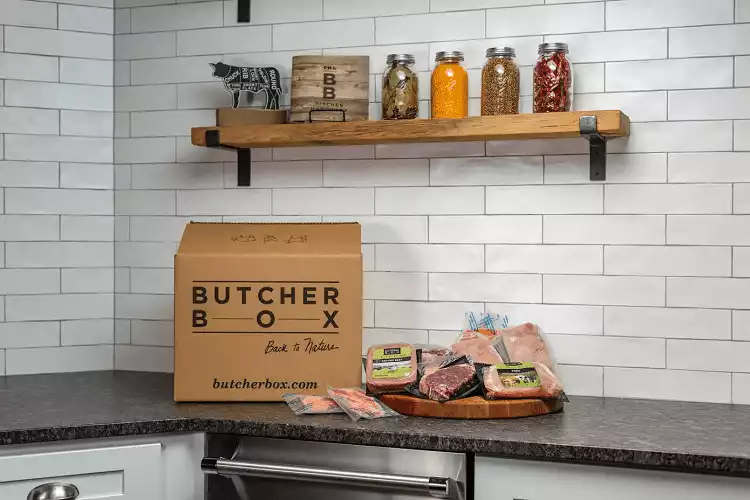 Try ButcherBox Now!
ButcherBox delivers 100% grass-fed beef, free-range organic chicken, humanely raised pork, and wild-caught seafood directly to your door. Sign up today!
Order now
We earn a commission if you make a purchase, at no additional cost to you.