When the weather starts to warm up, many of us are ready to fire up the grill and start cooking. (Some of us cook all year round, even in the snow, but that's neither here nor there.) That glorious smoky aroma begins to pour from the grill and you know summer has arrived.
Maybe your old grill finally gave up the ghost. Or maybe you need another grill for your home away from home. Or maybe you want something portable to take on the road or to the game. Whatever the case might be, you're in the market for a new grill.
But what kind of grill should you get? That's where we come in. We'll answer all your grill-buying questions, ranging from grill types to grill sizes. There's plenty to know when it comes to deciding how to buy the best grill.
Types of Grills
The first thing you want to decide is what type of grill you want. Different grills run on different types of fuels, which could be a key component when choosing your grill. No single type is better than any of the others. Each has its share of pros and cons.
It's really a matter of finding the grill that works best for you and your needs. Where are you going to be grilling most often? What are you going to grill? What type of fuel do you prefer to use? Do you want a grill that is easy to clean? Let's start by taking a look at a few of the more popular types of grills from which you can choose.
If you cook a lot of steaks and you like to get a nice, dark sear on it, you might prefer a charcoal grill. However, something to keep in mind is that charcoal grills take more time to get going. They also require a little extra attention when it comes to getting the fire going and cleaning up afterward.
This type of grill uses charcoal briquettes to get a nice, slow, even burn, using high heat and reliable methods to bring out the natural flavor of your food. Of course, with this type of grill, you'll have to plan your meal out in advance so you can be sure your grill is hot enough.
You can find charcoal grills in a wide range of sizes. For example, there are very small travel grills that are perfect for traveling or camping. There are also large, full-sized grills that are great for when you want to cook for guests.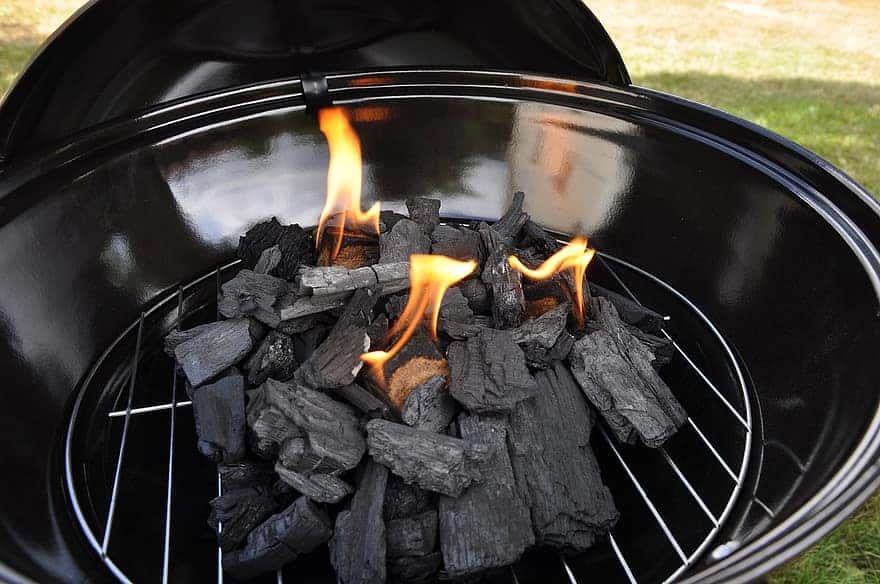 Perhaps the most commonly recognized brand of a charcoal grill is Weber, which offers the perfect size grill no matter what you're planning. If you want a traditional grilling experience with the most granular control possible, charcoal is the grill you want. A great option when it comes to charcoal grills is the Weber original grill. It's perfect whether you have a lot of time at the grill or are just getting started.
Pros
Affordable and portable
Some charcoal grills can get hotter than other types of grills
Gives your food a true, natural flavor
Cons
Takes longer to heat up
More annoying to clean than other grills
Certain places have restrictions or don't allow charcoal grills
Gas
Gas grills are a very popular grill for use in the home. They don't require a lot of maintenance, they're easy to use, and they don't cost a lot to operate. Built-in igniters provide an immediate flame, which burns hot and clean.
A lot of today's gas grills allow users to manage the temperature across the surface of the grill with easy to use knobs. Gas grills heat up fast and they're ideal if you like to cool a lot of vegetables, chicken, or fish.
If you plan on cooking a lot of steak or thicker cut meats, you should keep in mind that gas grills aren't going to get a hot as their charcoal counterparts.
When it comes to choosing a gas grill, there are two types from which you can choose:
Natural Gas
With natural gas, you can connect your outdoor grill to the already existing gas system your home uses. This is the same gas that provides heat to your appliances like your hot water heater.
Natural gas is a great option if you plan on doing most of your grilling at home. You'll never run out of fuel and it's reasonably cheap.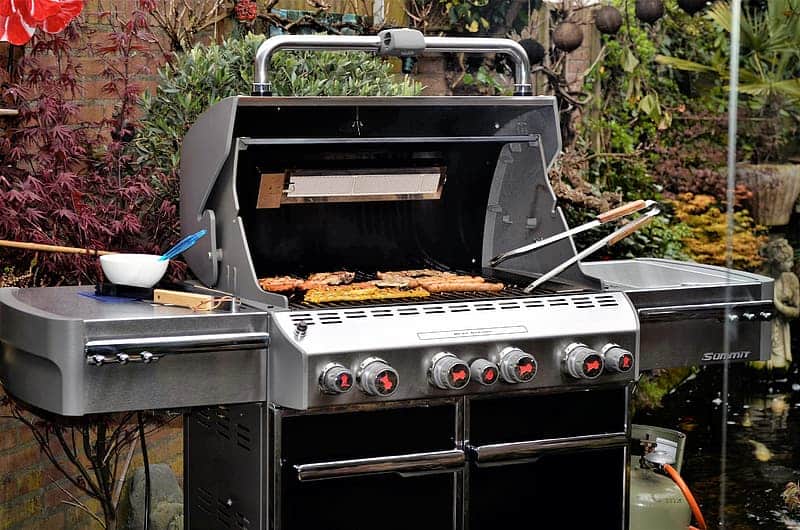 You'll typically find propane grills use a 20-pound tank for fuel. These tanks are easily filled at your local gas station, hardware store, or grocery store. You should get a solid 9 or 10 hours of cooking time out of one tank, depending, of course, on how high you're burning it and how many burners are on your grill.
One of the best gas grills you'll find on the market is the Char-broil 4-burner grill. It's not too expensive and it's great for anyone who grills on a regular basis.
Pros
Easy to use and maintain
Heats up quickly
Fuel is easy to find
Cons
Gas grills can be expensive
Requires either a dedicated gas line or changing out the propane tank
Not as portable as their charcoal counterparts
Electric Grills
Unlike charcoal and gas grills, electric grills don't require fuel. As their name suggests, the only thing you need for an electric grill is an outlet to plug into. An electric grill is perfect if you live in an apartment complex where neither gas nor charcoal grills are allowed.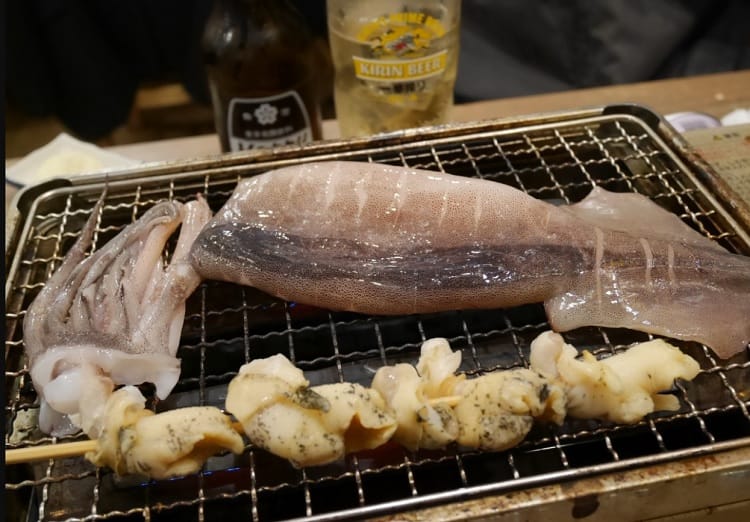 The downside to an electric grill is that they don't offer the same smoky flavor you get with a charcoal grill and take a little longer to get going than gas grills. However, these grills are a solid alternative if you aren't left with a lot of choices for grilling.
Pros
Reliable
Easy to clean and maintain
Just plug it in and start grilling
Cons
Flavor isn't as robust
Can be costly to repair
Not as good for searing meat as other grilling options
While you can use your charcoal grill as a smoker if you want to, many who are dedicated to smoking their meat want a smoker specifically for that purpose. Using a smoker is perfect for creating the tastiest salmon, ribs, bacon, brisket, or turkey.
But that's not all you can do with a smoker. Many who enjoy smoking will also get creative with vegetables, cheeses, and a wide variety of side dishes. Plus, with smokers, you aren't restricted to one fuel type. There are electric, wood, charcoal, and propane smokers.
You'll discover that smokers come in a wide range of shapes and sizes. So if you want to take yours with you, you should have no problem finding a portable option. Or if you want to smoke a whole pig, just look for one that's big enough. They're out there.
Even though they're well-known for their charcoal grills, Weber also has some fun bullet smokers that are great for anyone interested in smoking. Check out this great 14-inch smoker if you want to get your feet wet.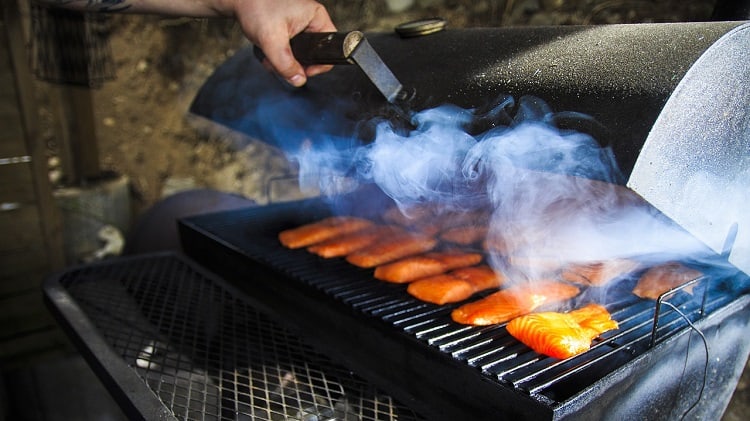 Pros
Get the ultimate flavor out of your meat
Wide range of options available
Multiple fuel types
Cons
Takes a long time to prepare and cook food
Requires regularly checking and maintaining the temperature
A lot of choices could cause confusion for beginners
If you want to branch out into different types of grilling, you might consider an oval-shaped grill that's referred to as a Kamado grill. These types of grills were originally located in Japan.
Current versions of these grills are high-fired ceramics that are covered with insulated materials. Due to this, Kamado grills have amazing heat retention and don't require near the amount of charcoal that normal cookers do.
Kamado grills house a stainless steel or ceramic bowl that holds the wood and charcoal. Located at the bottom of your cooker is an opening that creates a draft and allows oxygen to push air through the vent.
This allows you to control the temperature of your grill so you get the perfect cook. With these vents, you can retain heat, which makes cooking or smoking with charcoal extremely effective. Perhaps the most recognized brand of Kamado grills are the Kamado Joe's, which are an excellent option if you want to get started with a Kamado grill.
Pros
Design provides a wide range of temperatures
Very well insulated prevents loss of heat while cooking no matter the outside temperature
Efficient and well-sealed keeps moisture in your grill while cooking
Cons
Very heavy and not portable
Since they're well insulated, they take a long time to cool
Has a steeper learning curve than other grills
Wood pellet grills are great for giving you the ideal smokey flavor without spending all day watching a smoker. There are only a few steps you need to take to use most wood pellet grills. Load the pellets into the hopper, set the thermostat, then close it up.
Once you set your desired temperature, an auger-fed system keeps it steady by continually feeding the appropriate amount of pellets into the grill. Additionally, an induction fan keeps the smoke moving throughout the cooker so your meat gets an even amount of flavor and heat distribution.
You'll need both hardwood pellets and an electrical outlet if you want to use a pellet grill. However, you can select the type of hardwood your pellets are made of so you can get the perfect flavor while smoking your meat in the grill.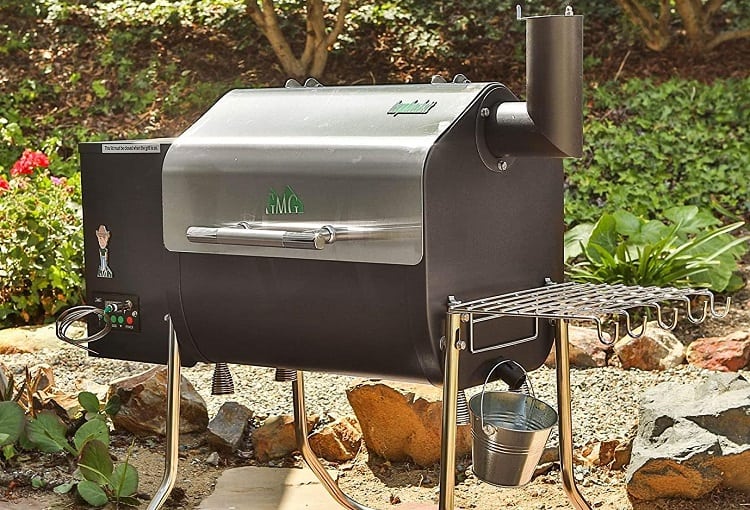 The appeal of using a pellet grill is that it automates much of the grilling process. If you want the perfect smoky flavor without all the extra work required of a charcoal grill or a smoker, a pellet grill might be the right fit for you. Green Mountain has a solid option for those interested in the world of pellet grills.
Pros
Allows you to cook at a steady, consistent temperature
Convection cooking allows for an even smoky flavor across your food
Easy clean up when using wood pellets
Cons
Won't get temperatures as high as gas or charcoal grills
Nearly all pellet grills are all the same size and shape
More expensive than other grilling options
Portable grills are exactly what they say they are, grills that are designed to take with you when you travel. These grills are smaller than the grills you use in your backyard, which makes them great for taking camping or tailgating.
While portable grills are small in nature, there are a few types from which you can choose. Some have folding legs or a cart and others sit on a stand or table. Some portable grills are electric, while others use a small can of propane or charcoal. Coleman is a well-known brand for camping equipment, which is why it is a great option if you're looking for a portable grill to take with you.
Pros
Great for traveling
Easy to store
Simple to clean and put away
Cons
Less cooking space than on larger grills
Won't get as hot as charcoal or gas grills
Most options are on the heavier side
Choosing the Right Grill for You
With so many options available, it can be a challenge to know how to buy the best grill for you. There are several factors you should consider as you decide which type of grill you want. Let's take a look at some of these factors.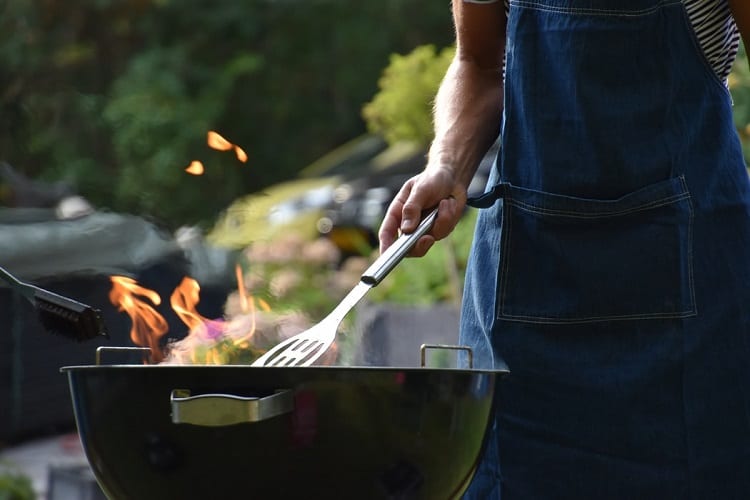 Where Are You Grilling?
This is perhaps the most important factor to consider. Will you be cooking in your back yard? Are you in an apartment with restrictions on certain types of grills? Do you plan on taking your grill with you when you travel?
Think about where you plan on doing the majority of your grilling and go from there. Answering that question may immediately eliminate some of the available options.
Grill Size and Surface Area
If you think you'll be regularly cooking for large groups – or if you have a large family – you'll want to consider a grill with enough surface area to cook everything.
A rule of thumb many smokers and grillers use is to determine how many burners they need, then get a grill that includes at least one more burner. Here are some thoughts on selecting the right size grill:
Take a look at the size of the burners – will they cover the whole surface of the grill? You want to ensure that you have a nice, even heating surface
What is the maximum temperature for your grill? You want a grill that should get to a minimum of 600 degrees Fahrenheit.
Keep in mind that you don't have to use all the burners at the same time. Some gas grills have different cooking zones
Some grillers like to cook several dishes at the same time. If this is you, check out grills that have an additional burner on the side so you can customize your grill to your liking
Materials and Durability
Many grills out on the market today are encased in a strong steel housing. This includes the most popular options like gas, smokers, charcoal, and electric grills. Steel housing handles the high-stress and heat needed to grill efficiently.
The more traditional options will use a powder-coated or flat-black coat of paint. However, the more modern and high-end grills are nearly entirely built of stainless steel. Some of the highest-priced grills on the market are made of commercial-grade stainless steel.
These grills are chef-quality and very easy to clean once you're done cooking. As you search for your grill, give special attention to how durable the grill is. Is it poorly made? Is it good quality? Be sure the grill you're considering is sealed with high-quality craftsmanship.
Typically, you'll want to select a grill that is made from one of the following materials:
Stainless steel – This material won't last forever, but you'll be able to keep it around for a few years at the least. Stainless does show grease, spots, and dust, but it is a great way for your grill to retain heat even when you reach high temperatures.
Cast iron – This is another solid material option and while it is very durable, it is also very heavy. Cast iron can easily rust if you don't have a good coat of paint on it.
Enamel-bonded steel – This material is similar to cast iron, however, enamel-bonded steel typically doesn't rust unless you chip it. Before you purchase a grill made of this material, be sure to thoroughly check it for nicks.
Cast aluminum – Unlike cast iron and enamel-bonded steel, aluminum won't rust. But over time, it will begin to discolor.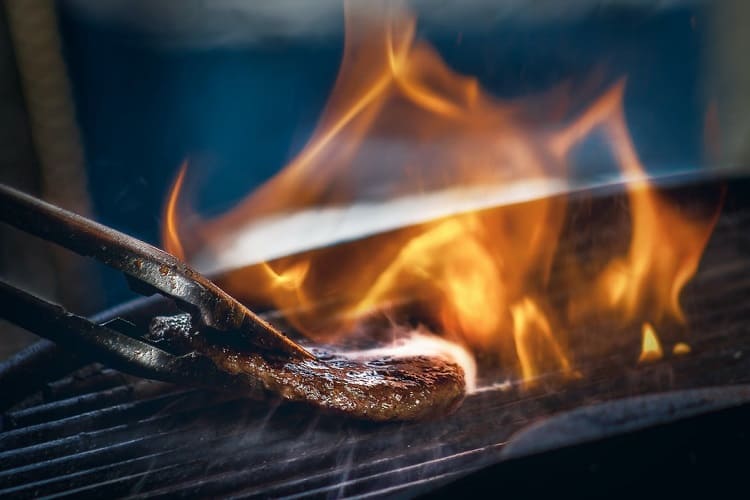 Protecting and Cleaning
Finally, you'll want to consider ways to protect and clean your grill. Even though your grill is outside doesn't mean you should ignore taking care of it. Actually, it's just the opposite. Because the high heat of your grill brings out all the salt and grease in your food, you need to be sure you clean it often.
If you let your grill get too dirty, it can become an unhealthy place where bacteria and other contaminants can build up. That means you want to select a good brush to clean off your grill when you're done cooking.
The amount of maintenance and cleanup you have to do may largely depend on the type of grill you select. Here are some questions about cleanup you may want to ask as you go about selecting a grill:
Can you remove the grates easily?
Are the burners easily accessible?
Is the ash or grease easy to remove?
As long as you keep your grill clean and covered, you'll get years worth of use out of it. An accessory you should seriously consider purchasing is an outdoor cover that protects your grill from the elements between uses.
Top Brands
Within each type of grill are brands that rise above all the rest. Let's take a quick look at some of the best brands within each grilling category.
Charcoal
Without a doubt, the kind fo the world of charcoal grilling is Weber. While most of their grills are kettle cookers that come in a round shape, they do offer a few various models that eschew their traditional models.
There are some other popular models available for charcoal grillers as well. These include Broil King and Char-Griller, both of which offer excellent options if you don't want a Weber.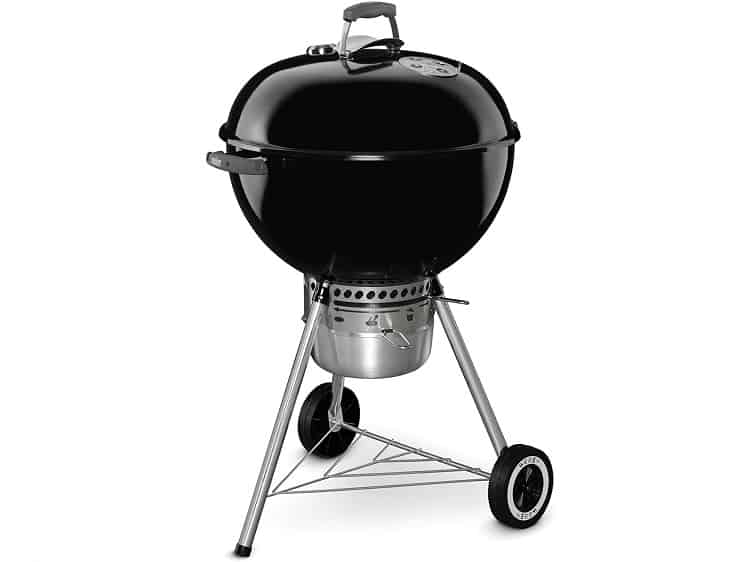 Even though it's a simple charcoal grill, the original grill from Weber is still one of the best options out there. You can fit 15 to 20 burgers on the surface of this grill and it's one of the most affordable grills on the market. For the money, the Weber Original Kettle Grill is arguably the best charcoal grill you can get.
Pros:
Plenty of recipes available for cooking on a Weber
No shortage of replacement parts and accessories
Long-lasting grill
Cons
Doesn't have as big of an ash catcher as other charcoal grills
You might become addicted to grilling
Can't use it in certain areas due to ash and sparks
See how Weber compares to other brands?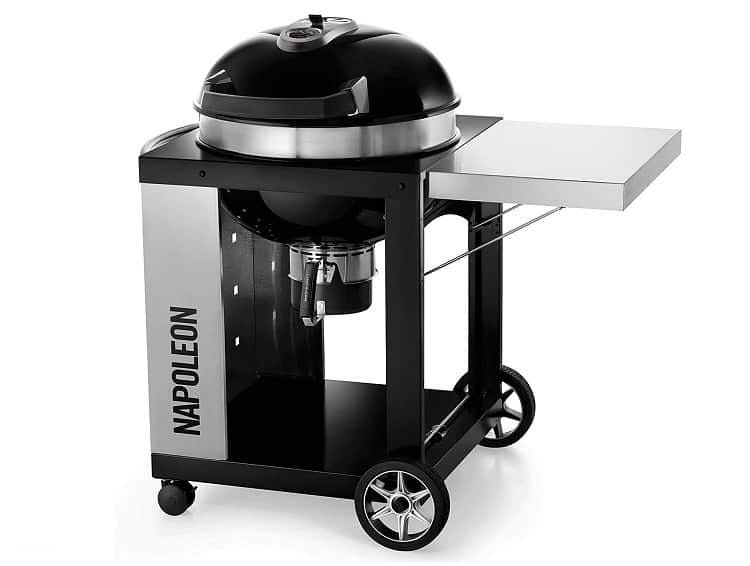 Even though Napolean Grills are some of the more expensive options on the market, they might be worth it if you want something that holds its temperature well.
Plus, it comes with an adjustable grate, so you can control how much heat your food gets while you're cooking it. The Napolean charcoal grill just might be the fanciest grill available.
Pros
The hinged grate makes it easy to add charcoal
Holds temperature very well
Huge surface area
Cons
Takes a little longer to heat up
More expensive than other charcoal grills
Cleaning up charcoal and ash can be messy
If you're in the market for a charcoal grill but the surface area of a kettle grill isn't cutting it, consider going with this Char-Broil grill. It offers 850 total square inches of surface, which means you can cook up a lot of meat all at once. Plus, it has a sliding side shelf that's perfect for holding food while you're pulling it off the grill.
Pros
Plenty of cooking space
Shelves available for holding food and accessories
Smoke or grill your favorite foods
Cons
If not kept covered, grill will rust
Might be too bulky for smaller spaces
You might go through fuel quickly
Gas
Weber is among the best in this category as well, although the gap for gas grills isn't as wide. This is probably because there are so many different types of gas grills that come in all different shapes and sizes.
Other popular brands include Cuisinart and Broil King, both of which will give you a great grilling experience. These propane grills offer lots of room for grilling plenty of burgers, steaks, and hot dogs when you have everyone over.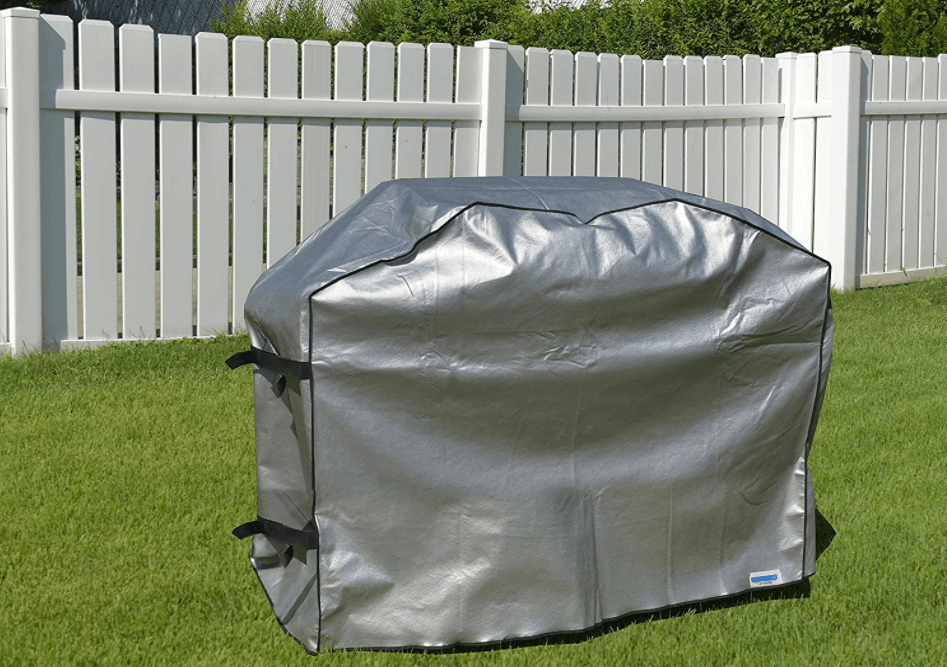 If you have a big family or find yourself constantly grilling for large parties or gatherings, then this might be the grill for you. This grill comes with four burners plus a side burner, so you should have plenty of space no matter how much you need to cook. However, this grill comes with a price tag, so be aware that you're going to pay more than you would for other, smaller grills.
Pros:
Plenty of surface area
Four burners + side burner
Easy to use and start
Cons:
More expensive than other gas grills
Requires a large space to store it
Some parts may require replacing
Weber Spirit II – Best Grill for Those Who Love Tech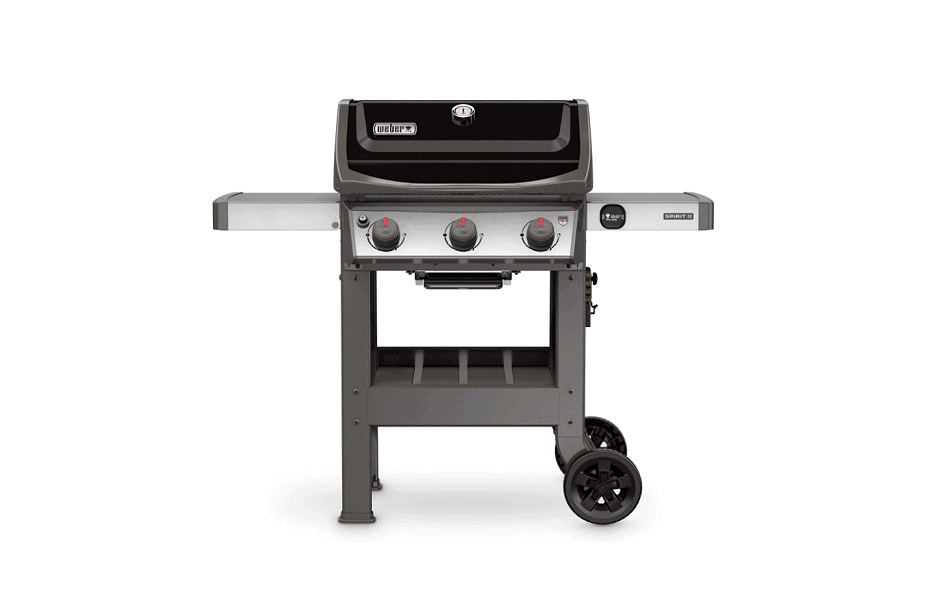 If your house is fully immersed in the latest smart home technology, then the Weber Spirit II might be the grill for you. This grill includes a Bluetooth accessory that tells you the internal temperature of your food, along with a smart scale that measures how much propane is left in the tank. These are great smart options for anyone who likes the convenience of smart tech.
Pros:
Bluetooth app tells you the temperature of your meat
The propane scale comes with a grill
Not much cleanup required
Cons
High price tag
Only offers 3 burners
Less durable than other types of grills
Broil-King Regal– Best Gas Grill for Those Who Like to Turn Up the Heat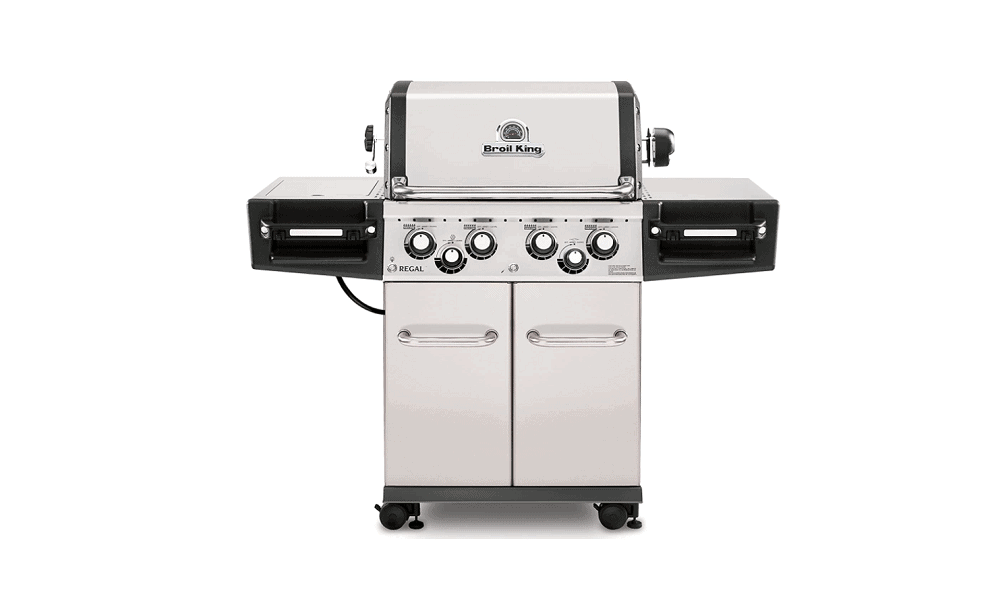 The Broil-King Regal gas grill is great for those who like to use a lot of heat when grilling. This grill comes with a 15,000 BTU rotisserie burner and a 10,000 BTU side-burner, so you should have no trouble cooking your food no matter how thick it is. You can customize the Broil-King Regal with 4, 5, or 6 burners, so you get exactly what you want out of your grill.
Pros:
 Slide-out tank holder makes changing propane convenient and easy
Easy control over grill temperature
Dual-tube burners create a high-powered cooking experience
Cons:
Not as durable grill types
Gas doesn't give the food the flavor that charcoal grills do
Larger grills are more difficult to store
Electric
Again, even for electric grills, you'll find the same names you found in the first two categories. Weber, Cuisinart, and Charbroil all produce some of the best electric grills on the market.
If you want to go with a familiar brand that's not quite as well-ranked, there are good George Foreman electric grills that will get the job done. Regardless of which grill you choose, be sure you have an outlet nearby.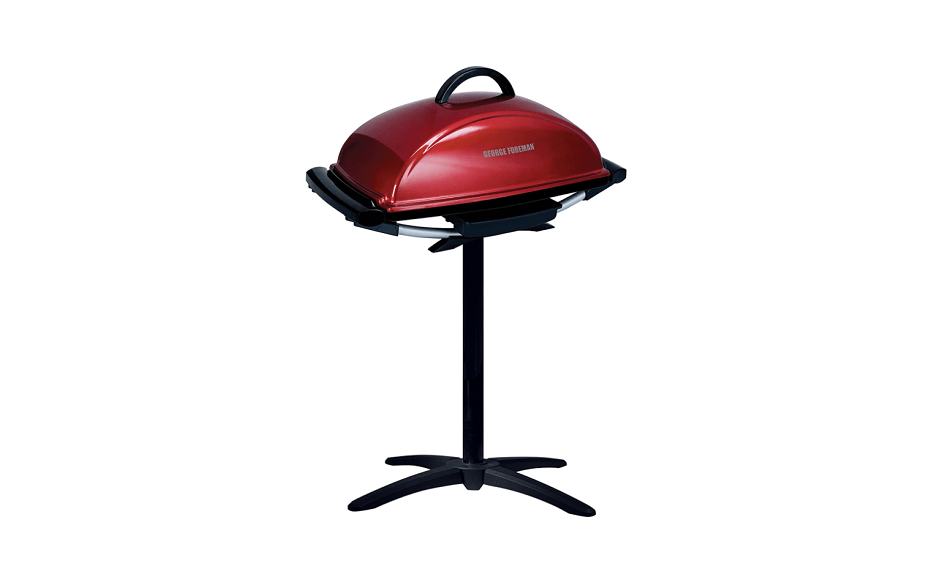 This freestanding electric grill is the perfect option for grilling both indoors and outdoors. Plus, with 240-square inches of cooking space, there's plenty of room no matter what you're grilling. While it won't get as hot as other types of grills, it still gets plenty hot to whip up some tasty meals. Plus, cleanup is quick and easy when you use an electric grill.
Pros:
Can be used inside or outside
Sloped surface allows for easy draining fat
Durable grill plate
Cons:
Have to have access to an electrical outlet
No internal thermostat available so you know the temperature of your food
Not as much control as other types of grills offer
Philips Indoor Grill – Best for Those Who Don't Like Smoke in Their Home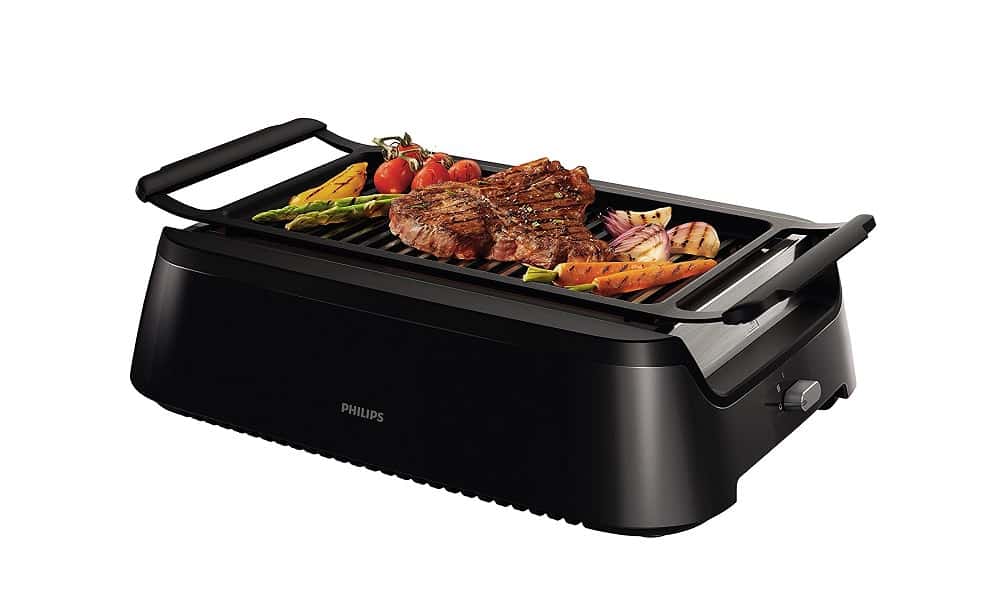 Philips offers an indoor electric grill that's completely smokeless, so you don't have to worry about turning on the fan or opening a window anytime you want a burger or steak. Even though you can't control the temperature, the Philips indoor grill is a good option for grillers in areas that don't allow charcoal or gas grills.
Pros:
Little to no smoke when grilling
Great for indoor use
No heavy top plate means you're not crushing your food while cooking it
Cons:
No temperature control
No top plate means you may experience spattering while cooking
A short cord means you may need to use an extension cord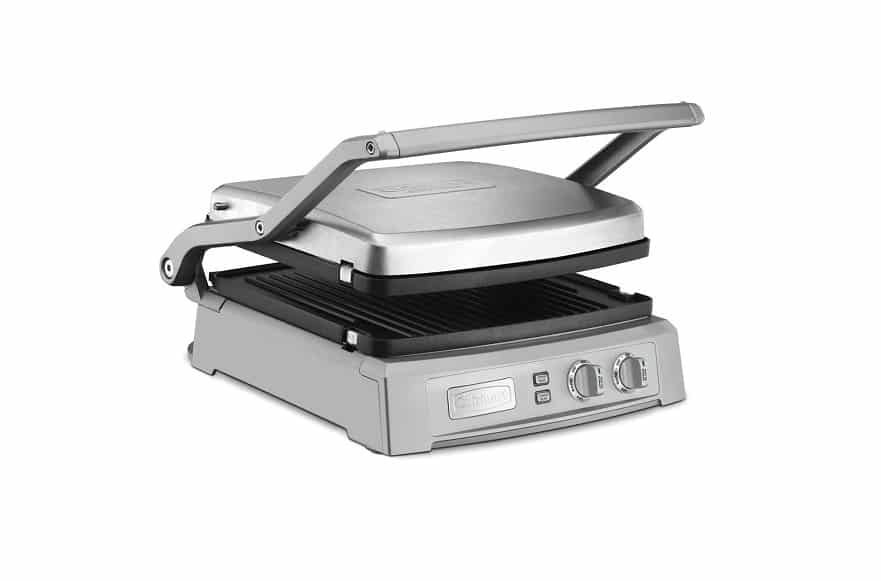 If you're in the market for an electric grill, the Cuisinart GR-150 is a great option.
Smokers
Smokers are a bit of a different animal, as they come in a wide range of shapes and sizes. Some people like Weber's bullet smokers, while others prefer box-shaped options. You'll also find some people that like the DIY option. If you're comfortable with welding, there are plenty of blueprints and designs available online.
One of the more popular smoker manufacturers on the market is Traeger, which offers high-quality craftsmanship no matter what design you choose.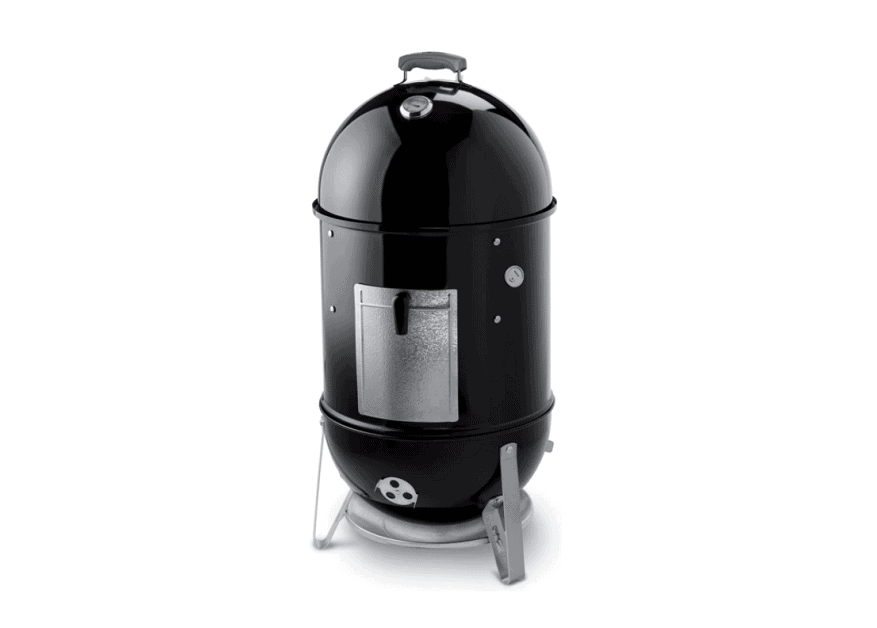 This bullet-shaped smoker is great if you want to get your feet wet, but don't want to use a complicated cooker. The Weber Smokey Mountain Cooker is ideal if you're familiar with a charcoal grill and want to move to a smoker that works in a similar manner. It's basic and straightforward and won't cause a lot of confusion.
Pros:
Bullet-design saves on space
Great setup for smoking
Perfect for smoking newbies
Cons:
Tough to see water level when smoking
Requires opening and closing vents to get the desired temperature
Takes practice to master smoking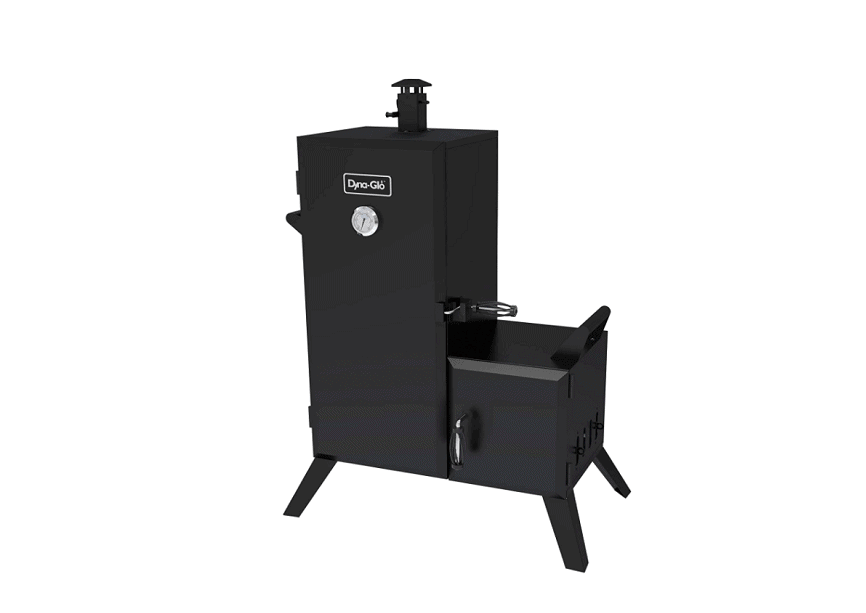 An offset smoker is a smoker that has two chambers, typically separated by a sliding door or vent. The main chamber is where the meat goes, while the second chamber is where your wood or charcoal resides. The Dyna-Glow offset smoker is a great option for those who want a little more control while smoking their food, but don't want to get too deep in the weeds.
Pros:
Easy to understand and control
A popular and cheap method to smoke your food
Great for the DIY crowd
Cons:
More challenging than bullet smokers
Can be difficult to clean
Requires a lot of attention while smoking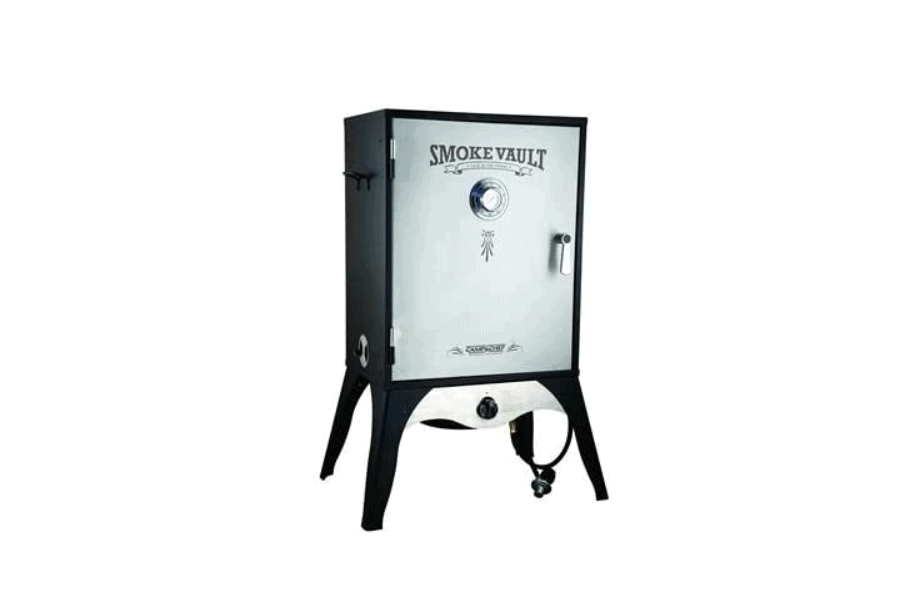 Gas burning smokers are usually much lighter and easier to move than their charcoal counterparts. That Camp Chef gas smoker is the ideal smoker for those that prefer the 'set it and forget it' method.
For flavor, you can add some wood chips before you get started. Just be sure to confirm that you have enough propane to get through the entire smoking process.
Pros:
Very simple to use. Set the temperature and let the smoker do the work
Buying propane can be cheaper than needing a lot of wood or charcoal
Easier to clean than charcoal options
Cons:
Need to buy wood chips to add flavor
Easy to make adjustments
Propane smell could soak into your meat
Kamado
When it comes to Kamado grills, you'll find that Primo or Kamado Joe are the most popular options. These oval-shaped cookers are typically made of cast aluminum so you'll get a nice, thorough cook each time.
You can use these fun grills for slow smoking or quick grilling, whichever you prefer. These grills have plenty of room, so if you need to cook for a large gathering, you'll have no trouble fitting all the food on the cooker.
Kamado Joe – Best Overall Kamado Grill
The most well-recognized name in the Kamado grill market is Kamado Joe. These grills are known for their versatility, durability, and quality. Whether you're buying your first Kamado grill or working your way toward becoming a grill master, the Kamado Joe grill is arguably the best you'll find.
Pros:
Well constructed grills
Moderate size means you can store it wherever you need to
Comes with many accessories
Cons
One of the priciest Kamado grills on the market
Very heavy grill
Cooldown take a long time
Big Green Egg – Best Kamado Grill that Comes in Different Sizes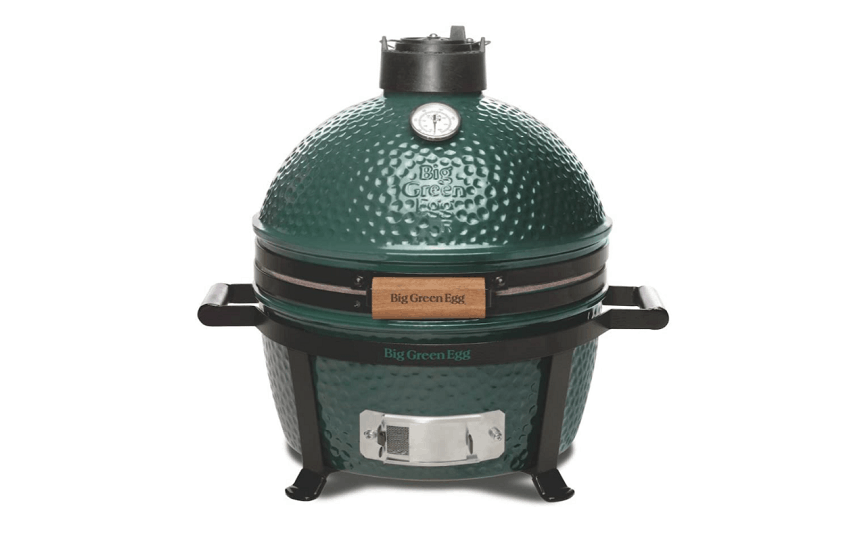 After Kamado Joe, the most popular Kamado grill option might be the Big Green Egg. It even has a following that cleverly refers to themselves as "Eggheads." The top and bottom vents on this grill allow for precision temperature control and the grills are made out of high-quality ceramic. If you want a Kamado grill that comes in many different sizes, the Big Green Egg is tough to beat.
Pros:
7 different sizes from which you can choose
Lots of accessories
Well-made and durable
Cons:
Tough to do multi-zone cooking
Not as affordable as other grills
The design has remained stagnant since its inception
Komodo Kamado – Best High-End Komado Grill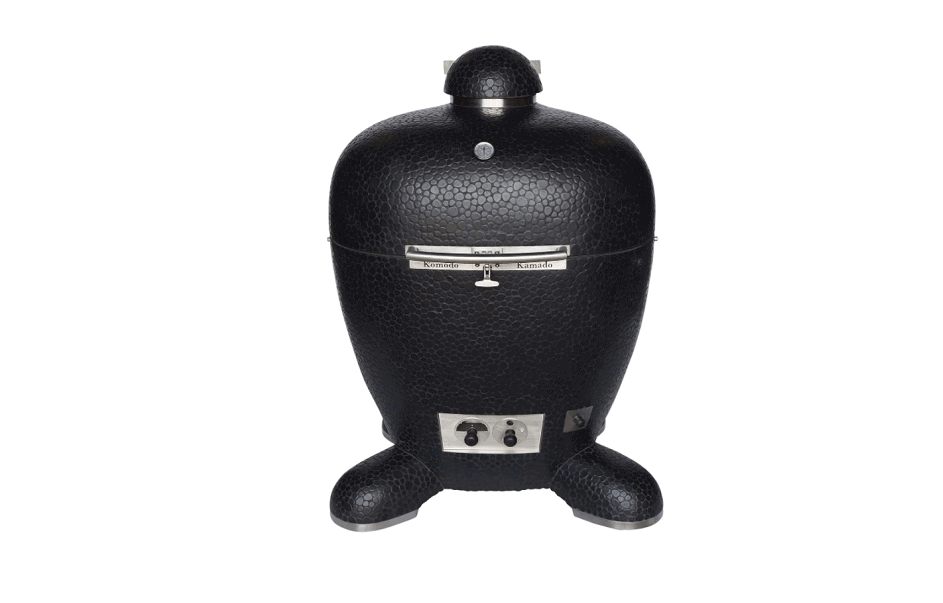 If you want the best of the best, look no further than the Komodo Kamado grill. This grill will set you back quite a bit in the money department, but it's practically worth every penny.
It's arguably the most well-designed, functional, high-quality, and durable Komado grill available today. The Komodo Komado has an option for gas, comes with a rotisserie, and includes many spare parts. It truly is a high-end Komado grill.
Pros:
Excellent quality and craftsmanship
Comes with multiple cooking grates, drip pan, and a wide range of accessories
Many different colors from which you can choose
Cons:
Extremely pricey
Very, very heavy
Steep learning curve
Pellet
Traeger is again one of the more well-known pellet grill brands on the market, but it has plenty of competition. Camp Chef and Green Mountain Grills are two solid options available if you want to use a pellet grill. However, keep in mind that these types of grills are heavy and might require two people to move.
These grills are efficient and simple to use, but not to mention easy to clean up. There are plenty of pellet grill options on the market, so take your time and find one that works for you.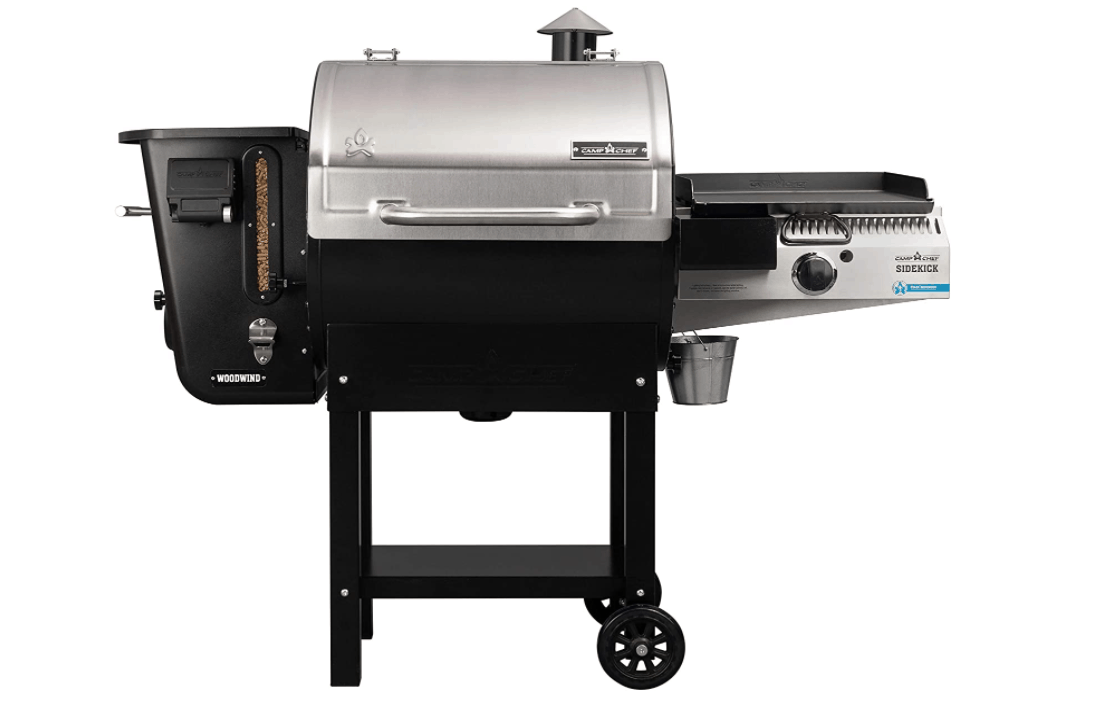 What?? A wifi-enabled pellet grill?? That's right. This Camp Chef grill lets you monitor the temperature and smoke of the grill right from your smartphone. That means you don't have to get up every half hour to check. Plus, this Camp Chef grill is sturdy, well-constructed, and offers plenty of cooking area.
Pros:
Efficiently uses pellets
Easy to cleanup
Wifi!
Cons:
Difficult to use when it's wet outside
Aren't as well-developed as other types of grills
Mostly only comes in one size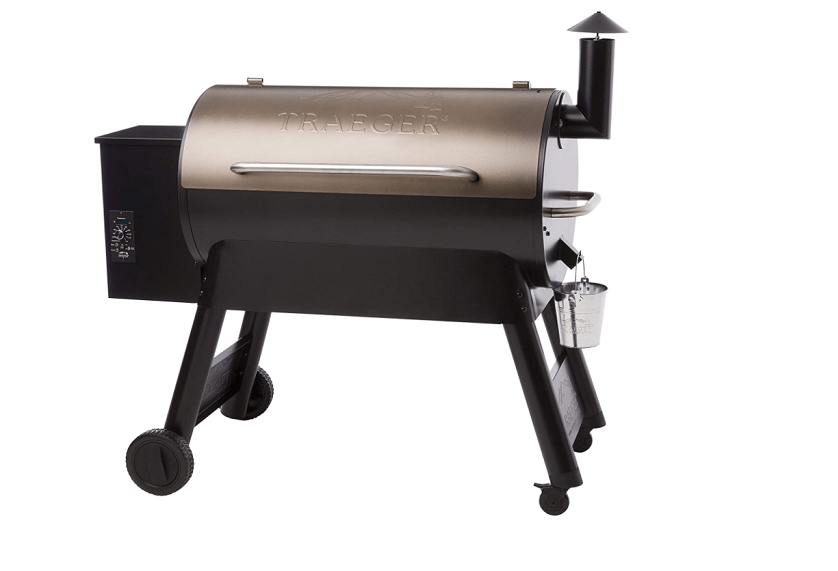 Traeger grills have been on a bit of a downward trend lately, the Traeger Pro is slowly changing that pattern. For starters, this grill comes with wifi functionality, so you can check on the temperature no matter where you are.
Need to run to the store to grab some ice? As long as you have connectivity, you can check on the temperature of your food. The bigger Pro options come with 780 square inches of cooking area, so you'll have plenty of room to grill no matter what size the party.
Pros:
Get exact temperature settings with speed controller
Wifi capability
Plenty of space for cooking large meals
Cons:
You have to purchase additional accessories like a folding shelf or grill cover
Temperature doesn't get as hot as standard grills
Tough for one person to move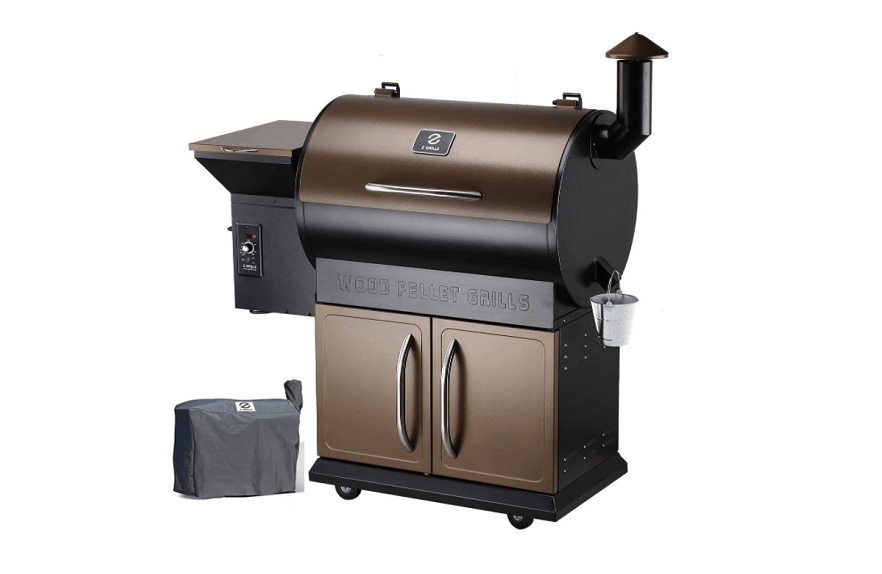 Because pellet grills are so new and require a lot of moving parts, it's tough to find one that works well in anyone's budget. The closest you'll come is the Z Grill Wood Pellet Smoker. Included with this grill is plenty of room for cooking your favorite foods and a storage cabinet to keep all your important accessories.
Pros:
Great value for the cost
Comes with a 36-month warranty
Made of solid stainless steel
Cons:
Cleaning unused pellets can be a pain
The temperature control unit isn't as reliable as other grills
No wifi functionality
Portable
For portable grills, we turn once again to Weber and Char-broil. These compact grills are on the heavier side, but they'll get the job done no matter where you're going or what you're cooking. Fortunately, portable grills range from very cheap to very expensive, so no matter what your budget, you should have no trouble finding one.
A lot of the portable gas options have push-button starters, which is great when you're in a hurry and don't want to mess around with charcoal. Many also come with temperature gauges so you can make any necessary adjustments while you're cooking your favorite food.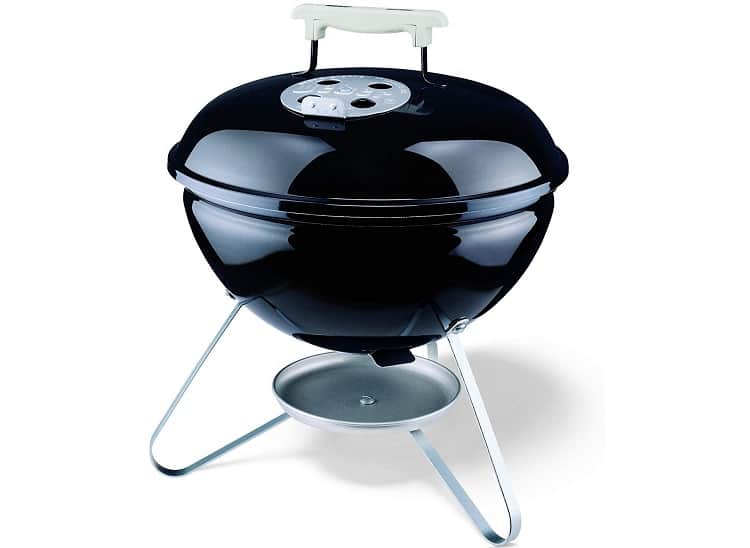 If you're partial to charcoal grills no matter where you are, then the Weber Smokey Joe is great for portability. This grill is the perfect combination of quality and price and is light enough to take with you anywhere you go.
The Weber Smokey Joe has enough space to easily feed 4-5 people, so it's great if you're tailgating before the big game or headed out into the wilderness for the weekend.
Pros:
Can fit up to six hamburgers at a time
Easy to carry
Comes in 14 and 18-inch options
Cons:
No handles mean you have to wait until it cools to move it
Made of lighter materials that aren't as durable
Does not include a lock to keep the lid in place while cooking or moving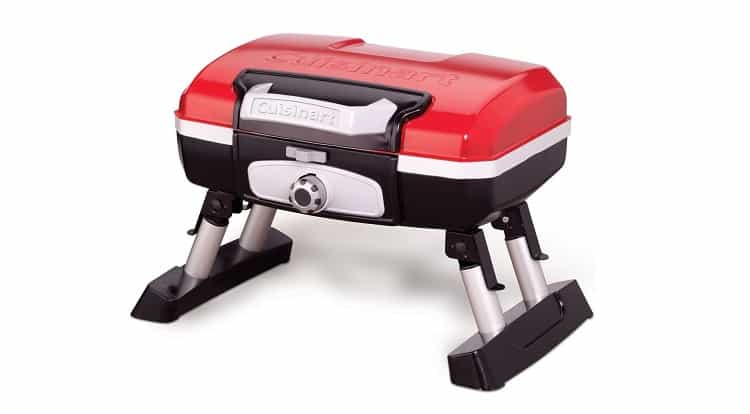 For those of you who go camping on a regular basis, the Cuisinart Petite Gourmet grill is a great selection. No one is going to lug around a full-size grill, but this Cuisinart might be the next best thing. This grill is light yet durable and comes completely assembled. All you have to do is get the fuel for it and you're ready to start grilling!
Pros:
Portable and lightweight
Built-in stand included
Great heat control
Cons:
Doesn't have a temperature gauge
Only 145-square inches of cooking space
Plastic latch isn't very durable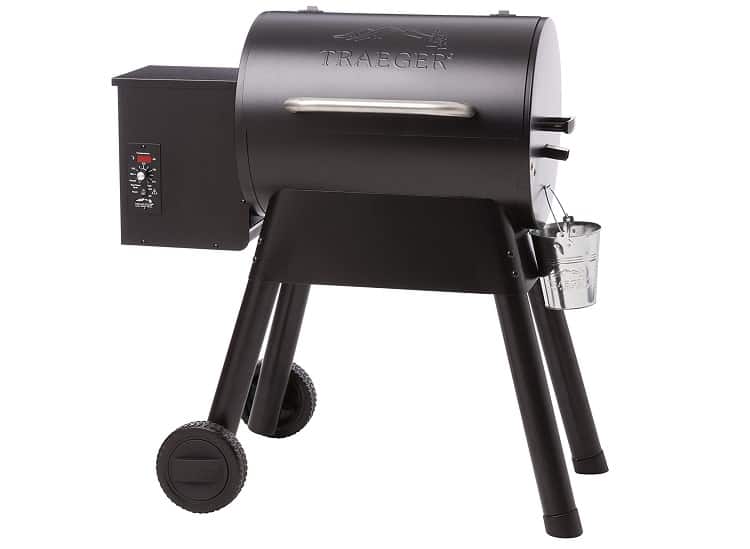 While portability isn't a term regularly used for wood pellet grills, the Traeger Bronson Portable is about as good as you're going to get. This portable pellet grill isn't easy on the wallet, but if you're partial to using one, this is a great option. If you have the room, the Traeger portable is about as small as you're going to get when it comes to wood pellet grills.
Pros:
Fantastic wood-smoked flavor
Durable and high-quality
Easy to use
Cons:
Expensive
Difficult to store
Heavy when compared to other portable grills
FAQs
Grills are great tools to have when you want to get that seared and smoky flavor in your meal. But what else do you need to know? Here are some often asked questions about getting the best grill.
Final Thoughts
There are plenty of choices when it comes to buying the best grill, so take your time and determine what makes the most sense for your needs. If you don't mind taking some extra time to get that great smoky flavor, then maybe a charcoal grill is what you want.
Or, if you live in an apartment complex that doesn't allow certain types of grills, then maybe you need an electric grill. For those that travel a lot, a portable grill might make the most sense. Grilling can be a lot of fun, but not if you get a grill that isn't what you expected or you can't use.
So take stock of what you want out of your grilling experience, make note of any exceptions you may have to deal with, get out there, and find the grill you want. Then, you can grill to your heart's content. Rain, snow, or shine, you can fire that bad boy up and get to it. Enjoy!