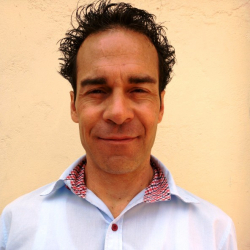 Latest posts by Douglas Bloom
(see all)
One of the best get-together scenarios is done using a grill. With time, people have appreciated the value of a barbeque setting. This is why there is a constant demand for griddles and grills. With the rise in demand, comes a rise in the variety of products.
Weber and Traeger are two of the leading grill manufacturers in the market. Choosing between the two is a challenge especially for people who have limited knowledge of grills. We researched the two to come up with this in-depth comparison. Read on to find out the best grill for your needs.
Brand Comparison
The best way to get information on a brand is by taking a look at its history, competitive advantage, and the best product for a specific category. The following is all the information from the two brands.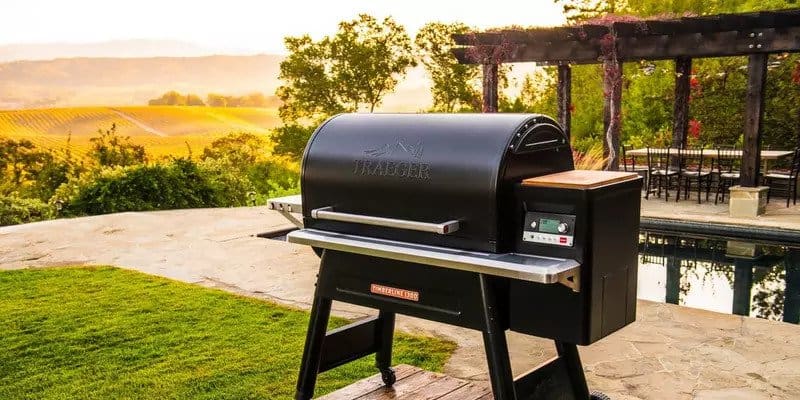 This is a brand renowned for manufacturing smokers and grills that use wood pellets. The company does not manufacture gas or electric grills.
History
During the oil crisis of 1973, pellet grills made their mark. During this period, affordably heating a home was the priority. This demand and the oil crisis meant people needed alternative fuel sources for heating their homes.
At this time, Jerry Whitefield and Joe Traeger used to work on stoves that used pellets. The stoves worked using electricity, although they looked like traditional stoves. In 1985, Joe Traeger developed the first pellet grill. He patented it in 1986. The introduction of these stoves led to the popularity of convection cooking.
Competitive Advantage
If you are searching for versatility and convenience, Traeger is the way to go. Their products combine the features of gas grills, charcoal smokers, and kitchen ovens. Each unit has a control panel allowing you to bake or grill a variety of foods.
The products can automatically regulate airflow whole feeding fire with wood pellets. It is an important feature used to maintain the temperatures for various cooking needs.
Wood pellets are capsules that are made using compressed sawdust and are the size of a small eraser. The grills have a hopper on the side. It also serves as the firebox.
Just like a pellet stove, Traeger grills have a three-position switch. It is easy to feed the pellets to the grill making the products easy to use when you want a specific temperature. There are deflector plates that prevent grease from getting to your food. They also prevent flare-ups.

The Original Wood Pellet Grill | Traeger
Traeger Grills is the original and best-selling wood pellet grill. They produce grills that offer 6-in-1 cooking versatility and feature WiFIRE technology.
Check Prices
We earn a commission if you make a purchase, at no additional cost to you.
Weber is a brand renowned for being the oldest manufacturer of outdoor grilling and cooking.
As a pioneer brand, it came up with top quality griddles and grills. All their products used charcoal, electricity, and gas.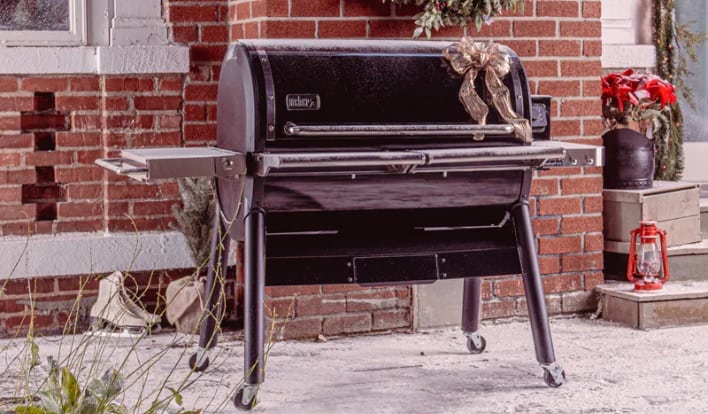 History
George Stephen is the man responsible for creating Weber grills. In 1893, he created a BBQ kettle. Stephen used his meal works experience to alter the design of buoys creating the BBQ kettle.
When the kettle hit the market, it was an instant hit. At the time, other brands realized the impact of the BBQ kettle and the demand for the same. The brands worked on different ideas to come up with what you find on the market today.
Competitive Advantage
Weber should be your choice if you prefer durability, and you love grilling. Their products have been mainly focused on smoking and grilling. Unfortunately, you cannot bake anything with Weber grills. However, you can grill or smoke various foods.
Each grilling unit uses different heating sources like electricity, gas, and charcoal. The brand is all about simple and sophisticated barbecue cooking. Food cooked using these grills gets even heat distribution. The food also retains its flavors for long periods.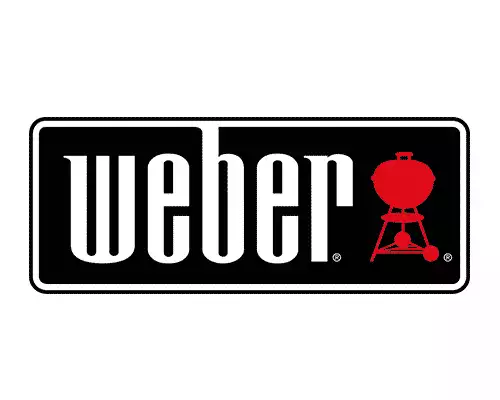 By Grillers For Grillers | Weber
Compact, portable and available in different sizes, grill how you live with our gas, charcoal and electric grills that deliver the same great taste, every time.
Check Prices
We earn a commission if you make a purchase, at no additional cost to you.
Recommended Traeger Grill
There are many types of grilling units from Traeger. We recommend the Text Elite 34 pellet grill for those who don't want to use gas or charcoal while cooking.
Using wood to cook is a trick used since time immemorial as a way to cook excellent tasting food.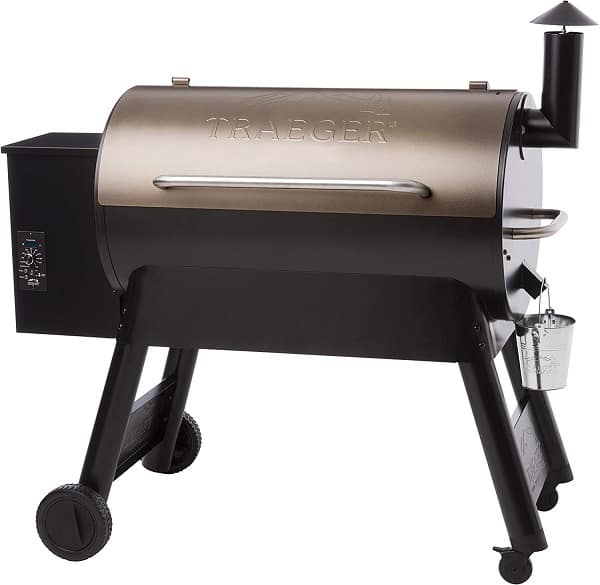 If you opt for this unit, you can enjoy a top-notch wood cooked taste if this is what you are craving. It allows you to grill BBQ, smoke, cook, roast, bake, and braise food to juicy perfection. The Elite 34 Pellet Grill has a digital controller allowing you to get the best temperature for your cooking needs.
Every time you cook, you are guaranteed consistency in the taste of the food. You can set your food on the grill and embark on other activities as your food is cooking. The 646-inch cooking surface makes it ideal for cooking at home. The surface easily houses a couple of dozen burgers, 6 chickens, or 9 rib racks.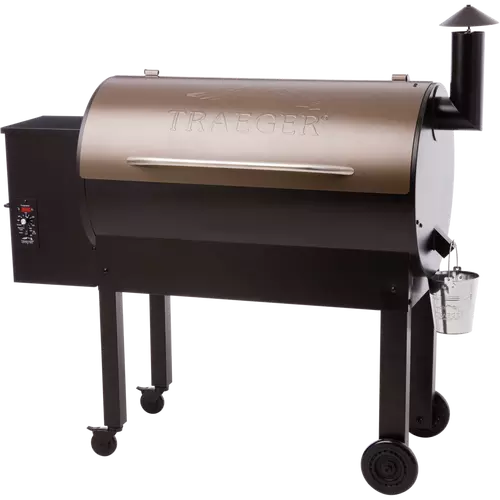 Pros
Easy to use auto-switch for starting the grill
Choose different kinds of pellets to give your foo the taste you desire
Control units to gauge the temperatures and set them according to your needs
Cooking options such as grilling, smoking, braising, baking, and roasting (it is a feature that most outdoor cooking units don't have)
Ideal for people who do not like using gas or charcoal when they have a barbecue
646 sure inch surface providing ample space for cooking for a medium to large-sized gathering
Cons
Not recommended for small scale or occasional cooking
Not recommended if you don't like wood-fired flavor in your food
Recommended Weber Grill
One of the best Weber grills is the Genesis II E-410 Liquid Propane Grill. If you are looking for a top-quality gas-powered unit for outdoor cooking, you should seriously consider this product.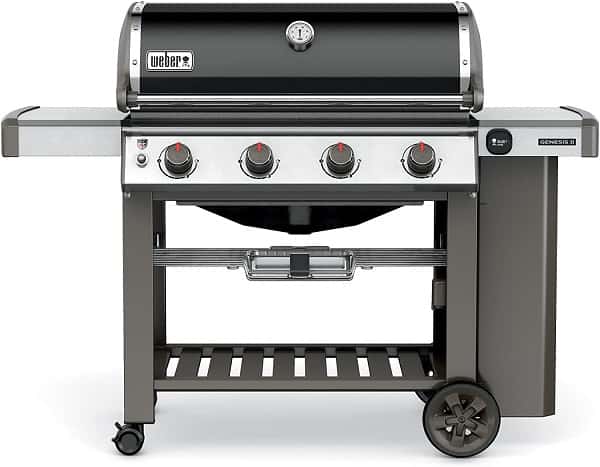 For starters, it has a GS4 mechanism combined with four stainless steel heavy-duty burners. This Weber grill comes with Flavorizer bars and porcelain-enameled coating. Grease management in the unit is highly effective. It minimizes all risks associated with flare-ups.
Additionally, the grill reduces any grease in your food making it healthier for consumption. Apart from this, there is a small "food warming" rack that measures approximately 198 square inches. It is positioned above the cooking surface.
Genesis II Propane Grill comes with Infinity Ignition. This means each burner can be started by simply turning the dial. Workspaces for food preparation are present on each side of the grill. Last but not least, the product comes with a 10-year warranty.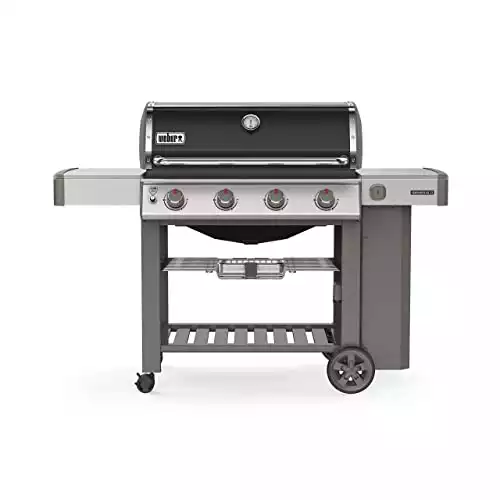 Pros
Equipped with a highly efficient grease management mechanism to prevent flare-ups
Keeps food free from unwanted fat
High-performance thanks to the Infinity Ignition and GS4 grilling mechanism
Easy ignition
Workspace for preparing food on each side of the unit
198 square inch warming rack
646 square inch cooking surface
Cons
Not recommended for people who prefer wood-fired foods
Grill Buying Guide
When you are buying a grill, there are some factors you need to consider. These will help you get the grill with your preferred heat source, size, and cooking needs. Factors to consider include fuel type, size, aesthetics, and extra features.
Fuel Type
Due to the number of grills available, narrowing down your options is intimidating. A great place to start is pinpointing the right fuel for your grill. The answer is determined by the level of convenience and cooking style.
Each type of fuel has its merits and demerits.
You need to know each of them to be on the path to barbecue heaven.
Gas
One of the most common fuel types for grills is gas. Gas grills use either:
A gas conversion kit connected from your home's gas supply to your grill
An attached liquid propane gas
The debate over using liquid propane or natural gas is still grilling.
Natural gas has merits such as no need to keep refilling propane tanks, it's cheaper to use, and burns cleaner (it's environment friendly). Unfortunately, moving your grill will not be possible due to the gas line connection.
Liquid propane is more popular than natural gas. One of the main reasons is its portability. The disadvantages are it needs refilling and is pricier. Luckily, the majority of these grills accommodate both. Choosing one is not really important.
Gas grills give you control over the distribution of heat and temperature. This allows you to explore a plethora of grilling recipes. For example, some allow you to use low heat for steady cooking or high heat for searing.
Keep in mind such grills are not good for cooking for long hours. If you plan on cooking meals like racks of ribs or whole chickens, use other grills. These meals are best cooked with a smoker, pellet grill, or charcoal grill.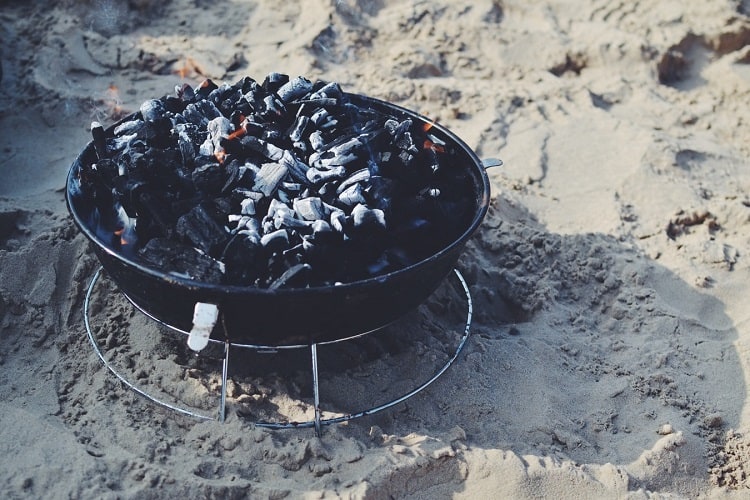 Charcoal
The smokiness people think of when they are imagining grilled flavor comes from charcoal grills. These grills come in different sizes and shapes. This includes the BBQ kettle that was instrumental in the creation of the charcoal grill we use today.
Keep in mind these units have their quirks. You need to be prepared to put in some work if you opt for such a grill. They burn using lumps of charcoal or charcoal briquettes. This is the source of the smoky flavor.
You will spend more time preheating the grill and lighting the briquettes than you would if you use a gas grill. When you are done grilling, you will need to dispose of the charcoal ash and clean the unit.
When it comes to cooking, these grills are not as customizable or precise as gas grills. However, they are more affordable and have a distinct flavor. For instance, there are small portable charcoal grills that cost about $50.
Pellet Grills
These use wood pellets and have an on-board computer for adding smoky and wood-fired flavor, as well as heat up food to the desired temperature. The grills yield tasty meat, especially when you slow cook them. The downside is pellets are harder to find and cots more than charcoal or propane.
You need to be ready to order pellets online or call around. A hopper is provided on the side of the grill to hold the cooking pellets. A rotating auger is connected to the hopper. When you ignite the grill and set the desired temperature, the rotating auger moves the pellets to a burning pot. They are available in cart or barrel styles with prices as low as $300.
Size
The size is determined by the times and the people you plan on cooking for. Most two-burner gas grills and small to medium charcoal grills are great when you cook on an occasional basis for approximately four people.
Grills are usually measured in square inches. Those with about four hundred square inches are sufficient for most people. Consider a larger model with four or more burners if you have a large household or you enjoy having people over for a barbecue. If you are determined to get a gas grill and want to cook meats such as racks of ribs of whole chickens, get a grill with at least three burners.
Aesthetics
Apart from cooking, your grill needs to look good when you are using it. Fortunately, there are many stylish models in the market. Some people do not have any issue with the look of a grill. If you want to get one that looks good, top brands such as Weber and Traeger have plenty of options for you to choose from.
For example, there is plenty of traditional stainless steel and black grills in the market. For instance, Weber KitchenAid has colorful enable models to choose from. You should also consider whether you would like cabinet doors with your grill. They are great for keeping your propane tanks away instead of placing them beside your grill.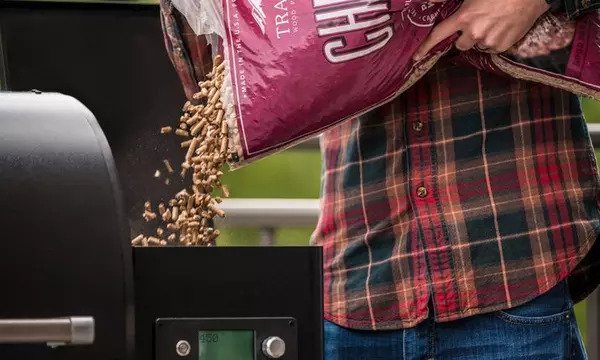 Extra Features
A grill should have the basic functions you need and look great. Additionally, there are some extra features you should consider to enhance your grilling experience. Some come with side burners for heating sides or sauces. This is convenient as it will let you use the grill instead of rushing to your house to heat such dishes.
Wheels are another feature to consider. If you plan on moving your grill around, make sure it comes with wheels on the legs. They should have a locking option when you want the grill stationery.
Some grills like Weber can use an app. Apps like Weber's iGrill are compatible with most Android and iOS devices. Such apps allow you to monitor the internal temperature of your grill without being physically present.
Traeger also has an app that allows you to view recipes, set timers, and control the temperature of the unit. Some grills are Wi-Fi enabled and can pair the app. They will allow you to monitor the cooking time and temperature. You should consider such features when you are shopping for a grill.
FAQs
Question: Is there anything I need to know about gas grills?
Answer: There is a big difference between using a gas grill and using a charcoal grill. Butane, propane, or natural gas is the source of heat for gas grills. Food cooks differently depending on the source of heat. This is due to different types of flames, different temperatures, and other factors.
Some people believe you can only cook tasty food using charcoal grills. However, you can still make a great-tasting meal if you use gas grills properly. The best solution for choosing a gas grill is finding out if it will properly cook the foods you love grilling.
Question: How do I choose the best charcoal grill?
Answer: It is not as a daunting task as you might think. The rule of thumb is to start with simple grills if you are a beginner. Drum, barrel, box, and kettle grills are the best places to start with charcoal grills. The main factors to consider are an adjustable cooking surface and steady legs.
The adjustable cooking surface will allow you to lower or raise your food depending on the temperature required. The lid should also have holes for ventilation where applicable. The area where you place your charcoal should have adjustable holes. They will allow you to regulate the amount of airflow to allow the fire to burn evenly and adequately.
Question: How do I maintain my grill?
Answer: Usually, the most common problems with a grill are dirt, corrosion, and rusting. For dirt, you need to keep your grill clean. The best way would be to clean it after use. Regularly cleaning with warm water and soap will also maintain the unit even when you are not using it.
To avoid corrosion and rust, store the grill properly. If it is permanently outdoors, make sure you cover it with the recommended materials. Waterproof covers such as a felt-lined grill cover will protect your unit from the elements.
Verdict
Finding the best grill is determined by the foods you want to cook and the flavor you desire. For wood-fired recipes, we recommend you go for a Traeger grill. Weber is the best option for people who prefer using charcoal or gas-powered grills. Wood pellet grills will give you additional cooking options like braising, roasting, or baking.
Make sure you know the foods you are likely to cook the most with a grill. This will help you choose the heat source and type of grill. The occasions and number of people you expect for every grilling occasion will determine the size. Considering these factors will ensure you get the best grill to flame on!

The Original Wood Pellet Grill | Traeger
Traeger Grills is the original and best-selling wood pellet grill. They produce grills that offer 6-in-1 cooking versatility and feature WiFIRE technology.
Check Prices
We earn a commission if you make a purchase, at no additional cost to you.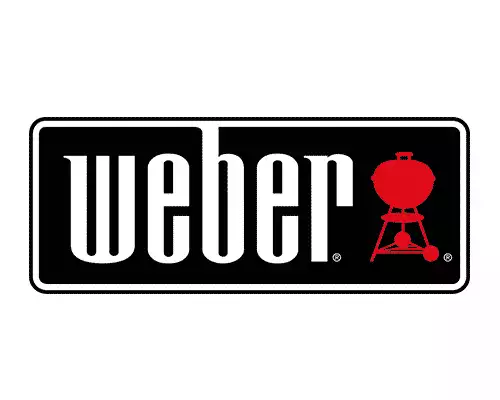 By Grillers For Grillers | Weber
Compact, portable and available in different sizes, grill how you live with our gas, charcoal and electric grills that deliver the same great taste, every time.
Check Prices
We earn a commission if you make a purchase, at no additional cost to you.