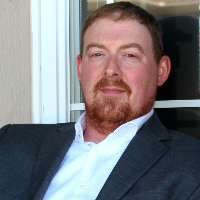 Latest posts by Justin Caldwell
(see all)
Unless you live near a butcher shop, it can be challenging to find high-quality cuts of meat. Finding good meat at a local grocery store is challenging, especially if you want something that has been hand-selected. Fortunately, there are a few options available. One such option is ordering your meat through an online butcher like Porter Road.
This top of the line online butcher provide pasture-raised meat on its website. Visitors to the site can select from various options and have it all delivered right to their doorstep. But what does Porter Road offer? And how well does it stack up against other online butchers?
That's what we're going to tell you. Let's dig in!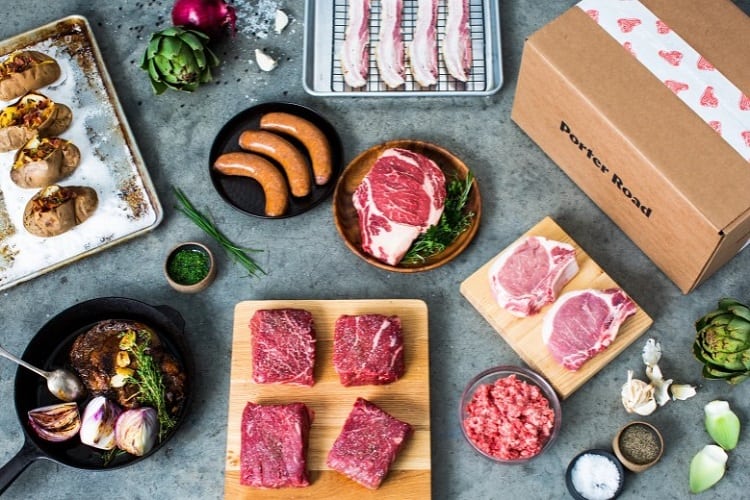 Porter Road is an online butcher and meat delivery company that specializes in customized and pre-made boxes. The service delivers products anywhere within the US, providing pasture-raised, grass-fed beef, chicken, lamb, and pork.
Founded in 2010, this Tennessee-based business aims to provide its customers with the best quality cuts they can find. The company is more than just an online butcher, though. Porter Road serves local customers, offers catering services, and provides its products to restaurants.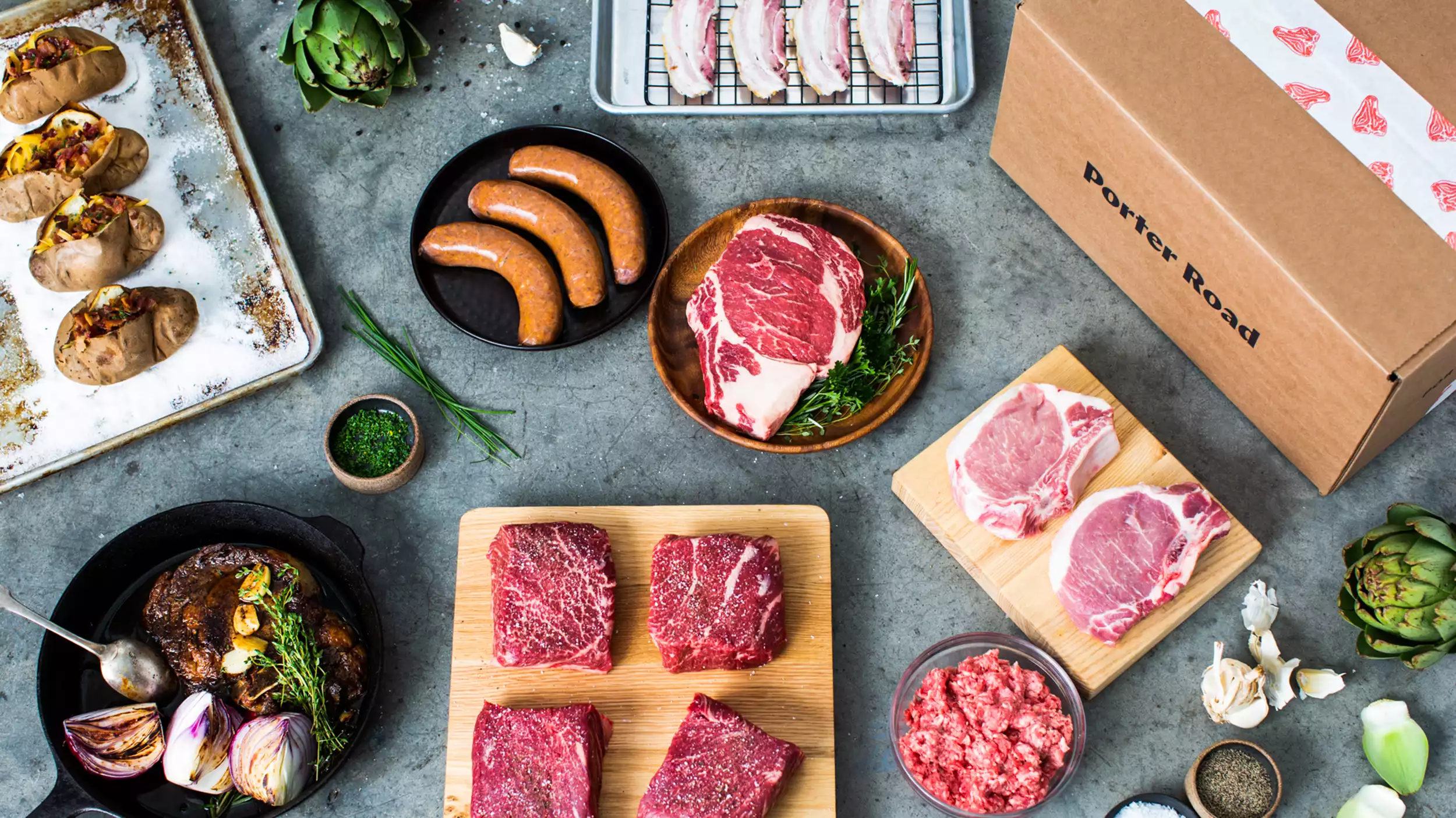 What Meats Are Available Through Porter Road?
At first glance, you'll notice that the site doesn't offer as much of a variety as other online butcher shops and meat delivery services.
The same is true for your local grocer as well. However, Porter Road does offer excellent cuts and large, marbled portions. As a result, every time you cook with a Porter Road product, you know you're going to get a great meal.
Beef
Porter Road offers a variety of cuts sure to satisfy the heartiest of appetites. Visitors to the site can choose between boneless rib eyes, dry-aged ground beef, flat iron stakes, beef briskets, blade steaks, filet mignon, and many, many more. You'll get tender, juicy steaks, all perfect for your favorite grilling recipe.
Pork
With Porter Road, you'll get great cuts and types of pork. The site offers ground pork, pork chops (both bone-in and boneless), pork steaks, pork butt, country sausage, pork burgers, Italian sausage, and more.
If you want some pork that will add some flare to your next gathering, give Porter Road's Kurobuta pork a try.
Chicken
Porter Road has you covered when it comes to chicken. You'll find both boneless and bone-in chicken breasts, whole chickens, chicken drumsticks, and chicken broth on the site. When it comes time to have chicken for dinner, Porter Road has what you need.
Lamb
If you like a nice rack of lamb every once in a while, then you should check out what Porter Road has to offer. The butcher offers various lamb meat in both its online store and its local meat shop in Nashville, Tennessee.
Some of the cuts available for purchase on the Porter Road website include lamb chops, lamb steaks, lamb shank, lamb shoulder, and more.
Porter Road Meat Quality
More than likely, the meat you get from your local grocery store is low in nutrients and high in fat. A good portion of the meat you'll find is loaded with hormones and purchased from a supplier that doesn't take care of the animals it raises. This is the primary difference between your local grocer and online butcher shops like Porter Road.
You'll find that the quality of meat you get from Porter Road and the meat you get from your local grocery store are significantly different.
Porter Road offers excellent cuts every time you order. That's because the online butcher purchases only the best meat from local farms.
Whether you order ground lamb, strip steak, short ribs, or something else, you know you're getting high-quality meat. The flavor and taste of the products Porter Road has to offer are second to none.
Where Does the Meat Come From?
Like many other online butchers, Porter Road provides quality cuts that are much better than the choices you'll get at your local grocery store.
Porter Road can offer these types of meats because it has a stable relationship with ranches and farms around Kentucky and Tennessee.
The farms and ranches Porter Road choose to work with only raise livestock using friendly and environmentally sound processes. Porter Road only works with ranchers that do not use antibiotics or hormones in the growth of their animals.
Additionally, all animals used are grass-fed, pasture-raised, and free-range. Porter Road also avoids using farms or ranches that raise livestock in masses or use inhumane methods and processes.
Subscription Options
You can purchase individuals meats on Porter Road to your heart's content, but if you don't want to have to remember to buy meat everything month, the online butcher offers subscription boxes as well.
Through the Porter Road website, you can customize a package to fit your needs, and the company will send it to you each month.
Anything you order still comes from Porter Road's shop, which means it's coming from locally sourced farms and ranches in the Tennessee and Kentucky region. There are also pre-made and curated boxes available on the site. Here are a few examples of the subscription boxes available on the Porter Road website.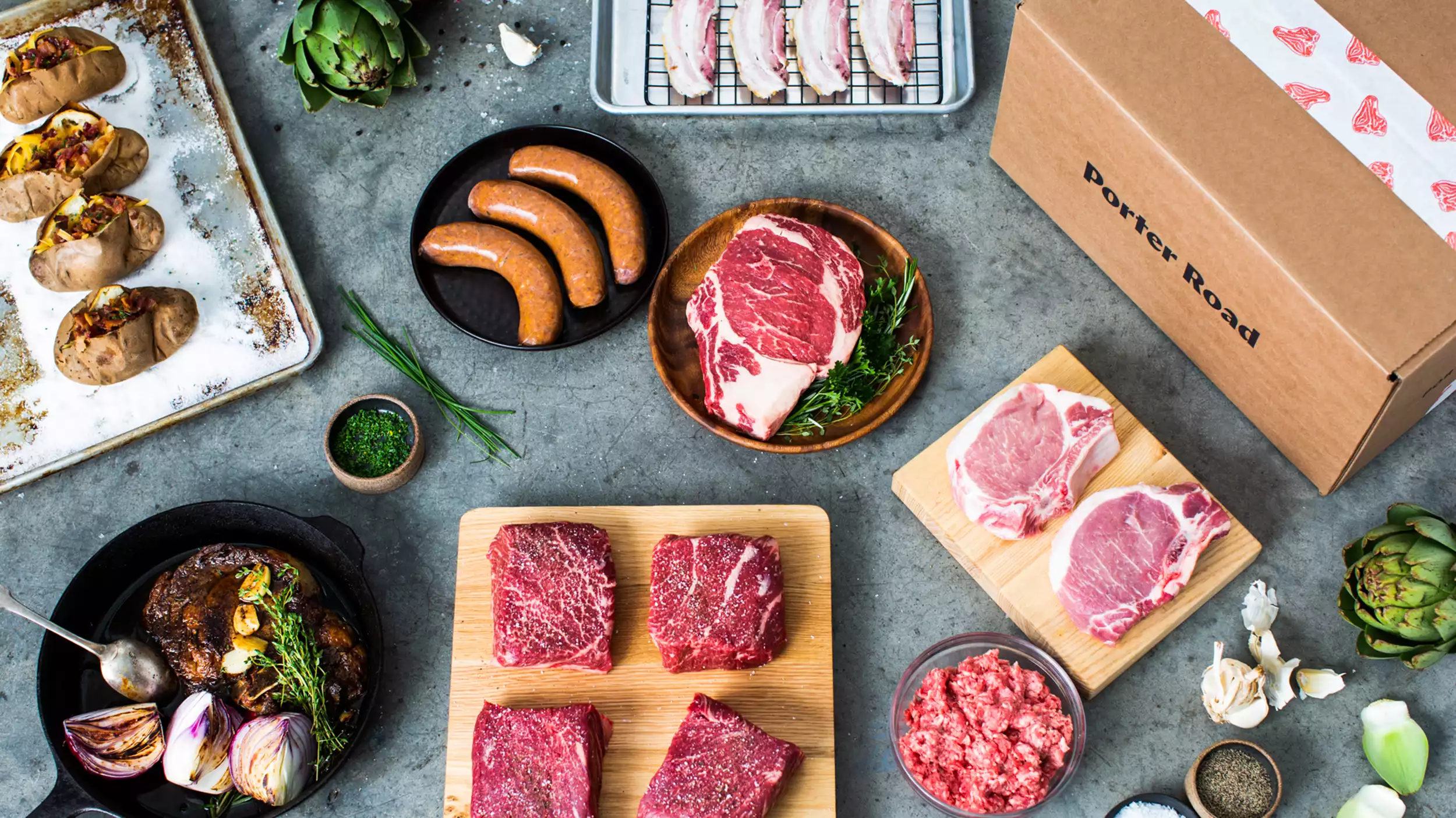 Best of Porter Road
This box is a mixture of hand-selected meats by the Porter Road team. These cuts are juicy and tender and offer enough meat to feed a small family. It's a great box to order if you cook on your grill regularly. The Best of Porter Road box is so good, you'll be quick to share it with your friends and family.
Butcher's Choice
The Butcher's Choice box comes with a delicious and mouth-watering selection of ground beef, steak, bacon, and a variety of other meats. These cuts are high quality, so you might be tempted to keep them for yourself.
Grill Master
You might have guessed it from its name, but the Grill Master box is full of top quality beef, lamb, and pork cuts, which are ideal for grilling. Throw some salt, barbecue sauce, or your favorite rub on these meats for a meal that's sure to satisfy your cravings.
Shipping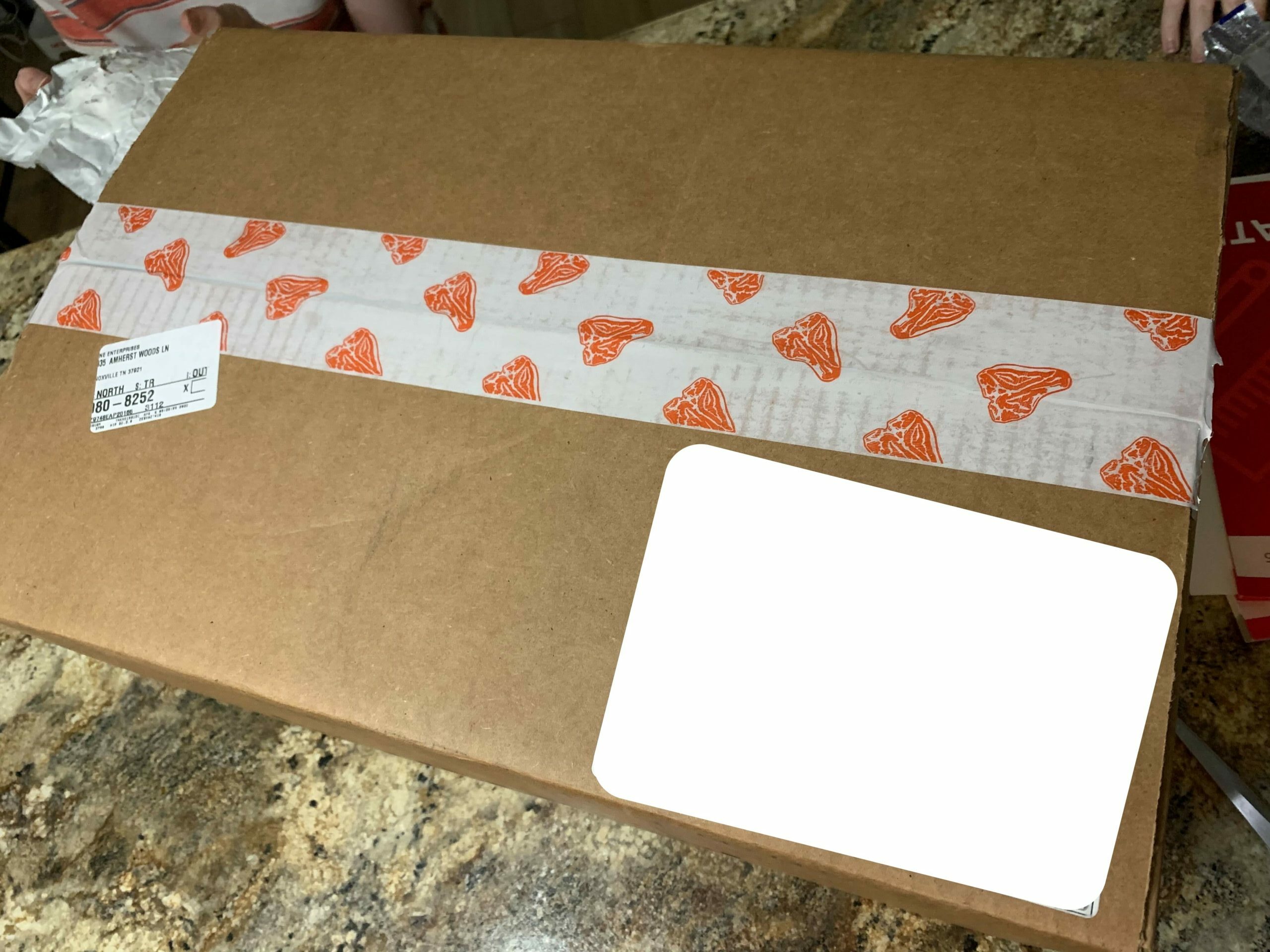 When you've made your mind on what meat you want, you can have your Porter Road meat shipped right to your front door.
The online butcher will deliver to any of the 48 contiguous states located in the US. Unfortunately, if you're in Alaska or Hawaii, you won't be able to get your hands on these delicious cuts unless you go straight to the source.
Porter Road offers both express and standard shipping, and if you order more than $100 worth of product, you are eligible for free shipping.
All of the pasture-raised, grass-fed meat ships right from the Porter Road shop located in Tennessee. Bear in mind that there are laws pertaining to shipping beef by mail, so there may be some restrictions when you place your order.
Packaging and Delivery
Like its online counterparts, Porter Road sends its products in containers that environmentally-friendly. The packaging is biodegradable, which includes a cornstarch-based foam used to ensure the meat stays safe throughout shipping. According to Porter Road, you can wash the foam down your sink or use it as kindling for your charcoal grill.
However, Porter Road sets itself apart from its competitors by only sending fresh meat. The company does not use ice packs to ship its meat, which means you're getting maximum freshness, flavor, and taste when you receive your package.
Of course, you don't want your meat sitting out until you get home, so it's best to be available when your delivery arrives. Then, put it into the freezer as quickly as possible.
Storing Your Meat
Porter Road suggests that customers store their meat is to get it into the refrigerator as soon as your package arrives. Be sure that it's only going to be kept in storage for a brief time as doing so ensures that the taste and flavor is retained.
You can freeze the meat if you want to, just bear in mind that doing so could potentially damage the meat when ice forms.
The site recommends that you either consume or freeze your meat soon after it arrives. For poultry, Porter Road suggests four days. Pork you should eat within five days, and beef should be good for nearly ten days. However, if any of your meat is ground, you need to freeze or eat it before the suggested time frame.
Pros and Cons
Here are some of the advantages and disadvantages of using Porter Road for your meat needs.
Pros
Excellent, high-quality meat
Uses only sources that are environmentally safe and friendly
Excellent portions and cuts
Customers can purchase meat individually or subscribe to a monthly box
Cons
Seafood options aren't available
Not as many meat options as other online butchers
Unable to ship to Alaska or Hawaii
Alternatives
If you need more selection or decide that Porter Road just isn't for you, there are several other options available. Here are a few you can choose from.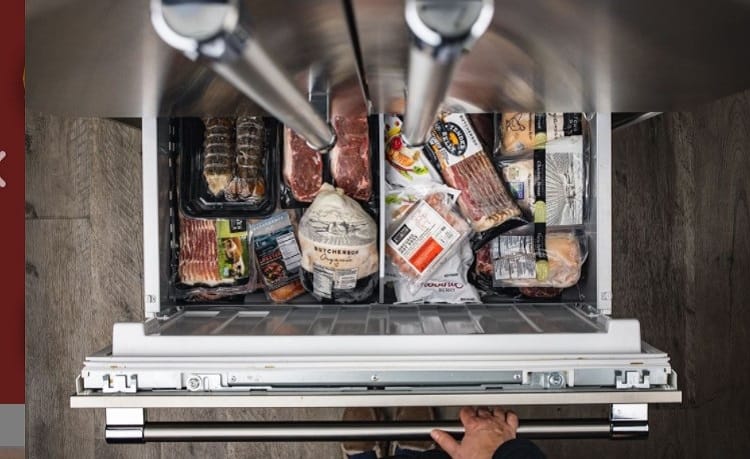 If you're a fan of healthy, rich, and tasty grass-fed beef, Butcher Box is an excellent option. However, getting this type of meat can be a challenge, so only a small percentage of beef in the US is entirely grass-fed and organic.
Butcher Box aims to eliminate the barriers to getting high-quality cuts of meat to your home by shipping its products throughout the US.
The online butcher focuses on providing meat to its customers that meet specific criteria. These include: humanely raised livestock, high-quality meat, and no antibiotics or hormones added.
Butcher Box offers chicken, beef, pork, salmon, and various other meats. You can purchase individual products or sign up for a subscription box.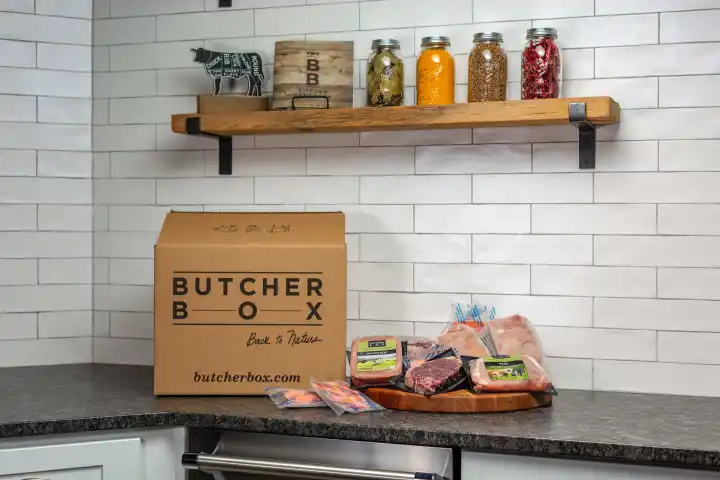 Meat Delivery Subscription | Butcherbox
ButcherBox delivers 100% grass-fed beef, free-range organic chicken, humanely raised pork, and wild-caught seafood directly to your door. Sign up today!
Check Prices
We earn a commission if you make a purchase, at no additional cost to you.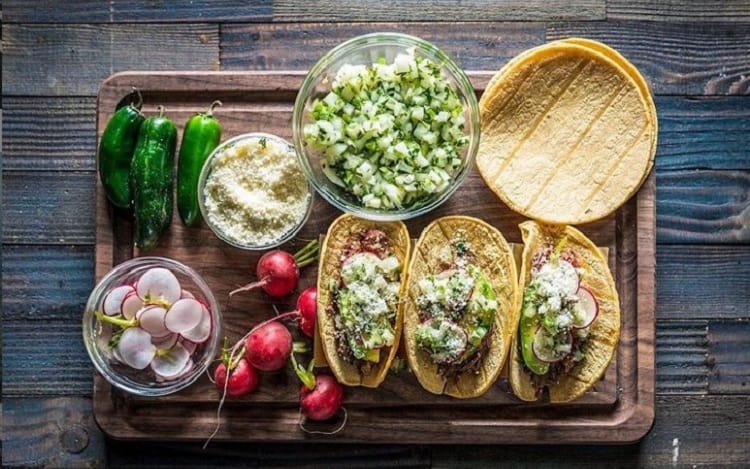 Another online butcher that offers high-quality meat is Snake River Farms. If selection is what you want, take a moment and check them out.
In addition to the traditional beef, chicken, and pork, you'll also find choices like Kurobuta pork and Wagyu beef.
Snake River Farms uses only livestock that is available within 150 miles. Their animals are fed a diet of local feeds, grains, and forages, to create a healthy, balanced diet. Customers can add items from the store individually or sign up for a subscription plan.
All products are shipping in environmentally-friendly packages and all shipped parts are reusable, recyclable, or biodegradable.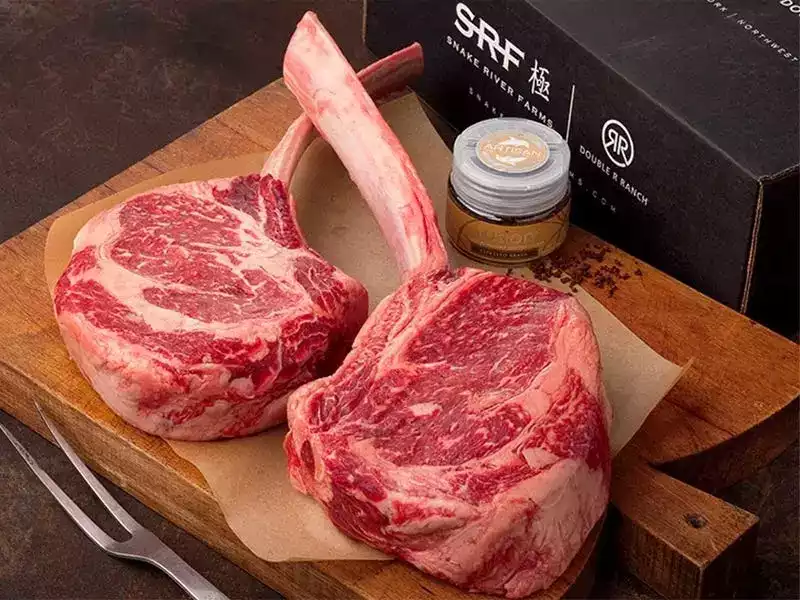 The Pioneers of American Wagyu Beef | Snake River Farms
Snake River Farms is an American pioneer of Wagyu, a style of meat that first came from Japan. It is celebrated by chefs and beef connoisseurs throughout the world and is featured in a number of Michelin-starred restaurants.
Check Prices
We earn a commission if you make a purchase, at no additional cost to you.
Stock Yards Steaks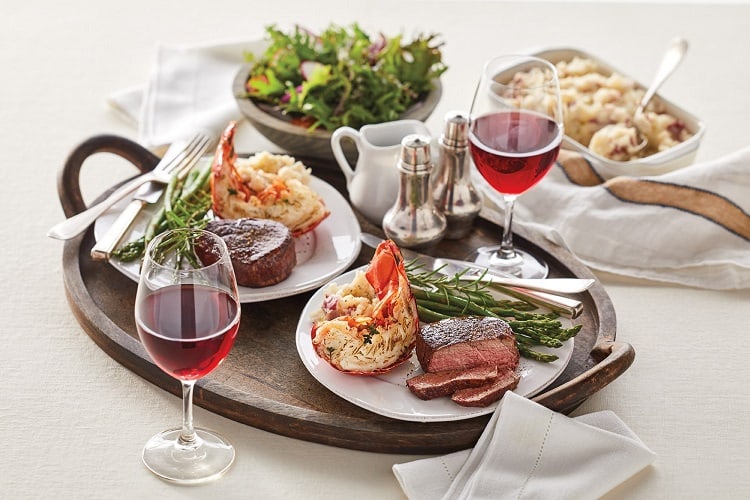 Stock Yard steaks was originally a brick-and-mortar butcher shop established in 1893. Located in Chicago, the butcher has deep roots, known for exceptional service, high-quality beef, and loyal customers. In 2000, the company started a direct-to-home service that took those qualities and moved them online.
Stock Yards Steaks has several subscription plans users can choose from, including three, six, or twelve-month options. No matter which shipment you select, you're sure to receive a huge helping of USDA prime meat in a variety of delicious cuts.
One subscription, in particular, the Stock Yards Club box, includes meat options that come with sliced ham, rack of lamb, ribeye, turkey, porterhouse steak, and more.
Comparatively, Steakhouse Club customers get ribeye, filet mignon, baby back ribs, and other top of line cuts. No matter what you choose, Stock Yard Steaks is going to deliver restaurant-quality meat.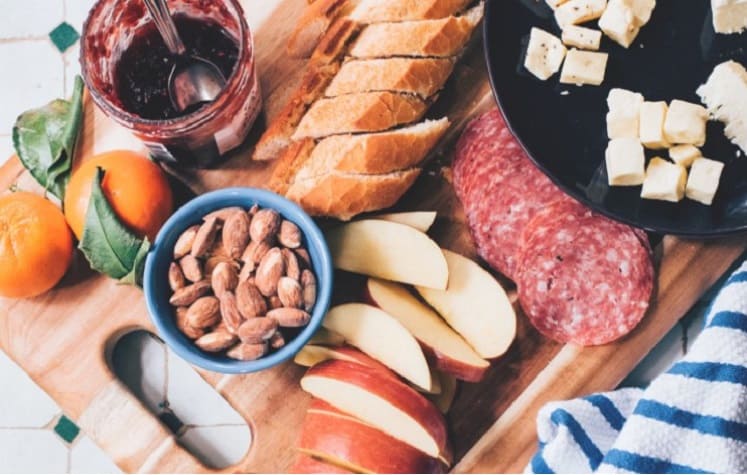 If you love cured meat, you're going to love Carnivore Club. Every month, subscribers get a new box of cured meat from a different vendor.
That means if you go with Carnivore Club, you're never going to get the same meat twice in a row. Customers can also select specific meats if they prefer to go that route.
However, if you want a subscription, you have to choose to get your meat every month, every other month, or once a quarter.
No matter what you choose, the meat is top quality. Each month customers get between four and six cured meats, which are ready to eat when your box arrives.
Carnivore Club meats include various types of jerky, salami, pepperoni, and much, much more. You can choose between the Snack Box and the Classic Box.
In the Classic Box you might find cheese salami, garlic salami, beer salami, and others. The Snack Box might include beef jerky, chicken bites, pepperoni sticks, or maple BBQ sticks.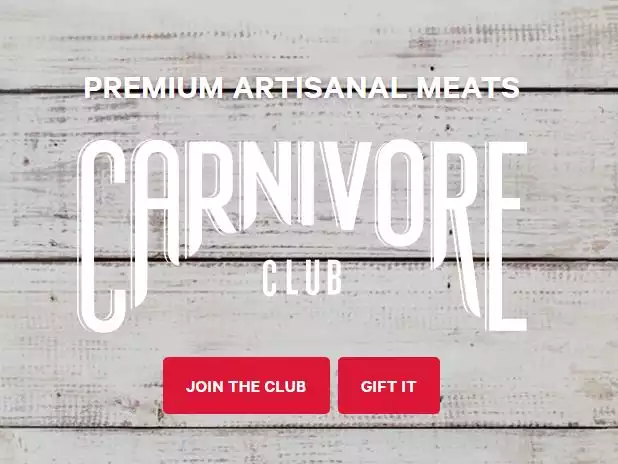 FAQs
There are plenty of questions about meat subscription boxes and Porter Road. Here are a few of the more commonly asked queries you'll find online.
Question: Is Porter Road cheaper than warehouse stores like Costco or Sam's Club?
Answer: The short answer is probably not. Prices you'll find on Porter Road are likely to be higher than your local grocery store, Costco, or Sam's Club. This is large because Porter Club is meticulous and selective about where its meat comes from and the processes it goes through prior to shipping to the customer.
Question: Does Porter Road ship certified organic meat?
Answer: Porter Road works with small farms in its area that follow strict guidelines when it comes to raising meat. However, none have an official certification. Porter Road claims that it can always surpass even the most basic USDA organic requirements.
Question: Why doesn't Porter Road ship frozen steaks?
Answer: There are some meats that Porter Road ships froze. These include ground beef and ground sausage. However, the vast majority of meats from Porter Road don't ship frozen because the company wants to provide fresh, high-quality meat as often as possible.
This is done because Porter Road believes that freezing steaks can result in chemical changes that affect the way the meat tastes.
Question: Is dry-aged beef from Porter Road better than grocery store meat?
Answer: Simply put, yes. Beef that has been dry-aged will taste better than what you'll find in a grocery store. This is because drying the meat is a natural tenderizing method, which gives it a juicier, more concentrated flavor. You'll rarely find dry-aged meat at your local grocery store.
Exclusive Offer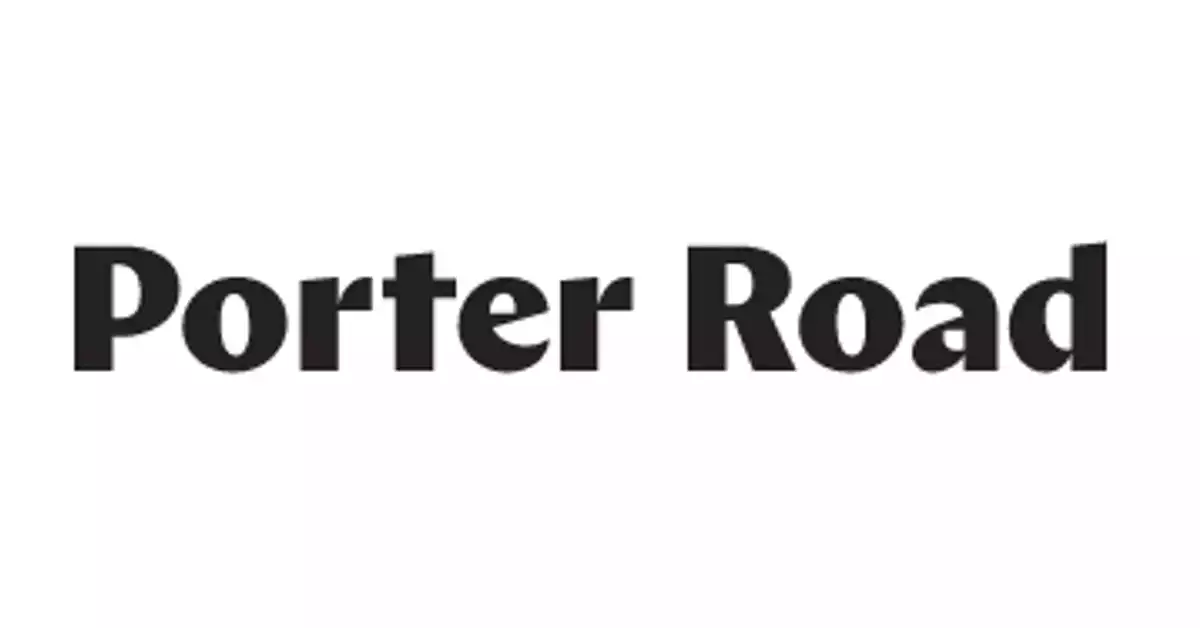 Delivering Life Changing Meat | Porter Road
The most convenient way to shop life-changing meat. Delivered on your schedule, every 2, 4, or 8 weeks. Get 10% Off your first order using code: RAISEDBETTER10.
Get 10% Off Now
We earn a commission if you make a purchase, at no additional cost to you.
Does Porter Road "Meat" Expectations?
Porter Road is a great choice if you're looking for an online butcher that will deliver high-quality, tasty meats. The company only gets its meat from local farmers who treat their livestock humanely throughout the entire process.
Porter Road sources its meat from small, nearby farms instead of large cattle ranches.
Orders from Porter Road arrive on time and without delay. Their steaks are fresh on arrival, which means your high-quality eat is ready to throw on the grill from the moment it arrives at your doorstep.
It would be nice to have a few more menu options, but if you prefer the basics when it comes to meat, Porter Road is a solid choice.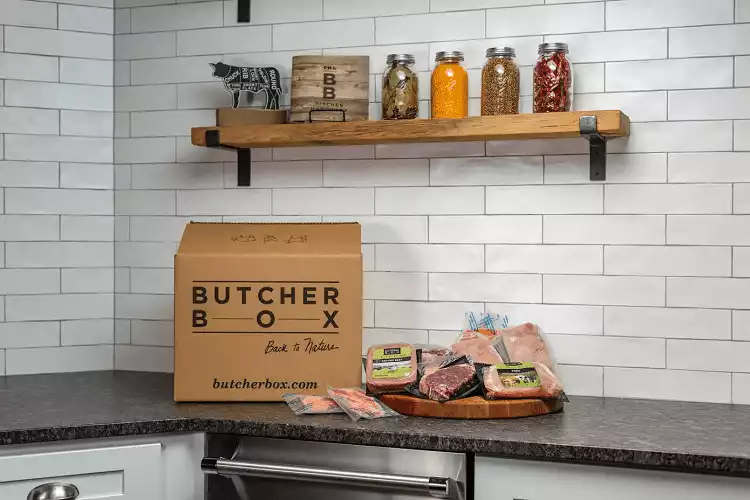 Try ButcherBox Now!
ButcherBox delivers 100% grass-fed beef, free-range organic chicken, humanely raised pork, and wild-caught seafood directly to your door. Sign up today!
Order now
We earn a commission if you make a purchase, at no additional cost to you.