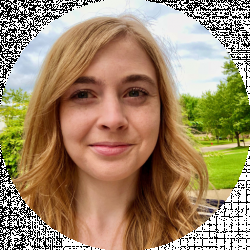 Latest posts by Erin Jamieson
(see all)
One of my most memorable dates with my boyfriend wasn't a big night out, but dinner at his hours, when he made a Cuban dish passed down from his family called ropa vieja.
It was through this dish that I discovered that less popular cuts, like pork butt, can be delicious. And it's because of this experience, and others after, that I'm eager to share with you where to buy the best pork butt online.
Buying any meat online can be challenging at first. Before I started opening myself up to shopping for meat and fish online a few years ago, I worried about how difficult it would be to select the best cuts. And while it can be, I have several tricks up my sleeve to identify only the best pork putt. 
I'll be sharing those tips with you, why you consider learning how to cook pork butt, and my top places to shop for great quality and prices. 
Bottom Line Up Front Summary:  If I had to select one place to buy pork butt online, it would be the KC Cattle Company. Ordering from them doesn't require a subscription or ordering other meats.
I like they hold to sourcing standards, partnering with independent farmers, all the while producing meat with present marbling and great taste. And while Porter Road goes a step further for standards, KC Cattle Company has just a bit more known experience through online customer service. 
My Top Places to Buy Pork Butt Online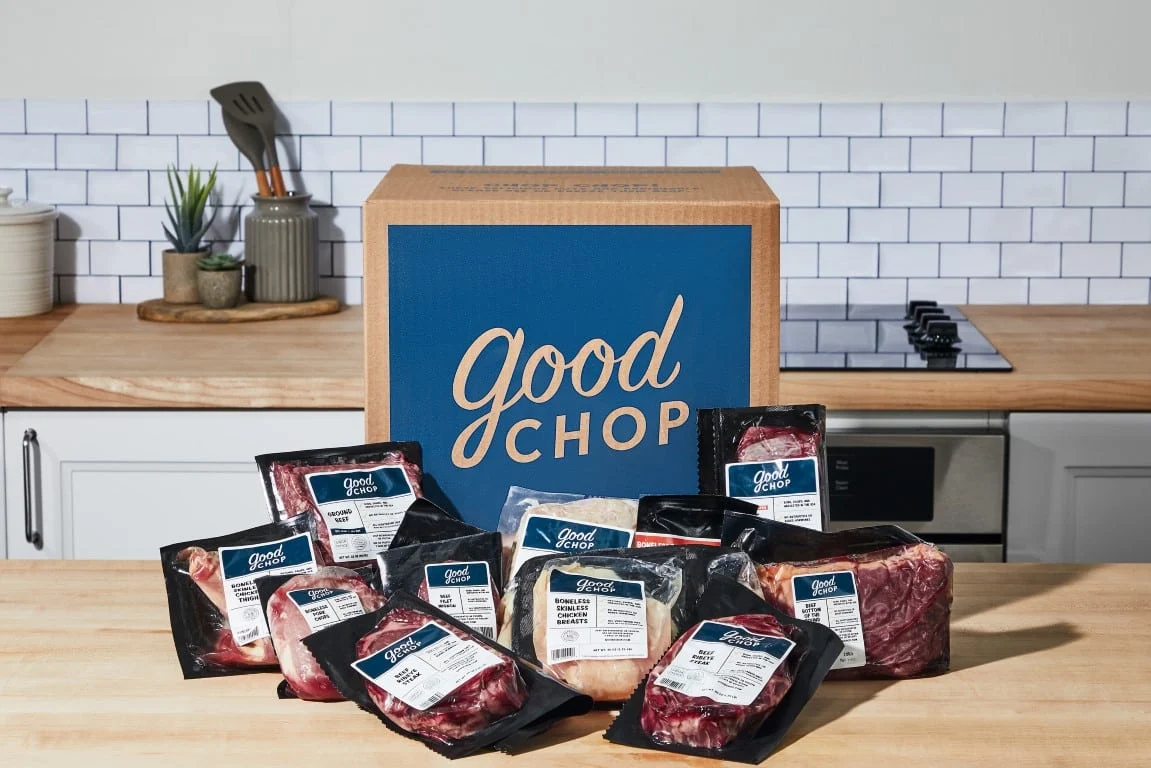 High-Quality American Meat & Seafood | Good Chop
Good Chop is a flexible meat subscription service that brings high-quality, American meat and seafood right to your door. Join Good Chop today to get $120 OFF high-quality American meat and seafood.
Get $120 Off Now
We earn a commission if you make a purchase, at no additional cost to you.
What is Pork Butt?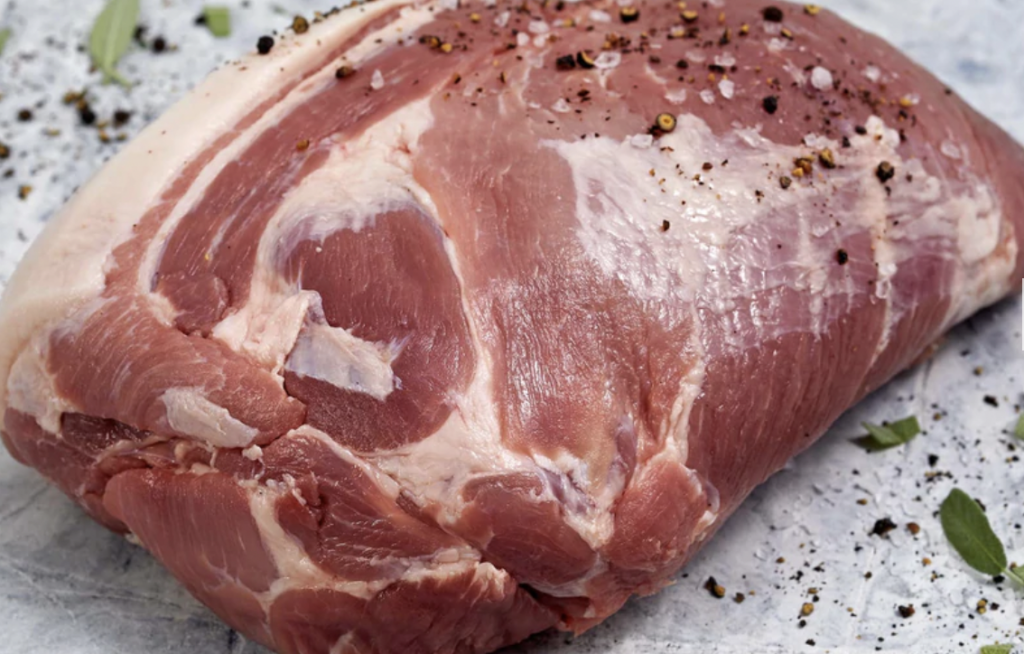 I admit: before eating a new dish, I didn't know much about pork butt. I'd heard of it, and you probably have too. But the cuts of meat I ate growing up never included butt. It's a cheaper cut that can be tough if not prepared correctly, but with a little finesse, it can be pretty delicious and versatile. 
Pork Butt vs Pork Shoulder 
If you're confused about the difference between pork butt vs pork shoulder, you aren't alone, and there's a good reason. The tricky part is that both pork butt and pork shoulder came from the shoulder, just different portions of it. Pork shoulder is near the front of the hoof, while pork butt is around the shoulder blades.
Of the two, I'd argue that pork butt is the better cut. It has a lot more marbling than the shoulder and doesn't dry out as easily. Because of the higher fat percentage, it's a little easier to work with, and more suited to grilling or using in a smoker. 
Pork Butt Taste 
When prepared properly, pork butt gets crispy on the exterior and juicy and tender on the inside. While it's not the most tender meat possible, the marbling retains some of the more succulent flavors. Pork butt has a fairly mild taste that pairs well with both spicy and sweet marinades and rubs.
Because of this, you really can play with flavors. While barbeque and Latin American cuisines suit pork butt, I've even seen pork butt served with sauerkraut and apples, for the slow cooker, German-inspired dish. 
How I Select the Best Pork Butt Online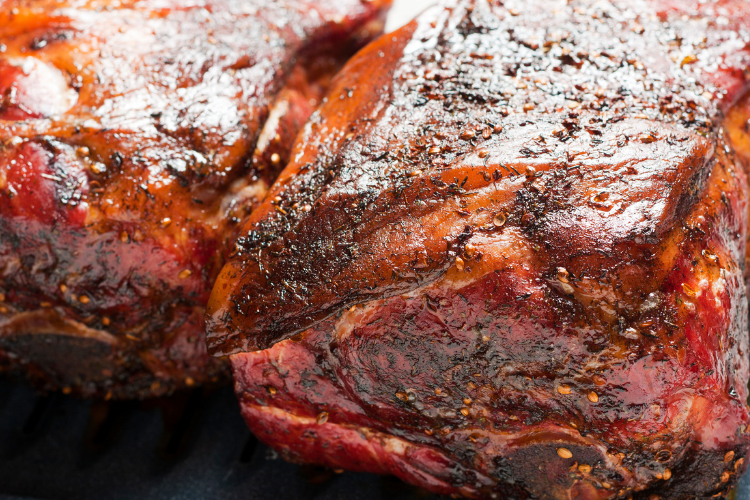 Before showing you have my favorite places to buy succulent pork butt online, I want to share my selection criteria. Before buying pork butt anywhere, there are a few steps I take to make sure I'm only ordering high-quality meat from companies that I can trust to live up to my high standards. 
Reputable Meat Supplier
I do a little extra investigating beyond the advertisements or internal reviews. I know how disappointing it is to find something that looks great, only to have your order mixed up or arrive sub-par.
While there are no guarantees, I looked at the company's history, external customer reviews, and, when possible, Better Business Bureau profile. Together, I was able to find companies that delivered on customer service, offered transparent policies, and provided support for a solid online shopping experience. 
Sourcing Standards
Not everyone is looking for an organic pork butt, and that's okay. But I also make sure that the company has standards that stand out.
I look for pork butt, preferably, from companies that are somewhat connected to the meat they source, disclose their sourcing standards and supply information to help you choose. I prefer finding companies that raise animals humanely, and even better if they support local communities. 
Pork Butt Features
For any pork butt online, I want to see a fresh pink hue, with present marbling. A fat cap adds additional flavor. Since pork butt can be a little tough, that marbling is especially important.
Since the USDA has two main grading categories for pork, I look for signs that it's not utility meat. The marbling, color, description, and presentation are all signs. 
Top 5 Places to Buy Pork Butt Online: My Picks 
Here are my favorite places to buy pork butt online. From a la carte to subscriptions, all of these meat delivery companies ship right to your door, with carefully packaged, delicious pork butt. Here's what you need to know about why each place is a great option for buying pork butt.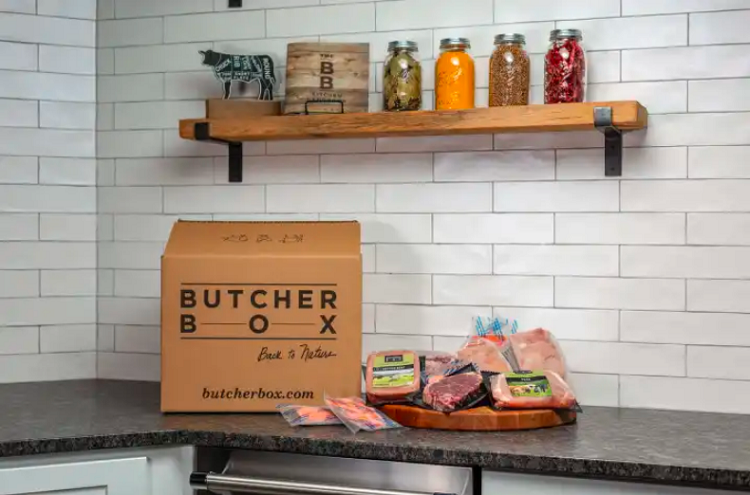 Betcher Box isn't just trustworthy- it's one of the best places to buy pork butt online. Their commitment to quality sourcing, convenient subscription options, and widespread reach makes them one of my favorite places to shop for humanly raised pork.
The company began in 2015 as a Kickstarter campaign and is still owned and operated by the founder and CEO, Mike Salguero. Butcher Box is headquartered in Boston Massachusetts and works in partnership with farmers to source its meat. 
Pork Butt Sourcing
All their pork butt is sourced from hogs that are either pasture or barn-raised, meaning that they aren't simply left to live in cages. Granted, this does not specify how much room they have to run. Hogs are fed a vegetarian diet though this is not atypical.
They are cared for by farmers with a commitment to sustainability, and always free of antibiotics or hormones. Another great bonus is that most of their pork is from Heritage hogs.
These types of hogs mature more slowly, meaning they are not force-fed or fattened up quickly at risk of their health. However, I'd love a bit more information about which farmers they source from. 
Pork Butt Selection and Delivery 
While they currently don't have an a la carte option (for pork butt), you can be introduced to butt and other types of pork when you sign up for their meat delivery box.
There are four curated boxes, including a pork box, or you can make your own. Meat is shipped frozen in an insulated, eco-friendly container. You can cancel or change your delivery at any time and it's shipped every 4 weeks or every 8 weeks.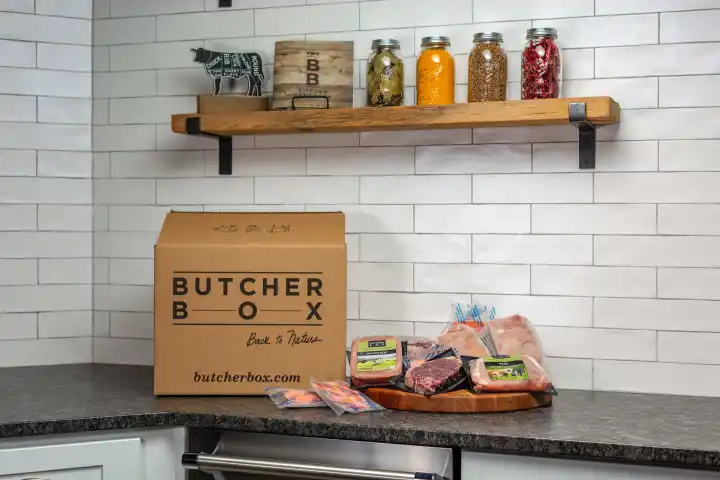 Meat Delivery Subscription | Butcherbox
ButcherBox delivers 100% grass-fed beef, free-range organic chicken, humanely raised pork, and wild-caught seafood directly to your door. Sign up today!
Check Prices
We earn a commission if you make a purchase, at no additional cost to you.
Pros 
Heritage Pork

Convenient Subscription

Hormone and Antibiotic Free
Cons
Hard to Control if You Get Pork Butt

Subscription-Based, No A La Carte for ButtCrowd Chow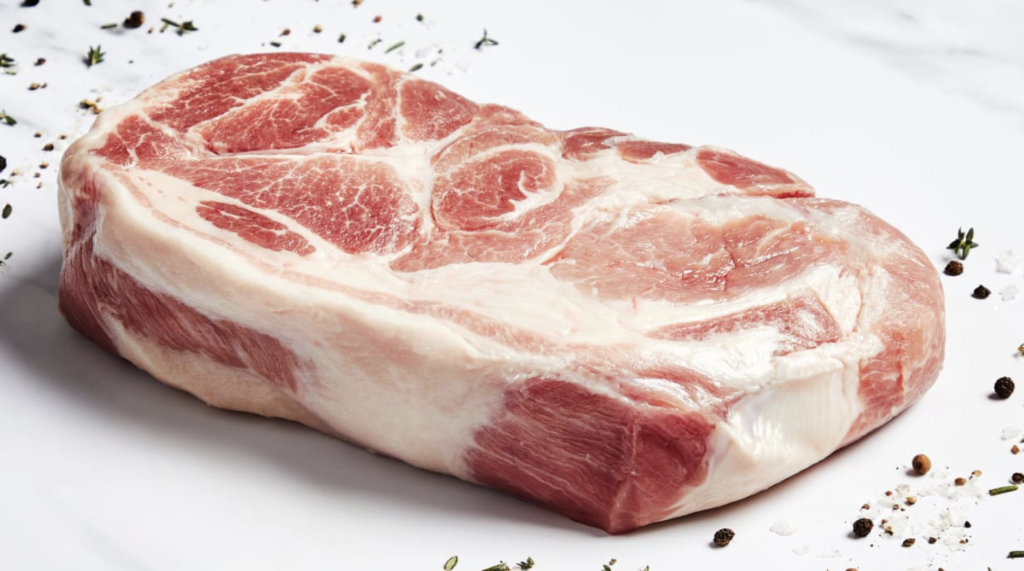 If you're looking for a subscription alternative to Butcher Box and want pork butt with excellent marbling, I recommend Good Chop.
Not only do they regularly supply pork butt, but they also have an even closer relationship with their farmers. In my unboxing of Good Chop, I was impressed with the quality of packing, taste, and overall value. 
Pork Butt Sourcing
Even though I admire Butcher Box, I do think that Good Chop has an edge for pork sourcing standards. Their hogs are raised by independent farmers they work with to ensure quality sourcing. Like Bucher Box, Good Chop's pork is antibiotic and hormone-free.
But it also is free of preservatives and artificial flavors. Hogs are raised in farms controlled for climate, with veterinarian care on standby. All of their farmers partner with Pork Quality Assurance Plus, which adheres to stringent food safety and animal welfare standards.  Aside from milk, hogs are fed a vegetarian diet.
Pork Butt Selection and Delivery 
Like Butcher Box, there's only a subscription option for pork butt, though you can select pork butt more directly. Their current pork butt selection has excellent marbling and a nice rich pink hue.
The pork butt comes in a 1 to 1.75 lb package, vacuum-sealed for freshness. You have an option between a medium or large box, both of which are delivered every 4 weeks. You have the option to skip weeks, cancel at any time, and all packages are fully recyclable. Select Your Box Here. 
Pros
Pork from Independent Farmers

Customizable Subscription

Hormone, Antibiotic, Preservative, and Artificial Flavors Free
Cons
Somewhat Expensive

Subscription Only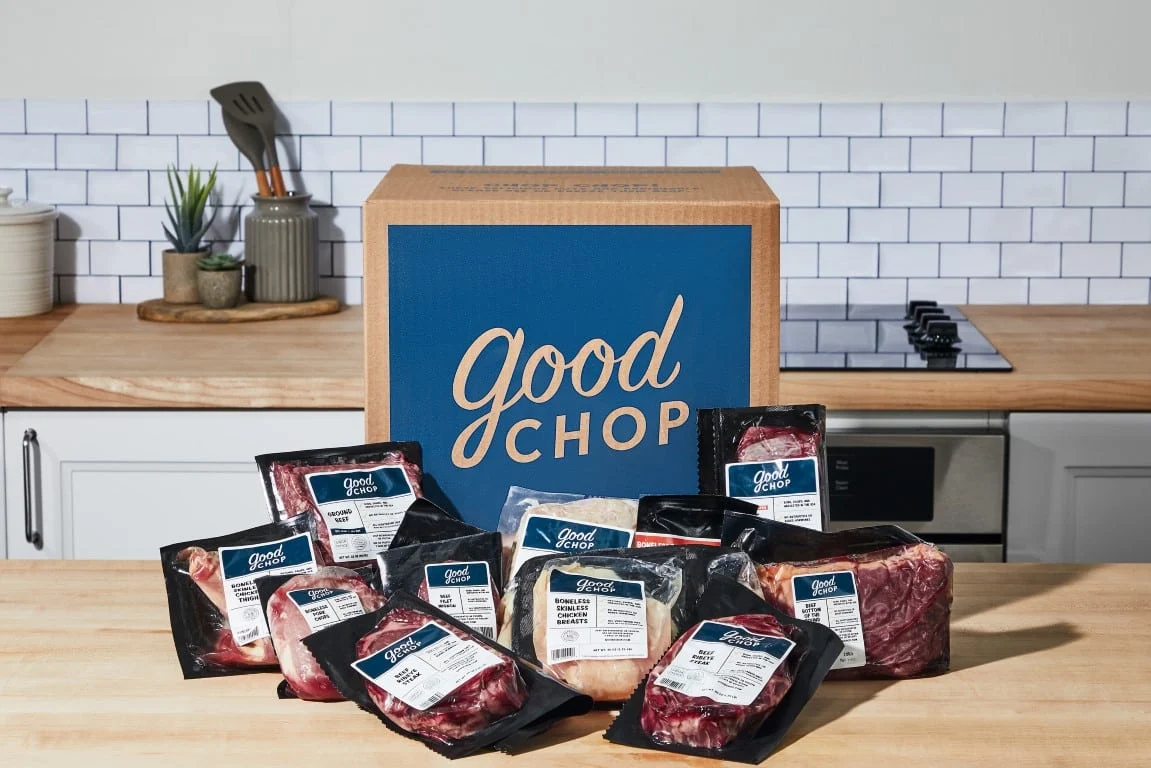 High-Quality American Meat & Seafood | Good Chop
Good Chop is a flexible meat subscription service that brings high-quality, American meat and seafood right to your door. Join Good Chop today to get $120 OFF high-quality American meat and seafood.
Get $120 Off Now
We earn a commission if you make a purchase, at no additional cost to you.
KC Cattle Company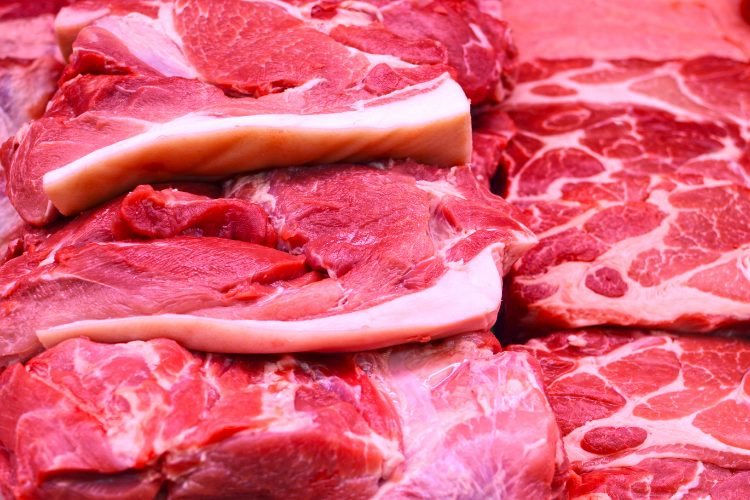 While I like the convenience of subscriptions, sometimes I don't like being tied down. If that's you or you're just looking for somewhere to buy pork butt occasionally, then you may want to give the KC Cattle Company a look. The KC Cattle Company is based in Missouri bust ships to all 50 states.
While they're best known for their American Wagyu, they are generally known for ethical sourcing standards and convenient a la carte shopping. 
Pork Butt Sourcing
I do know that a selection of their animals specifically the cattle is raised by a veterinarian staff on hand and given room to roam.
And for their pork, animals are raised by local Kansas City farmers who are dedicated to caring for their animals. They don't use antibiotics, and pork comes from Berkshire cattle. They're also given space to roam in pastures. 
Pork Butt Selection and Delivery
Their pork butt comes as a bone-in Boston Butt, which can be ordered as an 8 to 10-pound package or as a 10 to 12-pound package. The color is vivid, accompanied by rich marbling. It's a more generous cut than usual, and I love the addition of the fat cap, which many leave off.
They deliver via ground or air, with rates determined based upon purchase weight and location. I like that they ship vacuumed sealed to ensure as fresh of a taste as possible. Order Here.
Pros 
Pork from Kansas City Farmers

Easy Single Package Ordering

Excellent Fat Cap with Hormones
Cons
Not Organic

Only One Option
Wild Fork Foods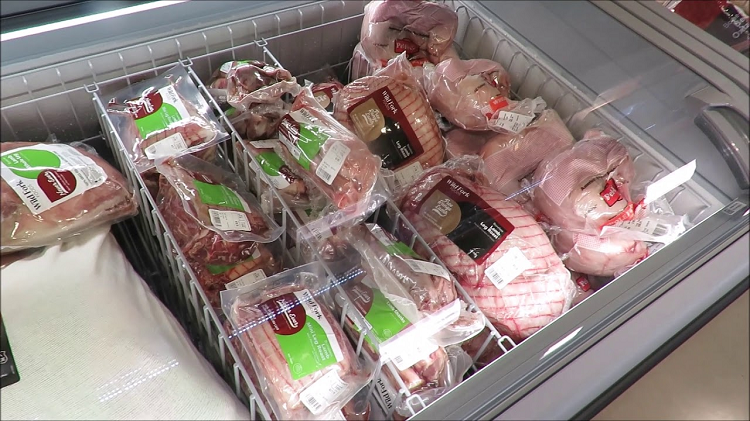 Wild Fork Foods is the best place to buy pork butt online if you want variety. One thing I'm guilty of is finding something I like and continuing to buy it, without considering the alternatives.
That's why I like the variety of pork butt packages that Wild Fork offers, all with free shipping on the first order, a 100 percent satisfaction guarantee, and meat sourced from farmers around the United States. 
Pork Butt Sourcing
For all of my picks, Wild Fork Foods is less stringent with its sourcing or less transparent. Still, they're better than your conventional pork butt from places like Costco or Walmart.
They partner with farmers in the United States who are purportedly known to treat animals 'ethically.' These farmers are mostly located in Colorado and Nebraska, so they have awareness of how animals are raised and treated. 
Pork Butt Selection and Delivery 
Right now, there are 5 pork butt options to choose from. All of these are shipped as a single piece, ordered a la carte, and come in 3.7 to 7.2-pound packages. I immediately noticed that, despite the variety, nearly all have present marbling, and about half come with a nice fat cap. Varieties include:
Tamarind BBQ Pork Butt Roast:

This is a good option if you don't know how to cook pork butt and are most concerned with entertaining, but my lowest recommendation is because the rich marbling isn't as present. A 3.7-pound pork butt rust is prepared with a Caribbean BBQ dry rub.

Buy Here

. 
Pork Whole Butt Roast:

This is my favorite for making tacos or slow roasting. It has a nice fat caple and plenty of marbling. This butt roast comes in a 6.8-pound package and is a pretty good deal.

Buy Here

. 
Boneless Pork Shoulder Butt Roast:

Sometimes I don't have a ton of time for prep, so it is really handy to order a boneless butt roast. The 3.5-pound package is also more practical for people like me, who live alone, or just have a small household. The marbling is great here, as well as the fat cap.

Buy Here

. 
Pork Whole Bone-In Butt Roast:

However, if you want the best flavor possible, my favorite option is ordering a butt roast bone-in. It's been wet-aged for increased tenderness and flavor, with the natural marbling and fat. This meat is less quick to get tough and packs a bit more flavor (7.2 pounds).

Buy Here

. 
As far as shipping, Wild Fork Foods offers delivery to most places in the US, and pickup for a few locations. Like my other choices, the pork butt ships froze, but in insulated containers with pre-packed ice.
I also like that you can order alone, or add a membership. I'd honestly only recommend the membership if you're planning to buy often, but the perks included extended product and shipping discounts. 
Pros
Wet-Aged

Marbling and Fat Caps 

From Farmers in Colorado and Nebraska
Cons
Not Organic

Not Certified Free of Flavors/ Enhancers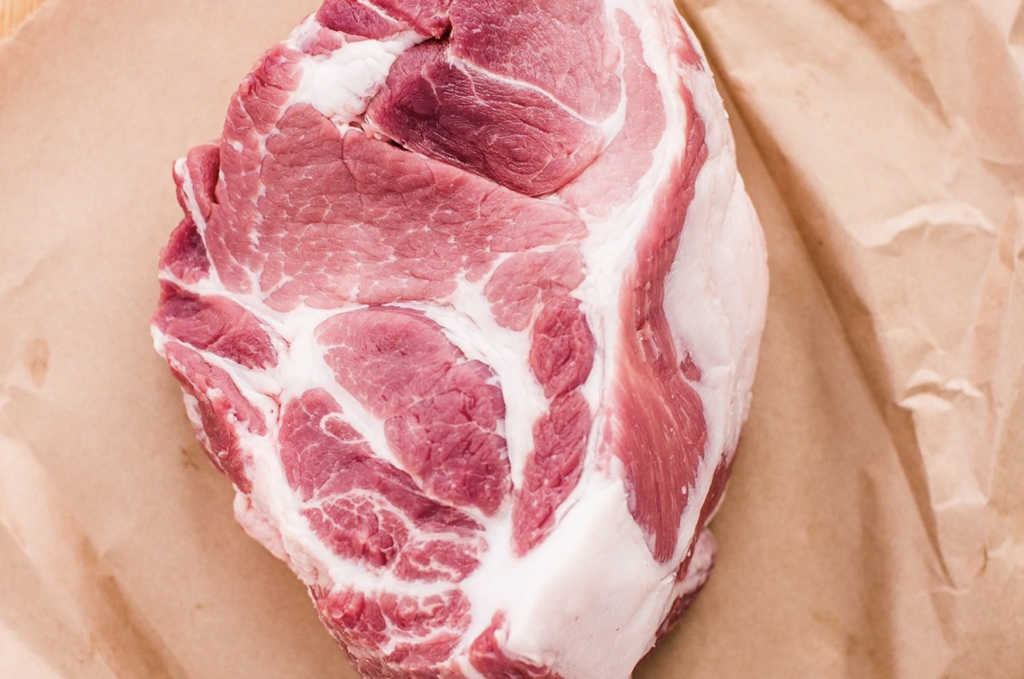 Porter Road started as a local Nashville butcher shop, which immediately piqued my interest. I am passionate about supporting small businesses, and that's hard to find when you're ordering meat online.
All their meat, including their pork butt, is humanely raised, and you can tell the difference in quality. They've even piqued interest from national outlets like Insider. 
Pork Butt Sourcing
All of their meat is raised and processed by local farmers in Kentucky and Tennessee, all of which are in partnership with the butcher shop. The pork butt and all their meat is free of antibiotics and hormones. Animals are treated with care, allowed to roam in pastures. 
Pork Butt Selection and Delivery 
They sell a half pork butt, a la carte. It's a 3 to 5-pound package are a great choice for smoking, tacos, and slow roasting. The color is vibrant, the marbling is generous, and it still has a notable fat cap. 
They ship everywhere in the US except Hawaii and Alaska. What's also pretty neat is their unique shipping method. By using a Green Cell Foam gel pack, it's biodegradable but still keeps the meat fresh, all in vacuum-sealed bags. Buy Pork Butt Here.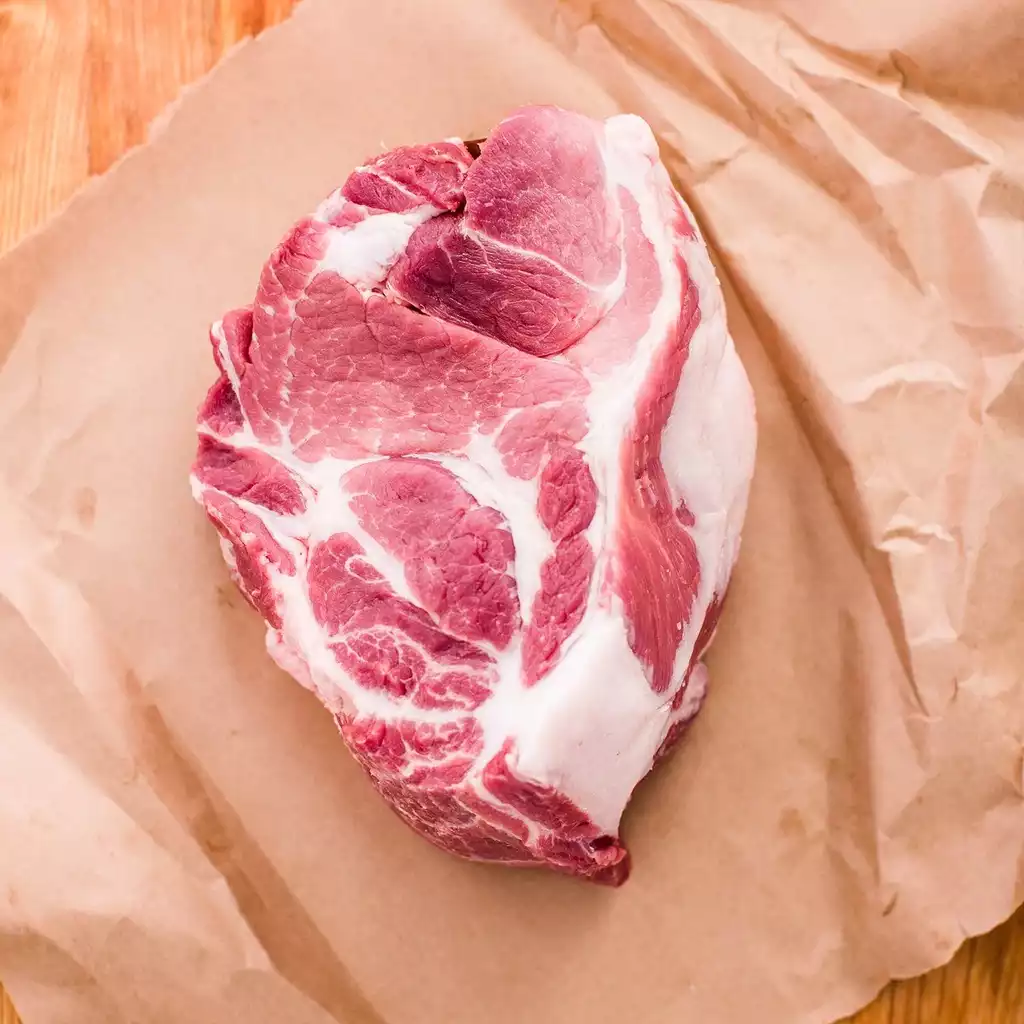 Half Pork Butt | Porter Road
Because their hogs are raised in the woods with plenty or room to roam and root, this hard-working muscle develops a deeper flavor and pink hue unlike anything you can find in the grocery store. Braise or smoke your bone-in Half Pork Butt to achieve pulled pork nirvana.
Check Price
We earn a commission if you make a purchase, at no additional cost to you.
Frequently Asked Questions
Question: Is Pork Butt Healthy?
Answer: While I wouldn't say that pork butt is healthy food, it does supply some vital nutrition. Some cuts, like Boston Butt, are a little high in saturated fat, but not all cuts are as fatty.
A 3oz serving size contains an average of 230 calories but also B vitamins, zinc, and selenium. It also packs in a little over 20 grams of protein, and it's low in sodium, with an average of just over 50mg of sodium. Pork butt in moderation can be a reasonable form of protein I just wouldn't eat it every day. 
Question: Should You Marinate Pork Butt? 
Answer: As with so many things, your method of cooking determines if it's best to marinade or prepare pork butt with a dry brine.
The upside of a dry rub is providing lighter crispiness, but the marinade ln the moisture and is better at tenderizing. I prefer marinade most of the time, and reserve dry rubs for lower temperature cooking methods.
Marinade the pork butt for at least 6 hours, and overnight to enhance those flavors. My favorite marinades for pork butt are American Barbecue Marinade, or, for a Cuban twist, a robust Mojo Marinade.
I wouldn't recommend cooking pork butt with butter, which can burn and cook more quickly (though some inject pork butt with butter). 
Question: How Do You Cook Pork Butt?
Answer: The great thing about pork butt is that you can cook in myriad ways. Pork butt can be slow-cooked in a crock pot, roasted, placed in a dutch oven, air fryer, or even an instant pot for hot and fast preparation. You can also grill pork butt, so long as you have some marinade seal the moisture for the high heat.
No matter how you cook it, the finishing internal temperature should reach 195 to 205 degrees Fahrenheit. If you want to put a pork butt in the smoker, keep in mind how long you'll need to cook it: sometimes as long as 8 to 10 hours.
Always cook the pork butt with the fatty side up towards the heat. You can also braise or stew pork butt. 
Final Thoughts
Pork butt is pretty underrated. It may not be a specialty cut like Wagyu Picanha, but there's so much to love about this cut. It's comparatively affordable to other popular cuts, and it's versatile too.
The two biggest mistakes I see people make is not thinking carefully enough about where they're buying their pork butt from and also not thinking about how to properly prepare it. I've given you my recommendations for the very best places to buy pork butt online.
At the same time, instead of experimenting, I recommend starting with a basic recipe first. Understanding how to use the marinade and rub to your advantage can make a big difference.
Trust me: no one enjoys a dry, overcooked pork butt. But it's also an easy cut to work with, and easy to achieve a flavorful and tender result, no matter what recipe you're preparing.  
Final Recommendations: Pork Butt Recipes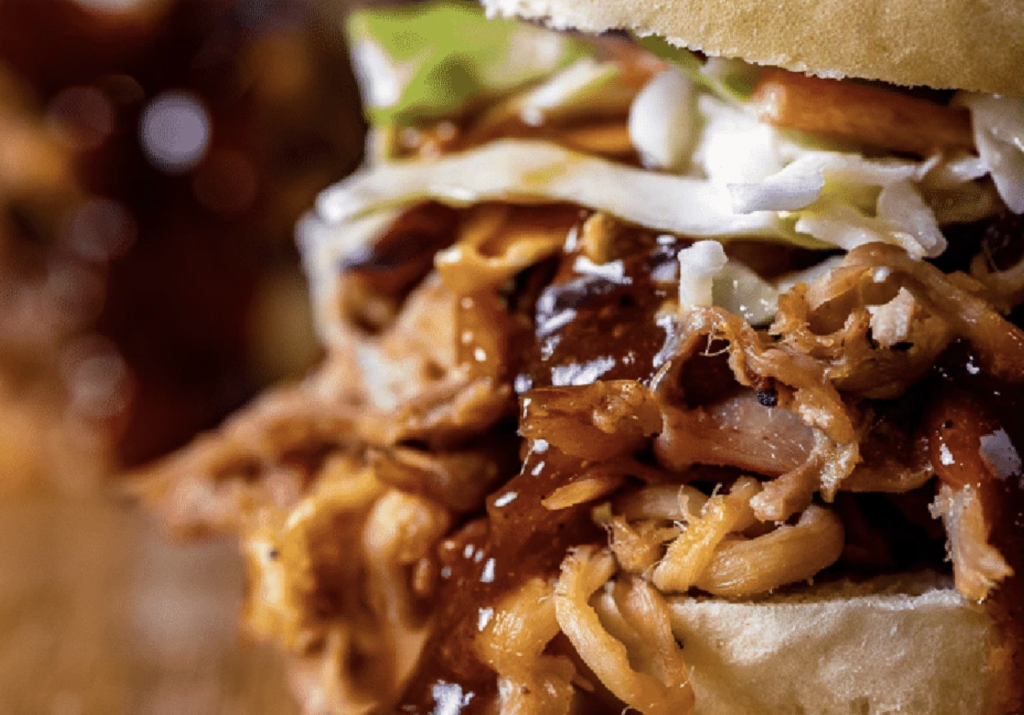 Of course, even the best pork butt needs to be prepared well. It's a versatile meat that you can have a lot of fun with, bordering American, German, Cuban, and Mexican cuisines. The most popular recipes play with the fat of pork butt while bringing out its succulence.
A bit of acid and heat provide tenderizing touches as it cooks, and though you can get buy with a dry brine for low temperatures, I still prefer marinading over several hours or even overnight. Here are a few excellent recipes you can try out today.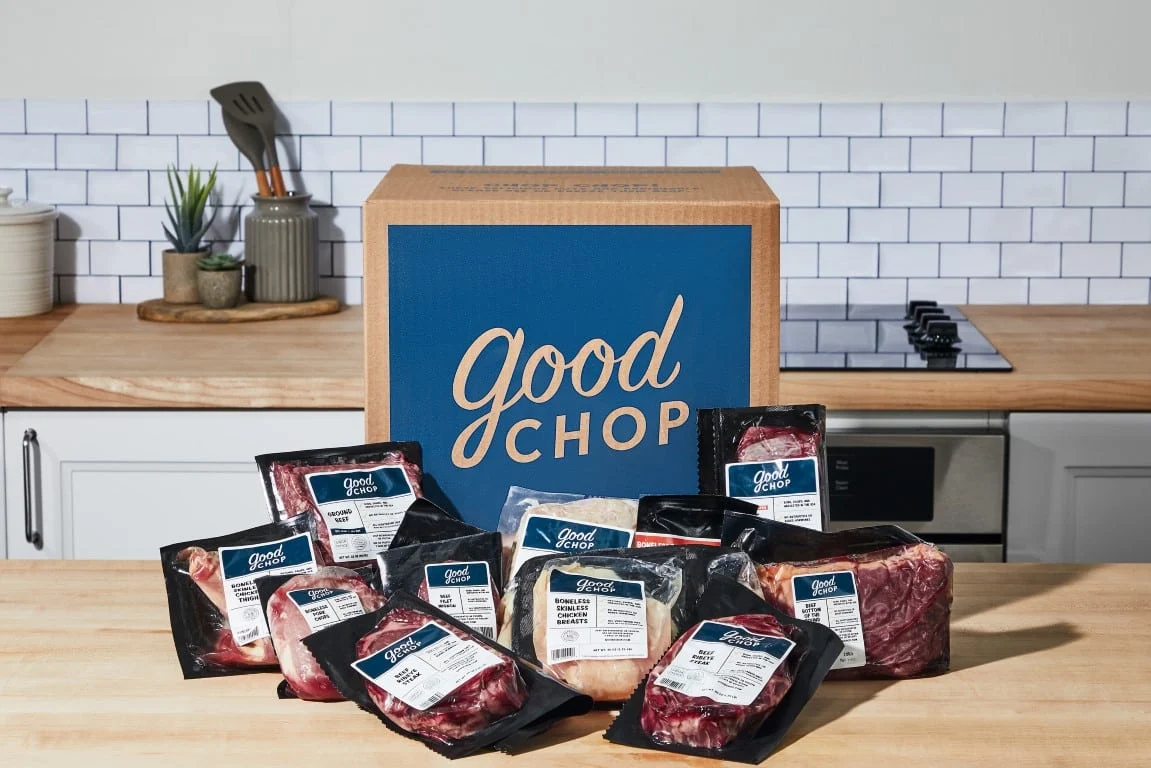 High-Quality American Meat & Seafood | Good Chop
Good Chop is a flexible meat subscription service that brings high-quality, American meat and seafood right to your door. Join Good Chop today to get $120 OFF high-quality American meat and seafood.
Get $120 Off Now
We earn a commission if you make a purchase, at no additional cost to you.
Smoked Pulled Pork Butt
This easy-to-follow pulled pork butt recipe pairs yellow mustard with a sweet rub for a tangy and sweet finish. This is best prepared in a smoker, and while the cooking time is a bit longer, it's simple even for novices to follow. View Recipe Here. 
Traditional Pork Butt Tamales
Sure, you can buy frozen tamales. But I've learned that making by hand really can make a huge difference. These tamales can be made with pork butter for a twist on a tradition.
The key is not to skimp on the masa harina. And I love adding even a bit more garlic to make things zesty and flavorful. View Recipe Here. 
Pork Butt Carnitas
I love traditional tacos, but pork butt is the perfect go-to for carnitas. Pork butt, marinated overnight, will provide a succulent and tender flavor profile to carnitas. The key is to use a skinless pork butt, which can be dry-rubbed to create a great caramelization.
Sauteed onions, garlic, peppers, and jalapenos are simmered with citrus for a splash of fresh zest. And of course, I always say customize it the way you want. You could even do a twist on the tradition by marinating the pork butt in a classic Mop Sauce.  View the Recipe Here.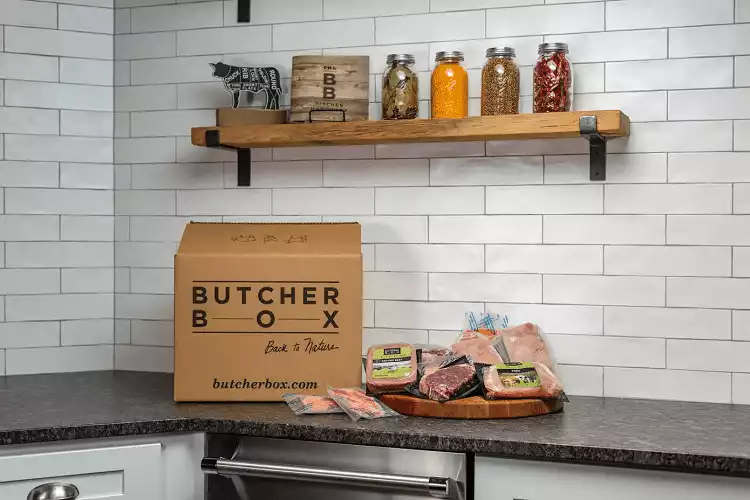 Try ButcherBox Now!
ButcherBox delivers 100% grass-fed beef, free-range organic chicken, humanely raised pork, and wild-caught seafood directly to your door. Sign up today!
Order now
We earn a commission if you make a purchase, at no additional cost to you.
Looking for more interesting readings? Check out