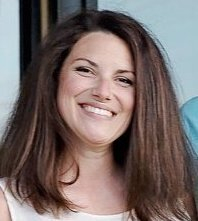 Latest posts by Sarah Caldwell
(see all)
If you're a meat-lover like I am, then you might be interested in a service that delivers some of the best meat from around the world right to your front door. Impossible you say? Not at all. Not with monthly subscription offerings from companies like Carnivore Club.
What is Carnivore Club?
Carnivore Club is considered the "ultimate meat club for discerning individuals." It's basically a club that delivered a curated selection of meat on a monthly basis.
It comes right to your door, so you don't have to hunt around your local grocer or visit your neighborhood butcher to find the best meats out there. Carnivore Club has them and sends them straight to you.
How Does Carnivore Club Work?
So how does it work? It's actually pretty simple. Every month you get a box that is filled with four to six meats from around the globe. These meats are carefully selected, cured, and cut, so you get only the best and highest quality choices. That means each and every box you get is going to be amazingly delicious.
One of the pros of using Carnivore Club is that you can enjoy meat that you typically wouldn't try. These are meats you might not have access to on a regular basis or simply may not know how to prepare. Either way, Carnivore Club makes it easy to get a wide variety of cured meats.
Are you ready to sign up with Carnivore Club and start getting your meat box on a monthly basis? Good, because that's the question I'm going to answer next.
How to Join Carnivore Club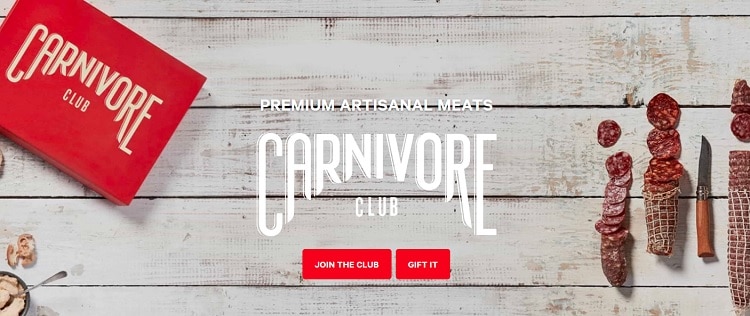 If you're ready to join Carnivore Club, the site makes it very easy to get started. Just visit the site's home page and click "Join the Club." It's really that simple. You're then directed to a page that gives you the two options provided to Carnivore Club members.
There's the Snack Box subscription, which is a curated box full of premium meat snacks. Every month you'll get tasty treats that are sure to satisfy even the hungriest of carnivores.
The Snack Box is perfect for people who need a meat fix but are always on the go. Your Snack Box comes with 4-6 different types of meat snacks, like jerky or meat sticks.
Your second option is the Classic Box, which is the type of box most people think of when they hear about subscription boxes. With the Classic Box, you'll get 4-6 different types and cuts of cured meat every month. This includes delicious items like salami, bacon, and much, much more.
Carnivore Club also has a gift option if you want to purchase the subscription box for someone else. There are plenty of gift boxes to choose from, including a Salami Bouquet, a Wild Games sampler, a Jerky gift box, and many others.
Monthly Boxes
Some subscription boxes let you choose the types of meats or snacks you'll get, however, Carnivore Club does not.
Your monthly box will have a theme that comes with a specifically chosen variety of meats. You don't get a say in the meats that arrive at your home, but isn't that part of the excitement about subscription boxes?
Something important to keep in mind is that Carnivore Club bills you the moment you sign up for a subscription. With every other box you receive, the company will charge you on the first of every month. Of course, the box isn't going to come immediately.
It takes time to process orders, curates the box, and send it out. So don't be alarmed if it takes a week or two to arrive.
Meat Selection
Carnivore Club only provides its customers with meats of the highest quality. The selection in your box is chosen by some of the best artisans from around the world, which means you're getting only the best meat. Every box you receive has a theme, which revolves around a particular type of cured meats.
Some of their past themes, for instance, have been Italian Salami, Artisanal Jerky, Spanish Chorizo, and many others. These are just a handful of examples of what you might find inside the Carnivore Club box that comes to your home.
Another box you can choose is one that offers artisan meats and cheeses. This one might come with pepperoni, chorizo, salametti, wild fennel, or saucisson sec.
All delicious and sure to take care of your meat cravings. Users might also receive a jerky box that comes with beef jerky, honey spice jerky, cracked pepper jerky, turkey jerky, and chili turkey jerky.
If you're into smoky-tasting meats, Carnivore Club has a box meant just for you. With their distinct smoker box, you'll get candied bacon, classic bacon, and a treat that has salty and smoky bacon mixed into it. You're sure to enjoy it.
However, keep in mind that the boxes and suppliers that Carnivore Club uses change on a regular basis. As a result, you'll always be in for a surprise when your box arrives. Carnivore Club only uses the best, most select meats for its users to enjoy.
Orders and Delivery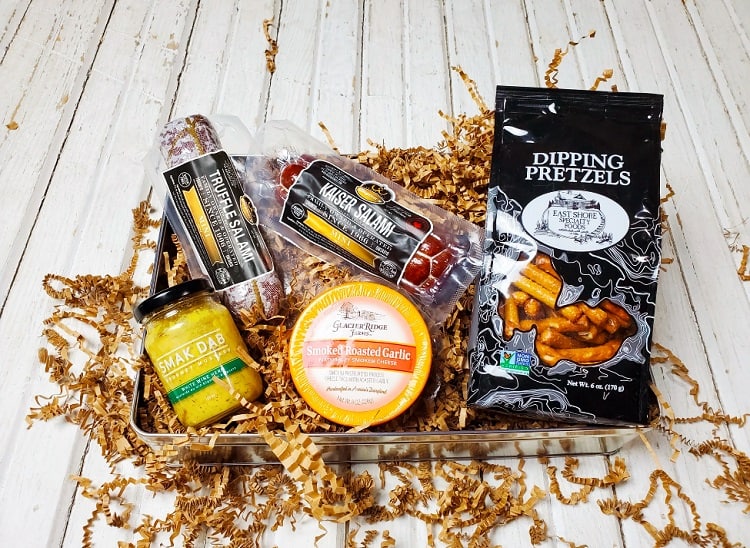 Arguably the most impressive feature about Carnivore Club is that it delivers to several different countries. Many meat subscription boxes only deliver within their own borders. Carnivore Club, however, ships to both Canada and the United States.
If you live in the states, don't worry, Carnivore Club delivers to all 50 states, including Armed Forces bases.
Orders for Carnivore Club are processed and then shipped during the first week of each month once you've placed your initial order. All orders are expedited via USPS, so it shouldn't take very long for your meat to be delivered. The typical time for delivery is between two and four business days.
When your package is ready to ship, Carnivore Club will send you an email so you have all the tracking information. As a result, you'll know exactly where your package is so you can make the proper arrangements to be home when it's scheduled to arrive.
Even if you're not at home, the carrier will drop your package on your doorstep, as no signatures are required.
Packaging
Another thing that makes Carnivore Club stand out among the crowd is how the company packages the meats that are delivered to its customers. The packaging is quite impressive and much more than one might expect from a meat delivery service. It isn't some meat stuffed into a cardboard box.
The items are neatly placed into a faux-wood container, which shows just how much attention they give to every box. All the meat is sealed and protected and safe to stay at room temperature. That means you don't have to move your meat to a fridge as soon as it arrives.
You don't have to dispose of dry ice or worry about ice packs, which makes it much easier when you're finished unloading it.
Sourcing
All artisans that contribute to Carnivore Club boxes are carefully reviewed and selected. This is not a process that the company takes lightly. Carnivore Club ensures that all ranches they do business with treat their animals in a human and ethical manner.
All ingredients and meats that come in your box are locally sourced, so Carnivore Club knows exactly where everything within its package comes from.
Additionally, you don't need to worry about whether or not your meat will spoil before it gets to your doorstep. All of Carnivore Club's meats are cured and sealed, so you can store them at room temperature for up to 30 days.
If you want to keep your meats for longer than 30 days, just keep them in your fridge to maintain freshness.
Cooking Preparation
This subheading is a little misleading since there really isn't any preparation required before tearing open these meats and chowing down. With other food and meat subscription services, you have to refrigerate and then do some prep work before consumption. Not with Carnivore Club.
Their cured meats are ready to go as soon as you take them out of the box. You can eat them right away, or save them for a specific meal. The choice is yours. Many of the meats are perfect on their own, but you might consider adding others to give some flavor to one of your favorite dishes.
For example, you could add some pepperoni to your homemade pizza or some zesty chorizo to your favorite Italian dish. Think about all the meats you could use to make a meat-filled calzone. There are a variety of ways in which you can use these delicious meats to make your meals even more mouth-watering.
Quality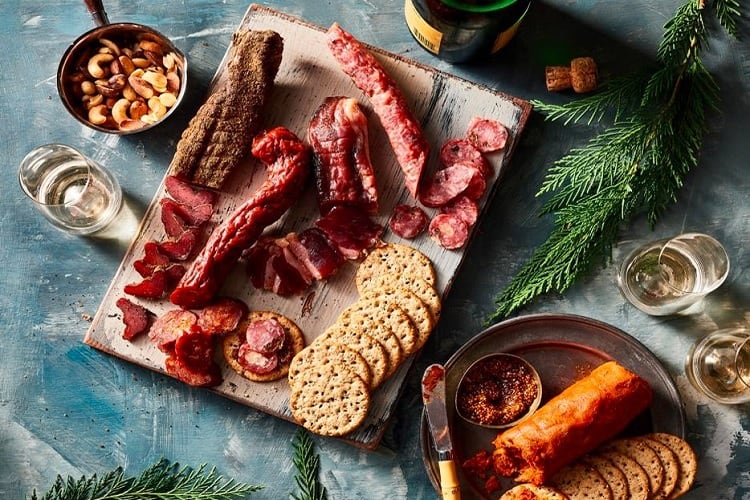 When it comes to Carnivore Club, there is little doubt that the meat you're getting is high-quality and delicious. WIth meats that are carefully selected from only the best and most trustworthy artisans, you'll get tasty, authentic items that rank among the best in the world.
All of the boxes that Carnivore Club sends to its customers include an amazing and varied selection of only the best meats. Each item is hand-chosen and raised using humane and ethical methods. Nothing artificial is added to the meat, so you can enjoy your food without worrying about dangerous ingredients or additives.
Even though you're getting high-quality, specialty meats with your boxes, Carnivore Club also likes to include something classic as well. One of the best classic meats you'll get is uncured pepperoni.
This meat is 100% pork and doesn't include any artificial additives or ingredients. The flavor is amazing and it just might ruin any other pepperoni you ever have.
Pros and Cons
Every meat subscription box has its advantages and disadvantages. While it's nice to focus on the pros, it's also important to consider the cons before signing up.
Pros
Excellent portion sizes
High-quality, hand-selected meats
Easy to gift to someone else
Tasty meats
Doesn't have to be refrigerated immediately
Good for 30 days at room temperature
Cons
Can take a while to arrive
Could use more brand options
More expensive than other meat subscription services
Alternatives
If Carnivore Club is a little too expensive for you, or you just don't think it sounds like something you'd enjoy, here are a few other options in the meat subscription industry.
Three Jerks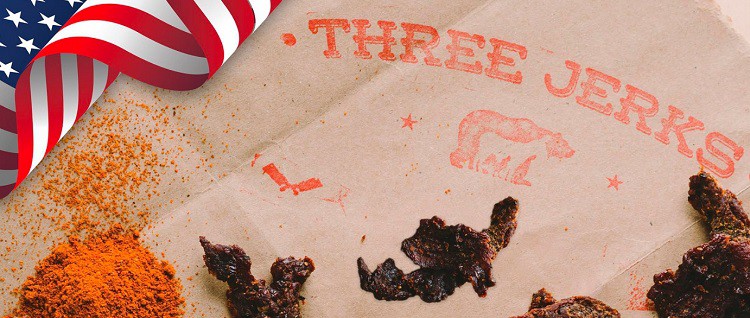 Three Jerks is a beef jerky subscription box that ships – you guessed it – various types of jerky. One of the most popular options on the Three Jerks menu is the filet mignon jerky. This means you're getting high-quality jerky in each and every box that arrives at your doorstep.
If you're a jerky fan, Three Jerks might be the way to go. It's succulent and lean, making it tastier than most of the jerky you'll find in your local grocery or convenience store. While you won't get the meat variety you'll get from Carnivore Club, you'll definitely get some delicious jerky.
SumoJerky

Another jerky box on the meat delivery market is SumoJerky. When you order with SumoJerky, you'll get exclusive, delicious jerky, catered just for you. You can tell the site your preferences, so you get exactly what you want. SumoJerky offers keto, paleo, and gluten-free packages, creating options just for you.
However, the thing to remember with SumoJerky is that you'll only get one brand each time a box arrives. That means you aren't going to get the selection and variety that you would get with a Carnivore Club box.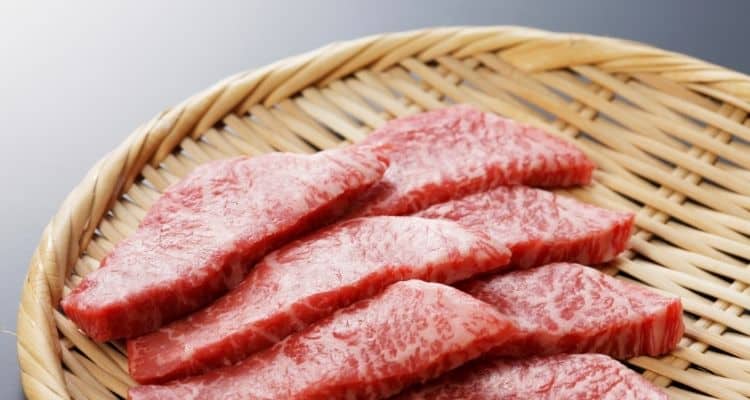 There are a lot of people out there that really like what Butcher Box has to offer. With Butcher Box, you'll get meat. Plain and simple.
The company offers several different box types, all of which ship out and arrive at your doorstep every month. Every box comes with a selection of various raw meats, all of which you'll need to refrigerate.
The types of meat and specific cuts that come with your box will vary based on which box you choose. But no matter what type of meat you like, Butcher Box is almost sure to have it. Beef, pork, chicken, lobster, and salmon are just a few of the delicious meats you can choose from.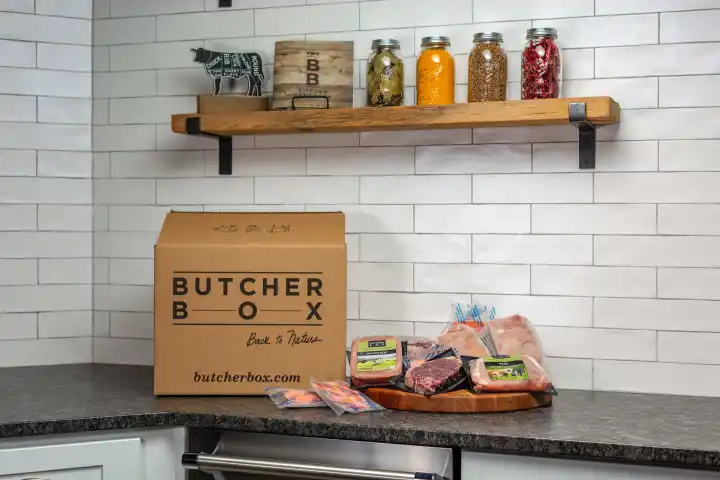 Meat Delivery Subscription | Butcherbox
ButcherBox delivers 100% grass-fed beef, free-range organic chicken, humanely raised pork, and wild-caught seafood directly to your door. Sign up today!
Check Prices
We earn a commission if you make a purchase, at no additional cost to you.
Crowd Cow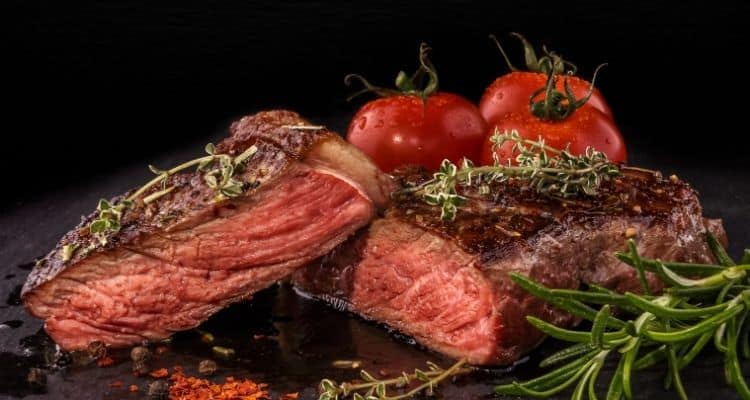 Crowd Cow is another popular meat subscription box that's basically crowdsourcing your favorite cuts of beef. With Crowd Cow, you work with other buyers to get your meat straight from small, local ranches. That means you don't have to have a freezer to store a whole cow whenever you want some savory, flavorful beef.
This is a cool feature because it allows you to know exactly where your meat comes from. Crowd Cow uses small, local ranches, which means you can learn more about exactly where your meat comes from. As a result, you're more connected to what you eat and the processes taken to get it to your plate.
FAQs
Here are some of the more commonly asked questions about Carnivore Club and what the subscription service has to offer.
Question: Is Carnivore Club worth a try?
Answer: If you're a meat lover, then the answer is a resounding, yes! This is an excellent meat subscription box that sends meats that you can't typically find at your local grocer or butcher. The selections come from different areas throughout the United States, so you're getting a great variety of meat with every box.
Question: Can I personalize my Carnivore Club box if it's a gift?
Answer: You can. When you gift a friend or family member a Carnivore Club box, you can add a personal message to it. However, it will have to be included in the delivery information area of the order before you finalize it.
Question: Can I cancel my Carnivore Club subscription?
Answer: Yes. You have the ability to cancel or modify your subscription whenever you want. All you need to do is log into your account, choose the "Edit/View" button, then select "Cancel Subscription." Confirm it on the next screen and you'll stop receiving Carnivore Club boxes.
Is Carnivore Club a Raw Deal?
When it comes to meat subscription boxes, it's tough to find a better option than Carnivore Club. If you love meat, you'll enjoy the cured meats that come with every box. You'll get high-quality meats selected by artisans from around the world. Unless you travel for a living, it's unlikely you'd ever be able to get your hands on these types of meat.
Carnivore Club lets you try foods that you wouldn't typically have access to. It's a great gift for that person in your life who loves to eat meat, even if that person is you!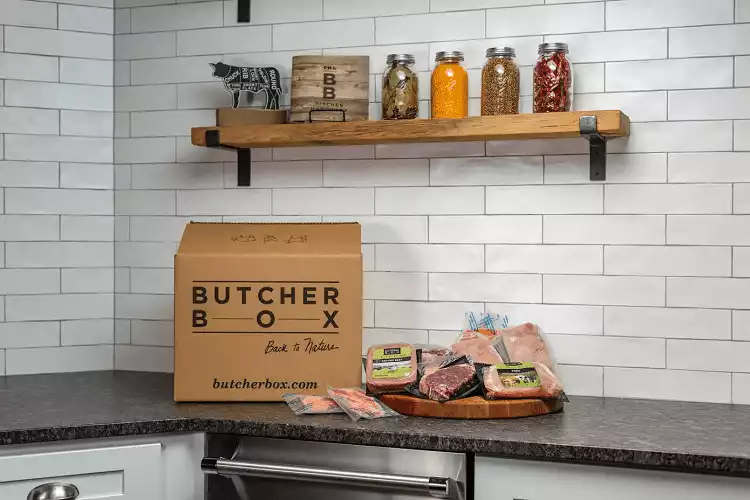 Try ButcherBox Now!
ButcherBox delivers 100% grass-fed beef, free-range organic chicken, humanely raised pork, and wild-caught seafood directly to your door. Sign up today!
Order now
We earn a commission if you make a purchase, at no additional cost to you.