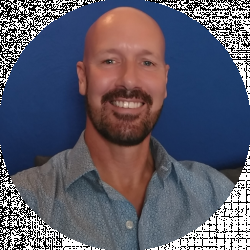 Latest posts by Jason McLay
(see all)
What is "whole brisket?" And, Where can I buy it online?
When most people think of brisket, they already have an image of the finished product. A whole brisket is typically cut into three pieces. First, You have the flat-cut; this is the leaner cut of the three and often the most preferred as it is more uniform in shape and can be sliced and laid out nicely. Second, you have the point-cut; this cut is a bit thicker and requires a longer cooking time.
The point-cut has a higher fat ratio making it very tender and juicy. The third cut is the fat cap, commonly referred to as the "deckle." This cut is high in a dense, non-rendering fat.
However, If you are ready to take the time and review the skills, cooking a whole brisket can reward you with an excellent meal for you, your friends, and your family.
The whole brisket is also known as Texas Brisket, Packer Brisket, and Beef Brisket. It is best cooked very slowly over low heat. Smoking, Braising, and Roasting are also good options.
Bottom Line Upfront
I think if you're looking for an easy and super tasty way to get brisket delivered to your porch, there's no better option than Porter Road. I didn't have much faith when I read the company's slogan as "Meat the Way Meat Should Be", but boy, were they right! I became obsessed with Porter Road after I had their brisket for the first time. Since then, I've been hooked on all of their beef offerings. It's so convenient to use Porter Road (especially when compared to going to the grocery store) too!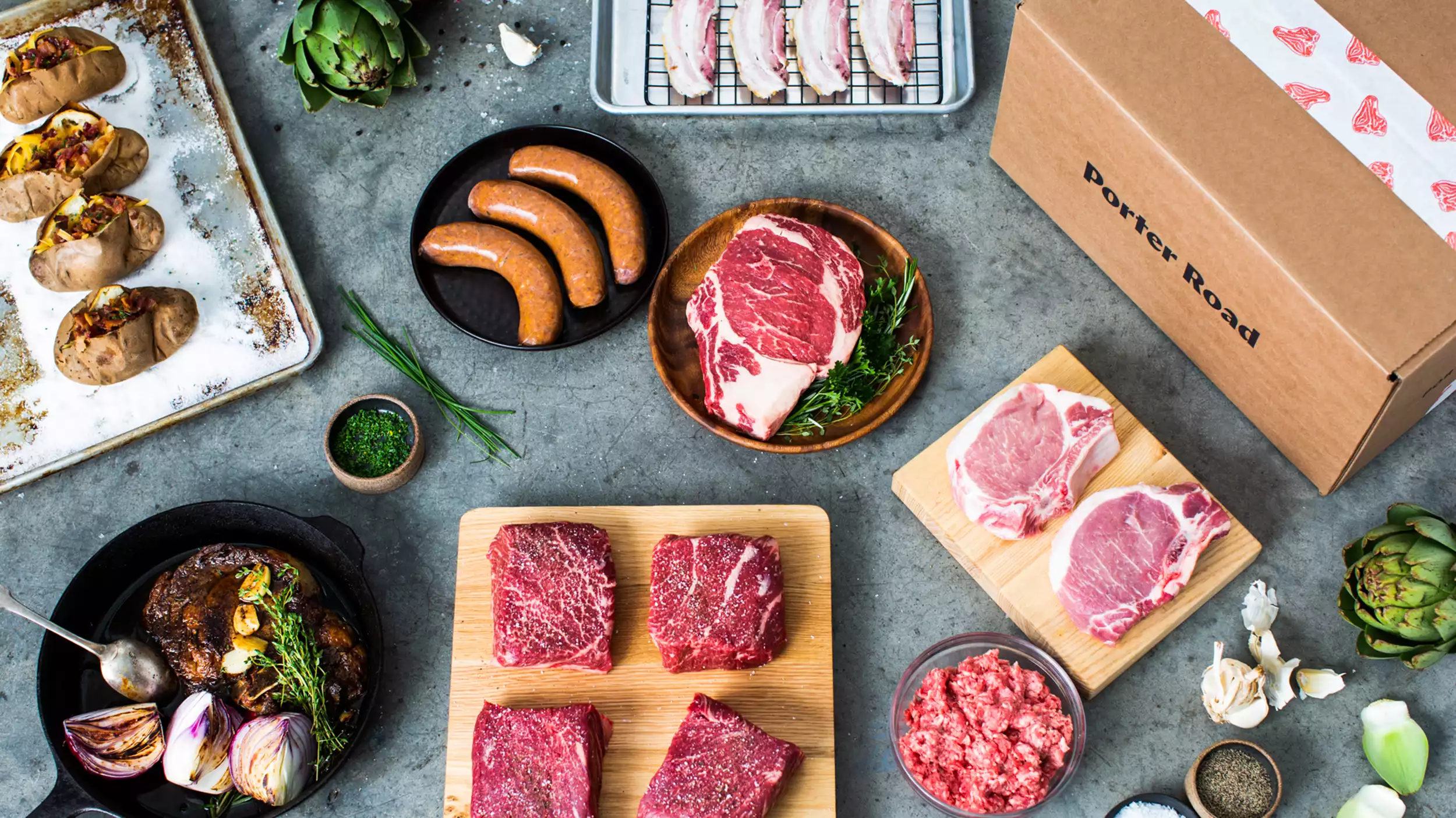 The Best Cheater Option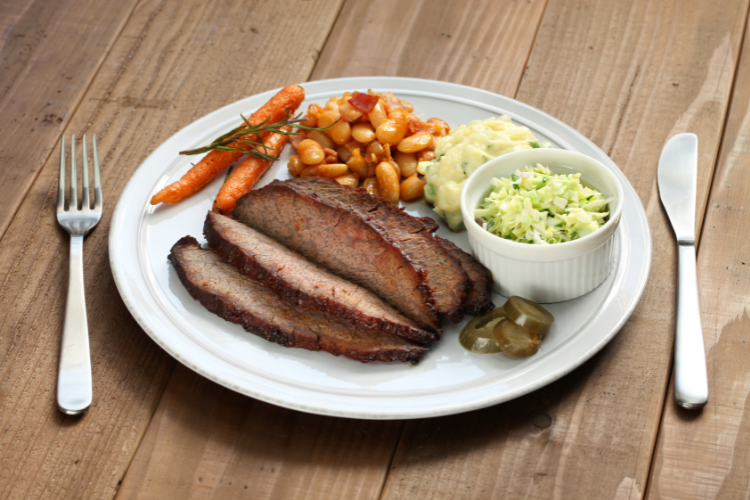 OK, I know we are "Art of Grill," but I am going to give you one easy, fast track option for a good brisket that will only require a reheat and a good sharp knife.
Amazon has a nicely smoked "flat" that was smoked for 18 hours on your behalf. It will arrive frozen, and although they label it as "whole," they are referring to a "whole flat." It is only 4 pounds. A whole packer would average between 12 and 16 pounds.  
For this, I recommend Ranch House Meat Company on Amazon. It will set you back around 160 dollars. However, it is a decent amount of beef, already seasoned and cooked with no artificial ingredients or preservatives.
If you have decided that you are ready to take on the challenge and do it yourself, please continue reading for our top picks for buying a raw, whole beef brisket online.
The Top 7 Choices for Whole Brisket Online
Whole Brisket Vs. Packers Brisket
I feel we need to address some of the confusion around a whole brisket (packer) and a "whole brisket" You will see this phrase on all the sites we have listed, but you may notice some variation in size and weight.
An authentic whole packer brisket includes the abovementioned three areas: the flat, the point, and the fat cap or "deckle." Most people these days opt to have the deckle removed.
It is primarily fat; it adds more weight than flavor. In some butcher shops, "deckel-off" is understood as a request; you want most of the fat removed. However, "Deckel-Off" traditionally means removing the back end of the beef brisket.
Some will argue that the fat will add to the tenderness of the brisket, and in most cuts of beef, this is a valid argument, but the brisket point has more than enough fat in it to make a very tender brisket without the added bulk of the fat cap. AND! Since we are talking about buying meat online. The added weight does not equate to added value.
All of our choices are "whole brisket" without the fat cap. However, if you feel you must have it all, you can schedule a cutting with Sterling Silver Premium Meats and request the deckle be left on. I believe you might also be able to make this request with Feed The Party in the "contact us" area. Plus, Porter Road has a whole brisket and half brisket options. But, trust me, once you try the half brisket option from Porter Road the first time, you're always going to upgrade to the whole brisket every time you order!
Personally, you are not missing anything by having it cut off. There will always be room for varying opinions, of course.
Let's Have a Closer Look at These Seven  Companies
Feed the Party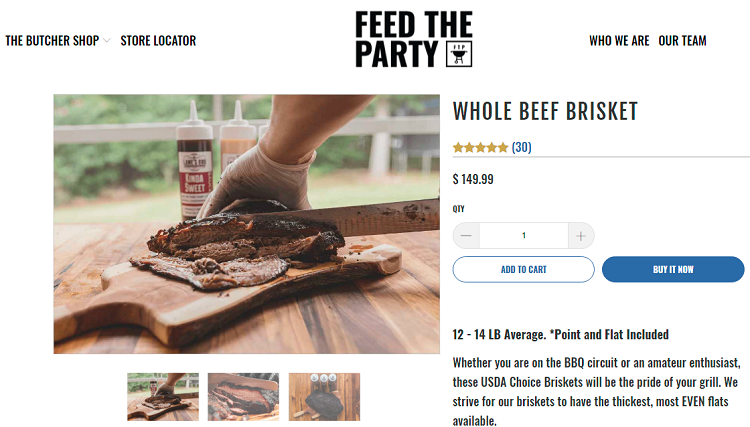 Feed the party is a good site with plenty to choose from in several meat categories, including seafood. Most of the reviews on the site come with pictures of people's successful meals, and it is like looking through photos of America's Top Chef Grill Team.
Because they sell in bulk, they save you the shipping costs. The price you see is the price you pay, No shipping fees. That is a nice perk.
Their motto is, "We're not in the food business; we're in the happiness business." You get quality meat at wholesale restaurant prices. That will make anyone happy.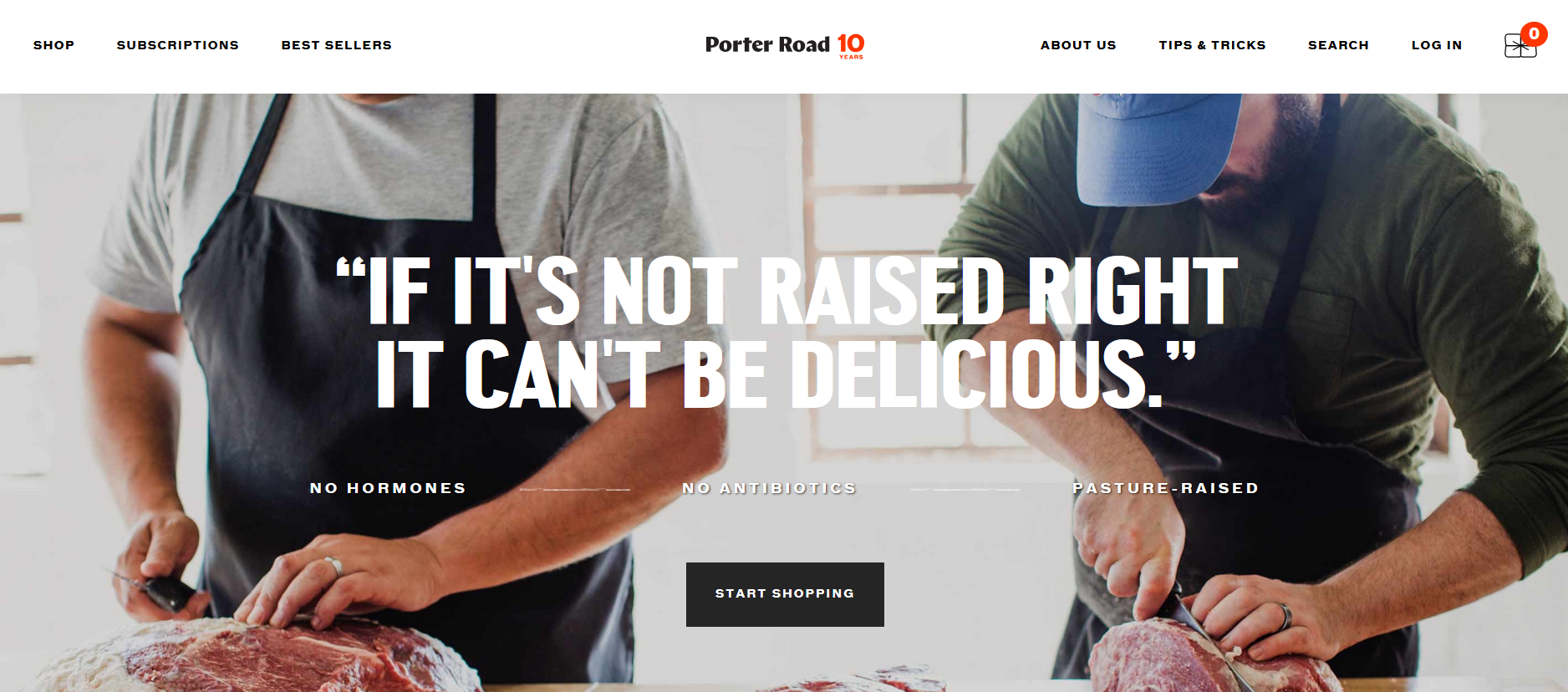 When you're calling up your family, inviting them over for a BBQ, you should bring out the best of the best. And you'll find the best of the best with the brisket Porter Road offers. Honestly, I've tried the other options on this list, but this is the brisket you want when you're inviting family and friends over.
Want people to you only eat high-end meat and that your tastes are far superior to yours? Do you want people to look up at you in amazement when they take their first bite of brisket, wondering how you got the meat so tender? Porter Road is here to deliver. 
I think Porter Road is an awesome option for people (like myself) who don't have any butchers that live close by. I loved the texture of the brisket I had from Porter Road, but I was obsessed with how prevalent the beef flavor was. I've never had anything like it before!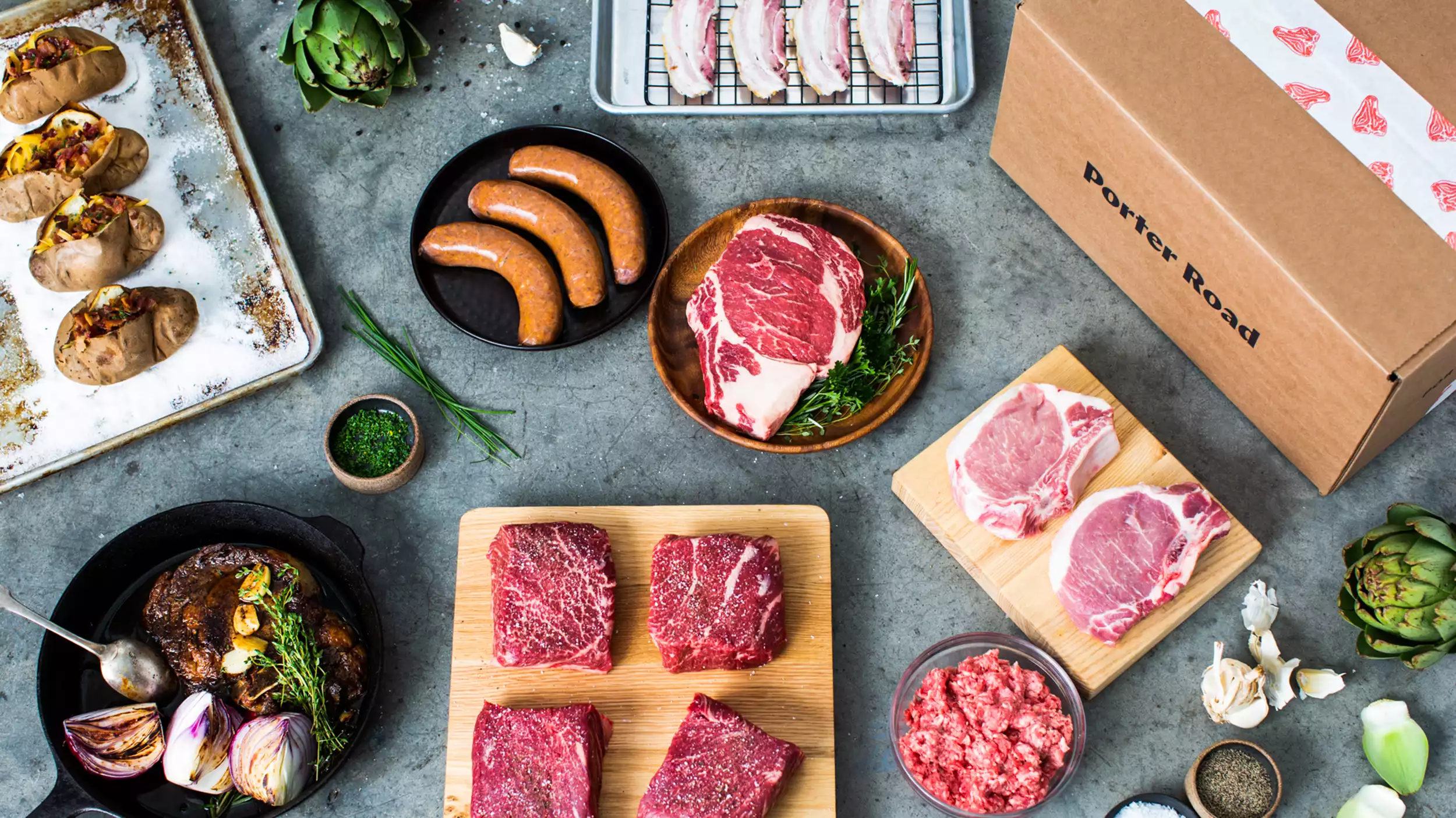 Sterling Silver Premium Meats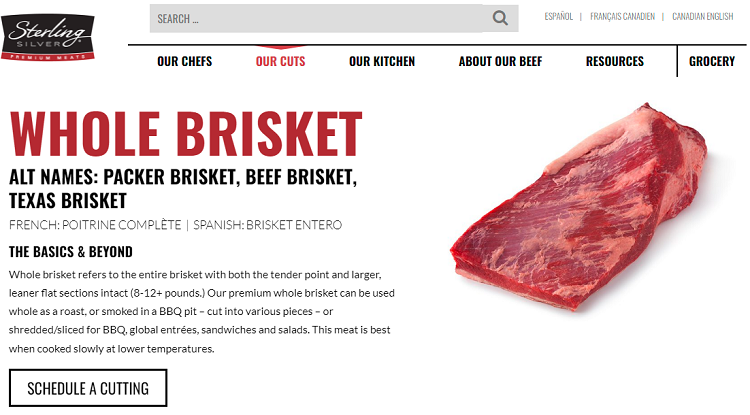 Stirling Silver offers premium cuts, great recipes, professional tips, wine pairing, and even restaurant serving advice.
You can click on the "grocery" button and see if there are any locations near you and pick up the cut in person or click "online," where you will be redirected to, Grand Western Steaks, for delivery options. There are a couple of options for contacting a rep if you are seeking a particular cut or purchase.
This online service is more focused on restaurant and catering services, but the online service is available to anyone. The average cost was much higher on this site than any of the other five, and shipping was about 60 dollars, including overnight delivery.
Meat N' Bone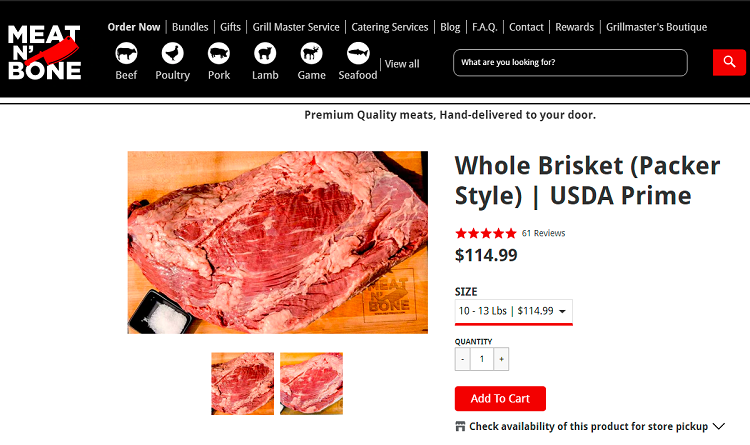 You can find an actual "packer style" cut at Meat N' Bone. This is the way barbeque competitors like to have it. There are more options than you can imagine for using all the parts, and it pleases nearly all brisket lovers, from the lean flat cut to the flavorful point cut and even the fat cap that can be used in a basting sauce cubed for burnt "burnt ends." Some find this amazing. I am not in that group.
There is one big perk that you might consider taking advantage of if you live in South Florida. How would you like to hire your very own grill master! For 145 USD, you can have a grill master prepare your meal for up to 25 people.
This includes 4 hours of grill master time. You can add servers for an additional cost. Don't have a grill? No problem, you can rent the grill too for 80 USD, and you don't even have to light it or clean it. DONE!
Meat N' Bone is middle-of-the-road priced and does offer brisket flat, point, or flat and point with no fat cap. It's nice to have the options. You need only spend 125 USD to be eligible for free shipping. If you buy 10 – 13 pounds of whole brisket for 114.99 and add 4 Dry Aged Brisket burgers for 16.99, you have met your requirement for free shipping.
Mister Brisket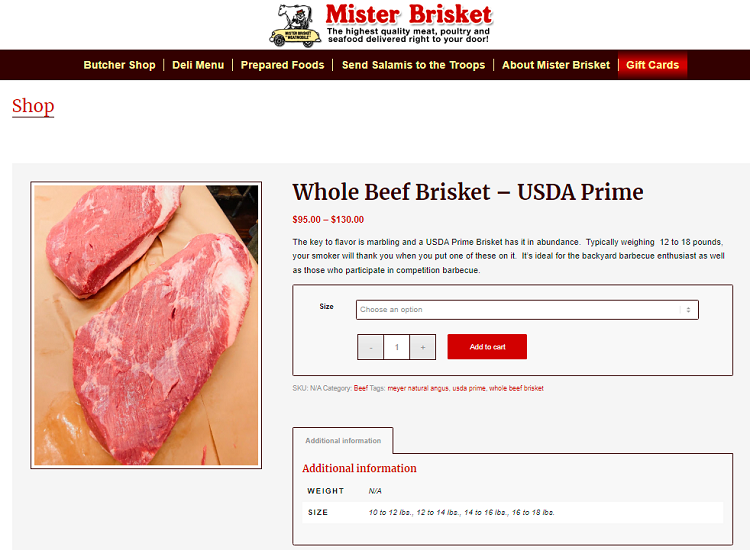 Mister Brisket has been delivering meats since 1974 and appears to be as strong as ever, delivering beyond its original Ohio borders.
The site is easy to navigate, but shipping is a bit of a mystery at the moment. Apparently, they had several deliveries perish due to the big covid-19 hit on delivery services. They now only use Fed-Ex to guarantee fresh, timely delivery. But how much will that cost?
You will need to contact them directly, and they will calculate the shipping by hand. Other sites have figured this out, but for the moment, Mister Brisket is calculating on a case-by-case basis. If the shipping you need is reasonable, the cost of their brisket is actually not bad at all.
They only have one recipe on the site for brisket, but from what I can tell, it looks pretty tasty and even has a bit of a kick. I do wish there was another variation, but hey, that's what YouTube is for. Right?
Wild Fork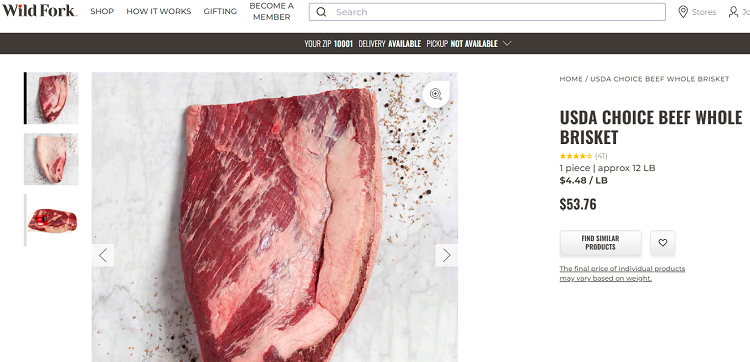 Wild Fork primarily focuses on delivering the best meat to your door fast. You can become a member of this site for 29 dollars, then enjoy free shipping on orders over 35.00. If you are a non-member, no problem; for orders over 35 dollars, you will pay 4.95. Not bad at all.
The site is easy to navigate, but the prices are approximate. A 12lb brisket is listed on the site for 53.76 based on 4.88 per pound. But your credit card will be charged more until the "actual" weight is calculated.
They will then refund the difference. None of my other 5 choices do this; however, it does not mean it is necessarily bad either. Having reviewed some of the prices on the site, I would not rule them out as an option. I just don't like credit card revisions. I want to know the price when I buy it.
There is a nice feature on this site that is not on the other 5 choices, and that is a "quick and easy" meal section. If you are looking for a tasty side to go with your brisket, check out this page before you "check out." A nice variety of empanadas to a delicious-looking Beef Stroganoff. I like this added feature on Wild Fork.
Snake River Farms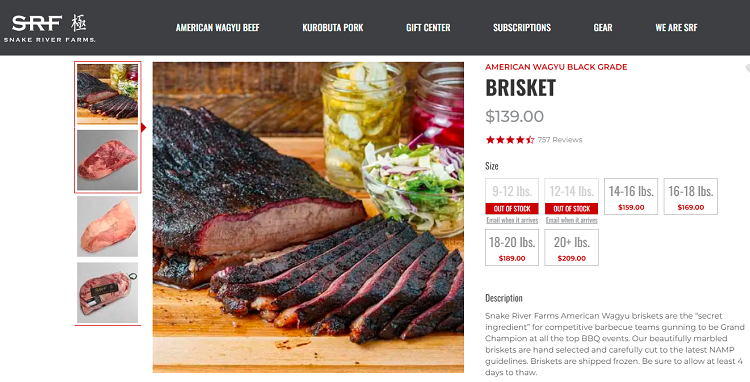 At Snake River Farms, you can find American Wagyu Brisket. What does Wagyu mean? It is Japanese for "Japanese Cow." Don't roll your eyes yet. There is more to this cow than its simple name. The Japanese cow is a black cow known for its magnificent fatty marbling, even in the toughest of cuts like chuck and brisket.
The Japanese have a very strict way of tracing the breed to keep its purity nearly 100 pure. All Wagyu cows can be traced to one bull. Wagyu is an expensive delicacy in the price range of fine sushi.
Well, Snake River Farms offers a version of this at a high cost but low compared to Japan. There is a version of Wagyu in the US called "American Wagyu," or a name you might have heard more commonly, "American Kobe" These cows have been cross-bred to save on some expense but still capitalize on a name. The purity here only needs to be 47% Wagyu to be labeled American Wagyu.
Whether it is genuinely the flavor or the brand name that draws people to Snake River Farms, I can not tell you, but I find it is recommended over and over again on many sites as the place to order American Wagyu Whole Brisket.
There is even a subscription available if you want a regular shipment. You choose your bundle and the duration of time, and your next shipment is only a matter of the time you choose for your next high-end American Wagyu specialty.
Shipping is by Fed-Ex only and varies from 9.99 to 49.99 with no discounts for quantity at the writing of this article.
FAQs
Question: Can Shipments be Sent to a PO Box?
Answer: In all 6 of my recommendations, you cannot have your whole brisket delivered to a PO box. Residential addresses are preferred, and commercial addresses are accepted, but some commercial addresses can not accept weekend deliveries. Keep this in mind.
Question: Can I Get Whole Brisket Online in Hawaii or Alaska?
Answer: Currently, many online perishable delivery services have suspended deliveries outside the contiguous United States because of delivery delays, and some flights will not accept packages with dry ice. You will check more local sources for buying your whole brisket online.
Question: What is the Most Economical Choice for Brisket Online?
Answer: Of the 6 I reviewed, your most economical purchases will be either Feed the Party or Wild Fork. Both also offer low to free shipping.
Question: Is American Wagyu Worth the Hype?
Answer: All things beef and grill are subjective. Some people will spend a great deal of money to get it and even more for true Japanese Wagyu. When it comes to brisket, a classically tough cut of beef, I'm not sold on American Wagyu Brisket.
I have not tried Japanese Wagyu, but viewing the cuts from pure Wagyu cows, it looks like they have a case; there is a noticeable greater amount of marbling, and it looks pretty tender.
Question:  What about Shrinkage?
Answer: Are we still talking about brisket? Hahaha. Yes, brisket will shrink approximately 1/3 of its original size, so consider that when buying your brisket. A 15-pound brisket may end up 10 pounds by the time you are finished.
Question:  How Much is a Serving for One Person?
Answer: Considering you will have other sides to go with your meal, you can estimate about ½ to ¾ per person. Leftovers are great and will freeze well. Best to err in estimating too much after all that hard work.
Conclusion
Unless you have a butcher close by, and they are harder and harder to find these days, online shopping for brisket is an excellent second option. I do enjoy brisket from time to time, but it's not something I crave often, and it's a cut of meat I do not have the patience for cooking. I cook a turkey once a year. Other than that, most of my meals are ready in less than 45 minutes.
Of the 6 options, Porter Road, is my top choice, it is easy to navigate, reasonably priced, and filled with happy customer comments. Plus, their meat is just soooo good. All of these companies are going to offer excellent quality meats, but out of all of the ones I've tasted, I've become completely obsessed with Porter Road. 
For those brisket lovers who are willing to wait out the long cooking process, I congratulate you in advance. I hope it turns out AMAZINGLY well.
Exclusive Offer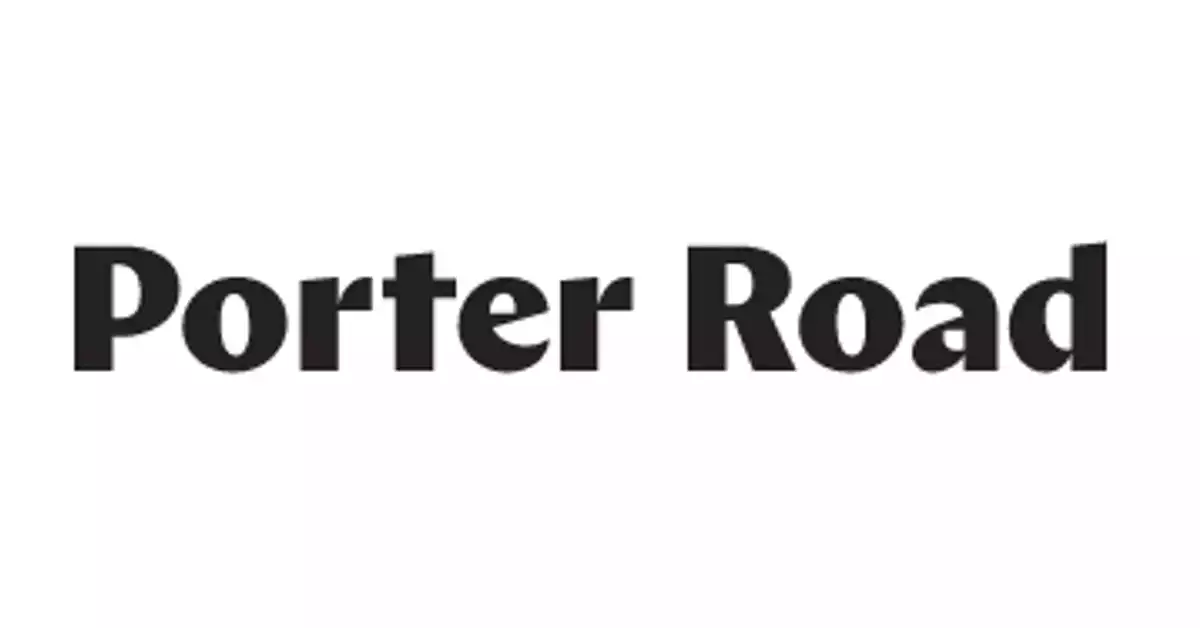 Delivering Life Changing Meat | Porter Road
The most convenient way to shop life-changing meat. Delivered on your schedule, every 2, 4, or 8 weeks. Get 10% Off your first order using code: RAISEDBETTER10.
Get 10% Off Now
We earn a commission if you make a purchase, at no additional cost to you.
Looking for more interesting readings? Check out: