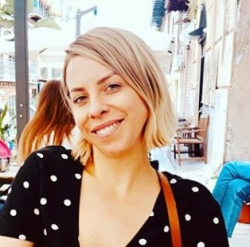 Latest posts by Jodie Chiffey
(see all)
As the summer approaches, the time for grilling and roasting delicious cuts of meat gets ever closer. But some people have started to turn away from the classic grill featuring burgers and sausages and are turning towards steaks and slow-cooked slices of meat.
When it comes to slow-cooking and smoking, battle lines are drawn with the age-old fight of smoked chuck roast vs. brisket.
You may think that anything smoked or slow-cooked will automatically be delicious – why worry about the cut of meat? We're going to have to stop you right there, dear reader, because the meat you use in your smoker is essential.
This is why the smoked chuck roast vs. brisket debate rages on between grill kings the world over. While both are absolutely delicious, they both have unique flavors that give them distinct characteristics.
Read on to find out more – first of all, though, let's have a look at the main differences between smoked chuck roast vs. brisket.
Main Differences between Smoked Chuck Roast vs. Brisket
The main differences between Smoked Chuck Roast vs. Brisket are:
Smoked chuck roast often has a fair amount of intramuscular fat, whereas the brisket has most of its fat on the meat's exterior.
Smoked chuck roast doesn't give you quite as much (however, it is still a substantial amount!), whereas Brisket gives you more meat at the end of the day
Smoked chuck roast is comprised of more muscles, whereas brisket is less muscular.
Smoked chuck steak is most suited to slow-cooking or smoking, whereas Brisket can be cooked in multiple ways
Smoked chuck roast is very affordable, whereas brisket is more expensive.
Smoked chuck roast offers a more instant flavor hit, whereas Brisket becomes even more delicious the next day
Smoked Chuck Roast – Everything You Need to Know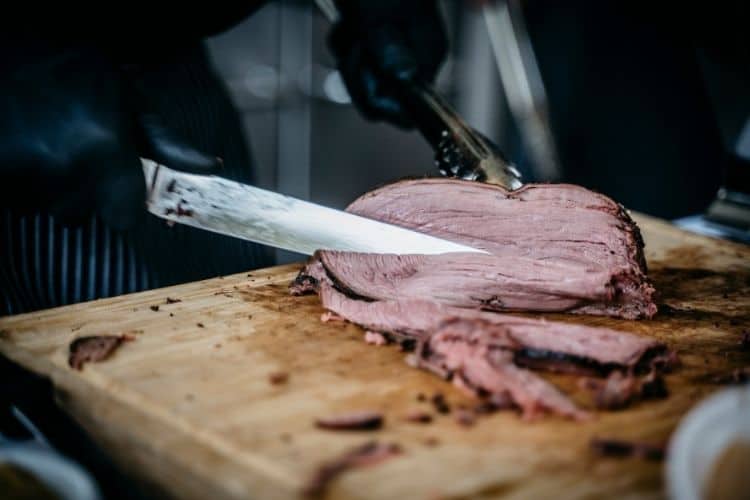 First and foremost, it's worth noting that smoked chuck roast is the finished product – after hours at the smoker, you'll end up with a smoked beef chuck roast. But before you put it in, you'll have what's known as a beef chuck.
Beef chuck is taken from the cow's shoulder and is frequently used in pot roasts. As it is an area of the animal that moves a great deal, it can end up being a tougher cut – but it also has flavor in abundance. It's beautifully marbled and has lots of great, beefy flavors all the way through.
What does a Smoked Chuck Roast look like?
It has to be said, a fully-sized smoked beef chuck roast looks incredible. It's a literal block of beautifully marbled meat, sometimes replete with a beautiful trim of fat on it too. You may wonder if you've bitten off more than you can chew when you first see a beef chuck, but we can guarantee that you'll make quick and easy work of it!
What sort of flavors does a Smoked Chuck Roast have?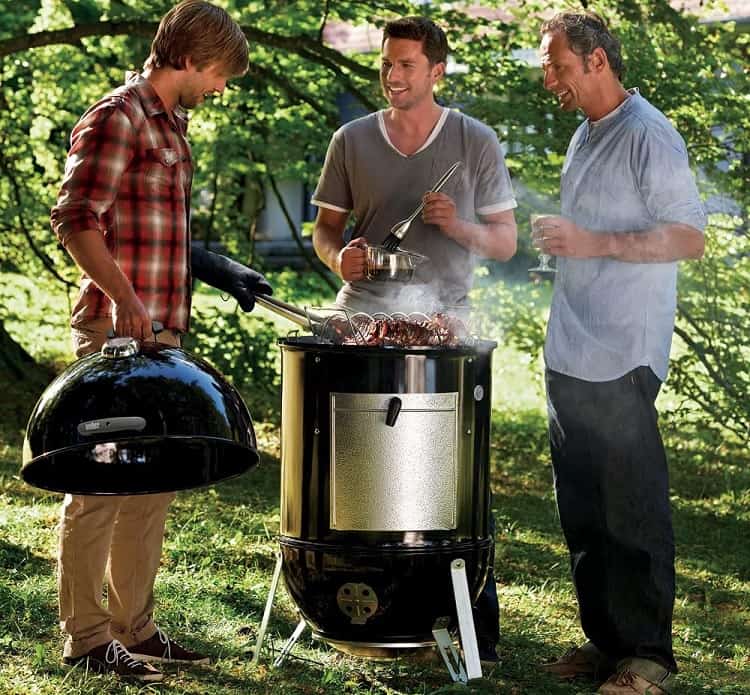 We are firm believers that anything you smoke in a Weber Smokey Mountain smoker will end up being lip-smackingly delicious. And when it comes to cooking up a smoked beef chuck roast, it's no different.
Many people are tentative when it comes to this particular cut, as the shoulder gets a lot of use in the animal's life, but when you slow cook a beef chuck, all the fat, collagen, and connective tissue break down, which seeps these exquisite flavors into the meat itself. Beefy, buttery, smokey – you'll want your smoked chuck roast to last forever!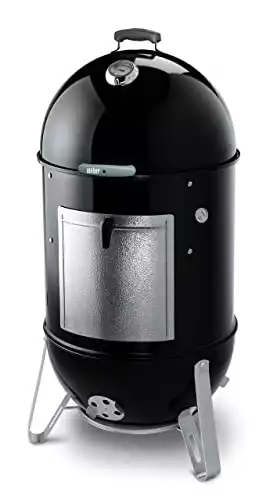 I've bought my smoker – but how much will a Smoked Chuck Roast cost?
So far, so good with the smoked chuck roast, right? And it just keeps on getting better too! Beef chuck, the cut you use for a smoked chuck roast, only costs about $5 per lb.
Bear in mind that you'll often need at least 4-5lb if you're feeding a crowd, though, so you could be looking at $20-$25. Sounds like a lot? Well, keep in mind that that size piece of beef chuck will feed 8-10 people – and still have some for leftovers!
I'm all in – so how do I go about cooking a Smoked Chuck Roast?
The best way of cooking up a smoked chuck roast is using a smoker. We couldn't recommend the Weber Smokey Mountain smoker enough, but the Char-Broil Offset Smoker is also a brilliant device for getting the perfect smoked chuck roast.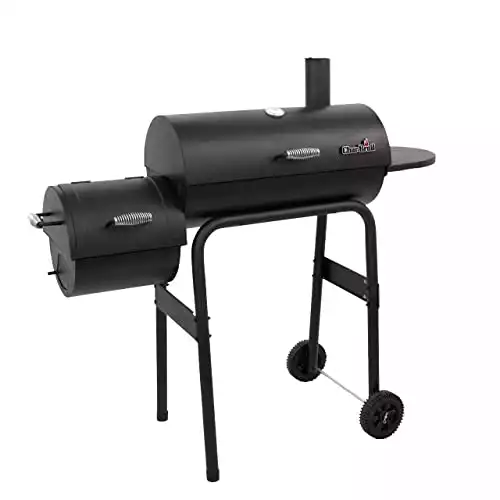 Here's a guide to getting the ultimate smoked chuck roast.
Let your 5lb smoked chuck roast come up to room temperature – this might take a little longer than an hour owing to its size.
Once it is warm, you'll want to tie the chuck up using some twine. Try and tie it so that you form a grid pattern with the twine.
Then, combine some kosher salt, pepper, garlic granules, chili powder, and some mixed herbs and rub the smoked chuck roast with this seasoning mix, being sure to cover every side.
Once totally covered in seasoning, we advise that you wrap the meat in some plastic wrap and let the meat cure. Ideally, this would be overnight, but 4 hours or so should do the trick!
Once the seasoning has penetrated the smoked chuck roast, it's time to prep your smoker. Bring it up to about 250oF, and place the smoked chuck roast on the grate. Chuck in some extra wood chips, and leave it be!
You'll want to leave the smoked chuck roast in the smoker for 6-8 hours, checking it every hour or so. Ideally, the temperature of the smoker should be hovering around 225oF (for the ideal internal temperature).
After 6-8 hours, take the smoked chuck roast out and double-wrap it in foil, then pop it back in the smoker for an hour. Bring the heat up a little bit as well – this makes sure that any tough connective tissue is perfectly tender.
Check the smoked chuck roast using a meat thermometer – we can recommend the BFOUR meat thermometer to check the internal temperature. You'll want the internal temperature your smoked chuck roast to be no less than 160oF.
You'll be pretty hungry by this point, so after letting the meat rest for 15 minutes or so, slice it up and serve. BBQ sauce optional!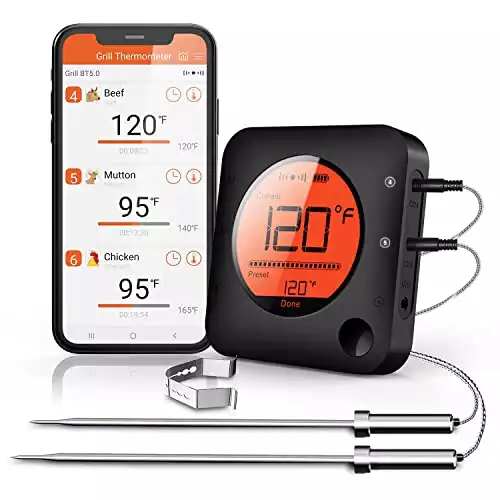 BFOUR Meat Thermometer Wireless | Amazon
The wireless meat thermometer adopts the most advanced Bluetooth 5.0 that provides the strongest, reliable connection, allowing you to monitor meat up to 200ft away.
Buy at Amazon.com
We earn a commission if you make a purchase, at no additional cost to you.
12/03/2023 05:03 am GMT
Brisket – Everything You Need to Know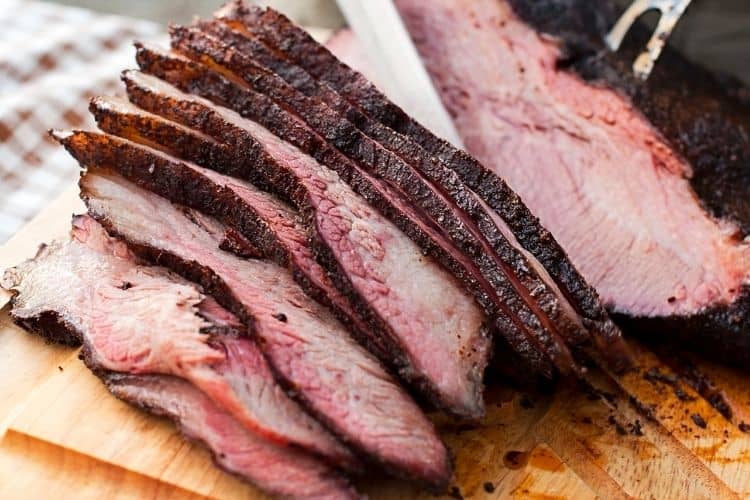 Now onto the brisket. Brisket comes from the chest of the cow, just below where you find the smoked chuck roast. And like with the smoked chuck roast, it is a rather muscular part of the animal, making the brisket rather tough in everyday eating terms. However, this problem can be solved with a smoker or a slow-cooker, so don't be put off!
What does Brisket look like?
Smoked brisket looks surprisingly similar to smoked chuck roast, actually – it's a large, hefty chunk of meat.
However, one noticeable difference is that brisket doesn't have as much intramuscular fat marbling throughout it, often only having a little rim of fat on one side.
And this little slither of fat has, in fact, caused many ruffled feathers in the grilling world, as people disagree with whether it goes in with the fat up or down!
What does Brisket taste like?
If you cook your brisket to perfection, you'll end up with a gloriously meaty, beefy treat, which will quite literally melt in your mouth. Replete with absolutely stunning crispy edges and plenty of juiciness inside, it can be an absolute stunner.
However, be wary, dear reader – if you end up overcooking your brisket, you'll end up with a relatively dry and chewy piece of meat, which is not what anyone wants. Practice makes perfect with this showstopper, though, and as you'll find out, it's not going to break the bank if you slip up!
How much does Brisket cost?
Here's a bit of good news for you all – brisket only costs around $3-$4 per lb. That's right – it's an absolute bargain if you get it right! You do have to consider that brisket often comes in relatively large sizes – for instance, an average brisket is around 10lb. Though don't worry about the costs racking up – a brisket that size will not only feed your bbq party but keep you fed for days after!
How do I cook a Brisket?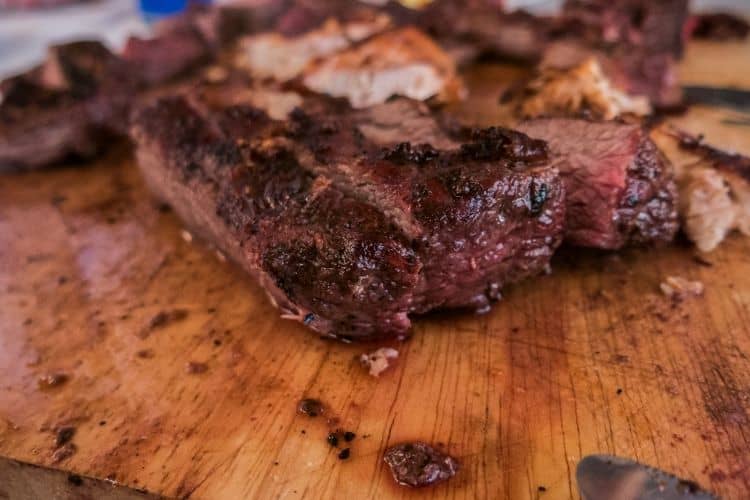 Like with the smoked chuck roast, brisket can be quite a tough piece of meat and benefits from an excellent long cook to break down all the connective tissue and the fat, making a lovely tender meat spread.
We recommend using a smoker (such as the Weber Smokey Mountain) to cook your brisket to perfection. You'll also want to get your hands on the best grilling accessories to help you on your journey to brisket perfection.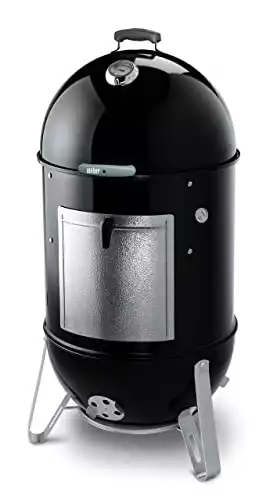 Here are our top tips for cooking a brisket in a smoker for the ideal smoke.
Let the brisket come up to room temperature, and then rub it all over with oil. Then season liberally with salt, pepper, and garlic granules (or garlic powder).
Preheat your smoker to 250oF. A combination of charcoal and fruit tree wood like cherry results in a delicious and well-rounded smokey flavor.
Place the brisket in the smoker. As we mentioned earlier, there are two schools of thought about whether you place the brisket in the smoker with the fat facing down or the fat facing up. It doesn't make a difference, so go with whatever you like!
Leave the brisket in the smoker for around 5 hours. After 5 hours, take the brisket out, double wrap it in foil, and then pop it back in for another couple of hours.
Take the brisket out and leave it to rest for 30 minutes. This lets the juices stay in the meat and helps with the fat distribution.
Serve it up! It's best when sliced thinly, so bring it over to the table and be sure to have a good sharp brisket knife handy – we get perfect results using the Dalstrong Carving Knife.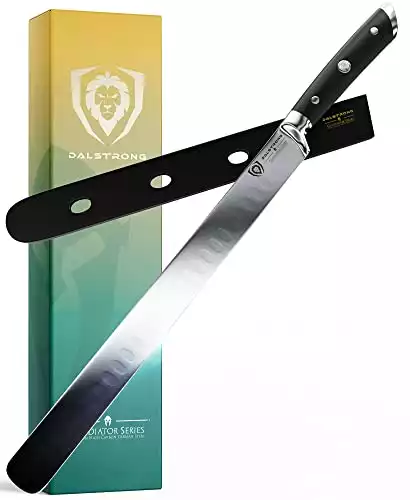 Dalstrong Carving Knife | Amazon
Outstanding craftsmanship, cutting-edge technology, stunning design elements, and premium materials. Peak performance has never looked so good at this price.
Buy at Amazon.com
We earn a commission if you make a purchase, at no additional cost to you.
12/03/2023 05:31 am GMT
Smoked Chuck Roast vs. Brisket – Alternatives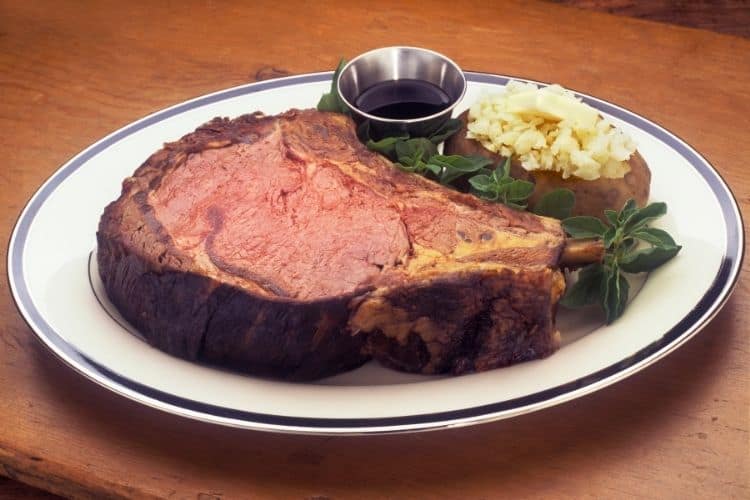 These two cuts certainly aren't for everyone. Here are some worthy contenders that you can try out.
Prime Rib
If you want something big but don't have the time to smoke it, the prime rib could be your answer. And it packs more flavor than a ribeye too!
Also Worth Reading: Prime Rib vs Beef Tenderloin.
New York Strip
is a meaty classic that isn't quite at the echelons of the sirloin but is making waves and has an immense flavor.
Also Worth Reading: New York Strip vs Kansas City Strip.
Tri-tip
A worthy alternative to the brisket in size and flavor – plus much quicker to cook too!
Also Worth Reading: Tri Tip vs Picanha Steak Cuts.
Smoked Chuck Roast vs Brisket – Frequently Asked Questions
Let's look at some of the more commonly asked questions surrounding Smoked Chuck Roast Vs. Brisket.
Question: Can I cook them on the grill?
Answer: Of course, you can try, but we recommend a slow cook or smoker for both these cuts of meat. Finding the best meat for grilling can be a headache, but it's worth studying upon.
Question: Do they have to be cooked for so long?
Answer: To make the most of these quite tough cuts of meat, it's worth waiting the extra time for them to be slowly cooked through. Trust us; it's worth the extra effort!
Question: I've never used a smoker before – how will I know what to do?
Answer: Your smoker will come with some convenient instructions on using it, so follow those to the letter. It could also be worth familiarising yourself with some of the critical grilling principles, as they'll come in handy.
Smoked Chuck Roast vs. Brisket – Final Thoughts
So there you have it – two succulent, smokey slabs of sizzling steak, alike in both dignity, flavor, and value.
The choice is yours at the end of the day – but I'd personally recommend starting with a brisket if you're going to take the plunge and build up to the smoked chuck roast.
Ready to buy some brisket? Check out our online brisket buyers guide.
Which one is your favorite? Leave us a comment below and let us know!
Also Read: Best Wood for Smoking Brisket.