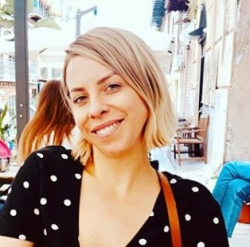 Latest posts by Jodie Chiffey
(see all)
Who doesn't love a good steak? Well, other than vegetarians and vegans, that is! Most of us meat-eaters can't think of anything better than tucking into a juicy, tender slice of succulent steak fresh from the grill. Of course, that's if you've studied up on your principles of grilling beforehand.
We all know of the sirloin, the ribeye, and the rump – but what about the other cuts? We're going to put two lesser-known steaks into the arena and have a showdown of picanha vs. tri-tip. While they're pretty similar in some respects, you'll soon find out that they have some rather distinct characteristics. Read on to find out which steak is best!
First, let's have a look at the main differences between these two cuts.
Main Differences between Picanha vs Tri-Tip
The Main Differences Between Picanha and Tri-Tip are:
Picanha comes from the rump area of the cow, whereas the tri-tip comes from the bottom sirloin.
The tri-tip has better fat marbling, whereas the picanha has a good rim of fat, with less interior marbling.
The picanha is often cut slightly thicker than the tri-tip, whereas the tri-tip is a bit slimmer.
Tri-tip steak is quite hard to get to and requires some butcher skill, whereas picanha is easier for butchers to access.
Picanha originates from Brazil, whereas the tri-tip was popularized in California.
Tri-tip steaks are frequently cooked in the smoker, whereas picanha steak can be cooked more traditionally.
Picanha – What You Need to Know
The picanha steak is a relative newcomer to the steak world and is a direct import from Brazil, a steak scene that indeed rivals the US. You can find picanha steak in many Brazilian restaurants, and it may well have been in one of those that you first tried and thought to yourself, 'how can I make this at home?'. And rightly so! The picanha is an absolute beauty and worth trying to find – though it may be tricky.
The direct translation for 'picanha' is top rump cap, which is the actual name for where this glorious cut comes from. It comes from the top layer of muscle, which doesn't get a lot of use during the cow's life, so it's wonderfully tender. There's also a glorious layer of fat that some butchers end up slicing off – if you can get yours with the fat intact!
What on earth does a Picanha look like?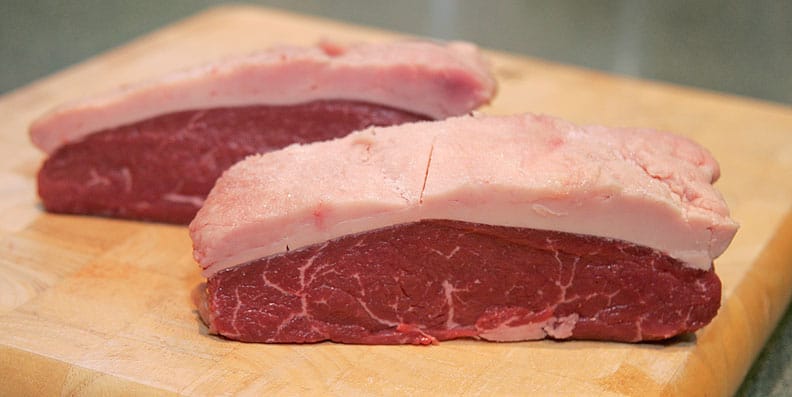 You'd be forgiven if you couldn't recognize a picanha steak! You don't come across them every day – a crying shame, we think, but maybe that will change soon.
A picanha has a very distinctive look to it. It's got a good, solid, relatively thick layer of fat on top of the steak, and not a lot of marbling or intramuscular fat on the meat itself. This makes the picanha a tender, but intensely flavorful cut of steak.
So how does it taste then?
Many people think that all steak tastes the same – but they couldn't be more wrong, as we're sure that many of you will agree! And when it comes to taste, the picanha really does stand out, even giving the ribeye a run for its money.
It's a gorgeously tender and melt-in-the-mouth cut, which is beautifully flavored by that beautiful layer of fat that you get along the rim. The fat layer also keeps it moist and juicy throughout the cooking process, too, no matter how you cook it. With a great beefy flavor and wonderfully tender, too, there are not many steaks we can think of that can better the picanha.
How much does a Picanha cost?
Understandably, you might want to head straight over to Vincent's Meat Market or Holy Grail Steak to see if you can buy yourself a picanha steak or two, but before you do, it's worth having a look at the average price for a picanha, so that you don't pay over the odds.
Beef prices can fluctuate massively, and prices can hike when buying organic beef, grass-fed beef, or dry-aged beef. At the time of writing, picanha costs around $12 per lb. If you're looking to push the boat out even further for the ultimate steak experience, you can go for a wagyu picanha – but this will cost around $50 per lb!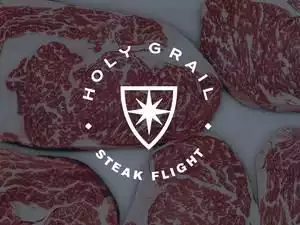 Buy Japanese & American Wagyu Beef Online | Holy Grail Steaks
Holy Grail partners are focused on the Holy Trinity of breeding, feeding and husbandry. They expertly-curated portfolio represents the spectrum of steak, from tender grass-fed Angus to an unparalleled array of A5 Japanese Wagyu beef.
Check Prices
We earn a commission if you make a purchase, at no additional cost to you.
How do you cook a Picanha steak?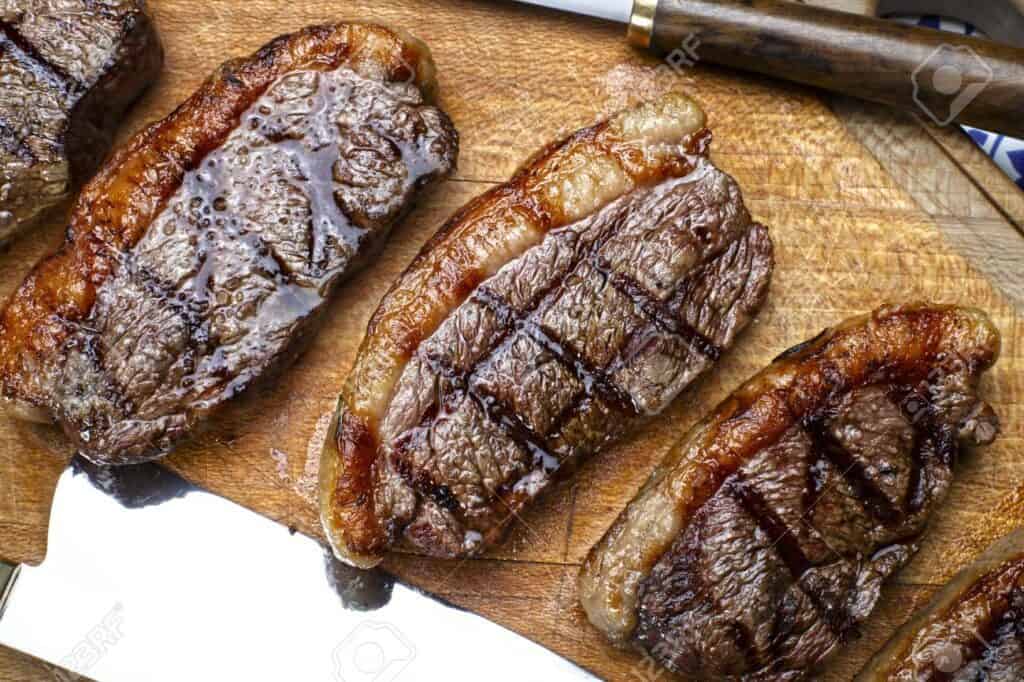 One of the best things about a picanha steak is that it is probably the most versatile steak you can buy. From searing in a grill, broiling, sous vide, or grilling, you're guaranteed a succulent meaty marvel no matter how you cook it.
Of course, a craftsman is nothing without his tools – and this steak deserves some proper equipment. We highly recommend these Oxo stainless-steel tongs for all your grilling needs, and no discerning grill king could have a claim to the crown without his BFOUR meat thermometer!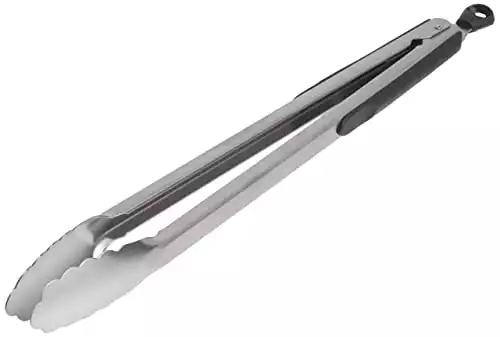 OXO Good Grips 16-Inch Locking Tongs | Amazon
These tongs are constructed of brushed stainless steel for easy cleaning and durability. Sometimes overlooked as a valuable kitchen tool, tongs serve a variety of kitchen duties: tossing salads, flipping cutlets in a frying pan, snagging stubborn pickles from a jar, and more.
Buy at Amazon.com
We earn a commission if you make a purchase, at no additional cost to you.
12/05/2022 12:54 pm GMT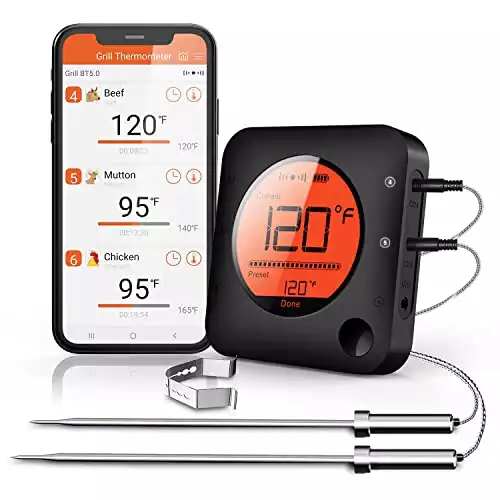 BFOUR Meat Thermometer Wireless | Amazon
The wireless meat thermometer adopts the most advanced Bluetooth 5.0 that provides the strongest, reliable connection, allowing you to monitor meat up to 200ft away.
Buy at Amazon.com
We earn a commission if you make a purchase, at no additional cost to you.
12/05/2022 04:05 pm GMT
One of the best and most iconic ways of cooking picanha is how they do it in Brazil – using skewers (get your hands on these Kabob skewers). This is not only how the rancheros serve up their picanha, but it can also make a fantastic sight for your guests. Follow the steps below to find out what to do:
You'll need 2 or 3 picanha steaks. Ensure they're at room temperature by leaving them out of the fridge for at least an hour.
Fold your steaks into a 'C' shape, with fat on the outer edge. Push your skewer through the steaks – you should be able to fit three on each skewer.
Season your picanha skewers with plenty of salt and pepper, a little bit of olive oil, and, if you want to go for that classic Brazilian style, a good splash of lime juice.
Ensure your grill or pan is as hot as possible, and carefully place the picanha skewer over the hottest area.
Grill on each side for 2 minutes, then take off the heat and immediately carve off thin slices to be served up to your ravenous guests.
Reseason the areas you've trimmed off, and repeat the grilling process until you're left with just the skewer and a delighted group of guests! For the whole Brazilian experience, serve it with some Chimichurri. Bon appetit!
Tri-tip – What You Need to Know
Another cut of steak you may well never have come across before, the tri-tip was only properly eaten as a steak in the 1950s. Before that, butchers would use the cow's area that the tri-tip comes from (the bottom sirloin) for hamburger meat.
It wasn't until someone realized that it made a fantastic steak and didn't cost the earth that it was sold as an actual steak. And things have never been the same since – other than the fact that the price has gone up a bit!
It's wonderfully lean, gloriously meaty with a very gentle marbling of intramuscular fat, and is a great starting point for those junior grill kings out there. Full of flavor, you can't go too wrong with excellent old tri-tip.
What does a Tri-tip steak look like?
Another one that you'd be forgiven for not recognizing because you don't come across it as often as you might, the mainstays of ribeye, New York strip, or sirloin. However, it's a steak that you won't forget in a hurry! Due to its size, you may not see it on many menus, but if you fancy giving it a go, head down to your butchers and see what they can do for you.
Tri-tip is a fairly hefty chunk of meat that also comes in a triangle shape like the picanha. With a good bit of marbling on the interior, it's gloriously lean and has a beautiful beefy, meaty flavor to it.
How does it taste, though?
While it may lack that wonderful, flavorful slice of fat you can find on the picanha, the tri-tip makes up for that with a glorious bit of intramuscular fat marbling. This means that when you cook it, the steak will become wonderfully tender and will be imbued with an exquisite, buttery flavor that is simply irresistible.
If you're a fan of big, bold, beefy steaks like the prime rib, then the tri-tip will tick all the boxes.
Thanks so much for the TIP! But before I fire up the grill – How much will it set me back?
Well, here's the bad news, folks. The tri-tip is no longer being sold for the prices it was going for in Santa Maria back in the 1950s! However, rest assured that the prices still haven't hit the astronomical costs of filet mignon.
On average, you'd be looking at spending around $10 per lb for tri-tip. It's an ideal one to entertain with, so rather than get a wedge cut off of tri-tip, you might want to get your hands on a whole one. These can go for around $30 and should feed 4-5 people – depending on how hungry everyone is!
How do I cook Tri-tip to perfection?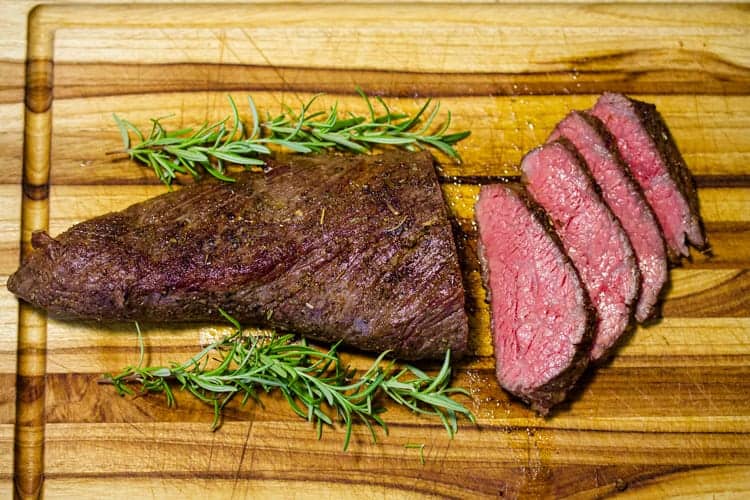 As with many steaks, there are lots of different ways of cooking tri-tip. Grilling, searing, broiling, and sous vide are all worthy contenders for cooking this succulent wonder. Our favorite way of cooking tri-tip is using a smoker followed by a reverse sear.
Our go-to smoker is the Char-Broil Offset Smoker – basically, it has all the bells and whistles that any self-respecting grill king could ever want.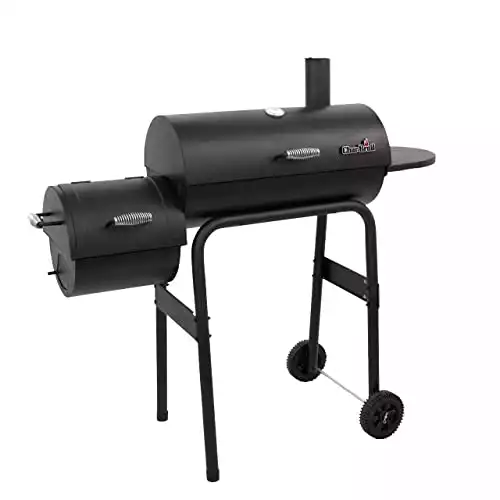 So let's get smoking! Here's how it's done:
Let your tri-tip come to room temperature. This should take around 2 hours. In the meantime, fire up the smoker. You'll want it to be around 250oF before you start cooking.
Season the tri-tip with plenty of salt and pepper. If you want an extra flavor hit, add some granulated garlic to the mix too.
Place the tri-tip in the smoker. It should take about 30 minutes to cook 1lb of meat as a rule of thumb, so if you have a 3lb tri-tip, leave it in for 90 minutes.
Once the time is up, take the temperature with your meat thermometer. You'll want to make sure your meat is over 135oF.
Transfer the tri-tip to a high heat grill and quickly sear it on all sides.
I don't think either of these steaks is for me. Are there any alternatives?
You may not want to take the plunge into these unknown or lesser-known worlds of steak, and that's fine – there'll be a steak out there for you! Here are a few worthy alternatives to the picanha vs. tri-tip.
Sirloin
An absolute classic of a steak, a mainstay of any steakhouse, and a suitable alternative to the picanha, you can't go wrong with a sirloin (Have a read of our Sirloin vs. Ribeye article to find out more about this god among steaks).
T-Bone
Just take a look at our guide to T-bone steak and tell us that you're not already hungry.
Brisket
Nothing beats a good brisket – take a look at our Tri-Tip vs. Brisket comparison article for more information.
Frequently Asked Questions
Let's take a look at some of the frequently-asked questions surrounding Picanha vs. Tri-Tip.
Question: Can I cook Picanha or Tri-Tip on the grill?
Answer: Absolutely, and we heartily encourage you to do so! Steak from the grill can't be bested, in our opinion. However, take care if you're cooking large tri-tip, as it might be trickier to cook the middle.
Question: Do I have to use seasoning?
Answer: Seasoning isn't essential at all, but a sprinkle of salt and pepper can be a gamechanger. Some people like to add all sorts of herbs, though, but often these aren't necessary.
Question: I'm worried about food poisoning. How do I know that my steak is cooked?
Answer: Having a meat thermometer is essential if you're planning on grilling some steaks this summer – you'll be able to cook your meat to perfection every time with one by your side! Check out BFOUR's meat thermometer – our personal favorite.
Picanha vs. Tri-Tip – Which one is best?
At the end of the day, it's up to you as the steak consumer to decide which steak ticks the most boxes. Both picanha and tri-tip have their good points and bad points, and you could find that one or the other is more suited to your situation – be it a dinner party or a bbq.
In our opinion, the picanha is the winner here. It's such a versatile and interesting cut of meat that can do so much – and believe us when we say that the Brazilian skewer method of serving picanha is not to be missed!
Which one is your favorite? Let us know which steak you think is best in the comments!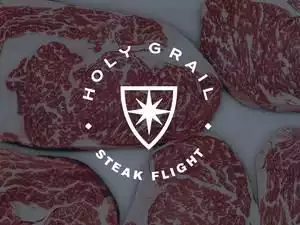 Buy Japanese & American Wagyu Beef Online | Holy Grail Steaks
Holy Grail partners are focused on the Holy Trinity of breeding, feeding and husbandry. They expertly-curated portfolio represents the spectrum of steak, from tender grass-fed Angus to an unparalleled array of A5 Japanese Wagyu beef.
Check Prices
We earn a commission if you make a purchase, at no additional cost to you.