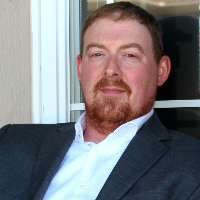 Latest posts by Justin Caldwell
(see all)
Delivery services have grown in popularity as people continue to look for ways to save time. One area that has experienced significant growth is the meat delivery service industry. With these services, you can have your favorite cuts of beef, pork, chicken, and seafood delivered right to your doorstep.
You've probably heard of Butcher Box and Carnivore Club, but one meat delivery service you may not know yet is Moink Box. A mixture of the words moo and oink, Moink is a reliable option in the market if you're looking for high-quality, ethically raised meat.
Is Moink Box the right meat delivery service company for you? Read my Moink box review below as I dig a little deeper into this lesser-known company.
Who Is Moink?
Headquartered in La Belle, Missouri, Moink is a meat delivery service owned by an 8th-generation rancher.
This well-loved company launched in 2017 and has received nothing but high praise since it started.
Known for its wild-caught seafood products and ethically sourced meat, Moink sets the bar high for other meat delivery services.
How Does Moink Work?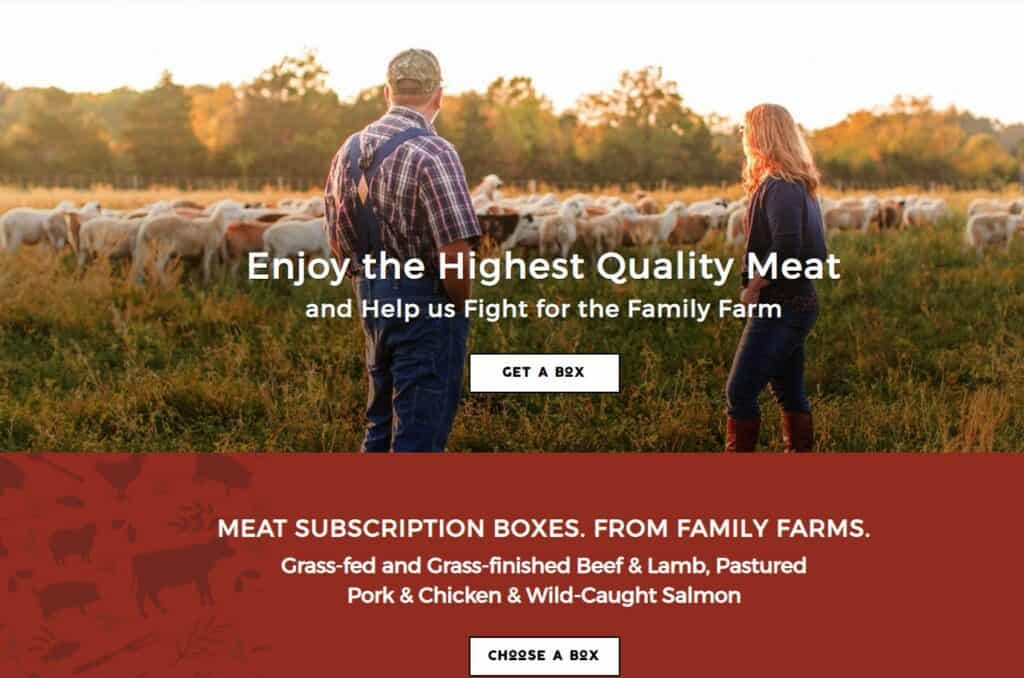 Moink offers a subscription-based plan that keeps cost and affordability in mind. There are four subscription options, all varying in the types of meat and seafood included. You get to select the contents of your package, along with how often your box arrives.
The choices of seafood and meat products available on the site rotate regularly, so you'll always have new and exciting options. However, the items available are usually grass fed beef and grass finished beef. You can also choose pasture-raised chicken and pork or wild-caught salmon.
For instance, you can select only beef, a combination of beef and chicken, or mix and match chicken, beef, pork, and salmon. Essentially you are limited only by your imagination. Additionally, if Moink has lamb available, you can throw it into your box as well.
Moink's employees curate each box you see on the website, but you can substitute whatever you want and replace it with something else from any one of the selections available. You are not limited to the number of substitutions you make for each box.
Users can choose to have their delivery boxes arrive at three, four, or six-week intervals. Plus, since Moink is a flexible service, if you need to reschedule or skip a delivery, you can do so. You can also add additional items to your order or cancel any time you want.
How Is Moink Different Than Other Delivery Services?
I already touched on one of the ways Moink Box sets itself apart from other meal delivery services – by only offering ethically sourced products. The company only supports local, family-run ranches and farms, and all are vetted to ensure they treat their animals in a humane manner.
All meat available through Moink is free of growth hormones and antibiotics. Cattle are 100% grass-fed and are never given any GMO grains to artificially encourage growth. These animals have the freedom to roam about their pastures and enjoy shelter when needed. Along those, some lines, all fish that wind up in your Moink box spend life in the ocean until they're caught.
Additionally, no artificial colors or products are used to make the meats look more appealing. Moink items have no nitrates and all the sausage and bacon you get is completely sugar-free. What does all this mean? It means the meat you get is raised naturally by small ranchers who treat their animals right.
Selection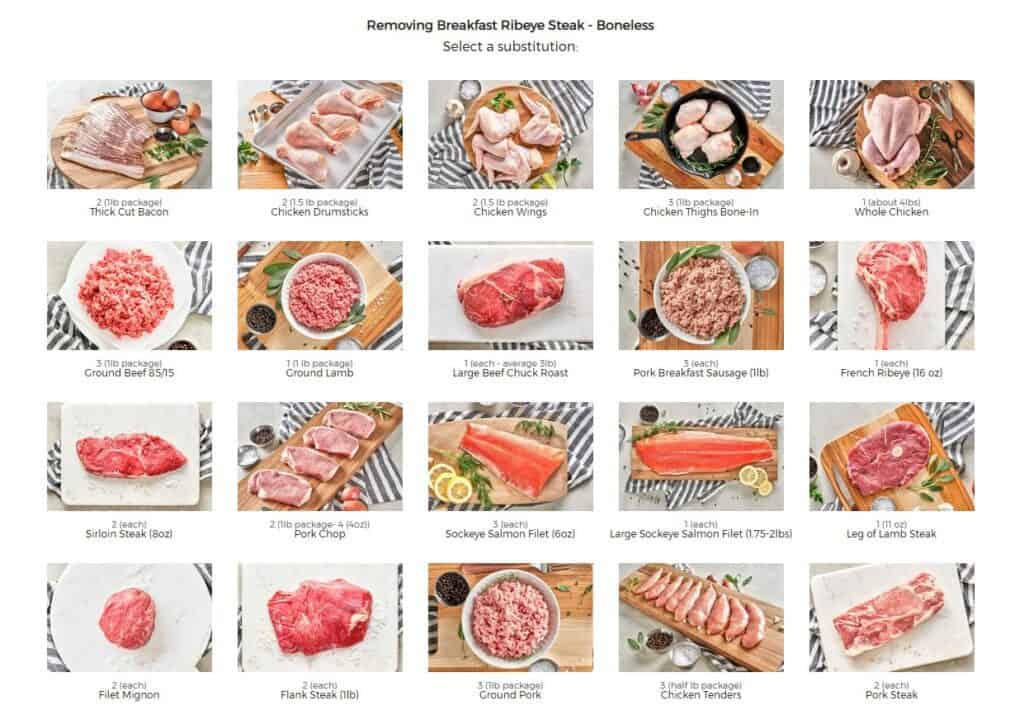 You won't find mass-produced meat on the Moink meat site. The selection is limited by what products are available, which is determined based on what the local farm has to sell. As a result, you'll usually have roughly 30 seafood and meat items to choose from. Most boxes include 8 to 10 items and weigh between 13 and 16 pounds.
I briefly touched on the available meat subscription box options earlier, so let's dig a little more into what each one contains.
Beef Box – This box includes flank steak, ribeyes, ground beef, sirloins, chuck roast, beef kabobs, and short ribs.
Beef, Chicken, and Pork Box – All your favorite steaks are included in this box, as well as beef kabobs, ground beef, drumsticks, chicken breasts (organic chicken), thick-cut bacon, and breakfast sausage.
Beef, Pork, and Salmon Box – With this box, you'll receive flank steak, ribeye, thick-cut bacon, beef kabobs, pork chops, breakfast sausage, and salmon filets.
Beef, Chicken, and Salmon Box – Included with this box are steaks, chuck roast, beef kabobs, ground beef, chicken drumsticks, chicken breasts, and delicious salmon filets.
If the variation is what you're looking for, you're probably not going to get it with Moink, but you can mix and match and customize your order to fit exactly what you want. Add more of your favorite meat or pork cuts, or add in other items like liver, chicken wings, lamb, and others.
The items you choose come in various sizes, which range from six ounces to three pounds. Moink uses excellent packaging, so everything will come just the way you ordered it, with no broken seals or bloodstains.
Shipping and Delivery
If you live within the continental United States, you can have a Moink Box shipped right to your door. Orders come via FedEx and usually arrive on Wednesday or Thursday. When your order ships, the site will email you a tracking number so you can keep an eye on your box until it's delivered.
Moink has an excellent support team, so if something is wrong with your box, don't hesitate to reach out. The company stands behind its 100% satisfaction guarantee, so you can get a refund for the missing items or have them added to your next box.
Moink Box Competitors: Alternatives to Moink Box
If high-quality, grass-fed, pasture-raised beef isn't your thing, there are plenty of other options on the market. Here are some alternatives to Moink Box.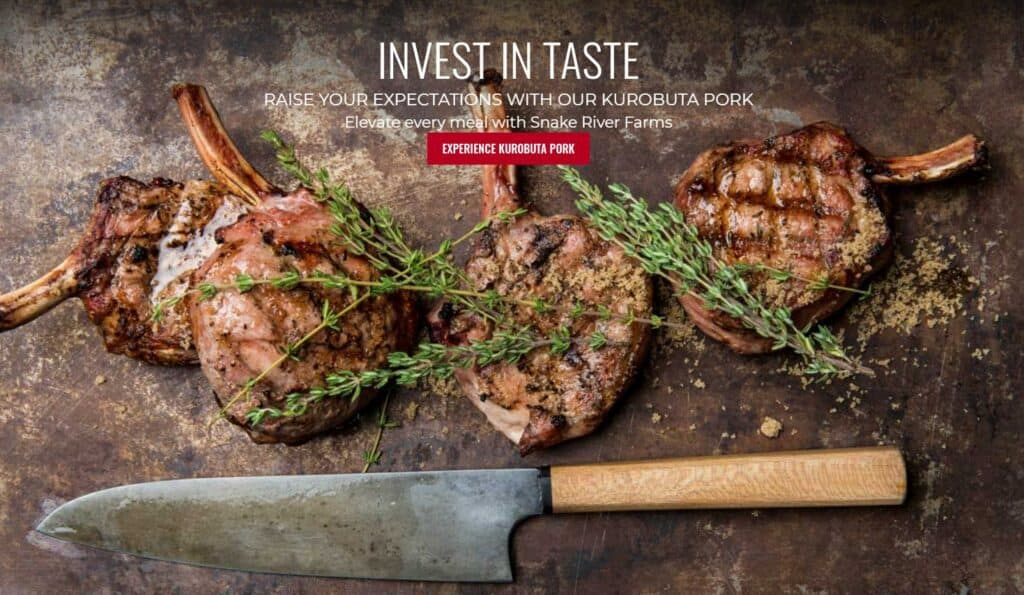 With more than 50 years in the beef industry, Snake River Farms is one of the best meat delivery services out there. Dedicated to providing humanely-raised, high-quality cuts of meat, Snake River Farms offers the ability to purchase products in bulk. You can now order large quantities of some of the company's best meat cuts, which includes the Wagyu beef Snake River Farms is known for.
You can order a selection of cuts of both pork and beef in packages of 12, which comes with a special bundled discount. If you have a large family or are looking to stock up your freezer, Snake River Farms is a great option for both quantity and quality.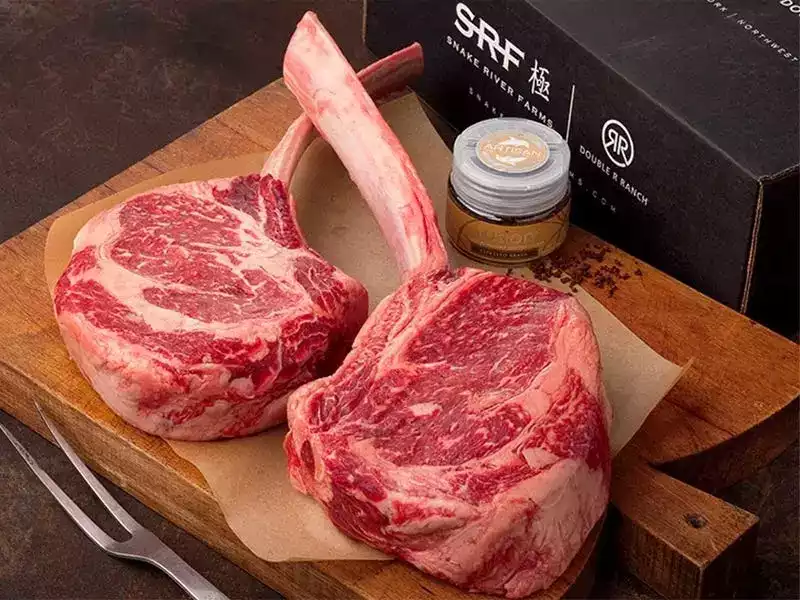 The Pioneers of American Wagyu Beef | Snake River Farms
Snake River Farms is an American pioneer of Wagyu, a style of meat that first came from Japan. It is celebrated by chefs and beef connoisseurs throughout the world and is featured in a number of Michelin-starred restaurants.
Check Prices
We earn a commission if you make a purchase, at no additional cost to you.
Further Read: Full Snake River Farms review.
Goldbelly – Best for Adding Bacon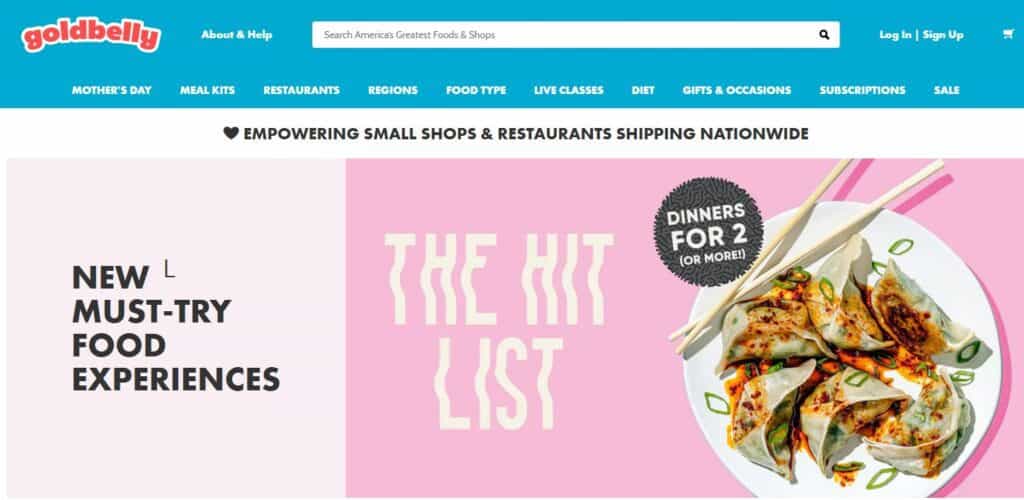 If you have a monthly meat delivery and it doesn't have bacon, what's the point? With Goldbelly, you can get all the meat and bacon you want, along with pies, cakes, and pizzas. Really though, I just want the bacon. Each month, you get up to five pounds of delicious, sizzling tastiness, curated from various providers from across the US.
Choose from options like award-winning Smoking Goose Meatery, Peter Luger, and James Beard to round out your box. The only problem you're going to have is deciding which foods you want to add bacon to because it's no secret that bacon makes everything better.
Rastelli's – Best Sampler Boxes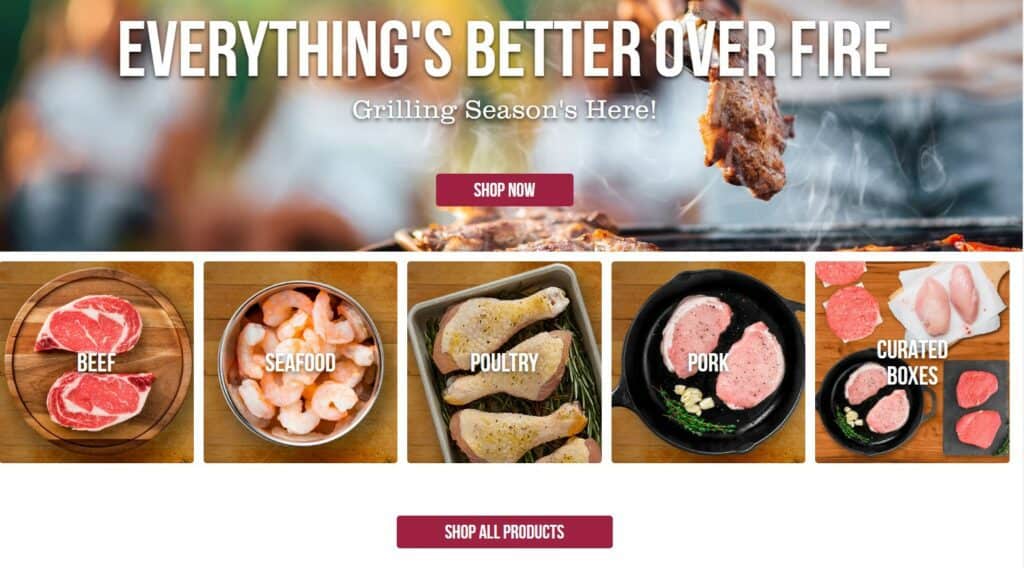 This family-owned business has been a part of the meat industry for over four decades. Rastelli's started out as a small butcher shop that has grown over time into a meat delivery service, sending its high-quality meat all around the United States. Customers can choose from a selection that offers beef, chicken, pork, and seafood.
All the meat Rastelli offers are free from hormones, steroids, and antibiotics. You can select from a variety of sampler boxes, which include a surf and turf sampler, seafood sampler, mixed grilling sampler, and teriyaki sirloin sampler. Pick your favorite box and before you know it you'll be enjoying fresh, tender, and delicious meat.
Carnivore Club – Best for Artisanal Selections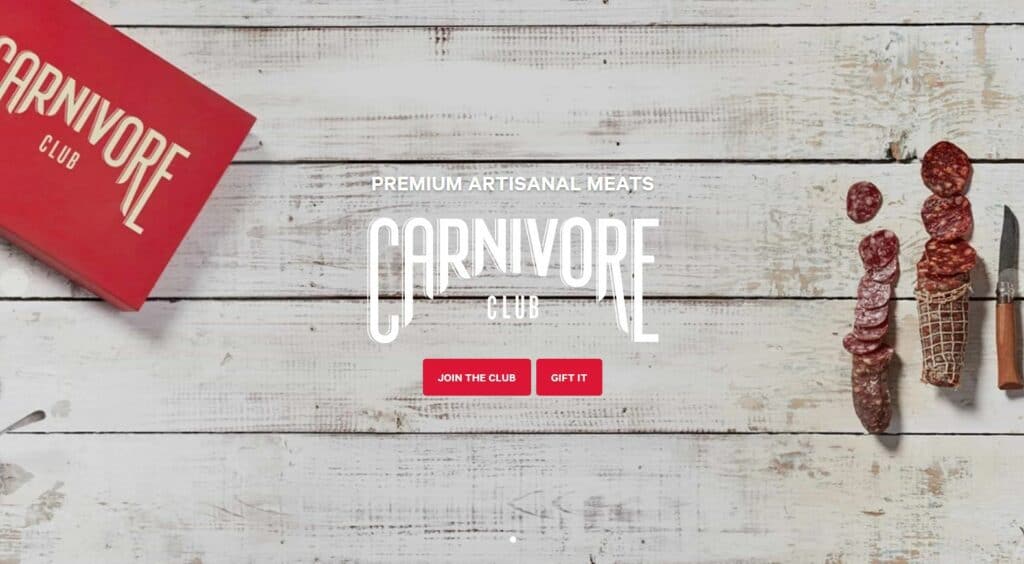 Carnivore Club is a meat delivery subscription service that offers a variety of selections from artisans around the US. You can have them delivered to your home each month or you can purchase them individually from the company's website. Options include various meats, snack foods, jerky, sausages, salami, prosciutto, and much more.
The Classic Box comes with six cured types of meat that you're not likely to find at your local grocer. These meats chance on a monthly basis, with a new vendor, features every month. Carnivore Club is a great gift for that someone you know who will enjoy delicious appetizers and curated meats from around the country.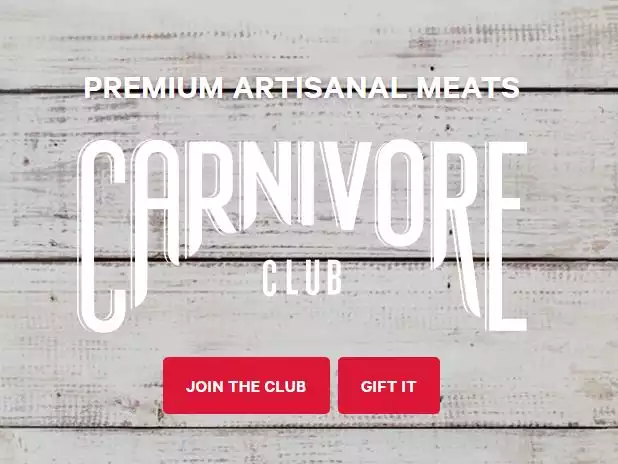 Honorable Mentions
These are some other options for high quality meat (our team has tested):
FAQs
Here are a few of the more commonly asked questions about Moink Meat Delivery Box and its meat delivery services.
Question: Is Moink Box completely organic?
Answer: With Moink Box, you'll get boxes of ethically sourced, humanely-raised, pork, beef, and chicken, along with wild-caught salmon. These boxes come straight to your doorstep, providing delicious, high-quality cuts of meat anytime you want them.
Question: Can I select my delivery day?
Answer: You can choose which week your delivery arrives, but you can't select a specific day. Moink Box ships on Tuesdays and Wednesdays, although there are some exceptions. Typically, your delivery will arrive on Wednesday or Thursday. Moink will send you a tracking number, so you know exactly when your meat is going to arrive.
Question: How can I safely defrost my meat?
Answer: There are plenty of safe ways to thaw your meat once it arrives. You can put it in cold water to defrost, keep it in your fridge, and even use your microwave. Never thaw out your meat using hot water and if you put it on the counter, be sure it doesn't stay at room temperature for longer than two hours.
Question: Is Moink Box meat humane?
Answer: All meat you get from Moink comes from farmers and ranchers that are certified humane. These local farmers and ranchers are committed to using only sustainable and ethical practices so you're getting meat that goes through a humane process from start to finish.
Moink Review: Final Thoughts
There are a lot of things to like about the Moink Box meat delivery service. You'll get plenty of humanely grown meat that is pasture-raised and grass-fed. Its wild-caught seafood is delicious and contains no additional additives. While you won't have the selection you might get from other meat delivery services, you'll still find plenty of cuts of meat you're sure to love.
There are four boxes to choose from, and they're all easily customizable. That means you have complete control over what arrives at your doorstep. Plus, you can adjust your subscription anytime you want. Every delivery includes free shipping and comes with Moink's 100% satisfaction guarantee.
Overall, I would say that even though Moink Box isn't the perfect meat delivery service, it's definitely a solid option. You can trust that you're getting humanely raised meats from locally sourced farmers and ranchers.
The items you get exceed expectations, which means those involved in the entire process take their jobs seriously. At the end of the day, Moink Box is a service you'll be glad you spent your money on.