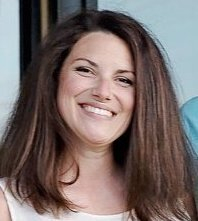 Latest posts by Sarah Caldwell
(see all)
If you're in the mood for some fancy meat, it's tough to beat a good piece of Wagyu steak. But you're not going to find a piece just hanging out in your local butcher shop or grocery store. Chances are you're either going to have to find a steak restaurant that has it on the menu or order it online.
Fortunately, there are plenty of places you can find it if you decide to buy Wagyu steak off the internet. Many meat delivery services offer Wagyu steak, but there's one that really makes a name for itself in this market. Snake River Farms may not sound appealing, but it offers some of the best beef and pork on the market.
Snake River Farms is one of the most reputable meat delivery services in the online marketplace. They're well-known for their selection of American Wagyu and Kurobuta pork. In fact, they don't have much else, but that doesn't stop plenty of people from ordering from them.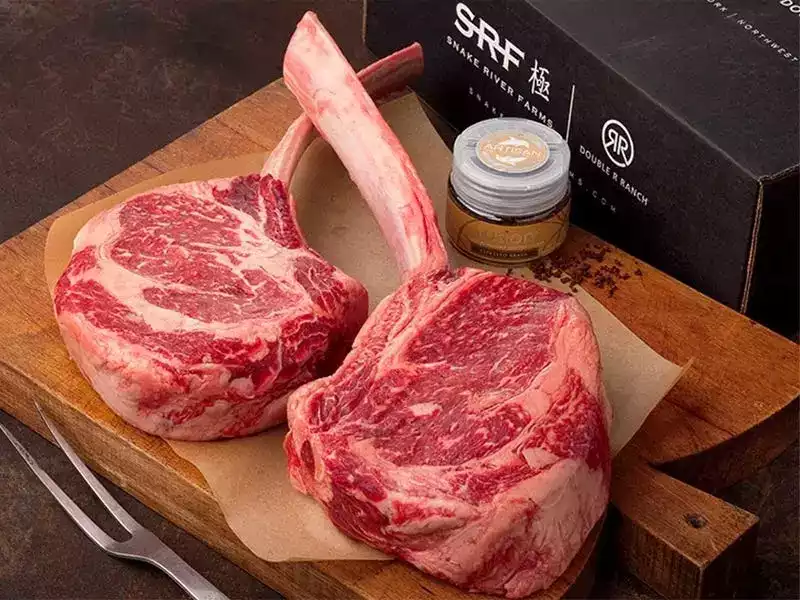 In fact, if you're looking for these premium types of meat, this is perhaps one of the best places to get it. This review will give you a better idea of who Snake River Farms is and why you should try their meat.
But where does it stack up in comparison to other meat delivery sites? Let's take a closer look at what Snake River Farms have to offer.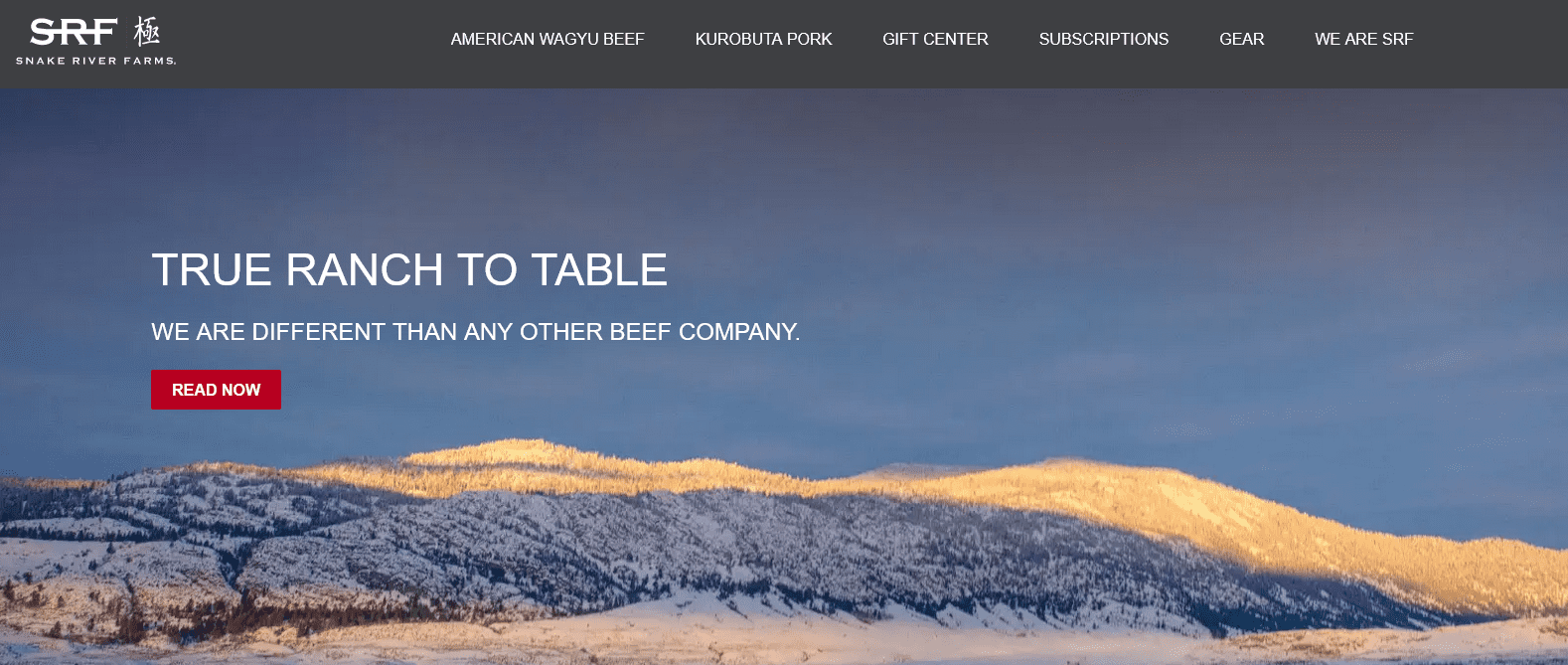 Snake River Farms was started by a rancher back in the 1980s, who set out to develop the best beef he could. He didn't want to be just another rancher selling mediocre marbling and flavor to the grocery store. So he developed a system for breeding superior cattle, starting with a single bull sire.
Over the course of the next 25 years, Snake River Farms has recorded huge amounts of data on how to select the best breeding sires and pair them with just the right cow. This operation is about precise genetics and takes painstaking care.
Now, it's a family-owned ranch that prides itself on providing some of the best quality beef and pork you'll find in the United States. Founded in 1968, Snake River Farms sets itself apart from other operations by its unique and distinct focus on each step throughout its animals' lifecycle.
It's this intense focus and attention to detail, along with providing only the best nutrition for its animals, that allows Snake River Farms to provide only the best possible products and send them right to your home
What does Snake River Farms offer?
Steak River Farms is most well-known for its American Wagyu steak, but the site actually has many more options from which you can choose.
When it comes to beef, you can select Wagyu brisket, roasts, and steaks. There are also Wagyu short ribs, hot dogs, and hamburgers. Customers can also choose specialty cuts like Bavette, Tri-Tip, and Picanha as well.
You can also order pork from the site if you want something a little different for dinner. Snake River Farms has pork chops, Kurobuta pork ribs, pork roasts, and bacon. There is also a selection of prime-grade beef and steaks from the Northwest, as well as gift packs you can build to get a nice sample of meats the site has to offer.
Pros and Cons
Snake River Farms is an excellent meat delivery service, but that doesn't mean it's perfect. Here's a list of advantages and disadvantages of using Snake River Farms for your meat delivery needs.
Pros
Amazing, high-quality cuts and meat
Ranch has systems in place to ensure that animals are treated well
Makes use of sustainable practices
Site is clean and easy to use
Shopping is straightforward and simple
Process for shipping is efficient and streamlined
Excellent customer support
Very high-quality meat
Friendly customer service
A la carte ordering and subscription boxes
Cons
Not as many meat options as other services
Expensive subscription options
Only American Wagyu beef and Kurobuta pork available
Wagyu beef and Kurobuta pork are expensive cuts
Treatment and Sourcing of Animals
One of the things that many people love about Snake River Farms is its commitment to their animals' well-being and the sustainability of the ranch.Snake River Farms has three herds, totaling 1200 cows and spanning 80,000 acres in the Pacific Northwest. Every day, ranchers set out on horseback to check every single cow for signs of ill health.
They keep the entire herd free of the disease this way and ensure that every one of them has the potential to be the highest quality Wagyu beef.
Every spring, they drive the herds up into the hills to graze for the summer. In the fall, they drive them back, allowing both sides of the pasture to regenerate. Over time, Snake River Farms has acquired superior sires and developed a thorough process for breeding through innovative science and large investments of time.
The company has implemented many methods and procedures that help to ensure sustainability is maintained. For example, the vast majority of the cattle feed used is purchased from within a few hours of the ranch.
Additionally, Snake River Farms check the health of its cattle on a daily basis, using low-stress techniques when handling their cows. The ranch reduces water use on its projects by identifying reclamation methods that save usage by nearly 40%.
Snake River Farms also uses cattle waste in either compost or as fertilizer which it uses on its own ranch or sells to local farmers. Last, but not least, the ranch provides high-quality feed for its cattle, feeding the animals twice a day. The cows also have access to fresh water all day long, so they're never thirsty or dehydrated.
Since their meat is better than even the highest USDA rating, they also adopted a more accurate system for measuring quality, based on the Japanese grades Black and Gold. This is what has created the legacy they pride themselves on today. All beef is 100% pasture-raised and grass-fed.
Meat quality
To get an idea of what makes the meat that comes from Snake River Farms so good, you'll need to get a better understanding of the type of beef and pork it uses. Let's take a closer look.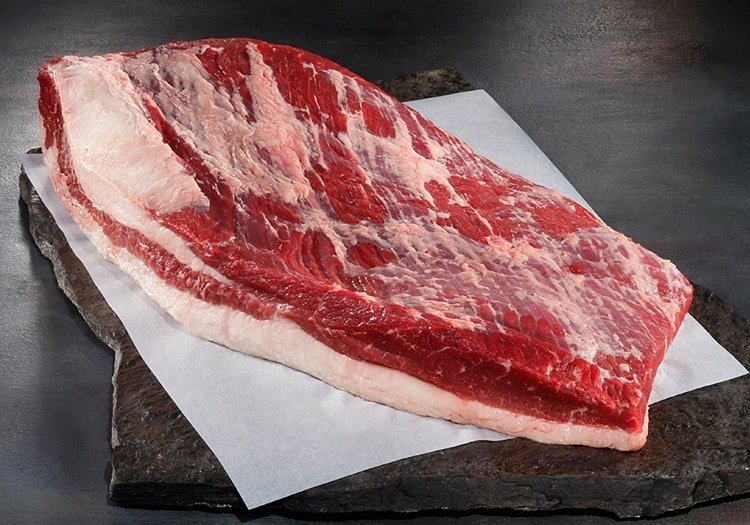 If you're not familiar with Wagyu beef, you're really missing out. This Japanese cattle breed is well-known for its amazing tenderness and delicious flavor. True Wagyu beef comes from Japan, but American Wagyu cattle are bred from a mixture of Japanese Wagyu cattle and other American breeds. A layer of intra-muscular fat cells gives these cows their unique taste. The fat melts during the cooking process, which keeps the beef tender and delicious.
This far layer is often called marbling, which is what Wagyu does best. When it comes to marbling, it's tough to find a better option. Wagyu cattle started to rise to prominence in the 70s when the beef started getting imported into the states. Soon, ranchers began to breed the beef, which set off a Wagyu boom in the country.
All of Snake River Farms cattle come from sires they acquired from Japan and are bred carefully to ensure the best results. While they can't claim 100% Japanese Wagyu beef, what they can say is that they have the best breeding program with the best genetics data of any other American Wagyu beef producer.
In fact, Wagyu is such a step above other beef options that it's on its own grading system, separate from everything else. To get an idea of what that means, beef in the US is graded on a scale. These include Choice, which is safe to eat but is only average quality, Select, which is good quality, and Prime, which is the best quality beef on the market.
However, wagyu from Snake River Farms and restaurants are graded well above even the best Prime meat you'll find in the US. As a result, the meat is graded using a very precise system employed by the Japanese. It uses scoring based on the beef's firmness, fat color, marbling, and texture.
Snake River Farms offers plenty of different cuts of American Wagyu, so you'll never have a shortage of options. In fact, they have a selection of American Wagyu alone that rivals other delivery services offering dozens of different types of meat.
You'll find Angus, Wagyu, and a crossbreed of Angus and Wagyu on the Snake River Farms ranch. All three types of cattle deliver amazing quality beef, which means if you order from this meat service delivery site, you'll get your own taste of Snake River Farms beef.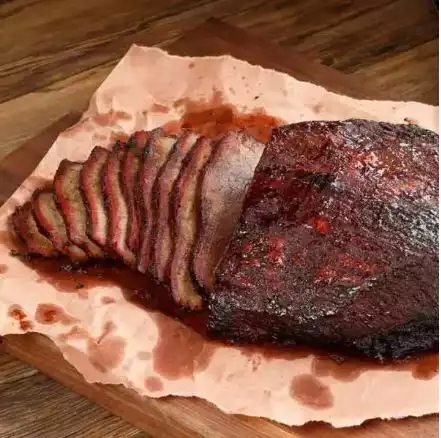 Plus, they offer Black and Gold cuts that are superior to the highest USDA Prime rating. Here are some examples of American Wagyu cuts you can get from Snake River Farms:
Steak
Roast
Brisket
Ribs
Burgers
Hot dogs
Under each of these main categories, you can choose from the following:
Filet mignon
Sirloin
Ribeye
New York strip
Skirt steak
Flank steak
Tenderloin
Prime rib
Tri-tip
Striploin
Corned beef
You can shop Gold grade only or dry-aged and fresh meat. They also offer specialty items, provision packs, and hand-curated bundles.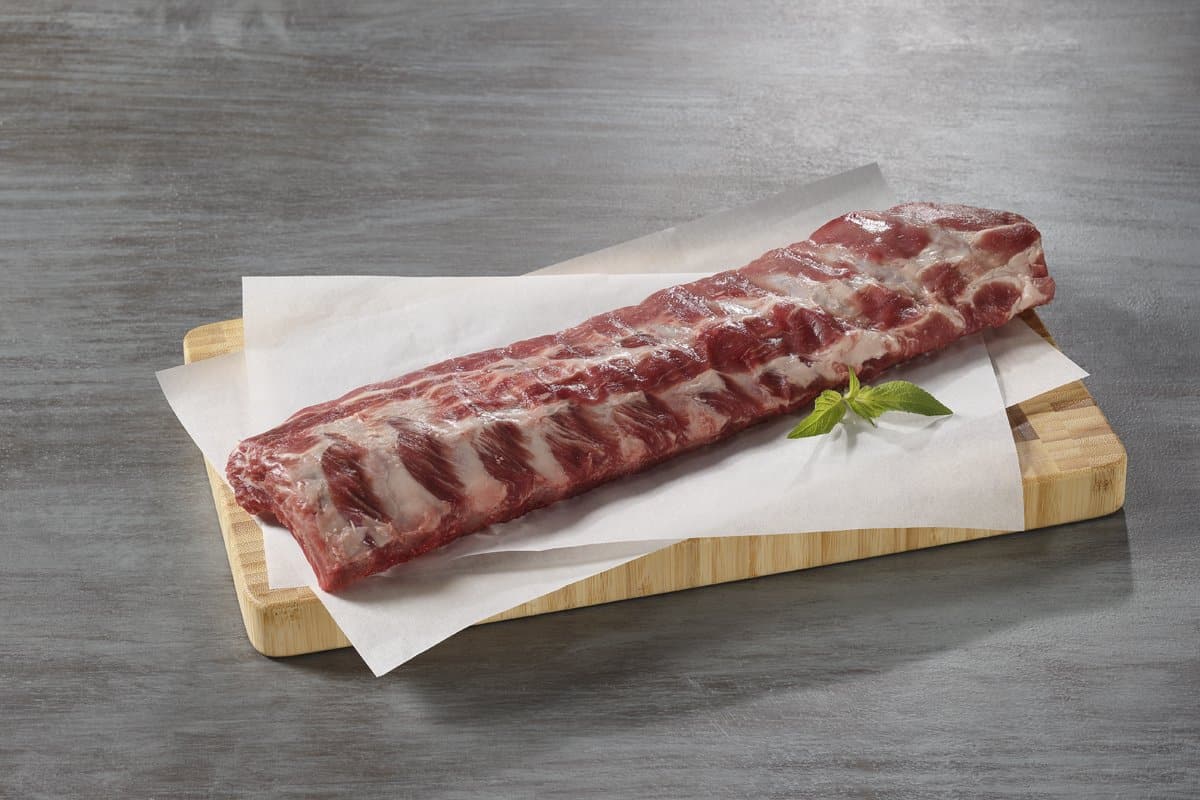 It stands to reason that Wagyu beef gets the most attention when it comes to what Snake River Farms offers, but its pork is no slouch.If you're looking for Kurobuta pork, Snake River Farms offers pork products that originate from a mixture of Japanese black pigs and Berkshire pigs from the United Kingdom. Snake River Farms follows the same careful breeding processes to ensure that their Kurobuta pork meets the highest standards for quality.
Snake River Farms offers Kurobuta pork, which is a product of Berkshire hogs.
Once again, if you're not aware of Kurobuta pork, you need to get out more. In a word, it's amazing. As a matter of fact, Snake River Farms is one of the few places in the US that offers pork cuts that are 100% pure-bred Berkshire pigs. The pork from these hogs is well-known as extra juicy and tender and usually has a hint of sweetness.
All of Snake River Farm's Kurobuta pork has excellent marbling, which makes it more tender and juicy than traditional pork products. It can withstand being cooked at higher temperatures for longer than other types of pork.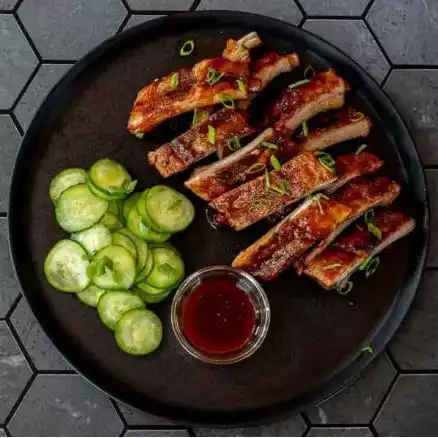 They offer the following cuts of Kurobuta pork in their online shop:
Pork chops
Ham
Ribs
Roasts
Bacon
Hand-curated bundles
Specialty items
Ordering Process: What Should You Expect?
If you've never ordered beef online before, you may not know what to expect. These are perishable goods you're ordering, so you want to make sure you're as prepared as possible, especially when you're not sure what's going on.
So how does Snake River Farms handle the order and delivery process? It's not as intimidating or complicated as you might think. Here's a quick rundown on how the whole process works.
Ordering
When you get to the Snake River Farm's website, you'll immediately notice how clean and well-designed it is. It's intuitive, easy to use, and navigating the site is a straightforward experience. Snake River Farms delivers exactly what you would expect to find when it comes to online shopping.
Once you select the pork or beef that you want, the site directs you to checkout. You'll find that this is a pretty standard process comparable to other online sites. Provide your address, billing information, then choose what date you want your shipment to arrive.
Since the items you're receiving are perishable, some planning is required to ensure that the shipment is made as efficiently as possible. Basically, Snake River Farms ships your items are frozen and in vacuum-sealed containers. The cooler your meat comes in contains dry ice, which makes sure your food stays cold throughout the shipping process.
All you have to do is select that day you want your items to arrive. However, be sure to pick a day that you or someone in your house will be available. Since the meat is perishable, you want to get the items in your fridge or freezer as quickly as possible once they arrive.
Shipment and unboxing
You already know that your items will come in vacuum-sealed containers and a box with dry ice. However, you should be careful when unpacking your box, as dry ice is cold enough to burn off your skin if you touch it. The dry ice keeps your food cold and frozen while it's on its way to you, but you won't need it once it arrives. Be sure to dispose of it properly.
Move your items into your fridge or stick them in the freezer when they arrive. If you decide to put a steak or two in the freezer, just remember that it will take about 24-hours for them to completely thaw. So, if you want to cook your steaks on Friday, remember to schedule your delivery for Thursday.
Quality and cut
You've probably realized now that Wagyu isn't cheap. For this type and cut of meat, you're paying good money, so it's not unreasonable to be impressed by both the quality and cut of your steak. Don't worry though, you will be.
For example, the ribeye is a beautiful and delicious cut of Wagyu. It comes with plenty of white fat, amazing marbling, and a bright red hue. It's firm, but not so much that it's tough and has excellent texture.
The average steaks weigh roughly 1.2 pounds (19 ounces) and are 1.5-inches thick. Don't be surprised if yours is a little lighter or a little heavier. Still, it's plenty thick enough you can cook your steak exactly how you want it and not lose any flavor.
Subscription Plans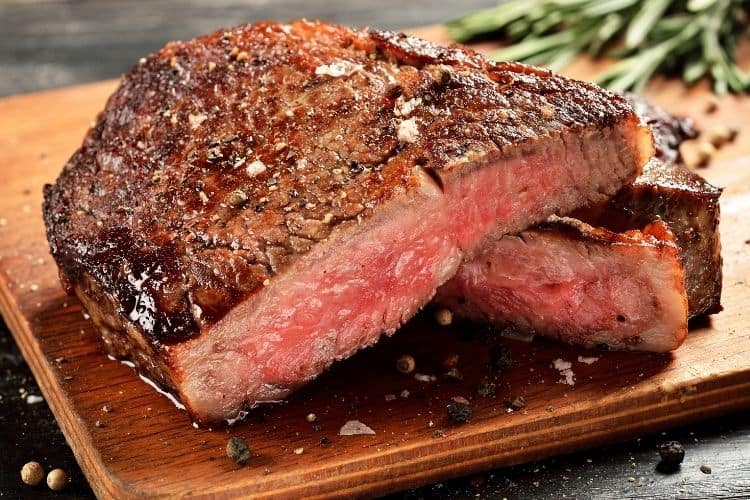 Snake River Farms offers three different subscription boxes from which you can choose. You can choose different sizes, delivery frequencies, and subscription durations with nearly all of them.
Beef
The beef subscription includes 100% American Wagyu cuts. Snake River Farms will curate every box with classic cuts and lesser-known options that allow you to include staples in your diet and try new things.
These monthly collections are packed with flavor and include free shipping. Your box with be delivered on the first Thursday of every month in which you choose to receive it.
With the beef subscription, you can choose a small or large box to be delivered every month or every quarter, and you can also choose whether you want it for 3 months, 6 months, or 12 months.
Beef & Pork
The beef and pork box gives you the best of both worlds, with American Wagyu beef and Kurobuta pork. It also ships free and will arrive on the first Thursday of every month. You can choose a large or small box with a delivery frequency of every month or every 3 months with a duration of 3, 6, or 12 months.
Dry-Aged
The dry-aged box includes cuts from the Snake River Farms dry-aged collection. You'll experience heightened tenderness and flavor that comes from carefully dry-aged beef. These cuts are full of rich flavor, which is why this box is the most expensive. Snake River Farms chooses only the best cuts and then spends the time to make them even better.
This box only comes in a large size, but you can still choose deliveries every month or every 3 months with durations of 3, 6, or 12 months.
Packaging and Delivery
Your Snake River Farms order is delivered in recyclable packaging with a thermal insulated bag. There is also an insulated foam liner and dry ice to ensure your items stay frozen until you unpackage them.
In fact, even if you're not home at the time of delivery or you happen to miss it completely, it will still be frozen up to 48 hours later.
Another unique thing about Snake River Farms is that they even deliver to Alaska and Hawaii. Most other meat delivery services won't do that. Because Snake River Farms uses FedEx, they can ship to these remote places because FedEx services these areas.
You may even want to opt for overnight delivery, but shipping on a la carte orders isn't free, no matter how much you order.
Customer Service
It's not surprising that Snake River Farms has excellent customer service, because they care so much about the quality of their meat and how it's received. Their representatives are knowledgeable about products, services, proper meat storage, and even preparation.
They have a comprehensive help center on their website so you can attempt to find your own answers, and the help button at the bottom of the screen curates help articles that might be relevant based on the page you're currently visiting.
You can also submit a request online or call them during business hours for additional help.
Alternatives
Admittedly, Snake River Farms is not the way to go if you're looking for an affordable meat delivery service. However, there are other options on the market. Here are a few alternatives if you decide that Snake River Farms isn't the right choice for you.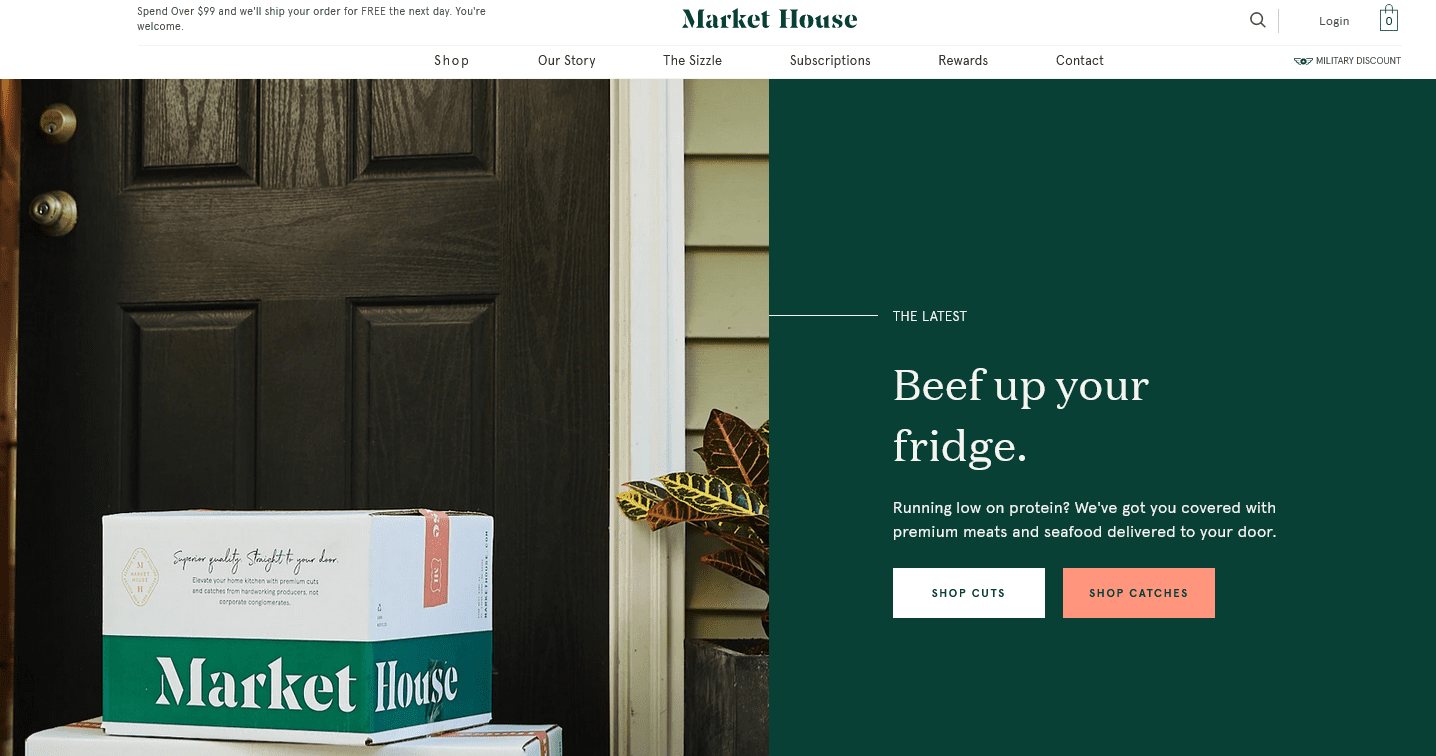 If you want a site that offers plenty of meat options, you might consider Market House. This delivery service puts a modern spin on the meat market by offering only meat that meets the highest standards. You can choose from a wide range of meats, fish, and seafood, including crab.
Market House doesn't offer any specialty cuts of meat, though, so if you need something more unique, you're better off looking somewhere else. But if you want delicious and tasty meat at a reasonable price, Market House is a solid option. From filet mignon to free-range chicken, you'll get plenty of meat no matter what you choose.
And for those that aren't sure what to choose, Market House also offers curated selections that offer a perfect balance of price and variety.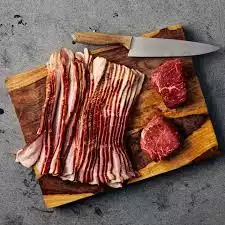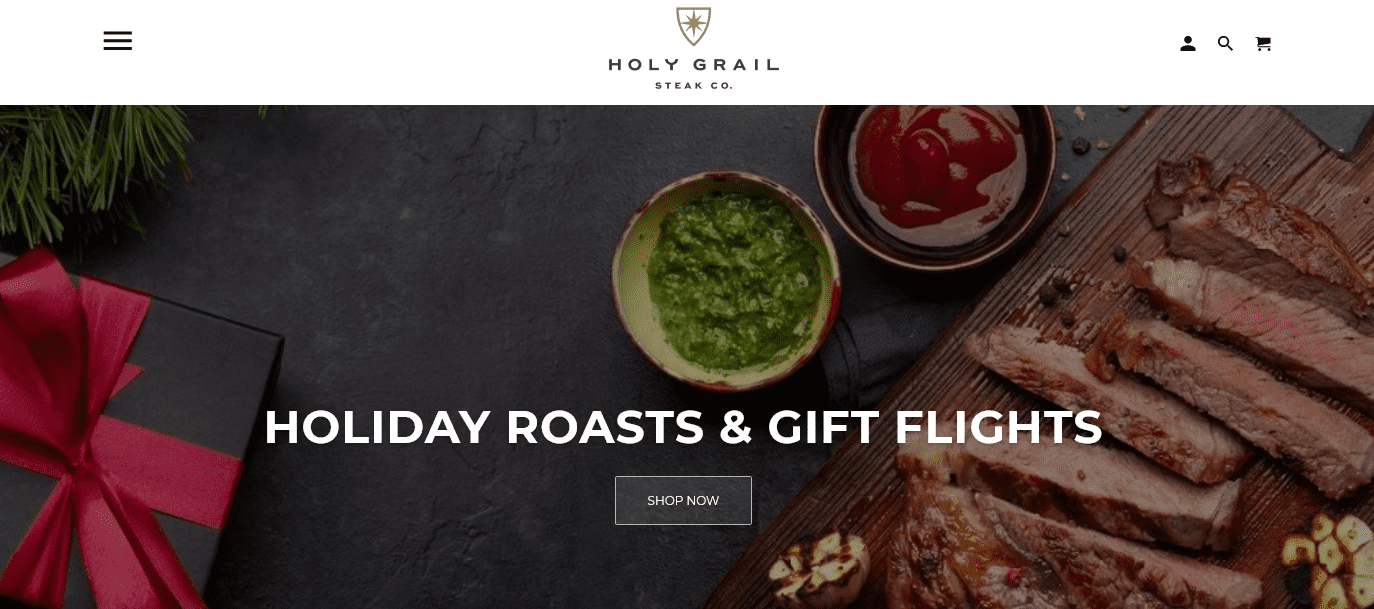 If you just want to try another Wagyu steak supplier, or there's just something about Snake River Farms that you aren't sure about, check out Holy Grail Steak Company. Their perfectly marbled Wagyu steaks are delicious, tender, and full of flavor.
There's a good chance these might be some of the best steaks your grill will ever experience and could be the best steaks you ever eat. Savor every bite, though, because these steaks aren't cheap. Still, you're going to be getting some of the best steaks money can buy.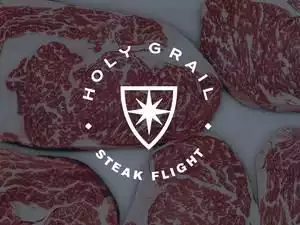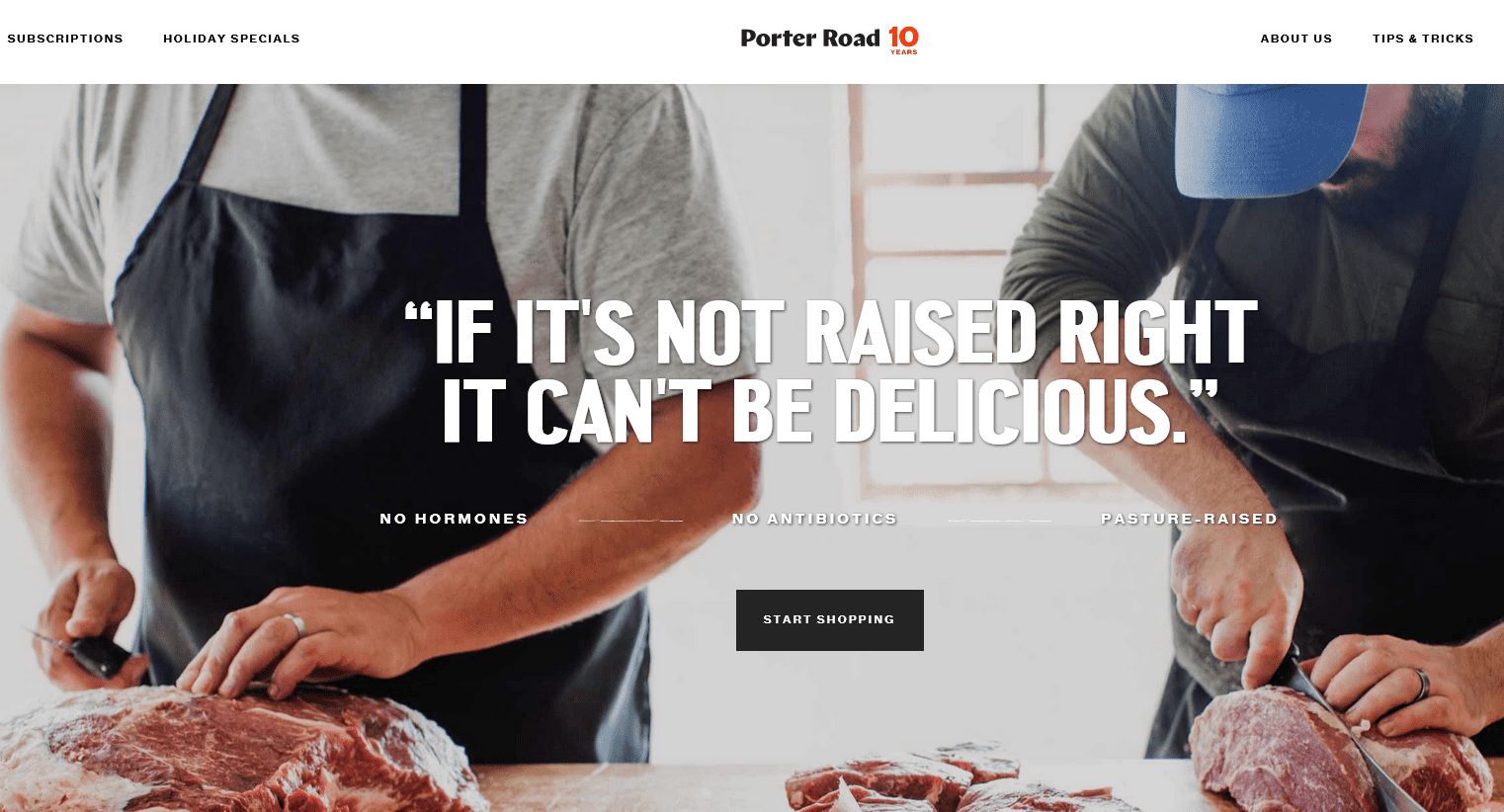 One of my favorite meat subscription sites is Porter Road. Started by a pair of friends who wanted to offer the best quality meat for grilling steaks, Porter Road works with local farms to ensure all the meat they offer is Prime. Porter Road offers non-GMO, dry-aged beef that's been aged for a minimum of 14 days.
The company is based in Nashville, Tennessee, and performs all the processing on their own property in their own facilities. Each piece of meat offered on the Porter Road site is hand-selected and cut, ensuring your meat is just the way you want it.
There are subscription boxes and a la carte ordering options for all. Their meat selection includes beef, pork, lamb, and chicken. There are 6 different subscription boxes including the Butcher's Choice Box, a Weeknight Heros box, the Best of Porter Road box, Beef Box, Grill Master Box, and the Beef and Pork Basics box. Every box allows you to customize your add-ons, so you get exactly what you need. You can get delivery every 2, 4, or 8 weeks. You can also skip customization if you would rather only receive the box with items curated by Porter Road. They're upfront about what comes in the box, so you'll know ahead of time what to expect.
Porter Road offers subscription boxes, which come with 5 pounds of ground beef, 2 pounds of Italian sausage, 2 pounds of ground pork, and 2 pounds of country breakfast sausage. If that's not enough variety for you in a subscription box, I'm not sure what is.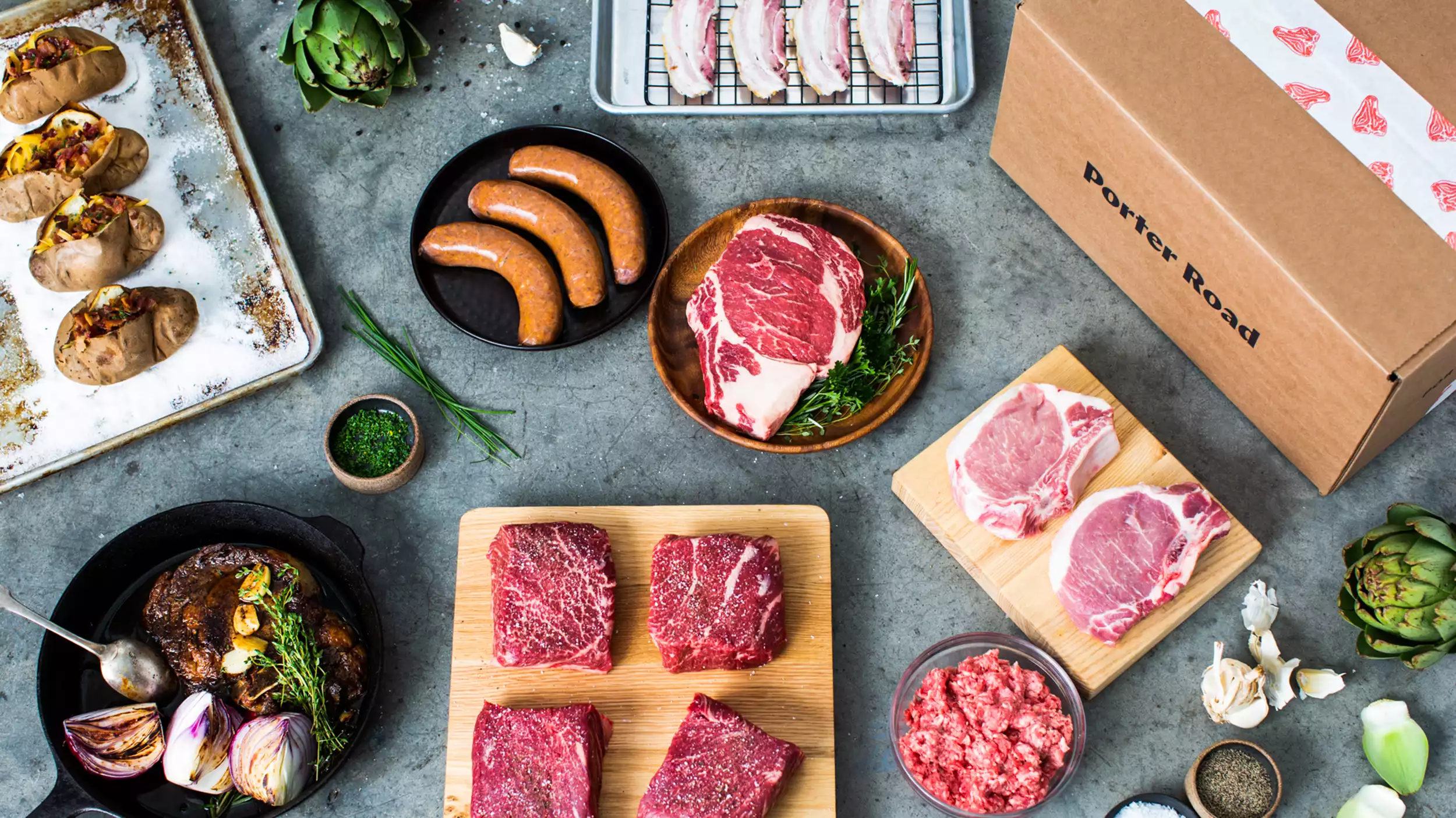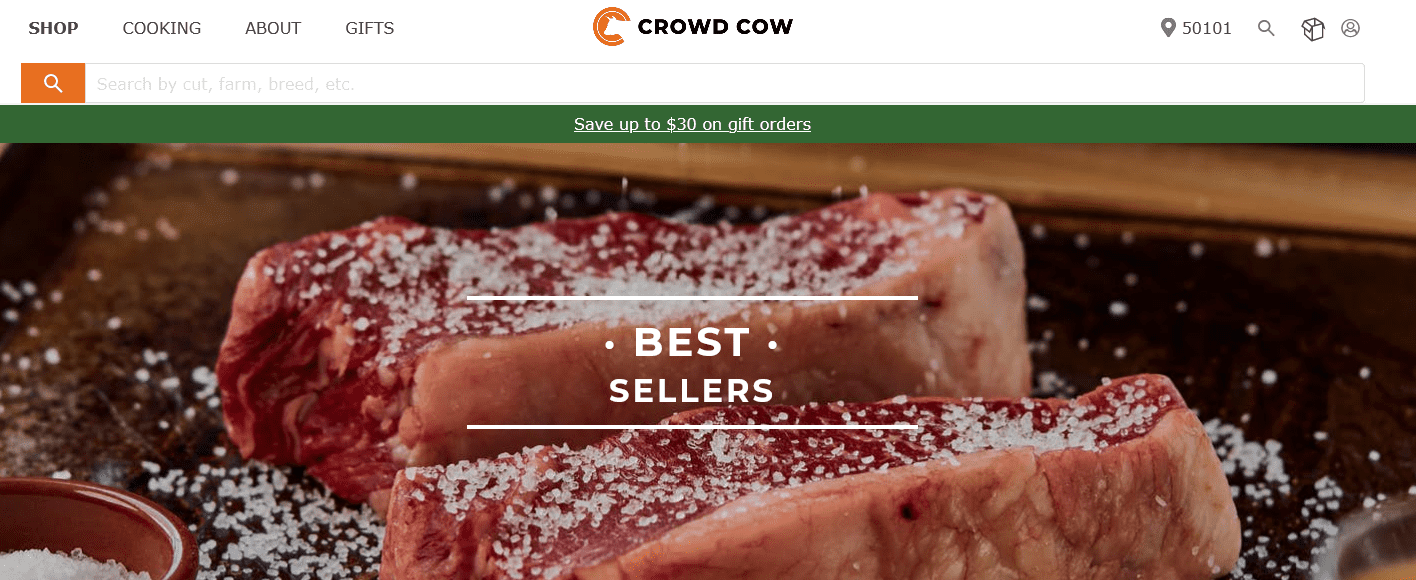 Crowd Cow is an excellent meat delivery option for people who are very particular about where their meat comes from. Crowd Cow offers beef, wagyu, chicken, pork, turkey, bison, duck and other game meat, lamb, and seafood.
With Crowd Cow, you get detailed sourcing information on every piece of meat you order. You'll always know which farm-raised it so you can follow up on their sustainable practices. You can even shop by farm if you have a favorite.
You can order a la carte or choose from one of their subscription boxes. They also offer recipes for the meats they offer so you can try something new. It's easy to customize a box so you know exactly what you're getting, but if you prefer to be surprised, their curated boxes change every month.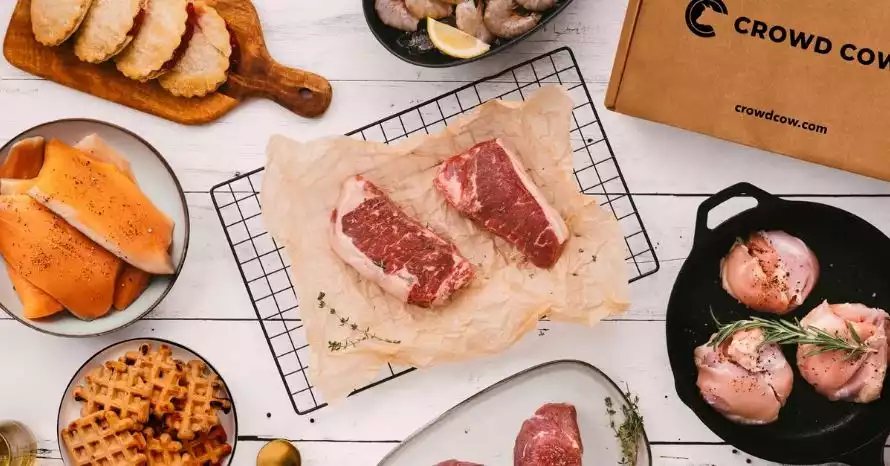 ButcherBox specializes in subscription boxes, and they're the best option if you want your meat delivery automated. They offer a beef box, a beef and pork box, a beef and chicken box, and a mixed box with all three. You can also customize your own box or add on to a curated box.
ButcherBox is committed to high-quality meat and ethical practices. They have great customer service, too, but you won't get a high level of sourcing information on your cuts. They also don't offer a la carte ordering, so it requires a commitment.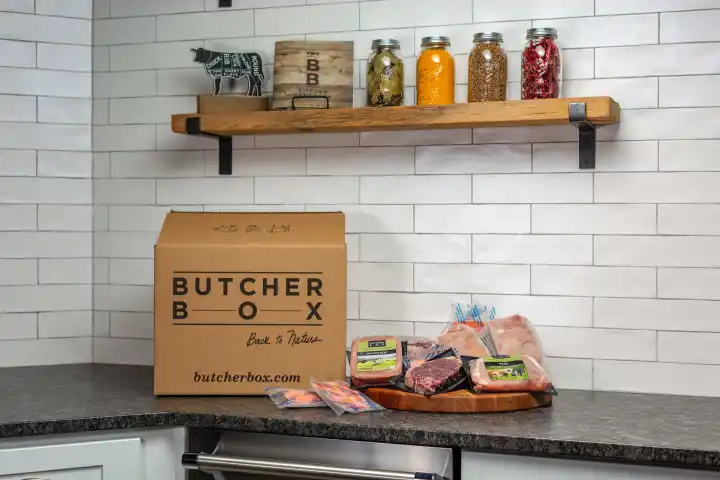 Rastelli's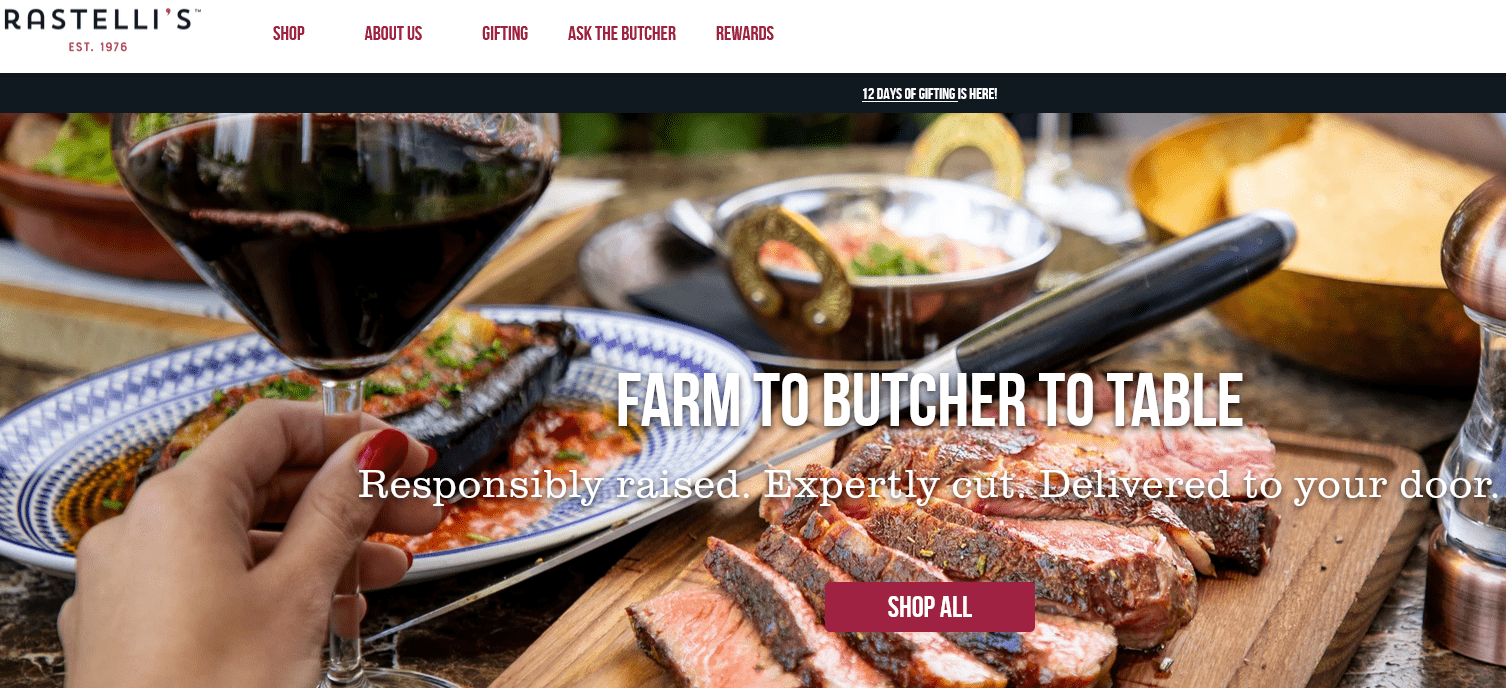 Rastelli's started out as a small butcher shop in New Jersey, but they grew to include an online delivery service that gives you the level of attention that a local butcher would, with higher quality meat.
Rastelli's doesn't have a subscription box, but their a la carte ordering includes beef, wagyu, poultry, pork, lamb, veal, and seafood. Rastelli's makes it easy to order the meat your family loves with no surprises.
Rastelli's not only offers high-quality meats at lower prices than premium services like Crowd Cow or Snake River Farms, but they also give each order a level of detailed attention that you won't find with a lot of other services
Snake River Farms – As Scary as It Sounds?
I'm of the personal opinion that no one should die without having tasted Wagyu of any kind, whether it's Japanese or American. Snake River Farms offers a larger selection of American Wagyu than most other delivery services.
If you're not entirely sure about trying out Snake River Farms, I'd recommend that you give them a try at least once. Sure, it's more expensive than other meat delivery services, but there's nothing wrong with splurging every once in a while and treating yourself, right?
Snake River Farms is an excellent option if you want a delicious steak for your birthday or to celebrate a special anniversary or achievement. Whether you prefer hamburgers, steaks, or pork chops, Snake River Farms has something for you. Their practices ensure that this is some of the best American Wagyu you'll ever taste, it's easy to order, and customer service is exceptional if you should need it.
The company also offers Kurobuta pork that proves to be much more delicious than traditional pork. While they don't have the breadth of meat options that other online delivery services have, Snake River Farms is definitely worth the cost. You're getting so much more than beef. You're getting the experience of a lifetime.
When it's all said and done, one of the best reasons to order your steaks from Snake River Farms is simple. They provide steaks to some of the best steakhouses in the US. The beef and pork the ranch offers are some of the best in the country. You'll be hard-pressed to find something better – and you can have it delivered right to your doorstep!
FAQs
Subscription boxes and meat delivery services can be confusing or complicated. While many sites do their best to make the order and delivery process as simple as possible, there are still questions that arise. 
If you're looking for a meat delivery service, Snake River Farms may be one of the final contenders. However, there are a lot of options out there that can make it really hard to choose. These frequently asked questions may help.
Here are a few of the more commonly asked questions.
Question: Is Snake River Farms good?
Answer: Snake River Farms is one of the most well-known producers of American Wagyu. Snake River Farms is more expensive than meat you might find elsewhere, but you can taste the difference. Their American Wagyu is more tender and flavorful than the meat you might get from other sources.
Question: Where is Snake River Farms From?
Answer: Snake River Farms is based in Eastern Idaho along the high plains of the Snake River, which is where they get their name. They manage the entire production process from very careful breeding practices to delivery at your doorstep.
This family-owned business has been operating the farm for decades and has accumulated more than 80,000 acres spanning the hills of the Pacific Northwest.
Question: How are Snake River Farms deliveries shipped?
Answer: Your items from Snake River Farms are hand-backed and sent in a reusable bag. It comes with dry ice, which means your items arrive entirely or partially frozen.
Question: What are cattle fed?
Answer: During the first year, all Snake River Farms cattle have a grass and hay-only diet. After that first year, they are given grains, hay, vitamins, potatoes, and forages. Cattle on Snake River Farms and never given any type of growth hormone. However, if the need arises, certain animals may receive treatment with antibiotics.
Question: How is Snake River Farms meat graded?
Answer: The Wagyu Beef at Snake River Farms uses the Japanese method of grading to ensure all its meat is of the highest possible quality. However, the beef also receives US grades, but it's not surprising that nearly all of its meat is graded as Prime beef.
Question: Is Snake River Farms Ethical?
Answer: Snake River Farms treats their animals humanely and the primary focus of the farm is responsible farming practices and sustainability. There isn't anything that Snake River Farms does to their animals that would be considered unethical.
Question: Is American Wagyu Better Than Prime?
Answer: The highest USDA grade of beef is Prime, but American Wagyu exceeds the standards required to label beef as Prime. American Wagyu has more intense marbling than Prime, but it's also about twice the price, if not more.
While American Wagyu isn't as intense in marbling, texture, or flavor than Japanese Wagyu, it's still excellent. The increased intramuscular fat that it contains will melt at a lower temperature than traditional beef, so your meat will have a buttery texture that melts in your mouth.
Question: Is Wagyu Beef Mostly Fat?
Answer: The rich mouthfeel of Wagyu comes from intense marbling, not the overall fat content. So while it has a marbling pattern that makes it look like it has more fat, it actually doesn't. Because the fat is dispersed more evenly than in traditional beef, it melts at a lower temperature, which is what gives Wagyu its buttery texture.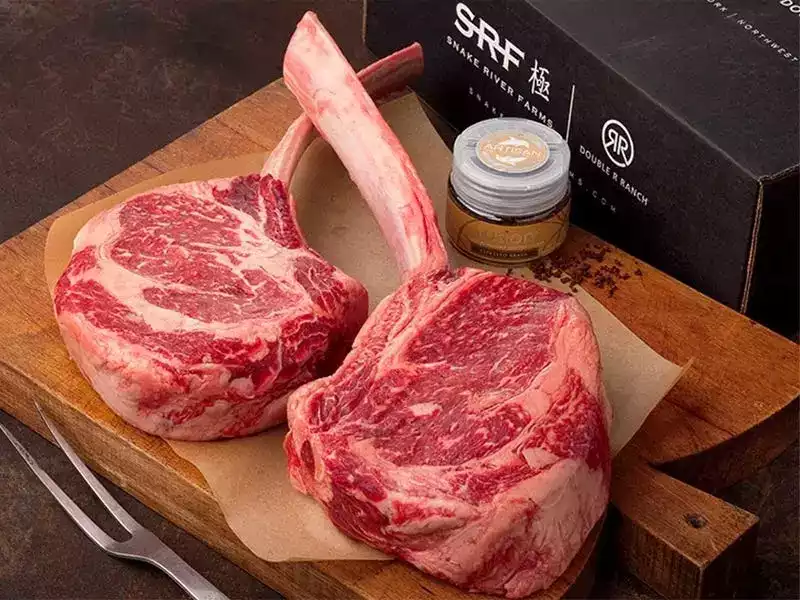 If you're not entirely sure about trying out Snake River Farms, I'd recommend that you give them a try at least once. Sure, it's more expensive than other meat delivery services, but there's nothing wrong with splurging every once in a while and treating yourself, right?
Snake River Farms is an excellent option if you want a delicious steak for your birthday or to celebrate a special anniversary or achievement. Whether you prefer hamburgers, steaks, or pork chops, Snake River Farms has something for you.
When it's all said and done, one of the best reasons to order your steaks from Snake River Farms is simple. They provide steaks to some of the best steakhouses in the US. The beef and pork the ranch offers are some of the best in the country. You'll be hard-pressed to find something better – and you can have it delivered right to your doorstep!
Exclusive Offer