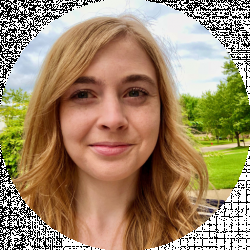 Latest posts by Erin Jamieson
(see all)
The problem with loving the grill- and living in Ohio- is that timing can be tricky. I always joke that you can experience nearly all seasons in a single day here, and I've had that experience when trying to grill for company. That's why a grill gazebo can be extremely helpful. 
Grill gazebos aren't your typical gazebo. Unlike other gazebos, grill gazebos are designed to provide protection and cover- but also safety- for all your grilling needs. Whether it's a windy day, a cold day, or even a rainy day, a gazebo could be just what you need to keep grilling. 
The challenge? Not all grill gazebos are the same. From grill gazebos made with cheap materials that aren't designed to last, to ones that simply don't provide the clearance or ventilation you need, the last thing you want to do is follow a long list of instructions and end up with a design that doesn't fit your needs.
That's why I'm sharing my top tips to find the best grill gazebos for your backyard in 2022. I'll show you how to select grill gazebos- whether you're shopping on Amazon or Menard's. I'll even share my favorite grill gazebos for sale, plus accessories and way to decorate to complete your setup. 
Bottom Line Up Front Summary:
Grill gazebos, at their best, provide shelter and shade on those windy and sunny days. And unlike a covered porch, grill gazebos are designed to be safe for even your most ambitious grilling activities. To find the best grill gazebo for you,
If I had to recommend just one grill gazebo, it would be the Backyard Discovery Grill Gazebo. This gazebo features beautiful solid cedar construction, paired with excellent resistance against wind, snow, and sun. It's built to last- and not nearly as expensive as other permanent, solid wood grill gazebos. 
My Top Picks
How to Select the Right Grill Gazebo
Ready to get grilling? This is what I look for when selecting the best grill gazebos. (If you want to build your grill gazebo, scroll down to frequently asked questions in this article). From different types and styles of grill gazebos to selecting only the best materials, here's how to avoid a bad purchase. 
Pop-Up/ Portable vs Fixed Grill Gazebos
Your first decision? Deciding between a pop-up/ portable gazebo vs a fixed one. Portable gazebos are affordable and convenient- but not nearly as sturdy nor aesthetically pleasing as one that's built for your patio. To make the decision easier for you, here are some pros and cons to consider:
Portable/Pop-Up Grill Gazebos
Pros
Love tailgating? Chances are you may love pop-up grill gazebos. These grill gazebos are lightweight, usually have fairly easy instructions, and can be assembled alone or with another person. Fun and versatile, pop-up grill gazebos have two main advantages: convenience and affordability. Compared to fixed grill gazebos, you're paying a fraction of the price (a few hundred dollars at most vs sometimes thousands of dollars) and you can take it with you for trips or events of any kind. 
Cons
That doesn't mean it's all good news, though. As you can imagine, pop-up grill gazebos are a lot less sturdy than fixed grill gazebos. Even with great stakes, they can blow over on an especially gusty day. To keep them lightweight, they are often made with flimsier materials (more on this later) and you can't expect them to usually last as long as a fixed grill gazebo. And aesthetics are important, grill gazebos get another markdown: they are a bit more akin to sports tents or other tailgating equipment. 
Fixed Grill Gazebos 
Fixed grill gazebos- semi-permanent or permanent- are designed to fit seamlessly into a backyard. What I love about these grill gazebos is that they are sturdy and aesthetically pleasing. Often made out of wood, they're a beautiful addition to a classic home and add ambiance- all the while providing the protection you need while grilling.
The downsides are obvious: you'll be paying several times as much as you would for a pop-up grill gazebo. They may last longer- but they also require more care (such as sealing your wood at least once to twice a year). See them as an investment: you won't be taking these grill gazebos anywhere, and, for what you spend, you need to be willing to pay more care and attention than you might for a pop-up grill gazebo. 
Best Materials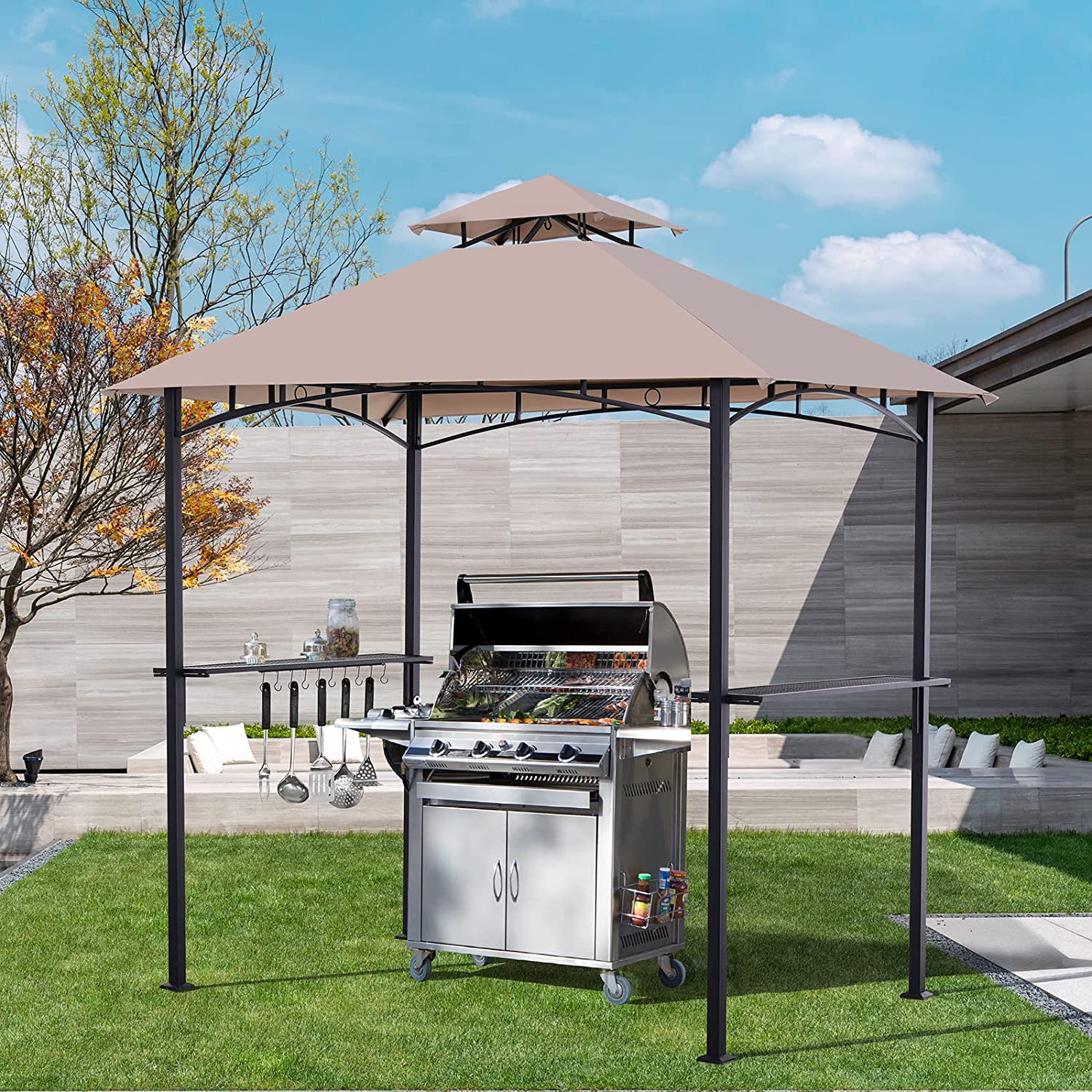 Here's where it gets tricky because the right materials for a pop-up grill gazebo are different than what you should look for in a permanent grill gazebo. Regardless, you want materials that last- with proper care- in various weather conditions. And, of course, you need materials that can withstand the heat from grilling. 
For Pop Up Grill Gazebos
Pop-up grill gazebos need to be portable and lightweight- but also sturdy. That's a tall task. For the main foundation and legs, I recommend powder-coated steel or stainless steel construction. Be aware of aluminum: while it's cheaper, it's less sturdy and prone to become damaged in the wind. I also don't love regular steel, which can rust. 
For the top of the gazebo, I look for a breathable and weather-resistant fabric. Polyester- or even better, PA-coated polyester- is easy to take care of and fits the bill. 
For Fixed Grill Gazebos 
For permanent or fixed grill gazebos, you'll usually have higher clearance- and ample opportunities for a sturdier material, like wood. Solid cedar is a popular choice for a few reasons. Cedar is resistant to insects and, more the most part, both rot, and termites. You also want to pay attention to nuts and bolts: galvanized steel is an excellent choice for stability and durability.  Pressure-treated hardwoods are also a good option- because you won't have to worry about warping as you would with many other kinds of wood.
Dimensions & Clearance 
Clearance is oh-so-important if you want a gazebo for your grilling needs. Without enough clearance, you're risking safety hazards- not to mention an uncomfortable grilling session. You need a minimum of 7 inches on either side and 20 inches from the back of your grill. I prefer 10 inches on all sides. 
The dimensions of your grill gazebo will depend on the space you have to work with, your budget, and the type of grill gazebo you're buying. An 8-foot by 5-foot gazebo is the most common and practical option for pop-up and temporary grill gazebos. For permanent grill gazebos, you may want to opt for something a bit larger- especially if it's part of the entertaining space. 
But whatever you do, make sure you have enough room for grilling- and that you have at least 10 feet away from your house's foundation. 
Ventilation 
If you're grilling, you need ventilation- and that's a key way a grill gazebo stands apart from a general gazebo. For solid wood gazebos, you want a slatted roof- a slanted one is especially great for extra ventilation. For pop-up gazebos with a fabric top, ventilation from the canvas are very important. The best grill gazebos offer ventilation from multiple angles- even up to 360 degrees. When in doubt, check the product description. If there's no mention of ventilation, that's a sign it may trap odors, heat, and smoke. 
Accessories & Special Features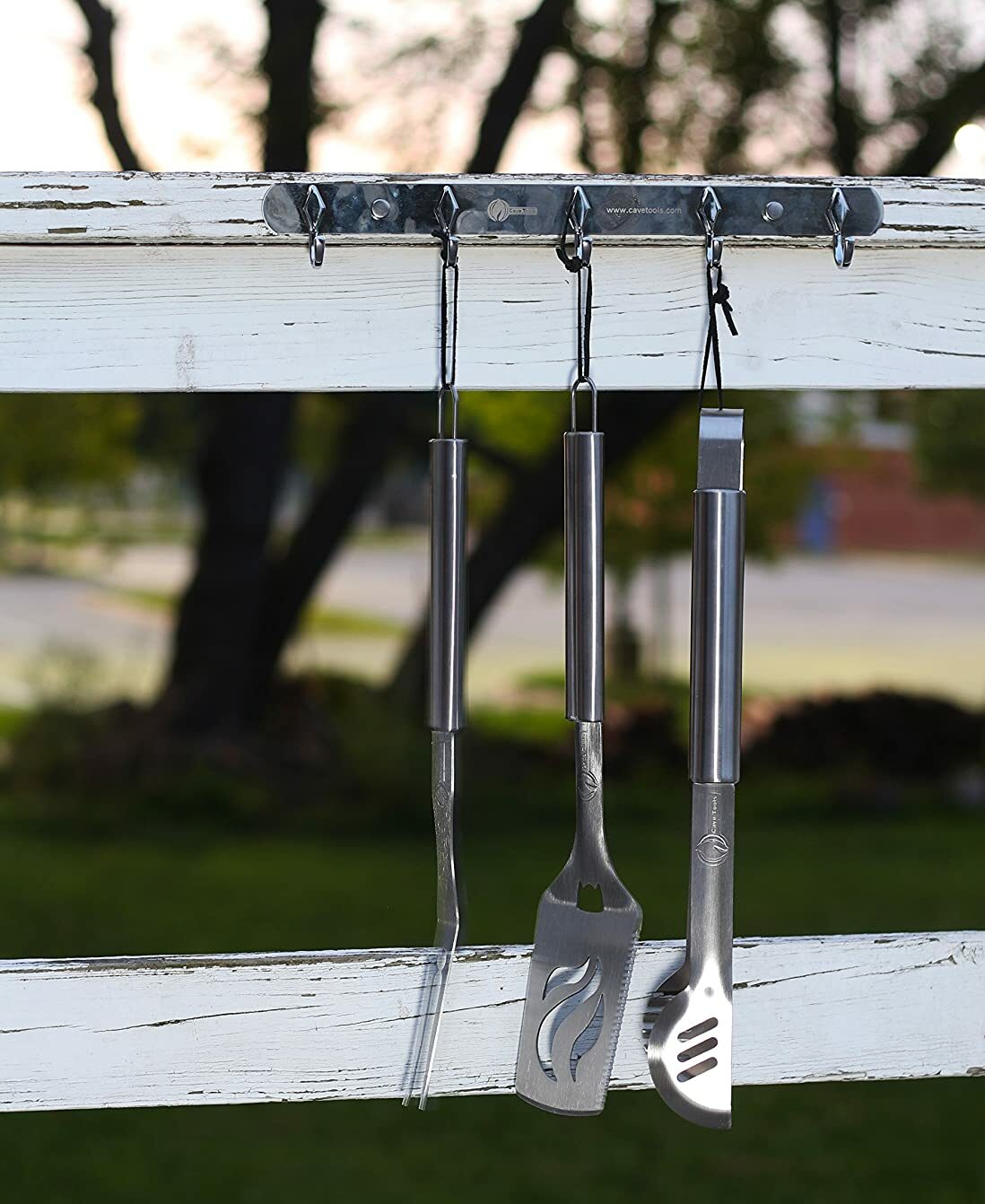 There are a few accessories or features that make a grill gazebo stand out. That extends from extra protection from the weather to touches of decor:
UV resistant canopy

Wind resistance 

Double tier canopies

Serving shelves

LED lights

Curtains, Mosquito Netting 

Rail/ hooks for bbq supplies

Easy assembly 

Slanted roof 

Additional countertops

USB ports 

Warranties 
I love, above all, grill gazebos that I can buy with confidence. Shopping online always takes a leap of faith- so aside from stand-out features, I also pay attention to customer reviews, company reputation, and any warranties. 
Price/ Budget 
I don't ever recommend buying a grill gazebo just because it's cheap. I love saving money- and bargain hunting is a staple for me. But I've also learned that there are some things where saving money initially means costs in the long run. For most grill gazebos, expect to spend anywhere from around $100 for a temporary gazebo and a few thousand dollars for permanent gazebos. 
I wouldn't dip below $130 much: these tend to be flimsy and made with cheaper materials. Of course, that doesn't mean that you can't find a great pop-up grill gazebo on sale. To find a sale, shopping during the off-season (think late autumn or in winter) is a good choice. Plus, some stores like Menard's, Lowe's, and Home Depot offer price matching programs. 
My Picks: Grill Gazebos For Any Backyard 
Now that you know how to find the best grill gazebos, I'll show you some of my favorite pre-made ones for you to consider. These grill gazebos were carefully selected from stores I'd shop at, from Amazon and Home Depot and Menard's and Lowe's to reputable specialty stores. My selection criteria include:
Quality of Materials

Ventilation

Range of Price Points

Solid Range of Dimensions

Style and Design 

Customer Reviews
Above all, I looked for grill gazebos that are practical, versatile, and good value for your money. Here are some of my favorites- and pros and cons to consider. 
MASTERCANOPY  8 x 5 Outdoor BBQ Gazebo
It is easy to see why this pop-up grill gazebo is a favorite on Amazon. The moment I saw this, I knew it would make my best list. If you're into tailgating and casual BBQs, this gazebo is a budget-friendly fit- without sacrificing quality like some slightly cheaper options. For under two hundred dollars, this playful grill gazebo comes in an array of polyester canopy colors. The rust-proof steel frame is lightweight and low maintenance. Perhaps most remarkable is the top, complete with UV resistance, waterproof, and anti-rip fabric. There's plenty of ventilation and it's all equipped with LED lights to let you grill into the evening. Buy Here.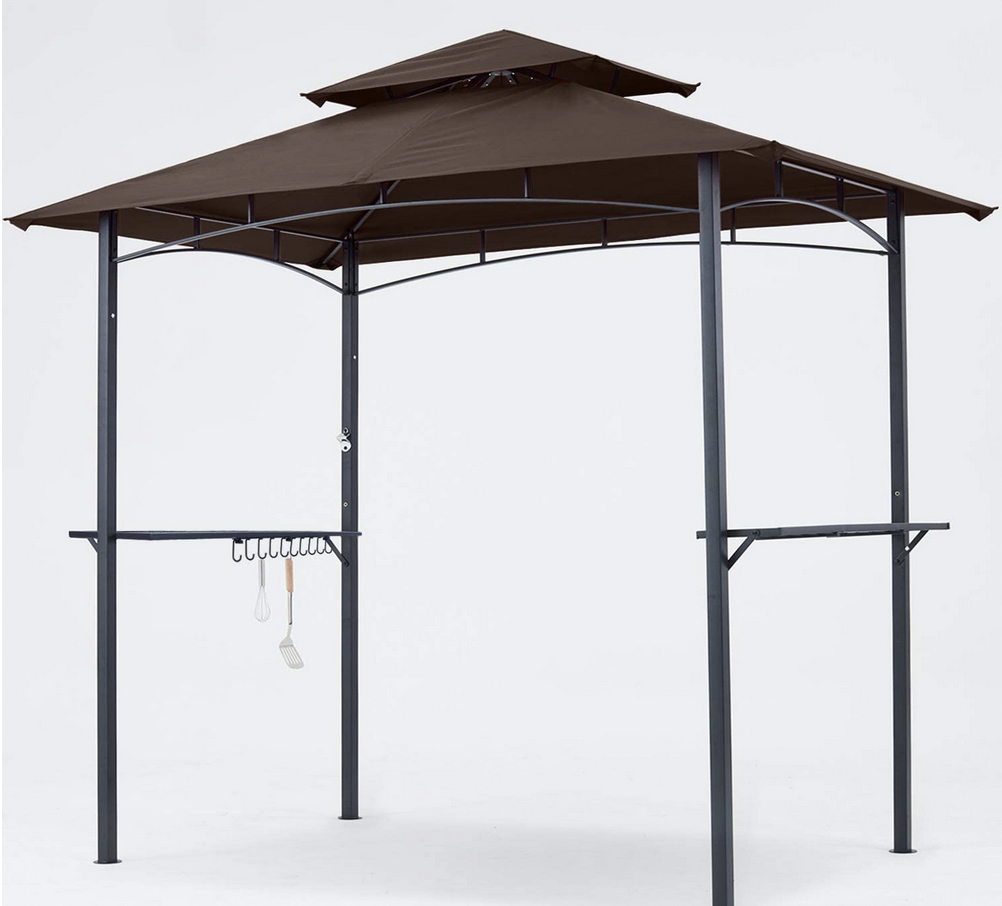 Pros
UV Protection and Waterproof

LED Lights

Vented Double Tier Top

Under $200 
Cons
Slightly Flimsy in Wind

Rain Can Cause Water Accumulation
Eurmax 8 Ft. W x 5 Ft. D Steel Grill Gazebo
A tiered roof, weather resistance, and room for bbq accessories- all affordable. That's just a sneak peek at what this pop-up grill gazebo from Wayfair offers. While the design is a bit more neutral and plain, this is a great option if you don't have much money to spend. Though it offers easy assembly and lightweight portability, it can withstand up to 200 lbs of snow! That's certainly not something that can be said for most grill gazebos at this price point. The steel rust-resistant frame pairs well with a water-resistant tiered canopy. I also love the double vented roof, UV protection, and attachable shelves for hanging any bbq accessories. Buy Here.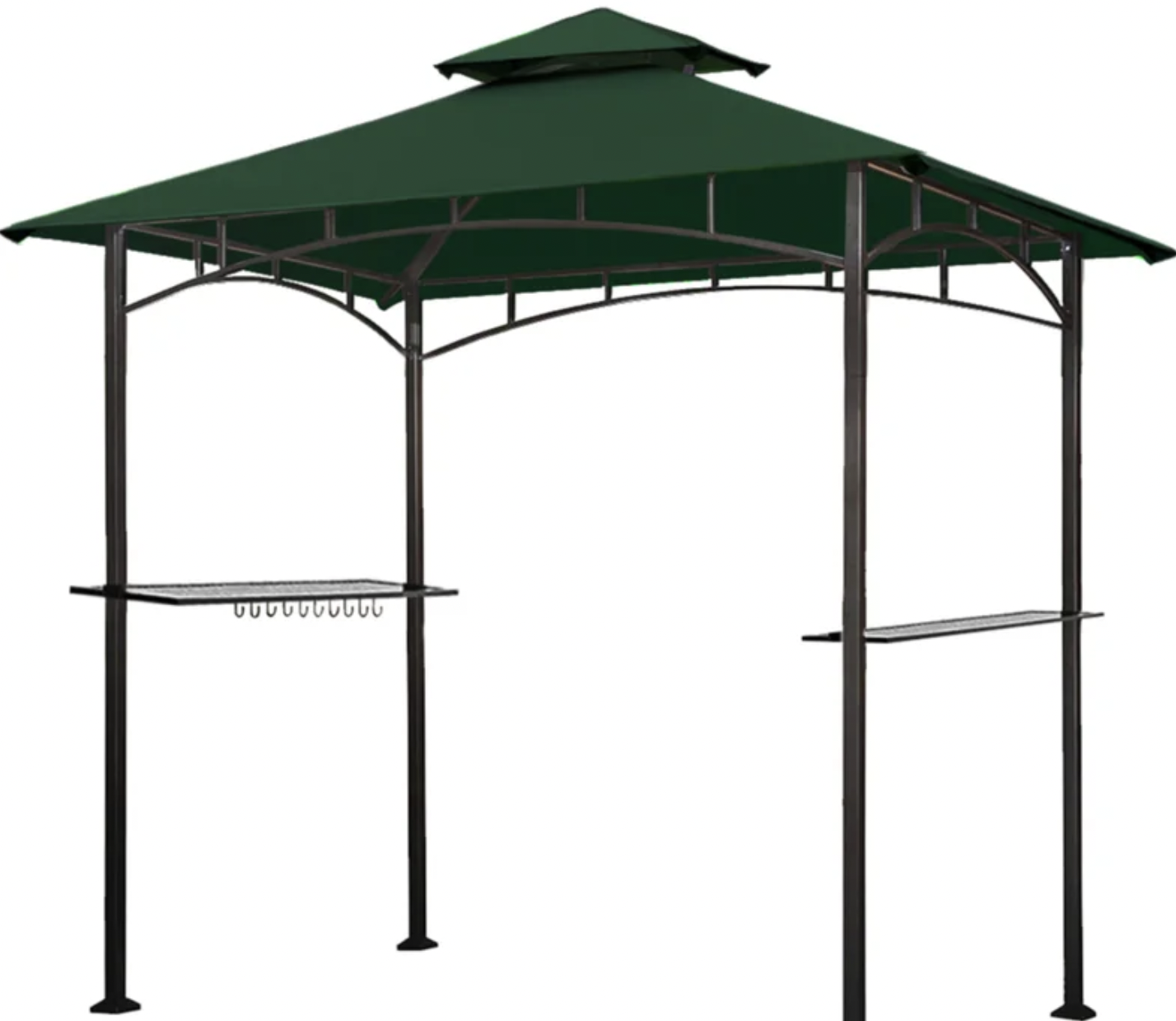 Pros
Double Vented Design

90 Day Warranty

UV Resistant 

Rack for Accessories
Cons
Water Resistant- Not Waterproof

Not as Good for High Winds
Double Tiered Grill Canopy Outdoor BBQ Gazebo Tent
If you want your grill gazebo to make an impression- but you don't want to commit to a permanent one, this is one of the best designs. This double-tiered gazebo grill tent comes equipped with not only shade curtains but also mosquito netting- perfect for those sticky summer evenings. The powder-coated steel frame is rust resistant and even features a unique intertwined design at the top for a bit of style. I love that the polyester canopy is PU-coated for extra weather protection, while the double-layer top provides both ventilation and wind resistance. Despite the impressive size, it's enough to set up with short notice for entertaining. Buy Here.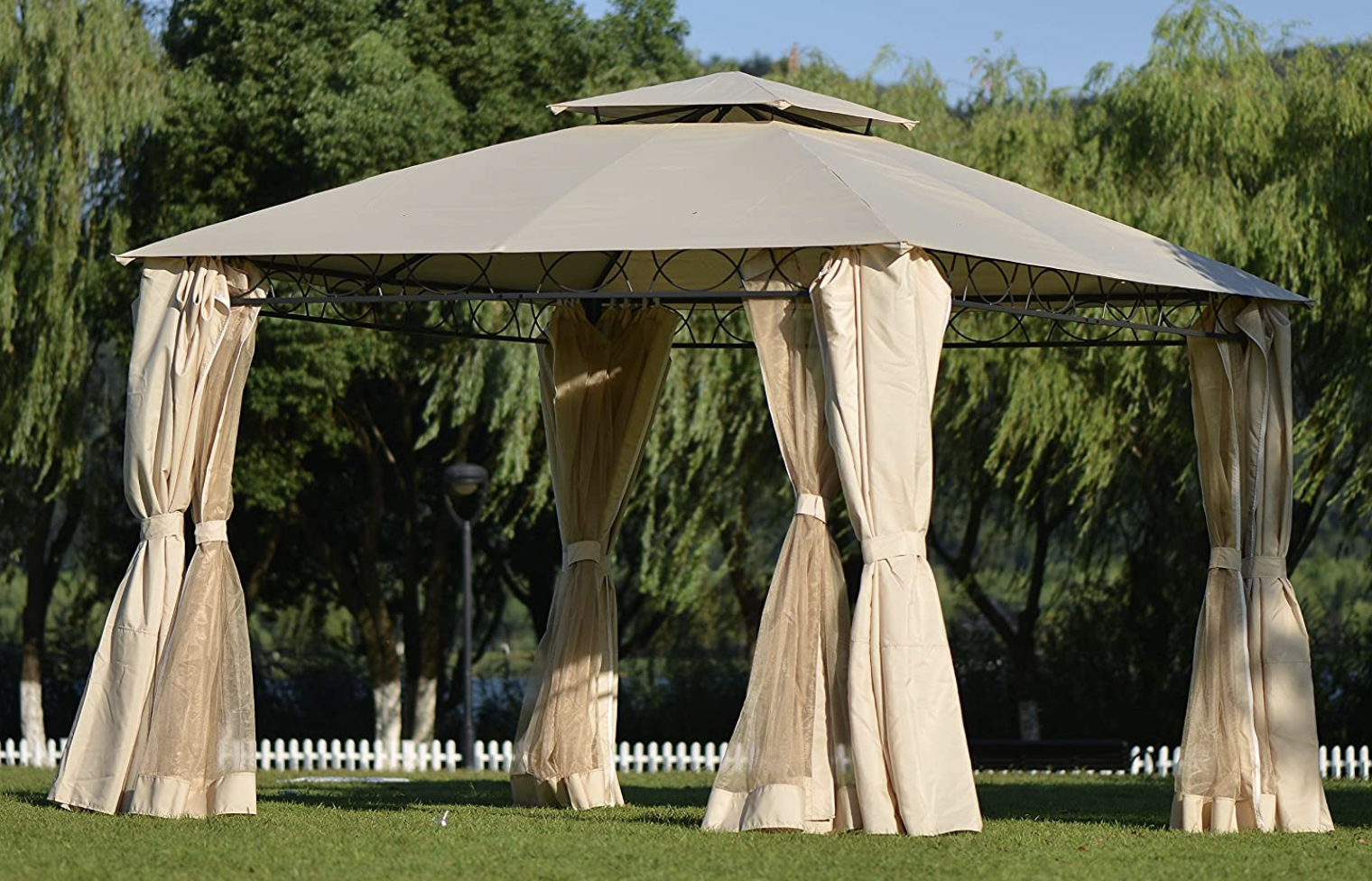 Pros
Rust Resistant

Curtains and Mosquito Netting

Wind Resistance 

PU Coating 
Cons
Not UV Resistant 

Not Fully Waterproof 
Sunjoy 13.32 Ft. W x 8.5 FT. D Steel Grill Gazebo
As much as I love wooden gazebos, they take more upkeep- and they aren't the best fit for everyone. That's why I love this stylish design as a sturdy alternative. This grill gazebo features rust-resistant steel with a faux wood finish. The arched top is not unique and aesthetically pleasing, but it also offers ample ventilation- but with protection from both sun and rain. With a snow load capability of 200 pounds and up to 30 mph wind resistance, it's a lovely grill gazebo for use in the warmer months. The biggest downside is that it's not waterproof. Buy Here.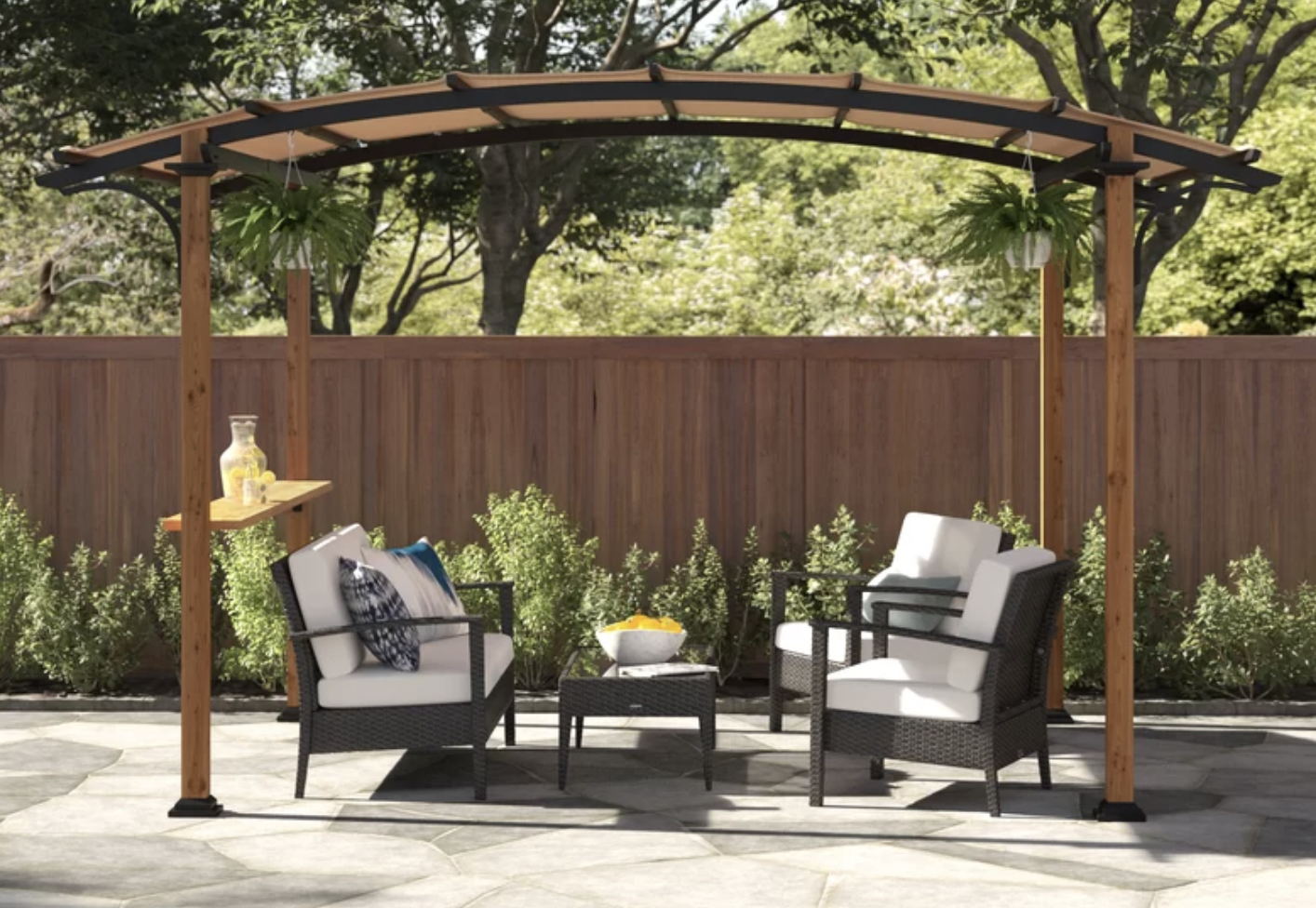 Pros
200 lbs Snow Capacity

Faux Wood Look

UV Protection

Wind Resistance
Cons
Not Waterproof

More Expensive Than Pop-Ups
Backyard Discovery  5.35-ft x 7.81-ft Grill Gazebo
Cedar grill gazebos are my favorite for a few reasons- but some cost quite a bit. This grill gazebo from Lowe's is a fair price, well constructed, and beautiful addition to any backyard. The 100 percent cedar structure is both rot and insect-resistant, but there are other impressive features. With the ability to withstand 100 mph winds and well over 2,000 pounds of snow, this grill is perfect for year-round use. The slanted steel roof is protective and stylish- all with proper ventilation for any grill-out event. Luckily, this also comes with a warranty- and mostly praise from other consumers. Buy Here.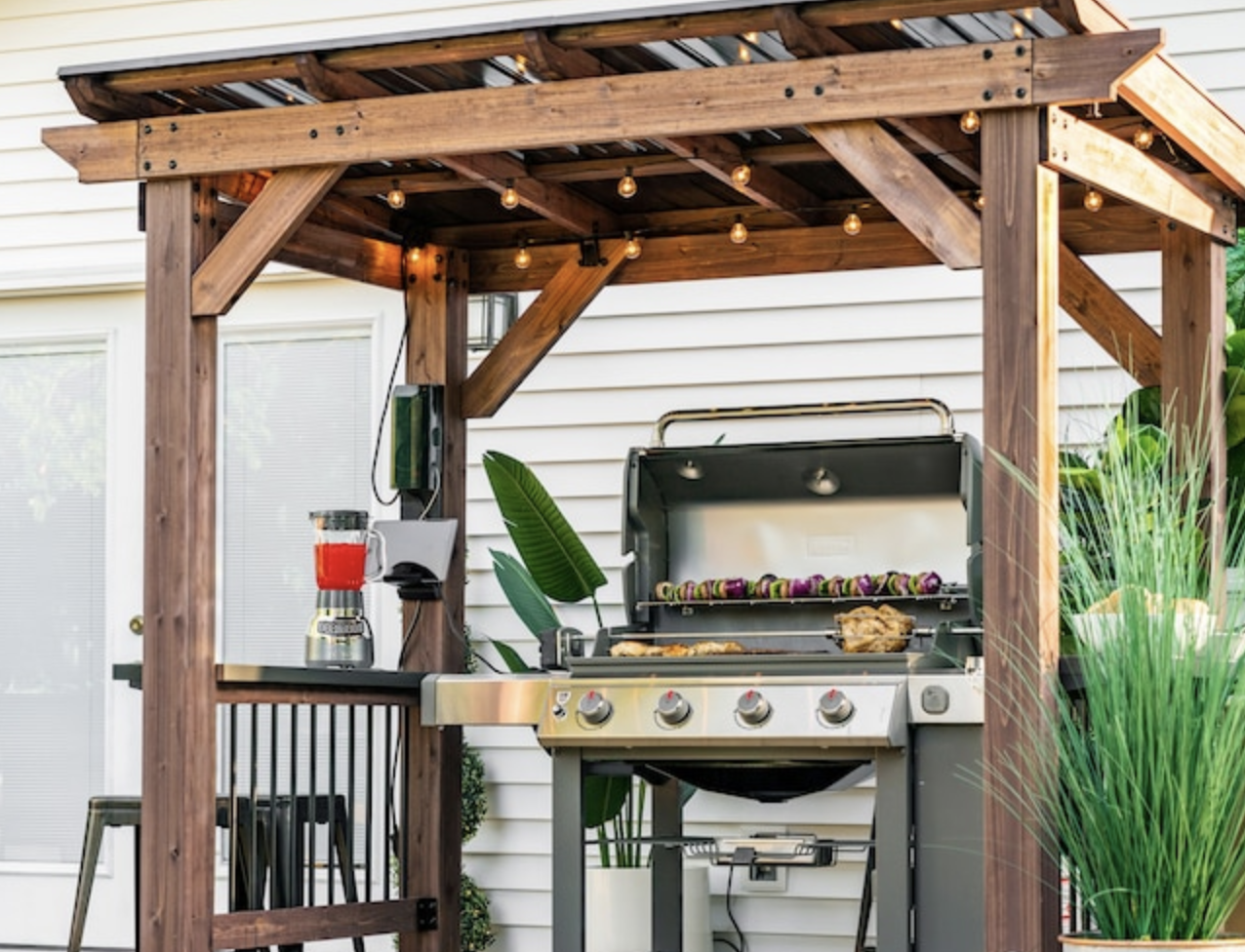 Pros
Withstand up to 100 mph wins

Withstands up to 2,000 pounds of snow 

Rot and Insect Resisant 

Durable Wood and Steel Construction
Cons
Limited Warranty 

Not Portable 
Hampton Bay Crownhill 11 ft. x 13 ft. Hardtop Gazebo
One of my favorite gazebo grills I've ever come across is a hardtop, solid wood design at an apartment complex. Set beside a pool, it doubled as a space to entertain and just enjoy a nice day. This beautiful cedar gazebo grill reminds me of that. The steel double-tiered roof offers ample protection and ventilation, all with the ability to withstand up to over 3,700 lbs of snow! The little details matter too: the ceiling hook allows you to choose lighting that's best for your needs, while the dual rails can be used to attach mosquito netting. And even though this is a grand, permanent grill gazebo, it includes a manual with step-by-step instructions for installation. Buy Here.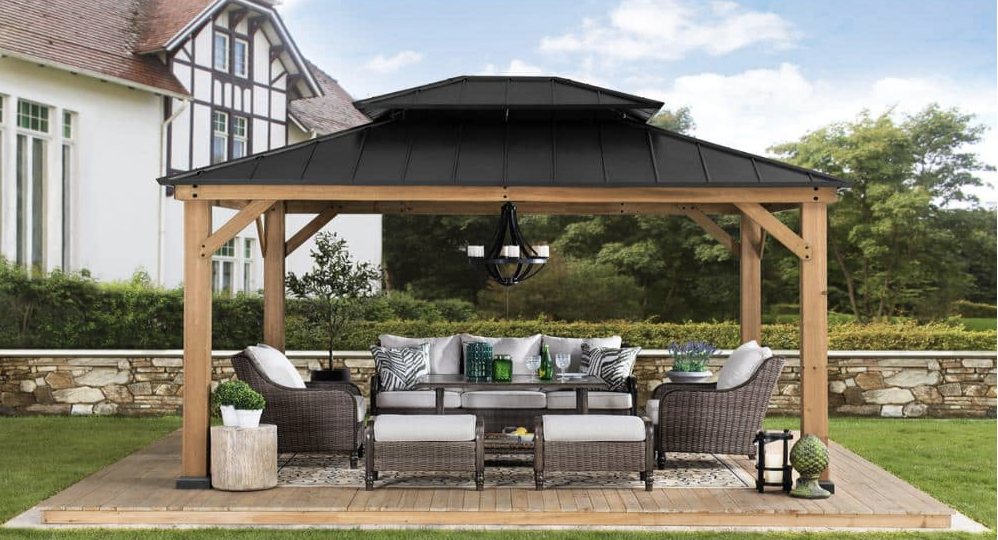 Pros
Withstands up to 3,700 lbs of snow

Double-tiered roof with ventilation

Attachments for lighting, mosquito netting

Solid wood construction
Cons
Requires upkeep

More expensive 
Frequently Asked Questions
Question: Can you grill under a gazebo?
Answer: You can grill under a gazebo- but only under gazebos designed for this purpose. While regular gazebos, like pergolas, provide shade, a grill gazebo is designed to be safe. Think of a grill gazebo as an outdoor kitchen. Grill gazebos provide the ventilation you need to cook safely and usually include fire-resistant materials. In short: you can grill under a gazebo, but don't assume any and every gazebo is safe. There are freestanding, fixed, and hardtop gazebos designed for grilling and preparation. 
Question: How do you secure a grill gazebo in the wind?
Answer: If you have a fixed grill gazebo, you're all set to go. But many people opt for a temporary gazebo. It's easy to see why: an easy setup and portable design allow you to grill wherever you like. The problem is a windy day can pose both logistical and safety hazards. To secure a grill gazebo during a windy day, make sure it's secured with strong stakes. You can use extra bolts to secure your stakes in the ground, as well as extra ties for your top fabric. Another trick is to secure your gazebo covering inside with a strong rope extending to all corners and tying near the stakes. 
Question: How do you make a grill gazebo?
Answer: While you can buy grill gazebos, they've also become a popular choice for a fun DIY project. Making a grill gazebo takes many steps and requires high-quality materials, as well as precision. The best way to build one is to watch a tutorial video. Check out these 15 Easy Grill Gazebo Tutorials. Alternatively, you can download Free Grill Gazebo Building Plans. If you want a custom grill gazebo but aren't sure you can tackle a fully DIY project, there's always the option of visiting a home improvement store like Lowe's or Home Depot and seeing if expert/ professional installation is a good option for you.  
Question: Is it okay to grill under a covered porch?
Answer: I don't recommend grilling under a typically covered porch. While some do- enjoying the extra shade and protection- there are risks. A covered porch may have more fire hazards. Typically, it has less ventilation. It also has less room to grill and prep your food- lending itself to both more fire and safety hazards. If you are grilling under a covered area, a grill gazebo is simply a superior option. 
Final Thoughts 
A grill gazebo is perfect if you live in an area where the weather can turn on a dime. Whether you love a stylish, fixed grill gazebo or opt for a portable gazebo for more flexibility, the good news is that there are many fantastic options. Trust me when I say that the extra shade- and protection from the wind- can make the grilling experience a whole lot easier. 
Final Recommendations
Still not sure what kind of grill gazebo is best for you? Unless you plan on traveling and are on a tight budget, I recommend a classic, hardy-fixed grill gazebo like the Backyard Discovery Grill Gazebo. What I like about this design is it checks all the boxes for durability and versatility. The classic design can be customized with a stain or paint, while the construction is sturdy. You get the shade you want, the protection you need, and the security knowing your grilling experience will be safe. 
Looking for more interesting readings? Check out: