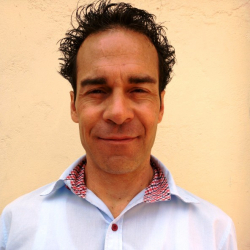 Latest posts by Douglas Bloom
(see all)
Grilling is a favorite for many types of occasions including birthdays or family gatherings. Once you have finished grilling, the work now is to clean your grill. You need items such as a grill brush (the most important grilling accessory).
So how do you know if you have the best grill brush for your grill?
Cleaning the grill may seem like a minor chore that you can put off until the next time you need to use the grill. To ensure you properly maintain the grill and for the sanitation of your food, you need to clean the grill regularly.
Don't know where to start? Read on!
We have compiled a list of the best grill brushes you can find in the market. These are brushes that we have tried out among more than 25 highly-rated options in the market.
Best Grill Brushes – Our Top Picks
We have compiled the best quality grill brushes depending on the grill you are using. Each of these brushes is the best in its category. Let's learn more about each below.
Best Budget Grill Brush: Alpha Grillers 18-inch Grill Brush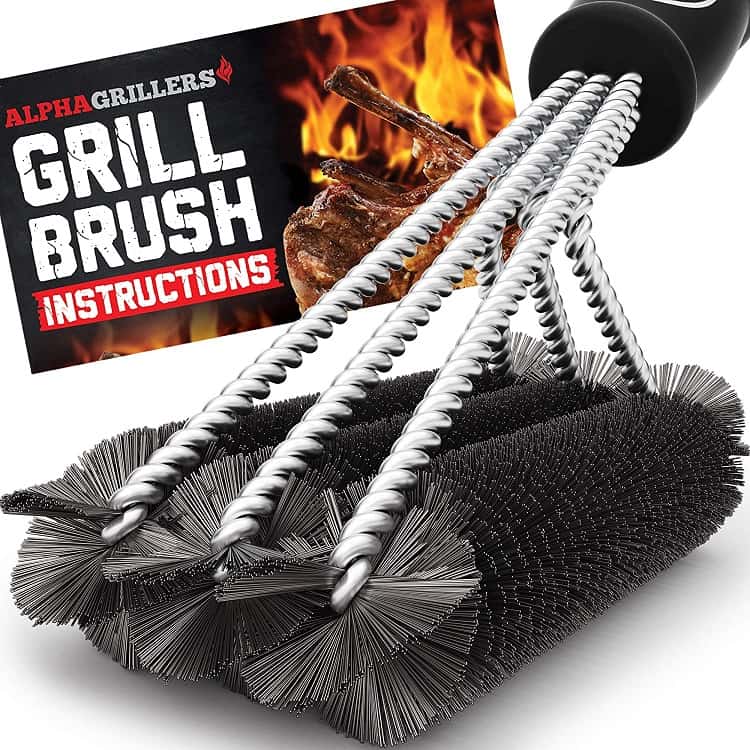 After a barbecue party, you don't want stress when cleaning the grill. The Alpha Grillers 18-inch grill brush is an effective and durable triple brush head bristle brush. It can clean your grill grate 3 times as wide and fast as a normal brush. It is like a magic wand for dirt removal in all types of grates, including those made from cast iron, stainless steel, and porcelain.
Alpha Griller 18-inch grill brush is a heavy-duty product with stainless-steel bristles and a steel frame. The 18 inches of length allows you to clean your grill without worrying about the grill's heat in case it has not cooled down. The length also offers the best ergonomics to reach areas that are hard to reach, dirty, and on various angles of the cooking grate.
One of the advantages of the product is an irresistible one to five-year 100% money-back guarantee. Such a guarantee suggests the manufacturer has developed a quality product. Let's take a look at the pros and cons of the product.
Pros
Triple brush head design
Large hanging loop
Long enough to use on hot grills
Steel frame, stainless steel bristles
Stiff bristles for a deep clean
Perfect for all grill types
Money-back guarantee
Cons
Best Rust Resistant and Bristle-Free: Kona Safe/Clean Grill Brush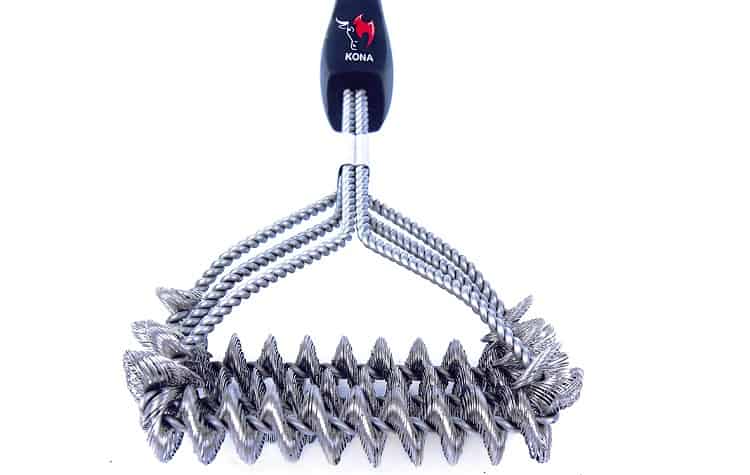 Cleaning a grill is stressful if you are using the wrong grill brush. The Kona Safe/Clean Grill is the best rust-resistant and bristles-free grill brush. It allows you to clean your grill grates with minimal effort while ensuring you don't worry about bristles falling inside your grill (nothing worse than a loose bristle in your meat!).
Made from hard-wire stainless steel, it can easily clean and cut through the grime and dirt on your grates. It will not matter if the dirt or grime is in hard-to-reach areas of your grill. Additionally, it is a triple-headed brush. This means you can clean your grill better and faster with minimal effort.
The product is designed with a length of 18-inches. It means you can clean your grill without worrying about the heat if you don't want to wait for the grill to cool down. You also get to use both hands for better leverage.
Pros
10-year "no-hassle" warranty
Stiff rigid construction
Lightweight
Triple head brush
18-inch weather-resistant and tough handle
Stainless steel hard wired rust-resistant and bristle free brush
Cons
It may be a challenge to reach some angles with this wire brush
No scraper
Best Innovative and Safe: Grillart Grill Brush Bristle Free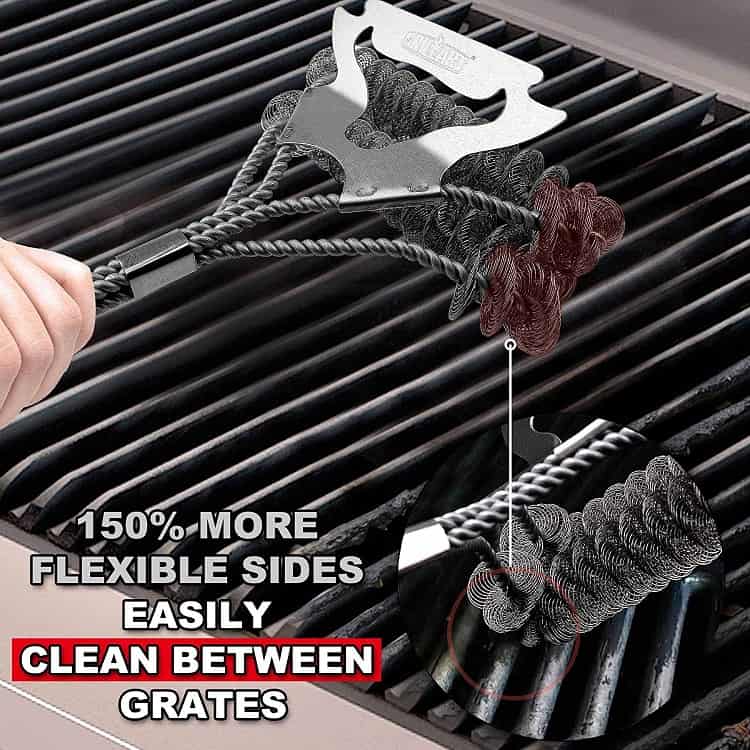 One of the best things about this Grillart grill brush is that it comes with a scraper. Very few grill bushes come with a scraper and the same level of innovation. When you use a grill brush without a scraper, you use more effort and time to clean your grill.
Made using stainless steel, you can easily remove the toughest dirt on your grill. The remaining residue can be scratched away effortlessly thanks to the scraper.
Another feature is the bristle-free feature. Brushes that are not bristle-free usually have steel strips falling off the brush and into your grill. Sometimes these steel strips may end up in your food. Any bristle-free brush that doesn't have this issue is a great product. The combination of a scraper and 3 brushes allows you to clean your grill 5 times faster and more efficiently.
Pros
Comes with a scraper
3-year "no-hassle" service
18-inch well insulated and tough handle
Safe and hard-wired bristle free stainless steel brush
3 brushes for faster and efficient cleaning
Cons
Not recommended for mesh grates
Best Lightweight Grill Brush: Grillart Grill Brush Bristle Free and Scraper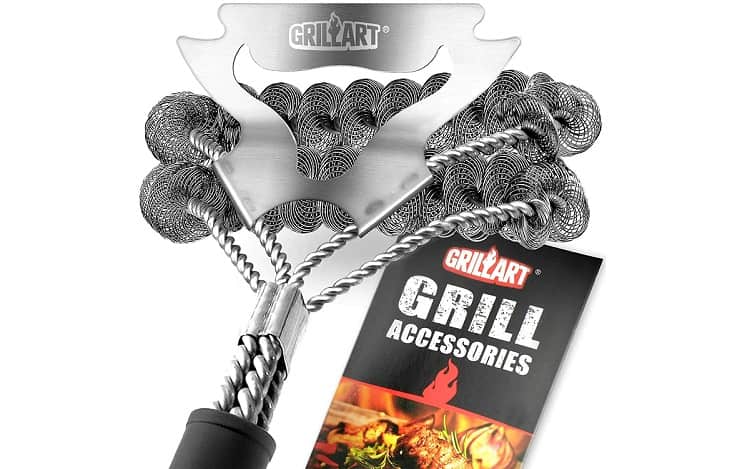 With this grill brush, you no longer worry about ingesting stainless steel bristles from your grill brush. This product gives you a 100% guarantee it is shed-free. When you are cleaning a grill, it is normal to worry about the possibility of stainless steel wires ending up in your food.
For starters, it uses a helix design. This feature makes it more efficient when you clean because it is more flexible. This means it can easily penetrate every angle you find on the grates. The tool is 17-inches long and uses a hollowed scraper. The point of the scraper is to ensure it is lighter.
The scraper is wider meaning it can easily remove away any tough residues that may have been left on the grill. The superior stainless steel material used makes it sturdier than most grill brushes you find on the market. Additionally, it has a heavy-duty, heat insulated handle and it is 100% rustproof.
Pros
3-year "no-hassle" service
Comes with a scraper
Stiff rigid construction
3 brushes in 1
17-inch long insulated and tough handle
Stainless steel hard-wired bristle free product
Cons
A bit stiff
Not recommended for mesh grates
Runner Up: Kona 360 Clean Grill Brush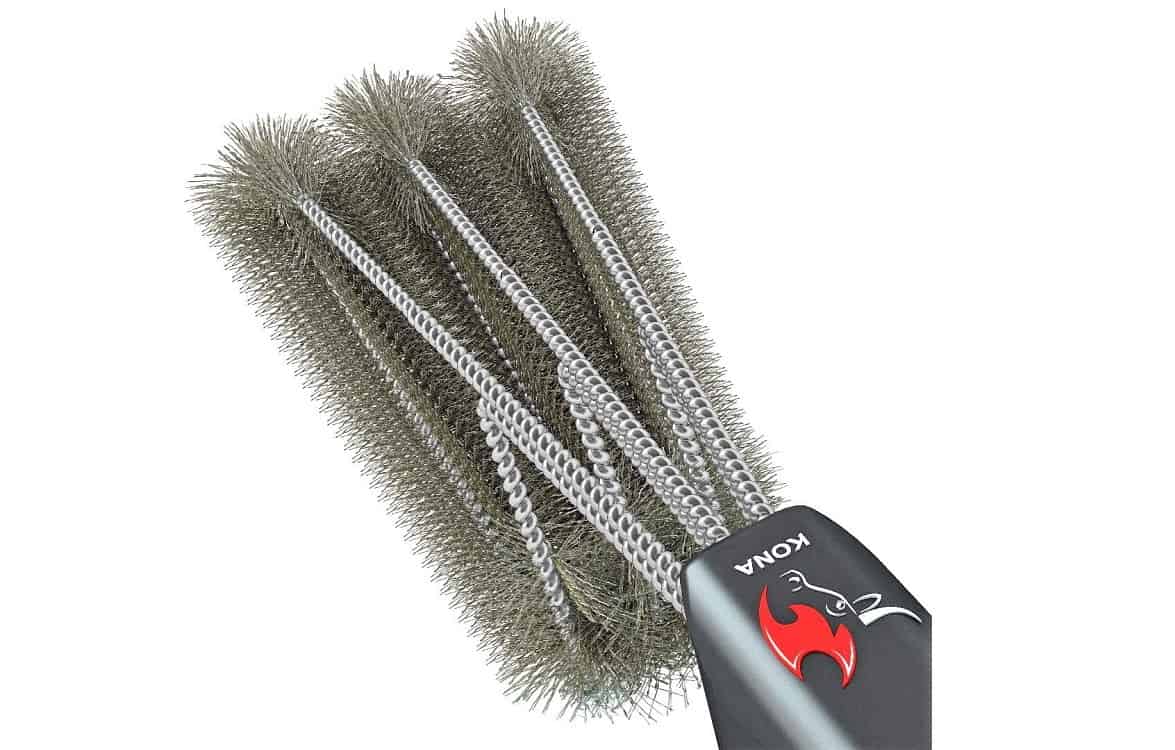 If you are cleaning your grill after a party, the first thing you will need is a reliable cleaning tool. A grill brush will come to mind, but what type of brush do you need? To effectively clean the grates, you need a three-headed grill brush made from steel hard-wired bristles. These can remove the most stubborn residue from your last party.
Every stroke of the Kona 360 Clean Grill Brush is like three strokes of a normal brush. Just as the name suggests, it gives you a 360-degree clean. It means the brush will remove dirt from your grill from every angle giving you a brand new clean.
The handle is also well-insulated to properly protect you against heat. Additionally, you don't have to worry about the pressure you use when you clean the grates. This bristle brush will not leave marks on your grill. It works well for all types of grills including ceramic and porcelain grills. Combine all these features with a five-year warranty and you understand why it is our recommended choice.
Pros
Lightweight but heavy-duty
Perfect for all types of grills
3-in1 bristle brush design
18-inch sturdy and insulated handle
Stainless steel hard-wired bristles
5-year manufacturer warranty
Cons
How About Porcelain Enameled Grates?
There are some grills made using porcelain-enameled grates. Finding the right grill brush for such grills is very crucial. These are metal grates with a tile-like coating. As such, they are prone to scraping or chipping if improperly handled. When you are looking for a grill brush for such a grill, you need to know the types available.
For starters, there are two types of brushes that are best for porcelain-enameled grates:
Soft bristle grill brushes
Wireless grill brushes
Take note none of the above brushes have wires (wire grill brush) unlike the others mentioned above. We recommend you either go for brass grill brushes or nylon brushes if you have porcelain-enameled grates on your grill.
Best Wireless Grill Brushes
Just like stainless steel brushes, there are a couple of considerations you need to make when thinking about purchasing wireless grill brushes. Things like the rows of cleaning material, the look and feel of the handle, and the shape of the brush are some of these considerations.
Let's take a look at brass and nylon grill brushes.
Backyard Dudes BBQ Grill Brass Brush
The Backyard Dudes BBQ Grill Brass Bristle Brush is available in three different sizes – 16-inch, 15-inch, and 12-inch. It also has a single row of cleaning bristles. These are soft bristles great for cleaning in between grates compared to wireless mesh brushes.
You can use it to clean gas or porcelain charcoal grills. Cleaning the brush is easy and it can be washed using a dishware's top rack. If you prefer tailgate BBQ, this brush can clean your grill easily and faster.
Pros
Dishwasher compatible
Can be used on porcelain grills
Three available sizes to choose from
Soft bristle's for a thorough clean
Great for tailgate BBQ
Cons
Only one row of bristles
The largest is 16-inches which is not the longest grill brush handle in the market
Best Soft Bristle Brush: Grillaholics Pro Nylon Grill Brush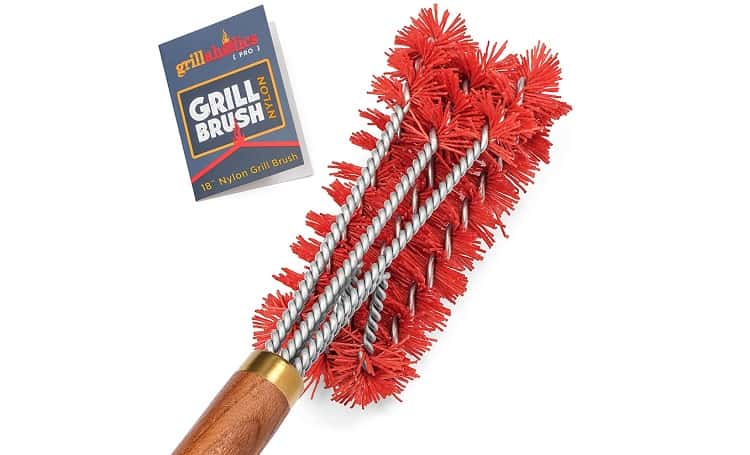 Are you looking for a clean grill without compromising your family's safety? If you have ever had wires on your food from the grill, you will want to look for a grill brush that is bristle-free. The Grillaholics Pro Nylon Brush is bristle-free. You don't have to worry about the addition of bristles to your food.
The first thing you notice is the 18-inch handle. This allows you to thoroughly clean small and big grills. Grillaholics are renowned for their high-quality brushes with more brush choices than any other in the market.
If you didn't know, nylon is 10 times more durable than traditional grill brush steel. Metal bristles tend to break and bend over time. Our side-by-side tests show that nylon last 10 times longer. Remember, you can only clean your grill when it is cold if you go for this grill brush. It is a great option to clean the grill before you start grilling.
Pros
Don't have to worry about bristles
Lasts 10x longer than stainless steel brushes
Long 18-inch handle for a thorough clean
Cold-cleaning technology for a better clean
Zero risks of burning yourself when you clean the grill
Cons
Can only clean cold grills
Bonus Option 1: Universal Barbeque Grill Scraper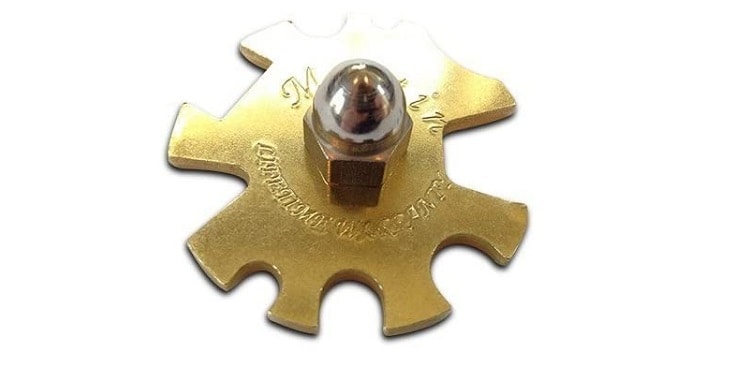 Scrapers are one of the best items you can use to clean your grill. One of the reasons why they are good is they have zero risks of wires ending up in your food. With this in mind, cleaning a grill with a scraper may require some effort.
The Universal Barbeque Grill Scraper does just that. It ensures you can clean your grates with minimal effort. Additionally, it is made using an aircraft-grade aluminum shaft with a brass scraper disc and wooden handle. It doesn't have a wide span meaning you may take longer before your grates are clean.
The heavy-duty aluminum shaft is ready to handle the extra pressure arising from stubborn stains like grease. The universal brass brush head is suitable for various grate racks. Going over the grates a couple of times using this scarper is all you need to ensure they are clean.
The wooden handle is one of the features you will love about this wooden scraper. When combined with the shaft, it measures about 16-inches long. This gives you a better grip, especially when cleaning stubborn grease stains.
The scraper is light at about four ounces. One of the disadvantages of heavy grill brushes or scrapers is you tire easily. With the Universal Barbecue Grill Scraper, this is something you don't have to worry about. You can use it on hot and cold grates. Just remember to wipe off any gunk from the scraper to ensure the cleaning process is smooth and easy.
Pros
Lifetime warranty
Lightweight
Universal brass head
Long wooden handle
Sturdy aluminum shaft
Cons
Can scratch the grill if you apply too much pressure
Cleaning the grill may require more time
Bonus Option 2: Woody Paddle Grill Scraper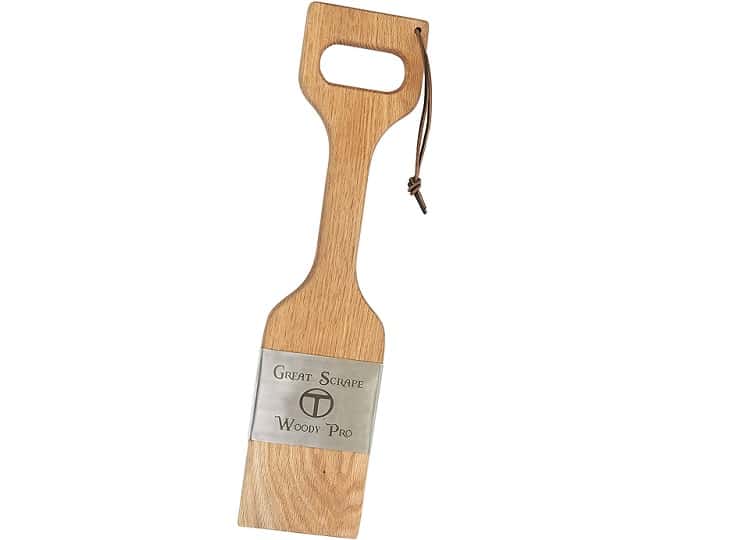 When you are thinking of a scraper, wooden ones are not exactly what you have in mind. They may seem outdated, but they are popular among people who love to maintain their grills. The Woody Paddle grill scraper is a good example of a great wooden scraper you can use to clean your grill.
The first thing you will notice is the length of this product. Measuring at 20-inches, it is one of the longest wooden scrapers you can find in the market today. The handle has the right length to ensure you have enough room to use both hands. This in turn ensures you have a better grip for a thorough clean.
Woody Paddle Grill Scraper is made using a blend of beech woods and solid red oak. The materials are topped with a coating of all-natural mineral oil. This type of oil is free of toxins making it safe to be used around food.
It has a straight design that may make you feel you can't use it on some angles on your grill. As you use it, you will notice it adjusts quickly to your grill. You will notice the tip is quite thin, speeding up the formation of grooves as you continue to use it. One of the downsides of using wooden scrapers is they tend to wear off quickly. At some point, you will have nothing left.
With this specific scraper, you will notice it gets a bit thick as you move up the paddle. This slows down the groove formation once you get that far. To create the grooves, heat the grill until it is hot. Work back and forth in lanes.
Make sure you apply firm pressure and move at a slow pace. Repeat the motion a few times. Don't forget to align the grooves as you may end up with multiple grooves that won't give you the desired results.
Pros
All-natural materials
Food safe
The thin tip forms grooves quickly but slows down later
Long handle for a better grip
Cons
It may not work for you if you grill frequently
Might be awkward to handle if you are using it for the first time
Grill Brush Buying Guide
The majority of grills come with either a cast iron or stainless steel grate. This means you can't use any type of brush. Grates coated with enamel or porcelain need gentle metals like brass. Otherwise, you will end up chipping the grate.
When you have chipped coating, you will see it come off on your food. This can be a health hazard. At the same time, the grate will lose its "non-stick" properties. With this in mind, there are some things you should consider before you buy or use a grill brush or scraper.
Long Handle
A good handle should be more than ten inches long. Grills are hot and you want to ensure you don't get scorched when you are cleaning them. The best way to clean a grill is when it is hot, this is why a long handle is crucial.
A Way to Hang It
You need a great way to store your grill brush. Some grills come with hooks on. Look for one with a metal loop or sturdy leather string for you to hang it when you are not using it.
Sturdy Bristles
Ingested metal bristles are a cause for concern for anyone who is using a grill. You don't want to risk you or your guest getting hospitalized for ingested bristles. Get a grill brush with sturdy bristles that will not come off. Even after you get the best grill brush, always check your grates for fallen bristles before you start cooking.
Integrated Scraper
When you forget to clean your grill, you end up with a hard to remove and solid crust on your grates. A grill brush will to not be able to remove this kind of crust from your grates. This is where a scraper comes in. It is a sharp and solid tool. Some are curved to fit around individual bars of the grate. This ensures you can scrape off any hard-baked residue that your grill brush was unable to remove.
There are some grill brushes on the market that come with scrapers. Since the price difference is minimal, it is wise to get a grill brush that comes with a scraper. This is a decision you will never regret.
Grill Brush Types & Brush Material to Avoid
There are things you need to avoid in a BBQ grill brush. You may not know, but they will affect the performance of the product. They are:
Plastics
Some grill brushes have plastic handles. The problem may be using one that has plastic running to the bottom of the product where the bristles are located. This gets too close to the heat from the grill.
Plastic does not work well in heated areas because it melts. Accidentally touching the grate will cause some of the handle to melt. No one wants melted plastic on their food. Try and use a grill handle with a wooden handle at the least.
Gimmicks
Currently, there are plenty of unnecessary products that are gimmicks. Grill brushes are no different. The majority of gimmicks are poorly made and you should avoid them. An extra such as a squirt bottle attached is not necessary. Water makes the bristles rust and the water in the squirt bottle can freeze in the winter. The only extra you need is a scraper.
Grill Brush FAQs
Question: What is the Best Grill Brush for my Grill?
Answer: Any brush that is rustproof and bristle-free is a great brush to use on your grill. Try finding one with more than one brush. This will ensure you can reach those hard-to-reach areas. We suggest a triple-headed grill brush if you are looking for efficient and faster output.
Question: Are Grill Brushes Safe?
Answer: Yes, they are. The bristle-free types are the best to use. Those that are not labeled bristle-free should be avoided. They are made from stainless steel bristles that may fall off from the brush into the grill.
They may cause health issues if they enter food and are ingested by you, your friends, or family members. To avoid any issues, check your grill brush regularly. Consider replacement if the brush has been in use for several years or you see signs of the bristles falling off.
Question: How Often Should I Clean My Grill?
Answer: For the best grill maintenance, you are required to clean your grill after every use. The ideal time is when the grill is still hot. If not, the other option is pre-heating the grill before cleaning. This makes the residue and debris soften making the cleaning process easier. For the best results, follow the instructions of your grill brush or grill cleaning tool.
Question: What is the Best Grill Cleaning Method?
Answer: You can clean your grates using different types of grill brushes. Each of these brushes has its way of cleaning the grates. The most effective method starts by preheating the grill. As it is pre-heating, you can soak your brush in water. You can then use the brush and other cleaning materials recommended by the brush's manufacturer.
Conclusion
There are many factors you need to consider before you purchase a grill brush. The above grill brush buying guide combined with a list of the best products should help you make an easy buying decision. Remember to consider all factors that you want before you make a decision.
Durability, efficiency, safety, quality, and comfortability are factors you always need to consider. If you are not sure about any product, do some research on reviews from previous buyers. They will give you insight into the performance of the grill brush. This way, you will know what to get and not risk spending extra cash on products that won't meet your needs.