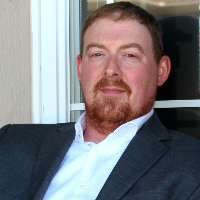 Latest posts by Justin Caldwell
(see all)
Have you ever had a craving for a specific type of meat? There are some days when a nice, juicy ribeye just hits the spot. Or maybe you prefer a cut of lean bison meat. Or perhaps some duck sausage.
The problem usually isn't finding meat that sounds good, it's getting the meat to your home. Especially if it's a less common type of meat.
Online grocery sales grew by more than 50% in 2020 to reach $95.82 billion, and they're predicted to rise even further over the next couple of years. Whether it's a convenience or necessity, there are several advantages to grocery shopping online.
Retailers that can fulfill orders of different food sources are particularly favorable, so in this feature, we will review one such supplier: Meat N' Bone.
Meat N' Bone 'bring the steak house home' by delivering premium quality meats directly to your door. They also sell food hampers, gifts, and bundles and offer a catering service for corporate events and family celebrations.
With nearly 4,000 product reviews and holding the title of the 'Best Butcher Shop in South Florida,' it seems that Meat N' Bone is doing well against pretty stiff competition.
In this post, we're going to find out why and look into their products more thoroughly as well as looking at some alternatives and finishing with an FAQ section all about Meat N' Bone.
Fortunately, there's a great way to get what you want to be delivered right to your doorstep. There are many meat subscription boxes available that provide excellent cuts regularly.
One such service is Meat N' Bone. While you can sign up to receive meat from this online butcher, you can also order high-quality beef or seafood and have it delivered anytime you want it.
Premium Quality Meats | Meat N' Bone
Meat N' Bone is an Online Butcher Shop that offers Premium Quality Meats. They sell over 300+ cuts of meats including Picanha USDA Prime.
Check Prices
We earn a commission if you make a purchase, at no additional cost to you.
For as long as most people can remember, butcher shops were just that – shops—physical, brick-and-mortar places of business. Meat N' Bone, however, is changing all that. They are a virtual butcher shop. A place online where you order high-quality cuts of meat and delicious seafood.
No matter where you live in the US, Meat N' Bone will ship to you. That means you have access to a wide selection of seafood and meats. These unique cuts are handpicked by Meat N' Bone professionals, who ensure that any type of meat you order is high-quality.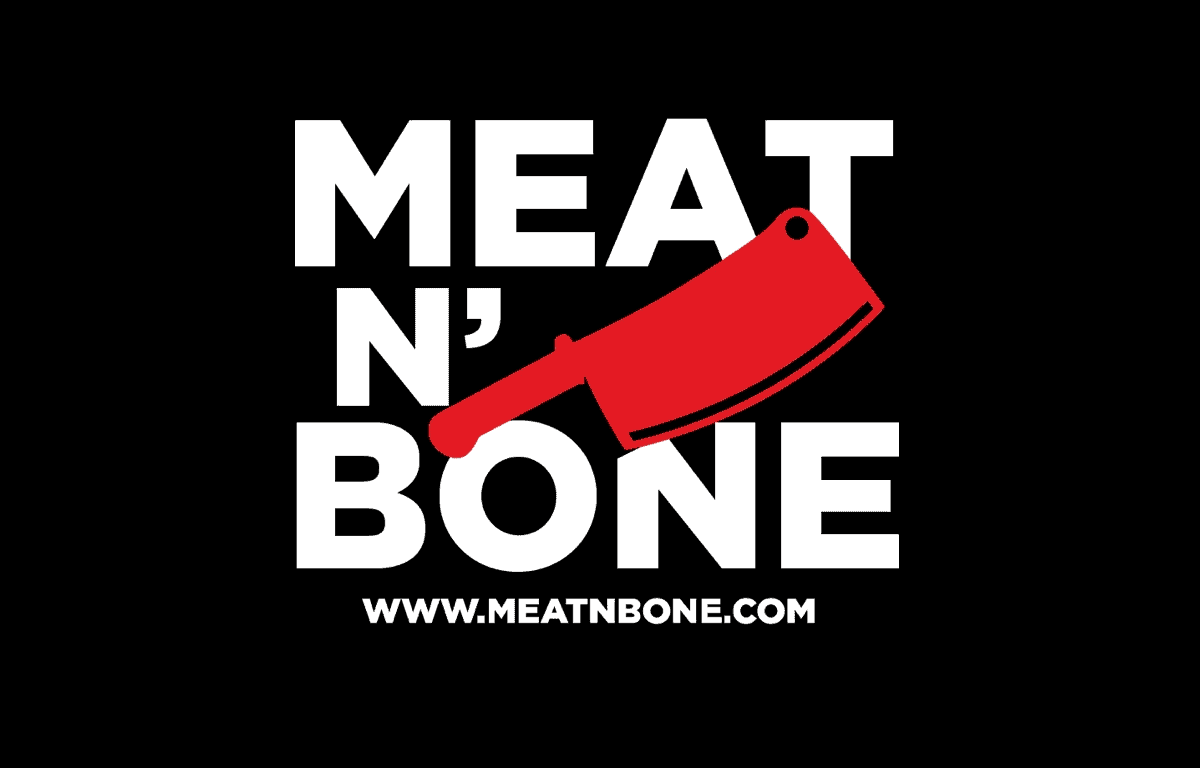 The Meat N' Bone website is a great place to shop for all your favorite meats. The goal of the business is to provide premium quality cuts and meats to every customer. No exceptions.
Every cut the site offers comes from a local fishery or farm, meticulously selected to ensure customers get only the best seafood and meat possible.
So, if you're pining for a particular cut, there's a good chance Meat N' Bone has it for you. For example, the site offers chicken, salmon, bison, elk, and even Japanese Wagyu beef. On top of that, Meat N' Bone offers ice creams for those over 21 who enjoy their dessert mixed with a bit of alcohol. With all these amazing treats, it's no wonder Meat N' Bone has been so popular.
What types of meat do they offer?
If we shared with you all the different types of meats available on the Meat N' Bone website, you'd be reading a short novel. Instead, we've picked a few of our favorite options so you can get an idea of what the site has to offer.
Chilean Sea Bass
Meat N' Bone offers an excellent Chilean Sea Bass steak that anyone who likes seafood is sure to enjoy. This center cut piece of meat is close to 2-inches thick, so you know you're getting a legit piece of fish. You'll get sea bass that weighs between 7-9 ounces. Depending on how much you eat, this could be a meal for you or for you and someone else.
Meat N' Bone offers directions on how to thaw its fish, so you know exactly what you need to do when you're ready to cook it. Sea bass is a delicate fish, and it requires thawing slowly so that the taste is preserved correctly.
The fish has a delicate and delicious flavor. It's juicy and thick, which is better than anything you're likely to find in your local grocery store. Even more, the fish tastes fresh and flakes like a good cut of sea bass should. The Meat N' Bone sea bass is without a doubt a high-quality cut of fish.
Picanha Wagyu
Commonly referred to as the top sirloin cap, picanha is the top part of the filet with the fat included. It's the fatty part that makes this cut of steak so delicious and flavorful. That's because it melts into the steak as you cook it. Sourced from only the top Wagyu farms in the US, Meat N' Bone offers top-quality cuts of beef.
Wagyu meat naturally has more fat than other meats, which gives it a distinct and juicy flavor. Meat N' Bone's cut of the meat is no exception. Plus, the site sends thick cuts of meat. You'll get a 10-ounce piece that is between 1 ½ and 2-inches thick.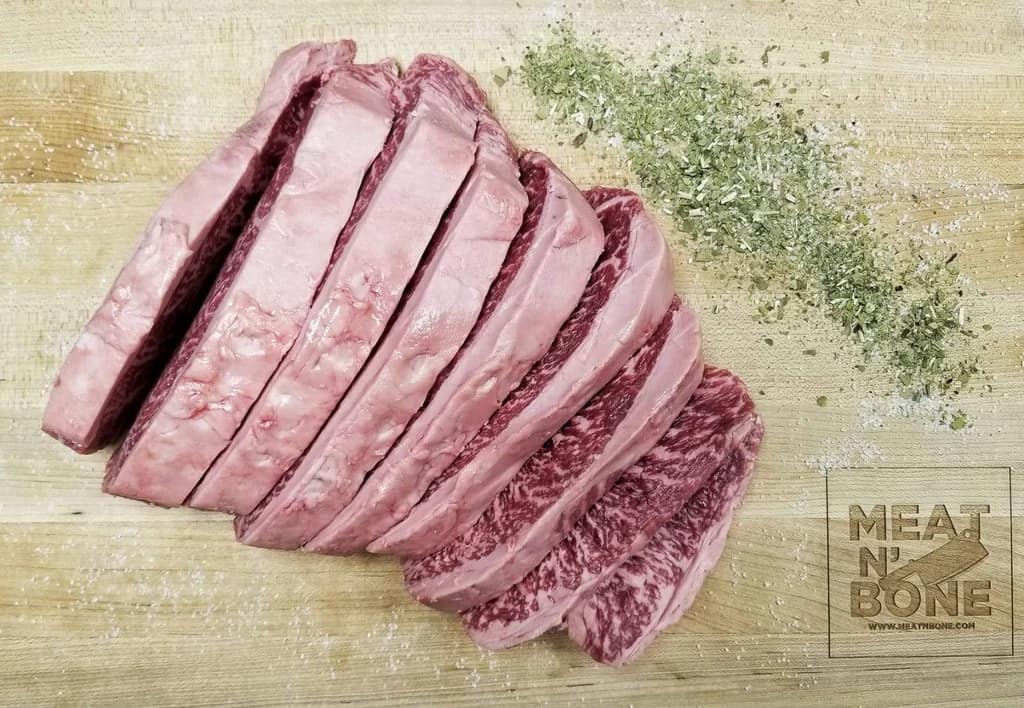 The picanha wagyu has a unique flavor that doesn't overpower your taste buds. If you're a meat conossiouer, you may even notice a hint of sweetness. You'll get a tender cut of beef that has a buttery taste, primarily due to the marbled fat on every piece of wagyu meat. Meat N' Bone's cut is perfect for a single serving, so prepare to have a thankful mouth when you sit down and dig in.
Iberico Pork Chops
Some of the tastiest pork chops you can get are Iberico chops. These pork chops only come from Iberian black pigs, which are bred in either Spain or Portugal. All pigs are free-range and subsist on a grain and grass diet. Iberico pork chops are known for having excellent marbling, are very tender, and are easy to cook.
Meat N' Bones pork chops usually weigh between 13 and 15 ounces, so you know you're getting a nice, thick piece of meat. They're perfect for a person with a big appetite, although you could share it as well if you were so inclined.
Iberico pork chops are very tender, which makes them easy to cook and eat. Every bite is a delicious morsel that melts in your mouth. It's not too meaty and even has a mild flavor, making it an exquisite pork chop. With all these things going it's favor, don't be surprised if these pork chops are the best you've ever had.
Dry-Aged Kansas City Strip
Meat N' Bone offers a 45-day dry-aged KC strip that might be the best steak you've ever eaten. The thing that makes it so delicious is its exceptional marbling, which makes the steak very tender. You'll also find a thin bone along the edge of the cut, which helps add to its flavor.
When your KC strip arrives, don't be surprised when it's nearly two inches thick. It's an excellent steak for cooking in a wide variety of ways. You can toss it into a pan or throw it on the grill. The Meat N' Bone KC strip will weigh 13-15 ounces, so you're getting a nice hunk of meat.
The dry-aging process gives the strip a unique nutty taste that many steak enthusiasts enjoy. It is a highly sought after cut of beef. A dry-aged cut is kept under refrigerated conditions where the humidity is closely monitored. When beef goes through the dry-aging process, it loses much of its volume and moisture.
As a result, the steak tends to shrink, which means there's less meat to sell. However, a loss of moisture results in flavor concentration. This is what drives up the cost of the strip. Meat N' Bones KC strip is a tender steak that will melt right on your tongue. The flavor is incredible, the cut is juicy, and the taste is fantastic.
Why Choose Meat N' Bone?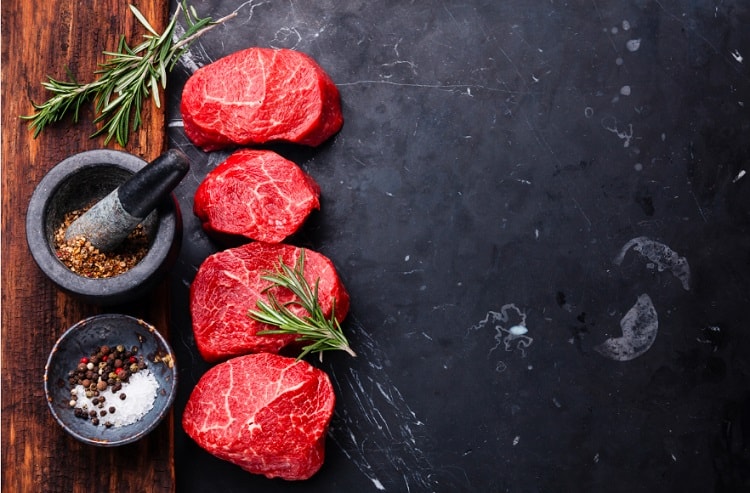 Up until recently, mail order meat may have been considered a luxury, if you ever considered it at all. But today, with such a large selection of online butcher stores, ordering meat online is a hugely popular venture for a vast number of people.
With so many excellent specialty meat delivery companies on the market today, there is more choice than ever before.
From your fingertips, you can order staples like pork chops, ground beef, chicken breast, and steak and have it on your doorstep within a day or two. There are more unique offerings to take up, such as game meats and even specialty cheeses.
So, what sets Meat N' Bone apart from its competitors? Firstly, their USDA prime meats are entirely traceable and from US MidWestern ethical, responsible farms.
Their cattle are fed a high-quality diet and provide the same meat to New York and Chicago's finest steak houses. You really won't get this quality in a superstore.
Meat N' Bone works with farms that follow organic practices, and some are even environmentally verified. Forbes has rated Meat N' Bone as the best supplier of game meats, and this is a pretty exciting collection, including venison, wild boar, bison, and elk.
With Meat N' Bone, people can rest assured that the meat, and other food products available, are humanely raised or responsibly harvested. Furthermore, you know exactly what you're getting and when.
Further benefits of choosing Meat N' Bone include:
Their beef is of extremely high quality, and the offering is consistent.
They claim to sell better quality beef than any supermarket.
Meat N' Bone only works with G1 certified beef.
Their expert butchers hand-select every cut.
Meat N' Bone state that they've received over 600 reviews for their products and not a single one of them has been negative.
Same-Day delivery within S. Florida – 48-hour nationwide delivery available too
As well as just meats, Meat N' Bone is a go-to store for all your meat and BBQ needs. They sell hardware, rubs and seasonings, sauces, alcohol, charcoal, and even ice cream.
Their prices are pretty reasonable, but we have found similar products retailing for less elsewhere. However, to cater for a whole event, such as a gala or family BBQ, consumers could buy all they needed from Meat N' Bone.
For those looking to organize such an event, Meat N' Bone has that covered, too, with personalized catering services available throughout the US. It's difficult to determine prices for this, but there's an online inquiry form for people to receive a quote.
Another excellent service from Meat N' Bone is their Grill Masters For Hire. This is where people could hire a finely trained grilling expert to cook meats at your chosen venue.
How Does Meat N' Bone Work?
Meat N' Bone has an easy-to-navigate website, where you can filter your search through product type, meat grade, meat cut, and price brackets. There is also the option to purchase bundles and combos.
Simply add the product to the basket, fill in the address section and pay for your food. Shipping costs vary, but there is free shipping available and same-day delivery for those in Southern Florida.
Orders are hand-selected, cut, sealed and expertly packed in insulated boxes with reusable ice packs to keep food fresh in transit for up to 56 hours.
Meat N' Bones website isn't just about meat and food deliveries either. There are many recipes and blog posts that are useful for those who like to cook or are interested in learning new recipes or practices.
How to Get It
Meat N' Bone will ship its delicious cuts to all 50 states. Of course, the amount you'll pay in shipping depends on where you live and what you order. The company is located in Florida, so the closer you ship to Florida, the less the shipping costs will be.
However, you can get free shipping if you spend enough on the site to qualify. Meat N' Bone offers overnight and priority shipping if you need to get your meat in a hurry. Bear in mind that it could still take at least four days for the shipment itself to be filled. This is because Meat N' Bone wants its inventory to be fresh, which means your order may not be immediately available.
Meat N' Bone Prices
When you're looking for prime, restaurant-quality meats, you would expect to pay a little more, and Meat N' Bone stresses the fact that they do not offer low-cost meat or discounts. They retail top-quality products at the most affordable price they can obtain without compromising on anything.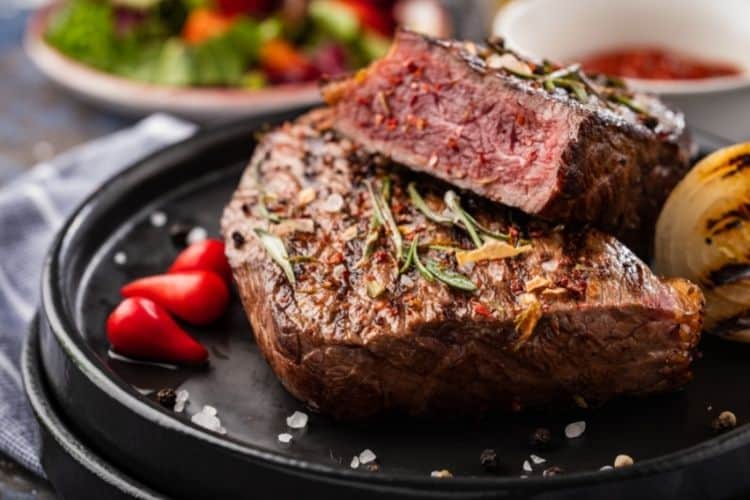 When comparing their more non-perishables, it seems these do fare relatively highly. We have found a smokey BBQ rub of similar size to those retailing at Meat N' Bone much cheaper. You can also find double the amount of firecrackers elsewhere for half of the price at Meat N' Bone.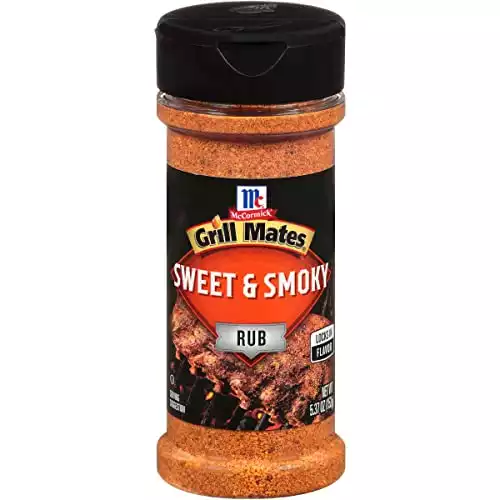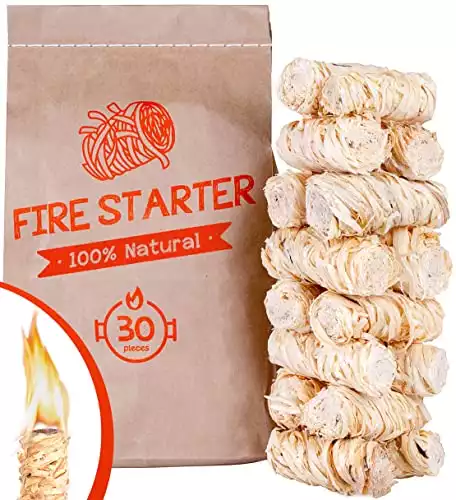 Fire Starters for Fireplace | Amazon
Firelighters burn time is up to 10 minutes which makes them great camping accessories. Make a fire easily even in windy weather with Zorestar wood wool.
Buy at Amazon.com
We earn a commission if you make a purchase, at no additional cost to you.
09/27/2023 08:34 pm GMT
However, Meat N' Bone is retailing premium charcoal at a lower cost than elsewhere.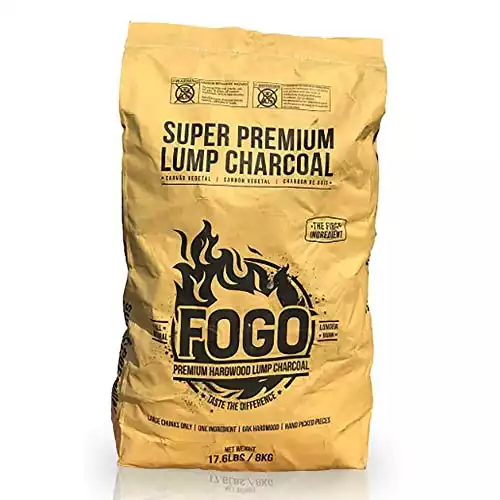 Fogo Super Premium Charcoal | Amazon
Fogo Super Premium All Natural Hardwood Charcoal is made from dense Central American Hardwoods and only hand selected pieces make it into every bag to ensure that you get the very best charcoal you can find. 
Buy at Amazon.com
We earn a commission if you make a purchase, at no additional cost to you.
09/27/2023 12:41 am GMT
What Are People Saying About Meat N' Bone?
Meat N' Bone has published many reviews on their website, but are they really going to publish poor ratings?
Although the company claims not to have any negative reviews, we feel dubious about the accuracy of this – you simply can't please all of the people, all of the time. However, here is where the waters get a little muddy…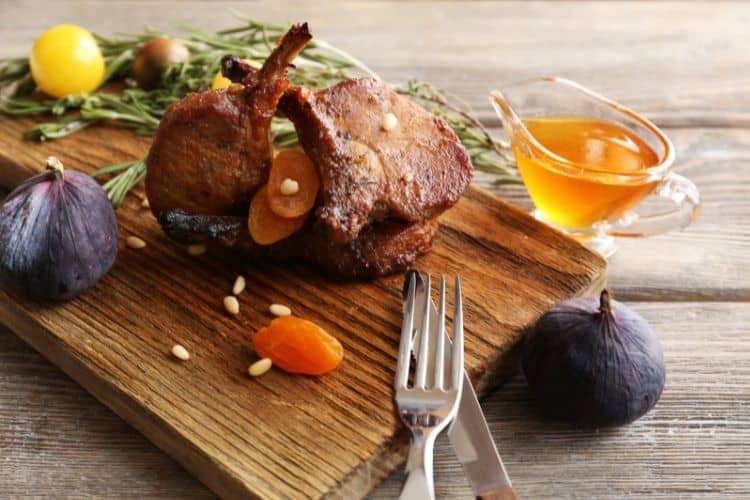 Meat N' Bone have recently received several 1-star reviews online – all of which they dispute and respond to with the following:
''You did not order from us; we have no record of your order. This is a fake review and has been reported to google. We have no order under your name or email. We have not received any calls from you.''
Meat N' Bone has further addressed this here.
We took a look at their social media pages for balance and have to say that their reviews here are 5-star. There are a couple of posts where people complain of being set wrong or a partially wrong order but praise Meat N' Bone for their efficient remedying of the error.
Premium Quality Meats | Meat N' Bone
Meat N' Bone is an Online Butcher Shop that offers Premium Quality Meats. They sell over 300+ cuts of meats including Picanha USDA Prime.
Check Prices
We earn a commission if you make a purchase, at no additional cost to you.
What are the Pros and Cons of Meat N' Bone?
So, now we know more about Meat N' Bone, let's look into the pros and cons.
Pros
Many of the cuts Meat N' Bone offer aren't found in your local grocery store
Excellent quality seafood and meat
Items are well-packaged and fresh
Ethically sourced products
High-quality meats – of restaurant quality
Catering services available
Free and same-day shipping available
Additional products, not just meat
Wide selection of meats and fish
Gift packages
Bundle buys
New Mobile App
Website blog posts and recipes
Cons
Prices will be higher than what you'll find in grocery stores
Shipping rates can be expensive
Products shown not always available
Substitutions may not fit the bill
Prices for catering service or grill service not easy to find
As you can see, there's plenty to like about Meat N' Bone. But there are some drawbacks to this online butcher as well. Here are some of the pros and cons you'll find when using Meat N' Bone.
What Are The Best Alternatives to Meat N' Bone?
 If Meat N' Bone isn't what you want in an online butcher, there are plenty of alternatives. When it comes to online meat delivery services, there's undoubtedly a great number of them to check out. We've saved you time by rounding up a few who look good to us. Here are just a few you can consider.
Crowd Cow is an online butcher that works with local farmers to provide a high-quality lamb, chicken, and steak cuts to its customers. You can create a custom box and fill it with exactly what you want. The site also offers fish, so you have plenty of meat options available.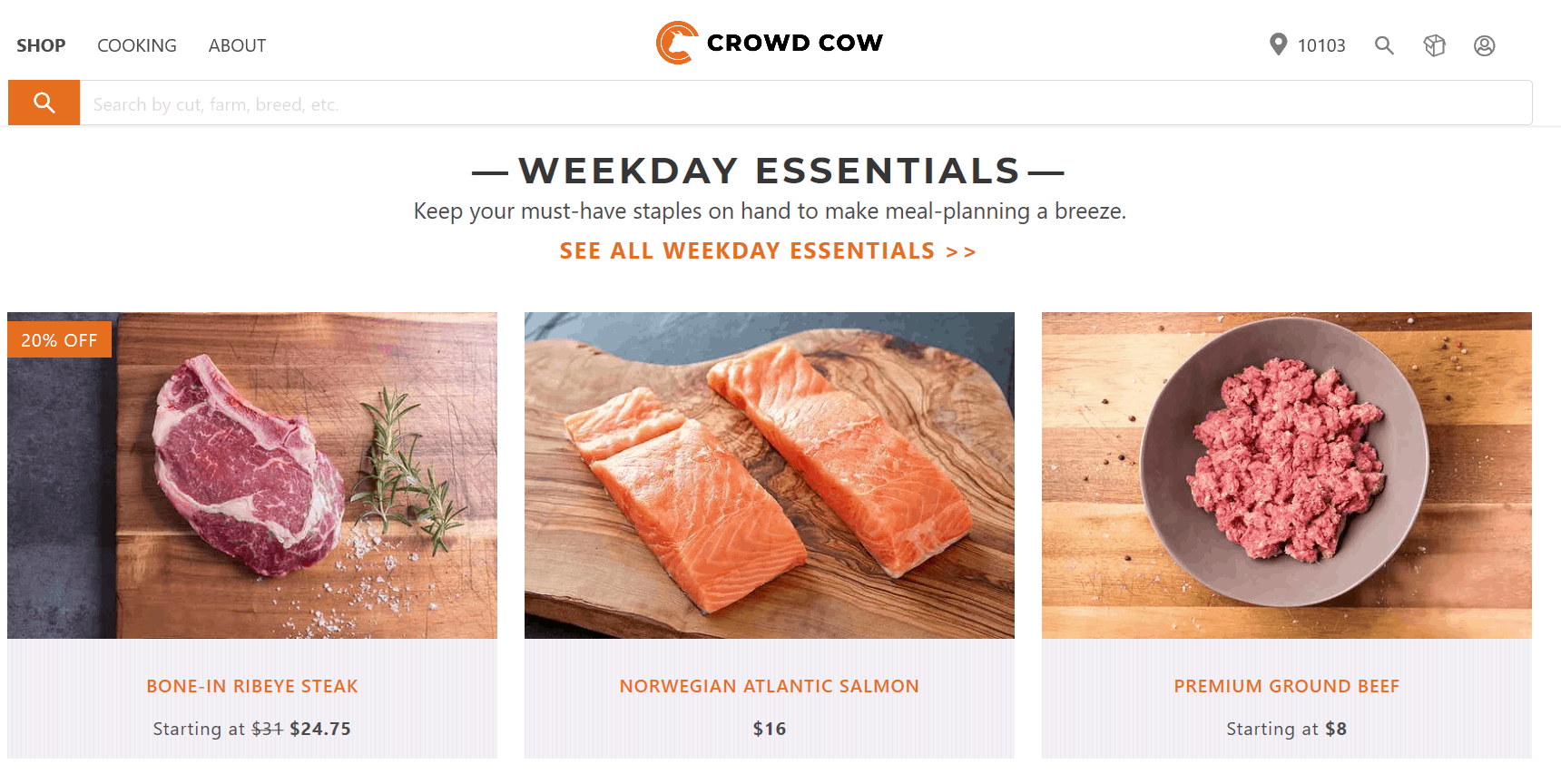 You'll find that the site is often sold out of specific inventory types, which can be a challenge for many online butchers. Still, the products you receive are high-quality and fresh, so don't hesitate to use this online butcher for all your seafood, beef, and chicken needs.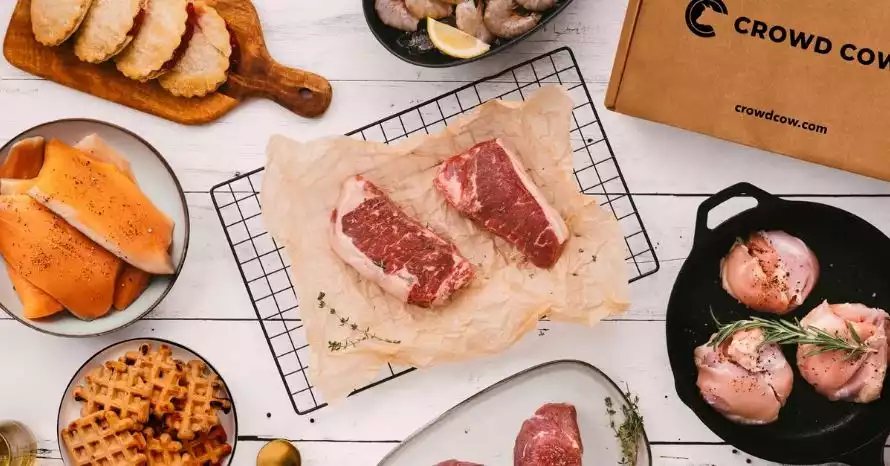 Rastelli's
Another reliable online butcher is Rastelli's. This company offers all the meat you might use regularly. So if you need chicken, steak, ground beef, sausage, or pork chops, Rastelli's has you covered. Rastelli's allows you to sign up for a subscription or order items in bulk. Whichever makes the most sense for you.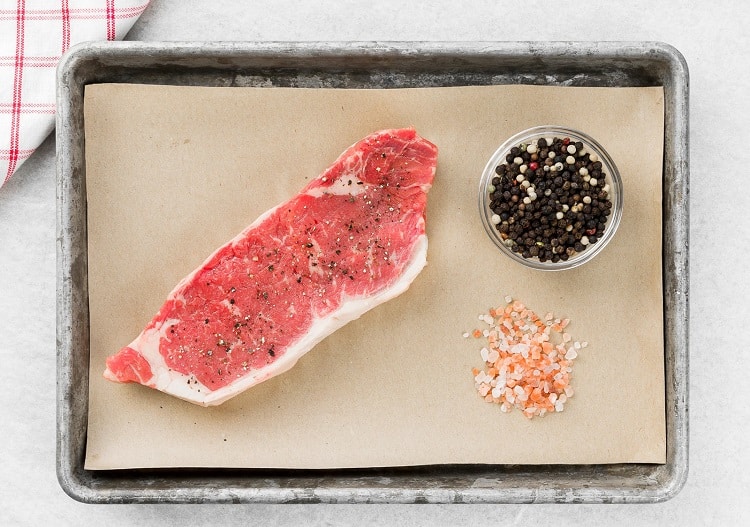 Rastelli's is a New-Jersey based meat distributor who has been in the business for decades – although relatively new to the online market.
Rastelli specializes in US-sourced products that are free of hormones, steroids, and antibiotics. They're also a family-owned business that we find to be the best for staples.
Rastelli's have recently started to introduce plant-based proteins, in addition to their crowd-friendly boxes, which include items like organic whole chickens, salmon fillets, ground turkey, and sirloin steaks. Items arrive freshly vacuum packed and are blast-frozen.
This is a subscription box service, but consumers can also purchase one-off boxes. Free shipping is available on orders over $200, and prices start from $19.
If you have a large family, Rastelli's is a great option. Drumsticks, ground beef, and steak burgers all come in 12 servings. That's roughly enough for one meal with my family. Plus, the site offers gift boxes, so you can create and send boxes for the holidays to family and friends.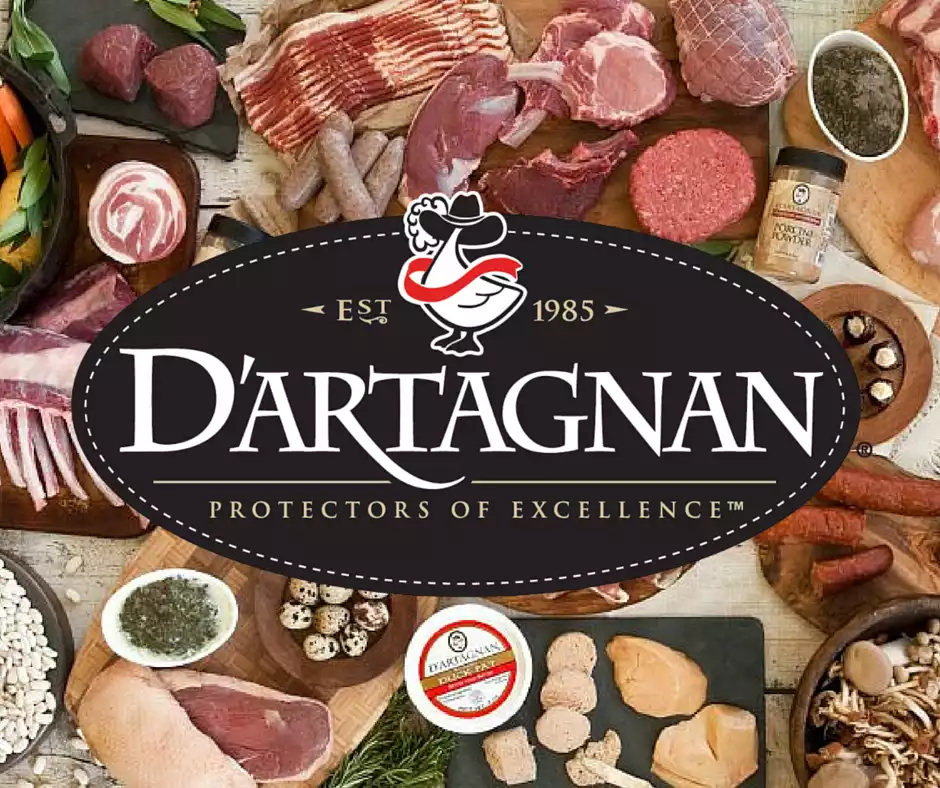 D'Artagnan is the perfect online butcher if you want meats that are harder to come by. For example, the site offers wild boar, rabbit, and venison, in addition to its beef, lamb, and pork options. Users can also purchase poultry, such as chicken, duck, and goose. There is also a wide variety of bacon, sausages, and cured meats you can add to your order.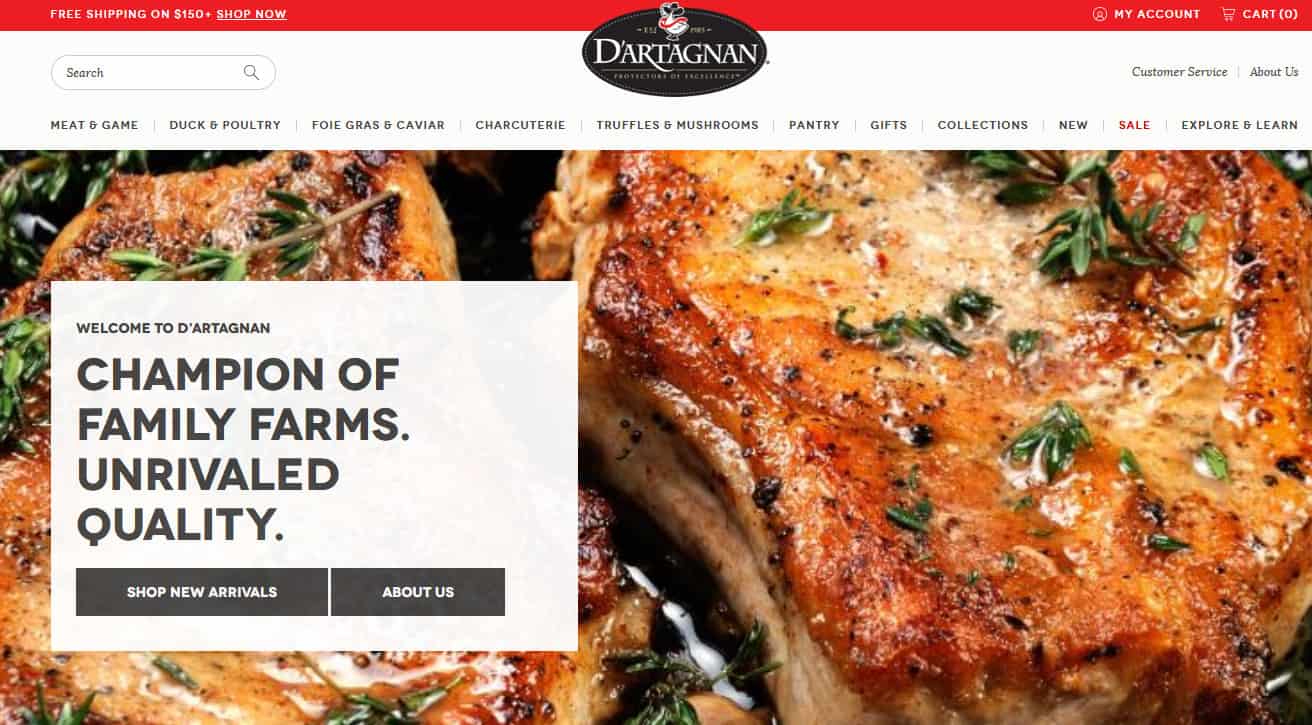 D'Artagnan also offers fresh truffles, duck foie gras, fiddlehead ferns, and caviar for those of you in the market for something a little more adventurous. Like other online butchers, D'Artagnan offers online gift boxes, which make great choices for the holidays.

Farm Foods offer great value, and we particularly like the sale section of their website, where great savings can be made. Farm Foods offer budget-friendly traditional and exotic meats and seafood, cheeses, fruits, snacks, and veg.
There is a really informative section on their website which links all the farms they use, and all the specific information about each one.
The farms that provide Farm Foods are humane and organic. There are bulk buy options available and great offers on value packs of meat and affordable cuts to buy such as heart, liver, tendon, and tongue. Prices start at just $8, and there are free shipping options too.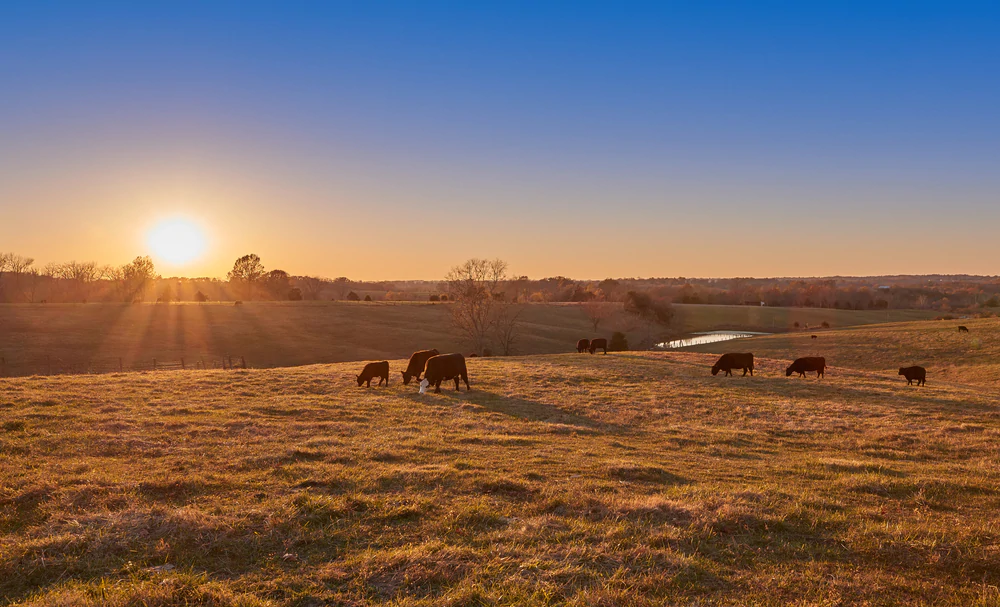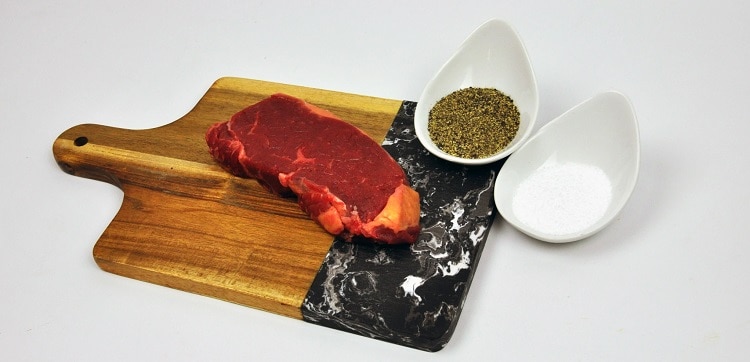 For those who fancy something a little different to beef, pork, or chicken, Fossil Farms are the place to check out for farm-raised game and exotic meats. Fossil Farms offer over 200 different kinds of meats, including wild boar, alligator, kangaroo, ostrich, and camel.
Their slogan is 'Wild, natural, sustainable, and they are committed to humane and sustainable practices with well-cared-for animals who are uncaged and have access to open pastures, wholesome grasses, and pure water.
Fossil Farms have a gourmet retail store in New Jersey and use UPS to deliver meats nationwide. Prices start at $6.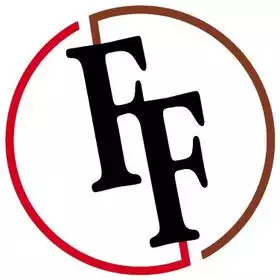 Wild. Natural. Sustainable. | Fossil Farms
Find the best meat for your butter-aged steak at Fossil Farms - they specialize in providing the highest quality farm-raised game and all-natural meats in the country.
Check Prices
We earn a commission if you make a purchase, at no additional cost to you.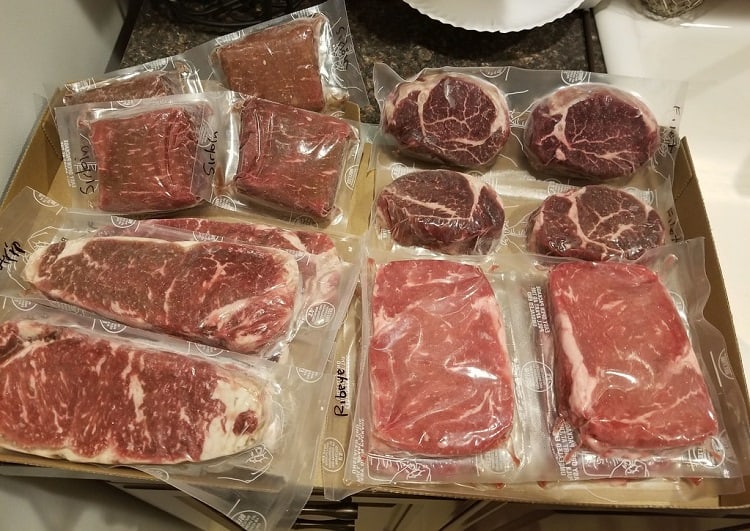 One of America's first mail-order meat companies, Omaha Steaks, has been sending specialty steaks across the nation for over a hundred years.
Omaha Steaks are famous for their variety of cuts, such as sirloins, T-bones, ribeyes, and top-notch filet mignons. They also have an impressive selection of other meats, seafood, desserts, and wines.
The prices at Omaha Steaks are steep, but there are seasonal sales and discounts on their website. Value assortments and free shipping options mean that those with more limited budgets can still enjoy high-quality meats.
Omaha Steaks have many gift packages suitable to all kinds of budgets, and prices start at $10.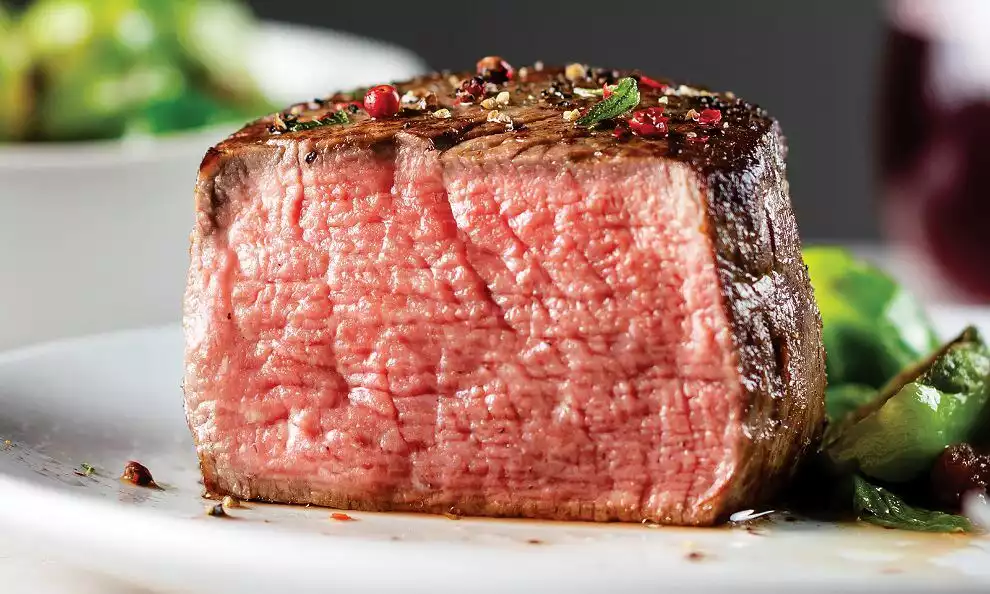 Mountain Primal Meat Company
Mountain Primal Meat Company is an online butcher located in Colorado. This company offers customers grass-fed American Berkshire Pork, Highland Beef, bison, and elk. But where Mountain Primal Meat Company shows out is with its meat boxes. These are great for stocking your freezer, so you have the meat available anytime you want it.
Market House offers incredible overall value for money. As well as pricey premium cuts, there are significant savings to be found, and their boxes suit budgets across the board.
Larger families could really benefit from their selection of combo packs, and they have a great members-only reward system, where points transform to dollars.
Although Market House prices don't meet a lot of supermarkets, they do come pretty close, and good value can be found in almost every section of their website. New customers can take advantage of $25 off their first order, and subscription options look great value for money.
Free overnight shipping is available, and prices start from $10.
You can purchase ground beef packages, ground pork, pork sausage, and a wide variety of other meats straight from the site. And once you're done deciding what type of meat you want, check out the barbecue sauces available on the Mountain Primal Meat Company website.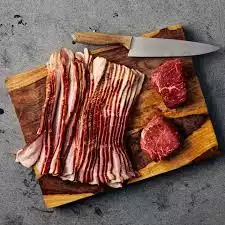 FAQs
People have lots of questions when it comes to online butchers. We'll answer a few of the more commonly asked ones below.
Question: Is the meat from Meat N' Bone organic?
Answer: Not all of the meat from Meat N' Bone is certified as organic; however, the brand believes that the farms they use follow organic practices.
Question: Can their meat be traced?
Answer: Yes. Meat N' Bone has a small network of inland and overseas suppliers who they know and trust and repeatedly use to guarantee consistency for consumers.
Question: What are the gift options like?
Answer: Meat N' Bone really shines here. They have a selection of pre-made gift boxes to choose from, with their cheapest box being under $60 and e-card and physical card vouchers available to purchase too. As well as pre-made hampers, you can also request a custom order or specialized corporate gifts.
Question: Does Meat N' Bone do subscription boxes?
Answer: At the moment, Meat N' Bone is not doing subscription boxes, but businesses change and adapt all the time, so who knows what the future may hold.
Question: What if I'm confused about the reviews?
Answer: The reviews are confusing, and it's difficult to say honestly what is right and hearsay. We can say that Meat N' Bone has been retailing for many years without any documented negative feedback.
Poor feedback is a very recent thing, and we would advise not paying it much heed; the brand is addressing this, and hopefully, Google will step in to verify one way or the other!
Question: Why does meat taste better when it's on the bone?
Answer: Many people don't know that bones add flavor to the meat. As the bone cooks, marrow within the bone releases its juices, which penetrate the meat. These juices are rich in fat and add flavor to your meat. This creates a juicy and tasty piece of meat whether you're cooking it on the grill or in you're frying pan.
Question: Which is cheaper? The grocery store or the butcher?
Answer: Cost can play an essential factor when buying meat. However, if you're buying the right type, buying meat from a butcher can be as much as purchasing it from your local grocery store. Plus, your butcher may suggest other cuts that are just as tasty that doesn't cost as much. And chances are that you're going to get higher quality meat from your butcher, which helps you stretch your money.
Question: How long does meat purchased from a butcher typically last?
Answer: The typical rule for any raw beef type is that you can keep it in your refrigerator for 3 to 5 days. This includes cuts like steaks, roasts, and chops. Be sure they are well-wrapped, so they stay fresher longer. The shelf life for ground beef isn't quite as long due to the process it goes through.
Is Meat N' Bone the Online Butcher for You?
The Meat N' Bone seafood and meat delivery service provide a great selection of high-quality choices. It goes without saying that the products on the Meat N' Bone site and premium.
The meat and seafood are top of the line and are far and away better than you'll find in your local grocery store. It's better than many restaurant portions of meat as well.
Meat N' Bone has all the staples; chicken breasts and drumsticks, ribeyes and burgers, pork chops, and racks of ribs. They also have many other options too for seafood, cheese, desserts, and wine, as well as everything you could need for a BBQ day – even the charcoal and firelighters.
As well as traditional meat, Meat N' Bone sells the more exotic too, like wild boar and venison. The quality of their hardware is decent, with cast iron pans, meat grinders, and smart-dry aging fridges.
Products from the site are very well-packaged. That means when they arrive, the meat is still frozen, even though it may have been shipped from Florida to Oregon. Everything is flavorful and fresh once it thaws. Overall, Meat N' Bone is an excellent online meat delivery service.
Prices are not low, but for the quality of the meat on offer, they are understandable. You will find cheaper meats elsewhere, but whether you'd find the same quality is highly doubtful.
With subscription boxes being all the rage recently, Meat N' Bone is the exception, and we don't see any immediate plans to branch out into subscription boxes yet.
We do see a great selection with their combo bundles and acknowledge additional services that other online butchers are not doing – such as the catering service and hire of an expert griller.
If you're in the market for high-quality seafood, beef, pork, or wild game, Meat N' Bone might be the right choice for you. While the meats are higher priced, and the shipping can be steep, the quality is fantastic. You'll get restaurant-quality – or better – meat delivered right to your doorstep. Go ahead and give it a try. You'll be glad you did.
Premium Quality Meats | Meat N' Bone
Meat N' Bone is an Online Butcher Shop that offers Premium Quality Meats. They sell over 300+ cuts of meats including Picanha USDA Prime.
Check Prices
We earn a commission if you make a purchase, at no additional cost to you.