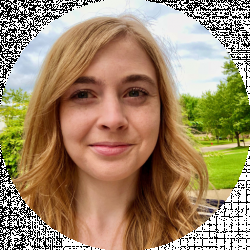 Latest posts by Erin Jamieson
(see all)
What if you could eat steak house quality meat from the comfort of your own home? That's what companies like Kansas City Steaks and Omaha Steaks claim to offer. And perhaps now's a better time than ever to consider a mail-order steak.
One thing's for sure: Americans still love meat. In 2020, meat store sales set a record high with a 19.2 percent increase. But this trend doesn't simply point to more meat consumption, but a change in how meat is being consumed.
Pushed by pandemic closures, more Americans started buying meat from supermarkets and online retailers and cooking at home. That trend continues– and may impact steakhouses at least for a while. 
But it's mail-ordered steak companies like Kansas City Steaks and Omaha Steaks that may benefit in addition to supermarkets. According to a 2021 report by Business Insider, Americans especially love beef options.
Beef, compared with other meats, is booming in sales, with an estimated $82.5 billion worth in the past year. And of beef products, steak continues to be a favorite. 
But as convenient as it sounds to have steak delivered to your door, is it worth the cost? And, more importantly, how do two popular options– Kansas City Steaks vs. Omaha Steaks– compare?
My Bottom Line Up Front Summary: While I enjoyed both selections, there are a few cases where I'd recommend one over the other..
Looking for Selection & Value? Go with Omaha Steaks here. Ships faster than KCS and can bundle with other meat and seafood for maximum value.
Looking for Exclusive USDA & Prime Cuts? Go with Kansas City Steaks. Selection is more limited, but higher quality premium cuts.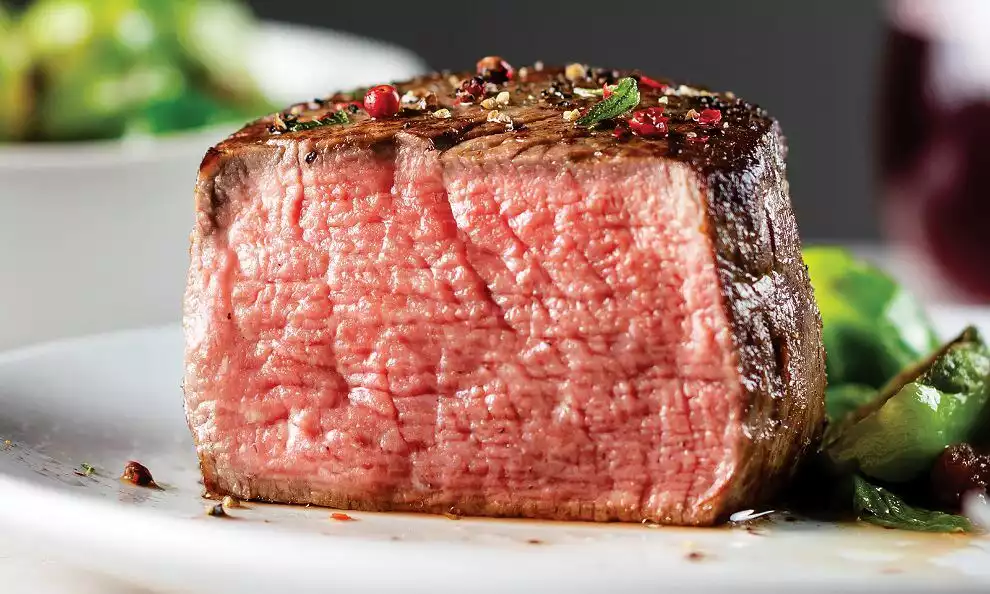 Main Differences Kansas City Steaks vs. Omaha Steaks
Kansas City Steaks offers Auto Delivery, whereas Omaha Steaks offers more deals, bundles, and discounts.

Kansas City Steaks sources USDA Choice and Prime steaks, whereas Omaha Steaks sources steaks from Nebraska.

Kansas City Steaks has more options for steak sizes, whereas Omaha Steaks has slightly more options for steak cuts.
In this review, I'll compare two of the most popular mail-order steak companies and tell you everything you need to know about how to spend your money for the best steak on your table. 
Which is Better: Kansas City Steaks or Omaha Steaks?
Kansas City Steak and Omaha Steaks are two of the most popular mail-order companies and likely two of the most frequently compared.
Both claim to offer convenient steaks, along with other products for easy entertaining and gift-giving. But as popular as these two companies seemingly are, there are some differences when it comes to their business models and product offerings. Here's my honest review of how the two companies compare one very important factor– and what you need to know to make the best decision for you. 
What is the main mission statement of Kansas City Steaks vs. Omaha Steaks?
Easily one of the most common factors to overlook is the general company mission statement.
This may not seem interesting or important, but what it does is give you an idea of what and whom this service is intended for. While you should never take a mission statement for its word, that mission statement should align with what is offered. Misalignment in this category can be a red flag. 
Kansas City Steaks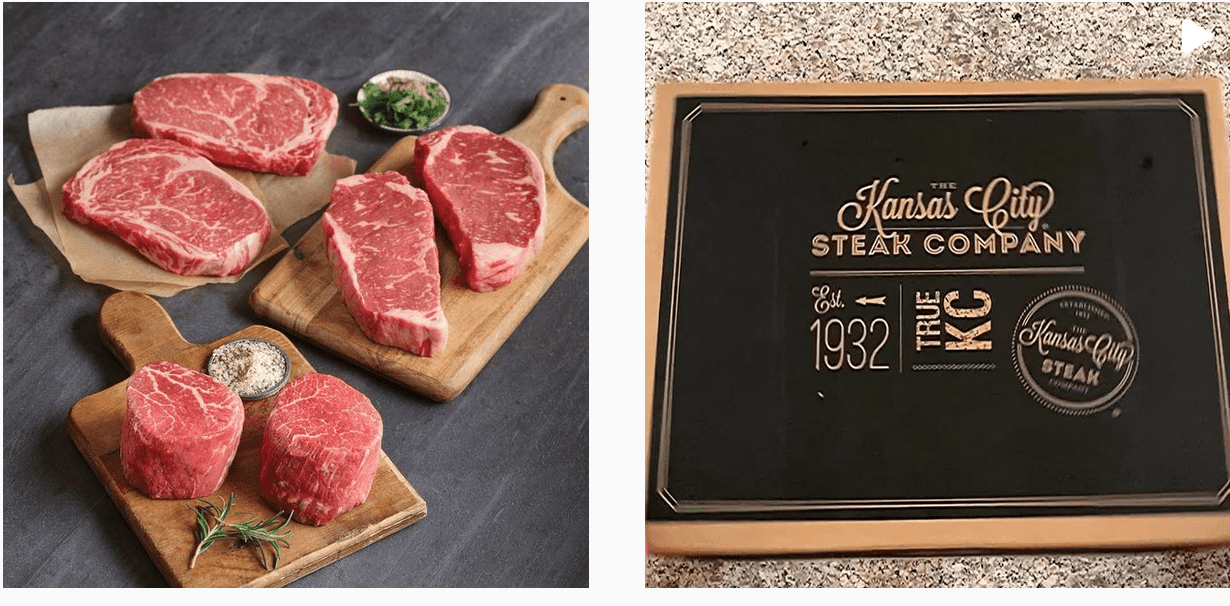 The Kansas City Steak company is based in Kansas City, to no surprise. The mail-order steak company began selling meat in 1932 as a small family-owned business, then named the S&S Meat Company. Their origins focused on fine meat at value prices.
Since then, the company has expanded and taken on the name of Kansas City Steak Company. They claim to value great taste above all else, aging American steaks at 'peak tenderness' and offering customer satisfaction guarantees.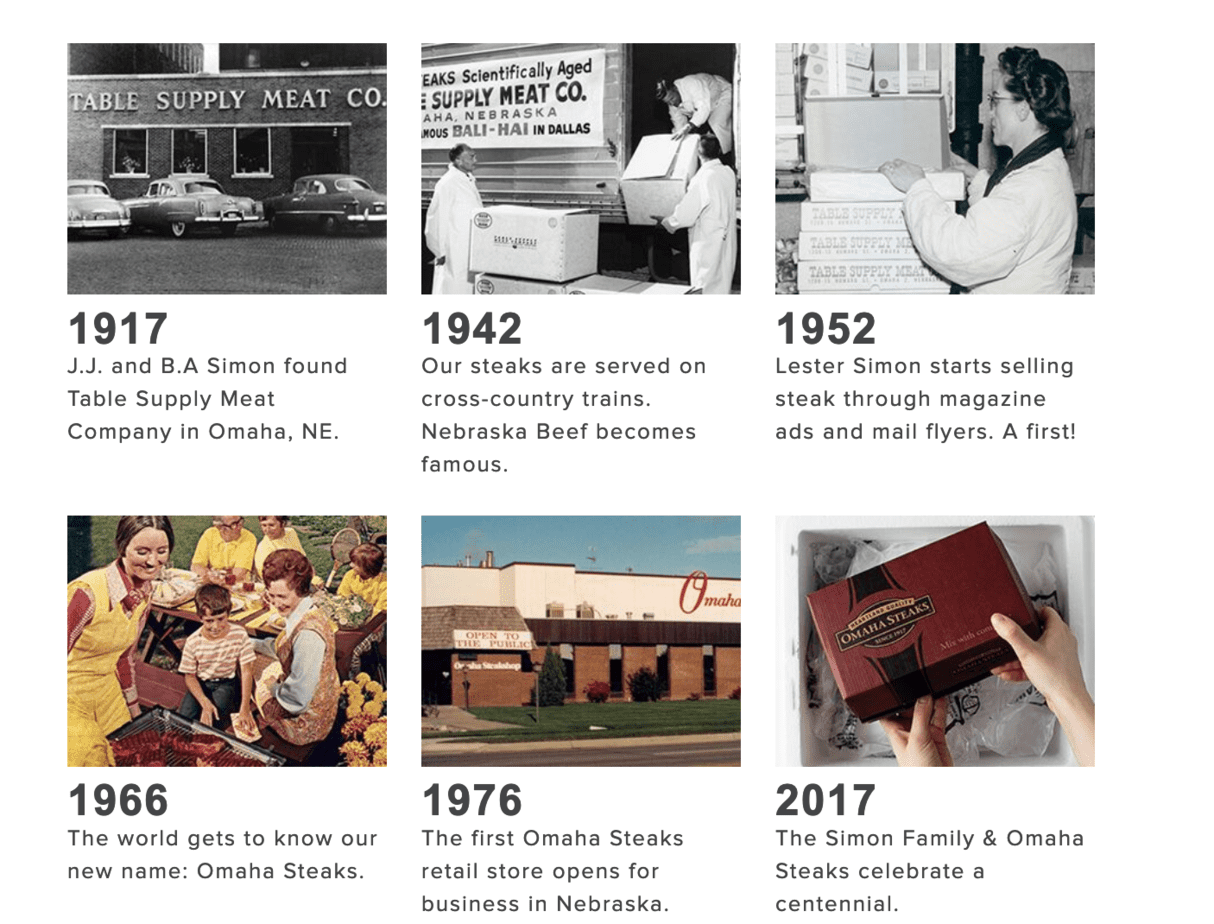 Omaha Steaks is appropriately located in Omaha, Nebraska. The company also has a long history, starting likewise as a family-owned butchery– for them in 1917. In the late 1920s, the company began to expand.
1953 marked their first mail-order services, and, by the mid-1960s, they were serving not only American customers but also shipping internationally. Today, they have a strong social media presence and a bevy of products and services.
Their meat processing is all based in 3 locations in Omaha (hence where Omaha Steak comes from), and they now have over 50 retail stores. Not much about the steak is said in their mission statement. Rather, their motto is "cultivating community and sharing our passion." Omaha Steaks also emphasizes prominent media coverage.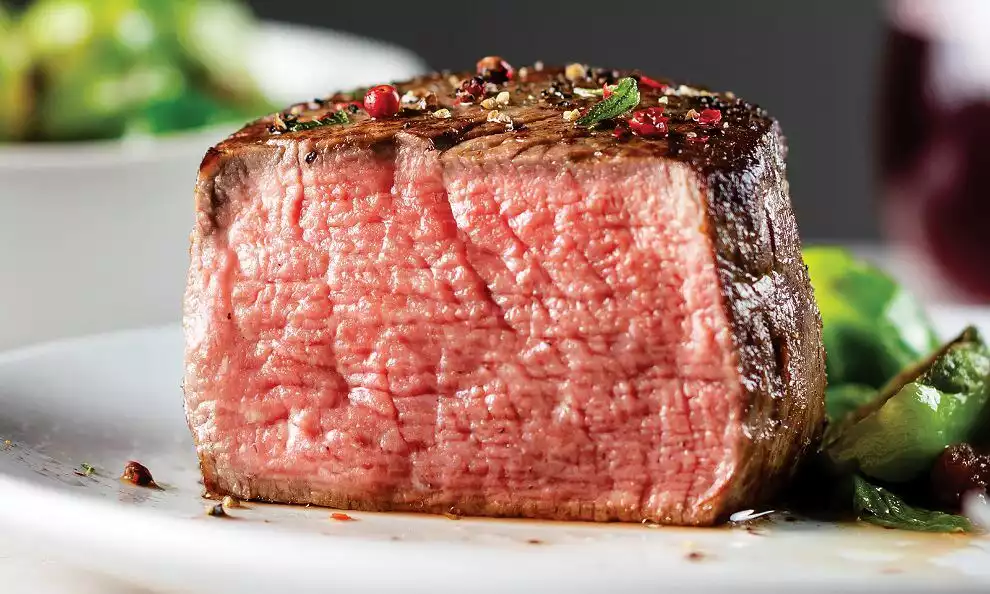 Winner: Kansas City Steaks
To be sure, there's nothing wrong with Omaha Steaks' mission statement. I also like how both companies began as small, traditional butcher shops and expanded with decades of experience. Kansas City Steaks does a better job, however, discussing what makes their steak and products unique. The steak and meats are hardly mentioned when you read about Omaha Steaks. 
How does shipping and handling work for Kansas City Steaks vs Omaha Steaks?
A mail-order steak company offers excellent cuts of steak — but if their delivery and shipping policies are not convenient, inefficient, or dishonest, it can ruin the entire experience. I also always check the shipping and handling to ensure that the company delivers in certain locations, and to understand the total cost you can be expected to pay. 
Kansas City Steaks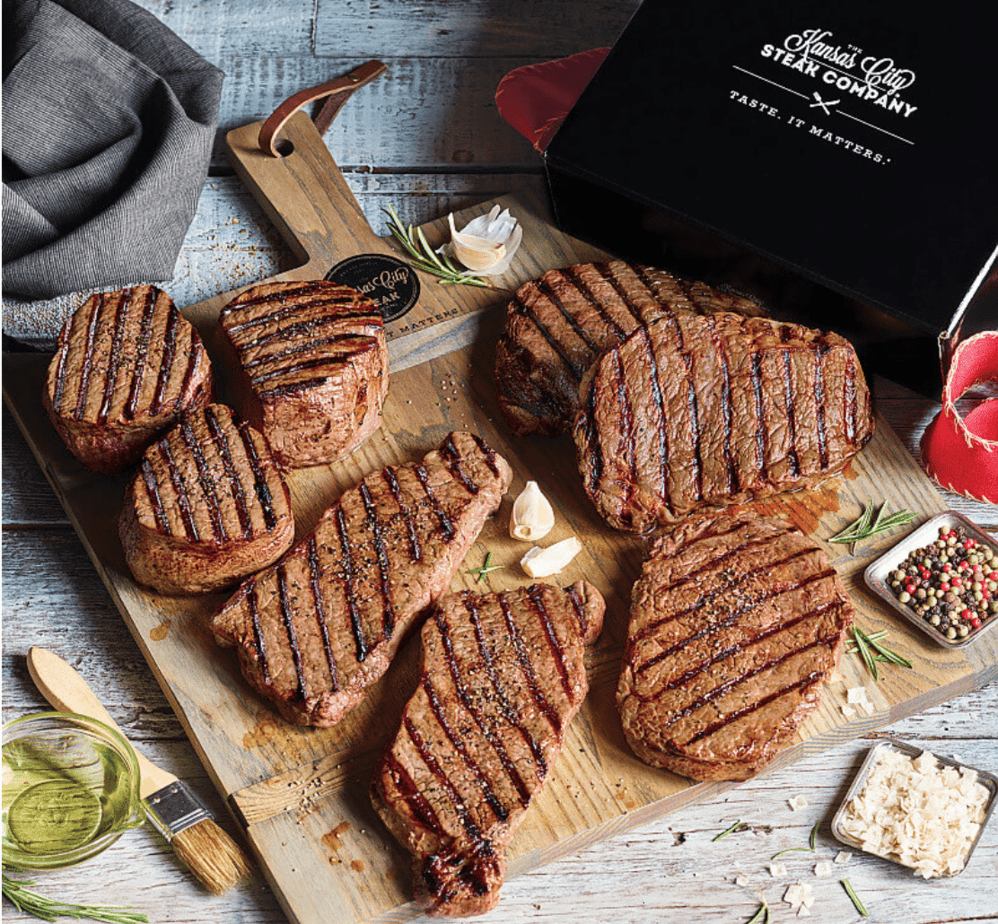 Standard delivery orders during the week cost $19.95 for most locations. You also have the option to speed up delivery times with the following options:
Overnight delivery — add $40

Fixed Date Delivery – add $10

Saturday, 2-day delivery — add $25

For Alaska and Hawaii, add $40
All orders are shipped on weekdays, not weekends. Each package is shipped to addresses specified without a required signature. Holiday delivery dates also may vary– but you'll see dates during checkout. 
All packages shop with a reusable insulated cooler and dry ice. As long as products are cool to the touch, they should be safe to use. You'll also receive an email to provide information about delivery dates. 
Omaha Steaks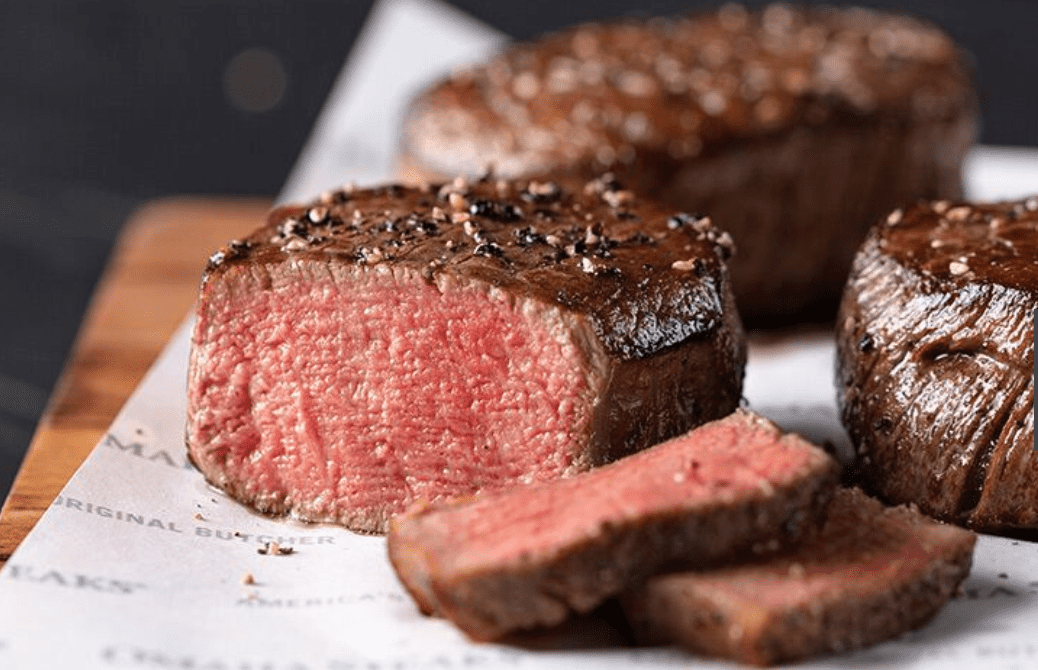 Omaha Steaks also has a standard shipping fee of $19.99 per delivery. Orders are delivered in all 50 states, as well as to Canada, Puerto Rico, and the U.S. Virgin Islands. An additional fee of $39.99 applies to orders sent to Alaska, Hawaii, and Puerto Rico, or $42.99 for Canada. You can speed up delivery times through the following options:
Express Shipping- add $19.99 (2-3 business days)

Rush- add $39.99 (1-2 business days)

Saturday Rush- add $49.99 (1-2 business days)
You can track your order status online and make changes to your online account. They also have a rewards program that allows you to earn and apply points to purchases. All packages ship with dry ice and are vacuum sealed. 
Winner: Draw
Both Kansas City Steaks and Omaha Steaks deliver packages to your door without any signing needed, and proper packaging to keep your orders cool and safe. 
Do Kansas City Steaks or Omaha Steaks offer any refunds or returns?
Full returns are quite uncommon for food delivery services, as these are perishable items. That said, it's wise to understand the process for refunds and disputes. Even some of the best companies make mistakes, and shipping problems are compounded by the pandemic. 
Kansas City Steaks
Kansas City Steak Co has a fairly straightforward return and refund policy. For missing or incorrect shipping issues, you must contact customer service within 10 business days by calling 1-800-524-1844 or emailing [email protected]. For other concerns, you have 45 days to contact customer service for a partial or full refund for the original payment method. 
Omaha Steaks
Omaha Steaks offers a general 100 percent guarantee policy, which allows you to request refunds by emailing customer service or calling 1-800-228-9872. They do have a clause that states they "reserve the right to limit funds and replacements.
Winner: Draw
Omaha Steaks seems to have a more generous return or refund policy but the details of the policy are pretty limited. The most important factor in both of these will be to take into consideration customer reviews. Both have reasonable policies– and do go above many competitors with the same types of services. 
How can you buy meat from Kansas City Steaks vs. Omaha Steaks?
Mail-order steak companies most often allow you to buy meat a la carte. Sometimes they also offer bundles or discounts. And there are some companies, such as ButcherBox, that offer both traditional a la carte and meat subscription options. While one is not better or worse than the other, it's still worth exploring to understand if a service is the best option for you. 
Kansas City Steaks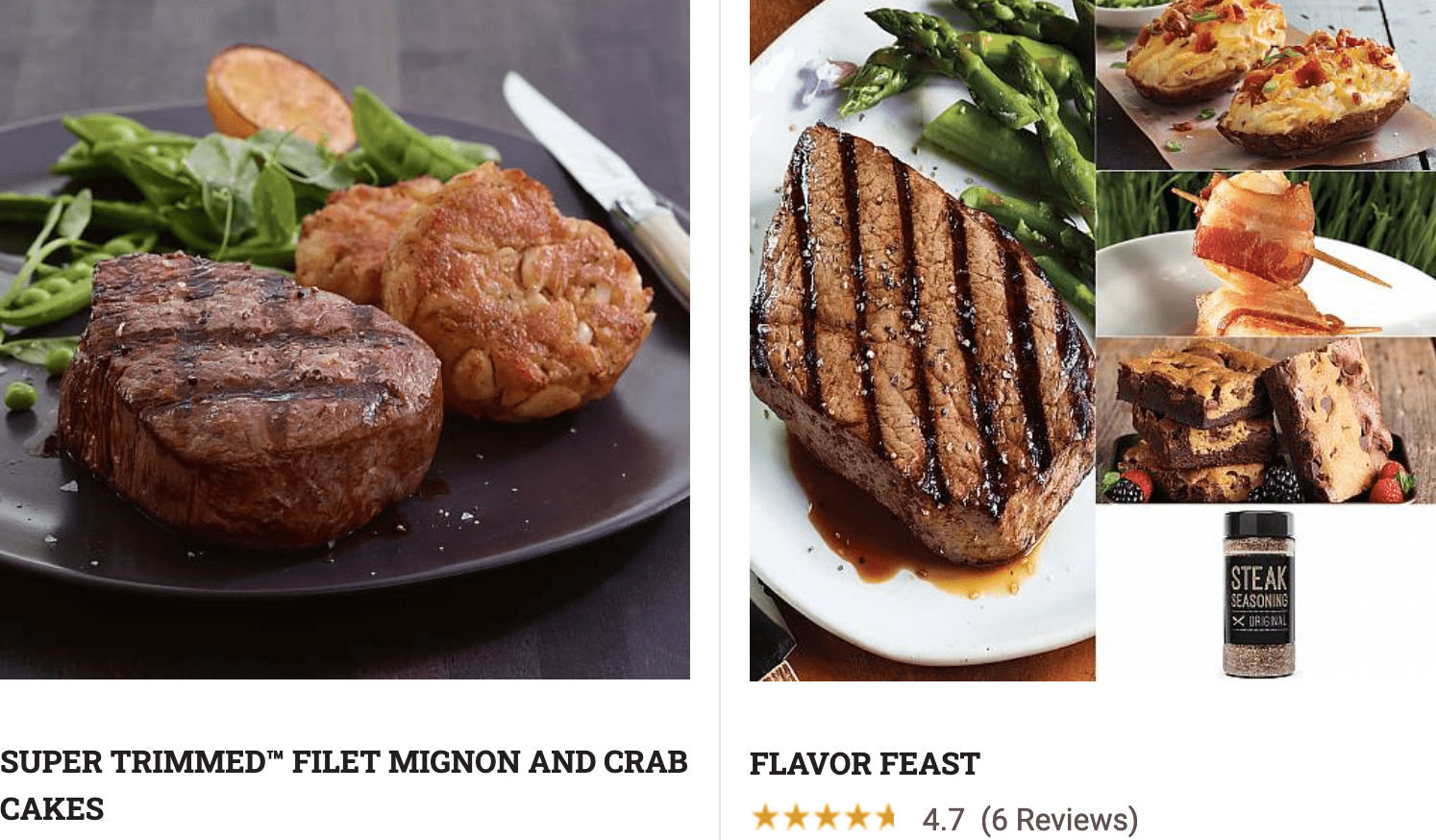 Kansas City Steaks has several buying options. You can purchase individual meat cuts, all of which come in multiple size options. There are also combo, or sampler boxes, for steak, as well as gift boxes and business gift boxes. 
One option that is less talked about is their Auto-Delivery. Auto-Delivery allows you to select certain products and have them delivered on a schedule of your choosing. You'll receive email notifications ten days before the next delivery, and you can stop or change delivery options at any time. All prices are locked for ten days but are subject to change afterward, as if true of all other products. You'll get an option to subscribe at check out for eligible products. 
Omaha Steaks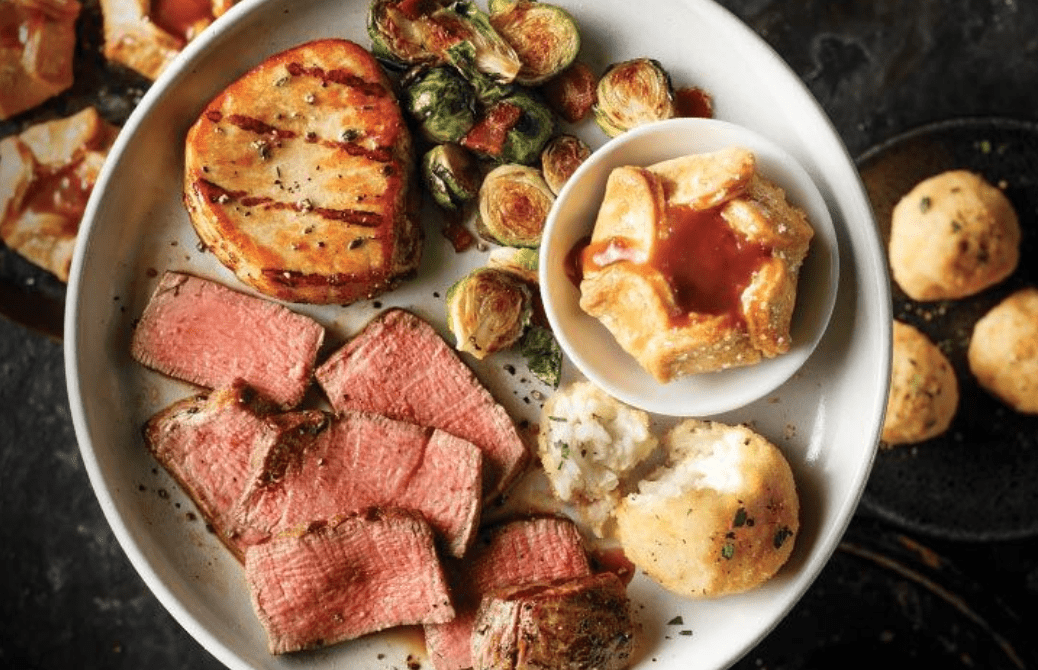 Omaha Steaks also offers a few ways to buy products. For individual products, you usually have around two to three options for package sizes. There's also a buying option called Value Assortments which include curated samplers that are supposed to save you some money on cuts of meat.
 In addition, there's a sale category for discounts, as well as custom packages. These allow you to build a package of steak, seafood, or comfort food. Each package is priced from $139.99 to $199.99 and comes with free shipping. 
Winner: Draw
While I'd love to declare a winner in this category, it depends on what you're looking for. I like the flexibility with the curated boxes offered by Omaha Steaks, but Kansas City Steaks offers a few more size options for a la carte, as well as the convenience of auto-delivery. 
What types of products do Kansas City Steaks vs. Omaha Steaks sell?
While you're likely looking into Kansas City Steaks or Omaha Steaks for steak, the truth is that most mail-order companies sell other types of meat, and, occasionally, even side dishes. This can help entertain and even put together an entire meal. 
Kansas City Steaks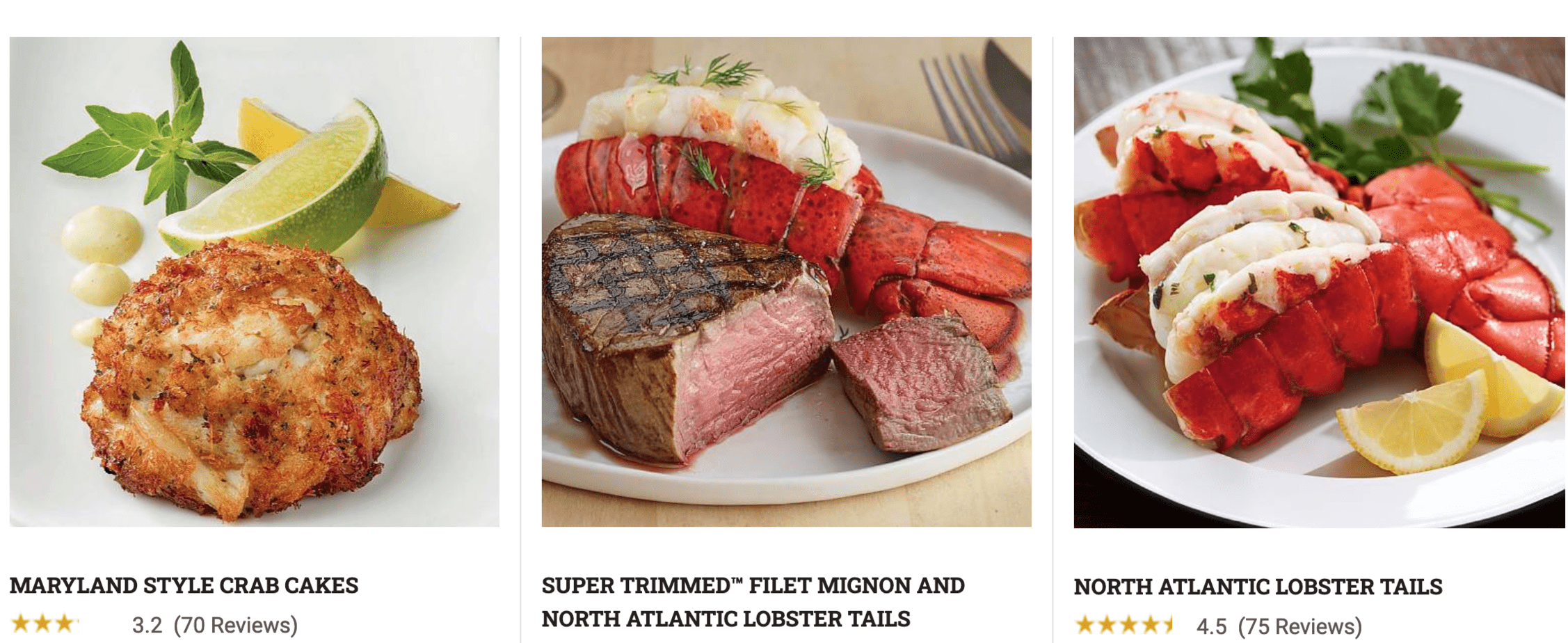 Kansas City Steaks offers steak, beef, combos, sides, seafood, and other meats. For seafood, expect lobster, crab cakes, salmon, lobster, sea bass, halibut, cod, shrimp, and scallops. For meats, options include ham, turkey, chicken, lamb, pork chops, pork roast, and bacon. Sies include potato dishes, seasonings, and a bevy of party appetizers. Deserts range from cakes, pies, and cheesecakes. 
Omaha Steaks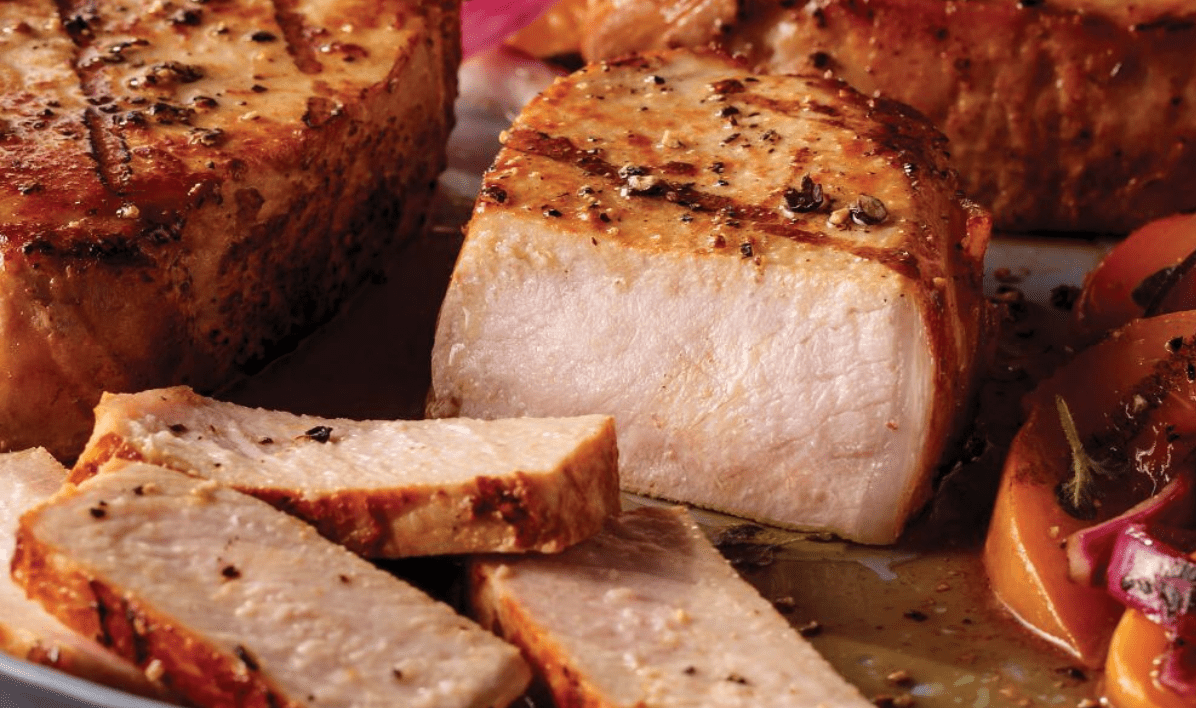 Omaha Steaks sells sausages and brats, turkey, ham, ribs, bacon, bison, and meat snacks, as well as chicken and pork. Seafood options are diverse and include salmon, cod, mahi-mahi, tuna, sole, halibut, grouper, snapper, trout, swordfish, caviar, scallops, shrimp, crab, clams, and oysters. Starters include soups, vegetable sides, potato sides, and cooked vegetables. Desserts are likewise diverse and include cake, cheesecake, chocolates, tarts, and other treats, as well as a limited selection of wine. 
Winner: Draw
Once again, it's clear why Kansas City Steaks and Omaha Steaks are considered competitors. Both offer an impressive array of meats, seafood, and even side dishes. 
What types of steak do Kansas City Steaks vs. Omaha Steaks sell?
Under this category, my main concern is the variety of steaks being sold. This includes steak cuts, as well as steak quantities. It's also important to consider how conventional or unusual choices are. If you're looking for classic steaks, this may be less important. 
Kansas City Steaks

Kansas City Steaks serves classic cuts, such as filet mignon, ribeye, porterhouse, top sirloin, t-bone, flatiron, steak burgers, the classic Kansas City strip, and prime rib. Specialty cuts involve American Style Kobe beef, tomahawk steak, ribeye cap, picanha, and bacon-wrapped bistro steaks. 
Omaha Steaks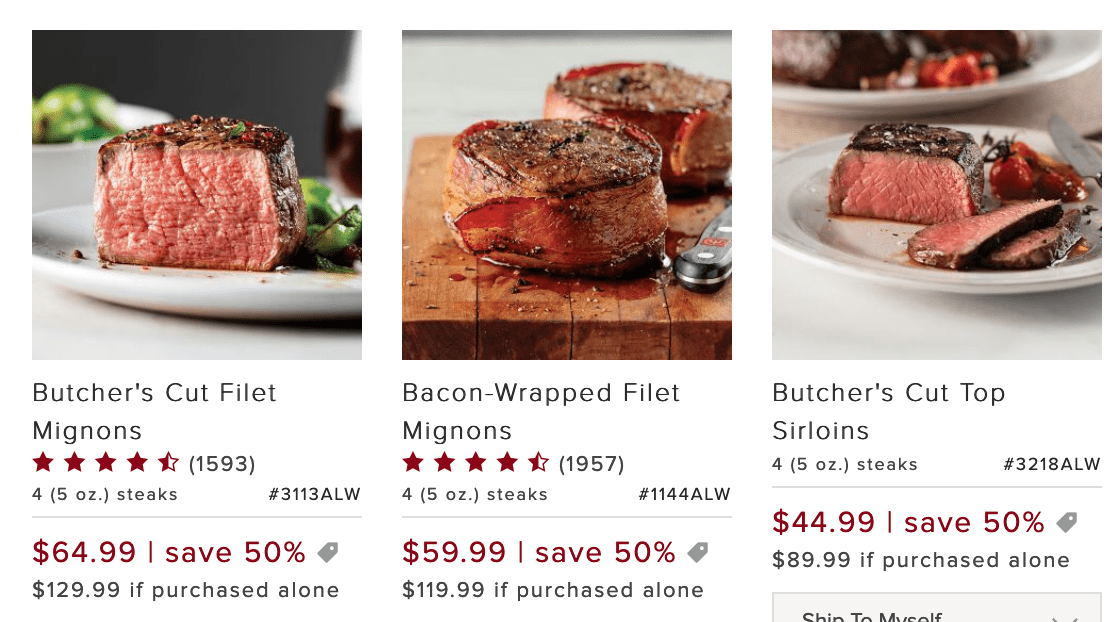 Omaha Steaks includes classic and popular cuts as well as specialty steaks. Filet mignon, strip steaks (NY strip, etc…), top sirloins, ribeyes, t-bones, flat iron steaks, prime rib, veal, and chicken fried steaks are the main options. They also offer a small selection of Wagyu Beef. 
Winner: Draw
This one's close. While Omaha Steaks does offer a bit more inventory, Kansas City offers a few more specialty cuts, making it a slightly more unique option. Pechanga and Kobe beef are also known for their robust flavor, giving them an edge if you want something a little different. Yet, Omaha Steaks offers Wagyu beef. 
How does the quality of Kansas City Steaks compare with Omaha Steaks?
Quality matters a great deal, and here careful analysis is important. For quality, I'm looking for descriptions to match the indicated cuts of steak. I'm also looking for sourcing standards and inspection standards. In other words, could this steak come from anywhere, or are the steaks carefully curated to ensure quality? Are there any options for organic cuts, ethically raised meat, or other standards?
Kansas City Steaks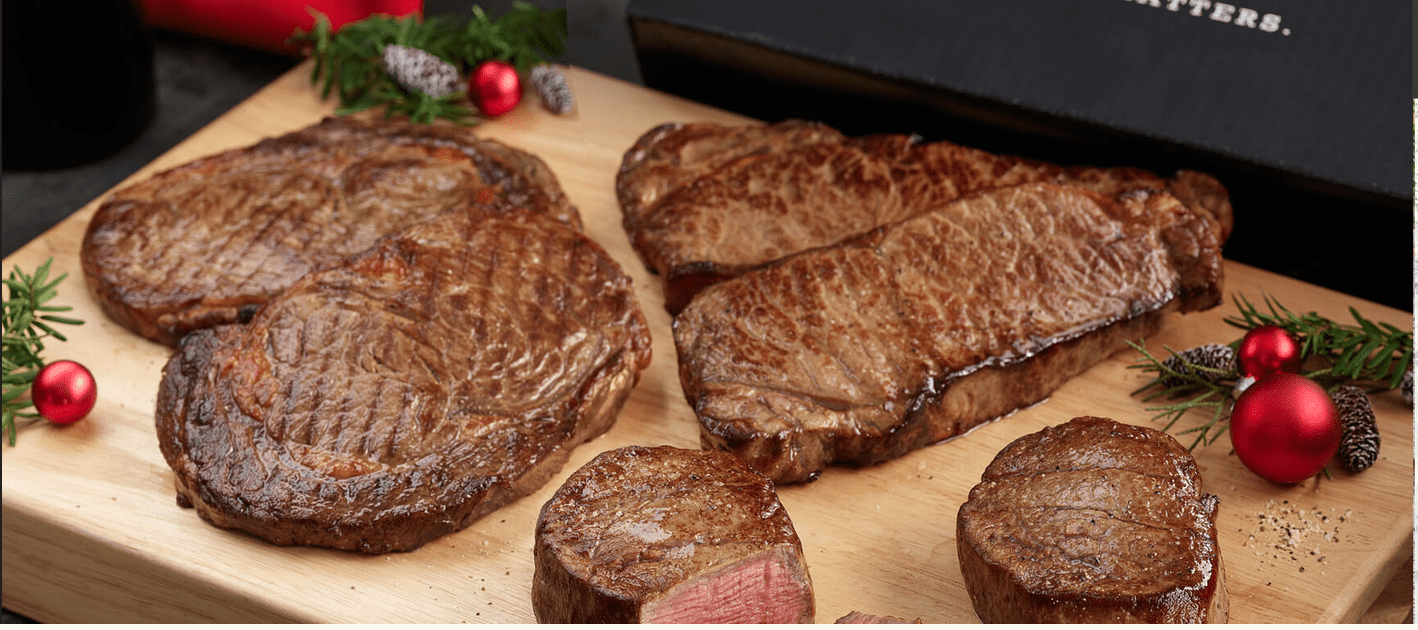 Kansas City Steaks shares some of its standards under their All About Steaks Page. All steak is sourced from cattle that have "approved management methods," though details aren't given about what those standards entail. Steaks are USDA Choice or USDA prime and are selected based on color and marbling, as well as a firm and tender texture. All steaks are also aged 28 days to enhance freshness and flavor. 
USDA choice is high-quality beef graded by the Department of Agriculture and noted for its flavor and tenderness. Prime is the highest rating possible and one tier above "Choice." 
Omaha Steaks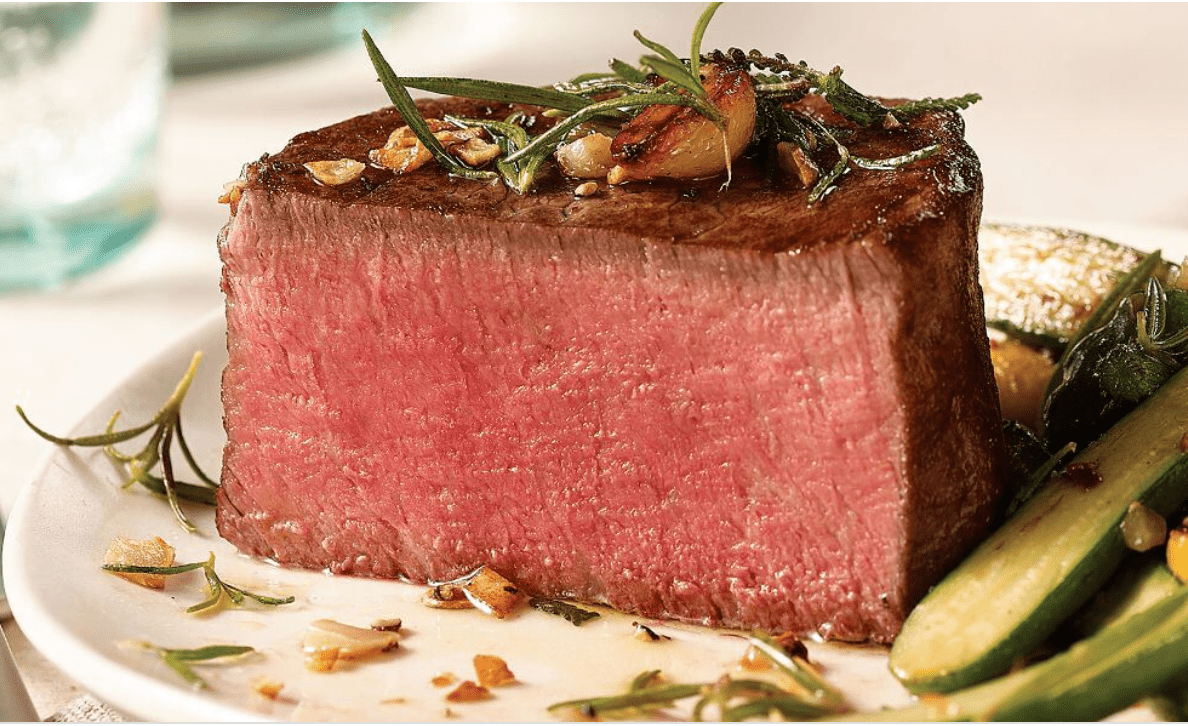 I had to do a little digging to learn about sourcing standards, but you can get some insight into their steaks on the Omaha Steaks Blog. Omaha steaks are sourced from Nebraska from grass-fed, grain-finished cattle. That means that the cattle spend most of their life eating grass but are fed grain towards the end of their lives. 
Steaks are then aged for 21 days and flash frozen. It doesn't appear that the steak is USDA certified or approved. 
Winner: Kansas City Steaks
Neither company says as much as I'd like to see about sourcing, and neither company can be mistaken for an organic or sustainable meat service, but Kansas City Steaks wins in this round. With longer aging and USDA standards, there's just a bit more to say about the quality of the steaks. The whole grain-finished sounds better; in reality, it doesn't mean that cattle have much room to roam or ensure great conditions.
What do customers say about Kansas City Steaks vs. Omaha Steaks?
Finally, I always try to see outside my perspective by looking into both professional and customer reviews. By doing so, I get a better understanding of the average customer experience that can be expected. I also take this last step to make sure there aren't red flags– whether that's about customer service or the quality of the products themselves. 
Kansas City Steaks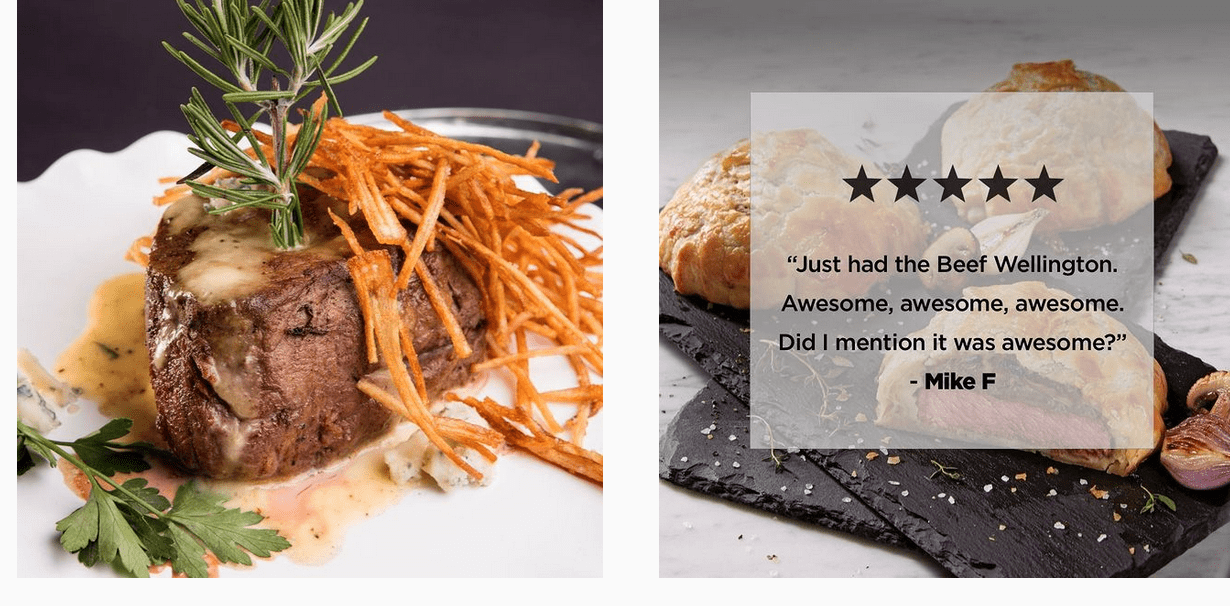 Kansas City Steaks holds an A-plus rating from the Better Business Bureau. On their official Facebook page, the company has an average rating of 4.6 out of 5 stars based upon nearly 15,000 reviews– but a mere 2.5 out of 5 stars on Yelp (with just 55 ratings). The steak is described by most as flavorful and juicy, as are seasonings. Most are pleased with the actual products, but it's customer service that falls flat for others. Customer service complaints included not responding on time, late shipments, lack of tracking information, and other related concerns. 
I will note that many of these issues are from 2020, especially — perhaps at the beginning months of the pandemic. While this is not to discount those concerns, packaging and shipping issues did impact many companies. The complaints were most substantial in 2020 and very early 2021 and seem less prevalent now. 
Omaha Steaks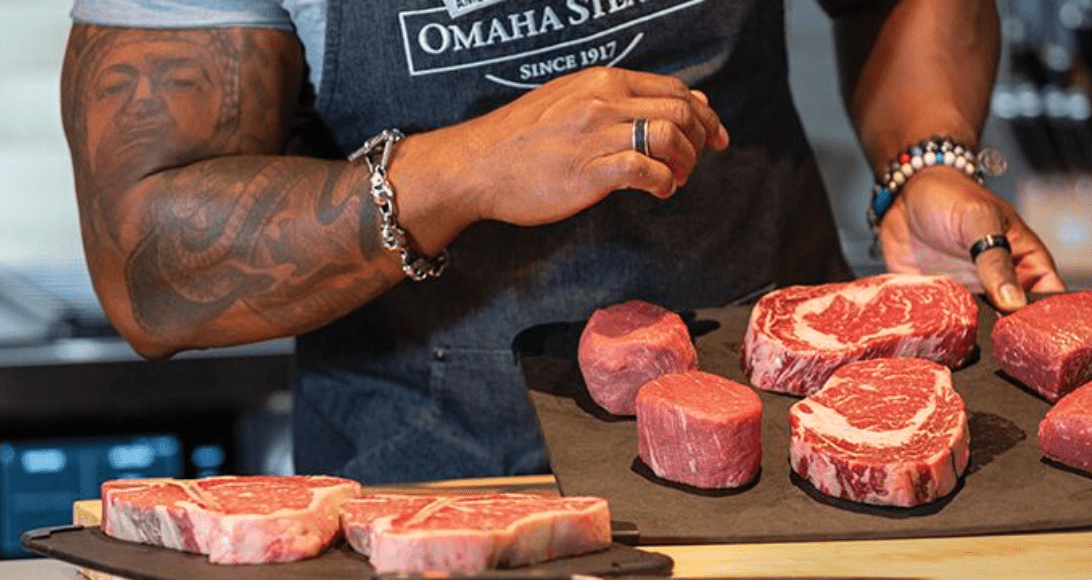 Omaha Steaks has an A-plus rating through the Better Business Bureau. Outside of BBB, Omaha Steaks averages 2.2 out of 5 on Site Jabber (30 reviews), 1 out of 5 on Reseller Ratings (225 reviews), and 3,5 out of 5 stars based on Google reviews. However, the Google reviews turned out to be related to one retail store. 
Reviews about the quality of steak were a little lackluster. A few products, including filet mignon and burgers, earned an okay, while other products were described as thin and low in flavor. There was no high praise for any product. There were many complaints about pricing, especially specials and discounts ending and extra charges at check out. Reviews of customer service were mixed.
Winner: Kansas City Steaks
While I have some concerns about shipping for Kansas City Steaks, it's quite plausible many concerns can be traced to general shipping issues in the United States. Most who cited shipping concerns also did not add anything about refusing refunds or any red flags. The issue with Omaha Steaks is that there are complaints– both during and outside of the pandemic-about service. But more so, there are complaints about the quality of products, and no praise in the way Kansas City Steaks enjoy. 
Frequently Asked Questions
Question: Is ordering steak online safe?
Answer: The most common way Americans buy steak remains the supermarket, and actually, just a fraction of us buy from a specialty butcher. So even though many are not particular about where they are buying steak from, I fully understand– and even find it wise– to have some hesitation about buying steak online.
The truth is that buying steak online can be safe– but it depends on whom you're buying from and how you're buying. Only buy from reputable companies who have a history (preferably a few years at least) of selling steaks. You also should be able to find information about the company outside their corporate website, details about their sourcing standards, and at least from professional or customer reviews. Note shipping policies, which tell you how the meat will be shipped to ensure it remains fresh upon arrival. 
Question: Do you save money buying steaks online?
Answer: That said, don't expect to save money buying steak online. It's possible that who can find a deal, but buying steak online, of course, is subject to shipping costs– which can be pricey for steak. The best way to save money on steak is to opt for wholesale meat, buy at a local farm, shop with coupons, and, of course, trim down on meat consumption. 
Instead, see mail-order steaks as a way to have easy access to more meat types and quality. Steak order meats can be fun for entertaining and even make great gifts. 
Question: How do you tell if online steak is any good?
Answer: My final tip– and a part of my criteria for comparing Kansas City Steaks vs Omaha Steaks–is checking the meat quality. It's admittedly trickier to order steak online vs in-store. In-store, you can physically examine the meat, ensuring that it's a healthy red hue, is firm, relatively not too wet, and precisely cut.
Order steak online requires investigating the types of cuts offered, if there are any sourcing standards and policies about the company. Looking into the company's business model and philosophy can also clue in as to whether you're buying quality steak.
Question: What other states have great steaks?
Answer: Kansas City and Omaha aren't the only cities for great steaks. Houston, Las Vegas, and San Antonio are all known for their succulent steaks. These cities offer steaks of the finest quality, and each has a regional flavor.
Houston is known for Chef Ronnie Killen's Steakhouse, where you can buy aged Prime beef, grass-fed steak, and even Wagyu. In Las Vegas, Echo & Rig Butcher and Steakhouse is king, with an adjacent butcher shop selling some of the finest steaks, including pasture-raised and grass-fed beef. For San Antonio, there are too many places to name, but one that comes to mind is Ruth's Chris Steak House, which serves up USDA Prime ribeye, Prime Rib, New York Strip, and many other excellent cuts.
Final Decision: Give Kansas City Steaks A Try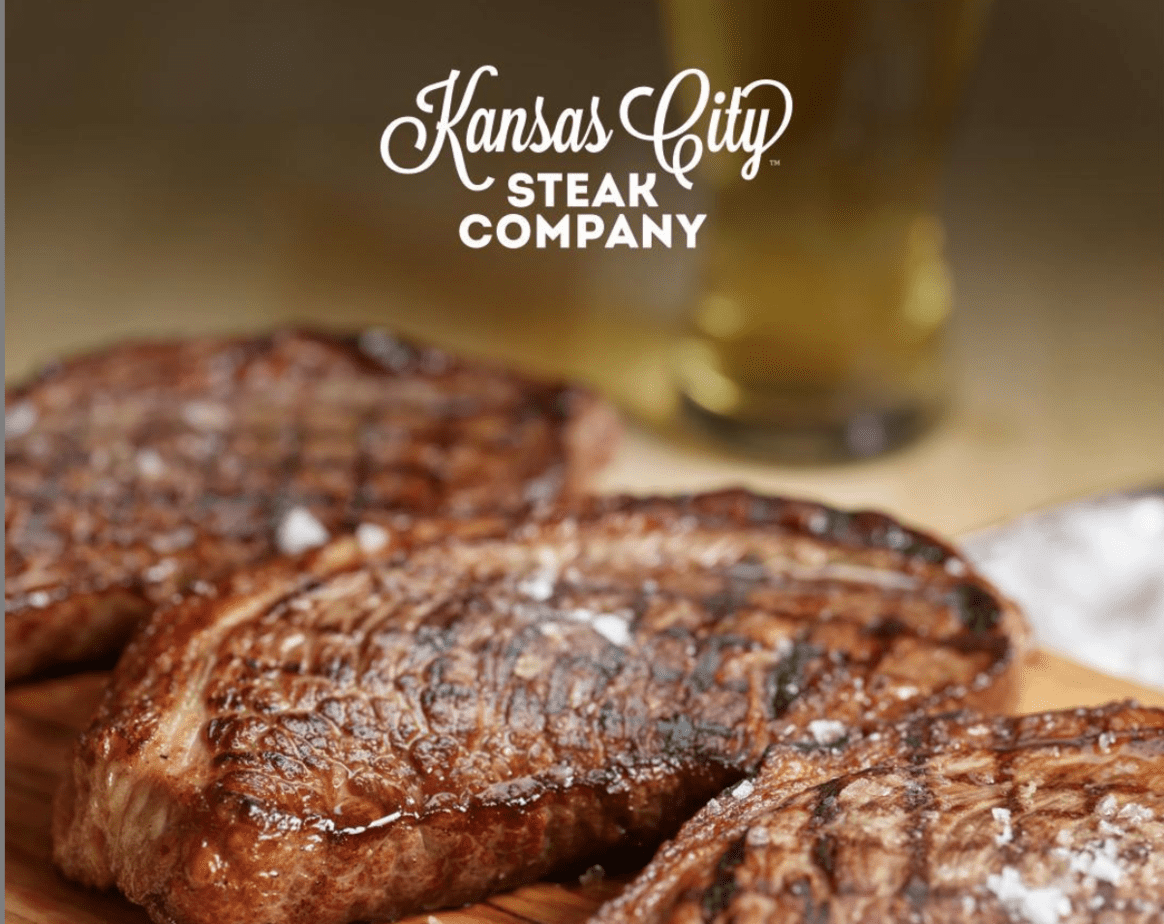 It's clear why Kansas City Steaks and Omaha Steaks are competitors for reasons.
Both are full-service mail-order steak cut companies and are professionally respected, with a large selection of steaks but also other products. However, there are a few ways Kansas City Steaks outshines Omaha Steaks.
Kansas City steaks sources only USDA Choice and USDA Prime for their steaks. They also age them longer for additional flavor and have just as good of a selection– with actually more ordering options. From auto-delivery to more package sizes and bundles, there's more for customers to select from. Their returns and exchanges are seemingly a little more limited– but also more specific than Omaha Steaks.
My Bottom Line Summary: While I enjoyed both selections, there are a few cases where I'd recommend one over the other..
Looking for Selection & Value? Go with Omaha Steaks here. Ships faster than KCS and can bundle with other meat and seafood for maximum value.
Looking for Exclusive USDA & Prime Cuts? Go with Kansas City Steaks. Selection is more limited, but higher quality premium cuts.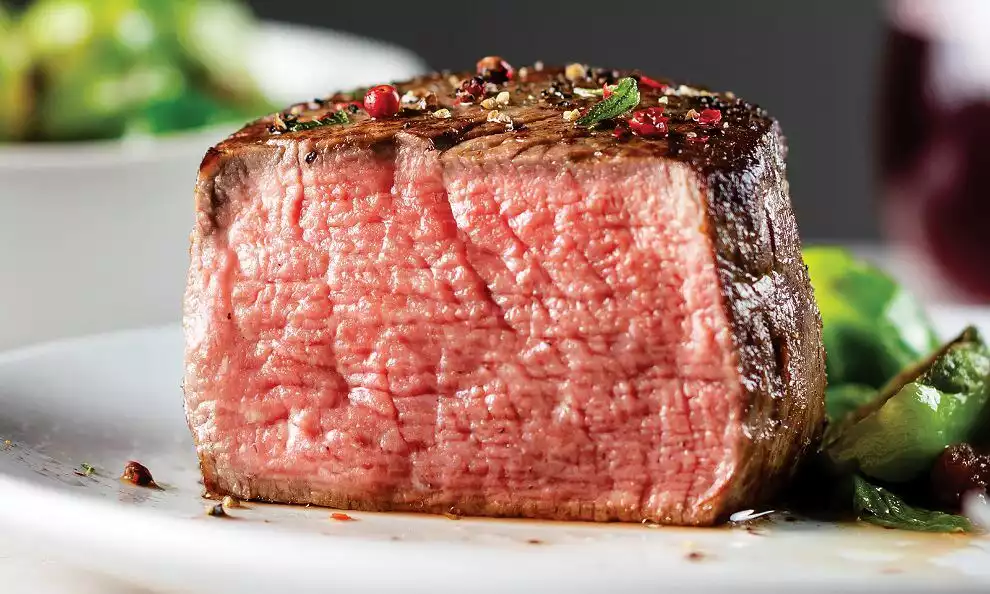 If you are on the fence, I'd recommend starting with a single order and seeing how the shipping goes, then taking it from there.
Meat Delivery Alternative to Consider
Want an organic option? ButcherBox offers one-time deliveries and subscriptions, with high sourcing standards and humane, sustainable metrics for all of their meats.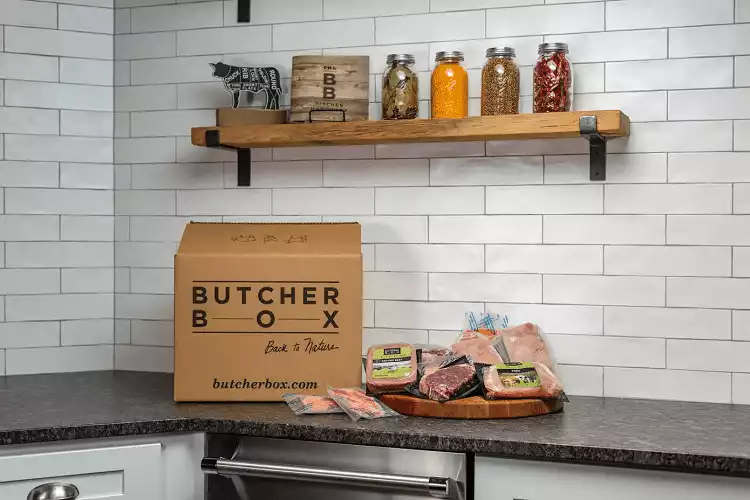 Try ButcherBox Now!
ButcherBox delivers 100% grass-fed beef, free-range organic chicken, humanely raised pork, and wild-caught seafood directly to your door. Sign up today!
Order now
We earn a commission if you make a purchase, at no additional cost to you.
Looking for Research on USDA Prime Beef & Grass Fed Beef Meat Delivery Services? Check Out: