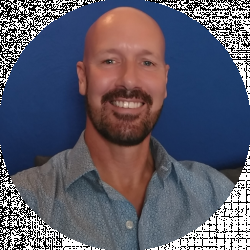 Latest posts by Jason McLay
(see all)
Is it worth the extra hundred bucks to get the Spirit E-330?
Let's get right to the main specs that make them the same and set them apart. At first glance, the Spirit E-310 and the Spirit E-330 look nearly identical. They both feature 3 burners, they both measure the same inside and out, they both include a storage space for the gas tank and additional tools.
The only two things that set them apart are a sear zone and a side burner. These extra features come only with the Spirit E-330. You will see that the Spirit E-330 has two additional knobs on the front grill controls.
The sear zone on the Spirit E-330 lets you add an additional 7,000 BTU to the left side of the grill. This allows you to get that quick sear to the outside of your steak and the dark grill lines that so artistically say "grilled to perfection". The other side of your grill can be used as normal while searing your meat in the sear zone. When not searing, the additional burner can be turned off, returning the entire grilling space to a standard grill.
The side burner feature of the Spirit E-330 is a great way sauté some mushrooms or vegetables while you are grilling, or you can heat your barbeque sauce or perhaps boil water for some pasta. The side burner is fully adjustable from a very low flame to a full-powered 12,000 BTU-per-hour flame. You have total control.
The chart below shows just how similar they are and the two added features that come with the Spirit E-330.
| | | |
| --- | --- | --- |
| Features | Spirit E-310 Gas Grill $569 | Spirit E-330 Gas Grill $669 |
| Porcelain-enameled, cast-iron grate | Yes | Yes |
| Stainless Steel Burners | 3 | 3 |
| Weber Tool Hooks | 6 | 6 |
| Fuel Gauge | Yes | Yes |
| Cooking Area | 529 sq. inches | 529 sq. inches |
| Warming Rack | 105 Sq. inches | 105 Sq. inches |
| Dimensions | 45.5″H x 52″W x 24″D | 45.5″H x 52″W x 24″D |
| Sear Station | No | Yes (7,500 BTU-per-hour) |
| Side Burner | No | Yes (12,000 BTU-per-hour) |
Weber Grills History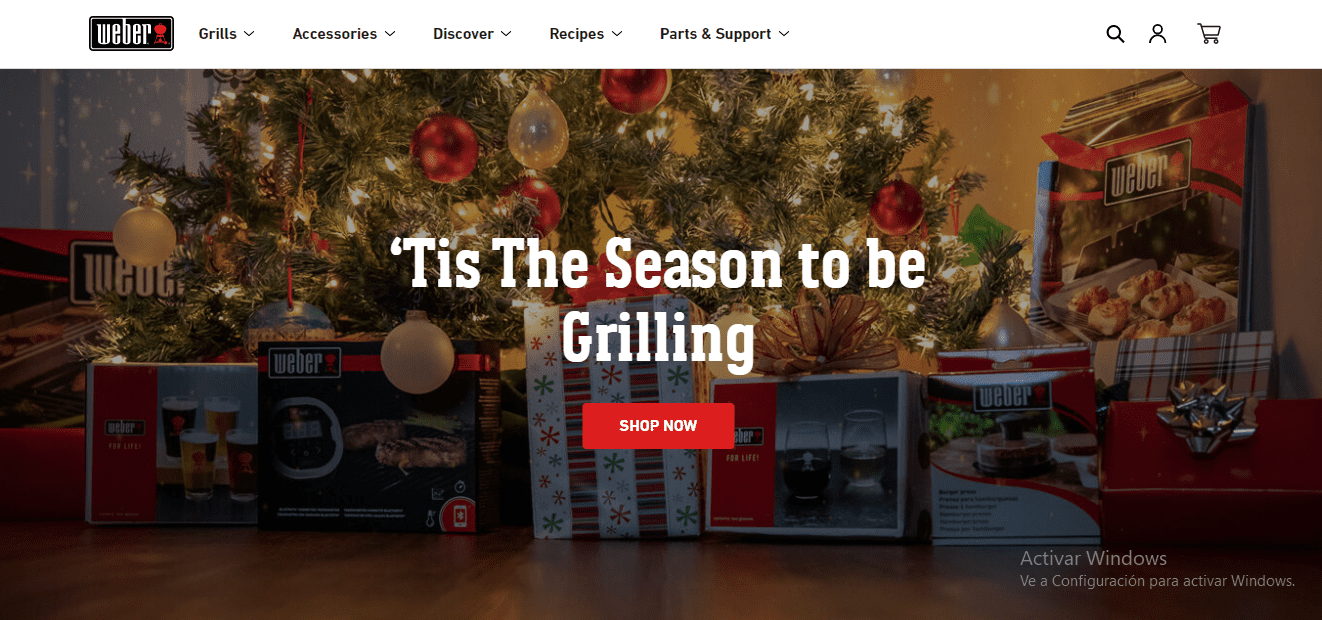 Founded in 1952, Weber has had a long history in the outdoor barbeque world and is stronger today than ever. Perhaps, they have done so well because they have always had a durable product, and they remain committed to evolving their products to meet the needs of a modern world.
Weber started with charcoal in 1952 and now has gas, electric, and pellet options as well. They manufacture a wide variety of shapes and styles, from ultra-portable to full-size professional outdoor grilling stations. For the modern chef, there are optional app integrated cooking tools that make barbequing a breeze. From the convenience of your cell phone, you can monitor cooking temperatures even when you are away from the grill. Additional settings can be turned on that will even tell you when to flip that you are cooking and automatically show you a count down to the perfect level of "done" so your chicken is never undercooked and your steak is never overcooked. Weber continuously designs new features as the technology becomes available.
They still design and engineer their products in Chicago, Illinois, the birthplace of Weber Grills, and manufacture all products at their plant in Huntley, Illinois. This not only keeps jobs in the USA and contributes to the local economy but allows Weber to constantly monitor the workmanship and quality.
Gas Grilling Advantages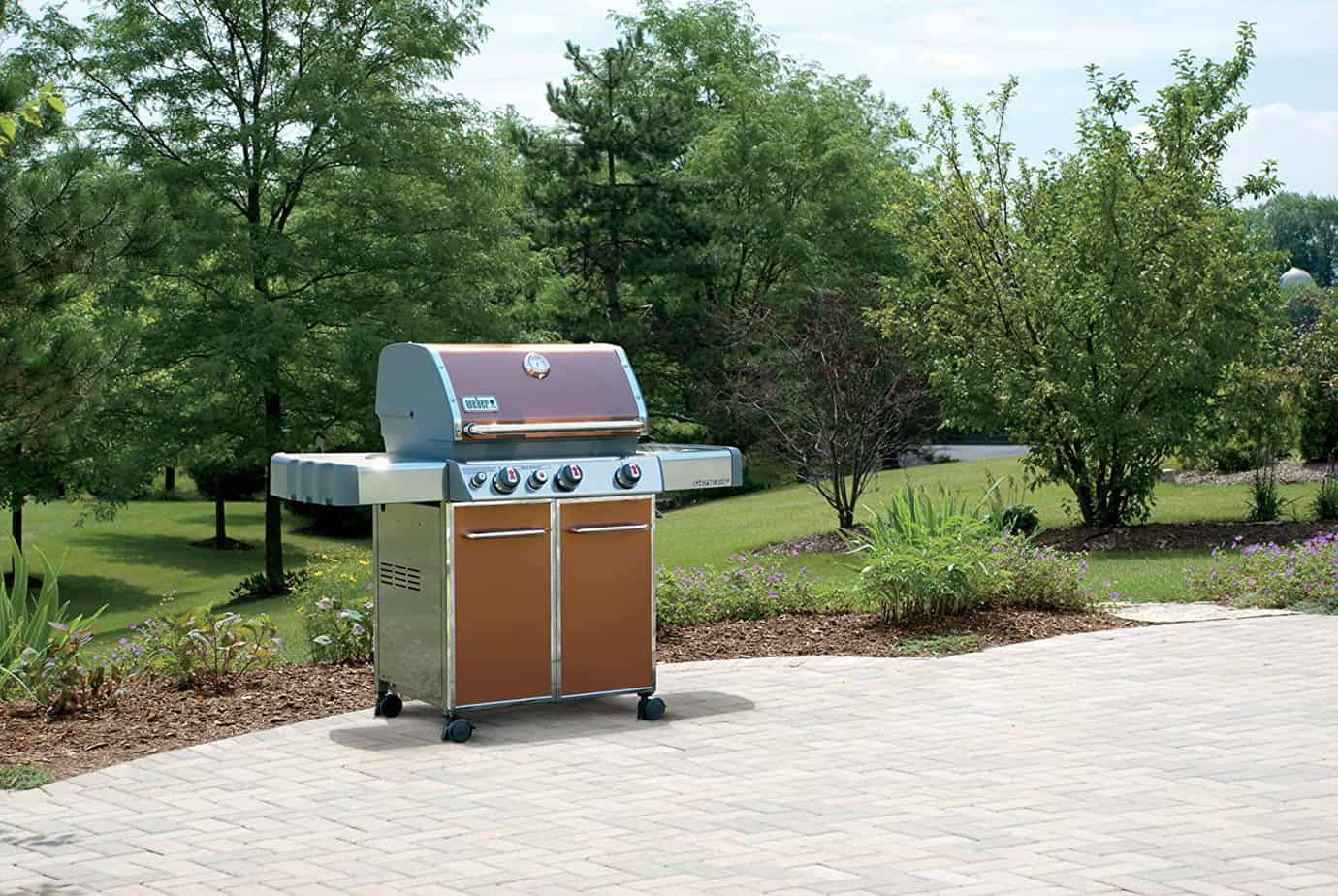 With gas, you are ready to go at moment's notice and when you're done grilling, simply turn it off. It's the most convenient form of grilling. Both the E-310 and E-330 are LP gas. The LP tank is not included with either model.
With charcoal, you need to wait for the coals to get hot before you use them. Then there is the waiting period after you grill to be sure that all those coals are burned out before you can be certain that all risk of fire is gone. Windy days can be challenging; charcoal sparks may start flying out of the grill or blowing ashes onto your food. Then there are remaining ashes one must eventually empty.
Electric can be a good option but it requires a cord that can be hazardous if tripped over. They too have a longer cool-down period and should not be used on rainy days or near a place that the electric connections could get wet.
Pellet grills are amazing, but again you have longer heat up and cool down times and they produce ashes that need to be cleaned up as well. Some pellet grills do have a hot zone in the cooking area where the pellets are fed into the grill, resulting in occasional uneven cooking.
Gas offers a convenience that is hard to beat. No cords, no hot coals, no ashes. The under-grill storage of both the Spirit E-310 and Spirit E-330 keeps the tank and the gas lines all neatly out of sight and out of your way.
Porcelain-Enameled, cast-iron cooking grates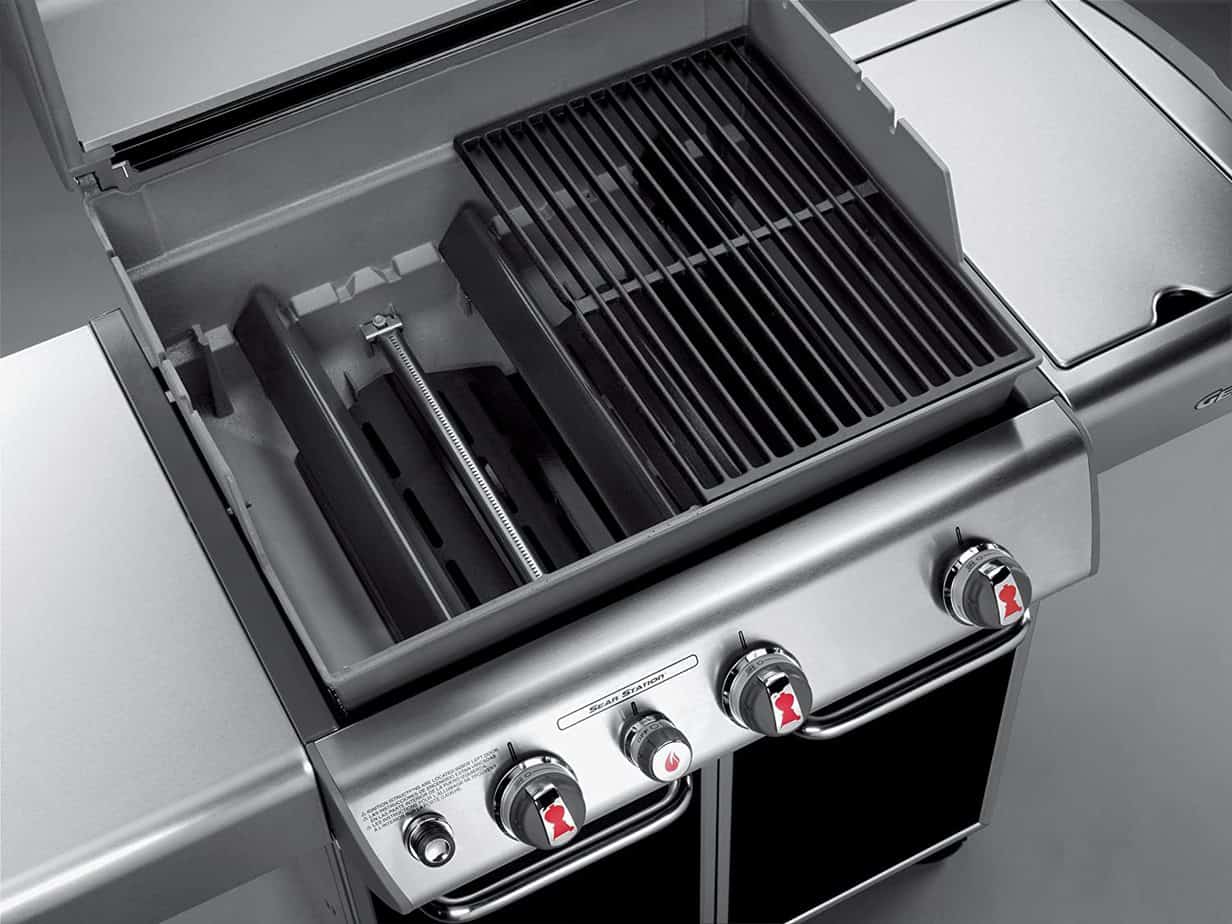 Cast iron is a heavy metal that holds heat very well and distributes heat evenly. Once the cast iron gates are hot they are evenly hot over the entire grilling space, and when cool meat hits the metal it does not drop the temperature as stainless steel does. Hot cast iron gives you the "master Chef" grill lines that outdoor grillers strive for. Add to that a porcelain-enameled coating, and you get slightly better resistance to sticking and a grill that cleans up pretty nicely after your outdoor event. The other advantage of this coating is that it keeps your grate from rusting. Rust will shorten the life of your grate and add an undesirable flavor to food if not properly removed before grilling. Both the E-310 and the E-330 have the Porcelain-Enameled, cast-iron grates. The E-330 has the advantage of placing more flame in the "Sear-Zone" and guarantees grates reach a very high heat leaving dark grill lines which the E-310 can do but it takes a little longer to achieve.
The side burner
This is another win for the E-330. Not everyone finds value in this added feature, but some can't live without it. I find it useful for many things. Button mushrooms, if halved or sliced, can fall through the grill grate, but there is a delicious way to prepare them when you have the option to first sauté them in a little butter then transfer them to a wire cage or grilling basket that is designed to grill "smaller" pieces of food. Place this cage or basket over your regular grill, and you end with a great smokey, buttery, tender bunch of mushrooms, perfect for topping burgers or steaks with extra flavor.
Another advantage does not come to mind immediately for people who have never had a side burner.  You don't have to gill anything to use it! In the hot days of summer, when I don't want to add any heat to the inside of my house, I head out to the patio and use the side burner for everything from scrambled eggs and pancakes to grilled cheese sandwiches, sauteed salmon, and even soups. No heat in the house and no smells in the house. I find it works as a small second kitchen, and it does not use all that much LP, and for sure, it keeps my cooling cost just a little lower. Once, I bought a grill with a side burner – I actually used it more than my grill.
Grease drip pans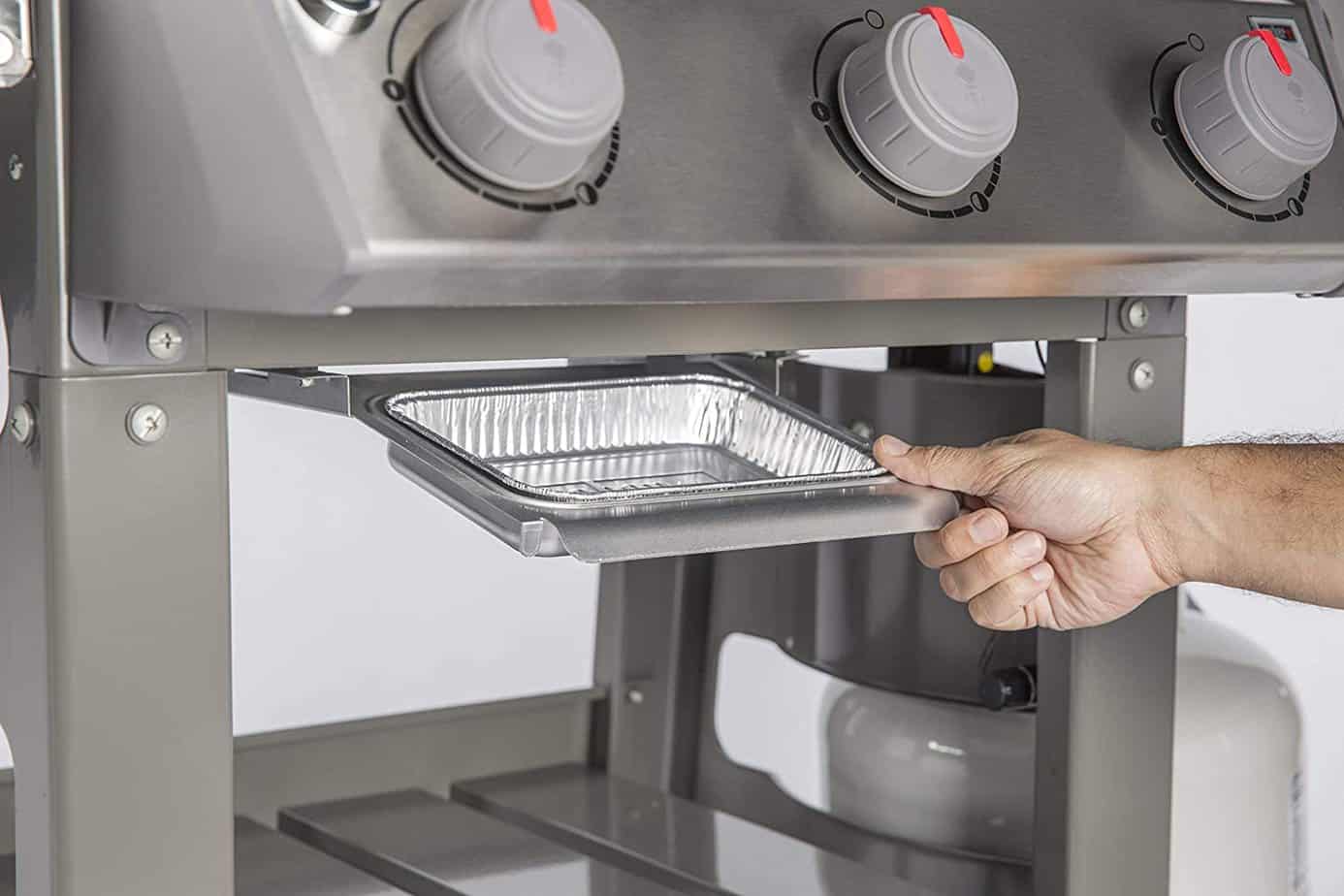 These little slide-out pans make cleanup pretty simple. You will get two aluminum drip tray inserts included with your initial purchase in both the E-310 and the E-330. You will want more, trust me, pick them up before you leave the store or if you order your grill online add a set of 10 to your cart.
The drip tray can be used without the aluminum insert, but you will have to scrape out that grease and wash it in hot soapy water, and there is a risk of clogging your pipes with grease. The aluminum can be tossed when you are done or scrapped out and recycled. You will waste a lot of water trying to clean out the tray, so I recommend you use the aluminum pan inserts.
I find I can scrape out the grease from the aluminum trays a few times before I need to replace them. After that, I do a final scrape into the trash and place the aluminum tray in the recycle bin.
Accessories to consider
Drip Pans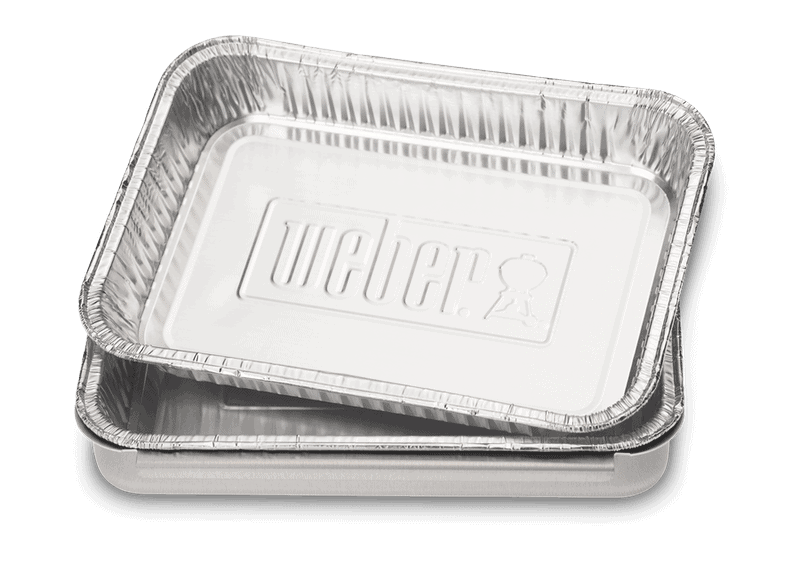 For $8.49, you can get a set of 10. These drip pans fit both the E-310 and the E-330. You do not need to replace it every time you grill. Depending on your use, a single tray may last you for 10 grilling sessions or more. If you store your grill outside, you probably will not attract many rodents. I have not had any issues. If you store it in your garage I have heard that roaches can be interested in your grease, so you may want to remove the drip pans and store them out of reach of unwanted critters.
Grilling Utensils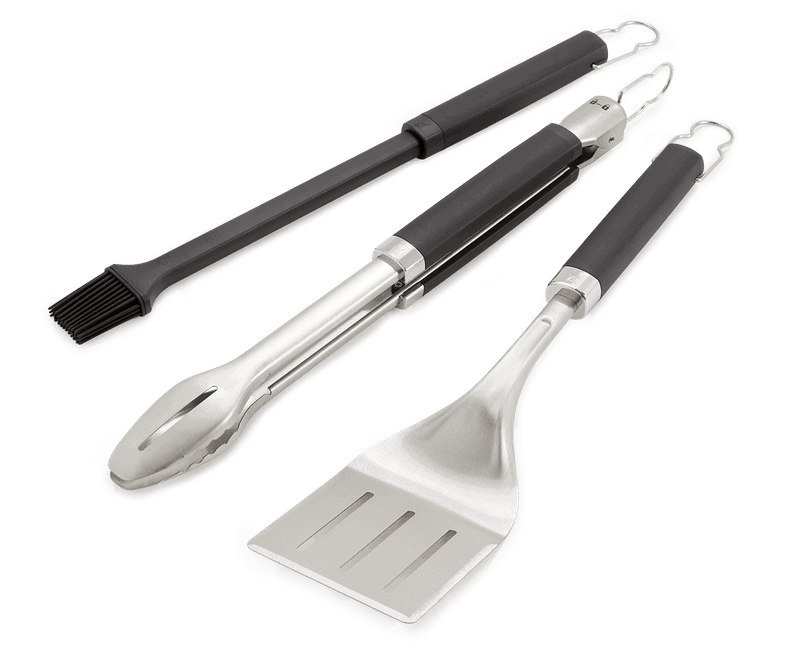 Here is a nice set put out by Weber. It is the Precision 3-Piece Grill Set which includes a spatula, tongs, and a silicone basting brush. It will run you about $38. The stay-cool comfort grips are great for easy handling, and the whole set is top-drawer, washing machine safe for easy cleanup. All three come with a metal loop for hanging on your grill. Remember both the E-310 and the E-330 have 6 spaces for handing your grilling tools.
Cleaning Brush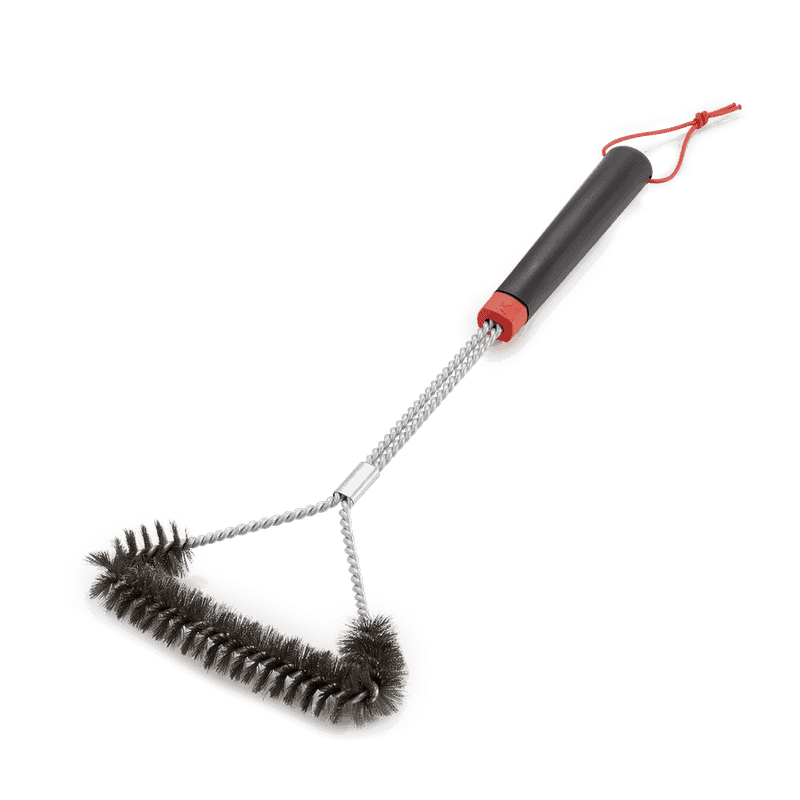 There are several brushes to choose from. I recommend the 18″ Three-sided Grill Brush for $14.99. The longer handles keep you away from the heat, and the three sides work nicely around all the edges of the grill. Don't worry, The Porceline-Enamaled, Cast-Iron is not going to be harmed by this wire brush. In fact, it is the recommended tool to remove stuck-on food from your grate. Yes, there is a loop at the end of the handle, so use those tool hangers.
Grill Cover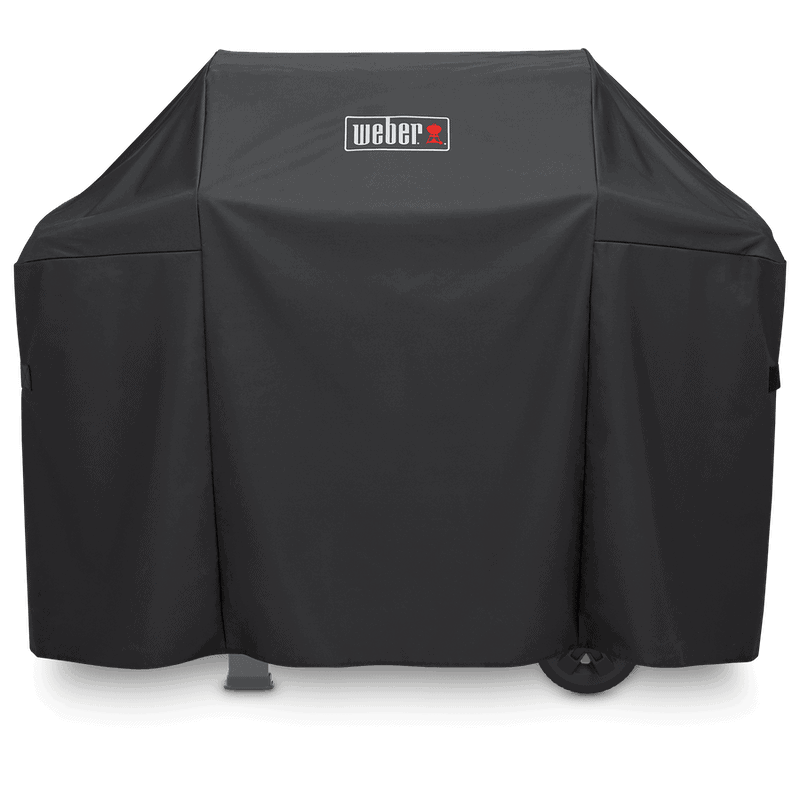 This Weber grill cover will work for the E-310 and the E-330. It will protect it from the snow, rain, sun, and blowing leaves of fall. It is easy to slip it on and pull it off. Fastening straps will keep it from being blown off on windy days. It costs $74.99 and comes with a 3-year warranty.
There is so much more
The above accessories provide all the essentials for maintaining your gill and cooking like a pro, but there are more, a lot more. Weber has a nearly endless selection of tools, gadgets, cleaners, and cookware that can forever transform your ideas of what and how you can grill. Pizza on the grill? You bet! Stir Fry? Yes indeed! Spanish Paella and tapas on the grill? Without a doubt! Check out all the things you can create with the Weber Duch Oven Duo.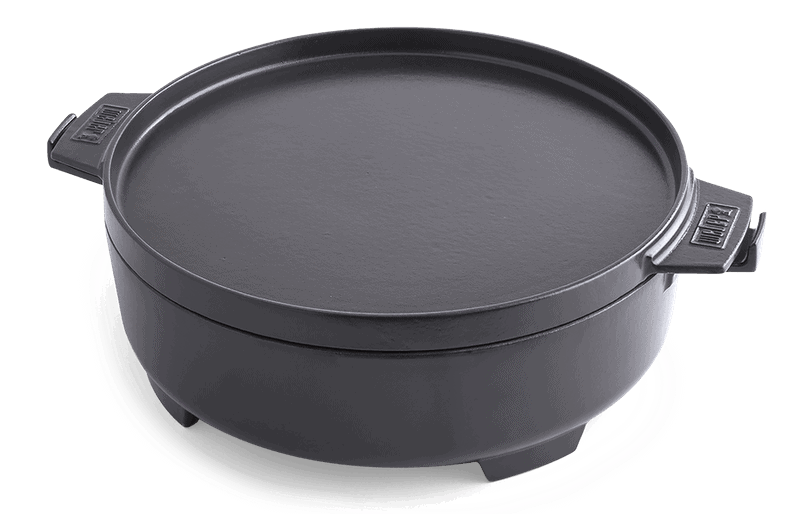 Recipes from Weber
Weber has thought of everything right down to a huge list of free recipes that you can access from the Weber recipes tab. And, I bet most of you never thought about cooking dessert on the grill. From Skillet Blueberry Cobbler to Chunky Chewey Chocolate Cookies and dozens more. Check out the entire list of desserts you can cook on the grill at Weber Dessert Recipies.
Pros and Cons
E-310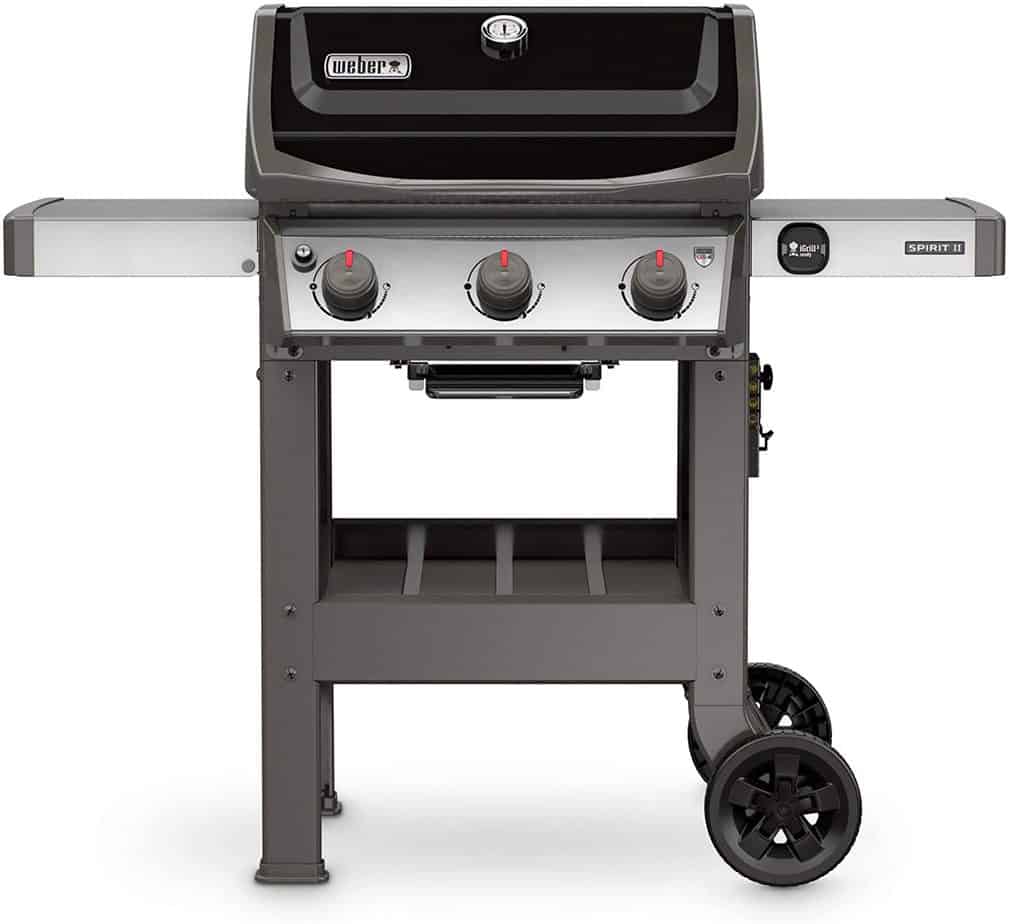 Pros
Less expensive than the E-330
Simple operation and basic grilling
Cons
Missing a sear zone
Missing a side burner
E-330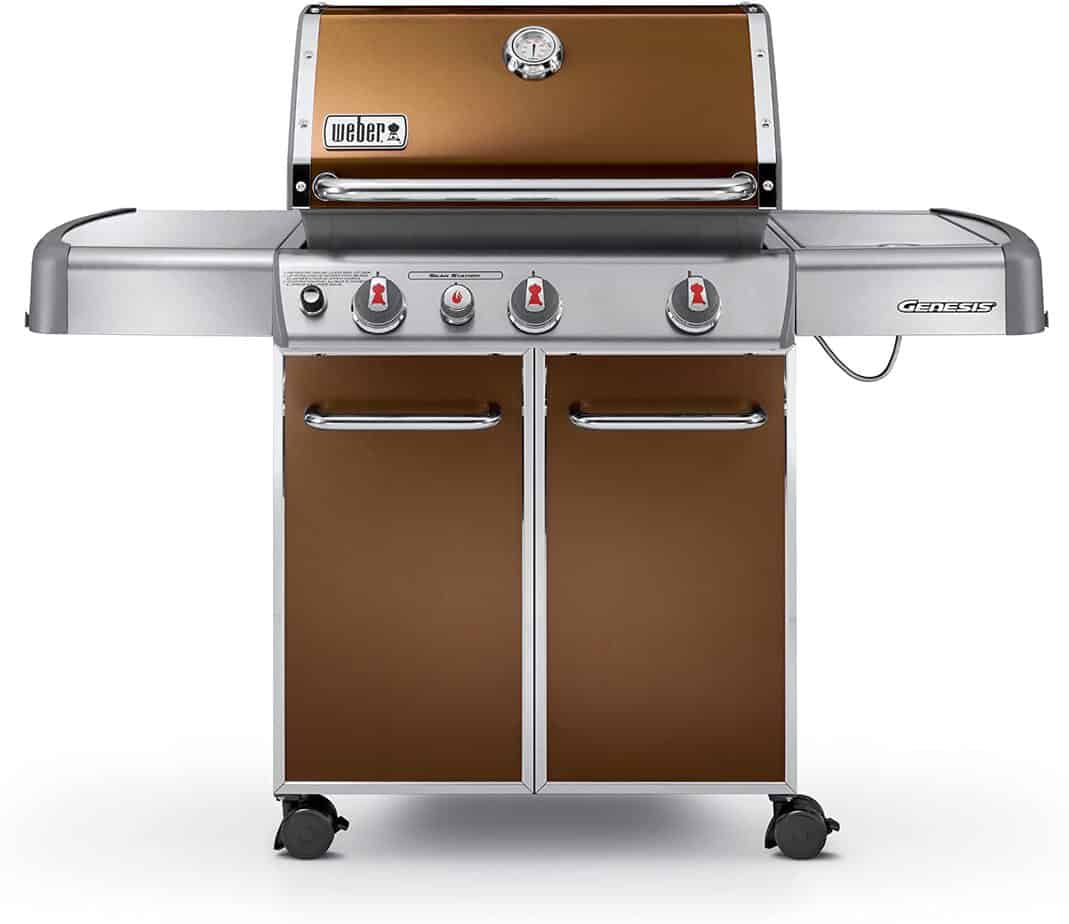 Pros
Has a side burner
Has a sear zone feature
Cons
$100 more than the E-310
Slightly more time is required for assembly than the E-310
FAQs
Question: Where are Weber Grills manufactured?
Answer: They are manufactured in Huntley, Illinois just outside of Chicago. The Weber headquarters are in Chicago. From 1952 Weber has called Illinois home.
Question: What is the advantage of adding favorizer bars?
Answer: Flavorizer bars serve two purposes. One, they prevent drippings from falling onto the burner tubes. Two, the drippings that land on the hot flavorizer bars are vaporized sending smokey flavors back up into the meat you are cooking. It is a simple add-on that may surprise you as to how nicely this flavors food on a gas grill.
Question: Where do I purchase an LP tank?
Answer: Many supermarkets have tanks for purchase and exchange. Lowes, Home Depot, Sams, and Costco are all places you can purchase a tank. Tanks can be refilled at a local LP station or some campgrounds. Exchange tank programs are more common now.
Question: What size tank do I need?
Answer: All Weber full-size models use a standard Qcc1 style 20 lb. tank. These are the tanks typically available for purchase and exchange at local convenience stores, supermarkets, Lowes, Home Depot, and more.
Question: What is the advantage of a Sear Station?
Answer: A Sear Station or Sear Zone is an area of the grill that has an extra burner that can be turned on to make a portion of the grill much hotter than the rest. Meat that is placed in this area cooks the outer surface quickly and adds the classic grill lines that people love to see. This helps to "seal in" the juice of the meat. Not all models have a sear station.
Question: Where is the battery located for my electronic ignition?
Answer: You should consult your owner's manual for the location and the replacement of your battery. On most models, it is behind the actual ignition button. The button may turn counterclockwise, releasing the batter from the front or backside of the button. Typically, the battery is AAA. Again, it is best to check your owner's manual or look it up online by make and model number.
In Conclusion
So is the Weber Spirit E-330 worth the extra hundred bucks? I would say, absolutely yes! I love options and these added two options of a Sear Zone and a side burner are options I consider to be very useful. I love a steak seared on the outside but pink in the middle. I am a medium-rare guy, but rare lovers will find this feature even more valuable to get those amazing grill marks, a beautiful light brown sear on the outside, and still very pink in the middle. Rare meat lovers should definitely consider a grill with a Sear Zone. If you like the option of an "outside stove" (side burner), the only choice is the E-330. I use this feature separately from the grill regularly.
On the other hand, if you are an occasional griller that just loves to cook burgers, chicken, and hotdogs, you would be more than fine with the Weber Spirit E-310. It is a great grill, and the added bells and whistles are not of benefit to everyone. This is why Weber gives us so many great options. They want everyone to get outside and enjoy a good grilling experience. Get the grill that fits your needs and your budget and if it's a Weber. I think you're going to be happy with your purchase.
For more interesting readings chec out: