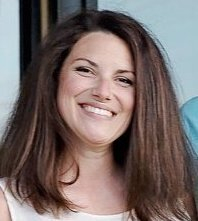 Latest posts by Sarah Caldwell
(see all)
Traeger makes pellet grills, which are also sometimes called pellet smokers. These grills combine the important elements of gas grills, charcoal smokers, and kitchen ovens all into one unit. The outcome of using one of these grills is often a juicier cut of meat, but some find that the flavor is lacking and still prefer a traditional charcoal grill.
Traeger might label these as grills, but they can do more than just grill and smoke meat. You can roast, bake, sear, and braise with them, too. In this guide, I'll review more information about the Traeger brand and then recommend some products that I chose based on their versatility, quality, and ease of use.
About Traeger
Pellet grills first gained popularity in the 1970s. With the oil crisis, there was a demand for a more affordable home heating solution, and people started using wood pellets in pellet stoves. Traeger took this idea and developed their first grill in 1985.
Early models looked like wood stoves, but they worked a bit differently. They were powered by electricity and used a motor to drive the auger that delivered a designated amount of pellets to the hopper. The hopper channeled the pellets into the fire pit, where a fan helped to circulate warm air.
These early models also had three settings: low, medium, and high. These settings were operated by an LMH controller, named for the low, medium, and high settings. Each setting has a predetermined temperature range. Temperatures were delivered by a fixed duty cycle.
The problem with this design is that the fixed cycle didn't account for the amount of food on the grill or the ambient temperature, which are important variables that influence the temperature inside the grill.
The grill was patented in 1986, and thanks to this patent, Traeger spent 20 years on the market as the only pellet grill manufacturer. It was a family owned company that limited grill distribution to a small network of stores.
When the patent expired in 2006, the market was flooded with competition that used the same design principles as Traeger, but could offer their products a lot cheaper. Traeger is still a name people commonly use for this type of grill, even though there are other brands on the market today.
Traeger Buying Guide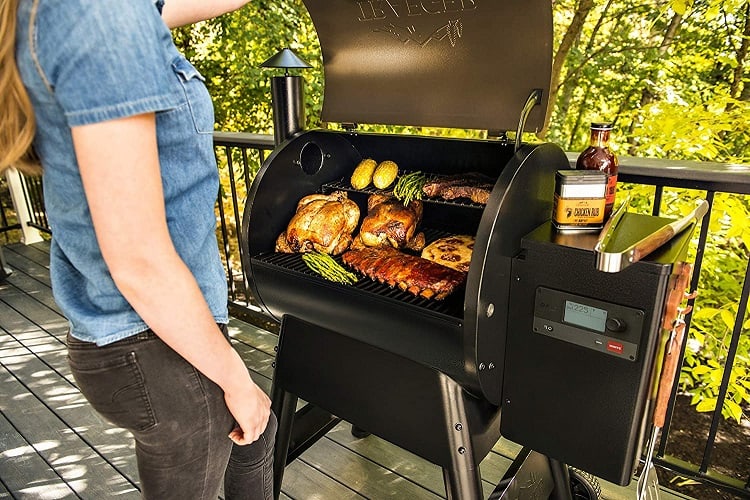 If you're thinking about buying a Traeger grill, there are some things you need to look out for. Once you understand what Traeger has to offer, it'll be easier to pick the right one for you.
Product lines
Traeger offers many different lines of grills, and within each line, there are many different models. Here's a rundown of the options:
Pro Series – This is the most popular mid-range line. They all include WiFi technology.

Ironwood Series – Stepping up from the Pro Series, these offer slightly larger sizes with technology like DownDraft Exhasut and TRU convection. There's also a Super Smoke mode to increase smoke production.

Timberline Series – This is the largest and most expensive Traeger option. They range from 850-1300 square inches and they include all of the features of the Ironwood grills in addition to pellet sensing technology that allows you to monitor pellet levels from the app.

Tailgater – This is a portable model with 300 square inches of cooking space, but it has less technology in exchange for extreme portability.
Cooking Space
The cooking space you need will depend on how often you use it and how many people you're cooking for. Traeger offers a wide variety of options when it comes to cooking space. As you move through the product lines, the grills get bigger, so if you need something rather large, you'll want to look at the Timberline Series.
Durability
Most Traeger grills have a powder-coated stainless-steel body for maximum durability. However, some have a matte black coating that offers a sleeker look. They also include flame deflectors, fire pots, drip pans, and porcelain-enameled grates. Everything is marine-grade stainless steel, so you can count on it to last.
Budget
When you're purchasing a Traeger grill, you're not going to get the cheapest option on the market. Pellet grills are much more expensive than charcoal, electric, and propane grills because they have more technology. However, the price can still vary quite a bit, depending on which model you choose.
While Traeger has some cheaper models that retail for less than $200, you'll get a much better quality grill starting at around $400. Prices climb all the way up to $2000 or more, depending on the size and model you choose.
Cheap pellet grills will cost you more in the long run because they won't last, and you'll be back buying another one later. It's better to invest in something that will work for a lot longer.
Pellet Delivery
The hopper holds pellets until they fall into the auger tube and get deposited in the combustion chamber. The higher the temperature, the faster it will distribute these pellets. You can control the temperature from the digital controller.
The faster pellets move into the chamber, the hotter the grill will get. The wood pellets are ignited and then heat the cooking chamber using combustion. Fans bring in air to circulate the heat and smoke throughout the chamber, which heats the food on the grill.
When you're shopping for pellet grills, make sure the tip of your auger tube is far enough away from the combustion chamber that it won't ignite any unused wood pellets in the hopper. The auger should be wide enough that the pellets flow freely without jamming.
Your pellet grill should also be easy to load and easy to clean, because it makes grilling much easier and less messy.
Size
Traeger makes pellet grills that range in size from 300-1300 square inches. Larger grills are generally more expensive and many come with more technology. Choose a grill that meets your cooking capacity needs so you optimize your fuel use.
A grill that's too small will need to be reloaded more often, but a grill that's too big will waste pellets. It's also important to keep in mind that a larger hopper will take more time to heat, which slows your cooking time down.
Digital Controller Mechanism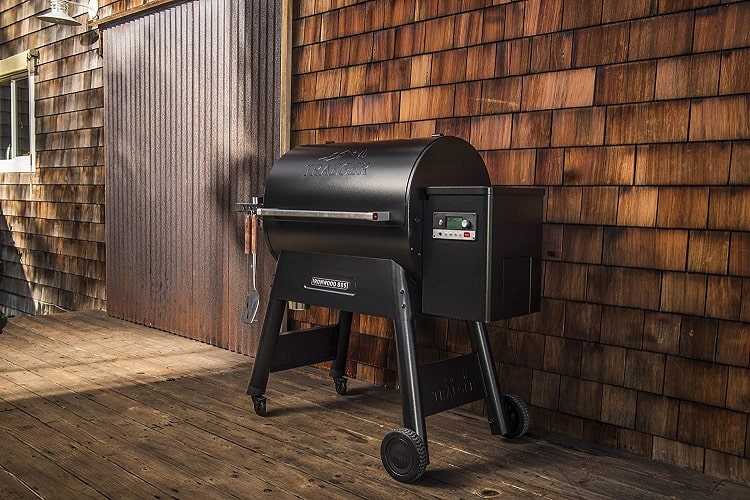 Many pellet grills have digital controllers. They make it easier to control your temperature. Setting the precise temperature is straightforward and it will generally work to keep that temperature within a few degrees.
However, some don't provide temperature maintenance as well as others, so look for models that offer reliable and accurate controllers. Controllers should be built into the body of the grill.
You can choose from the following digital controller types:
PID controllers allow you to implement more complex algorithms for keeping your temperature within a specific range, allowing autopilot smoking.

Non-PID controllers allow you to change the temperature in 5-10 degree intervals. Because pellets are feed in fixed cycles, you can expect accuracy within 20 degrees. Many of these also have LCD screens and meat probes.

Three-position controllers are included on cheaper grills. The low setting is 225 degrees, the medium setting is 325 degrees, and the high setting is 425 degrees. You have much less control over the temperature with this type.
PID controllers are the best because they allow you to control the variations in temperature more precisely. You can also maintain a more accurate temperature range. Many come with WiFi so you can control it from your phone.
Temperature Range
Most pellet grills will have a temperature range of roughly 180-500 degrees. It's perfect for grilling, smoking, and baking. However, if you will primarily use it for smoking, a grill that ranges from 180-250 will allow you more control over lower end temperatures. If you will be searing your food, you can choose something that reaches higher temperature ranges of 450-550 degrees.
Technology and Features
Pellet grills come with a lot more features than regular charcoal or propane. If you prefer to be more involved in your cooking process, you may not need many features, but if you want an easier, more hands off way of grilling, these features may come in handy.
WiFi is an advanced technological feature that Traeger includes on their higher end grills. It allows you to control your grill from the Traeger app. You can even connect it to Alexa and control it with your voice.
Some pellet grills have built-in lighting that makes them easier to use at night. You can also look for multiple cooking racks, searing attachments, and folding legs.
Best Traeger Grills
Traeger offers so many options, it can be hard to sift through the best ones to find what's right for you. Here are some of the best Traeger grills you can buy.
Traeger Pro Series 575 Grill and Smoker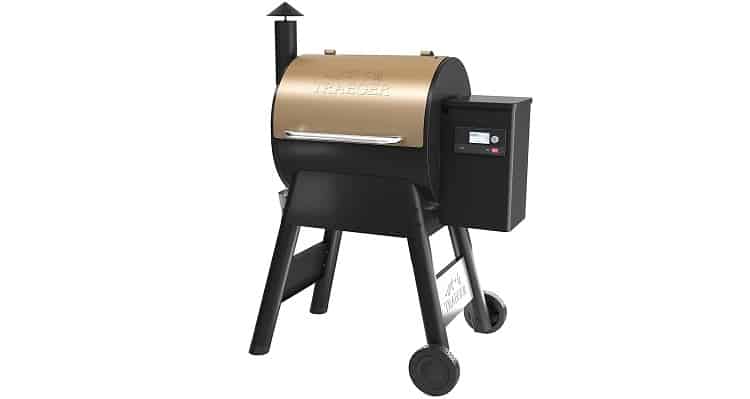 This is one of the most popular Pro Series choices because it offers the same flexibility as all Traeger smokers with applications like smoking, grilling, roasting, braising, and baking. However, it offers 575 square inches of cooking surface area and a hopper with an 18-pound capacity.
This massive grill has room enough for 5 racks of ribs, 4 chickens, 24 burgers, and a lot of other meat. It's ideal for large families or those who like to entertain often. It also has enough hopper capacity to keep the grill going for hours of smoking.
The grill comes with WiFIRE technology so you can control it from your phone. This is a nice feature when you have company, because you won't have to constantly attend to the grill. You can still visit and make sure the food is prepped. It also allows for voice control with Alexa.
The drivetrain deposits pellets in the fire pot seamlessly, so your entire operation will be smooth. However, it does weigh 124 pounds, so it's best to find a place to put it and leave it there. If you do have to move it, there are locking casters on the bottom that make it easier.
Pros
Large capacity

6 cooking applications

WiFi capability
Cons
Heavy

Traeger app is clunky
Traeger Ironwood 650 Pellet Grill and Smoker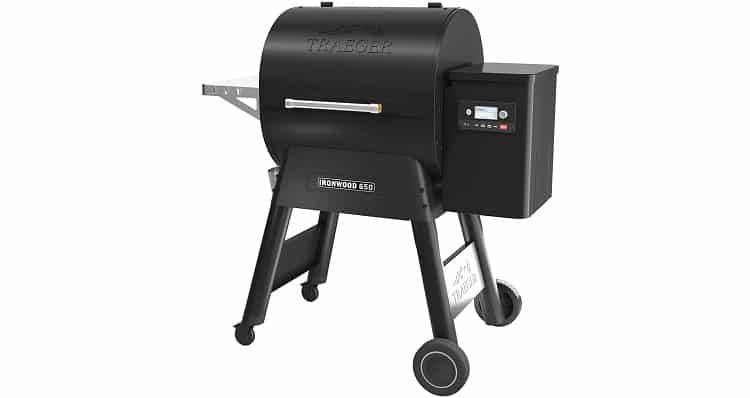 This option is even bigger, with 650 square inches of cooking surface area. The hopper can hold 20 pounds of pellets, so this is another ideal option for large families and entertainers. It also has WiFIRE technology for easy control from your phone using the Traeger app.
This grill features double-walled insulation to maintain more consistent heat, which is critical when you're smoking meat. Controlling the temperature is easy and you should be able to keep it where it needs to be.
The primary difference, other than the capacity, between this model and the Pro Series 575 is that the Ironwood line features a sleek black top whereas the Pro Series is a reflective stainless.
Pros
WiFIRE capability

Double-walled insulation

Six applications
Cons
Heavy

Traeger app is clunky
Traeger Bronson 20 Pellet Grill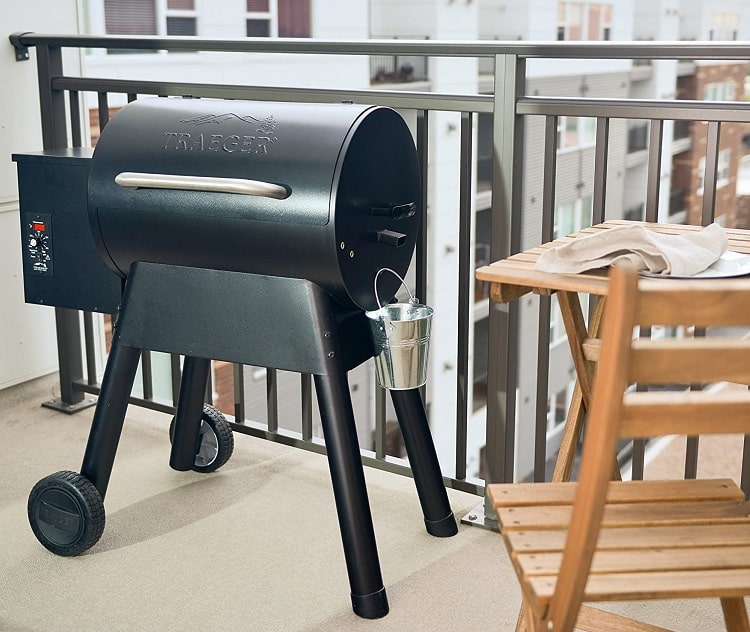 The Bronson 20 sets itself apart with a stable sawhorse chassis and no open flame. You can get it approved by your HOA and even put it on the deck of your apartment or condo because there are no safety issues.
It has 300 square inches of cooking surface area, so it's smaller in stature than the other two options and will fit in a smaller area. However, it still has an 18 pound hopper so you can keep the smoking going for as long as needed.
This unit can hold 3 racks of ribs, 2 whole chickens, and plenty of burgers, so it's great for families and guests. It can reach a maximum temperature of 450 degrees Fahrenheit so you can grill and smoke a wide variety of foods without the mess of charcoal.
Pros
Maximum temperature of 450℉

Rugged sawhorse chassis

No open flame

Compact but spacious
Cons
Hard to maintain stable temperatures
Traeger Tailgater Portable Pellet Grill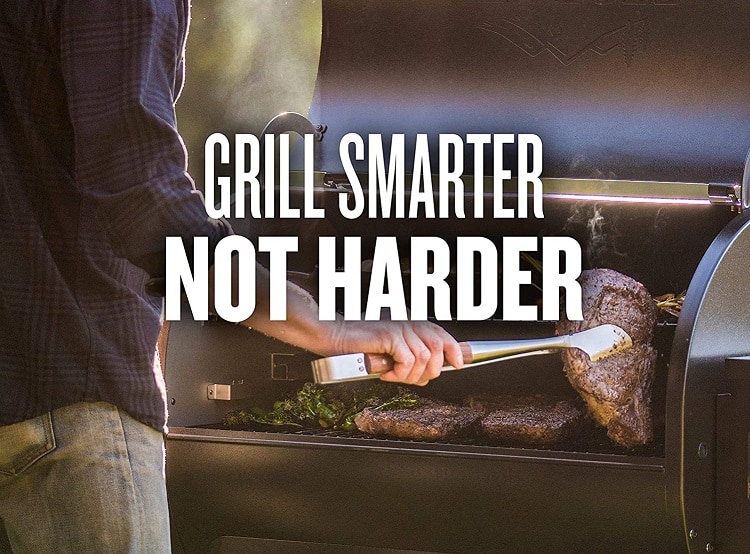 When it comes to portable grills, you may be thinking of something small, and perhaps even a compact model that will sit on your tabletop. However, Traeger offers some nice portable options that still give you the freedom of cooking space.
The Tailgater portable pellet grill still gives you the convenience of cooking with pellets while allowing you to take the grill with you wherever you go. It still has 300 square inches of cooking surface area and can hold 2 whole chickens or 3 racks of ribs.
It weighs 62 pounds, so it's not as light as smaller grills, but it's still much more portable than the others we've reviewed so far. The hopper can hold up to 8 pounds, which means you have enough for 4-6 hours of use without having to refill it.
The EZ-Fold legs make the unit much more manageable, so you can put it in the back of the truck or even in the third row of your SUV. Folding the legs down still gives you access to the wheels, so you can roll it when you need to.
With the legs collapsed, the grill becomes a tabletop grill, making it functional in all situations and giving you greater cooking versatility. The portability of this unit replaces WiFi capability and other enhanced features you might get with Timberline, Ironwood, or Pro Series grills, but when portability is what you need, this is one of the best options.
Grill temperatures range from 180-450 degrees and there's a digital elite controller that helps you keep your temperatures stable. However, it may fluctuate within 20 degrees of your settings.
Pros
Compact but spacious

EZ-Fold legs

Wheels for portability
Cons
Doesn't maintain constant temperatures
Traeger Pro Series 34 Pellet Grill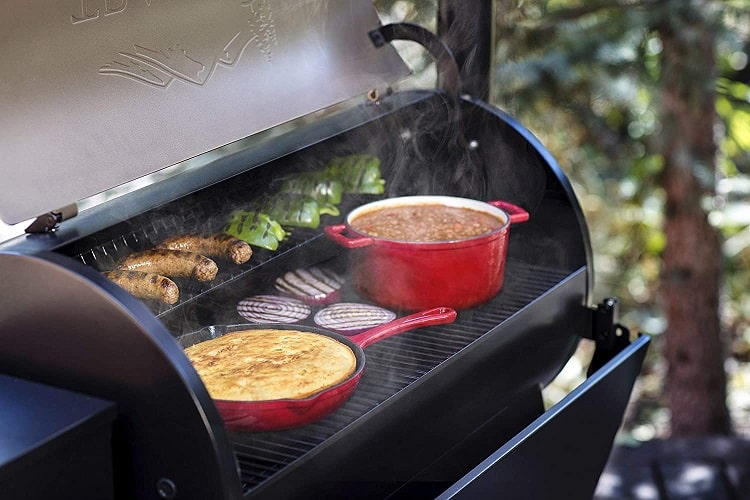 This grill is compact in appearance, but still delivers 884 square inches of cooking space. It's perfect for large backyard get-togethers and summer cookouts. You get an 18-pound hopper and the same 6 cooking functions that every Traeger offers.
A powder steel chassis gives you the durability you need for a lot of all-day cooking for years to come. The porcelain grill grates are easy to clean because food won't stick.
This smoker includes advanced grilling logic that even a beginner can handle, so it's a great choice for someone who doesn't have a lot of experience, but still wants to host all the parties.
It weighs less than 50 pounds and has wheels on the bottom, so you can take it with you everywhere you go. It will maintain a constant temperature very well so you can cook nearly anything you want from meat to vegetables and sides.
When you combine this grill's performance and lifespan, you'll find that it just might be one of the best values out there.
Pros
Advanced grilling logic

Maintains accurate temperatures

Huge capacity

Lightweight
Cons
Traeger Ironwood 885 Pellet Grill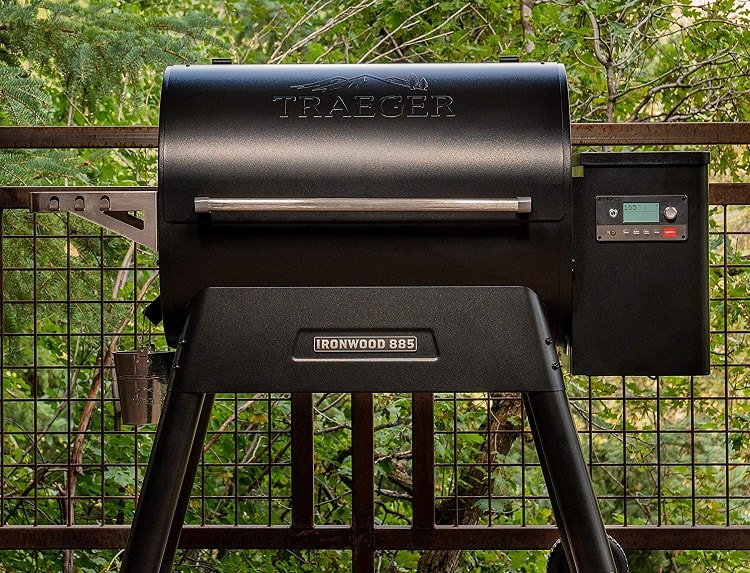 If you'd rather splurge on an updated model, the Ironwood 885 offers 885 square inches of cooking space and a 20-pound hopper. It's also fully smart, with WiFIRE technology that you can connect to your phone and Amazon devices.
You get all the same cooking functions that come with Traeger grills, so you can do more than grilling and smoking, but the upgraded drivetrain means it will start quicker, heat up quicker, and disperse higher quality smoke.
Pros
WiFIRE technology

Huge cooking capacity

Upgraded drivetrain
Cons
Alternatives
There are other manufacturers that make pellet smokers, so while Traeger might be the most well-known, some of these others might be worth a second look. With the expiration of the Traeger patent, the quality of pellet smokers has risen quite a bit.
Z Grills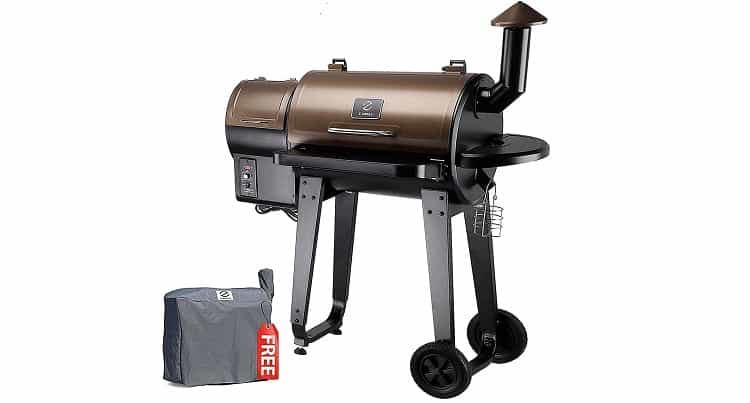 Z Grills is a Chinese company, and they've been contracting with Traeger to build their grills for some time. However, when the Traeger patent expired, they decided to sell their own grills direct to consumer. You get factory direct pricing and grills that stand up against Traeger in quality.
Z Grills doesn't offer quite as many upgraded features as Traeger does, but they're nearly identical to the basic grills that Traeger offers. These are great basic grills and cost a lot less than Traeger, plus you can usually get them on sale.
Pit Boss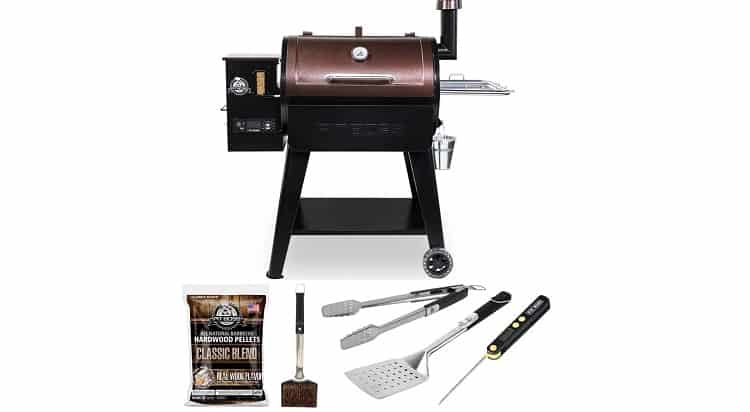 These grills cost hundreds of dollars less than the Traeger brand and actually come with a longer warranty. It's a strong Traeger competitor, thanks to 5 years of coverage after you buy it. They have tons of styles to choose from, including basic models all the way up to their Platinum line.
Pit Boss grills offer pellet smoking and heat shields that slide out of the way to expose flames for open fire grilling.
Grilla Grills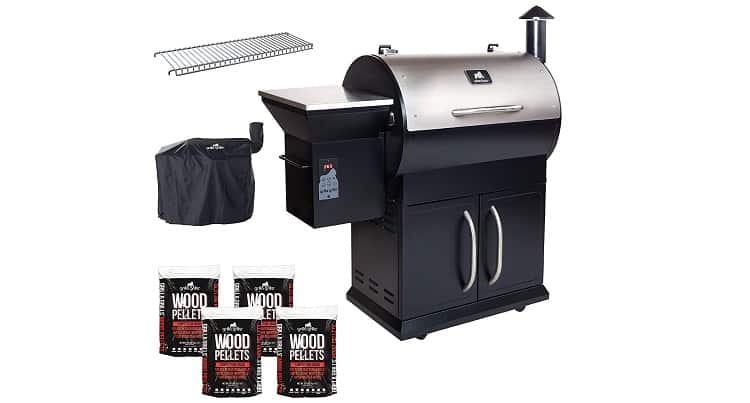 The quality of Grilla Grills is better than Z Grills and Pit Boss, which means they're also significantly better than Traeger as well. Plus, they still cost less than a Traeger, so you can't beat that. Their premium Silverbac grill features double steel wall insulation, a 12-gauge stainless steel lid, and a ¼-inch stainless steel cooking grate. It also comes with a 4-year warranty, so you know they're built to last.
Some of their grills come with two different types of controllers, so you don't have to choose between a PID controller and a standard controller. They're mounted on a heavy-duty mobile cart so they're easier to move.
Rec Tec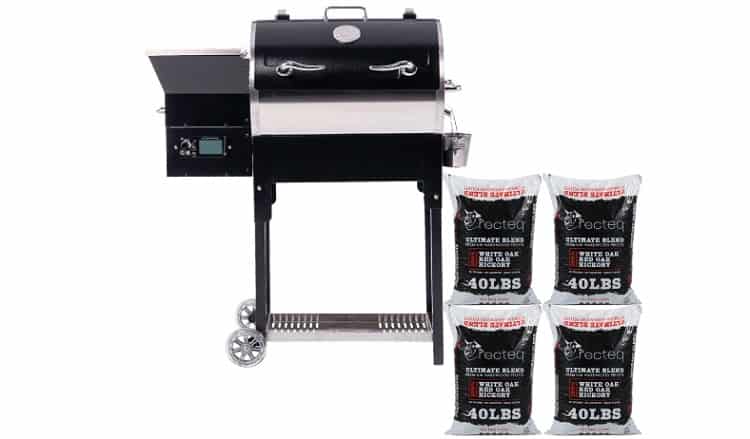 Rec Tec makes pellet grills that look beautiful and feature excellent quality. They're priced along the same lines as the Traeger Ironwood series, but they have better warranties and come with PID controllers.
Rec Tec also offers Wi-Fi compatibility, so it can compete well with Traeger in terms of features. Among the 3 best Rec Tec grills, you can choose different smoke management techniques as well. Small and mid-sized grills vent smoke through holes in the back while the large grills use a smoke stack.
Green Mountain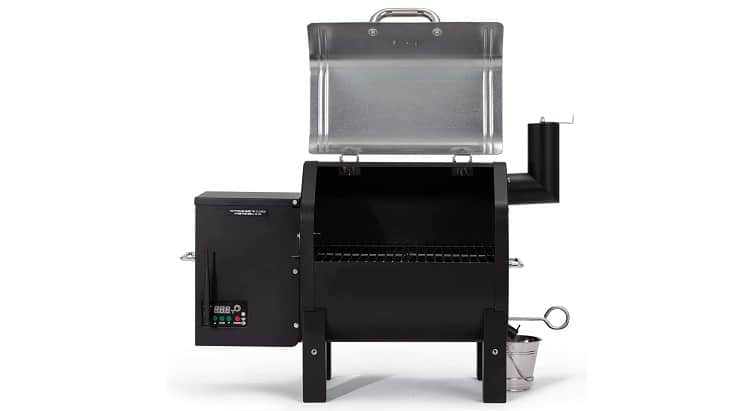 The unique thing about Green Mountain grills, other than Wi-Fi connectivity and a PID controller, is that they use an extra fan to blow through the auger and pellet hopper. This creates positive pressure, so it's nearly impossible to get burn back, which is one of the primary concerns when using a pellet grill.
Camp Chef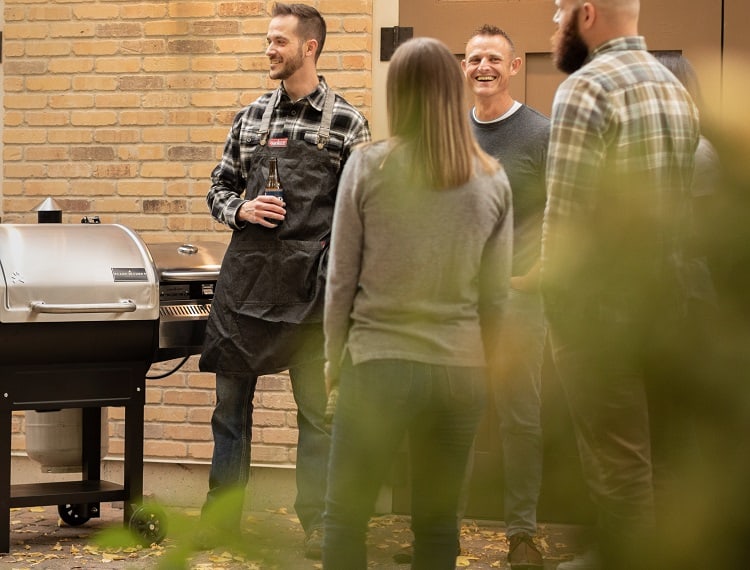 Camp Chef makes plenty of different pellet grills, but the Woodwind series is their best. They combine nearly all of the same advanced features you'll find on other pellet grills into this one model. It has a PID controller that allows you set a Smoke Number. Higher Smoke Numbers result in temperature variations that are similar to the dual controllers on the Grilla Grills smokers.
These grills also allow you to move the heat shield for open flame grilling, much like Pit Boss, and they're Wi-Fi enabled. While they cost about the same as a Traeger with the same features, they can offer great quality.
FAQ
If you're looking for a pellet grill, Traeger is one of the best, but it's not the only option. These frequently asked questions may help you learn more about pellet grills and what is the best option for you.
Question: Is Traeger Worth the Money?
Answer: This is a common question, because it's no mystery that Traeger sells some of the most expensive pellet grills on the market. Some people believe you're paying for the name, but the truth is that Traeger builds superior products with higher quality materials.
However, it does depend on what you're looking for. While Traeger offers a large variety of sizes and styles, you may simply like something else better. If you take care of it, it will still last you a few years.
Question: What Makes Traeger Grills Better?
Answer: Traeger produces more reliable, consistent results with less effort than other pellet grills do. It still uses wood as a fuel source, so you can impart that smokey flavor you love while simplifying the controls and making it easier to operate.
Question: Do Traeger Grills Use a Lot of Electricity?
Answer: Traeger grills use wood and electricity. The electricity powers the auger that supplies the wood pellets to the chamber. It generally only takes about 30 watts of electricity to operate continuously, but may need up to 300 watts to get started.
Question: What is the Lifespan of a Traeger?
Answer: Less sturdy models may only last 2-3 years, but you can expect your top of the line Traeger to last 6-10 years. With proper care and maintenance, it could last even longer than that.
Final Thoughts
My personal choice is the Ironwood 650 because it has a large enough capacity for my large family and allows me to entertain as well. I also like its sleek black appearance, double-walled insulation, and WiFi technology.
There's a huge variety of Traeger models on the market, and each has its own benefits. Traeger is a reputable brand that produces reliable equipment. If you do your research and choose the Traeger that's right for you, you'll be happy no matter what you choose.
Ready to learn more? Check out more interesting readings: