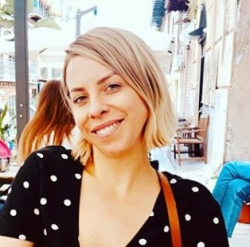 Latest posts by Jodie Chiffey
(see all)
Finding a good grill or a smoker can be quite demanding whether you're an absolute beginner or a seasoned chef. Not sure what to expect or demand from a vertical smoker? Our in-depth Louisiana Grills Vertical Pellet Smoker review should give you a good idea of what this appliance can offer.
Of course, we'll also evaluate how good this particular smoker is based on its performance, features, value, and reliability. Moreover, we'll also share with you several recommendable alternatives.
Let's start with a brief overview of the smoker's technical specifications:
Key specifications of Louisiana Grills Vertical Pellet Smoker
| | |
| --- | --- |
| Cooking space | 6.2 cubic feet (2,059 square inches) |
| Insulation type | Double-walled |
| Power source/fuel type | Wood |
| Cooking equipment | 6 cooking racks with porcelain-coated grid construction + 2 meat probes included |
| Temperature range | 150 °F to 450 °F |
| Hopper capacity | 60 lbs |
| Latest price | Click here for the latest price |
Core features of the Louisiana Grills Vertical Pellet Smoker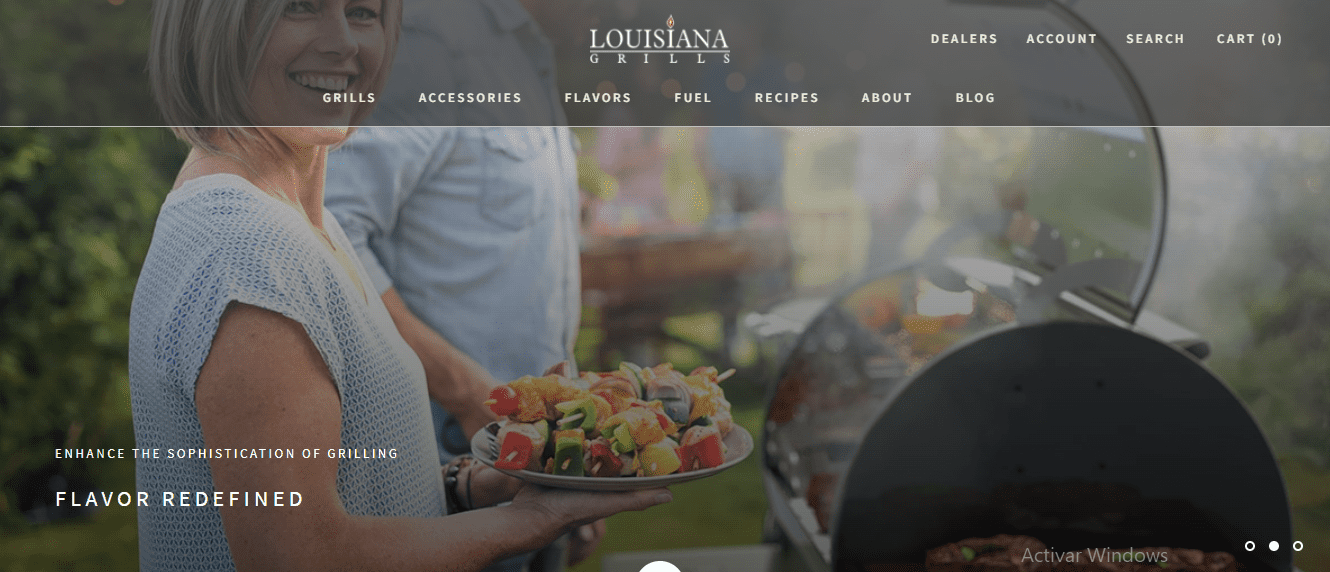 Louisiana Grills is an industry-leading grills manufacturer established several years ago as a subsidiary of Dansons, Inc., a company founded in 1999. The brand is known for its exquisite craftsmanship, emphasis on practical details, and reliability, making pretty much any of its products seem like a good choice.
Nevertheless, the wide range of products in the Louisiana Grills portfolio comes with many unique characteristics and features, so you should do some research to pick the best one for you. For example, could it be the 7-series Vertical Pellet Smoker also marketed under the product number LGV7PC1?
Let's explore its features and qualities in detail to find out:
Dimensions and capacity
Ever wondered what makes vertical smokers so unique and popular? There are undoubtedly many things to love about them, but one of the main reasons behind their popularity is their conveniently small footprint combined with extensive cooking areas. In short, this type of smoker is a perfect fit for tiny terraces, small gardens, or narrow patios.
When you compare the construction of Louisiana Grills's Vertical Pellet Smoker with a standard large gas-fueled or charcoal-fueled grills, it appears to be almost too compact to perform. However, the whole machine weighs just about 60 pounds, and thanks to its heavy-duty caster wheels, it's also quite portable and easy to store away.
But don't let its sleek appearance fool you – since you can distribute your food over six rack floors, one above the other inside, the actual capacity of this smoker is an impressive 6.2 cubic feet (2,059 square inches). Enough to feed a whole bunch of meat lovers fast, efficiently, and conveniently, right?
Talking about capacity, this smoker also boasts a large hopper that can be loaded with up to 60 lbs of wood pellets at once, meaning that it can effortlessly burn for up to 35 hours in a row without any additional assistance. So if you like to prepare your food slowly at low temperatures, this will suit you.
Construction and materials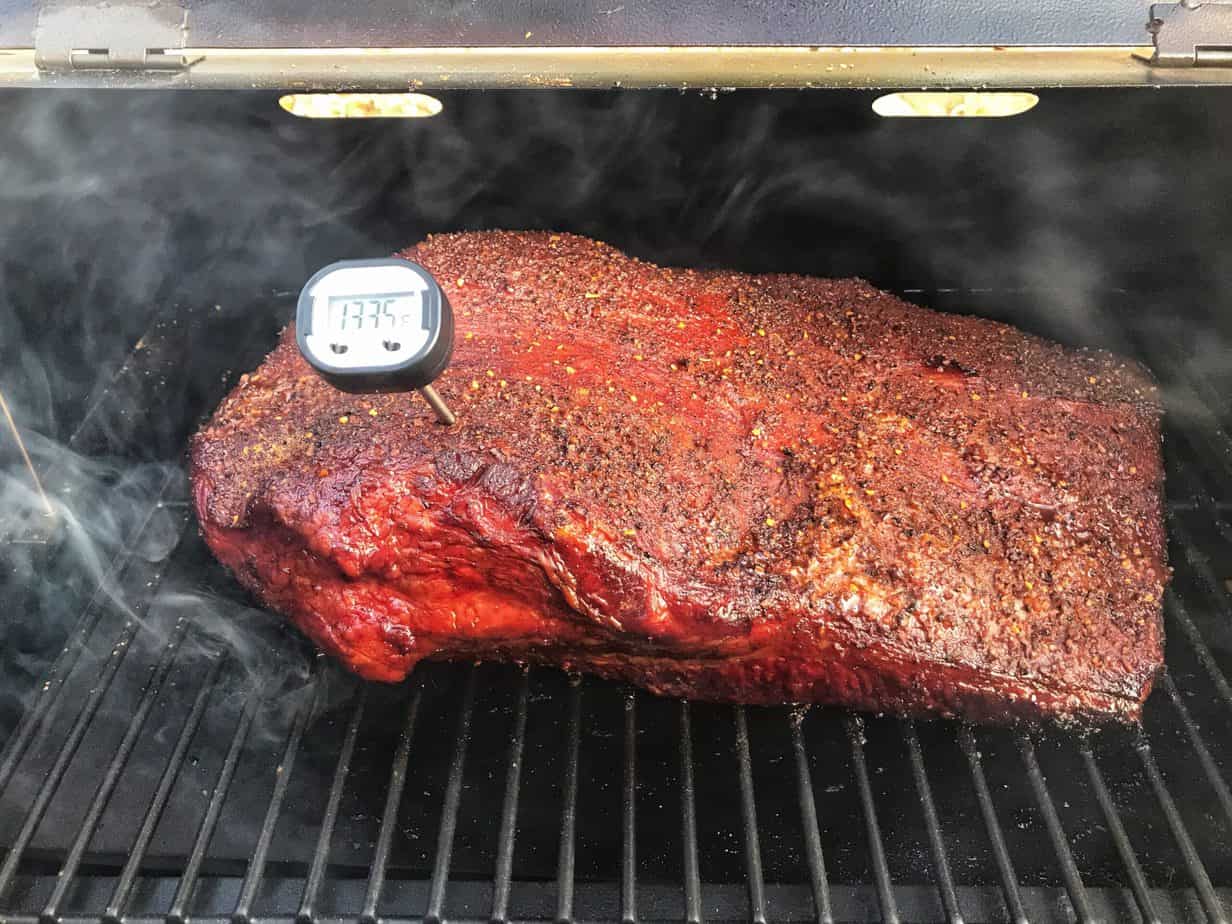 If you're looking for a reliable smoker built to last, you should pay attention to its construction and materials.
In this regard, Louisiana Grills doesn't settle for any compromises – this vertical pellet smoker is made of robust cold-rolled steel (CRS) with double-wall insulation. This material is durable, rustproof, and easy to clean and maintain.
Another great advantage of this vertical smoker is its large transparent front door made of tempered heat-resistant glass.
Besides its aesthetical benefits, this type of design allows you to control your food inside the smoker without opening it. That helps with maintaining a stable temperature inside the smoker and makes the whole process more efficient.
Controls and accessories
The smoker comes with pretty much everything you need to start grilling right out of the box. Most importantly, it is equipped with six porcelain-coated non-sticking cooking grates. These can be easily pulled out either for cleaning or rearranging when you need to fit in a particularly large piece of food.
Moreover, Louisiana Grills Vertical Pellet Smoker also comes with two integrated meat probes – convenient accessories that eliminate the guesswork and keep you on track with the actual state of your food by constantly monitoring its internal temperature.
Of course, this sophisticated machine also provides you with a modern Danson digital control board which allows you to set the right temperature. It ranges from 150 °F to 450 °F, and you can also switch the measurement from Fahrenheit to Celsius if you prefer to.
Although some users complain that this control could be more accurate in their reviews, keep in mind that grills and smokers used in exteriors are sometimes prone to temperature deviations caused by external factors such as strong winds or weather changes. In any case, you can always put a simple thermometer inside the smoker and regularly check if it matches your settings.
Functions and performance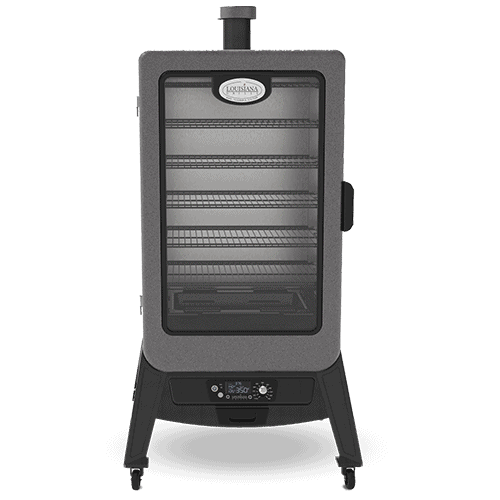 Another great advantage of vertical smokers is their tremendous versatility. Once you gain some experience and confidence around these machines, you can use them for almost any type of heat-induced food preparation: baking, smoking, grilling—you name it.
Some users even use a smoker as a substitute for a standard oven. Just make sure that you fully comprehend how this machine works and performs before you start experimenting.
Louisiana Grills Vertical Pellet Smoker uses fan-forced convection fueled purely by wooden pellets, which provide the food with a pleasant and distinctive aroma and flavor. In addition, thanks to the sealed and double-locked front door, the heat truly stays inside, contributing to the efficient and fast preparation of food.
Ease of use and operation
Thanks to the 300-Watt automatic ignitor, starting this smoker is very simple, even for those with no previous experience. The unit also has an auger to drop pellets into the burning pot automatically, so once you set everything correctly, you can pretty much just stand and watch how your meat gets that golden crust and juicy shine.
Of course, be prepared to add some water into the dripping plate from time to time – if you're working with higher temperatures, this can be needed as frequently as once every 2 hours. If you've filled your smoker to its full capacity, it's also a good idea to switch positions of racks inside occasionally to ensure that all the food gets even access to heat.
Cleaning and maintenance
As I've already mentioned above, all the materials used on this smoker are relatively easy to clean and maintain – especially if you do it regularly after every use and don't let the remains and drippings dry out completely. However, keep in mind that even the porcelain-coated racks need to be wiped of debris and stains regularly if you want them to stay bright and clean.
Fortunately, this intelligent machine has various features designed to help you with the cleaning and make it easier. For example, instead of accumulating the grease on the smoker's base, it is conveniently drained and filtered into a removable grease tray. Just pull it out, dispose of the grease, wash the tray, and put it back in its place.
On the other hand, cleaning the hopper is a bit more complicated due to the imperfect design of this section. If you're finished with smoking yet it still holds some small amount of unused pellets, burning them out is probably easier than removing them manually. But, of course, this is not very economical, and it also wastes your time.
In any case, the manual you'll get with this machine will provide you with all the necessary information and instructions on proper maintenance, cleaning, and handling of this smoker.
Price and warranty
Louisiana Grills Vertical Pellet Smoker's price is comparable to what you would pay for most similar smokers from some of the other leading American brands like Traeger or Weber. It is certainly not the cheapest machine you can find on the market, but it is a reasonable investment if your budget allows it. Check the latest price quote here.
Moreover, your investment in this machine will also be covered by the manufacturer's warranty: All wood pellet grills by Louisiana Grills carry a limited warranty for five years against defects and workmanship on all parts and electrical components. The warranty period is counted from the date of the original sale.
Pros of the Louisiana Grills Vertical Pellet Smoker
Still not sure if this vertical smoker is your best option? Let's summarize its biggest assets and strengths once more:
Practical vertical design with large capacity
Vertical smokers can easily fit into a smaller space while providing just as great (or even better!) capacity as some of their horizontally-oriented counterparts. So if you're dealing with a small terrace or narrow patio, this is a great choice. Also, this compact smoker on wheels is easy to store when not needed.
Durable construction and quality materials
Cold-rolled steel (CRS) with double-wall insulation eliminates heat waste and makes this machine sturdy and durable. Porcelain-coated racks also simplify cleaning and maintenance. If you compare this smoker side by side with some of the much cheaper alternatives, you will see for yourself that Louisiana Grills are exceptionally well constructed and made to last.
Versatile and easy-to-use
Assembling, setting up, igniting, and operating this vertical pellet smoker is very simple. Whether you are entirely new to smokers or you already have some experience, this smoker's ease of use and maintenance will surely please you. Moreover, once you get fully used to it, you can start experimenting with its versatile functionality.
Full package with everything you need
This premium vertical wood pellet smoker comes equipped with six racks, a grease collecting tray, and two integrated meat probes, so you can start using it right after unboxing it. There is no need to buy any essential accessories separately.
Cons of the Louisiana Grills Vertical Pellet Smoker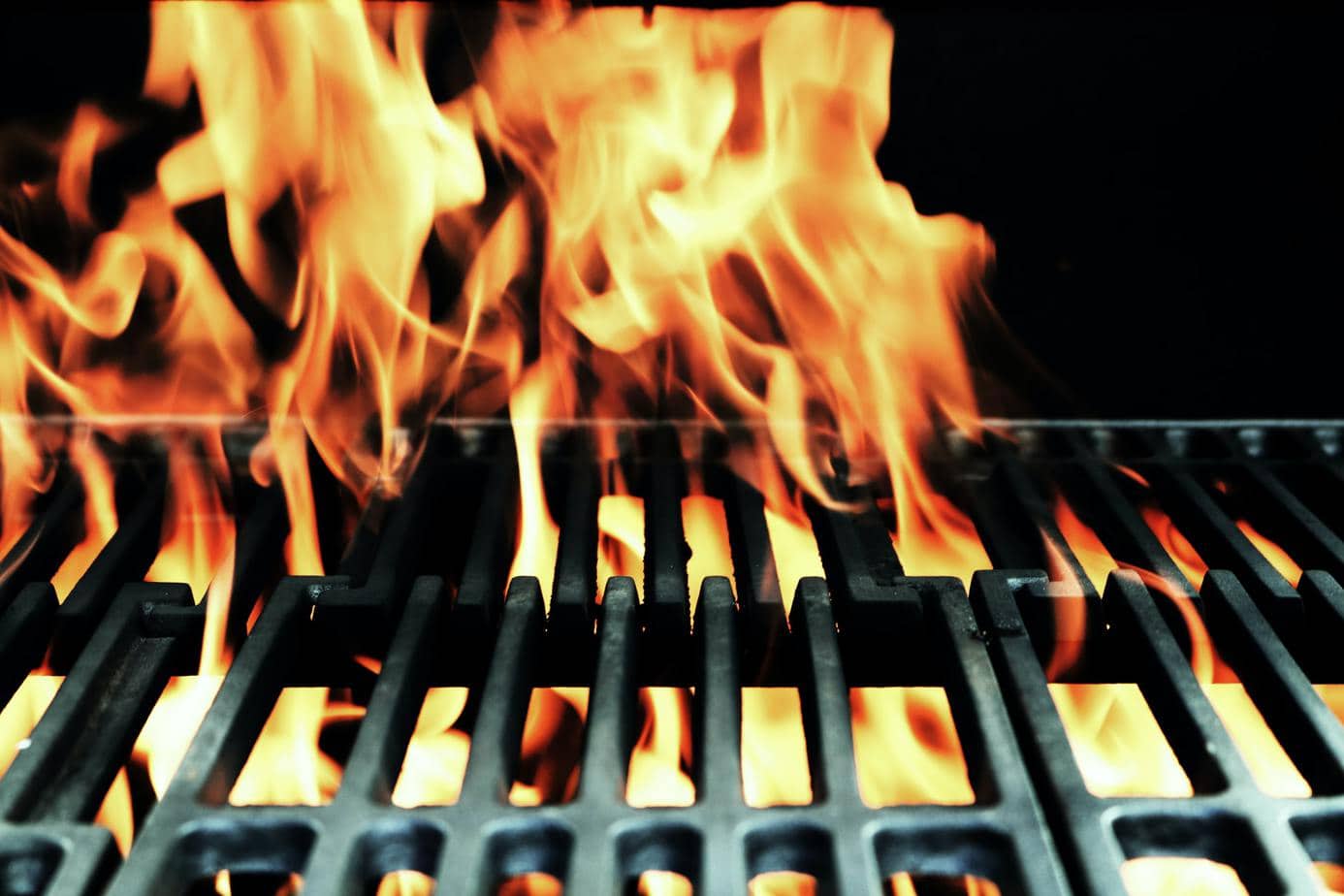 Eager to order this smoker already? Make sure you consider the following downsides well before making the purchase:
Lame design of hopper outlet
Although the smoker, in general, boasts great constructional qualities, the hopper area is somewhat lamely designed, making it hard to remove unused wood pellets from it without burning them. Although this is not a serious dealbreaker (you can still unscrew the cover if you really need to access the area), it is a bit frustrating.
Not the cheapest
If you compare this smoker to similar products on the market, you will probably come to the conclusion that it's really expensive. Although the smoker itself justifies the price in many regards, if you're on a budget, you will probably find some decent alternative at a considerably better price elsewhere (check out our Alternatives section below for some recommendations).
The best alternatives to Louisiana Grills Vertical Pellet Smoker
If, for any reason, you don't feel like buying Louisiana Grills Vertical Pellet Smoker at the moment, maybe you'll find some of the following alternatives more attractive:
Masterbuilt MWS 330B Pellet Smoker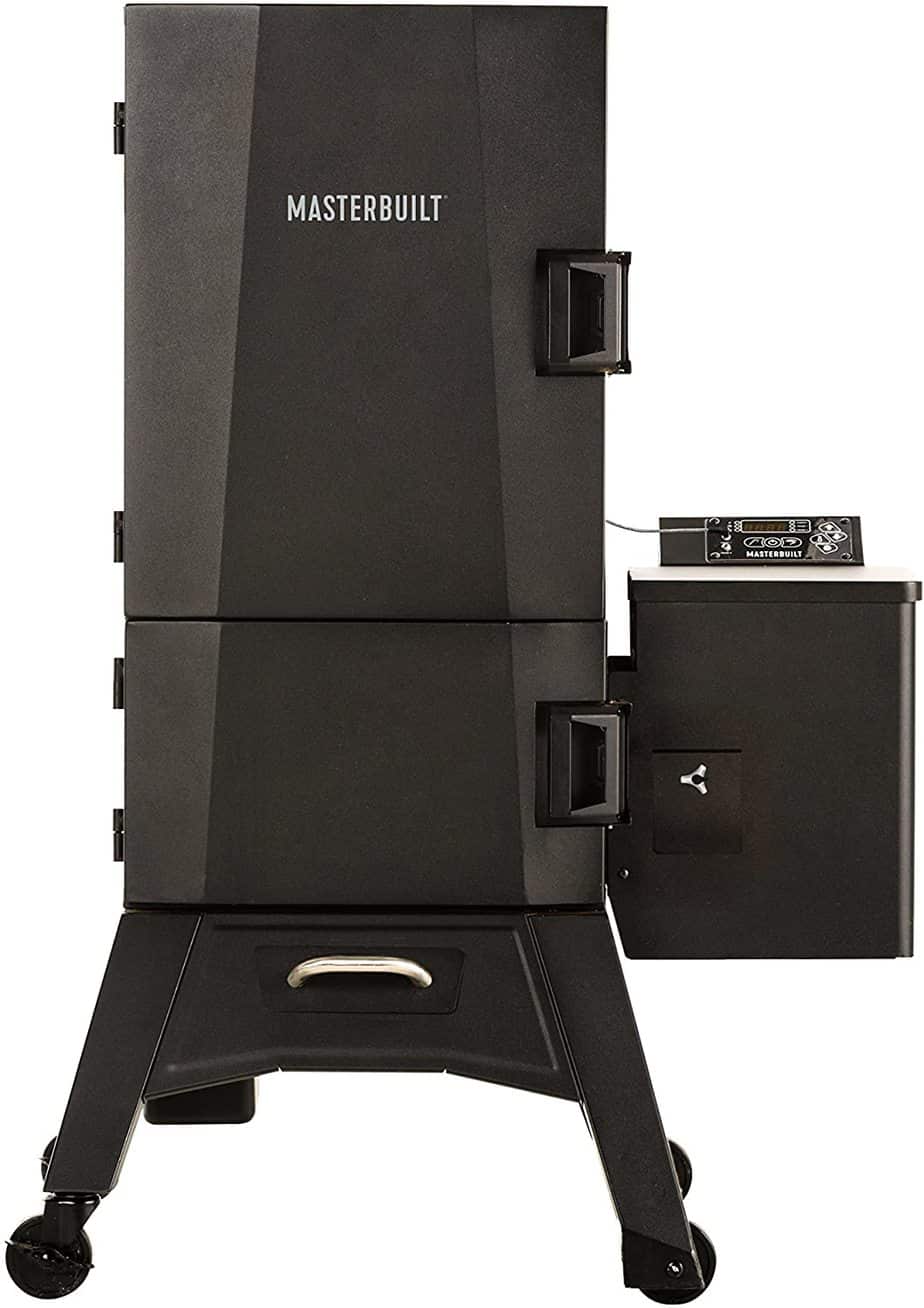 Masterbuilt MWS 330B is another popular vertical smoker fuelled by wood pellets and suitable for various types of applications. Compared with the Louisiana Grills counterpart we've reviewed earlier, this smoker is slightly larger, heavier – and significantly cheaper.
On the other hand, it lacks the convenient front glass (this smoker has a solid front panel). It also has a bit narrower temperature range (​​180˚F to 350˚F) and a much smaller hopper with a capacity of just about 8 lbs of pellets. This smoker also comes with fewer racks (4).
Nevertheless, users seem to love its ability to maintain precise temperature and produce juicy yet also crispy food full of flavor and traditional wooden aroma.
PIT BOSS PBV3P1 Vertical Pellet Smoker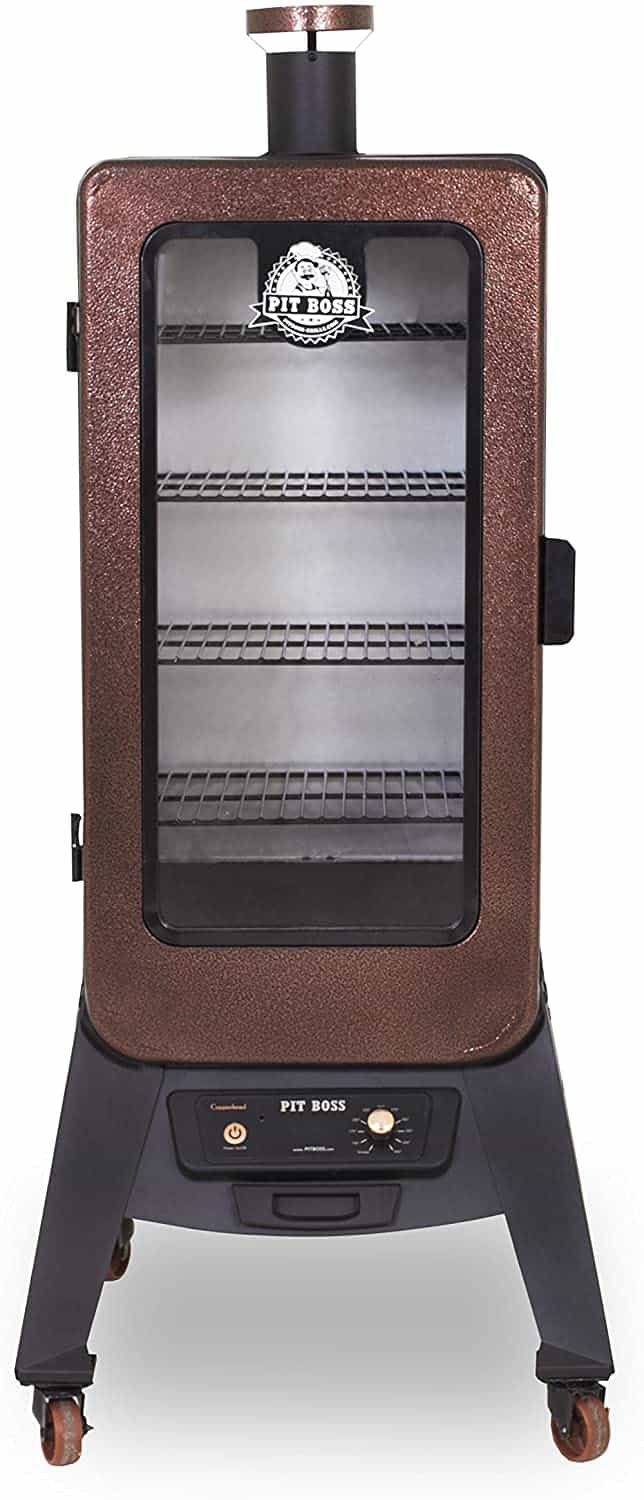 PIT BOSS PBV3P1 is a vertical pellet smoker from a reputable American manufacturer that will immediately attract you with its lovely vintage design and copper finish. If you're looking for a practical centerpiece for your garden or patio, this is a very stylish choice.
Of course, it's not just about the looks. This smoker comes with many functional strengths and qualities too. For example, it makes your smoking much more precise thanks to the constant monitoring of internal temperatures with a neat digital LED readout and an integrated meat probe.
Although the capacity of this smoker is a bit smaller in comparison with Louisiana Grills' competitor, it still boasts an impressive 901 square inches of cooking area and up to 40 lbs capacity of the pellet hopper. Again, this is a good budget-friendly alternative.
Pellet Pro 2300 Vertical Pellet Smoker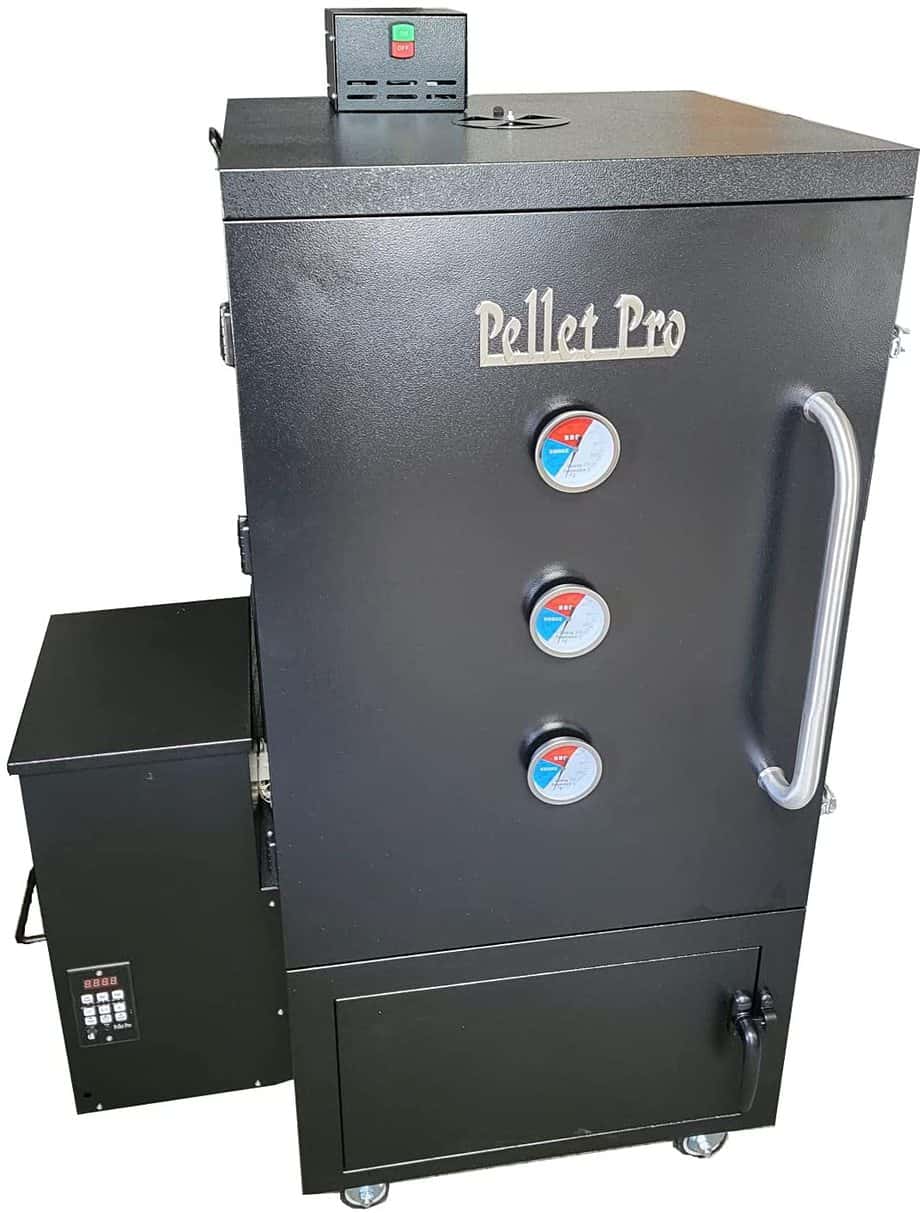 Not limited by your budget? Pellet Pro 2300 Vertical Pellet Smoker is a mighty alternative for those who crave a powerful performance, professional quality, and tons of capacity. This heavy-duty pellet smoker has it all – and even more.
The smoker easily stands out in the crowd due to its sturdy housing made of 18 gauge double-walled steel plates. Although it weighs over 200 pounds, thanks to its push bars and caster wheels, it's quite easy to move it around as needed.
Inside you'll find seven smoking racks with an overall 10 cubic feet of cooking capacity. It's also equipped with a Smoke Daddy Exclusive PID controller, a convenient cover, and lots of other accessories. Of course, its higher price adequately reflects all these superior features.
Frequently Asked Questions
Need some additional information? Check out these commonly asked Q&As for more interesting details on Louisiana Grills Vertical Pellet Smoker:
Question: How long does it take for a Louisiana Grills Vertical Pellet Smoker to heat up?
Answer: That depends on various factors, including the desired temperature and ambient conditions around the smoker (wind, temperature, etc.). Generally speaking; however, you should expect it to take about 15 to 20 minutes until your smoker grill is ready to perform.
Question: Does Louisiana Grills Vertical Pellet Smoker flare-up?
Answer: Flaring up usually occurs when your grill is covered in grease. Since Louisiana Grills Vertical Pellet Smoker allows excessive grease to be drained and collected in a grease tray that doesn't come into contact with direct heat, flaring up is very uncommon with this type of smoker.
Question: How do you cook hamburgers on Louisiana Grills Vertical Pellet Smoker?
Answer: If you want to smoke your burger patties in this vertical pellet smoker, preheat the machine to approximately 400 – 425 degrees. Carefully place the patties on a rack, close the smoker and let your burgers smoke until they get a little sweaty – it takes about 8 – 10 minutes. Now flip your burgers and let them cook evenly on the other side.
If you're using a probe, the beef patties should show at least 160 degrees inside to be properly cooked. Some people like to heat the smoker to maximum just before the burgers are done – this will create a crunchy crust around the burger, but be careful not to let the meat dry out.
Our verdict: Should you invest in Louisiana Grills Vertical Pellet Smoker?
If you're looking for a first-class meat smoker with great capacity, extensive temperature range, thoughtful design, and versatile functionality, Louisiana Grills Vertical Pellet Smoker is certainly a great option to consider.
Thanks to its reliability, accurate temperature perseverance, and ease of use and maintenance, it is suitable for both beginners and professionals with high expectations. Its small footprint, compact housing, and convenient portability also make it a good fit for limited spaces.
Although it has some minor drawbacks when it comes to its hopper design, the greatest downside of this vertical smoker is definitely its price. Shortly, this is not the type of smoker you'll buy last-minute before an impromptu BBQ party. It's an investment that will be truly worth its price only if you make the most out of it and use it as often as possible.
We hope that his review helps you decide whether this is the smoker you were looking for – or maybe you'll find your champion among the recommended alternatives. If you need more advice and inspiration on this topic, how about reading our comparison of Weber vs Broil King grills next?
For more interesting readings check out: