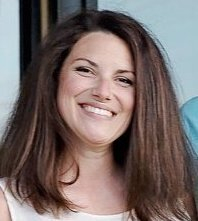 Latest posts by Sarah Caldwell
(see all)
Before the age of internet delivery services, if you wanted to get your hands on some authentic Kobe or Wagyu beef, you either had to fly to Japan or find a high-end restaurant that served such delectable cuts of meat. 
Fortunately, that's no longer the case since the advent of meat delivery services like Holy Grail Steaks.
But why should you order your beef from Holy Grail Steaks? What sets it apart from other meat delivery services? I'll answer these questions and others in my review of Holy Grail Steak. 
But before we dig into the delivery service itself, let's talk about what you should look for in your Wagyu or Kobe cuts of beef.
What to Consider When Buying Wagyu and Kobe Beef
Before you even think about ordering from Holy Grail Steaks, I want to discuss what goes into selecting the best steak for you. 
From price to grading and factors like tenderness, here's what I always recommend thinking about before placing an order– or even picking up a steak at your local butcher or grocery store.
What is the highest grade steak in the United States?
Not all steak is graded. In the United States, you'll know a steak has been graded if it has a USDA certification. USDA gradings are dependent on factors such as fat marbling, tenderness, aging, and fat to muscle ratio. The highest grade is USDA Prime, followed by USDA Choice and USDA Select. All are suitable steaks- and likely better than those that are not graded. However, there is a fairly substantial difference between USDA Prime vs USDA Select.
| | |
| --- | --- |
| Grade | Description |
| USDA Prime | The top 2-3 percent of meat on the market and the most flavorful. USDA Prime beef has flavorful marbling and supreme tenderness.  |
| USDA Choice | USDA Choice is great if you want to save a little money. This makes up around 50 percent of graded beef and has flavorful but notably less marbling. It's still excellent meat but slightly less succulent and tender.  |
| USDA Select | USDA Select tends to be lean with little marbling. This type of meat is best for marinating and barbequing. You have to be careful in preparing this meat, but it can still be flavorful if done correctly.  |
What is the best grade of steak in Canada?
You'll also come across a different grading system for meat from Canada. This grading system uses letters to indicate the quality of meat and one grade above. This system is based on similar qualities but rated differently.
| | |
| --- | --- |
| Grade  | Description |
| Prime  | Once again, Prime stands for the best meat. About 2 percent of meat on the market has the same marbling and tenderness as the US rating system.  |
| AAA | AAA beef has present marbling but is less flavorful than Prime. This makes up the top 50 percent of beef. |
| AA  | At this level, there is some, but only minor, marbling. It can be trickier to cut this meat, and it should be seasoned accordingly.  |
| A | This meat is not going to provide a succulent meal. There's little to no marbling, and it tends to be tough and not flavorful. This makes up about 3 to 4 percent of beef sold.  |
Most Tender Steaks
USDA Prime Filet Mignon is amongst the most popular tender steaks. When prepared well, it has a delicate buttery texture. While it's lean meat, it has a succulent quality that makes it a great steak for entertaining. 
Good Grilling Steaks
Many steaks are suited for grilling. You want to look for a steak that is neither too lean nor too fatty. Lean meat is especially suited for slow cooking methods. If your meat is too fatty, it may not grill evenly. Ribeye, filet mignon, strip steak, top sirloin, t-bone, porterhouse, and picanha are all great options for your next grill out. 
Order Steak Online
Ordering steak online may be new to many. Ordering something as perishable and expensive as steak can be stressful, but the good news is that you can order steak safely online.
The key is understanding what good signs– and red flags to look out for. You also need to have clear expectations as to why you're buying steak online to determine if it's the best option for you. 
Ordering steak online has a few benefits. The clearest benefit is a greater selection of steak cuts you may not otherwise find. You'll also have more options for specialty cuts and specialty meat, such as organic, grass-fed and humanely raised.
At the same time, ordering steak online means you can't inspect it beforehand, and you'll also pay a bit more. Even companies that claim to offer free delivery factor those and other costs into the price. 
Selection
There are plenty of options regarding Wagyu and Kobe beef. Does the provider you're considering offer a wide range of choices? How are the cattle treated? What cuts are available? 
These and other questions will give you a better idea about the offered selection.
Clear communication and transparency
Not everyone understands what makes Kobe and Wagyu beef so luxurious and amazing. Some customers may be confused about what constitutes Kobe or Wagyu meat.
Anyone you order meat from should clearly communicate what you're buying and why it's worth the money you're about to spend.
Look for a site that includes information about grading Wagyu and Kobe beef and suggestions on how to cook it. 
Some authentic cuts of Kobe and Wagyu will offer certificates of authenticity. I don't necessarily care about that, but I do want to know that I'm getting my money's worth.
Shipping and delivery
When it comes to shipping and delivery, bear in mind that you're already paying for a very expensive cut of meat, so shipping shouldn't be very much. 
Gather as much information as possible on how your meat is shipped and how it's protected throughout transit to your home.
Cost
These types of meat aren't cheap, but that doesn't mean you need to empty out your savings account just to buy a few cuts of Kobe or Wagyu beef. 
It takes a lot to raise these types of beef, and those costs are passed on to the cost of the beef. I'd recommend not bargain hunting for Wagyu or Kobe. That's not where you want to try to save.
Instead, look for ways you can save on shipping or delivery fees. The best sites are the ones that offer free shipping or discounts on shipping.
 If you find the cost is still outside your budget, you can try something simpler, like Kobe or Wagyu burgers, sausages, or hot dogs.
You'll still notice a significant difference in flavor, but you won't get to experience the amazing marbling the beef is known for.
Who are Holy Grail Steak Company?
The Holy Grail Steak Company makes some bold claims as a leader in exclusive steaks and premium cuts. 
Alongside its new option for carrot-finished beef, the company is said to be inspired by expensive, exclusive steakhouses– but longing to offer an even finer selection to more consumers. 
When comparing their beef to their wine, there's an emphasis both on quality and location. According to the company's mission statement, that results in flavorful but also "humanely sourced" cuts.
But I wanted to take a deeper look at exactly what the Holy Grail Steak Company is– and who's behind it. 
Who owns Holy Grail Steaks?
Cameron Hughes is the CEO of the Holy Grail Steak Company, and this is where the comparisons to wine make more sense.
Hughes launched the Holy Grail Steak Company in 2018 in hopes of curating the finest and most exclusive steak– and making them available to more consumers.
But this wasn't his first venture, nor the only credit to his name. 
Hughes is the owner of Cameron Hughes Wine, a selective wine delivery service that offers wine from Washington, Oregon, California, and imported wine.
Thus, he took the same concepts: convenient delivery with luxury selection. 
Where is Holy Grail Steak located?
The Holy Grail Steak Company is situated in San Francisco. Their contact address is 251 Rhode Island Suite 207, San Francisco, CA 94103-5168. They can also be reached via phone at 877-465-9475 or via email at [email protected]. 
The more contact information, the better, as some meat delivery companies provide rather limited information.
What products does the Holy Grail Steak Company offer?
Holy Grail Steak Company focuses on what I'd coin as specialty steaks. These are indeed signature steaks and not the typical beef you'd expect. Collections include Japanese Wagyu, American Wagyu, Australian Wagyu, Upper Prime Black Angus, Carrot Finished Beef, Burgers, Kurobuta Pork, 100% Grass-Fed Prime, Dry-Aged Steak, and a grilling collection. 
It's an excellent collection, though you won't find many other meat products as you would for a company like Omaha Steaks. Granted, a tighter focus on beef may be advantageous. 
Meat sourcing
Holy Grail Steak works with well-known meat producers within the industry. For example, the company sources their Wagyu patties from Chateau Uenae, a popular option for beef in Japan.
To ensure the quality of the meat, Holy Grail Steak partners have strict protocols for feeding the cattle. The goal is to create good fat profiles, which means the animals receive excellent care and food. 
All cattle are raised and maintained humanely, resulting in the best quality beef possible.
Meat quality
You'll only get premium-grade items from the Holy Grail Steak Company. The site only works with ranches offering USDA Prime Beef, A5 Wagyu, and Kobe. 
USDA Prime is the highest grade beef in the US, while A5 is the best level you can attain in the market. These cuts are tender and offer the most marbling you'll find in the industry.
Every cut is well-marbled, offering the perfect amount of fat. It melts right into the steak when you place it on the grill, giving the steak a buttery taste and texture that you're sure to enjoy.
See the chart below for the cuts I feel are the most noteworthy.
| | |
| --- | --- |
| Meat Type  | Specifications |
| Upper Prime Black Angus  | Steaks are certified by USDA Prime and selected for their abundant marbling and tender cuts. Black Angus cattle are known to produce especially succulent meat.  |
| American Wagyu  | This line of Wagyu is selected from two producers that pay attention to everything from breeding to careful feeding. The beef comes from the Tajima black Wagyu and certified Akaushi beef.  |
| Japanese Wagyu | Japanese Wagyu comes from A5 territories, and their selection represents the top 1 percent. These regions are known for their attentive raising and feeding. They are the only online provider of Kobe Beef and Omi Beef, and HidaGyu.  |
| Australian Wagyu  | In this case, we know exactly where the meat comes from. Australian Wagyu comes from Jack's Creek, a family-owned business with cattle connected to Tajima Wagyu cattle.  |
| Kurobuta Pork | Kurobuta Pork is known for its luxurious marbling and tender and juicy flavor. Their pork comes from farmers in the Midwest. All pork is raised hormone-free and vegetarian. They're also sped under specific stringent standards– though those standards are not disclosed.  |
| 100 Percent Grass-Fed Prime | They offer just a few products that are 100 percent grass-fed and USDA Prime, but it's a project that sounds likely to expand. Grass-fed is known to have a healthier ratio of fats, and some prefer its signature fresh taste.  |
Japanese Kobe and Wagyu Steaks
There aren't many places online to buy A5 quality Kobe and Wagyu steaks online, but the Holy Grail Steak Company is one of them. The A in A5 is in reference to the yield grade, whereas the 5 is the quality of the meat.
The best you can get when it comes to Wagyu meat is a 5, which is the only ranking Holy Grail Steak Company offers.
Wagyu and Kobe steaks are known for their high-fat content, which is what gives the beef a marbled look. It's this fat that melts into the steak when you begin cooking it, which helps give it a tender texture and buttery taste.
Wagyu beef comes from four different cattle types. The beef is often labeled based on the area of Japan from which it came. For example, Kobe beef is a particular type of meat that comes from the Kobe region of Japan. It's one of the most popular options available.
American Wagyu Steaks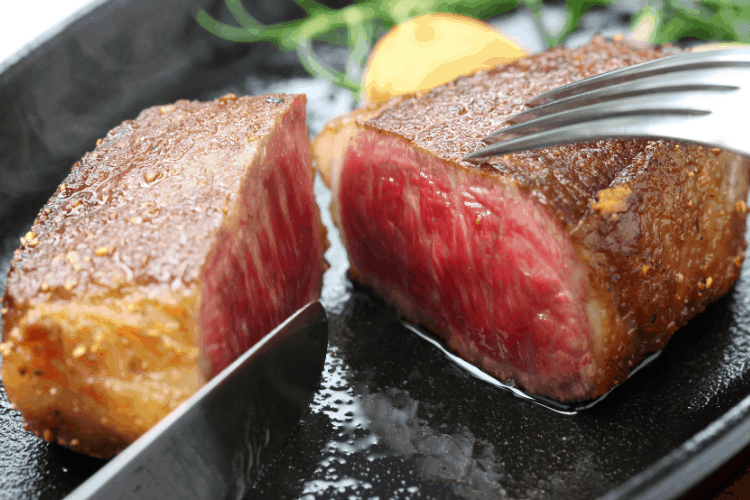 As the name suggests, American Wagyu steaks come from cattle raised in the US. These hybrid cattle are a mix of American Angus and Japanese purebreds. 
This helps to create beef that produces the fat that's associated with traditional Wagyu, but with the flavor, you usually get in American beef.
Ordering and Delivery
Holy Grail Steak Company offers an intuitive and easy-to-use website that makes the ordering process straightforward and simple. 
Since the site only offers high-quality steaks, they don't have a lot of clutter on their pages. That means it's easy to find exactly what you want.
Simply put what you want into your cart and place your order. Holy Grail Steak Company has what you want, whether it's a meat delivery box or specific cuts of beef. 
Provide your delivery and payment information, then submit your order. You'll receive a confirmation email telling you when to expect your items.
Cost
Since Holy Grail focuses on higher-end products in the market, the prices on its site reflect the quality meats it offers. 
That means the prices you see on the site will be more expensive than other online meat providers. That doesn't mean it's not worth it, but be prepared to pay for the quality you're getting.
Shipping
Holy Grail provides free shipping if your order exceeds a few hundred dollars. If you want your items quickly, they also offer expedited shipping. 
Most orders will arrive between one and three days. This is the amount of time it takes the site to process the order and for the order to arrive at your doorstep.
You can choose between free ground shipping, standard ground shipping, overnight air shipping, and Saturday delivery. Delivery costs will fluctuate based on the option you select, as will the amount of time it takes for your items to show up. 
Remember that delivery is only available to residents of the 48 contiguous states, so if you're in Alaska or Hawaii, you won't be eligible.
| | |
| --- | --- |
| Shipping Method | Cost and Estimated Delivery Time |
| Standard Ground Shipping For Orders Over $199 | Free; 1-3 days  |
| Standard Ground Shipping For Orders Under $199 | $29.99; 1-3 days  |
| Overnight Shipping/ 1 Day Air | $199/ 1 day  |
| Saturday Delivery  | Add $15 |
Packaging
All the items you order from Holy Grail Steak Company come in insulated packaging. This ensures that your meat is fresh when it gets to your home. The beef is vacuum-sealed as soon as it's cut and frozen for shipping.
Additionally, orders are packaged with dry ice, so they stay frozen throughout the delivery process.
One cool thing about Holy Grail Steak is that its containers and packaging are completely recyclable, and the insulation for the items is biodegradable.
How do you defrost Holy Grail Steaks?
All meat should be defrosted in an ice bath for one to two days. Quick defrosting is advised against, as it can mar the texture and flavor of the steak. You should receive your steak within 1 to 3 business days unless you opt for overnight shipping. 
Does the Holy Grail Steak Company offer any refunds?
It's not uncommon for food delivery services to have limited policies for returns and refunds. The Holy Grail Steak Company does offer a transparent and straightforward policy.
If your steak arrives not as you expected, you're asked to email [email protected] within a generous 30 days.
You can't ship returns back for obvious reasons. Instead, customer service will contact you within 24 hours to begin, with resolutions offered within two weeks.
Replacement shipments, refunds, and store credit are all potential offers. 
Pros and Cons
Here's a quick look at the advantages and disadvantages of using Holy Grail Steak Company.
Pros
Each cut offers a unique taste and flavor

USD Grade A Prime steaks

A5 cuts of Japanese Wagyu beef

Free shipping option

Organic, grass-fed, and carrot-finished options

Higher sourcing standards than many competitors
Cons
No subscription pans

Not much variety on site

Shipping concerns

Mixed consumer reviews 

Pricey 
Alternatives
If Holy Grail Steak Company does seem like it's the right fit for you for whatever reason, there are plenty of options available. Here are a few of the more popular alternatives you can try.
Chicago Steak Company – Best Shipping Options
Chicago Steak Company carries on the proud tradition of the city's high-quality meat production, which has been in business since 1865. 
Specializing in USDA prime beef, Chicago Steak Company delivers filet mignon, ribeye, boneless strips, and hamburgers right to your front door.
Plus, the site offers additional resources like how to cook your steaks, common mistakes people make when grilling, and learning industry terminology. Chicago Steak Company affectionately refers to it as "Steak University."
Snake River Farms – Best for restaurant-quality meat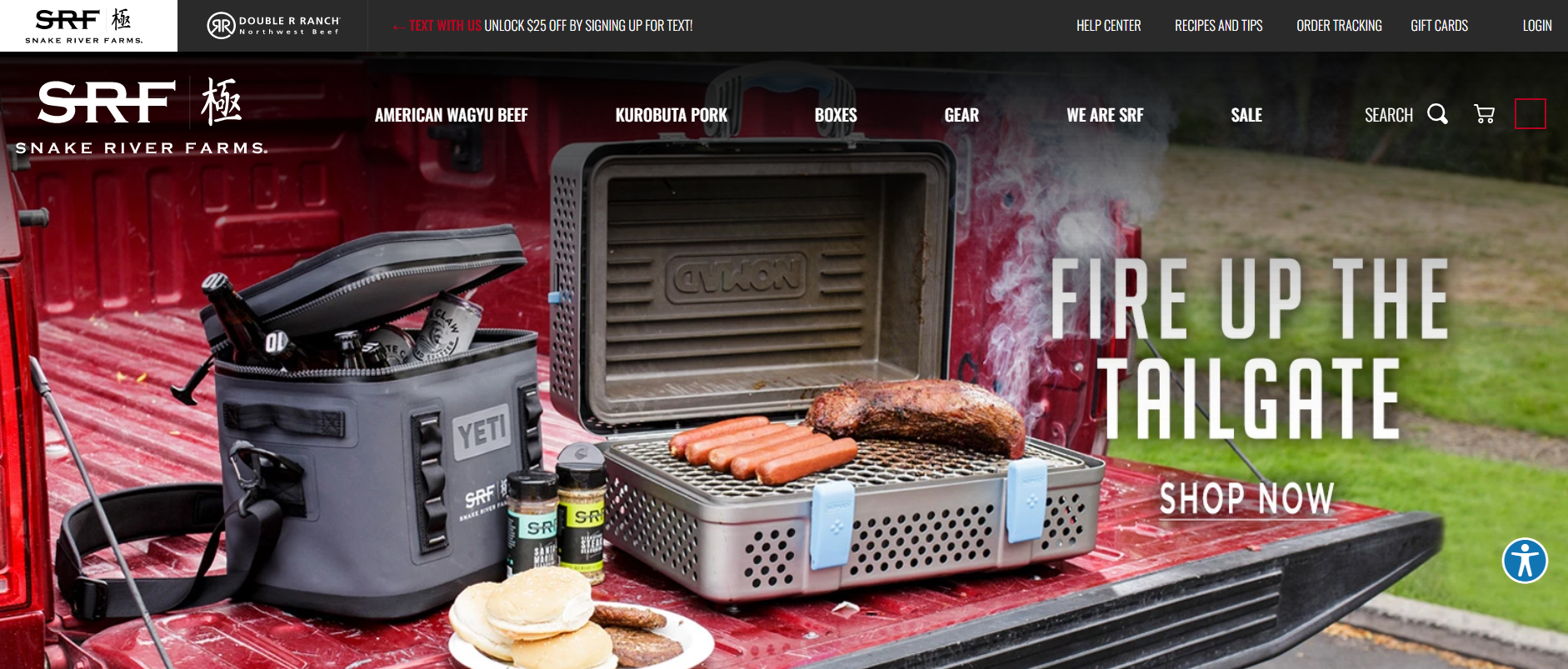 This Idaho-based meat delivery service is well-known for offering restaurant-quality cuts of Wagyu beef.
Its American Wagyu is a hybrid of Japanese and American cattle, which mixes the flavor of American beef with the tenderness and marbling of Japanese cattle.
Snake River Farms offers a wide variety of cuts available on its site. Prime rib, short ribs, ground beef, and of course, steak are some of the more popular items on the site. 
You can also order other options like hot dogs and beef jerky. So no matter what you're in the mood for, Snake River Farms has it.
Crowd Cow – Best Meat Subscription Delivery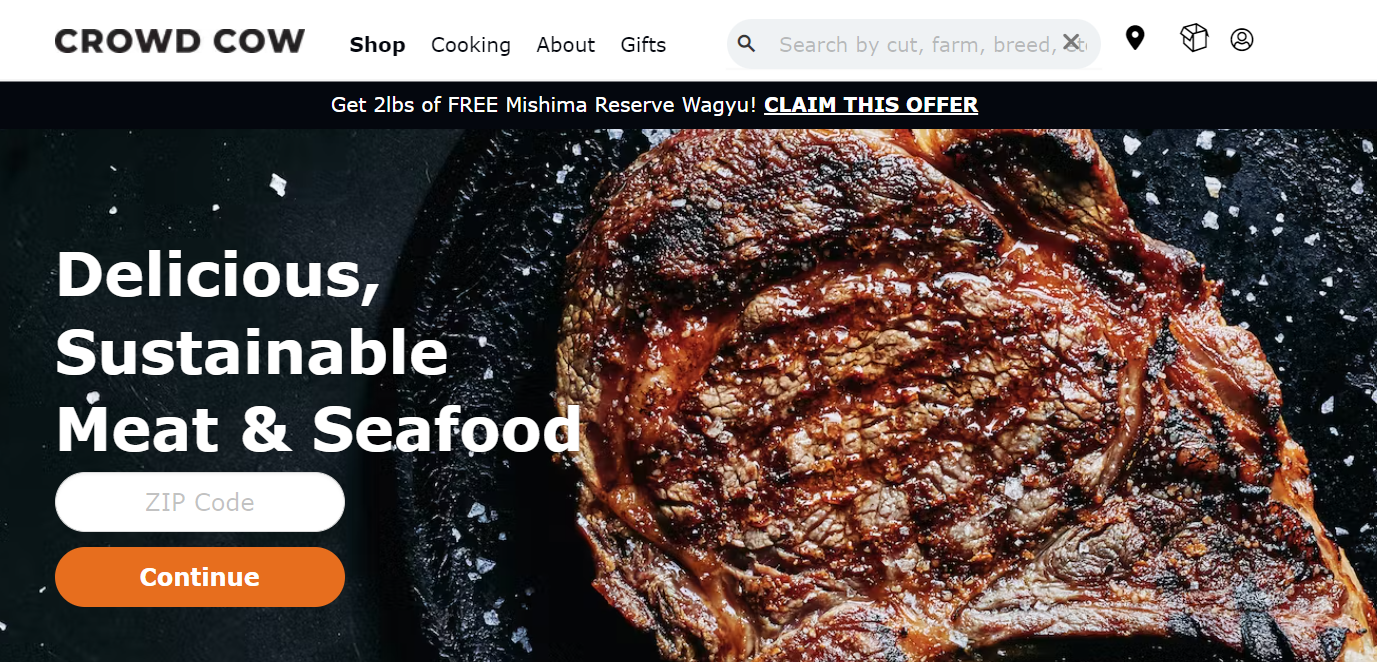 If you want meat that's fresh from local farms and ranches, Crowd Cow is the meat delivery service for you. Crowd Cow offers amazing quality steaks, including American and Japanese Wagyu beef.
Sourcing is transparent, which means you know exactly where your meat comes from. You can choose to get a monthly shipment of meat from Crowd Cow, and doing so will earn you a discount on your orders. 
If your goal is to get the best cuts of meat from a locally-owned ranch, Crowd Cow might be the right alternative for you.
D'Artagnan – Best for Variety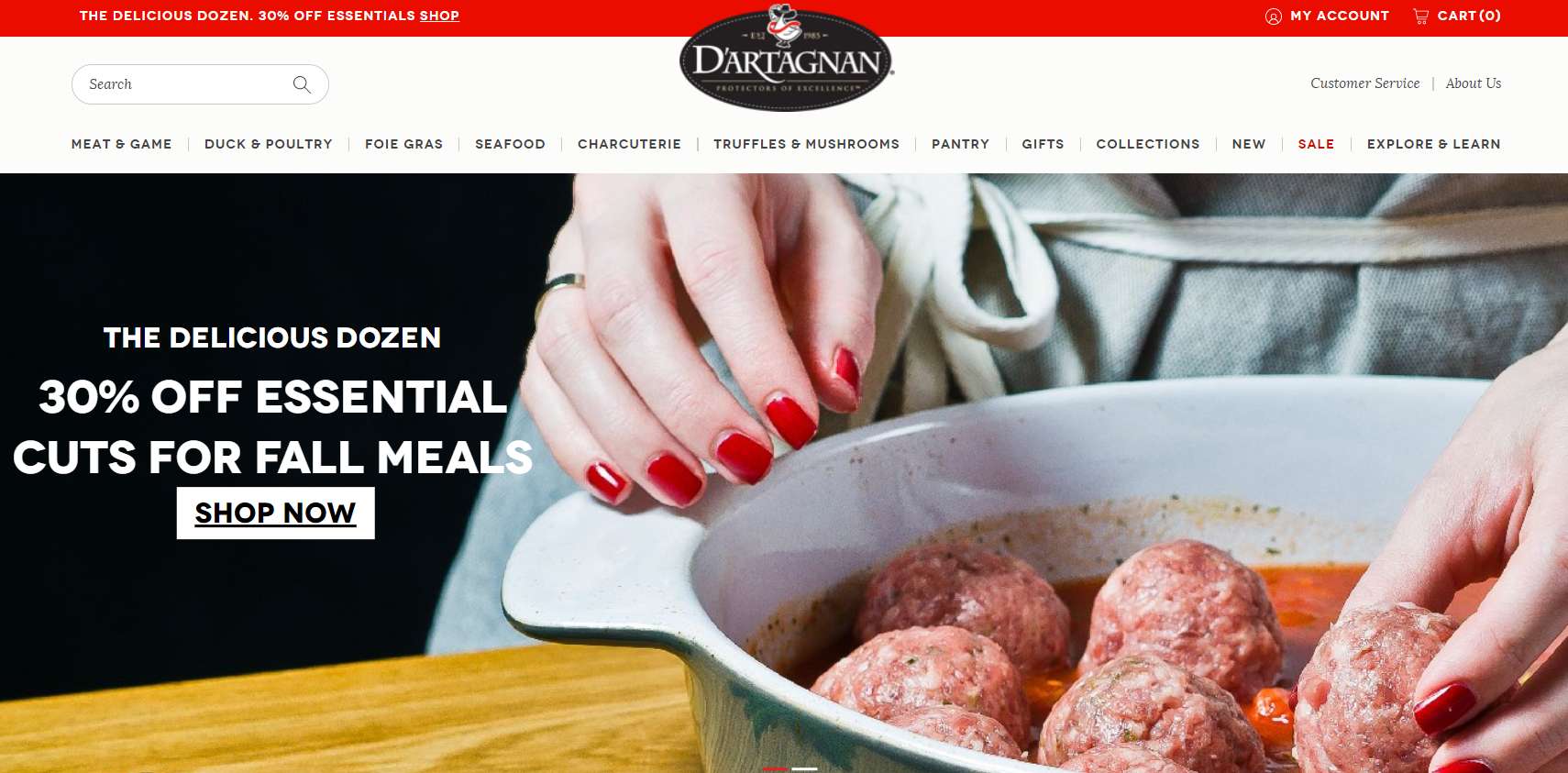 D'Artagnan is best known for its commitment to offering a wide range of meats, including wild game. All of the meat available on the D'Artagnan site comes from local farms and ranches, so you know you're getting high-quality items. 
The site offers both American and Japanese Wagyu, meaning high-quality beef cuts no matter how you slice it.
All its meats are antibiotic and hormone-free, and you can find various options, including ground beef, bison, pork, lamb, venison, boar, and even rabbit.
FAQs
Here are a few of the more commonly asked questions about Holy Grail Steak Company, Wagyu beef, and meat delivery services.
Question: What goes into raising Wagyu beef?
Answer: The raising of Wagyu beef is nearly the opposite of what you'll find in the current industrial beef system. All cows are given names and only associate with a few other cows.
If two cows don't get along with one another, they're moved to a different location to ensure calm and harmony within the paddock.
There are stories about cows getting massages and listening to classical music. However, they're simply not true. 
But farmers do go above and beyond to reduce the amount of stress the cows experience. They do their best to control the noise level and are constantly checking in on their cows.
One item to note with Wagyu beef is that it comes from one of four specific breeds: Mukaku, Kuroge, Nihon Tankaku, and Aakage. 
Even if you raise a cow like other Wagyu cattle, it's not considered Wagyu if it doesn't come from one of these breeds.
Question: Why is Wagyu beef expensive?
Answer: Wagyu beef is expensive mostly due to the amount of work it takes to raise the cattle. Wagyu beef breeders raise the calves until they're 10 months old. 
At this time, they are sold to a farmer that will then raise the cow until adulthood. Wagyu calves typically bring more than 10 times what their American beef counterpart would demand.
Question: How is Wagyu beef graded?
Answer: Most countries have their own systems for grading cattle; however, most Wagyu providers will use Japan's system, which consists of values based on grade and yield. 
Yield is based on the amount of beef between the sixth and seventh ribs, which is relative to the entire weight of the cow.
Grade measures firmness, texture, marbling, and color of both the meat and fat contents. Scores for yield range from A to C. 
A, of course, is the highest ranking. For grade, beef ranks between one and five, with five being the best.
Question: What is the best Wagyu?
Answer: Wagyu, perhaps the most expensive and prized form of steak available, is delicious in any variety. But it's Japanese Wagyu that's considered the very best. Ohmi-Gyu, Matsusaka-Gyu, Saga-Gyu, Tajima-Gyu, and Yonezawa-Gyu are just a few of the most delicious varieties.
That said, both American and Australian Wagyu can be superb and succulent. 
Question: How should Wagyu be cooked?
Answer: Knowing how to properly cook Wagyu is key to enjoying it to its full potential. Wagyu should be cooked medium-rare to medium, as well done will cut back on the tenderness it's known for. 
Season Wagyu with salt and pepper or other seasonings. The salt brings out the flavor of the rich marbling. It can be pan-seared or roasted and is deliciously served with sauteed mushrooms. 
Question: Should I marinate Wagyu steak?
Answer: One mistake you don't want to make? Marinating Wagyu steak. While marinating steak often helps retain flavor and moisture, Wagyu does not need it– and will be worse for it. Light salt and pepper seasoning will bring out the natural flavor. 
The rich marbling provides enough fat so long as you cook it properly, the steak will retain its moisture and tenderness.
My Final Thoughts On The Holy Grail Steak Company
When it comes to steak, you'll be hard-pressed to find a better cut than the Japanese A5 options available on the Holy Grail Steak website. The taste is amazing largely due to the fat melting right into the steak while you cook it.
However, if you're not a fan of fat, this might not be the steak for you. If you trim the fat off your steak, you probably shouldn't bother ordering Wagyu from Holy Grail Steak Company. 
If you order from the Holy Grail Steak Company, my recommendation would be a small order to just test how well they deliver for you.
Then, you can order something more substantial. This company has plenty of potential, but it may be better to play it safe with a smaller order. Interested? Order From the Holy Grail Steaks Company Here.
Looking for more interesting readings? Check out: