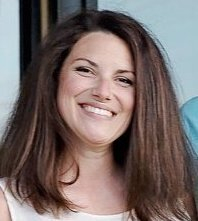 Latest posts by Sarah Caldwell
(see all)
When it comes to dining in the US, steakhouses are as rooted in the country's history and culture as baseball or state fairs. The steakhouse as we know it today is a combination of 1600s London Chophouses and early upper-class American Beefsteak Banquets. The true US-style steakhouse was born in the mid-1800s and initially established in and around New York City's Meatpacking District. Today, steakhouses range widely in ambiance, decor, and presentation, but one thing that doesn't change is the emphasis on high-quality meat cuts from sources right here in the USA.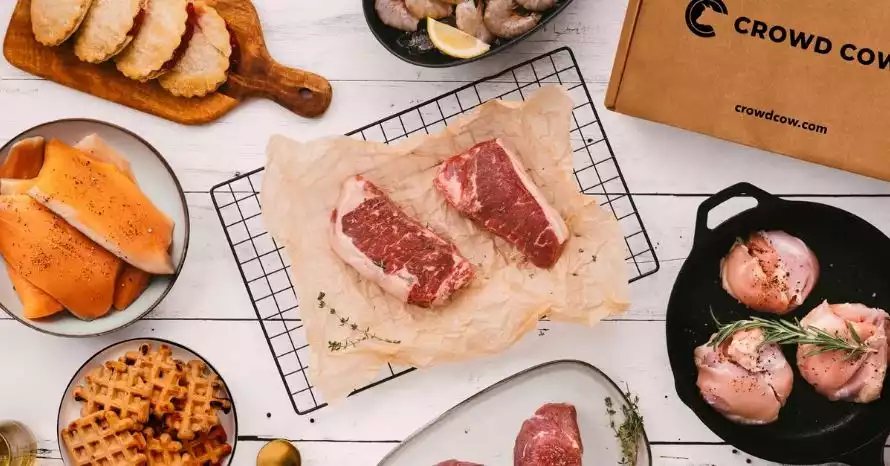 Jess and Jim's Steakhouse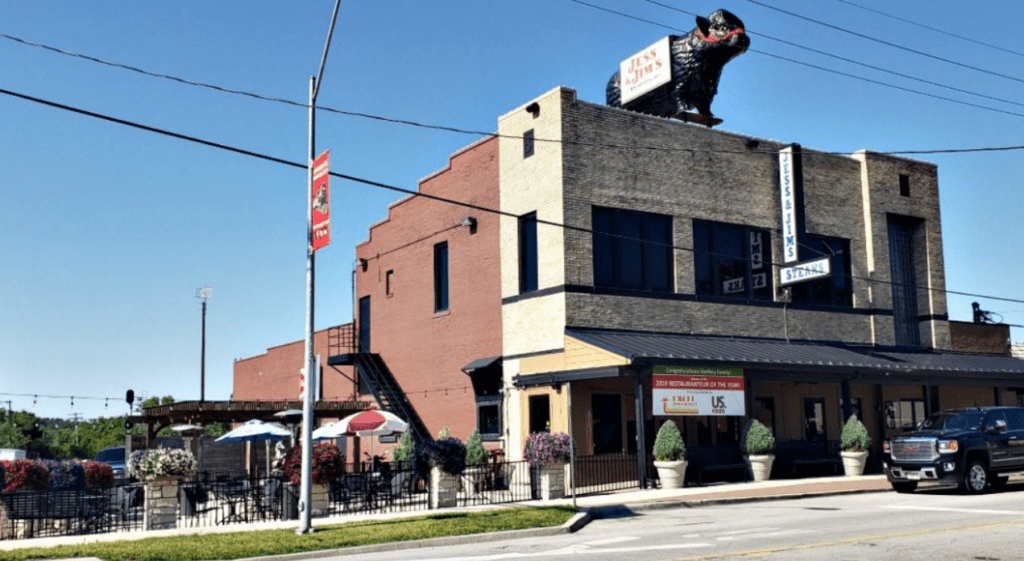 517 EAST 135TH STREET, KANSAS CITY, MO 64145
Established in 1938 by two friends, Jess Kincaid and Jim Wright, Jess and Jim's Steakhouse was built on the principles of, "good food, good service, and fair prices." Today, locals and visitors alike flock to the restaurant for the famed KC Strip or the Playboy Strip, created and named after the 1972 Playboy magazine write-up on the restaurant by Calvin Trillen.
Playboy later went on to name Jess and Jim's one of the best steakhouses in the world. Jess and Jim's frequently tops these types of lists, and they offer their steak anywhere from extra rare to well done. They also feature some of the best loaded baked potatoes in the biz, as well as high-quality hamburgers made from the trimmings of the steaks they cut in-house.
801 Chophouse
801 GRAND AVENUE, DES MOINES, IA
Known for taking fine-dining service to the next level, 801 Chophouse consistently delivers with professional, personable staff, and expertise in private dining. With a unique in-house meat program that serves only aged USDA prime cuts, 801 Chophouse has expanded from its original 1993 Des Moines location, to locations throughout the Midwest including Kansas City, Omaha, Minneapolis, St. Louis and Denver. 
Pappas Bros. 
1200 McKINNEY STREET, HOUSTON, TX 77010
Pappas Bros. has a rich family history that all began with H.D. Pappas who left Greece in 1897 to pursue his passion for quality and service in restaurants. But, it wasn't until 1976 when his grandsons opened their first restaurant that the dream came to full fruition. Today, the Pappas Bros. restaurants put a major emphasis on fresh ingredients, dishes made daily from scratch, and talented staff that are attentive to every detail. 
BLT Prime
TRUMP NATIONAL DORAL, 4400 NW 87th AVE, MIAMI, FL 33178
BLT Prime takes the traditional steakhouse concept and gives it a contemporary twist. In the kitchen, the culinary team adds a modern accent to commonly seen steakhouse fare, while the aesthetic of the restaurant follows suit with chic, elegant decor. With locations in New York and Washington D.C., BLT Prime is reimagining steakhouse charm.
Harry Caray's Italian Steakhouse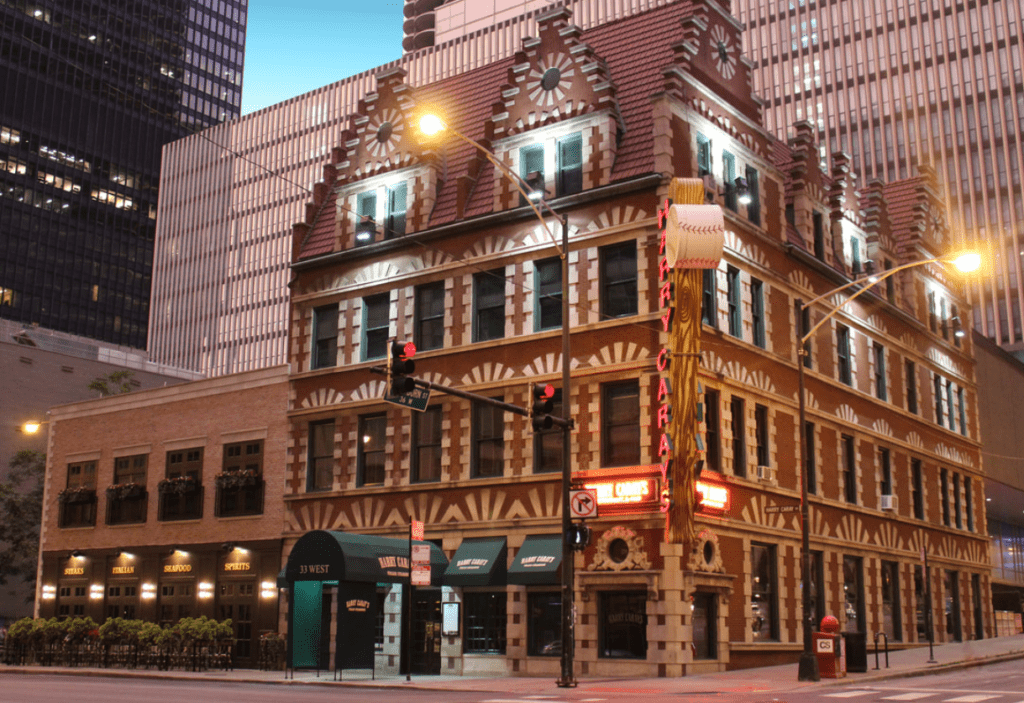 33 WEST KINZIE ST, CHICAGO, IL 60654
A trip to Chicago might not be complete without a stop by the famed sports commentator, Harry Caray's, Italian Steakhouse in the River North neighborhood. Occupying space in a historic building connected to the gangster Al Capone, the steakhouse serves the finest prime, aged steaks, and chops along with Italian favorites done the old school way. With plenty of sports memorabilia adorning the walls, the steakhouse boasts a friendly vibe without leaving out sophistication.  
Casa Bovina
4841 N 84TH ST, LINCOLN, NE 68507
Casa Bovina, located in the capital city, combines famed Nebraska beef with Italian inspiration. Instead of the typical Angus or Wagyu as seen in most steakhouses, Casa Bovina meat is strictly Piedmontese. The menu changes weekly to reflect what is seasonal and fresh, and steak dishes along with Italian-influenced seafood and pasta dishes, are served with creative flair. A six-course tasting menu is available nightly as well for palates eager to get a taste of what the entire menu has to offer.
Fogo de Chão
1513 Wynkoop St, Denver, CO 80202 
The story of Fogo de Chão starts on a traditional Southern Brazilian farm in the Serra Gaucha where the restaurant founders grew up and learned to cook in the traditional churrasco grilling style. Flash forward today, the Fogo de Chão empire expands 29 restaurants throughout the US and Brazil. In downtown Denver, the churrasco style of open range cuisine is happily greeted by a culture of open-range lifestyle. 
Vic & Anthony's Steakhouse
129 EAST FREMONT ST, LAS VEGAS, NV 89101
Las Vegas is famous for The Strip and all the casinos and restaurants found on that 4-mile stretch, but for the culinary curious, a trip to the old downtown on Fremont Street has its rewards. Like Vic & Anthony's Steakhouse, a restaurant designed after a father and son traveled North America visiting steakhouses to learn the recipe for a successful business. They discovered that, "a carefully crafted menu, an extensive wine selection, impeccable service and an elegant, yet cozy atmosphere" was the answer. All that and more is well executed in the steakhouse chain that now expands four restaurants and three states.
Butcher & Singer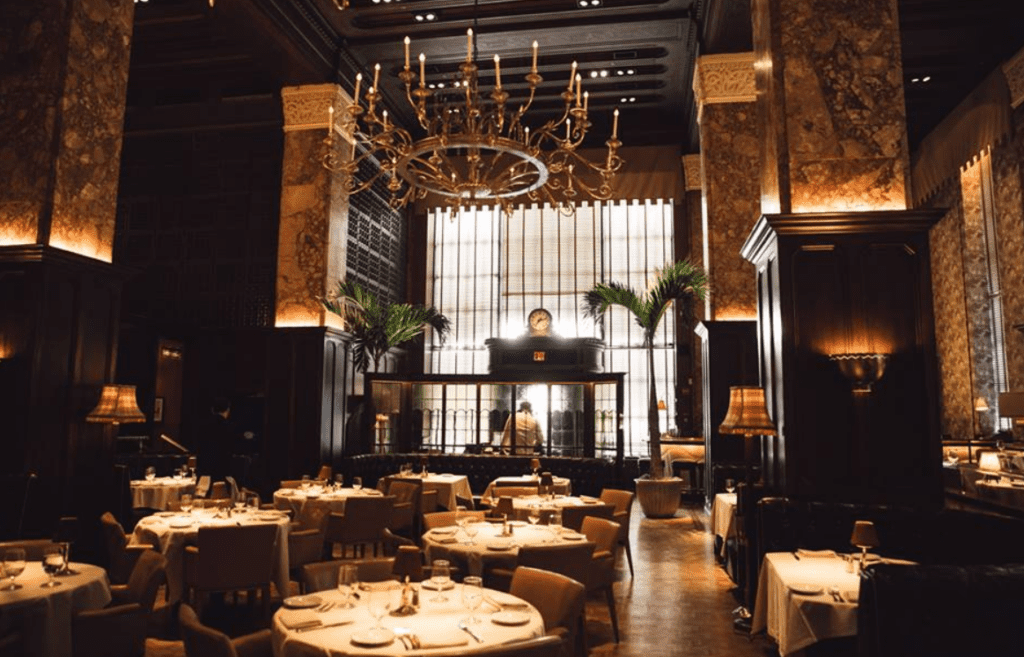 1500 WALNUT ST, PHILADELPHIA, PA 19102
For those wishing to get a glimpse of the past, or better yet experience it, a night out at Butcher & Singer steakhouse will provide just that. Themed after the glitz and glam of 1940s Hollywood, the steakhouse aims to provide a true celebrity experience of the Golden Era with classic cocktails, perfectly charred meats and a full raw bar. And if visiting, don't forget to try one of the famed entrees like the Twin Lobster Tails or the Shrimp & Crab Louie.
Beef n' Bottle
4538 SOUTH BLVD, CHARLOTTE, NC 28209
Do not be thrown off by the dive-bar charm of Charlotte's famed steakhouse established in 1958, the Beef n' Bottle. Although somewhat frozen in time aesthetically, it doesn't disappoint with its fine steaks, extensive wine list, candle-lit interior and white-linen service. Located just 10 minutes from downtown, the Beef n' Bottle is a favorite among locals and visitors alike, well worth the drive.
The Butcher's Table
2121 Westlake Ave, Seattle, WA 98121
Voted the swankiest steakhouse in Seattle, the Butcher's Table combines high-level eats, an extensive raw bar, and a well-curated wine list with big city poshness. 
Clyde's Prime Rib Restaurant and Bar
5474 NE Sandy Blvd, Portland, OR 97213
For more than 60 years, Clyde's Prime Rib has been all about the food. The signature slow-roasted prime rib, plus tender steaks and fresh seafood has been at the forefront of the Clyde's experience since 1955. Still boasting the Old Portland vibe, the restaurant is well-known for its vintage lounge and live music that transports visitors to days of yesteryear.
Bobo's Steakhouse
1450 Lombard St, San Francisco, CA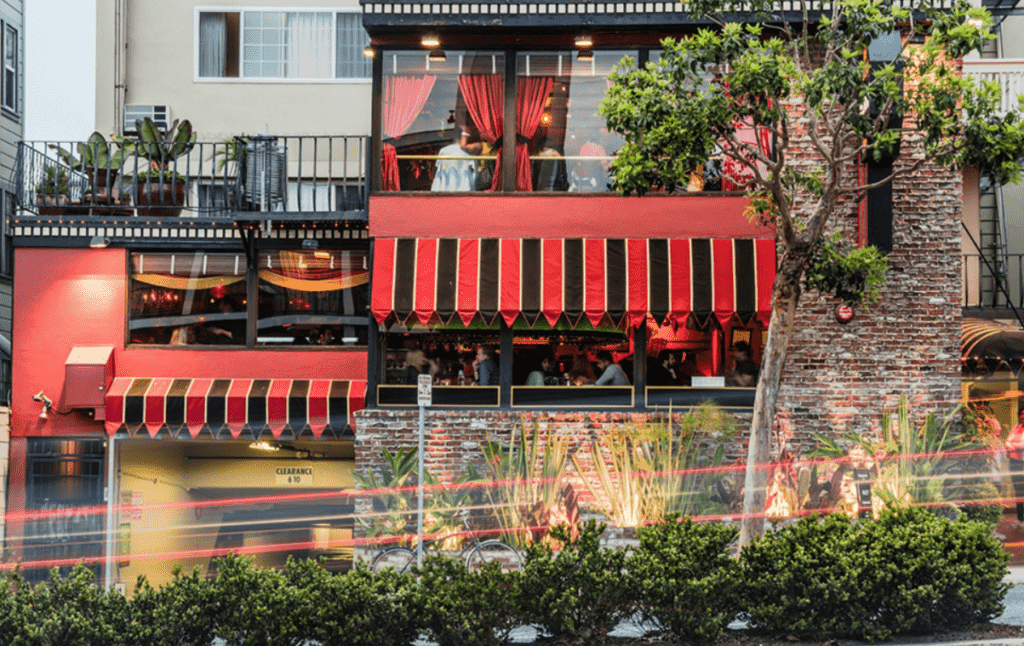 Bobo's, or BOBOQUIVARIS, is a steak, crab and comfort food house. Taking advantage of San Francisco's Pacific Ocean banquet, the menu is centered on steak and crab. With its own rendition of the Porterhouse steak and Dungeness Crab, Bobo's specialties shouldn't be skipped.
Born and Raised
1909 India St, San Diego, CA 92101
San Diego may be better known for tacos, but the Born and Raised steakhouse is sure to challenge any of the city's culinary stereotypes. Sparing no expense on charms, the restaurant is fully glamorized and diners are greeted with an open-air dining experience, including tableside cart services with nine cuts of steak to choose from. 
Chandler's Steakhouse
981 W Grove St, Boise, ID 83702
One of the only Boise restaurants to make the Forbes Travel Recommended Restaurant list, Chandler's has been serving up prime steak and fine seafood since 1994. With a fully stocked martini bar and live jazz music to boot, Chandler's has it all for a nice dinner out on the town.
Wyoming's Rib and Chophouse
400 W Lincolnway, Cheyenne, WY 82001
Once known as the Paris of the West, Cheyenne's history of cattle runs makes it a steakhouse destination. Nestled in downtown Cheyenne, the restaurant offers a menu of prime steaks both beef and bison, along with an extensive tap list and "Rocky Mountain Hospitality". 
Dominick's Steakhouse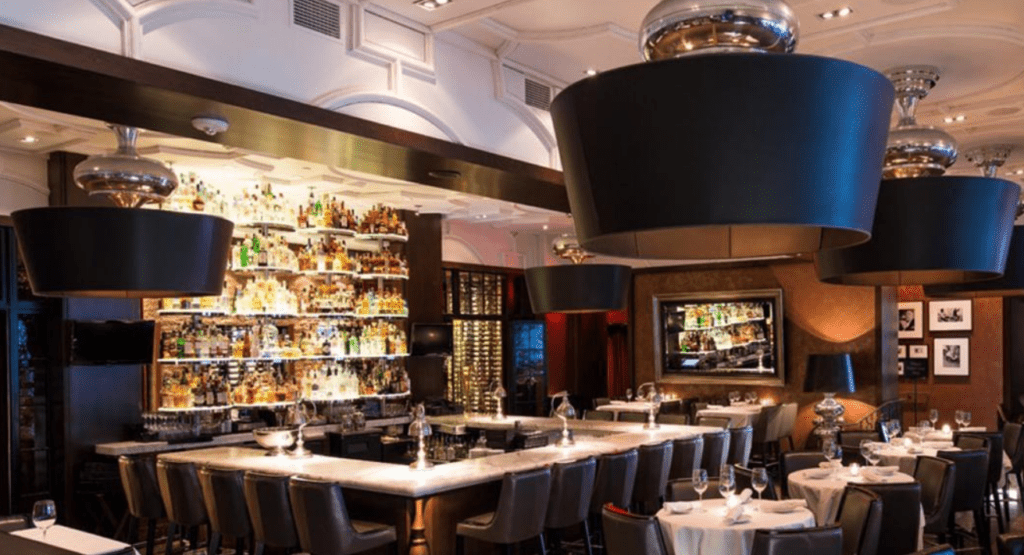 15169 N Scottsdale Rd, Scottsdale, AZ 85254
Dominick's Steakhouse in Scottsdale just outside of Phoenix does not skimp on the ambience. An elegant dining room or open-air seating with spectacular views of the Arizona night sky are some of the options available to create the perfect setting for your night out. Sourcing prime-grade beef from responsible and sustainable farms and ranches, the menu delivers all the classic cuts along with in-house classics like braised pork belly and fried deviled eggs.
Cowboy Star Restaurant and Butchershop
640 Tenth Ave, San Diego, CA 92101
The Cowboy Star takes laid-back neighborhood dining and jazzes it up with high-end meat from California's famed Niman Ranch and cowboy-accented decor. All seafood meets Monterey Bay Aquarium's stringent Seafood Watch Standards and other ingredients are sourced as fresh and locally as possible. 
Chophouse New Orleans
322 Magazine St, New Orleans, LA 70130
An old-school style steakhouse, the Chophouse is consistently voted one of the best in the Crescent City. With live entertainment nightly, courtyard seating and an emphasis on only the best cuts of meat, the Chophouse meets all the requirements of dining in Nola. 
Dakota's Steakhouse
600 NORTH AKARD ST., DALLAS, TX 75201
Unlike any other steakhouse, Dakota's is built 18-feet underground with one of the only subterranean courtyards offering al fresco dining with the view of a 20 foot, 5-tiered granite water wall. Considered one Dallas's most romantic dining spots, the food further enhances the experience with steaks coming from the best cut and quality and aged for a minimum of 28 days for a perfectly tender bite every time.
Manny's Steakhouse
825 S. Marquette Ave., Minneapolis, MN 55402
Unlike any other steakhouse in the country, or perhaps the world, the steaks at Manny's Steakhouse are sourced from Manny's very own heritage herds. From conception to cooking, the Manny's Steakhouse team is involved in the entirety of the operation, redefining from farm to table. Consistently ranked in the top-10 steakhouses in America, Manny's steaks are available for delivery nationwide as well.
Jeff Ruby's Steakhouse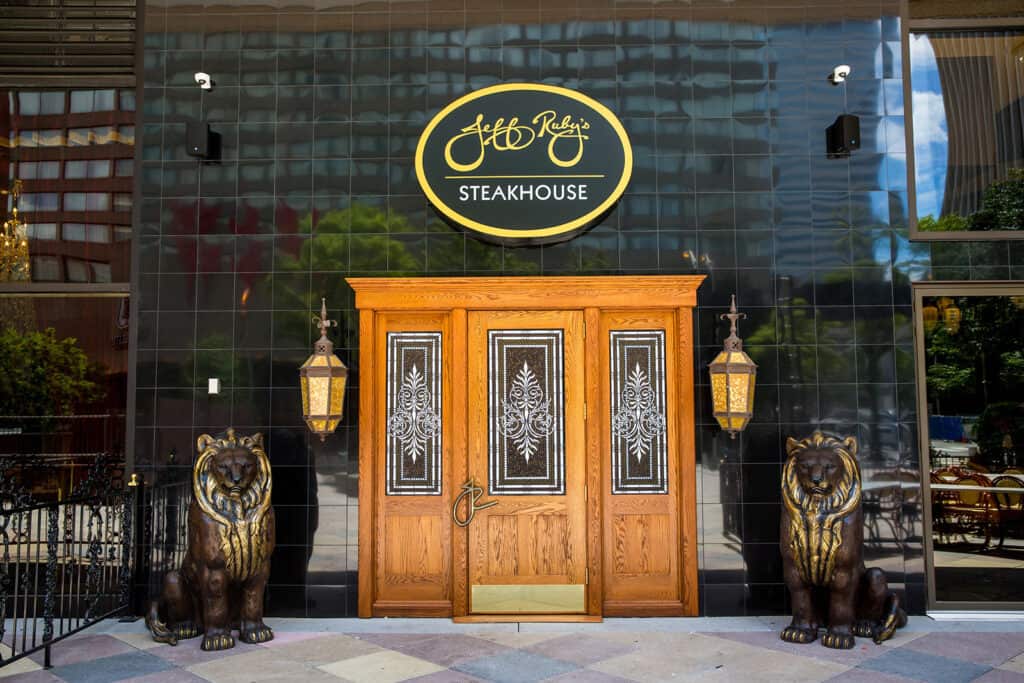 700 Walnut Street, Cincinnati, OH 45202
Located in downtown Cincinnati, Jeff Ruby's is modeled after the 1940's-era French Art Deco Steakhouses of New York City. A high-energy dining experience in an upscale setting, the menu is complete with all the steak and seafood classics including a seafood tower and 45-day dry aged Porterhouse.
Capers Steakhouse
14726 Gratiot Ave, Detroit, MI 48205
Capers has been a Detroit east side tradition since 1982. Famed for the 'steak by the ounce' ordering option, patrons can order any steak, at any size of their liking. At Capers they specialize in four steak cuts: Capers original Delmonico (or rib-eye), New York Strip, T-Bone, and Filet, and if market prices go down, so do the prices on the menu.
Kevin Rathbun Steak
154 Krog St NE STE 200, Atlanta, GA 30307
Seeing a need for prime steak in Atlanta, chef Kevin Rathbun took over an old industrial space in 2007 to share his dream with diners and chefs alike. A stylish dining room with vaulted ceilings and modern wall art complement the thoughtful menu and creative plating, including ultra-fresh seafood and prime Allen Brothers steaks.
Malone's Steakhouse
4370 Summit Plaza Dr, Louisville, KY 40241
Part of the Bluegrass Hospitality Group, Malone's Steakhouse is proud to offer the widest selection of fresh, hand-cut USDA Prime steaks. Since 1998, Malone's has been celebrating good food and fine dining in both the Lexington and Louisville, KY areas.
Bern's Steakhouse
1208 S Howard Ave, Tampa, FL 33606
Considered one of America's old-school, classic steakhouses, Bern's Steakhouse opened its doors in 1956 and has set the standard for dry-aged premium steaks and fine-dining service. Many of the herbs and vegetables used in house are sourced from the restaurant's private garden named after founder Bern, and for beverages the restaurant boasts one of the largest, most extensive wine lists in the country. 
Guard and Grace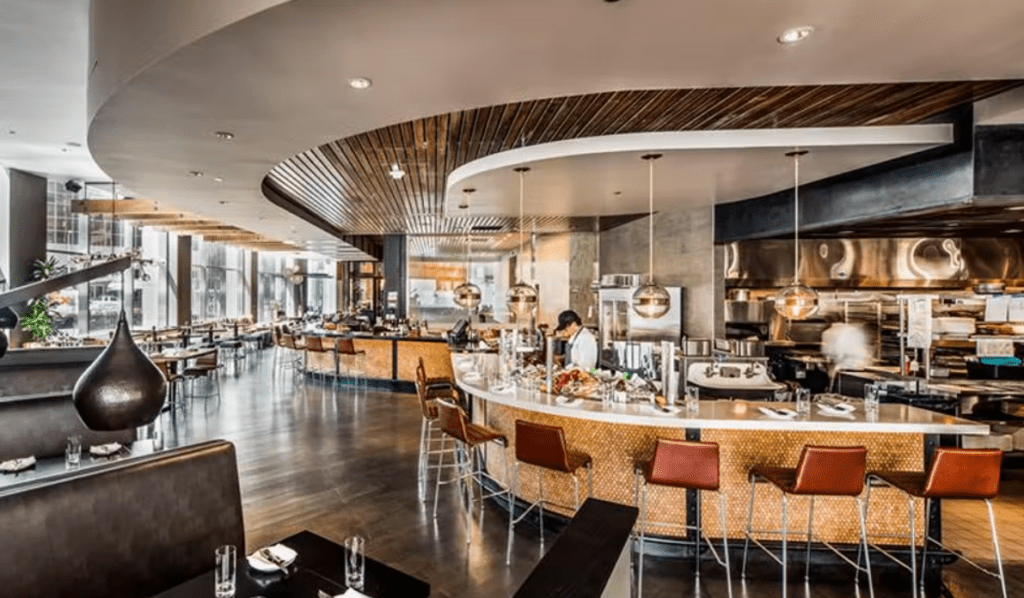 1801 California St, Denver, CO 80202
Voted best steakhouse seven years in a row by Westword News, Guard and Grace is a project by chef Troy Guard who brings his Hawaii upbringing to downtown Denver with bright, airy, and playful decor replacing the usual dark and intimate atmosphere. Featuring prime, certified Angus, local grass-fed, and Wagyu cuts of beef in 4 to 22 oz., there is a meat selection for every appetite, along with light seafood fare, cocktails and an extensive wine list. Success at the Denver location led to the opening of a second location in Houston with even more space to suit the Texan needs. 
Baltaire Restaurant
11647 San Vicente Blvd, Los Angeles, CA 90049
Baltaire Restaurant in the Brentwood neighborhood of Los Angeles is all about lunch in the sun and dinner under the stars. With an open, airy dining area that extends to an outdoor terrace, capturing a relaxed, sun-dripped lunch, or a romantic evening dinner is on the menu at Baltaire. Emphasizing high-grade steaks, quality seafood, and a plethora of healthy, light fare options, the menu is suitable for a variety of palates and appetites. 
American Cut Steakhouse
363 Greenwich Street, New York, NY 10013
The classic New York steakhouse dining experience with modern accouterments for the contemporary diner is what one can expect at American Cut in the Tribeca neighborhood of New York City. That theme continues with a modern take on classic dishes such as the in-house favorites Chili Lobster and Pastrami Ribeye. Furthermore, tableside preparations include 40 oz. Tomahawk Chop flambé and OG 1924 Caesar Salad, creates a culinary performance and integrative dining experience. 
Knife Steakhouse
6121 W Park Blvd, Plano, TX 75093
James Beard-nominated and two-time Bravo "Top Chef " contestant Chef John Tesar is known for his eye in finding the best sourced meats which led to the vision and creation of Knife Steakhouse in Plano, TX. The steakhouse features "all-natural born and raised Texas beef, pork and lamb in dry-aged prime cuts prepared in cast irons and customary steakhouse broilers, as well as specialty cuts such as flat iron, Wagyu skirt steak, tri-tip, culotte, beef cheeks, pork belly, oxtail, pigs head and exotic Akaushi beef." With so many options, it's truly the steakhouse for everyone.
Mahogany Prime Steakhouse
145 W. Sheridan Ave., Oklahoma City, OK 73102
The motto at Mahogany Prime Steakhouse goes like this, "Prime Steak. Fine Wine. Premier Service". With locations throughout Oklahoma and Nebraska, Mahogany is a well-versed name and their steakhouse culture is widely recognized in those states. The menu features all the traditional prime, meat cuts along with seafood, and a wide variety of side dishes. High-end service is part of the game at Mahogany and all restaurants are outfitted with private rooms for special events and large groups.
Archie's Waeside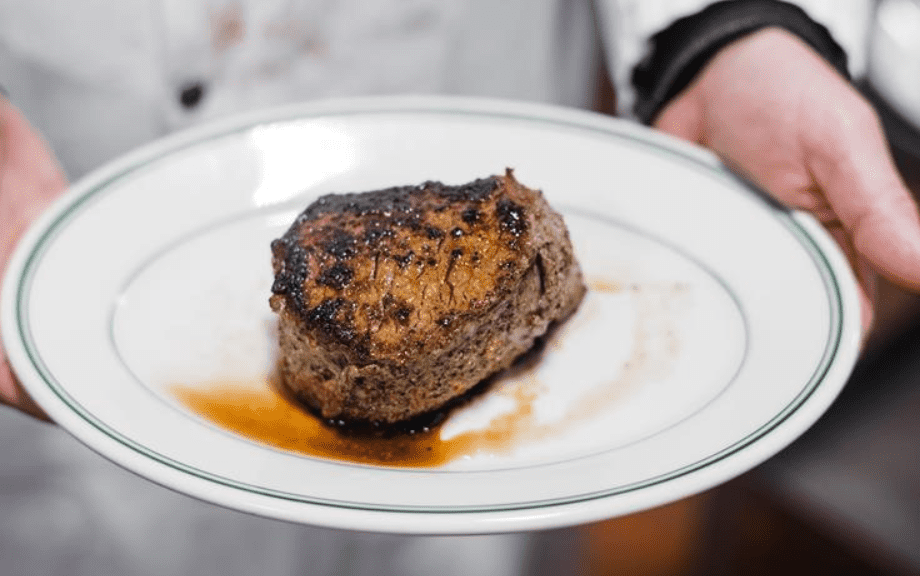 224 4th Avenue NE, Le Mars, IA 51031
Since 1949, Archie's Waeside has been a staple in the small Iowa city of Le Mars. Drawing people in from around the Midwest, Archie's specializes in dry-aged meats which Archie (the founder) himself spent years learning in packing houses throughout the 1930s and 40s. Today, Archie's grandson carries the family tradition on with over 12 different cuts of dry-aged beef, including USDA certified PRIME angus, as well as a large selection of fresh seafood, along with an extensive wine list built from relationships with Napa vintners.  
Kahill's Chophouse
385 E 4th St #1750, South Sioux City, NE 68776
Overlooking the Missouri River, Kahill's Chophouse offers a warm ambience with upscale fare and detailed service. Prime steaks, seafood and an extensive wine list have brought Kahill's multiple awards throughout the years including Wine Spectator magazine's 2019 Award of Excellence. 
McKendrick's Steak House
4505 Ashford Dunwoody Rd., Atlanta, Georgia 30346
Since 1995, McKendrick's Steak House has been voted among the best steakhouses in Atlanta, and the country. Founded by Doug & Claudia McKendrick, the team has been a staple of the Atlanta food scene for close to 40 years, this being one of their most recognized ventures. The service is exceptional and the food top-notch. For this, patrons keep coming back for more.
Briquette's Steakhouse
901 Montlimar Dr #36609, Mobile, AL 36609
Opening its doors in Mobile, AL in 2013, Briquette's is a family owned and operated business that strives to ensure that guests feel more like family than diners. At Briquette's they are all about signature butcher cuts, the freshest ingredients and sourcing as much as possible from local businesses. What really sets Briquette's apart is the unique cooking process that begins with charcoal briquettes and oak wood used on an open flame grill which reaches temperatures up to 500 degrees. This process sears the meat while locking in the juices for ideal tenderness.
Atlas Steakhouse
943 Coney Island Ave Brooklyn, NY 11230
For those visiting New York City and wanting to get out of the hustle of Manhattan, Brooklyn's Atlas Steakhouse has been serving up quality food and entertainment since 2013. Offering an upscale New York City dining experience at Brooklyn prices, it's hard to pass up. Partnered with the butcher from Atlas Meat Market, the steakhouse serves high-quality meats to the Brooklyn neighborhood done with a Mediterranean cuisine alongside. With live shows every night, it's a one-stop shop for great food and fun.
Anasazi Steakhouse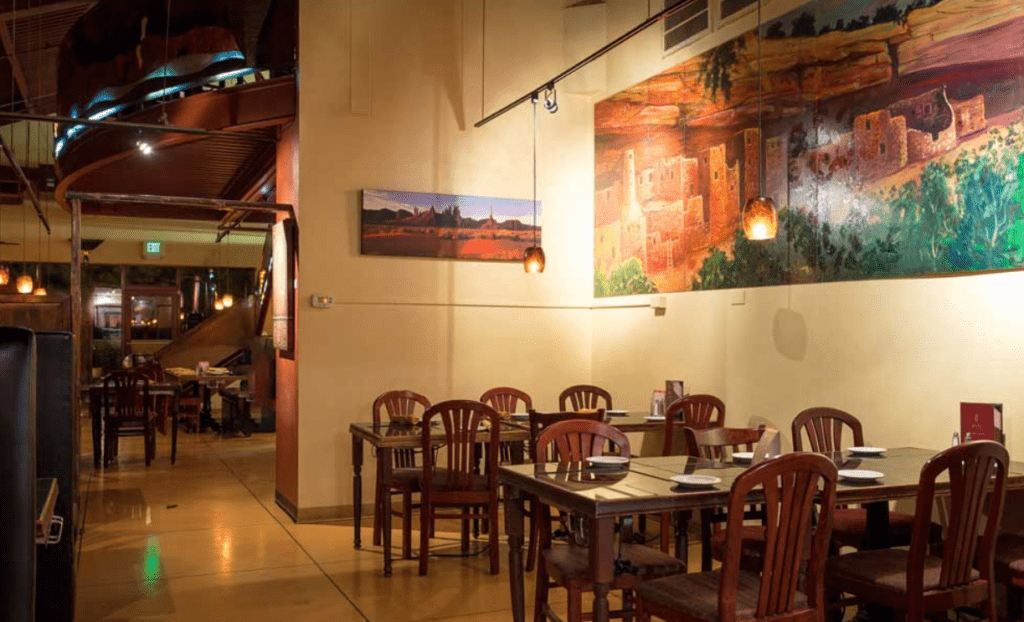 1234 West Sunset Blvd., Saint George, UT 84770
If cooking outside the box is something you crave, don't miss Anasazi Steakhouse. Instead of a traditional grill or hot plate, the chefs at Anasazi are serving up hot steaks cooked on a hot stone, a practice that dates back to 18,000 B.C. At the restaurant, volcanic rocks are heated in a special oven for 6-8 hours and brought out tableside with the entree selection on top. For an historical Southwest cooking experience, Anasazi is the place to be.
Open Range
241 East Main, Bozeman, MT
Known for its big skies and far stretches of unoccupied land, Montana is all about openness. This is captured at Open Range in Bozeman where Montana hospitality is a focal point, along with high-quality, locally sourced ingredients and innovative food and beverage creations. 
St. Elmo Steak House
127 S Illinois St, Indianapolis, IN 46225
Synonymous with "American Classic", the St. Elmo Steak House in downtown Indianapolis has been dubbed as such by the James Beard Foundation and has been serving up steaks since 1902. Starting as a small tavern with a basic menu, the steak house has evolved to serve as a meeting spot for upscale service and a refined menu. With a World Famous Shrimp Cocktail, St. Elmo draws celebrities, fine diners, and culinary explorers alike. 
Crane's Tavern and Steakhouse
26 New Orleans Rd, Hilton Head Island, SC 29928
Originally founded by an Irish Immigrant in Philadelphia, the tavern was forced to close during prohibition reopening in 1933. From there the tavern went through a number of family member hands and locations, finally settling on Hilton Head Island in 1999. With the slogan, "An experience in Prime", Crane's Tavern and Steakhouse serves only the best USDA Prime grade beef along with the freshest seafood & fish.
The Southern Steak & Oyster
150 3rd Ave South, Nashville, TN 37201
A casual setting and menu that boasts traditional favorites with a contemporary twist make the Southern Steak & Oyster a hot spot for food and beverage in downtown Nashville. Ingredients are carefully curated to take guests on a, "culinary journey where every entrée tells a story". 
Folk's Folly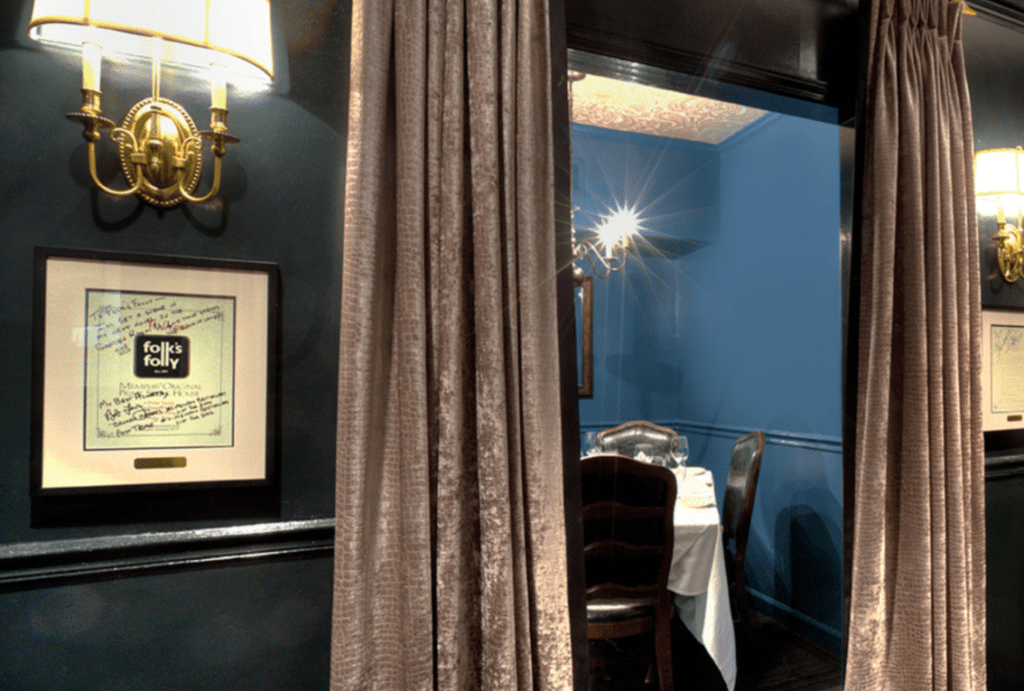 551 S. Mendenhall, Memphis, TN 38117
A 1977 Memphis original, the Folk's Folly steakhouse redefines Southern hospitality with a cozy, comfortable atmosphere and fine dining. Prime cut steaks and a well-curated wine list have always been the stars of the show at Folk's Folly. 
Kreis Steakhouse
535 South Lindbergh Blvd, St. Louis, MO 63131
A St. Louis landmark, Kreis Steakhouse opened its doors in 1948 and has made its name in the steak world known for having the World Famous Prime Rib. With a relaxing, country club style setting, the steak house serves up a variety of high-quality steak cuts along with a big selection of seafood plates. 
Twisted Tree
10701 Watson Rd, St. Louis, MO 63127
Located in the heart of St.Louis, the Twisted Tree is a 'twisted' collaboration between two well-known restaurant families on the pursuit for high-quality food and an exceptional dining experience. Sourcing only the finest cuts of 100% Pure Black Angus / Prime Beef from an exclusive list of farms in the Midwest, the menu also features local seasonal ingredients and sauces made in house to complement the meat dishes. 
Blue Cat Steak and Wine Bar
1 Lawson Ln, Burlington, VT 05401
Located down a little alley in downtown Burlington, the Blue Cat Steak and Wine Bar offers a cozy setting to experience some of the best CAB (Certified Angus Beef) steaks and Vermont cheeses. To further complement the meat and cheese, the Blue Cat wine list contains three-hundred labels from around the world with a spotlight on big, bold, steak-friendly wines. 
Medium Rare
3500 Connecticut AVE, N.W., Washington, DC 20008
"Medium rare is better than well done," say Medium Rare owners, Mark Bucher and Thomas Gregg. Inspired by a steak and fries restaurant they visited in France, Mark and Tom set out to bring the concept to American palates with a little flair of fun. The dinner menu is a 3-course pre-fixe menu with the main course highlighting the award-winning culotte steak & hand cut fries, complete with a very secret sauce. Simple yet delicious is the goal and one they seemed to accomplish!
Wayne Steakhouse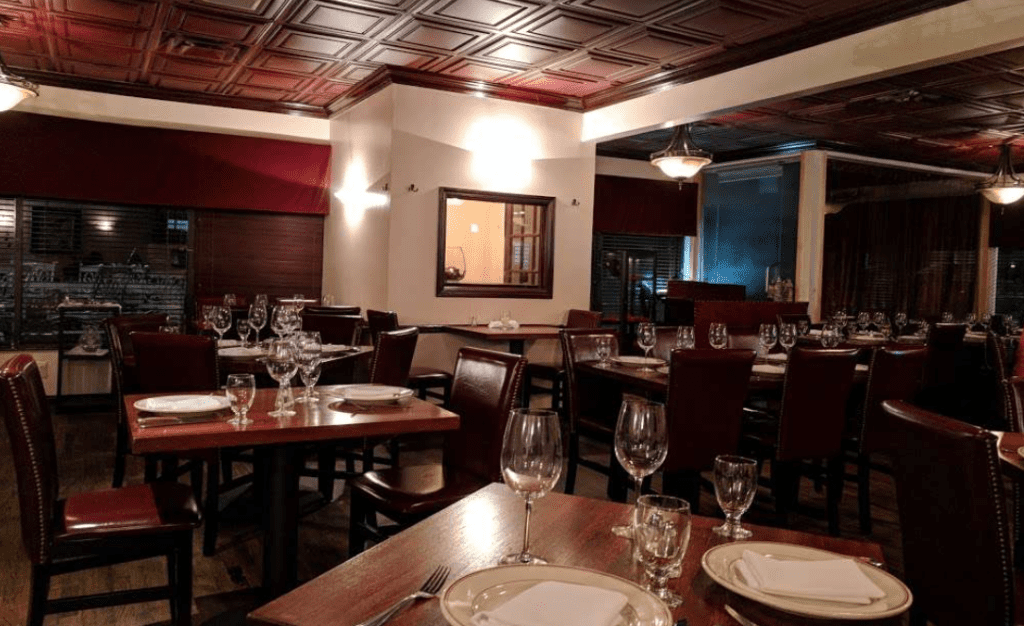 2230 Hamburg Turnpike, Wayne, NJ 07470 
Voted the number 1 steakhouse in New Jersey, Wayne Steakhouse combines traditional steakhouse cuisine with a modern spin. The culinary crew offers only the finest cuts of USDA prime dry-aged steaks seared to perfection, fresh seafood, and delicious side dishes created to enhance the flavors on the plate. They are so serious about the food there they don't even have time for the drinks which makes Wayne Steakhouse the first and only BYOB steakhouse in the country that offers free uncorking.
Aberdeen Barn Steakhouse
5805 Northampton Boulevard, Virginia Beach, Virginia 23455
The Aberdeen Barn has been family owned and operated since 1966, serving a menu complete with classic surf n' turf themed dishes, creative cocktails and Barntinis. The Aberdeen Barn uses only Stockyard Angus Premium Beef for its legendary reputation as the highest standard of quality. 
Oak Steakhouse
417 W Hargett Street,Raleigh, NC 27603
With locations scattered throughout the Southeast, Oak Steakhouse Raleigh is one of the newest to open its doors. The menu comes from executive chef Todd Woods and features a variety of Certified Angus Beef Selections®, while showcasing the fresh ingredients North Carolina has to offer. A contemporary take on classic dishes makes for a fun and adventurous dining experience complete with crafty cocktails and a full wine list. 
Morrie's Steakhouse
2507 S. Shirley Avenue, Sioux Falls, SD 57106
Inspired by old Hollywood, jazz legends and a time when "dining was a complete experience", Morrie's strives to capture timelessness and sophistication with outstanding cuts of meat and well-crafted cocktails. Sourcing wagyu beef from Morgan Ranch, steak is the star at this restaurant served with mouth-watering side dishes such as lobster mashed potatoes, boursin mashed, and jalapeno creamed corn.
Rare Steakhouse
833 E. Michigan St, Milwaukee, WI 53202
Located in downtown Milwaukee, Rare is a classic steakhouse dreamed up by Wisconsin natives for Wisconsin diners. Rare offers USDA Prime steaks aged in-house and a wine selection that would take a lifetime to try through. With an emphasis on service, the Rare experience is truly one of a kind.
Peacock Alley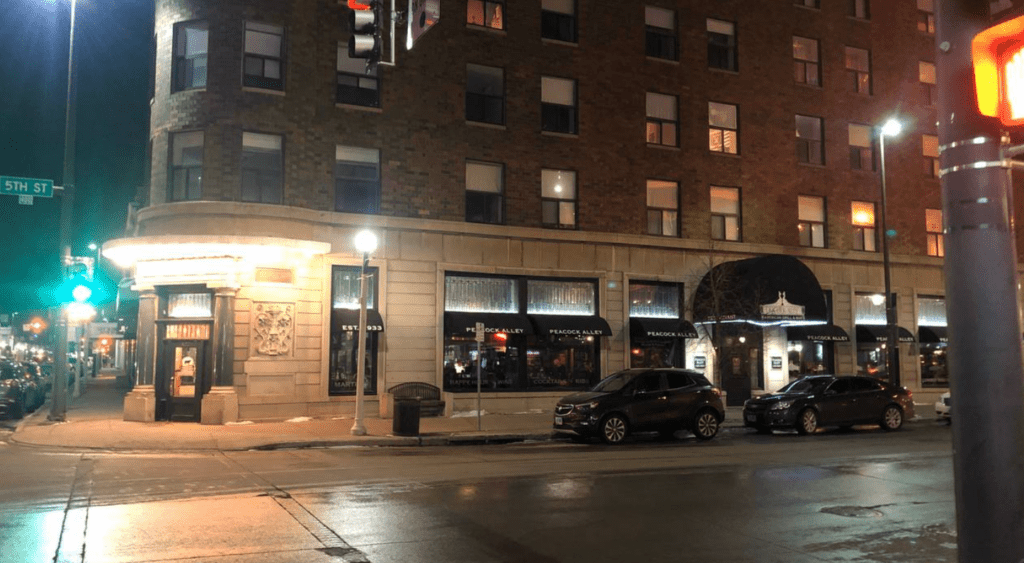 422 East Main Ave, Bismarck, ND 58501
Known as Bismarck's meeting place, Peacock Alley is a quaint bar and restaurant that oozes history. Established in 1933 in the Patterson Hotel, Peacock Alley served as meeting grounds for politicians and businessmen alike. Today the focus is on offering the most unique cuts of beef and sourcing the freshest ingredients available. 
Five O'clock Steakhouse
2416 W. State Street Milwaukee, WI 53233
Five O'Clock Steakhouse is an old-school supper club that has been serving steaks in Milwaukee since 1946. With an emphasis on fine steaks and seafood, classic cocktails and a thorough wine list, folks come for the food and stay for the 1940's retro ambience.
Northwestern Steakhouse
304 16TH ST NW, Mason City, IA 50401
Established in 1920, Northwestern Steakhouse specializes in Greek-Style broiled steaks sourced from top-quality Iowa beef. Founded by two friends who immigrated from Greece, the menu is inspired by classic Greek dishes and seasonings. 
Mastro's City Hall
6991 E Camelback Rd, Scottsdale, AZ 85251
The goal at Mastro's City Hall is to "create guests for life." And they are pulling it off with high-quality steaks and sushi, and a sophisticated, entertaining ambience. Inspired by Japanese cuisine, Mastro's highlights Japanese Wagyu and Kobe beef. 
Doe's Eat Place
3723 Government Street, Baton Rouge, Louisiana 70806
Starting with Delta-style hot tamales, Doe's was established in 1941 and evolved into one of Baton Rouge's top spots for steak filets, porterhouses, t-bones and ribeyes all aged a minimum of 21 days and hand-cut daily. In what used to be a grocery store, the restaurant showcases the historical roots of the building and adds to the casual, down-home atmosphere.
Pampas Steakhouse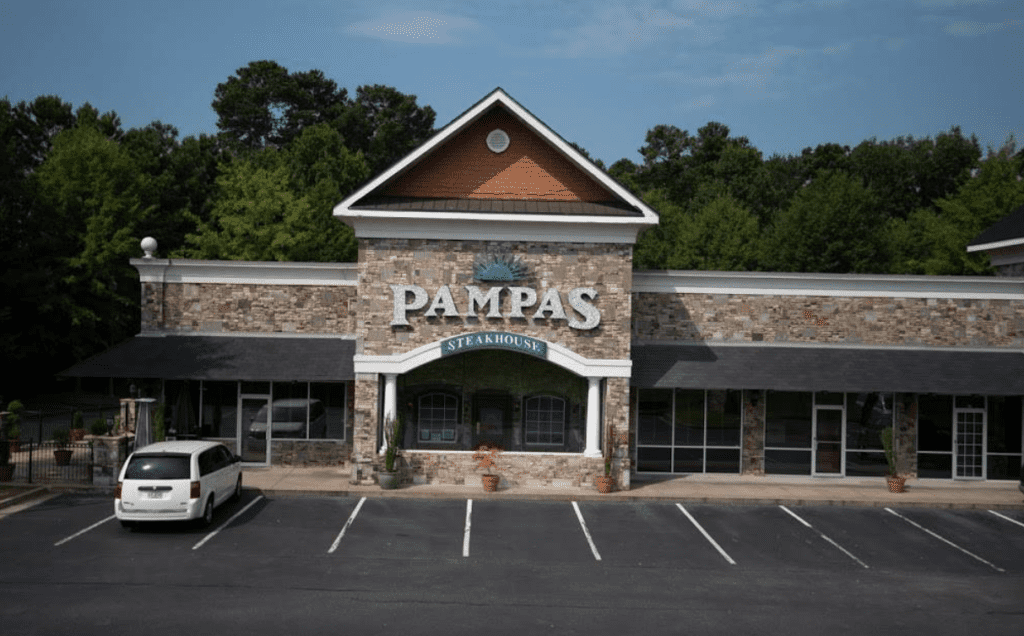 10970 State Bridge Rd, Johns Creek, GA 30022
Established in 2002, Pampas Steakhouse features authentic Argentinian cuisine and follows traditional Argentinian methods of preparing steaks over oak, woodfire grill, and a bank of hot coals. The steakhouse is famous for "The Brick" filet as well as specialty cuts like Tomahawk, Delmonico, and Churrasco. With an extensive wine list to boot, Pampas regularly receives mention from Wine Spectator. 
Timber Steakhouse
106 Exchange Street, Portland, Maine 04101
Timber Steakhouse is the vision of famed New York City restaurant owner, Noah Talmatch. With a passion for food and wine and attention to detail, Timber serves up 100% Prime Angus Steaks with a creative flair. Delicious cocktails and a friendly atmosphere further add to the wonderful experience at Timber Steakhouse.
Jack Russell's Steak House & Brewery
102 Eden Street, Bar Harbor, Maine
With a focus on Maine's coastal influence, Jack Russell's Steak House features local fish and seafood to complement the steaks including Bar Harbor Lobster, Local Crab Cakes, Local Diver Scallops, Local Farm Raised Salmon, Haddock, Fried Clams, and Shrimp Cocktail. And of course being a steakhouse, the steaks are taken seriously here as they serve USDA prime beef only. In operation since 1997, Jack Russell's is the perfect spot to grab a beer or cocktail and enjoy local Maine cuisine.
Buckley's Great Steaks
438 Daniel Webster Hwy, Merrimack, NH 03054
Nestled in the heart of Merrimack, NH is Buckley's Great Steaks famed for serving the finest, most flavorful steaks imaginable. All the beef is sourced from the Midwest and aged a minimum of 21 days. Coupled with excellent service and a comfortable atmosphere, Buckley's has it all for a premium night out.
Monte Carlo Steakhouse
3916 Central Ave SW, Albuquerque, NM 87105
The Monte Carlo Steakhouse and Liquor Store is a no-frills steakhouse that brings the best steaks to Albuquerque, "often imitated, never duplicated!" as they say. Char broil is the name of the game at Monte Carlo with classic steak cuts, burgers, and surf n' turf menu options as well. 
J. Gilbert's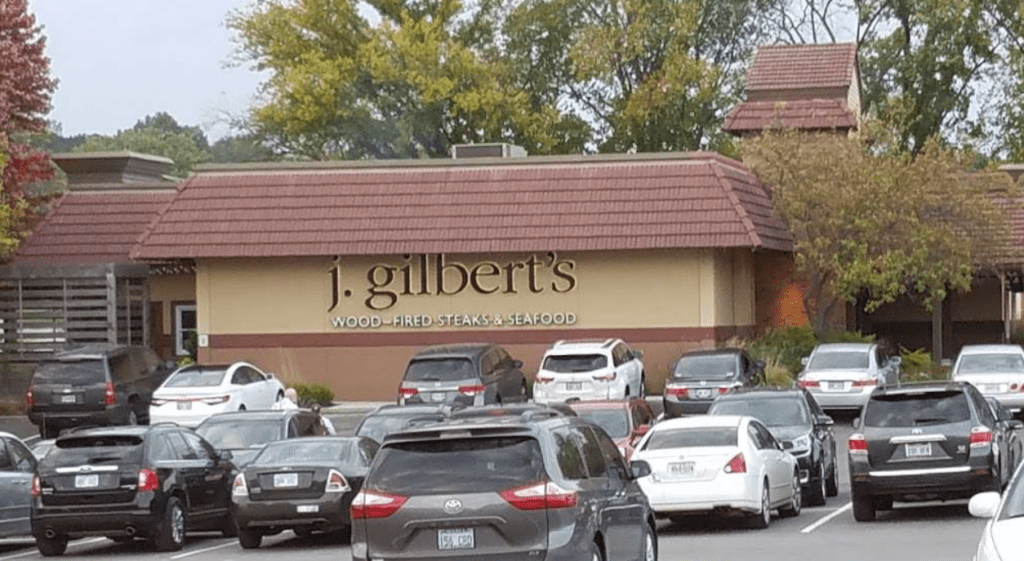 8901 Metcalf Avenue, Overland Park, KS 66212
Legendary restaurateur Joe Gilbert inherited a 12-seat diner in 1927 and from that grew a restaurant empire of 48 restaurants. The flagship steakhouse in Kansas City features Midwestern-raised USDA Prime Aged Black Angus beef and fresh seafood that is flown in daily. The menu draws from the farm-to-table concept and fresh ingredients are sourced locally when possible. 
Kathryn's Steakhouse
6800 Old Canton Road Ridgeland, MS 39157
Kathryn's Steakhouse dates back to 1979 and today is run by executive chef Kerry Brashear who continues to serve some of the best steaks, seafood and prime rib in Mississippi. Entrees like the Black & Bleu Filet, 16 ounce Ribeye, and Jumbo Diver Scallops are served with sizzling accompaniments like the loaded baked potato, broiled tomato and broccoli au gratin. 
Bull and Bear
Waldorf Astoria Orlando, 14200 Bonnet Creek Resort Lane, FL 32821
Like the Bull and Bear Restaurant in New York City, Bull and Bear Orlando brings traditional fare, tableside service and an award-winning wine list in a chic, club-like setting. Having received numerous awards and accolades, Bull and Bear is an Orlando favorite for tourists and locals alike.
Daniel's Broiler Leschi
200 Lake Washington Boulevard, Seattle, WA, 98122
Built in a 1919 boathouse, Daniel's Broiler is nestled along the west shore of Lake Washington in a historic marina offering breathtaking views of the Cascades and Mt. Rainier. A romantic setting and mouth-watering menu with USDA Prime beef, and specialities like lamb and seafood make Daniel's Broiler a Seattle favorite for family outings and date nights. 
Cole's House
1122 Main St, Napa, CA 94559
When visiting Napa Valley, the grape variety cabernet sauvignon is one of the first things that comes to mind. And nothing pairs better with a bold bottle of red wine than steak. Cole's Chop House offers an ultra-premium experience from the extensive wine list to the 21-day dry-aged U.S.D.A. certified prime steaks. With a selection of over 175 bourbons, it was also named the "Great Bourbon Bar of America". 
Wildfire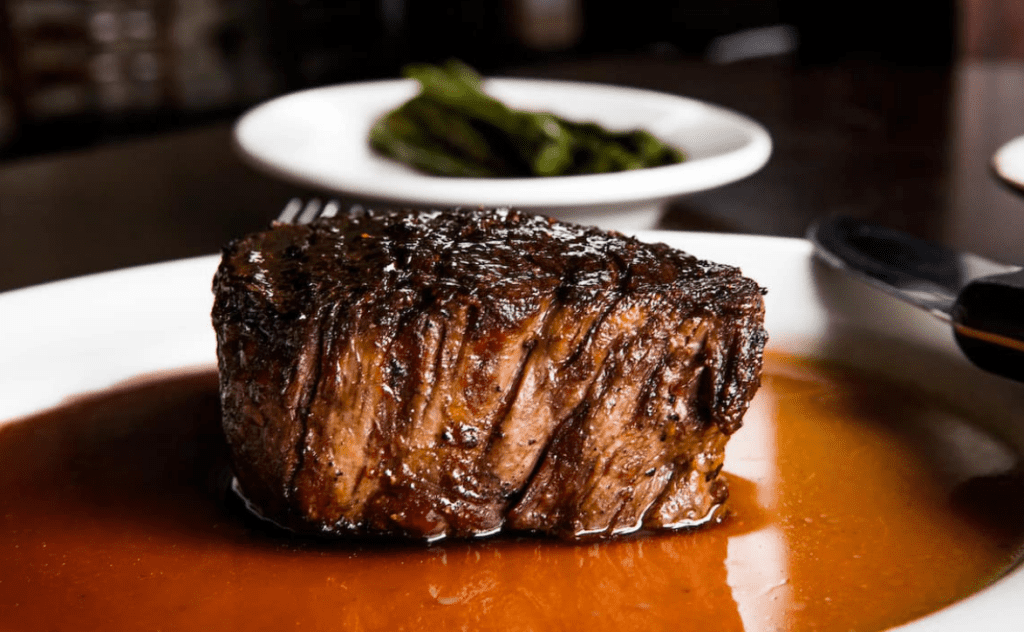 Located right in the heart of Chicago, Wildfire opened its doors in 1995 and set the standard for steaks, chops and seafood in the Windy City. The signature dishes include the Horseradish Crusted Filet, Wildfire Chopped Salad, Roasted Prime Rib of Beef and Cedar Planked Salmon all served in a relaxed setting.
Steakhouse No. 316
316 East Hopkins Avenue, Aspen Colorado
Steakhouse No. 316 brings a polished, swanky atmosphere complete with high-quality steak cuts, cocktails and service to the outdoor adventurists in both Aspen and Boulder. Whether a day skiing on the slopes or out hiking trails, the Prime Cowboy Ribeye or Porterhouse could be just the way to end the day!
Cavalryman Steakhouse
4425 S 3rd St, Laramie, WY 82070
Founded in 1970 as the Cavalryman Supper Club, the restaurant has gone through a recent makeover and now boasts traditional steak dishes with a modern twist. Keeping with its historic location, the menu offers some "Wyoming traditions" like the Rough Rider, Cattleman's Turf n' Turf, and Braised Lamb Shank.
Rittenhouse Grill
1701 Locust St., Philadelphia, PA 19103
A lavish supper-club-style restaurant, Rittenhouse brings vintage charm complete with leopard-print carpet and a piano in-house to the Philadelphia food scene. Start with oysters and move into USDA prime steak or fresh seafood dishes. 
Morton's Steakhouse
625 Liberty Ave, Suite 180, Pittsburgh, PA 15222
An upscale chain, Morton's Steakhouse has its roots in hamburgers when the original founders created the Million Dollar Hamburger. Decades later it has evolved into a stylish steakhouse where delicious food and hospitality are priorities. Land and sea are both represented on the menu sourcing USDA Prime-Aged Beef (the top 2% of beef available in the U.S.) and fresh seafood selections.  
Bazaar Meat by José Andrés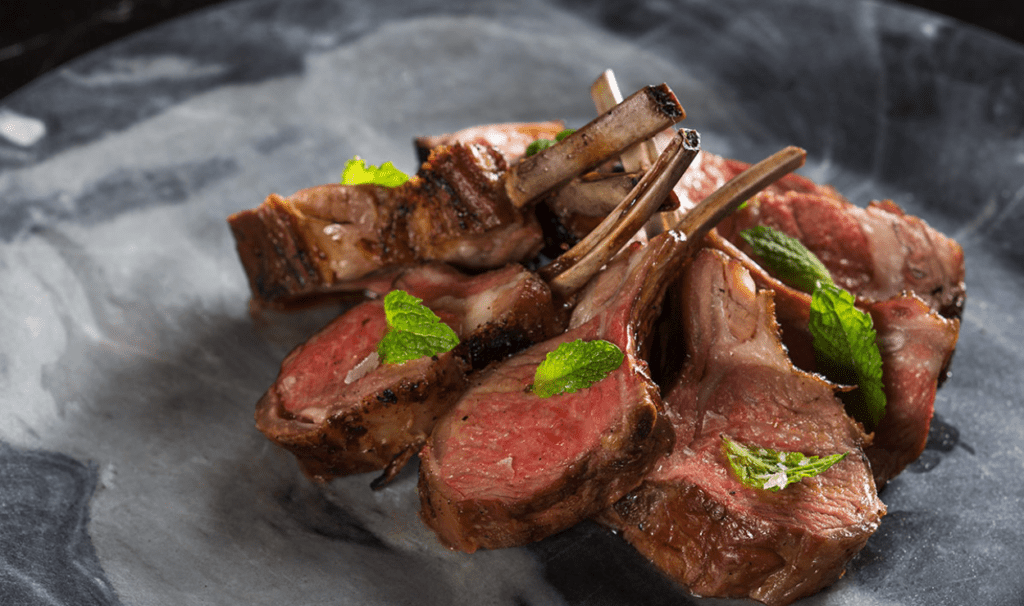 2535 S Las Vegas Blvd, Las Vegas, NV 89109
Famed James-Beard-award-winning and Michelin-starred chef, José Andrés, brings his playful culinary vision to life in an alluring Las Vegas setting inside the Sahara Hotel and Casino. In celebration of the carnivorous, the menu highlights the finest meats served with creative flair and paired with crafty cocktails. 
Bynum's Steakhouse
3850 S. Meridian Street, Indianapolis, IN 46217
Voted number one on Indianapolis' Southside, Bynum's Steakhouse has been locally owned and operated for more than 20 years. Through the years, Bynum's has become famous for the 32-ounce bone-in prime rib and the 24-ounce Madagascar lobster tail. Each entree comes with soup, a salad, warm bread, and choice of potato, so diners should come with an appetite!
Jesse's Steakhouse & Tavern
7 Blue Sky Drive, Hanover, NH 03755
Often touted as the best steak in New Hampshire, Jesse's Steakhouse started as a log cabin dinner house in 1976 and has since evolved to include a custom greenhouse, an Adirondock lodge, and a huge outdoor brick patio space. Jesse's is known for its hand-cut and house-aged steaks (aged at least 4 weeks), homemade Sequoia bread, tender prime rib, and hosting the best happy hour in the Upper Valley.
The Angus Barn
9401 Glenwood Ave. Raleigh, NC 27617
The Angus Barn was born from the vision of two southern gentlemen with no restaurant experience in the summer of 1960. Flash to today and the rustic charm of the old barn is replicated in a new modern setting still exuding southern hospitality and focus on impeccable food. The Angus Barn is known as being a "Beef-eater's Haven" but the menu has expanded to include a wide variety of dishes for all dietary needs.  
Erie Cafe
536 W. Erie Street, Chicago, IL 60654
A classic Chicago steakhouse, Erie Cafe has been the setting for fine-dining since 1994. The traditional club-style environment greets guests in a historic building with dramatic views overlooking Chicago's Loop. Erie Cafe serves up prime-aged steaks, chops, and house specialties with an extensive wine list to accompany. 
Fleming's Steakhouse
With locations in almost all 50 states, Fleming's Steakhouse is well known far and wide. Famed for the modern approach to traditional faire and an award-winning wine list, Fleming's consistently provides a casual, yet stylish dining experience.
Cholla Steakhouse and Lounge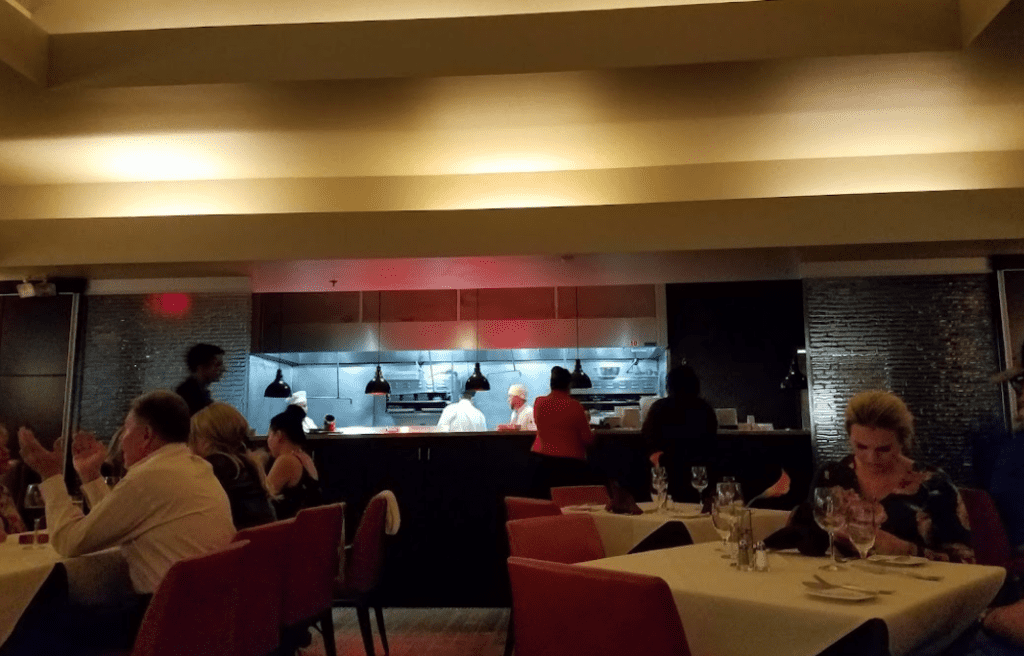 524 N 92nd St, Scottsdale, AZ 85256
Cholla Steakhouse and Lounge is a fine-dining setting complete with white linens and prestigious service. With an emphasis on regional cuisine, the chefs add Arizona flair to traditional steakhouse cuisine. 
Bos Taurus
163 NW Minnesota Ave, Bend OR, 97701
Bos Taurus, located in downtown Bend, OR, has an onsite butcher shop and is able to source some of the highest-quality meats including Japanese A5 Wagyu, and prime beef thoughtfully sourced from providers such as Cedar River Farms (Arizona), Allen Bros (Chicago), and Flannery Beef (California). 
Hall's Chophouse
434 King St, Charleston, SC 29403
The Hall family has a long history in the restaurant industry and finally opened doors to their own place in 2009 putting focus on top-quality service and food. The steaks are USDA Prime Steaks from Allen Brothers of Chicago where they are hand-selected, meticulously aged and hand-cut to the Hall's expected portions. Some in-house favorites include filet mignon, new york strip, ribeye, and porterhouse steaks.
B&B Butcher Shop and Restaurant
1814 Washington Ave., Houston, TX 77007  
For truly fresh-cut meat, a stop by Houston's B&B Butcher Shop and Restaurant is sure to delight the palate. With both a traditional butcher shop and an upscale restaurant, the culinary team is dedicated, "to serving the finest Texas and Japanese Wagyu beef as well as in-house dry-aged USDA Prime beef – all hand cut in The Butcher Shop". From fine-dining to a more casual experience, B&B's checks all the boxes and even hosts a Booze and Bites Social Hour to whet the appetite.
Bateau
1040 E UNION ST, SEATTLE WA 98122
Bateau is French for 'boat' and serves as a nod to the owners' first restaurant, Boat Street Cafe, and also the vision to, "reimagine the American steak house around quality, sustainability and animal welfare." With that in mind, the team at Bateau works with Pure Country, a Food Alliance certified ranch in Moses Lake, Washington, to ensure all cows are conscientiously raised and grass fed. The menu is playful and creative, and changes regularly to reflect what is fresh and in season.
Cote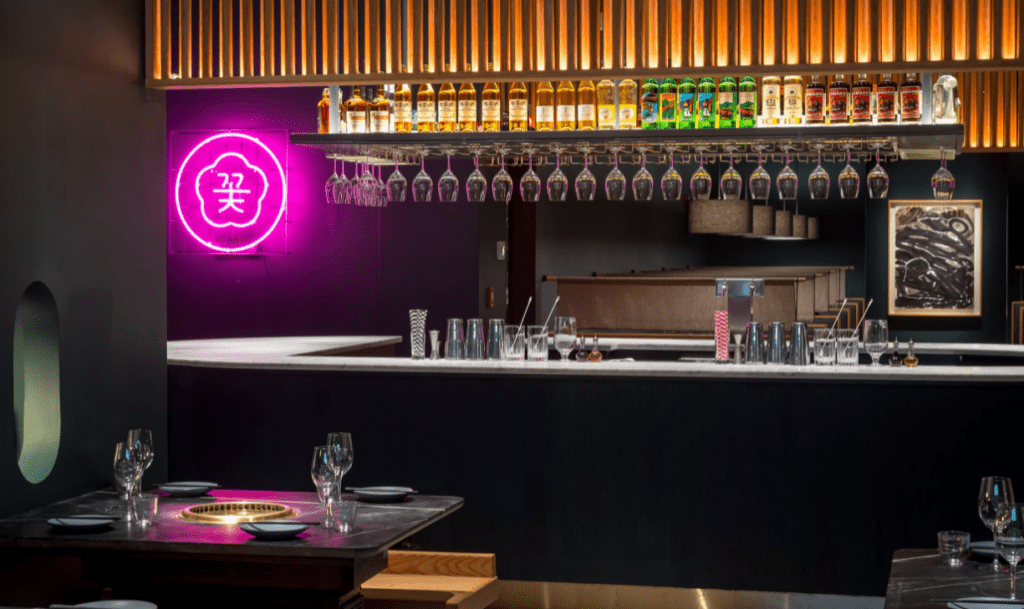 16 W 22nd St, New York, NY 10010
Cote is New York City's first ever Korean steakhouse and brings together the dining experience of traditional Korean barbeque with the charms of an American steakhouse. Each table has a smokeless grill so every bite of meat is hot and cooked to perfection. Complete with a 1200-plus bottle wine list and an extensive cocktail menu, Cote is celebrating good times with a touch of Korean tradition!
The Sage Room
18 Stateline Ave, Stateline, NV 89449
If you need a break from the slopes or fun on the lake, The Sage Room in Lake Tahoe has been providing an elegant dining experience and high-quality bites since 1947. The menu highlights Black Angus steaks, poultry, veal, lamb, Beef Wellington and seafood in a charming setting that takes diners back in time with original Native American lamps that were a gift from the Washoe Tribe. 
Boston Chops Boston
1375 Washington St, Boston, MA 02118
Boston Chops brings an urban vibe to the classic American steakhouse scene. Set in a townhouse neighborhood established in the 1800s, Boston Chops complements the historical facade with decadent hues of burgundy and mahogany. An innovative menu features fresh, seasonal ingredients to highlight the mouth-watering meats. And the raw bar is where diners can experience the 2000-plus bottle list and cocktail creations.
Gwen Restaurant and Butcher Shop
6600 Sunset Blvd, Los Angeles, CA 90028
Gwen is the restaurant vision and second project of famed chef Curtis Stone. Partnering with his brother Luke, the Gwen name is in memory of their grandmother who lived on a farm outside of Melbourne and where the boys were exposed to livestock and farming. The butcher shop is done in an old-world, European style and features high-quality meats from the US and beyond. The restaurant utilizes fire-based cooking techniques in an elegant setting with a five-course tasting menu or a la carte options available.
Keen's Steakhouse
72 W 36th St, New York, NY 10018
Keen's Steakhouse in New York City has a rich history dating back to 1885 when Albert Keen opened a chophouse. Today Keen's is known as Manhattan's best USDA-prime only steakhouse. In-house favorites include the Legendary Mutton Chop, Prime Beef King's Cut, and Steam Maine Lobster with Filet Mignon.
Maple & Ash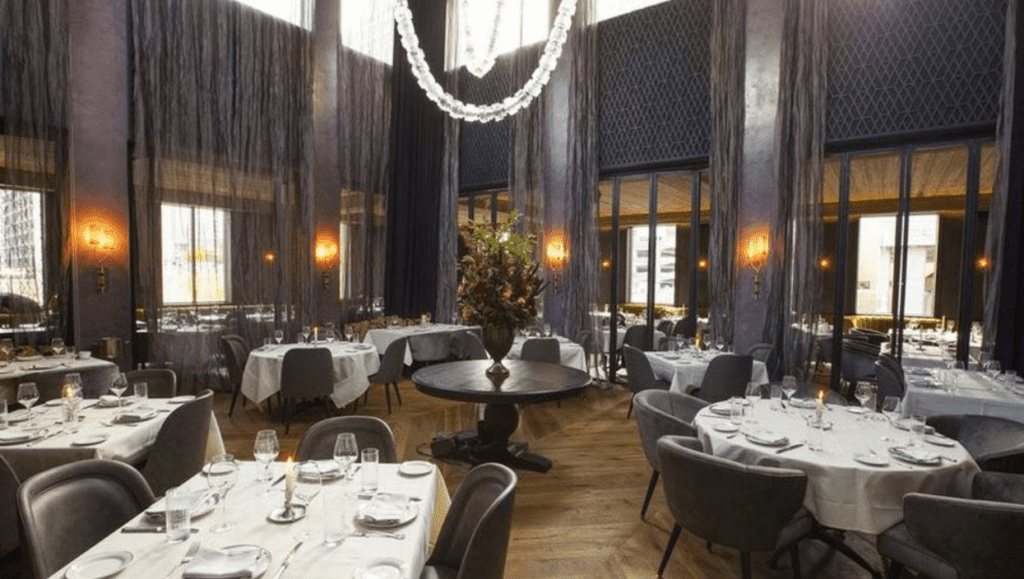 8 W Maple St, Chicago, IL 60610
Maple & Ash brings great food, upscale dining and a touch of edginess to the Chicago food scene. Here, two-michelin star chef Danny Grant executes an exciting menu with meats grilled over a wood fire, and a coal-burning oven used for all smoking and baking. There is a 40-ounce Porterhouse named after President Eisenhower as he too preferred meats done on a wood-fire, along with seafood towers, an outstanding wine list, and a Sunday Brunch to complete your Saturdays.
Murray's Steakhouse
26 South 6th St, Minneapolis, MN 55402
Murray's Steakhouse has been family-owned and operated for three generations, as well as home of The Silver Butter Knife Steak since 1946. The signature Silver Butter Knife Steak is so perfectly marbled and tender, a butter knife is the suggested utensil and it will literally melt in your mouth. This dish has been served and carved tableside since the beginning, when Art and Marie Murray first opened the doors. The menu also includes classic steak cuts, seafood dishes and a variety of sides.
Urban Farmer Steakhouse
525 SW Morrison St, Portland, OR 97204
Urban Farmer Steakhouse is taking the farm-to-table concept to a whole new level. An emphasis on sourcing local, sustainable meats and ingredients, each Urban Farmer restaurant is teamed up with a network of local farmers, ranchers and local artisans to ensure the highest-quality. Built on the vision of farmers themselves, they even grow their own herbs and edible flowers, and are known to raise bees for honey.  
Peter Luger's Steakhouse
178 Broadway, Brooklyn, NY 11211
Peter Luger's Steakhouse dates as far back as 1887 and today provides a window into times before. Consistently rated the top steakhouse in New York since 1984, this cash-only venue serves up hand-cut USDA prime beef all dry-aged on site, with an old-school service team, and German beer on tap, still celebrating the German roots of the neighborhood. 
Duke's Steakhouse
363 Village Square Ln, Castle Pines, CO 80108
Since 1996, vegetarians and carnivores alike have been making their way to Duke's Steakhouse for the high-quality food and low prices. Steaks are from premium sources and hand-cut in house along with an extensive menu including burgers and sandwiches, soups and salads and burritos.
Bohanan's Steak and Seafood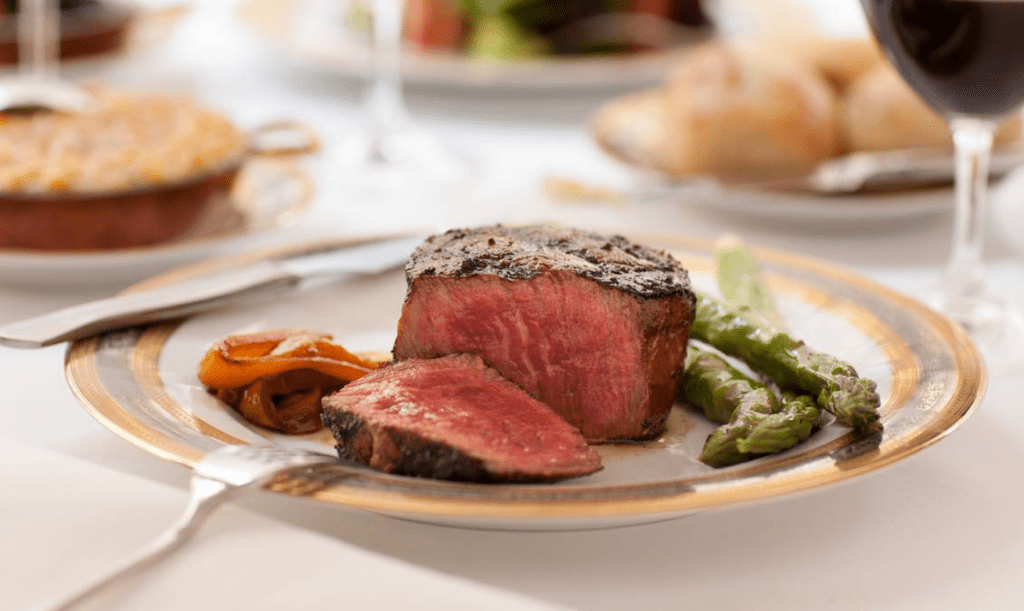 219 E Houston St #275, San Antonio, TX 78205
Bohanan's sheds a new light on the American steakhouse with a focus on Texas-raised Akaushi beef. Akaushi beef is found to be significantly higher in monounsaturated and other beneficial fatty acids and lower in saturated fats, making it a healthier beef choice compared to other cattle. Furthermore, it is mouth-watering with tender juiciness. The menu celebrates legendary steak cuts and classic cocktails and in a chic, upscale setting.
St. Anselm
355 Metropolitan Ave, Brooklyn, NY 11211
At St. Anselm the focus is on grilled meats and high-quality ingredients prepared simply yet deliciously. Steaks are the specialty but the innovative menu goes beyond the classics. Dishes like Lamb Leg Steak, and Wild Rockfish bring creative options for every palate. With an extensive cocktail and wine list in a relaxed, neighborhood setting, St. Anselm has got it all. 
Gorat's
4917 Center St, Omaha, NE 68106
Founded in 1944, Gorat's has become an Omaha classic drawing celebrities and dignitaries alike, including Warren Buffett. Proudly serving high-quality steaks and Italian specialties, Gorat's combines the best of the Old and New World cuisines. Gorat's beef is USDA prime beef raised in the Midwest, corn fed, and aged a minimum of 21 days for melt-in-your-mouth tenderness. The in-house specialities include the Omaha T-Bone followed by the Omaha Sirloin, local favorites for decades!
Lolo Creek Steakhouse
6600 Highway 12 West, Lolo, MT 59847
For a uniquely Montana experience, don't miss Lolo Creek Steakhouse, a cabin-like restaurant nestled up an old logging road and built from local timber. Since 1987, Lolo Creek has been serving a variety of choice, hand-cut, wet-aged steaks, all cooked to perfection on a wood-fired grill that is actually openly anchored in the dining room. Enjoy the back deck with its Big Sky Country views, or grab a cocktail from the bar and take in the wilderness decor.
Amber Steakhouse
119 Nassau Avenue, Brooklyn, NY
Amber Steakhouse, tucked in the neighborhood of Brooklyn, offers a cozy vibe and elegant setting to enjoy classic steak specialties like filet mignon and porterhouse, along with an excellent selection of fish and seafood. 
Grub Steak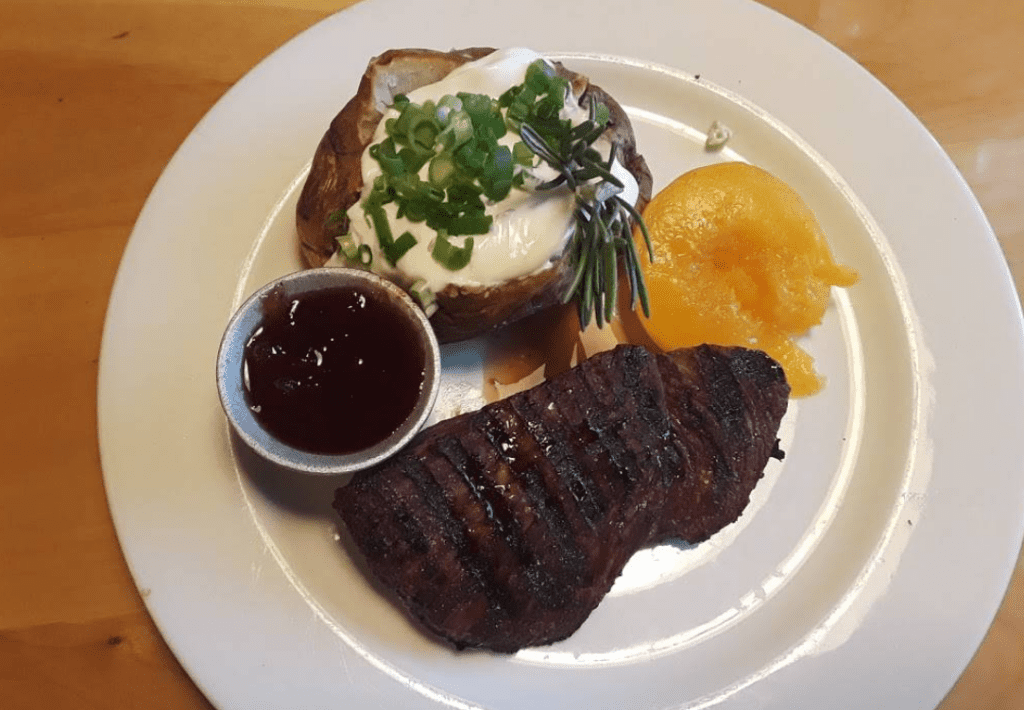 2093 Sidewinder Dr, Park City, UT 84060
Grub Steak in Park City is consistently ranked Utah's number one steakhouse. Serving up grass-fed beef and a variety of game meat as well, Grub Steak has been a Park City tradition since 1976. 
Marble Room Raw Bar and Steakhouse
623 EUCLID AVE., CLEVELAND, OH 44114
The Marble Room is a modern celebration of Cleveland's past. The restaurant is in a restored bank that was initially built in 1893 in the city's first skyscraper that featured a marble staircase. Today the steakhouse pays homage to this history by keeping many elements of its original architecture. With focus on the raw bar, sushi, prime steaks, creative cocktails and an extensive wine list, many visitors stop by to relive times of old while enjoying a true fine-dining experience.
Meat Market Palm Beach
191 Bradley Place, Palm Beach, FL 33480
Meat Market Palm Beach embraces the warm weather and beach life with a sexier take on the classic American steakhouse. There's a plethora of creative cocktails and wines to enhance the Meat Market experience and pair with the house entrees all off the wood fire grill like churrasco, grass-fed ribeye, and creative fish of the day. For a moment of glam and lavish dining, don't miss the Meat Market. 
FAQS
If you're looking for a great steak, there are plenty of choices. These frequently asked questions should help you decide where to eat next.
Question: What is the oldest steakhouse in the US?
Answer: Delmonico's in New York City is considered the oldest steakhouse in the US. It was established in 1837 and is responsible (often in collaboration with others) for the creation of famous dishes we know today such as Lobster Newburg, Baked Alaska, Eggs Benedict, and the Delmonico Steak, which was whatever the best steak in-house was that day. 
Question: What are the popular cuts of meat at classic American steakhouses?
Answer: When visiting an American steakhouse there are five cuts of meat commonly seen on the menu. These popular cuts include:
Filet Mignon (or Tenderloin)
• Porterhouse
• Ribeye 
• New York Strip
• T-Bone
Question: What is the best way to have a steak prepared?
Answer: There are five temperature preparations for cooking steak that range from pink and bloody up to no pink and no blood. These are: rare, medium-rare, medium, medium-well and well-done. Most chefs recommend medium-rare to fully enjoy the steak's natural flavors and tenderness while still having a little sear and char.
Question: What is the most popular wine to pair with steak?
Answer: Because many cuts of steak are very rich and flavorful, a wine that is bold with a lot of tannin will cut through the fat and match up to the meat. Think about cabernet sauvignon and tempranillo in this case. When the cut is leaner however, a lighter wine such as a nebbiolo or merlot will do the trick.
Question: What city has the most steakhouses?
Answer: According to Rent.com, which tracks statistics in various cities to serve as a guide for helping people decide where to live, committed beef-eaters should consider Houston, Texas as it has the most meat establishments by far with 209 city-wide. Second in line is Las Vegas with 163.
Conclusion
No matter where you find yourself in the US, from major cities to small towns in what feels like the middle of nowhere, there is a good chance a quality steakhouse is around offering USDA Prime beef. So wander in and have a taste of America, from rare to well done.