Picnics outside of the city or camping weekends are much more enjoyable if the food you're preparing is delicious. In this Ooni Fyra review, we're going to go through the portable pizza oven's features and try to determine if it's a suitable choice for outdoor chefs.
Getting a new pizza oven is a lot like searching for the best grill because you have to consider the fuel a portable oven is using and check its cooking capacity. However, the portable pizza oven market isn't as diverse as the grill market, and you won't have so many options at your disposal.
Our Ooni Fyra review will provide you with the information you need to decide if this portable pizza oven can meet your cooking demands.
Key Specifications of the Ooni Fyra Pizza Oven
| | |
| --- | --- |
| Average cooking time | 60 seconds |
| Fuel type | Hardwood pellet |
| Max temperature | 950F |
| Size of the cooking surface | 13.2 inches |
| Shell material | Powder-coated carbon steel |
| Weight | 22lbs |
| Size | 22.7 x 15.5 x 28.6 inches |
| Price | Check latest price here |
Core Features of the Ooni Fyra Pizza Oven
Ooni Company was founded in Edinburgh, Scotland in 2012, after a successful Kickstarter campaign, and since then it has utilized crowdfunding platforms to gather funds to launch new products. The brand was started by Kristian Tapanianaho and Darina Garland, a couple that still manages the company.
Kristian was credited with inventing the world's first portable pizza oven that is powered by wood pellets capable of producing temperatures up to 932F.
Over the years, the brand extended its range of products and improved the design of the first pizza oven in order to widen the cooking surface and introduce new ways of heating up the stone baking board.
Currently, there are five different Ooni portable pizza oven models that can either be powered by gas or hardwood pellets, and only the Ooni Coda has a 16-inch cooking surface. The multi-fuel Ooni Pro model is out of stock and it is hard to say when it will be available again.
Check out our guide on how to grill like a pro if you're unsure which accessories you should use during the next barbeque you organize.
Materials and Dimensions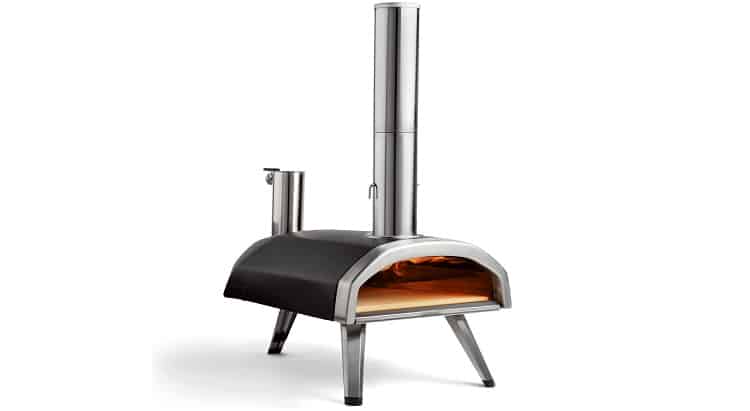 Assembling the Ooni Fyra pizza oven doesn't take a lot of effort, as you just have to stretch its foldable legs, and use pellets to start the fire. It will take up to 15 minutes to heat the oven before you can start baking pizza.
The Ooni Fyra's shell is made of powder-coated carbon steel, which makes it fairly durable. The model also features a stainless steel chimney that can be removed when the oven isn't in use.
The unboxed dimensions of this portable pizza oven are 22.7 x 15.5 x 28.6 inches so you won't need too much space to set it up. The cooking surface is wide enough to hold a 12-inch pizza, but its height is limited as you won't be able to fit a chicken or any other bulky dish in it.
It is worth noting that the Ooni Fyra's shell gets warm quickly and you need to be careful while inserting or taking the food out.
Portability and Fuel
The boxed dimensions of Ooni's portable pizza oven are 26.7 x 18.9 x 9.8 inches which suggests that you'll have no trouble finding space for it in your car or your home. The Fyra pizza oven weighs only 22lbs, and you can carry it without anyone's assistance.
However, its foldable legs don't adjust to uneven surfaces, so you must make sure that the oven is perfectly stable before you light the fire. Unlike other models that have dual-fuel capacity, the Fyra portable pizza oven can only be heated with hardwood pallets.
The Ooni Fyra doesn't come with pallets and you must purchase them separately. A single 7lbs bag of pallets should supply you with enough fuel for 2 to 3 hours of cooking.
Also, you should consider getting Ooni's Natural Firestarters because they will help you avoid problems with starting the fire. Go through our guide to preparing the Wagyu Pichana steak if you don't want to use the Ooni Fyra to just prepare pizza.
Cooking Capacity
The interior of the oven contains a cordierite stone baking board that heats the pizza or any other food you want to bake from below. The cooking surface isn't as vast as you could hope for, but it is still spacious enough to house a 12-inch pizza or a couple of stakes.
You should opt for one of Ooni's 16-inch ovens if you want a larger cooking surface. The brand's Fyra model comes with a detachable door and a two-part chimney that help you increase or decrease the flame inside the oven.
So, you should leave the chimney vent open if you want to increase the airflow through the oven and have a large flame or close the chimney if you want to limit the airflow. The manufacturer recommends leaving the door open at all times in order to have quick access to the food.
Read our complete guide to preparing a ribeye steak if you're searching for recipes you can prepare in the Ooni Fyra portable pizza oven.
Temperature Preservation
The oven needs approximately 15 minutes to reach the optimum temperature after you start the fire. Keep in mind that you must add more hardwood pallets to the fuel hopper in 15-minute intervals to keep the temperature at the same level.
The Ooni Fyra doesn't have a built-in thermometer so it might be difficult to determine the right time to put the pizza in the oven. The maximum temperature this Ooni's model can reach is 950F, but you're going to need a lot of fuel to maintain such a high temperature.
You can get the manufacturer's Infrared Thermometer with a laser pointer to measure the temperature of the baking board. On average, it will take between 1 and 2 minutes to bake a pizza with this portable oven and there's no need to burn a lot of fuel to keep the temperature at the maximum.
This portable oven ships with a built-in flame keeper that directs the heat from the fire, over the food, and towards the chimney, which helps bake food evenly and reduces the chances of burning a pizza or any other dish from one side.
Go through our Weber vs Broil King comparison if you prefer a conventional grill over a portable pizza oven.
Add-ons and Versatility
The scope of meals you can prepare in the Ooni Fyra portable oven isn't limited to different types of 12-inch pizzas. The cooking surface is large enough to enable you to bake potatoes or bread or cook meat.
You can purchase Ooni's The Pizza Bible or New World Sourdough cookbooks to find out which meals you can prepare in the Ooni Fyra oven.
This model is portable and lightweight enough to be easily carried on a camping trip, but if you choose to do so, you'll need to make sure that you will be able to place it on a flat surface.
Placing the oven on the ground can make it difficult to handle the food you're preparing, as the model's foldable legs are short. However, getting the Ooni Shoes for your Fyra oven will enable you to keep it in a stable position on a broad range of wooden and metal surfaces.
The manufacturer offers a broad range of accessories such as carry covers, pizza peels, or oven brushes that can make the food preparation process much easier.
Cleaning the Oven and Disposing of Ash
The Ooni Fyra portable oven features a built-in burner tray that collects the ash produced by pellets. You shouldn't attempt to remove this tray while the oven is hot, as you may injure yourself needlessly.
It takes approximately 90 minutes for the Fyra oven to cool down, and you shouldn't attempt to speed up this process by pouring water over it because you may end up damaging the oven. Hardwood pellets don't produce a lot of ash, so it's unlikely that the oven's airflow is going to be disrupted by ash.
Cleaning this portable pizza oven after you used it won't take more than a few moments of your time, since the cooking surface is easily available. It isn't advisable to store the Ooni Fyra oven before it's cooled down because the heat might damage the carry cover or items located near the stove.
Read our Filet Mignon vs Ribeye comparison to find out more about the differences between these dishes.
Price and Warranty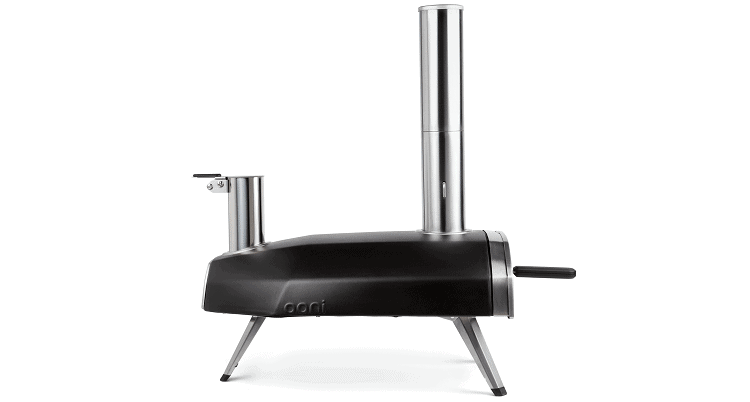 The Ooni Fyra portable pizza oven costs $299, and it's an affordable solution for entry-level pizza makers. The manufacturer offers a 3-year warranty for this model, as well as a 60-day money-back warranty to customers who are unhappy with the oven's performance.
The so-called Great Pizza Guarantee enables you to return the oven if you failed to make delicious pizza with it.
However, this guarantee and the 3-year warranty are unavailable unless you meet certain conditions, and only to customers who purchased their Ooni oven through the manufacturer's website.
All orders over $35 are delivered for free and the delivery time for orders within the United States varies between 1 and 5 workdays. Go through our Butcher Box review if you're looking for a reliable source of organic meat.
Pros
Simple setup and high level of portability
The Ooni Fyra pizza oven is compact and lightweight, which enables you to take it with you every time you go camping or use it in your backyard.
The setup doesn't include much more than extending the foldable legs and lighting the fire, so you can start baking your first pizza of the day 20 minutes after unpacking this portable oven.
Capable of producing high temperatures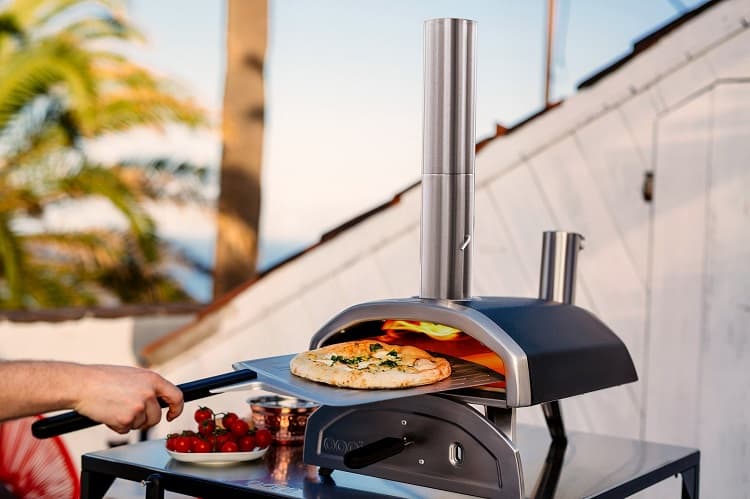 The maximum temperature you can achieve with this Ooni's model is 950F, which is enough to prepare a pizza in sixty seconds. Keep in mind that maintaining the oven's maximum temperature requires a lot of fuel.
Pizzas prepared in the Ooni Fyra oven have a wood flavor
A pizza baked in this oven tastes differently than a pizza baked in a gas or electric oven. Hardwood pellets add a special flavor to the pizza, but using some other type of fuel may affect the taste and expose the food to harmful substances.
Cons
No built-in thermometer
Finding the right moment to put a pizza into this oven can be difficult because there is no thermometer that lets you keep track of the temperature. You have to purchase the manufacturer's infrared thermometer if you want to know the exact temperature inside the oven at all times.
The Best Alternatives To Ooni Fyra Pizza Oven
Portable, pellet-powered outdoor pizza ovens are a relatively new invention since the Ooni brand is credited with producing the first such model less than a decade ago.
Even so, several competing brands started producing models with features similar to those you can find on an Ooni pizza oven. We've shortlisted some of the best alternatives to the Ooni Fyra oven, so let's take a look at what they have to offer.
Gozney Roccbox Pizza Oven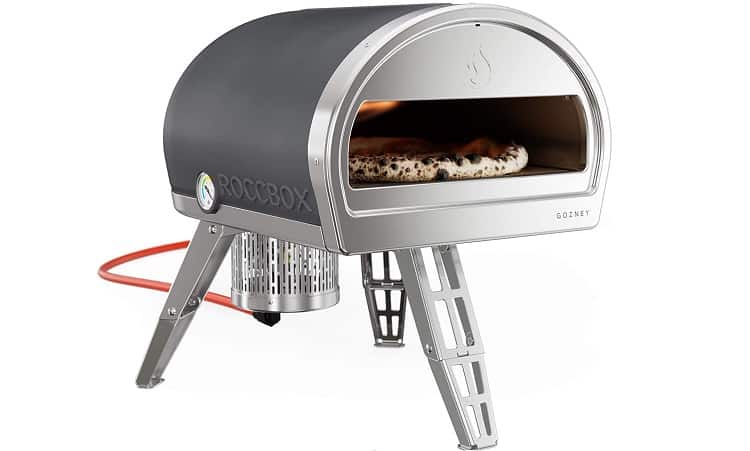 Besides pizza, you can cook veggies, chicken wings, or meatballs in the Gozney Roccbox pizza oven. This dual-fuel portable oven can be powered by gas or wood, although you must purchase the detachable wood burner separately.
The size of the oven's cooking surface is 13.4-inches and it takes approximately 15 minutes to heat its cordierite stone floor to 950F. This Gozney's model features a built-in thermometer that lets you monitor the oven's current temperature.
The Roccbox pizza oven comes with a pizza peel that makes it easy to put a pizza in the oven or take it out.
Bertello Outdoor Pizza Oven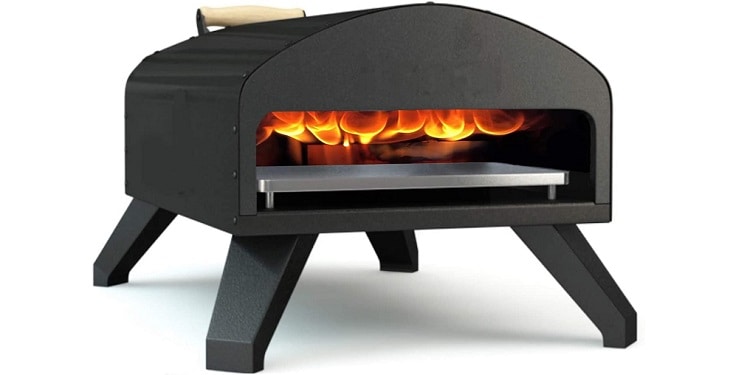 The manufacturer lets you choose between the standard and bundle version of the Bertello outdoor pizza oven. You can also decide if you want to use pellets, charcoal, wood, or gas as the fuel for this oven. Keep in mind that the gas burner accessory is sold separately from the oven.
The maximum temperature you can achieve with this Bartello's model is 950F, but the oven doesn't have a built-in thermometer that would enable you to monitor the temperature. The size of the cooking surface is 12.5 x 13.5-inches, which leaves you with plenty of room to prepare different types of dishes.
Harbor Gardens KUK002B Monterey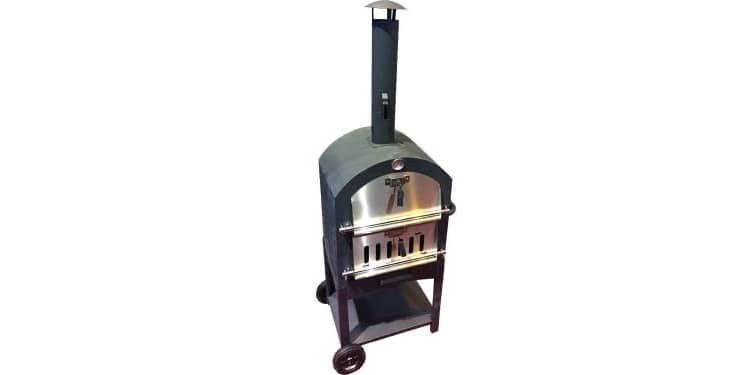 Besides the vintage look, the Harbor Gardens KUK002B Monterey brings versatility to your backyard. This pizza oven is heavy and bulky, so you should look elsewhere if you need a portable oven you can fit easily into your car.
Also, the maximum temperature the Monterey oven can develop is limited to just 450F, and you can use only wood as the fuel. The oven has two chambers that enable you to prepare multiple pizzas simultaneously.
This Harbor Gardens' model is almost twice as expensive as the Ooni Fyra pizza oven and at such a steep price, its performance capabilities are underwhelming, as you can't choose whi0ch type of fuel you want to use.
FAQs about Ooni Fyra Pizza Oven
Question: Is the Ooni Fyra pizza oven insulated?
Answer: Yes, it is, the oven's shell is made of insulated powder-coated carbon steel, but the shell still runs hot while the oven is in use, and touching it may cause injury.
Question: Can I buy a gas burner add-on for the Ooni Fyra pizza oven?
Answer: No, this portable oven only uses pellets as fuel, and the manufacturer doesn't produce accessories that would enable you to power the oven with gas.
Question: How long is the warranty if I don't purchase the Fyra oven directly from Ooni?
Answer: The brand offers a one-year warranty for all of its products purchased from retailers that include them in their offers.
Question: What type of surface should I place in the Ooni Fyra oven?
Answer: A wooden, stone, or metal table is an ideal surface for the Ooni Fyra oven, and you should avoid placing the oven on plastic surfaces. Also, you should make sure that the oven is stable before you start using it.
Our Verdict: Is the Ooni Fyra Pizza Oven worth buying?
The benefits of baking a pizza at a high temperature go far beyond the taste or crispiness of the crust since the nutritional properties of the ingredients are better preserved if a pizza is baked at temperatures above 500F.
The Ooni Fyra pizza oven is essentially the upgraded version of the company's flagship model the Ooni 3. Its improved carbon steel shell or the increased fuel hopper capacity are some of the reasons why we recommend the Ooni Fyra pizza oven to all entry-level pizza makers.
The detachable door lets you keep an eye on the pizza and choose the right moment to take it out of the oven. However, the Ooni's Fyra model also has several downsides as it doesn't feature a built-in thermometer and its stability can be an issue if it is placed on an uneven surface.
Was this Ooni Fyra review useful? Let us know in the comments or continue reading our guide to the best grilling accessories that will improve your outdoor cooking experience