The sirloin cap is described as the muscle located near the top sirloin. It's shaped like a triangle and rather flat. The meat can be grilled whole or cut into smaller steaks. There are a variety of ways to cook sirloin caps. It can be grilled as steaks, made into kebobs, used for stir fry, in a stew, and sandwiches. To give them flavor, it should be marinated or have a dry rub added to increase the flavor.
Customers can buy sirloin cap steaks at butcher shops, supermarket meat departments, and online at specialty shops. A sirloin cap is also called picanha specialty meat served in a Brazilian steakhouse. It can be found at a butcher or a specialty meat shop. Most sirloin caps have a layer of fat on one side.
Tips for Grilling Thick and Thin Sirloin Caps Steaks on a Gas Grill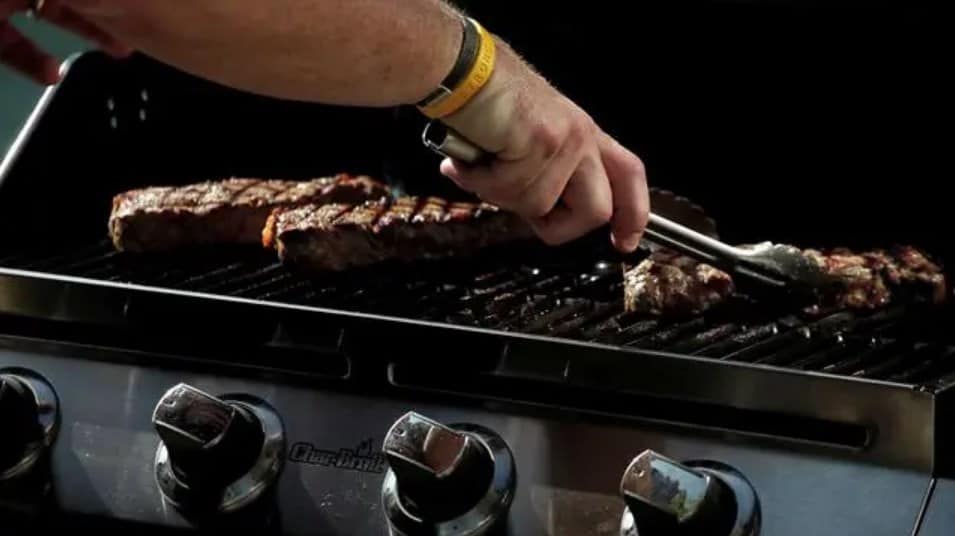 Thick steaks are usually 1-2 inches thick, and it's recommended that you leave the fat on to keep the flavor and moisture. Defrost the steaks to room temperature before grilling. You can marinate the meat or use a dry rub ahead of time.
Clean off the gas grill using a wire brush and heat for about 15 to 20 minutes to high. Sear both sides of the steaks for two minutes on each side, remove to a plate and lower the temperature to medium-high.
Depending on how you want the steaks cooked, using a meat thermometer is the best way to measure doneness. Temperature and cooking times may vary for different grill types. Thick steaks  1 inch or more should be cooked after searing 2-5 minutes on each side for rare. Rare steaks reach an internal temperature of 125-130 degrees.
Medium rare steaks should be cooked for 4-5 minutes on each side and reach a temperature of 130-140. Medium steaks require  6-9 minutes with an internal temperature of  140-150 degrees. Sear thick steaks on both sides, remove to plate,  reduce the temperature, and finish at a lower temperature.
Thin steaks that are only less than 1/2 to 3/4 inches thick should not be seared. Clean the grill and heat the grill to medium-high. Once it's heated, cook the steaks on both sides at recommended times with the cover down.
Rare steaks should be cooked 2-3 minutes on each side with an internal temperature of 135-140 degrees. Medium rare steaks should be cooked 2-4 minutes to an internal temperature of 130-140 degrees. Medium steaks should be cooked 3-5 minutes to a  temperature of 140-150 degrees. Don't cook too long, or the meat will become dry.
After cooking the steak, let it rest five minutes before cutting and serving. It's advised to turn the meat with a spatula or tongs when cooking. To avoid flames, add sauces to the meat after it is removed from the grill.
When cooking on charcoal, leave the top open and heat the charcoal before cooking. After searing the steaks, reduce the time the steaks are cooked because you cannot lower the heat of the charcoal. Check meat by cutting into it or using a thermometer to measure the temperature. It's the same for cooking thinner slices of meat on both sides do not sear.
Grilling or Cooking A Sirloin Cap Roast In The Oven
Defrost the roast to room temperature. Season it with salt and pepper and a dry rub if you choose. Cook it in a cast iron grill pan and heat the grill to medium-high—sear roast on both sides for 2 minutes each. Cook  3-4 pound sirloin cap for about 20 to 30 minutes and use a thermometer to measure the internal temperature. A grill pan keeps the fat from dripping down. Let it rest for at least five minutes and slice into thin pieces.
For the oven, preheat to 325 to 350 degrees and season roast, and cook in a grill pan. Sear both sides for two minutes and cook using a thermometer to the desired internal temperature.
Marinades and Rubs For Sirloin Cap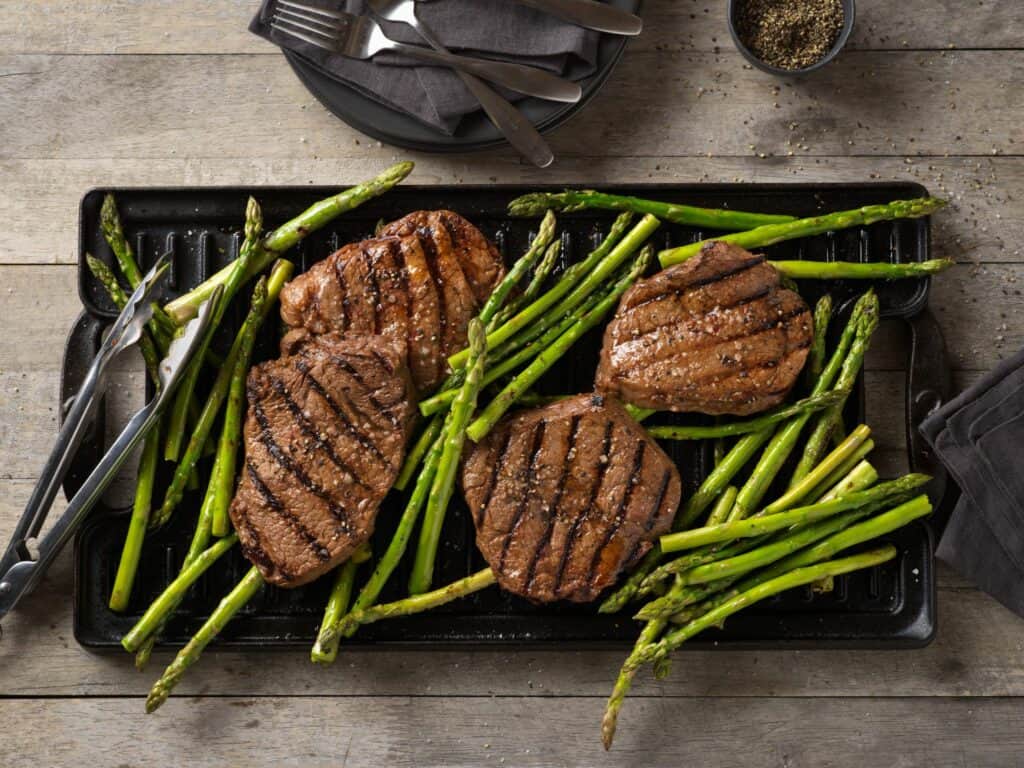 Most marinades for meat contain quality oil, seasonings or herbs, and acid to add flavors to the meat. A neutral oil without flavor is recommended by some chefs like canola and grapeseed oil. Other oils used are olive oil, peanut oil, and sesame oil.
The oil keeps the meat moist from drying out and adds flavor too.  Fresh herbs and spices add flavor to the marinade. The acid tenderizes the meat. Acids used in marinades are vinegar, lemon, citrus juices, wine, and sherry. Tough cuts of meat benefit from marinating 24 hours in the refrigerator. There are many recipes for marinades.
Steaks or roast can be marinated in the refrigerator in ziplock bags or a plastic container with a lid. Other options are glass containers with lids. A large bag or deep container allows you to turn the meat without a mess. A dry rub has seasonings, herbs, and spice mixtures rubbed into the meat before grilling.
They provide more flavor and don't burn as liquid marinades do. It's best to use dry spices, herbs, and flavorings to keep the recipe consistent. Rubbing 1 to 3 tablespoons of dry rub into a roast or steaks is recommended for sirloin caps. Rub in evenly, getting all sides. Put in a large plastic bag or container with a lid for 12-24 hours in the refrigerator before grilling.
Sirloin Cap Marinade
This is a marinade for steaks or the entire roast.
1/2 cup of extra virgin olive oil
1 tablespoon of apple cider vinegar
1 tablespoon fresh lemon juice
1 tablespoon garlic powder
1 tablespoon dried oregano
1 teaspoon red pepper flakes
Combine all ingredients in a medium-size bowl or plastic container and mix well. Put steak or roast into a large ziplock bag or container and pour over meat. Leave in the refrigerator for several hours before cooking.
Wine Marinade For Sirloin Cap
This can be used for one sirloin cap or four steaks.
1/2 cup of good quality dry red or white wine
1/2 cup of olive oil
2 tablespoons fresh lemon juice
1 tablespoon minced garlic
2 tablespoons diced basil leaves
Salt and pepper to taste
Mix all ingredients in a bowl, pour into a ziplock bag or containers with steaks or roast, and coat evenly. Leave in the refrigerator until ready to cook. Put ziplock bags in containers if they might leak, and remember to turn them over a few times before cooking.
Rubs can be added four to six hours before grilling and left in the refrigerator to infuse the meat with flavor. You can apply the rub just before grilling too. There are many types of rubs. Using dry spices and herbs works best.
Spicy Sirloin Cap Rub
1/2 cup of black, white, green, or pink pepper
1/4 cup sea salt
1/4 cup curry powder
1/4 cup chili powder
3 tablespoon garlic powder
2 teaspoons cayenne pepper
1 teaspoon horseradish powder
Mix all ingredients in a bowl and massage rub into the meat. Use plastic gloves if desired. Put in the refrigerator in a plastic bag or container with a lid for several hours. Dry rubs can be kept up to three months in containers for use in the fridge.
Cutting Sirloin Cap Into Steaks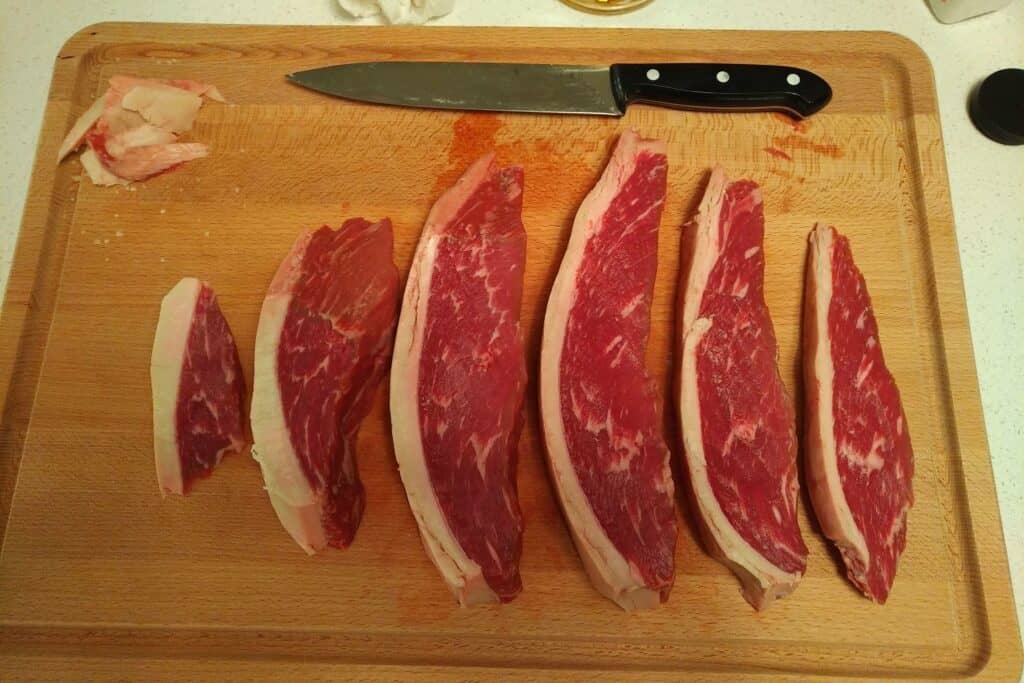 Defrost the roast and let it come to room temperature on a cutting board. Using a knife scour or cut the fat in a cross-hatch pattern like a ham. Rub some sea salt into the fat and black pepper.
Leave on the fat as it gives the meat more flavor. Cut the beef into 1 inch thick pieces to cook on the grill. The steaks can be rolled and put on a metal or wood skewer to cook.
Clean and preheat the grill to high. The steaks can be cooked separately too and seasoned with salt and pepper and olive oil.  Sear on both sides for two minutes, take off grill lower to medium heat, and cook for 3-5 minutes and or to desired internal temperature. Let sit for 5 minutes and serve steaks.
Roasted Tomato Sauce For Sirloin Cap Steaks
This can be served as a dipping sauce on the side.
1 can whole tomatoes or 5 fresh tomatoes chopped
1 red onion diced
2 teaspoons minced garlic
2 tablespoons olive  oil
1 tablespoon vinegar
1 tablespoon smoked paprika
2 tablespoons chopped parsley
Put the tomatoes, chopped onions, and parsley in a blender.  Heat a pan with olive oil, garlic, and vinegar on the grill and add the mixture from the blender and paprika. Stir well.  Heat until bubbling and add salt and pepper to taste serve with cooked meat.
Sugar-Free RedEye Barbecue Sauce
This sauce can be served on the side of the steaks after they are cooked.
1 tablespoons butter
1 strip hormone-free bacon diced
1 small yellow onion peeled and diced
1 cup strong black coffee
1 cup thick tomato sauce
2 tablespoons Dijon mustard
1/3 cup heavy cream
Salt and pepper to taste
Cooking the Steaks On the Stove
You will need a cast-iron grill pan,  the defrosted steaks, and butter. Preheat the oven up to 400 degrees on Bake or Roast to cook the steak. On top of the stove, heat the grill pan on medium-high for three to four minutes.
Add the butter and steak.  Sear steaks for two minutes on each side and flip over once. Remove from heat and put in the oven. Cook steaks for two to six minutes on each side depending on how your want the meat cooked. Use a meat thermometer to measure the temperature.
A general rule of thumb is two minutes for rare on both sides and 120 degrees for rare. Medium rare is three minutes on each side at a temperature of 130 degrees; the medium is 4 minutes on each side at
Where to Purchase Sirloin Cap Roasts and Steaks
Your local butcher shop or meat market is the best place to purchase sirloin cap roasts and steaks. They specialize in meats and cut the roast for you into steaks and advise you on the best way to cook them. Some markets will age the beef for several days.
They can leave the fat on if you want it or remove it. Another benefit is they can cut it into steaks so that you do not have to. This meat is composed of two muscles, and the triangle-shaped piece is the most popular. It's called the rump cap or coulette. It's said to have a strong beef flavor.
Some supermarket meat departments carry the sirloin cap or can order it for you. Online meat services also sell sirloin caps that can be ordered and delivered to your home.
How To Cut Sirloin Steak For Kebobs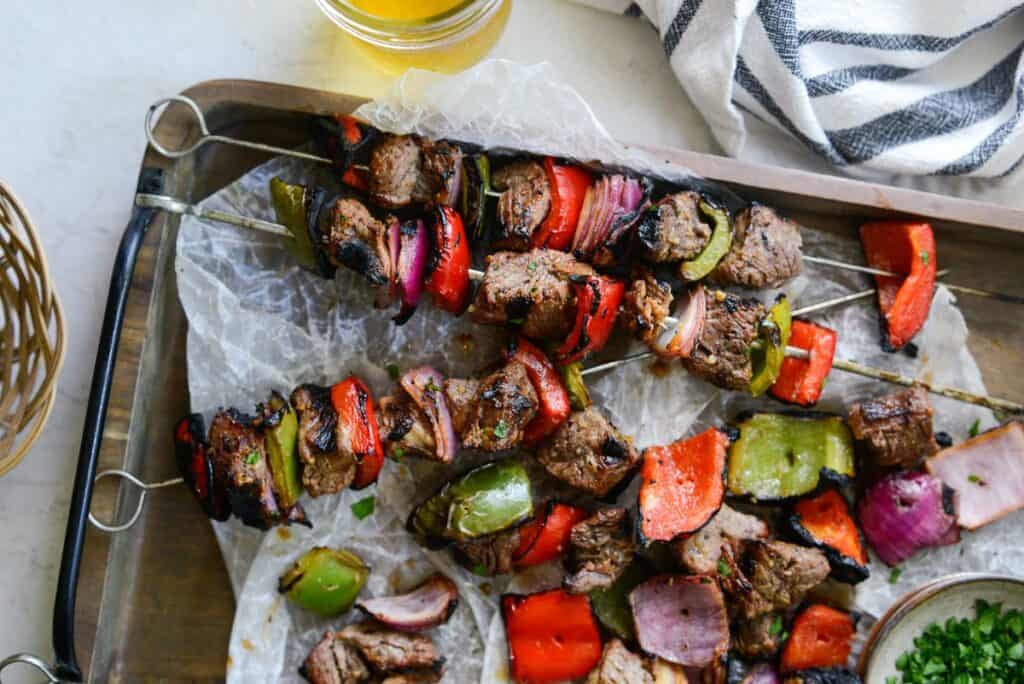 On a cutting board, take a steak and cut it lengthwise with a sharp knife into two or three lengthwise pieces. Cut pieces into 3/4 to inch cubes for kebabs. It is suggested that you marinate the meat before cooking in the refrigerator overnight Kebabs can be cooked on wood or metal skewers on the grill with an assortment of fresh vegetables. Pepper, onions, mushrooms, and sliced squash are easy to thread onto the skewer without having them fall off.
Sirloin Beef Kebabs With Orange Pineapple Juice
1-1/2  lbs of sirloin cap steak cut into 1-inch cubes
1 large red onion peeled and sliced thin
1 red bell pepper seeds removed and sliced thin
1 green bell pepper seeded and cut thin
1 peeled and diced yellow squash into rounds
Marinade
2 tablespoons extra virgin olive oil
1/4 cup orange juice
1 tablespoon pineapple juice
1 teaspoon chili powder
Instructions
Cut the beef into 1-inch cubes for kebob using a sharp knife on a flat cutting board.  Wash the vegetables remove the skins and seeds, and discard. Cut into slices, rounds, or strips that can be threaded onto skewers.  Please take all the ingredients and put them in a large ziplock bag or container with a lid.  Let this marinate for 12 to 24 hours in the refrigerator.
Prepare the skewers by threading the marinated beef and sliced vegetables on them. Heat your grill to medium-high or light your charcoal grill. Grill kebobs on a gas grill for 9-12 minutes, turning over until the temperature of the meat reaches 145 for medium-rare or 160 for medium. A charcoal grill will cook faster, 8- 10 minutes turning once to cook both sides.  Serve with rice and barbecue sauce for dipping. Serves 2.
FAQs
Question: What are sirloin cap roasts or steaks?
Answer: They are a lean roast cut from the prime loin area of a cow. It has fat on the back and this gives the roast flavor. It can be cut into steaks by the butcher or you can do this. It is called coulette or pichana and often served in Brazilian steak restaurants. It has two muscles and often is cut into top sirloin steaks too. Many are aged about 30 days for taste and its texture. Most often it is marinated or uses a dry rub for flavor.
Question: Where do you buy sirloin cap roast or steaks?
Answer: You can buy them at supermarkets, meat markets near you, and online retailers. Your local butcher shop may be able to order it if they do not carry it. Online retailers will send the order to your home on ice special delivery. When you want them to cut it into steaks ask them at the supermarket or butcher shop. Specify how you want it cut when you order online.
Question: Where do I find recipes on how to grill sirloin caps?
Answer: You can find recipes in cookbooks and online by searching for Recipes For Grilling Sirloin Cap or steaks. There are many blogs and specialty recipe sites to choose from. Online retailers may provide recipes with orders when requested, or be able to recommend a site or cookbook.
Question: How Much Do Sirloin Caps Weigh
Answer: The roast generally weighs 2-2-1/2 pounds or up to 10 pounds.
Conclusion
Grilling a sirloin cap is an excellent way to cook the meat. Marinating or using a rub will give the meat more flavor after cooking. Use a meat thermometer to cook on the grill to the required temperature you want. Prepare a barbecue sauce for the meat or buy one at the store. The butcher can slice it into steaks or cubes when you buy it or you can order it online specifying the cut with the order.