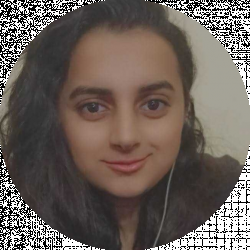 Latest posts by Mahnoor Fatima
(see all)
When people talk about Salami and its different types, they usually differentiate between them based on what kinds of meats are put into it. There's more than one way to tell different types of Salami apart, though, and one of those ways is to differentiate between them based on how the Salami is made. 
There are countless types of Salami, from Pepperoni to Genoa Salami. The real number of the types of Salami probably can't even be counted. There are different types in Italy itself, and maybe even your grandma has her own recipe! 
That said, I'm going to take you through some of the most popularly sold types, and then we'll talk about Cotto Salami in detail, plus how it's different from all the other types.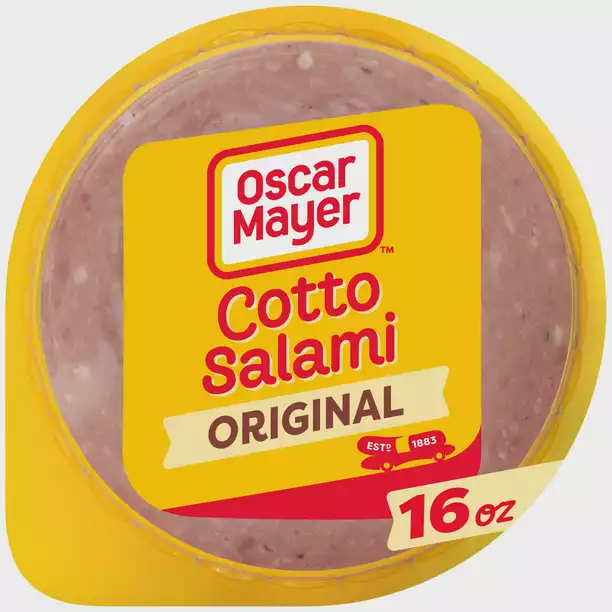 Oscar Mayer Cotto Salami Deli Lunch Meat | Walmart
Oscar Mayer Cotto Salami is a great choice for making delicious sandwiches at home, at work or as part of a hearty lunch. This fully cooked lunch or snack meat has the Cotto salami taste you know and love. 
Check Price
We earn a commission if you make a purchase, at no additional cost to you.
Back when refrigeration wasn't a thing, the most popular way for people to preserve meat was to rub it in salt and leave it out to dry. The salt would pull out all the water and moisture from the meat and make it too concentrated for any bacteria or fungi to grow in it. This prevented spoiling and even improved the taste. 
With time and the introduction of better preservation techniques, Salami turned into more of a delicacy than anything else, and today it's eaten as a pizza topping, in salads, and in all kinds of other dishes. 
Types of Salami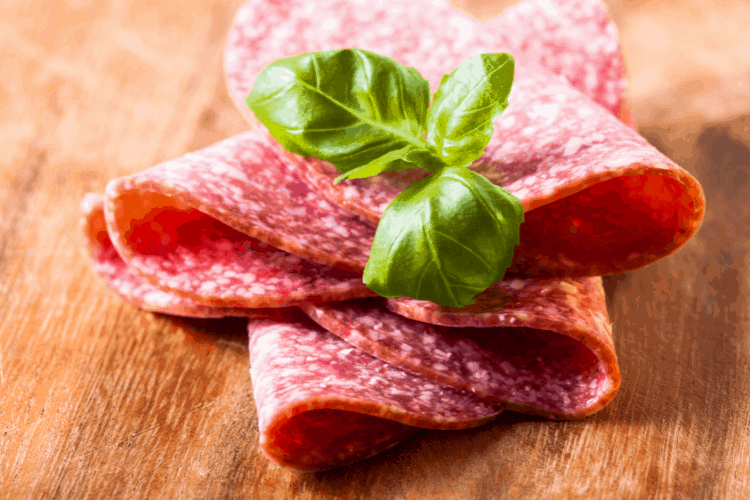 Based on the preparation method, here are some of the most popular types of Salami: 
Genoa Salami: Created in and named after the city of Genoa in Italy, Genoa Salami is one of the most popular types out there. If you've ever had a salami sandwich, chances are it has Genoa Salami in it. 
Soprasetta: This Salami contains unique ingredients like sea salt, crushed Calabrian red pepper flakes, and crushed peppercorn. It comes in both mild and spicy variants, and it pairs well with fresh goat's cheese on charcuterie boards. 
Felino Salami: This is yet another salami that's named after the city it came from. With peppercorns and wine, this Salami has the amazing taste and smooth texture that got it crowned "the king of salami." 
Pepperoni: Who doesn't know (or love) some pepperoni on their pizza? It's actually one of the most popular pizza toppings all over America. Pepperoni is also the only Salami that originated in America – in Italian American meat shops. 
Wine Salami: As the name suggests, one of the most obvious flavor notes is of wine. Different kinds of wine all pair really well with cured meats, which is why making a cured meat with wine in it was just a fortunate experiment waiting to happen. It pairs really well with soft cheese, warm bread, and crackers. 
Then, of course, there's Cotto salami. I'll talk more about that in the next section; hang on! 
Cotto Salami – The Basics 
The main thing that sets Cotto salami apart from the rest is that it's cooked instead of cured. There are various versions of Cotto salami itself in the market, from dried salamis to round and glossy Salami for sandwiches. 
The way the Salami is cooked varies, from being boiled in brine to smoked or steamed. 
What Does Cotto Salami Look Like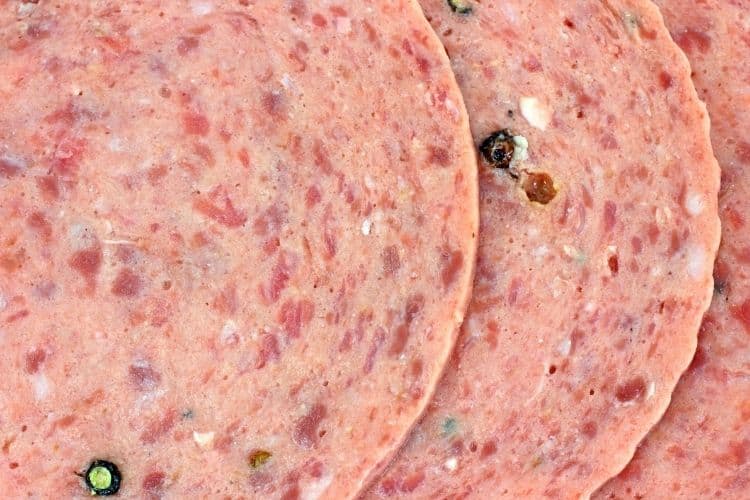 The way Cotto salami looks depends on how it's cooked and treated. The dried version usually has a white exterior and is a lot smaller than the version that is cooked without drying. 
As with most Salami, Cotto salami is sold in slices as well and has that characteristic marbled look that pepperoni and other kinds of salamis do. 
But while those salamis are only cured, this version is cooked. 
What Does Cotto Salami Taste Like 
Cotto salami can be anything from soft to crunchy. The dried version is harder than the Cotto salami used for sandwiches, but the main flavor notes here are of meat, spices, and garlic. Sometimes people add wine and other ingredients to the mix too, though. 
How Do You Make Cotto Salami? 
You'll find that Cotto salami is really easier to make if you find the curing instructions in other salami types confusing. Cotto salami can be made from any meat popularly used for salamis, like pork, beef, or turkey, and you'll need to cook it one way or another. 
Some of the most popular ways to cook Cotto salami are to either boil it in water or to smoke it. 
For most recipes, all you need for Cotto salami is ground meat, spices, sausage casings, and peppercorns. You mix all the ingredients with the ground meat, tightly stuff it into the sausage casings and then hang it up to dry for a while or cook the Salami however you see fit. 
You can find a lot of Cotto salami recipes online, but here are some tips that will help you make the best Cotto salami possible and avoid making any mistakes. 
Make sure you submerge the casings in lukewarm water before you use them. 
Don't forget to mix the curing salt in water before you add it to the salami mixture. 
To add some extra taste to your boiled Cotto salami, wait till it's cooled, and then grill it before eating. 
In the next sections, I'm going to talk about the nutritional value of Cotto salami and all the ways it can be eaten, plus the side dishes it's popularly paired with. 
How Do You Eat Cotto Salami?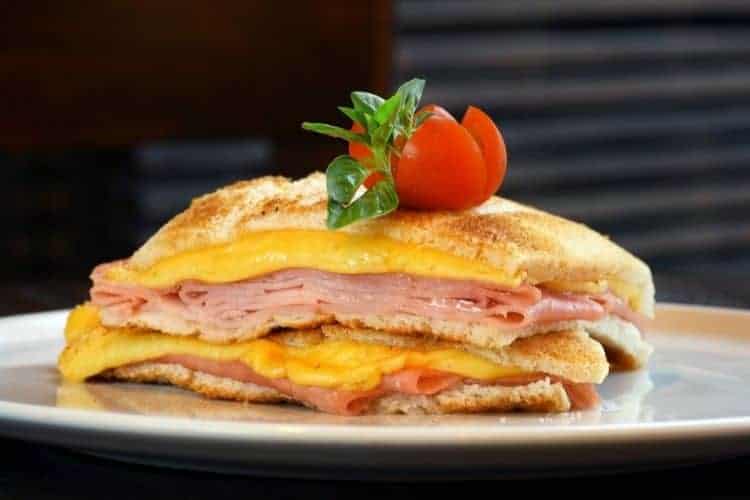 Cotto salami is a cooked version of the Italian sausages that are traditionally cured sausages, but whether it's some kind of beef salami or Cotto salami, it's perfectly safe for you to eat them cold. 
It's a great option for anyone who doesn't like the idea of eating cured meats that aren't actually "cooked." 
Cotto salami is usually either a part of charcuterie boards as toppings in pizza, in salads, and in breakfasts. 
How Healthy is Cotto Salami? 
Cotto salami might seem like a perfectly healthy, protein-packed option for anyone on a diet, but you need to take a second look. Most people think that Salami itself isn't bad, but when you think about the high salt and spice content in there, things aren't looking so good.
You need to be careful about any processed meat on the market and avoid using fatty cuts of meat when you make it at home. Obviously, it's not so bad if you're eating some Cotto salami with the eggs and toast for breakfast, but not so good if you're deep-frying it before sprinkling it over mac n cheese – not that I wouldn't. It sounds delicious. 
Cotto Salami Pairing Options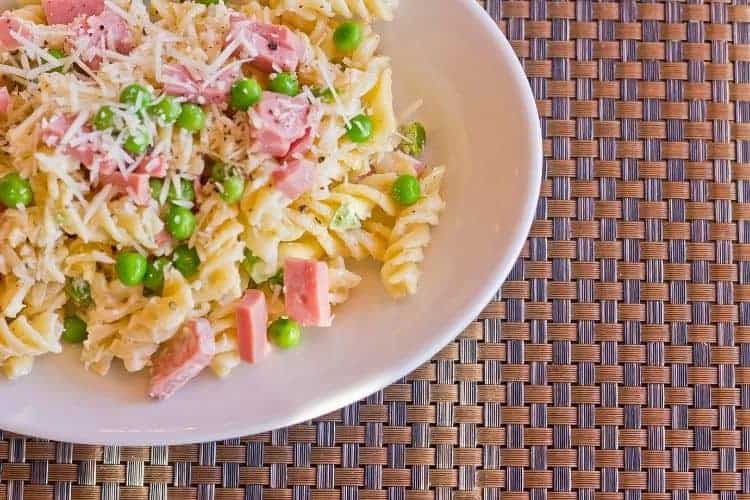 Most processed meats, especially sausages and Salami, pair extremely well with vegetables and as an extra component in comfort foods and with wine. Here are some of my best pairing options for Cotto salami. 
With Nachos 
There isn't much that you can't put on nachos, and I might be selling the whole deep-fried salami thing too hard. In my defense, though, there isn't much that would beat the meaty, salty crunchiness of deep-fried Salami. 
And imagine that crispiness as part of your nacho spread, in between all those delicious nacho chips, sauces, and jalapenos. Here's a nacho recipe that might help you figure out how to incorporate Salami into nachos, but you can always alter your own recipe a bit instead. 
Add it to Pasta 
Finally, one pairing option where I don't ask you to deep fry processed meats! You can add Cotto salami to the tomato sauce for your pasta for some extra saltiness and flavor – in most cases; you can skip using any other kinds of meat or protein. 
If you do use Salami in your pasta, I'd suggest adding some sauteed vegetables to it too. You'll also need to watch the salt since Salami has a lot of it already. This way, your pasta won't end up suffering for your experiments (like mine did). 
Saute with Leafy Greens 
If you're a fan of some sauteed vegetables and grilled chicken breasts for dinner, if you want to ease yourself into healthier eating habits, or even if you just want to try something new, I recommend experimenting with sauteed green veggies and chopped Salami. 
The Salami will add flavor and a bit of texture to the otherwise boring wad of green wetness that's supposed to be healthy for you. When I was finally able to eat whatever I wanted, the first thing I did was avoid leafy greens like they were a relative trying to hug me without a face mask. When it became clear that I couldn't run from vegetables forever, I tried to find ways to incorporate them in my meals more creatively, which sometimes meant sides of sauteed spinach with Salami. 
I would recommend this for any other recovering carnivore out there. 
Charcuterie Boards 
How could I talk about pairing options for Salami without talking about Charcuterie boards? If you want to add Cotto salami to your cheese boards, make sure there are crackers and soft goat's cheese on there too. 
Salami itself has a very distinct and salty taste, which is why you need subtle and rich flavors to pair with that. Go for softer, creamier options more than the harder, saltier cheeses, crackers, and other accompanying flavors. 
To add to the excitement, grab some fancy wine too. 
In Grilled Cheese 
There are days when all you need is a simple grilled cheese sandwich, and then there are days when you need something extra in that cheesy goodness. I've tried adding things like olives and bell pepper to grilled cheese sandwiches, and while those things sound good in theory, they didn't taste like anything special. 
But one of the things that worked like a charm in grilled cheese sandwiches was chopped Cotto salami. The first time I tried to add Salami to my grilled cheese, I made the mistake of putting the slices inside whole. This may work for any other type of sandwich, but it really ruined the texture of my grilled cheese. Chopping the Salami up in little pieces did the trick, though, so try to avoid this mistake. 
Cotto Salami Alternatives 
Almost every country out there has its own version of sausages and preserved meats. They vary in taste and types and are all very big parts of their culture and history. Cotto salami might be delicious, yes, but there's something to be said about trying out new things and experimenting with different foods.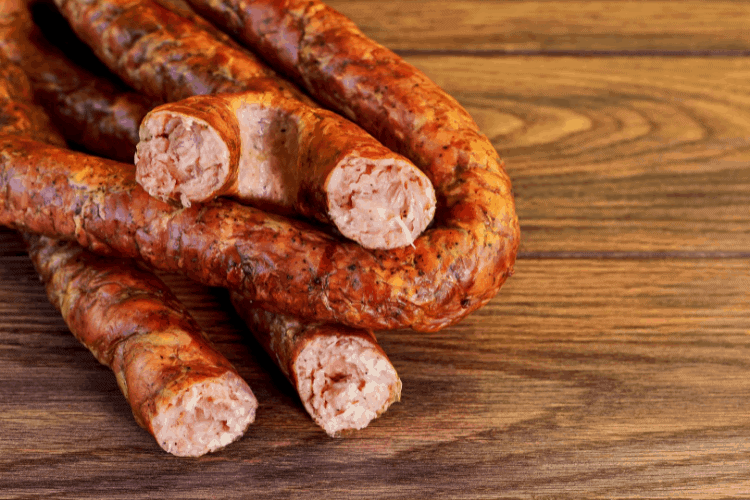 Fun fact, Kielbasa is just Russian for sausages. Smoked Kielbasa has been a part of Russian cuisine for decades now after Kielbasa was first introduced in the country as a healthy and cheap food option when it was struggling to survive. Most people didn't even have refrigerators in Russia until the 1970s, which is why Kielbasa was the perfect thing for them to keep around. 
The sausages were first inspired by how America manufactured them in their own country. The Russian government went on a massive campaign to popularize the food, but today, the Kielbasa is just another food with a rich history of its own.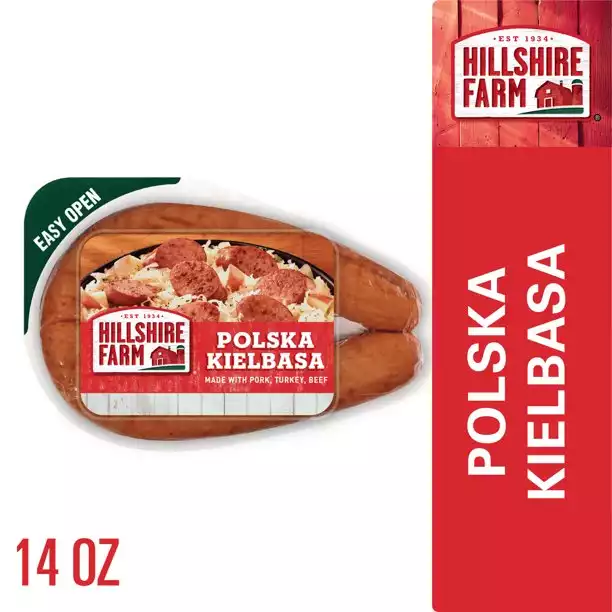 Hillshire Farm Polska Kielbasa Smoked Sausage | Walmart
When a hungry family asks for a meal, Hillshire Farm Smoked Sausage is the delicious answer to weeknight dinners. Fully cooked and ready in minutes, our flavorful smoked sausage is the perfect centerpiece for a farmhouse-quality meal with rich, bold flavor.
Check Price
We earn a commission if you make a purchase, at no additional cost to you.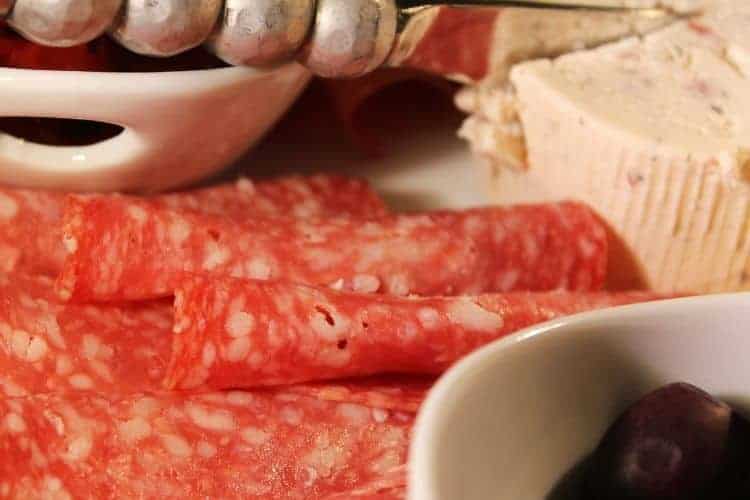 Genoa salami is a different kind of Salami and is named after the Italian city it was created in. If you love Cotto salami, try Genoa salami too. It's a pretty popular salami type and can be found in most meat shops and grocery stores. Be warned though – unlike Cotto salami, Genoa salami is cured and not cooked.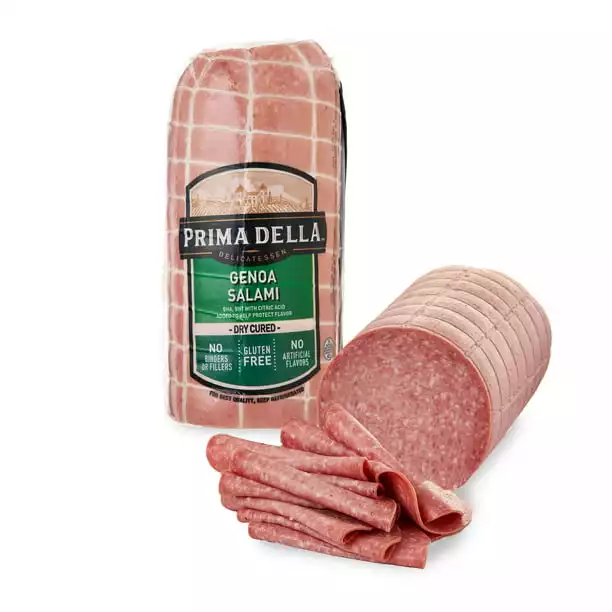 Prima Della Genoa Salami | Walmart
This Prima Della Hard Salami is an excellent choice for meat lovers. Enjoy it on a sandwich with cheese or grab a slice to eat as a snack. 
Check Price
We earn a commission if you make a purchase, at no additional cost to you.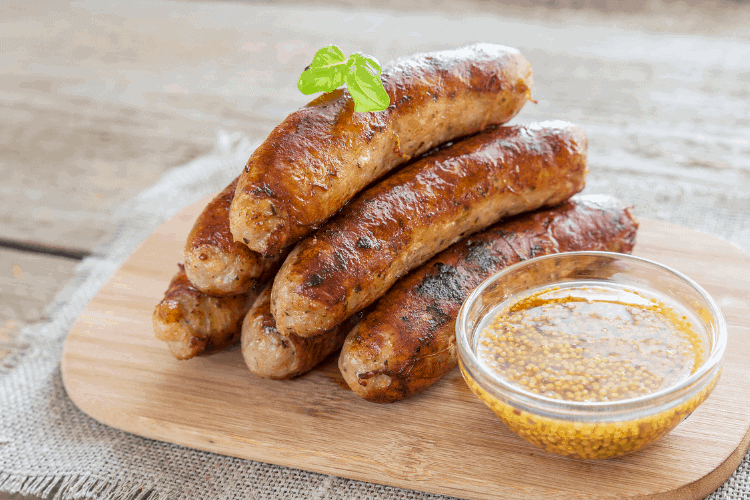 German sausages are famous enough for most people to have heard about them – and Bratwurst is smoked German sausage. Even though German sausages are cooked more often than not, Bratwurst is smoked sausage that is prepared in a similar way to Cotto salami. It's a must-try if you're looking for new types of sausages to deep fry and sprinkle over otherwise healthy food.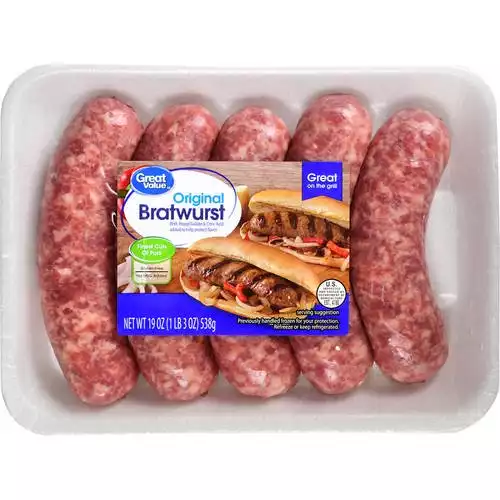 Great Value Original Brats Bratwurst | Walmart
Enjoy the juicy, bold flavor of Great Value Original Brats Bratwurst at your next cookout. These German-inspired sausages are made from the finest cuts of pork mixed with a flavorful blend of spices and seasonings for a savory treat that will please your family and guests.
Check Price
We earn a commission if you make a purchase, at no additional cost to you.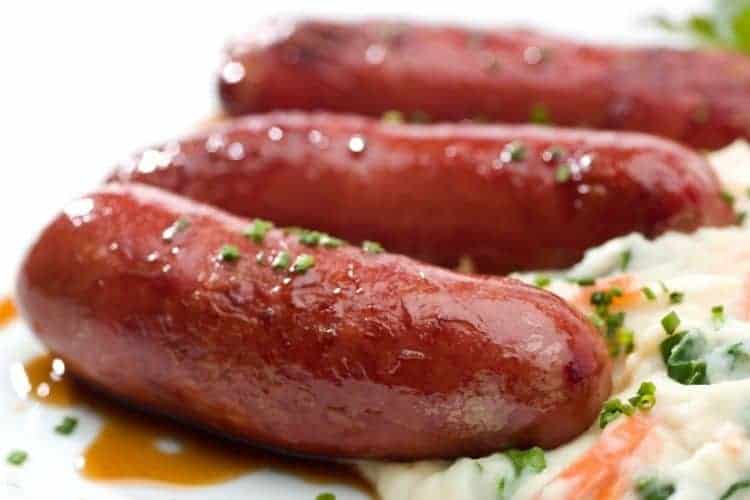 I just talked about smoked German sausage, but this one is cooked by boiling – just like some versions of Cotto salami. 
The main difference in most of the sausages I just mentioned is that the spices and ingredients are different in most recipes – there are only so many ways to cook sausages!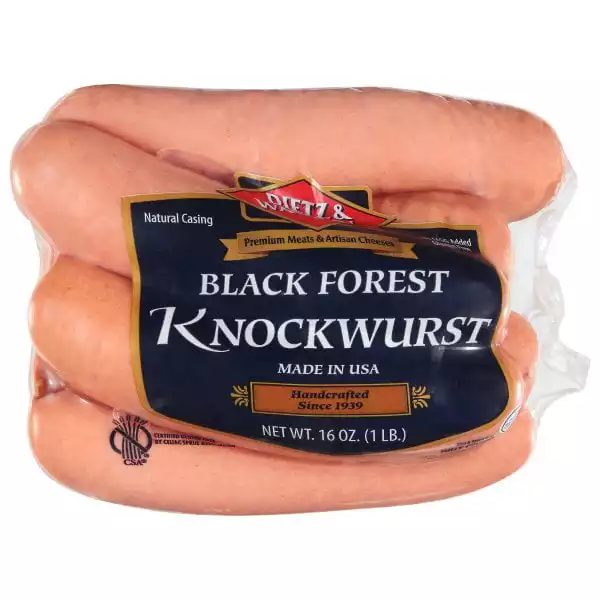 FAQs About Cotto Salami 
Question: Is Cotto Salami Safe to Eat?
Answer: Cotto salami is a cooked salami that is perfectly safe to eat – even dry-cured Salami is fit for eating since it's free of any harmful bacteria or fungi. 
Question: What Does the Word "Cotto" Mean?
Answer: Cotto is Italian for cooking. Cotto salami is different from regular Salami because other types are commonly dry-cured and not actually cooked, while Cotto salami is cooked – as the name suggests. 
Question: Is Cotto Salami Healthy?
Answer: Cotto salami isn't a very healthy option for you, and it should be eaten with care. Even if you make it yourself and don't use ground meat with fat in it, the salt content for preserved meats is pretty high and has been linked to a lot of heart and cholesterol-related issues. 
Question: What Goes Well With Cotto Salami?
Answer: Cotto salami can pair well with cheesy flavors, wine, and fresh veggies. It's also great in salads and as a substitute for bacon at breakfast. 
Question: Can I Put Cotto Salami on Charcuterie Boards?
Answer: Yes. Cotto salami is a common thing to put on charcuterie boards and can pair pretty well with creamy, milky cheese types. Since it's pretty salty, it might not pair well with hard and salty types of cheese. 
Question: How Long Does Cotto Salami Last?
Answer: Uncut Salami can last over six weeks outside the refrigerator, according to the USDA. If the Salami is sliced, you can keep it in the refrigerator, and it'll last up to three weeks. A few things to note here are that the shelf life for Cotto salami is significantly less than that of other salami types, and the longer you keep Salami out, the harder and drier it'll get – but that doesn't mean it's spoiled.
Question: Do I Have to Refrigerate Salamis? Why or Why Not?
Answer: No, you don't have to refrigerate Salami. It was mainly created for preservation purposes at first, and even now, most salami types are dried and cured. If the sausages are unsliced, all you need to do is wrap them in butcher paper and keep them in a safe, dry place. If the Salami is sliced, it can still last a few weeks in the refrigerator.
Question: Can I Put Salami in an Airtight Container, So it Lasts Longer?
Answer: I would strongly advise against putting most types of Salami in an airtight container. You have to remember that the whole point of Salami being invented was to have some way to preserve meat in a time when refrigeration and airtight containers were hardly a thing.

Most types of Salami, even today, don't need to be put in an airtight container. The best you can do is wrap the Salami in butcher paper and put it in the fridge – but not in any airtight containers.  
Conclusion 
Cotto salami is a great option for anyone who's hesitant to try cured Salami but wants to try out Italian sausages. It's salty, comes in both soft and undried, and dry and hard options, and doesn't taste that different from cured Salami.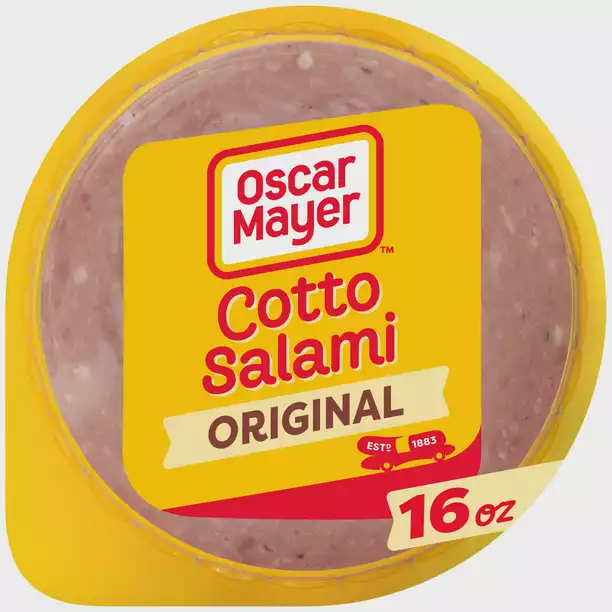 Oscar Mayer Cotto Salami Deli Lunch Meat | Walmart
Oscar Mayer Cotto Salami is a great choice for making delicious sandwiches at home, at work or as part of a hearty lunch. This fully cooked lunch or snack meat has the Cotto salami taste you know and love. 
Check Price
We earn a commission if you make a purchase, at no additional cost to you.
Further Reads: